With the best things to do in Atlantic City, there's no bad time to visit.
Exploring the best things to do in Atlantic City means dabbling in a bit of everything. We've taken the guesswork out of it, so all you have to do is come along for the ride. As the largest city on America's shore, this Vegas of the East Coast offers bargain hotels, fun beach scenes, and a diverse culinary scene.
There's quite a bit of history too. The first ever boardwalk was built here and if you think you've heard the name Baltic Avenue before, it's because you have. Did you know that the game Monopoly uses street names from AC? Are you ready to explore? Let's go.
Here Are Our Picks for the Best Things to Do in Atlantic City
1. Go for a Spin Out on Steel Pier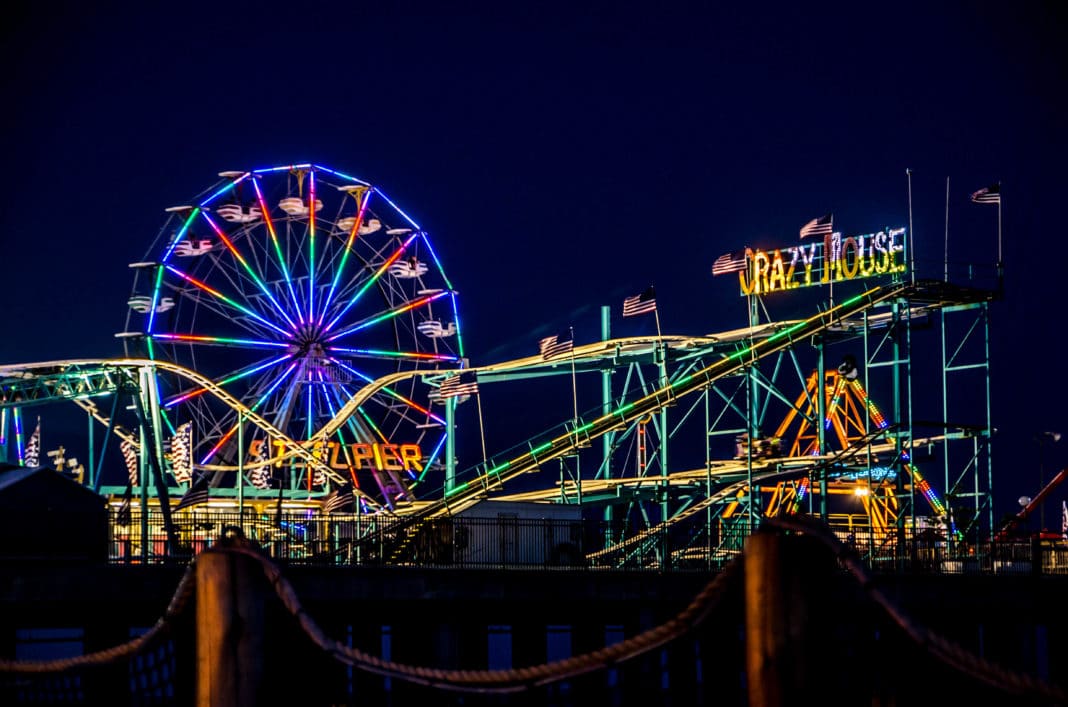 Credit: Flickr
First things first. If you visited Atlantic City without stopping by Steel Pier did you really even go? This iconic 1000 foot tall site has been around since 1898 and is one of the most famous places on the Jersey coast. Once a theater where greats like Frank Sinatra and the Beatles played, it was redone in the 1970s to focus on rides and games.
While it's admittedly a tourist trap, it's a fun one at that. So come on down and let your inner kid out on the Grand Carousel and scream your lungs out on the Slingshot. Disclaimer: You will be propelled into the air at a soaring 100 miles per hour.
2. Take a Ride on the Boardwalk Tram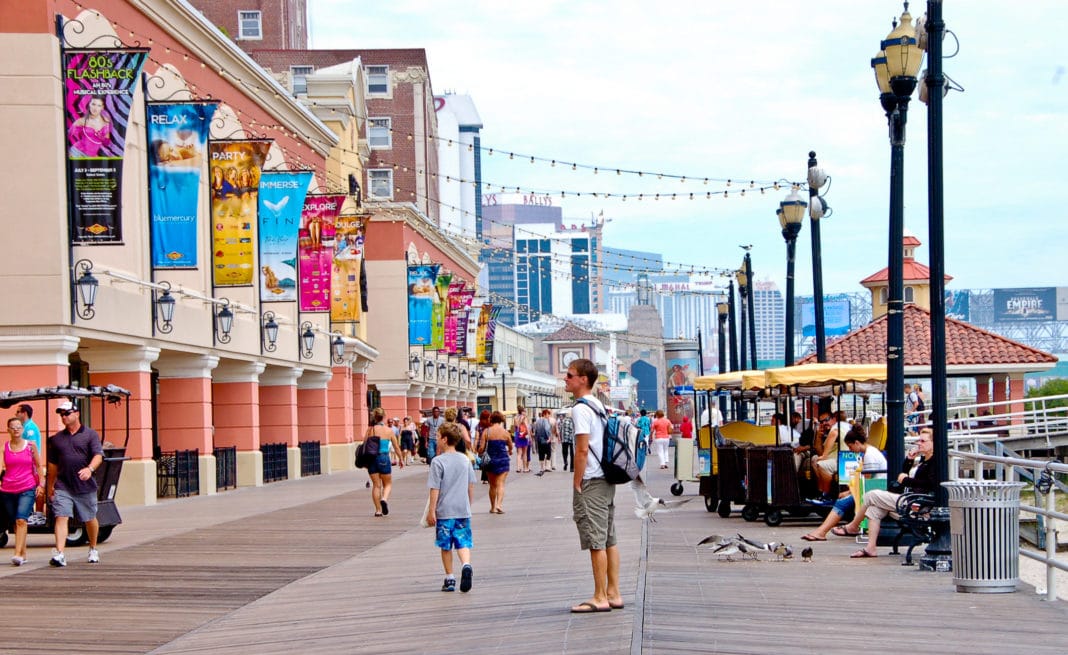 Credit: Emman Devin
There are just some things you have to do while you're in Atlantic City and this is one of them. When you've tired your feet from walking all day, hop on the boardwalk tram for only $2.25. Try your best and snag a seat by the window for views of the Steel Pier, The Tropicana, Boardwalk Hall, and more iconic venues. Is it cheesy? Yes. Do you have to do it? Yes.
3. Step Inside the Six-Story Lucy the Elephant Statue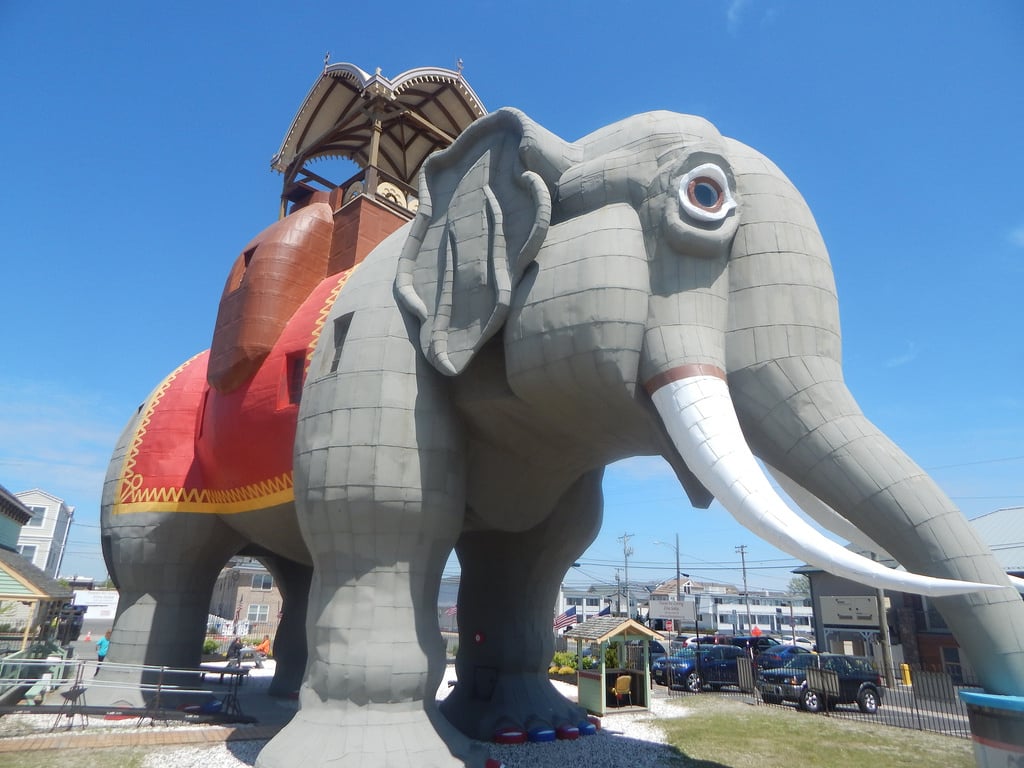 Credit: Flickr
Driving by, there's no way you could miss seeing this statue. Lucy the Elephant has been a famous roadside attraction since her construction in 1878. While she is technically located in Margate two miles outside of AC, the city still claims it. And while the presence of a giant elephant statue seems like enough reason to visit, that's not even the weirdest part of it all.
This six story statue was once used as a real estate office and then a bar. Today, you can climb inside the giant structure. There's a photography section where you will learn all about the history of Lucy. And then for the grand finale, you will get a great view of the city from her back. Odd as it may be, visiting Lucy is one of the best things to do in Atlantic City.
4. Treat Yourself to Some Salt Water Taffy from Fralinger's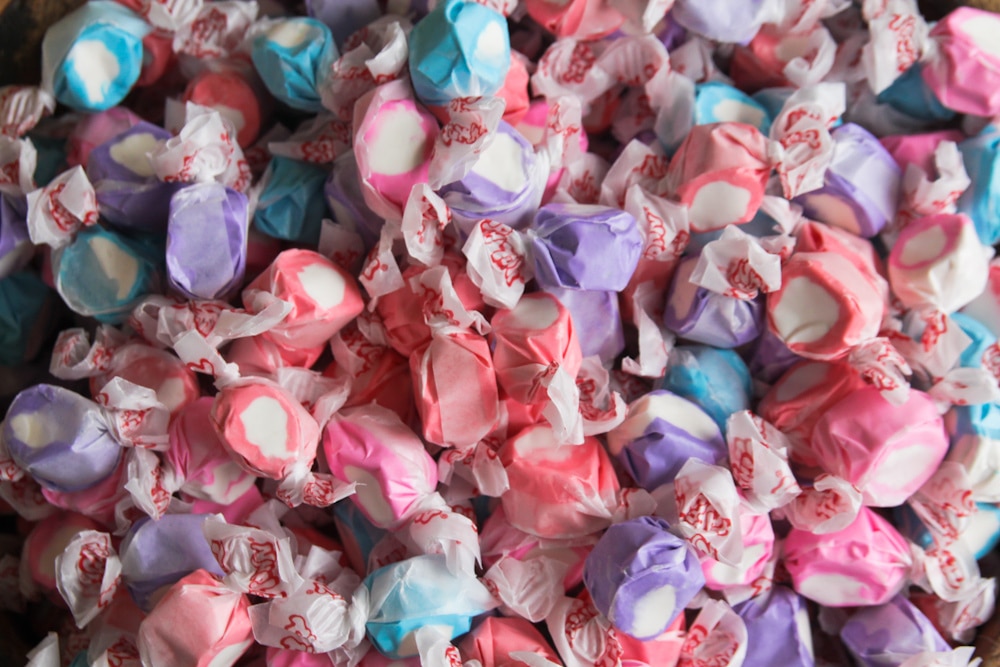 Okay, it's time to treat yourself to something sweet. We can't think of a better place to go for some salt water taffy than Fralinger's. This candy is iconic among Jersey shore residents. As one of the first resident taffy shops on the boardwalk, they have been handcrafting unique flavors for generations. Among some of the most popular are teaberry and peanut butter. Just make sure to pick up a pound for your family and friends back home. And try not to eat half of it on the plane.
5. Indulge in Funnel Cake at Vanina's
Prepare yourself. If you ask us, a lot of the best things to do in Atlantic City involve eating your way across the coastline. But maybe that's just us. Either way, the funnel cake at Vanina's is nothing short of fantastic. Another local legend, this is the next essential boardwalk stop. So what exactly makes these treats so special?
Think deep fried dough covered in powdered sugar. It's got everything you need to satisfy your cravings for carbs and sweets simultaneously. Think of it as the perfect combination of a donut and New Orleans-style beignet. And it only gets better from there. Choose from a wide variety of flavors like apple, strawberry, and chocolate. Yum.
6. Explorer the Quarter at Tropicana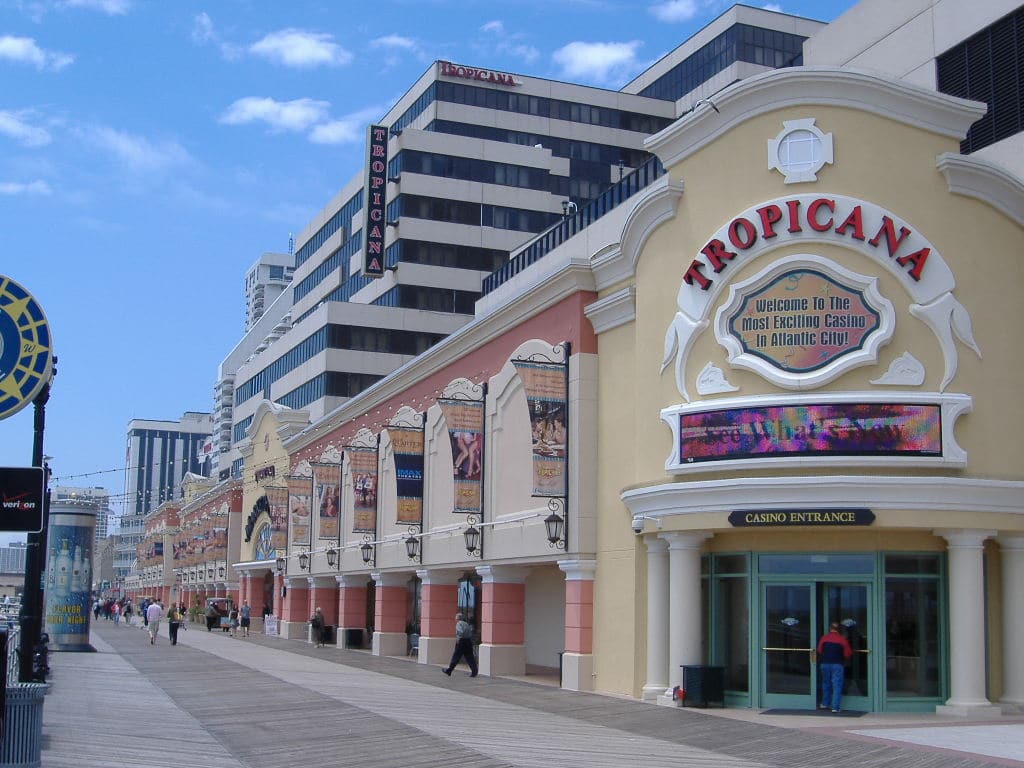 Credit: Wikimedia Commons
No, it's not about the juice. Atlantic City's Tropicana is a fun indoor scene packed with shops, restaurants, bars, and nightclubs. What makes it worth the visit? We love the Havana nights theme. From the energy to the music and decor, The Tropicana whisks you away to a tropical paradise. It's got everything you need for a romantic evening.
From the azure sky view to the soothing running fountain and cobblestone streets, every little piece contributes to the night's magic. Shop, enjoy a hand-crafted cocktail, and delight in all the sights until the night ends. There are plenty of things for you to explore. Visiting the Tropicana is one of the best things to do in Atlantic City.
7. Stroll Along the Atlantic City Boardwalk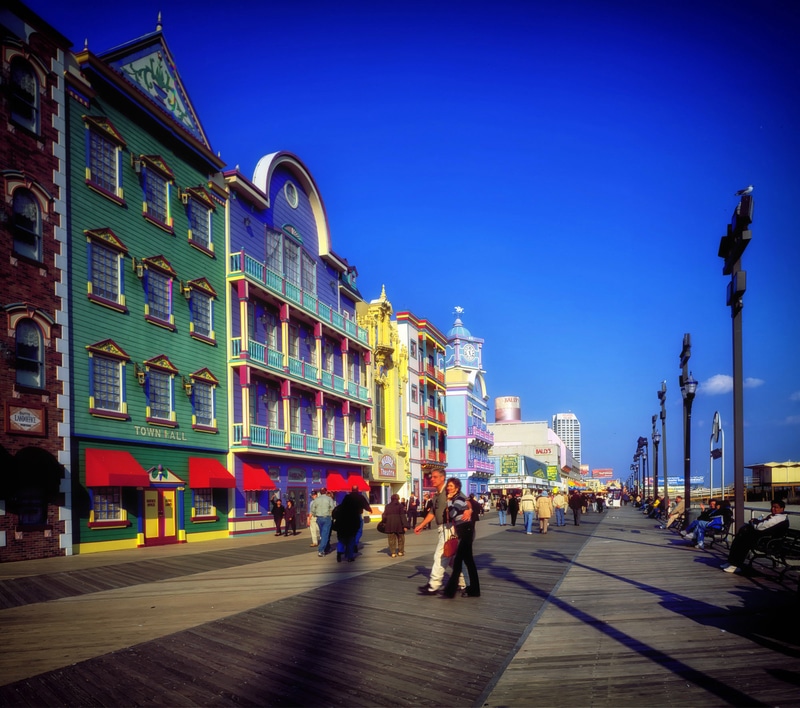 Think white sandy beaches that stretch for miles and miles. Sure you'll find great beach spots all along the East Coast but AC's lovely nineteenth-century boardwalk is what sets it apart. Stroll along the shops, poke into sweets shops, or walk on the sand. Whatever kind of vacation you're seeking, you're covered with our list of the best things to do in Atlantic City.
Whether you're here to relax and watch the waves or get out and ride them, there really is something for everyone in this dynamic New Jersey city. Surfing, kayaking, and windsurfing are just a few activities the whole family can take part in.
8. Play the Penny Slots at the Borgata Casino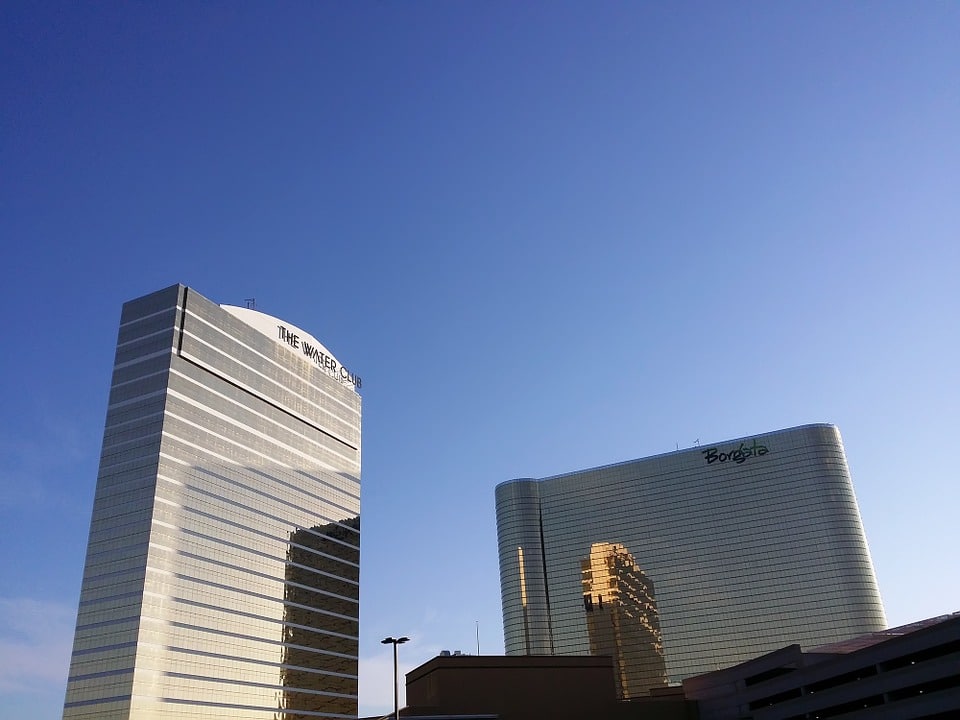 Head on over to Midtown West. This billion-dollar resort opened in 2003. Ever since, it's been entertaining tourists, skilled players, and shoppers alike. As one of the main draws in the Marina District, the Borgata Casino is the culminating point of the quintessential AC experience. Every one of the hotel guest rooms offers floor to ceiling windows and spectacular views. And in nothing short of grand fashion, the casino offers more than enough machines and tables to keep the masses happy.
9. Take the Family Out to Dinner at Bobby Flay Steak
Credit: Bobby Flay Steak
After you've played a few games at the casino, grab the family for dinner at Bobby Flay Steak. Of all the places on the boardwalk, this is our favorite. For elegant and comfortable dining, you won't find a better spot. Let's just say it doesn't hurt to try a meal crafted by an A-list master chef either. All of the menus are created to reflect the spirit of the Garden State. Expect fresh, delightful dishes.
10. Soak Up the Views from Absecon Lighthouse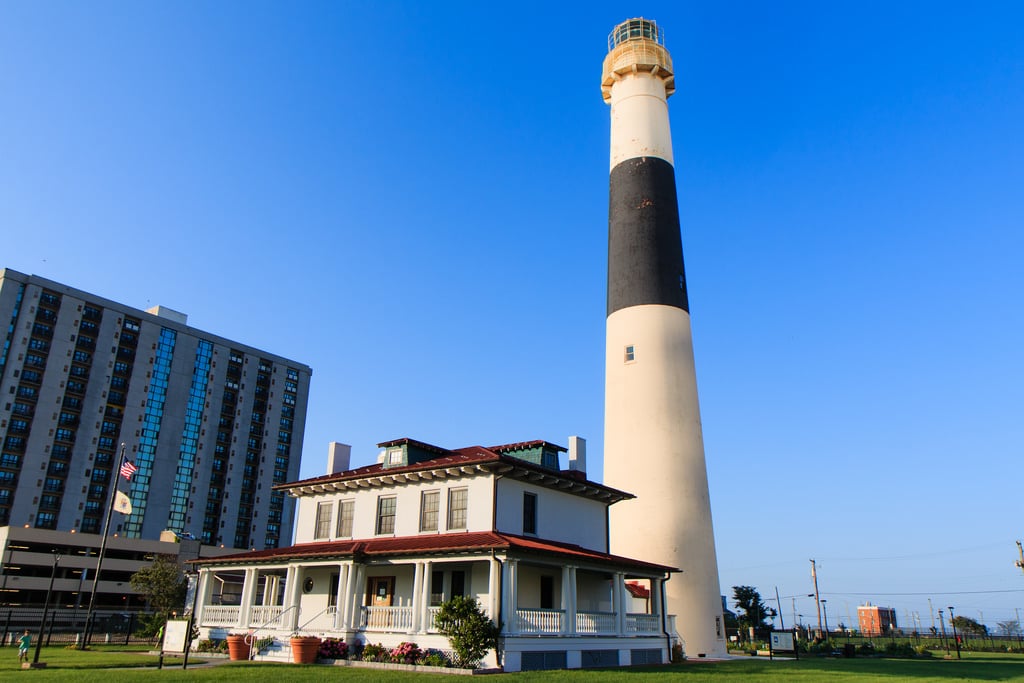 Credit: Abescon Lighthouse
If you're looking to escape from the tourist's scene, check out Absecon Lighthouse. Get up early before the sunrise, bring your morning cup of coffee, and ascend the 228 steps of this National Historic Landmark. The first light went out in 1857, guiding ships to safety in the harbor. While it officially stopped guiding ships in 1933, it still lights up every night. This is the perfect spot to practice mindfulness all while taking in great views of the city and sea.
11. Buy Some Souvenirs at the Tanger Outlets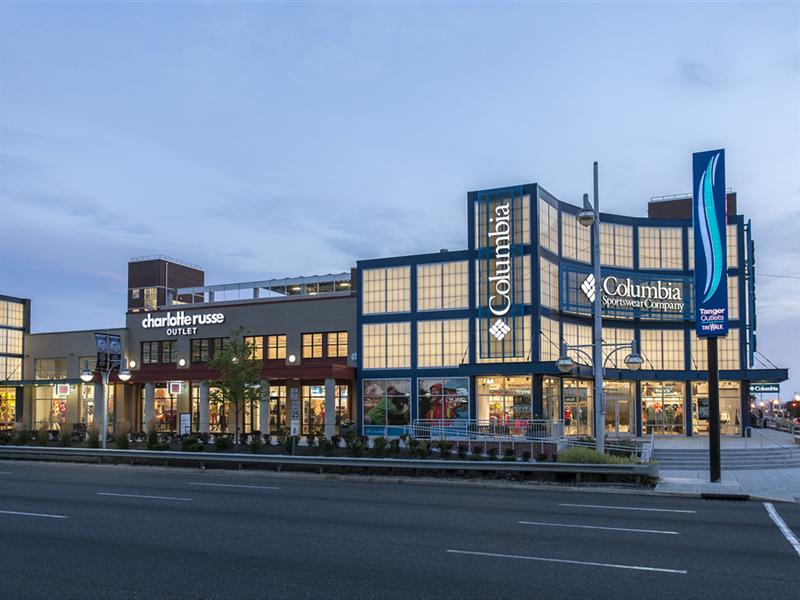 Credit: Tanger Outlet
High end brand names at lower prices? Yes, please. On your way home, this is the perfect place to get a souvenir for Aunt Myrna who was just a little bitter she couldn't make it out to AC this year. While cities like NYC are much more renowned for their shopping scene, they also have big city price tags. One of the best things to do in Atlantic City for first time visitors is to hit up the Tanger Outlets. It's never too early to start Christmas shopping for the family, you know. From athletic stores like Nike and Adidas to luxury clothing lines like Michael Kors and Lacoste, these outlets run the gamut of shop-till-you-drop options.
12. Swing by Jimmy Buffet's Margaritaville
Remember that one song that goes something-something-something-Margaritaville? Well, now you have a reason to sing about it. Jimmy Buffet's Margaritaville restaurant is a foodie symphony of cocktails, pub food, and quirky live music. This tiki-themed bar is open for breakfast, lunch, dinner, and for those late night munchie moments. Get your fix of island inspired snacks, drinks, and entertainment whenever you would like. The fun never stops here.
Check off the Best Things to Do in Atlantic City from Your Bucket List
Pack your bags. It's time to explore the best things to do in Atlantic City. Whether you're traveling solo, with that special someone, or the entire family, this east coast gem has something for everyone. Which one of the things on our list would you like to do the most? Let us know in the comment section below.
Related Article: What to Do in Philadelphia: 8 Activities, Hot Spots, & Hidden Gems