While it may appear as a tiny town in comparison to other Colorado cities, there are plenty of things to do in Breckenridge.
Tucked away in central Colorado, Breckenridge is a small town when it comes to year-round residents, but it has plenty to offer. From the gorgeous trails and rivers to majestic mountains born for snow sports, you'll have a hard time choosing what season to come to Breckenridge. The town has been around since 1859, infusing it with plenty of history, character, and community culture. So, whether you're looking for a Colorado mountain retreat with shopping and great food or multiple days shredding slopes, you will find that here. There are so many things to do in Breckenridge, Colorado, we've put together just a few of our favorites for you to get inspired for your next trip.
1. Stroll Main Street
With more than two hundreds shops awaiting you, you can easily spend days exploring all there is on Breckenridge's Main Street. From boutiques and souvenir shops to restaurants and gear stores, there's a little bit of something for everyone waiting here. The now quite popular Breckenridge Brewery & Pub is a great place to grab a bite and some brewskies. You can get a tour of this outstanding brewery as you drink a pint, which sounds like a great way to top off a few days shredding the surrounding slopes. Granted, if you're looking for something to eat in the morning, both Daylight Donuts and the Crepe Stand are huge hits when it comes to eating in this town.
As far as other things to do in Breckenridge on Main Street, make sure to bring your camera along. You'll be passing a multitude of small parks. Feel free to stop and rest a while or grab some spectacular shots. The old west vibe mixes well with a modern twist that has been provided as tourism here increased. This creates a vibrant life in the summer and the most quintessential small mountain town during the holiday season. So, by the time you finish exploring Main Street, you'll see why this town is so well loved. It was a small mountain town before skiing ever got popular, so it is true to its roots and rich in history. Of all the things to do in Breckenridge, this is one to please just about everyone.
2. Bike Vail Pass Path
If you want to get out and explore but aren't up for intense hiking or snow sports, look to the Vail Pass Path. This fourteen-mile bike ride will give you an easy downhill run through Breckenridge, Copper Mountain, and Frisco, Colorado. You'll zip through mountain meadows and by rivers and waterfalls. Make sure to bring a camera along, as well as a few dollars to grab a cup of coffee along the way. You can easily bring your own road bike to do this excursion. However, there are a few guide companies who can set up all the logistics for you. Either way, this is one of the best things to do in Breckenridge.
3. Shred Downhill at the Breckenridge Ski Resort
No list of things to do in Breckenridge would be complete without mentioning the Breckenridge Ski Resort. Opening in early November, Breckenridge is ready to give you the time of your life when it comes to all things snow related. Between the 3,400 feet of vertical gain and the 2908 skiable acres, you have plenty of space to shred here. There are 147 trails which are serviced by 34 lifts. With 600 acres of groomed terrain and snowmaking, there will always be something to do. That could be the half pipe or practicing other tricks on any of the four terrain parks. Of course, you could always go for a long cruise on the 3.5-mile ski trail called 4 O'Clock.
For those of you who just want one or two days out and about, take advantage of the other things to do in Breckenridge. The Ski Resort has a spa and fine dining available if you don't last long outside. Of course, there are plenty of lodging options to choose from here as well, so you can get just about as fancy as you'd like. However you choose to visit the Breckenridge Ski Resort, you'll see why it is such a grand attraction out here.
4. Take a Sleigh Ride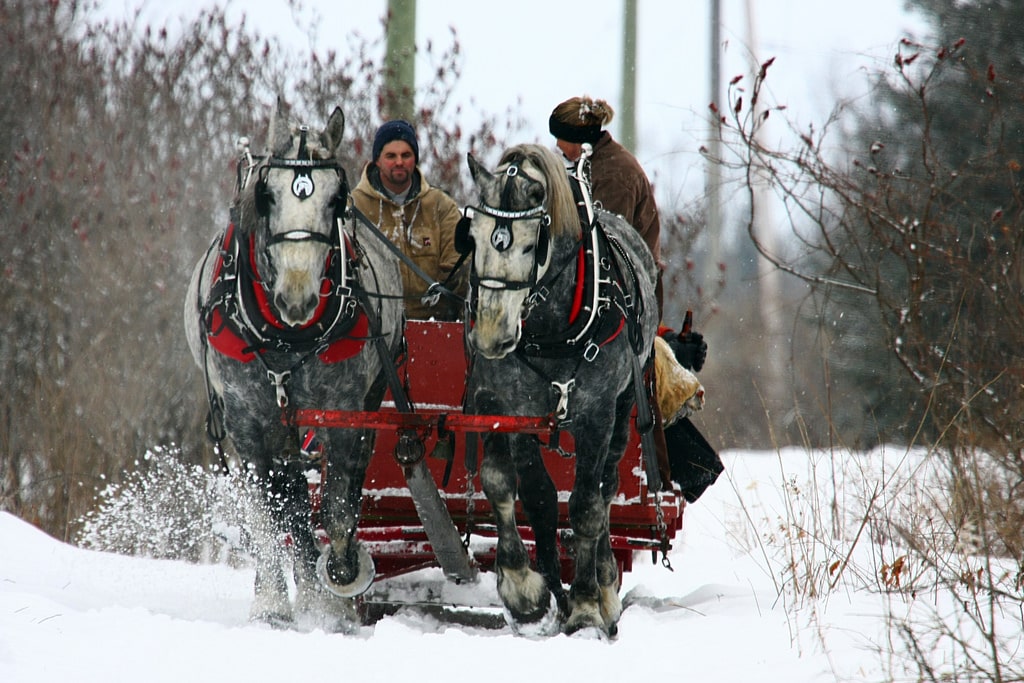 Credit: Martin Cathrae
Dashing through the snow is one of our favorite things to do in Breckenridge. If it's on an open sleigh, well then that's pretty exciting. You can choose from a variety of experiences and food options. Whether you'd like a hot chocolate as you are whisked down main street or some cider. You can get pulled up to a meal of chicken enchilada soup or a steak done to perfection. There can be a concert by the great celebrity impersonator David Peel. Of course, after his performance, you'll have enough room again for some warm apple pie and whipped cream for dessert. This can be combined with just about any of the other things to do in Breckenridge. Ending your evening with a show at the Breckenridge Backstage Theatre. Wherever you end up on your marvelous sleigh ride, you'll fall in love with this small town in no time.
5. Go Dog Sledding
Maybe you have dreamed of dog sledding since you watched Balto as a kid. Mush! This can be a dream come true if you pick this off the list of the best things to do in Breckenridge. There is a myriad of different companies that can take you out in the snow. If you pair up with Good Times Adventures, you can head out on a six-mile ride through Swan River Valley. In groups up to six, you can run the dogs, ride in the sled, or hop on the passenger sleigh with your guide. Just like the sleigh ride though, make sure to dress warmly for this adventure. Your adventure with the Siberian Huskies await.
6. Be Dazzled by the Breckenridge Snow Sculpture Championship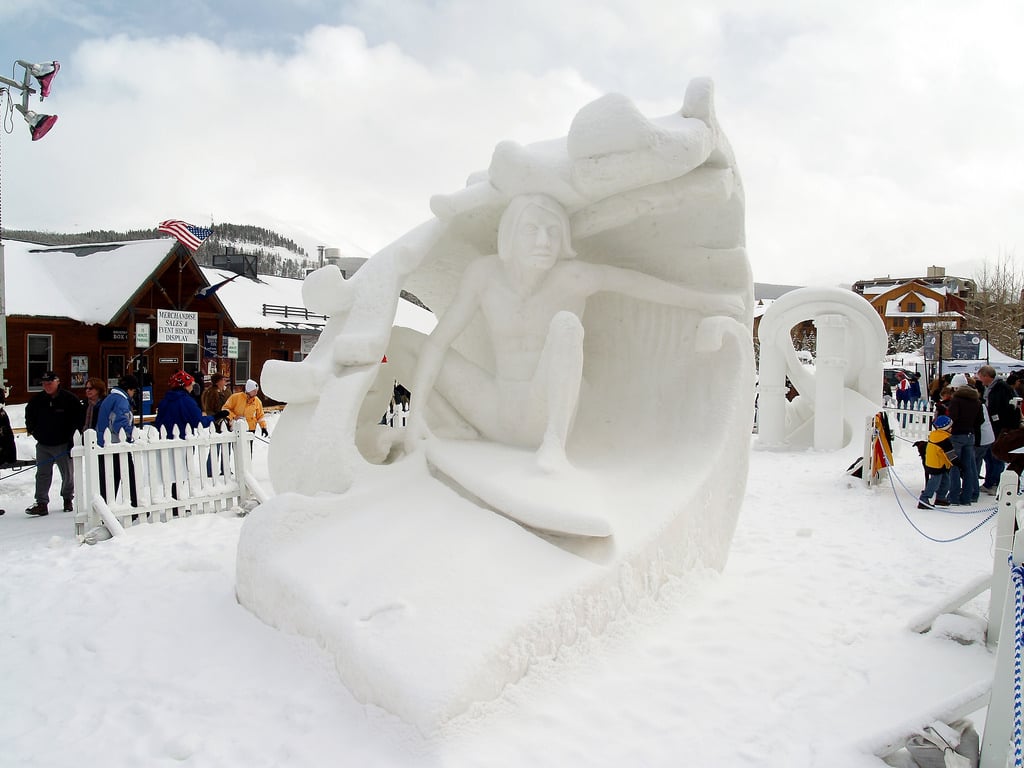 Credit: David Shankbone
Every January, the best snow sculptors in the whole world descend on Breckenridge, Colorado. This free event is open to the public, and you can peruse the stunning winners. From a skull lit up from the inside to modern art staircases, you'll be baffled at the intricacies and skills put to use here. If this is one of the things to do in Breckenridge you want to do, the event will take place in January. Sixteen international teams of sculptors will work on their creations from January 21st through the 25th. Starting with 25-ton blocks of snow, their sculptures will be ready for viewing by end of the day on the 25th. Remember, these crafted beasts were made without power tools, so they truly are handmade works of art.
7. Cross-Country Ski at the Breckenridge Nordic Center
For one of our most family-friendly things to do in Breckenridge, Colorado, look to the Nordic Center. With some of the most well-groomed trails in the country, you are going to fall in love with cross country skiing and snowshoeing here. The expert instructors can show you the ropes if you're a beginner, but feel free to hit the trails yourself if this is old hat. Either way, at the end of the day, curl up by the fire at the log lodge. The cozy cabin feel and happy hour specials will be the perfect end to an engaging and productively tiring day. If you'd rather stay warm while getting out in the backcountry, you can opt for a Snowcat ride. These snow machines will whisk you through the gorgeous scenery while keeping you in its well heated, glass-enclosed cabin for the duration of the ride.
If this sounded tantalizing at all, we assure you it will be a great adventure. Many top skiers from all over the globe have dubbed this as their favorite thing to do in Breckenridge, and we're sure it will top your list too.
If you only have a few days to find the best things to do in Breckenridge, Colorado, you have to make the most out of every minute.
If you're in Breckenridge in the winter months, there is no doubt that you need to try your hand at skiing in some capacity. Between the Breckenridge Ski Resort and the Nordic Center, you have an ample amount of opportunity to do that. Of course, if not everyone in your party is ready for that, that's more than okay. From shopping and walking in Main Street to going on a sleigh ride, there's plenty to do for a perfectly relaxing and chill getaway too. But, don't let these pull you away from the unique opportunities of dog sledding or drinking a Breckenridge brew right from the source. Whatever it is you decide to do while you're here, you'll be captivated by the majestic mountains. Between that view and the homey town culture that surrounds you on your visit, Breckenridge will have you wondering if you could stay there forever.
Related Article: The Top 15 Things To Do In Denver