Los Angeles is an ever-changing destination, with endless entertainment options.
The City of Stars is almost certainly guaranteed to capture your heart and catch your eye from your first moments here. It is truly impossible to experience the same LA twice, as everything is continuously changing. The fast-paced lifestyles and celebrity dreams keep Los Angeles on top of the world's pop culture radar. Los Angeles is the setting for many iconic films, such as Sunset Boulevard, Pulp Fiction, and more recently, La La Land. If you are familiar with cinema, you may just feel like you stepped onto a set of one of these productions during your time here.
Of course, with so much to do and see within Los Angeles, you might feel overwhelmed at the prospect of seeing it all. At the very minimum, you want to make the most of your visit by at least catching the highlights. Rest assured that there is adventure on every corner here, so you don't have to go far. From energetic nightlife entertainment to delicious food vendors, Los Angeles really does have it all. To assist you in organizing your epic travel itinerary, we put together a list of the top eight things to do in Downtown Los Angeles. Use this reference as a good place to begin planning an unforgettable adventure.
Check out these top 8 things to do in Downtown Los Angeles.
1. Get the scoop at Salt & Straw.
Roasted Strawberry & Toasted White Chocolate, one of our signature classics in LA and San Diego, is a fruity, rosey love story set stage in frozen scoops of deliciousness. Fresh Oxnard strawberries show their best side when roasted, releasing their sweetness, rich berry-ness, and dark fruity-ness under hot hot, sweltering heat. White chocolate, on the other hand, is a bit more mellow… we lightly toast the chocolate until the milky chocolate begins to caramelize… low and slow baby. Not familiar with Oxnard Strawberries? They're only the best berries on the West coast! (Thanks for the photo, @foodnette!)
[tcb-script async="" defer="" src="//www.instagram.com/embed.js"][/tcb-script]
It is no secret that ice cream is delicious. But you might not yet know just how delicious it can be. Salt & Straw is a regular West Coast phenom when it comes to creating outstanding frozen desserts. This Portland-based ice cream parlor made its way down to Los Angeles, and has multiple locations throughout the city. Try a scoop of Honey Rocky Road or Coconut Jam & Rice Crispy Treats. If you are especially daring, try some of Salt & Straw's wackier flavors, such as Bone Marrow & Smoked Cherries (yay or nay – you decide).
2. Explore Los Angeles' Chinatown.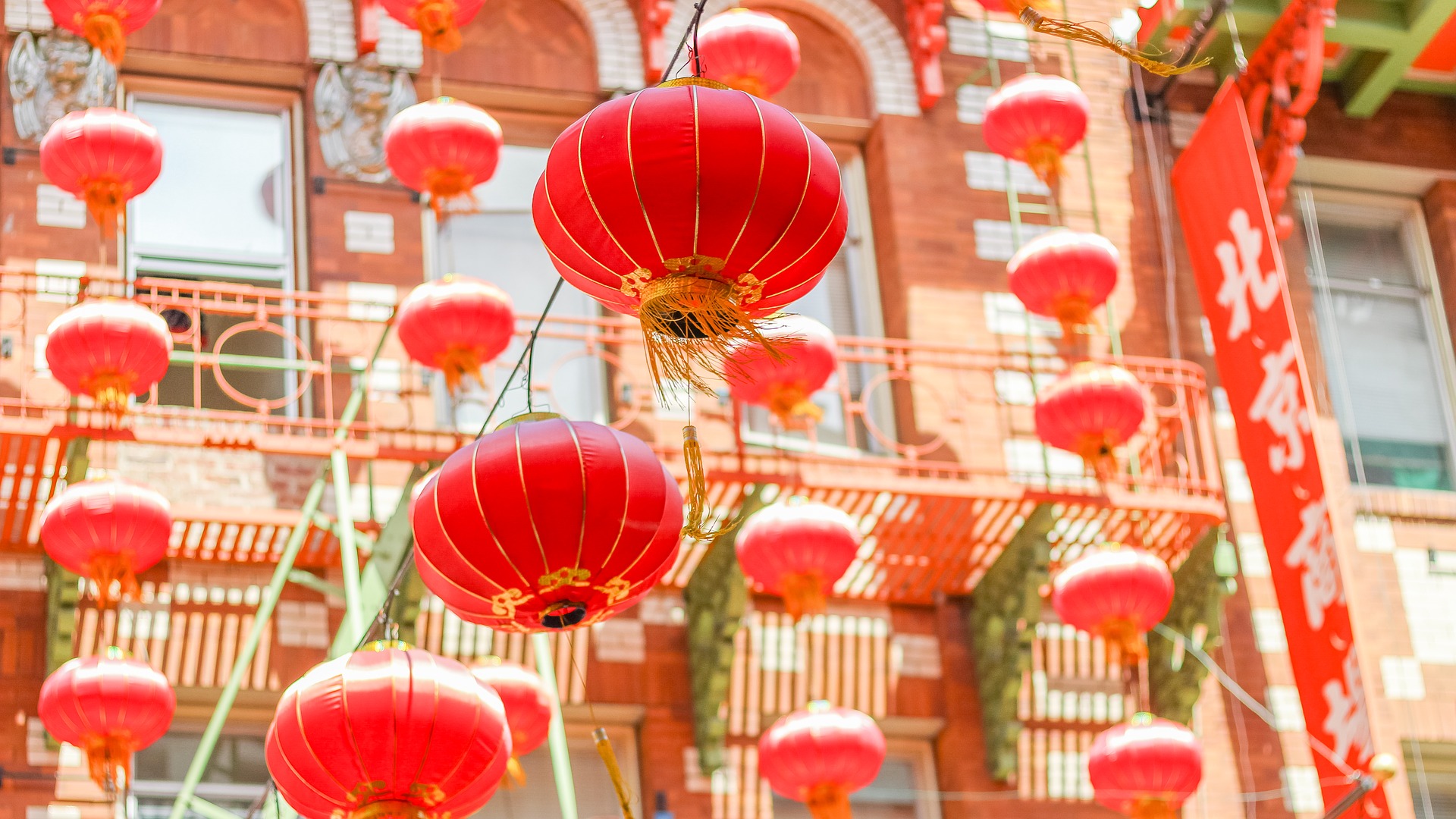 Known as a "neighborhood steeped in culture and history," Los Angeles' Chinatown explodes with vibrant color. This is perfect if you are seeking cultural things to do in Downtown Los Angeles. With delicious oriental foods and a variety of shopping vendors, Chinatown keeps you busy. Some of the best times to visit this thriving subculture are for Chinese New Year and Chinese Summer Nights during summer evenings.
3. Wander through the Downtown Los Angeles Art District.
With an impressive and historic art deco design on the outside and the feeling of traveling back to the Prohibition Era on the inside, a must do in the Arts District is visit @angelcitybeer. Popular spot for a post work drink, this place takes the warm friendly feeling of Cheers to a whole other level. Plus they have Cornhole! #AlisoApts #DTLA #AngelCityBrewery . . . . . . . . . #LAApartments #losangelesart #laart #artsdistrictla #losangelesapartments #dtla #dtlaartsdistrict #dtlalife #dtlaart #dtlamurals #colossalmedia #losangelesmurals #laapartments #artsharela
[tcb-script async="" defer="" src="//www.instagram.com/embed.js"][/tcb-script]
The art scene runs deep in Los Angeles' veins, which is evident in the array of art galleries and murals throughout the city. There is not one particular spot where it all lies, art is really on every corner. But if you are still looking for a specific place to find some cool murals, here it is. Los Angeles does of course have a neighborhood in the eastern edge of the city designated as the Arts District. Here you can find some iconic street art, as well as a number of organic restaurants and trendy coffee shops.
4. Experience actual foodie heaven at the Grand Central Market.
Credit: Grand Central Market
You might have to pinch yourself to make sure you are not dreaming when you visit the Grand Central Market. This gastronomic hub presents the most phenomenal food assortment all in one location. You can try authentic Greek gyros or roll up to an exclusively pasta bar (can we get a YES PLEASE). Check out a bento box of genuine Japanese cuisine and visit a vendor for some sticky rice. Once your belly is full, you can purchase some fresh meats and cheese to bring home for later. There are also numerous clothing and accessory vendors throughout Grand Central Market for all of your shopping needs. Come early, because many people make the market one of their top things to do in Downtown Los Angeles.
5. Check out Los Angeles after dark.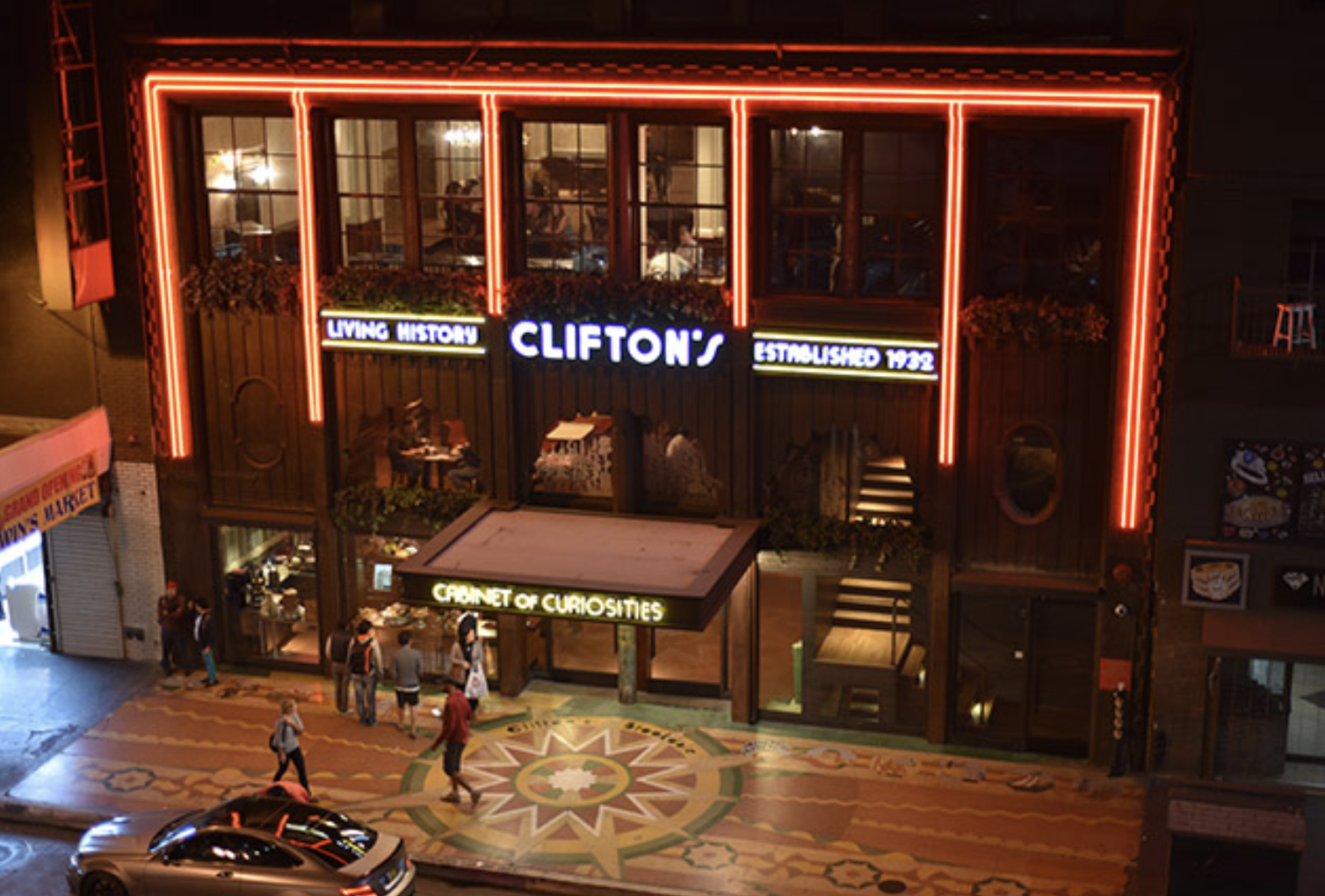 Credit: Clifton's
Los Angeles' nightlife is arguably unlike any other. If you are looking for fun things to do in Downtown Los Angeles, the post sunset scene is the place to be. There is certainly no shortage of energetic bars and clubs throughout the city.
Clifton's is a classy venue with a unique nature-themed set up. The elegant Clifton's Republic channels ancient ancestry reverence and beholds the majesty of nature. Its interior is crafted with wood from Redwoods, and there are actual trees inside the bar. Come to Clifton's for the rustic ambiance and stay for the unequaled artisan libations.
For a groovy and laid back night, be sure to check out Good Times at Davy Wayne's. You might feel like you are about to go inside someone's garage, but that's the idea. This 70's retro bar is sort of a cross between a backyard BBQ and your uncle's garage sale, but with good drinks. When you first arrive, you literally walk through a garage sale set-up and through a refrigerator door. This door is appropriate, because it then gets even cooler. Order one of their alcoholic snow cones and live out your childhood dreams, of course with booze.
6. There are good times to be had on the roof.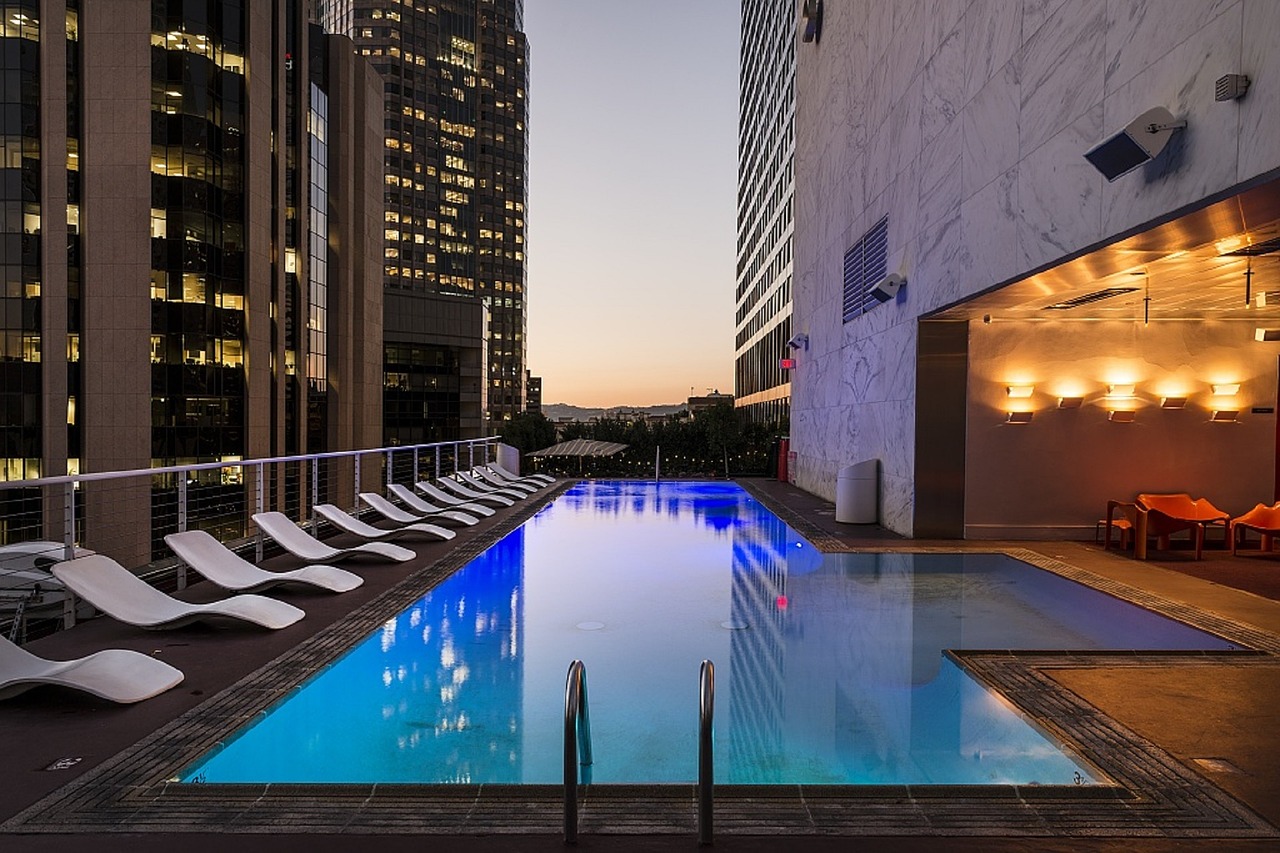 Let's be real, everything is so much cooler if it is on the roof. If you agree, then you will surely appreciate all that Los Angeles has in terms of high-rise entertainment. If you are looking for unique things to do in Downtown Los Angeles, look no further than a rooftop adventure.
Of course in the universal hub of all things media, there is a pretty amazing rooftop movie theater. The Rooftop Cinema Club regularly features new releases as well as timeless film classics, such as The Shawshank Redemption and Casablanca. Here you can settle back into a comfortable deck chair and put in their specialized headphones so you don't miss anything during the movie.
If a rooftop movie theater isn't awesome enough, there's more where that came from. The famous Ace Hotel is a popular venue for many people during their stay in Los Angeles. This chic luxury boutique hotel first opened in 1914, after being constructed inside a former film studio. Even if you don't spend the night at the Ace Hotel, you can still enjoy its lively scene on their roofbar bar. The Ace Hotel Upstairs is open every day for anyone, and includes numerous events throughout the week. Check back each night for something new here, such as pop-up shops, live music, DJs, and many other creative collaborations. Settle back on a colorful couch and sip a fresh cocktail as you enjoy the warmly lit rooftop ambience.
7. Venture into the quirkier side of Los Angeles.
Dare to pull out a book? The famous book arch is always steady and ready for an Instagram picture. #LBS234 #TheLastBookstore #building #LA #LAstreetArt #LosAngeles #DTLA #graffiti #Bank #Art #artinLA #ArtHistory
[tcb-script async="" defer="" src="//www.instagram.com/embed.js"][/tcb-script]
The Last Book Store certainly qualifies as one of the things to do in Downtown Los Angeles. You may have seen pictures of this iconic literary haven with its iconic tilted book hallways and rainbow reading assortments. Its endless book selection and whimsical set up lets you discover something new around every corner. As California's largest used and new book and record store, The Last Bookstore boasts over 250,000 of good reads, not to mention 10,000+ vinyl records. You can find them in a loft right in downtown Los Angeles.
Amoeba Music is another quirky joint worth checking out. This venue is the largest independently owned record store, with locations throughout Berkeley, San Francisco, Hollywood, and Los Angeles, California. Check out their Los Angeles location for some hip music and merch.
8. Check Out a Hipster Coffee Shop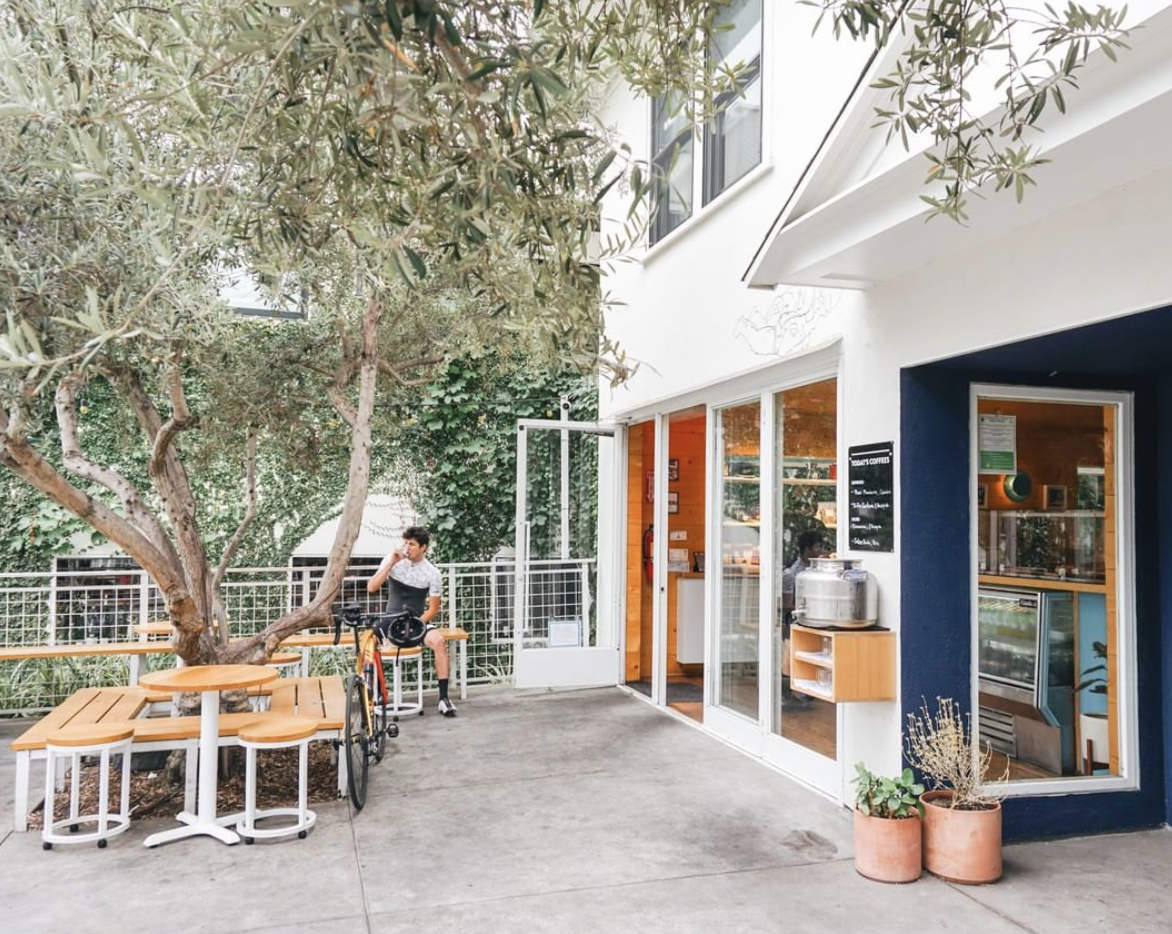 Credit: Go Get Em Tiger
If you go to the West Coast and don't go to a trendy café, did you really go to the West Coast? Among the things to do in Downtown Los Angeles, a coffee shop should be high on your list. Fortunately, Los Angeles is fully equipped to fix your caffeine-less state. No matter where you turn in the city, you are sure to run into a hipster coffee shop. We have a few of our personal favorites listed here for you to try out yourself.
Go Get Em Tiger is a local California roastery, with multiple locations throughout. They also have a stand at the Grand Central Market where you can buy bags of freshly roasted coffee beans. Try out one of their Almond Macadamia Lattes when you stop by.
Giorgiporgi is about as hipster as it comes, as they pride themselves for their obscure location. The extra work it takes to find them is certainly worth it once you slip through the door. For a special treat, order the Blueberry Balsamic Bourbon Smoked Cinnamon Toast from Giorgiporgi.
Coffee for Sasquatch is the epitome of a Los Angeles café experience. The modern urban coffee shop design boasts bright natural lighting and beans from Ritual Coffee Roasters. Sip on a Lavender Vanilla Latte as you plan what is next on your LA agenda.
There is even more to explore beyond this in Downtown Los Angeles.
If you think our suggestions sound incredible, know they are not even scratching the surface of all Los Angeles has to offer. Don't let the intimidating (read soul crushing) traffic deter you from exploring this amazing California metropolis. Try out any of these top eight things to do in Downtown Los Angeles for an unforgettable travel experience.
Related Article: 12 Things To Do In Monterey, California