With summer in full swing, we're sure you have plenty of trips ahead. When you're ready to pack in style, consider the Herschel Novel Duffel Bag.
We've been looking to try something that's a decent size, with enough room for a week's worth of vacation clothes and accessories. This bag is fantastic. We're convinced it has everything you need for your next vacation.The novel duffle is one of Herschel supply's most popular duffle silhouettes. It features Herschel supply's signature shoe compartment for easy and organized travel while keeping to Herschel supply's classic styling. This bag is great to take to the gym or for a short weekend away.
About Herschel Supply Co.
Herschel Supply Co. is a design-driven international brand. They produce high quality products, evoking a sense of old-timey nostalgia – for instance through the use leather straps and a vintage-looking logo. The brand started back in the early 1900s. Peter Alexander Cormack and his wife Annie made the trek from Scotland to Canada. They moved to a small town named Herschel, whose population was recently counted at only 65 residents.
In 2009, brothers Jamie and Lyndon Cormack took the name Herschel Supply Co. to adopt the name of the town where three generations of their family grew up. They are based in Vancouver, Canada. If you're looking for some good products, their travel gear is essential. The Herschel Novel Duffle Bag offers the best fit. This is the perfect bag to have everything on hand quickly.
Herschel Novel Duffel Bag Features & Benefits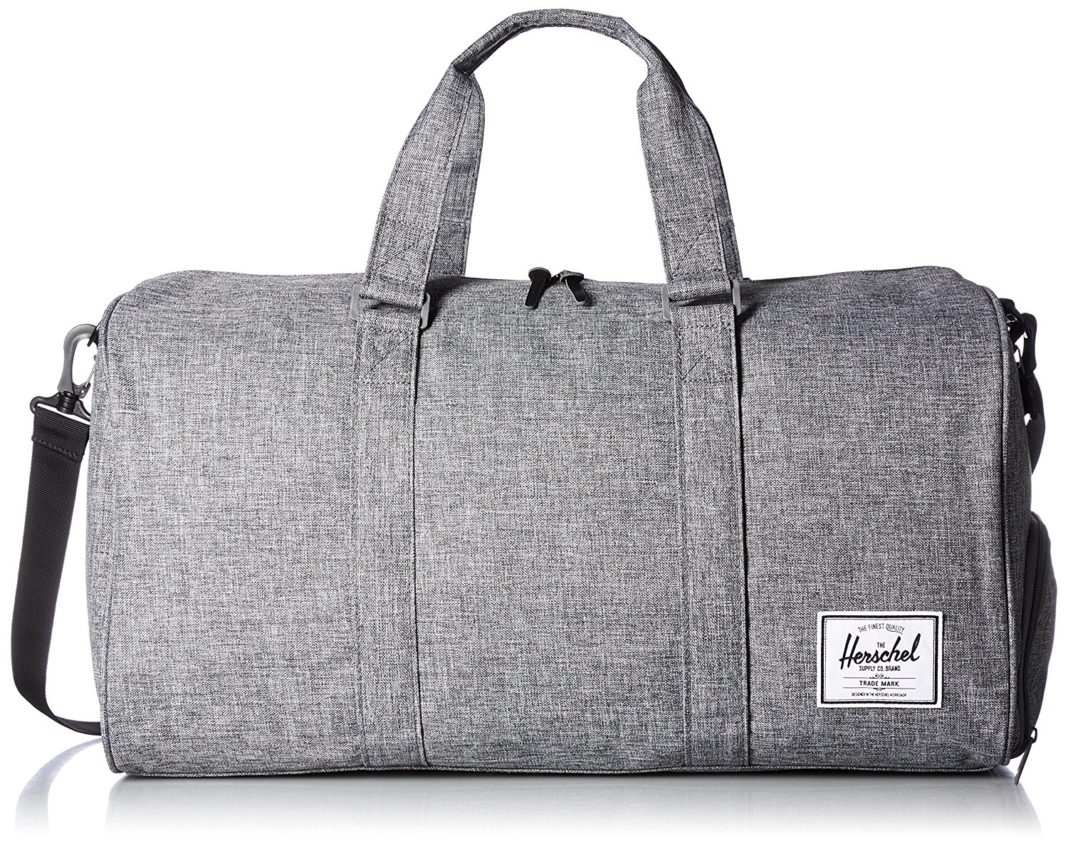 Credit: Amazon
Alright, let's get to the good stuff. We're going to show you just why we are stoked on this bag. We love the minimal style this iconic brand puts out. Coming from Herschel, you know you've got a top quality item.
Herschel Novel Duffel Bag Design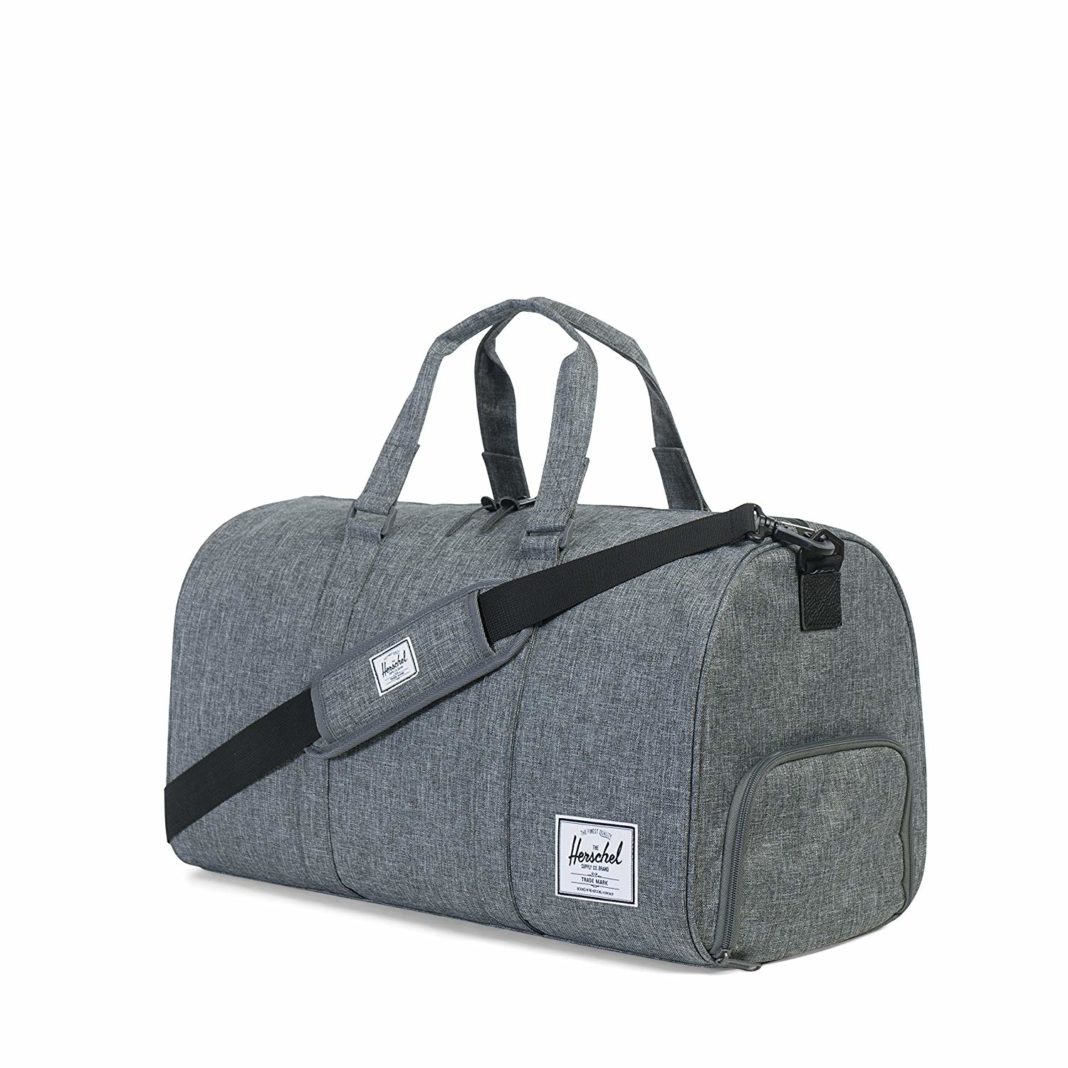 Credit: Amazon
This Herschel Novel Duffel Bag comes in various colors to match your style and luggage. Hold this bag by the dual carry handles or simply opt to add the padded shoulder strap. It clips on and off easily thanks to the plastic latches at the end. Measuring at a 42.5L capacity, it's clear that the bag is large in size. While it might be a little too large for your everyday gym use, it is the perfect size for weekend trips or those much-needed longer getaways.
Inner and Outer Compartments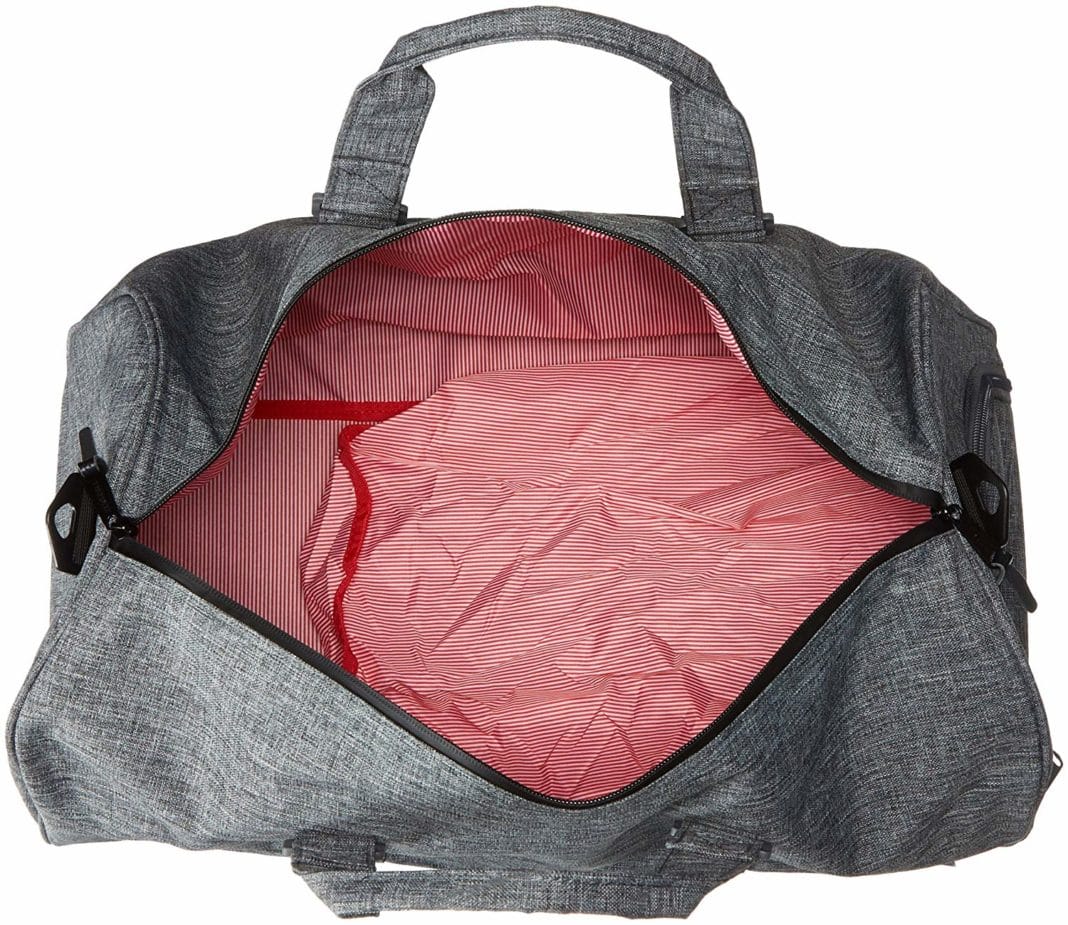 Credit: Amazon
We're happy to report that packing the Herschel Novel Duffel is a breeze. Since there aren't that many compartments, simply pack everything into the main cargo section and you're good. There's no more fussing and hassling with all these exterior pockets. You won't have to rummage through your whole bag to find that one item you need. There is only one external pocket on the bag but there is also an internal mesh section for small items. Now this is a minimal design we can get behind.
How Much Can the Herschel Novel Duffel Fit?
Like we said, this bag has a 42.5L capacity. In short, it makes a pretty ideal getaway bag. While we wouldn't recommend it for a month long backpacking trip to Thailand, it would be a great fit for a week long visit to Europe. Pack yourself a week's worth of clothes, accessories, and one to two pairs of shoes. You'll still have some leftover space in the bag. Better yet, it can still fit in the overhead compartment.
This is very convenient because your duffel will be with you the whole time and you won't have to wait at baggage claim. As you may know, some airlines are very strict with their baggage requirements. Just make sure you check all of your baggage dimensions beforehand so you don't have to do it at the airport.
Herschel Novel Duffle Bag Comfort
First off, we've got to say that this duffle bag is so convenient and compact. It's definitely geared towards simple travel packing, with all of your apparel, accessories, and other products packed into one bag. It is important to note that while carrying the Herschel Novel Duffle Bag is easy, the strength and quality of the handle should be observed.
This bag is arguably the best of its kind on the market. A vast majority of reviews affirm to this claim and even add to the praise of its design, simplicity, and ease of use. The range and diversity of this bag makes it useful for a number of different travel situations. The Herschel Novel Duffle Bag is great for overnight trips, weekend getaways, and even road trips. There's a reason why this bag has a four star out of five rating.
Herschel Novel Duffle Bag Durability
Remember that the Herschel Novel Duffle Bag is a reliable and affordable product. A good duffle bag always allows ease of access. A simple and durable design will withstand changes in fashion over time. Chic minimalism and sturdy materials are what set this bag apart from the rest. Most of the bags you see on the market are made as cheaply as possible.
Herschel has stayed away from using disposable products with components that break easily. Instead, they are made with high quality materials, zippers that actually stay on when you pull them closed, and durable clips and hardware. When it comes to adventure, you never know what to expect. It's important to have a bag you can rely on when you're exploring the world.
The Herschel Novel Duffel Bag has everything you would look for when choosing a duffel bag:
It's water resistant: The Herschel Novel Duffel Bag is made from a durable water resistant polyester and nylon material.

Compartments: With one large compartment, it's easy to find and access all of your gear when you need it most.

Shoulder Straps: The duffel bag comes with shoulder straps that can be easily hidden or tucked away. You can use them when you need them most.
Other Weekender Bags You May Like
Everlane: The Twill Weekender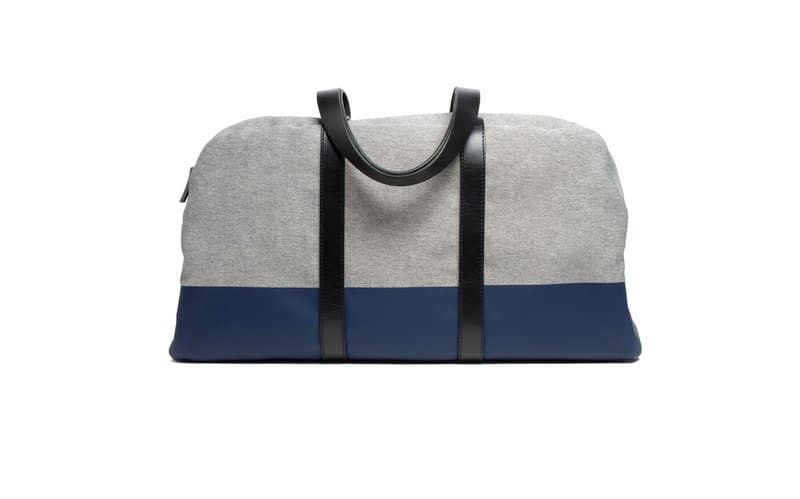 Have you ever purchased from this brand before? If not, you're in for a special treat. We can't praise this company enough It's commitment to offering a transparent pricing model, ethically-sourced fabrics, and ethically made leather are all admirable. And they make killer products. Both the all-black and color dipped versions of the Twill Weekender are gender neutral and suited to a range of tastes.
Furthermore, the size of this bag is just right for hauling everything you need for a short getaway and still fitting in the overhead compartment or under the seat in front of you. Add it to your list of favorite best weekender bags.
Bluboon Women's Canvas Weekender Bag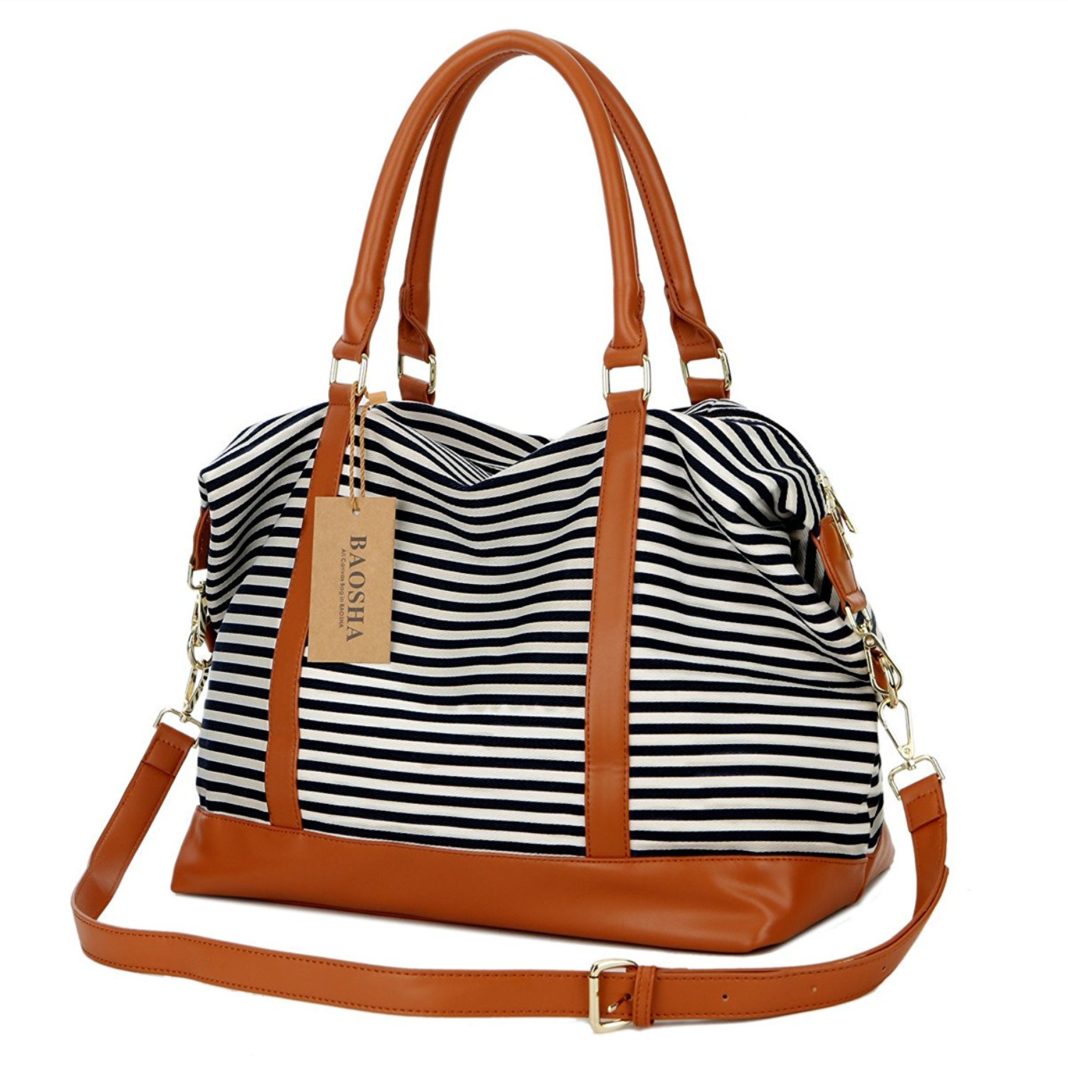 Alright, we're just going to come right out and say it. We love this tote bag. First things first. Do you want to know what caught our eye? There is a zip pocket specifically designed to slide over the handle of your carry-on suitcase. That means you no longer have to be that person trying to pull their luggage, find their passport and sling their small personal item over their shoulder all at once. It's time to get organized and Blueboon has got you covered.
It's the perfect size for a carry-on for most airlines. Second, it's fashionable and perfect for everyday use with all your daily habits. Overall, it's a sturdy bag for anyone looking for pack two to three days worth of clothing, towels, gifts, make up, hair accessories, etc. a weekender bag or a cute carry-on duffel, as well as holding a laptop up to 15.6 inches.
Under Armour Women's On the Run Weekender Tote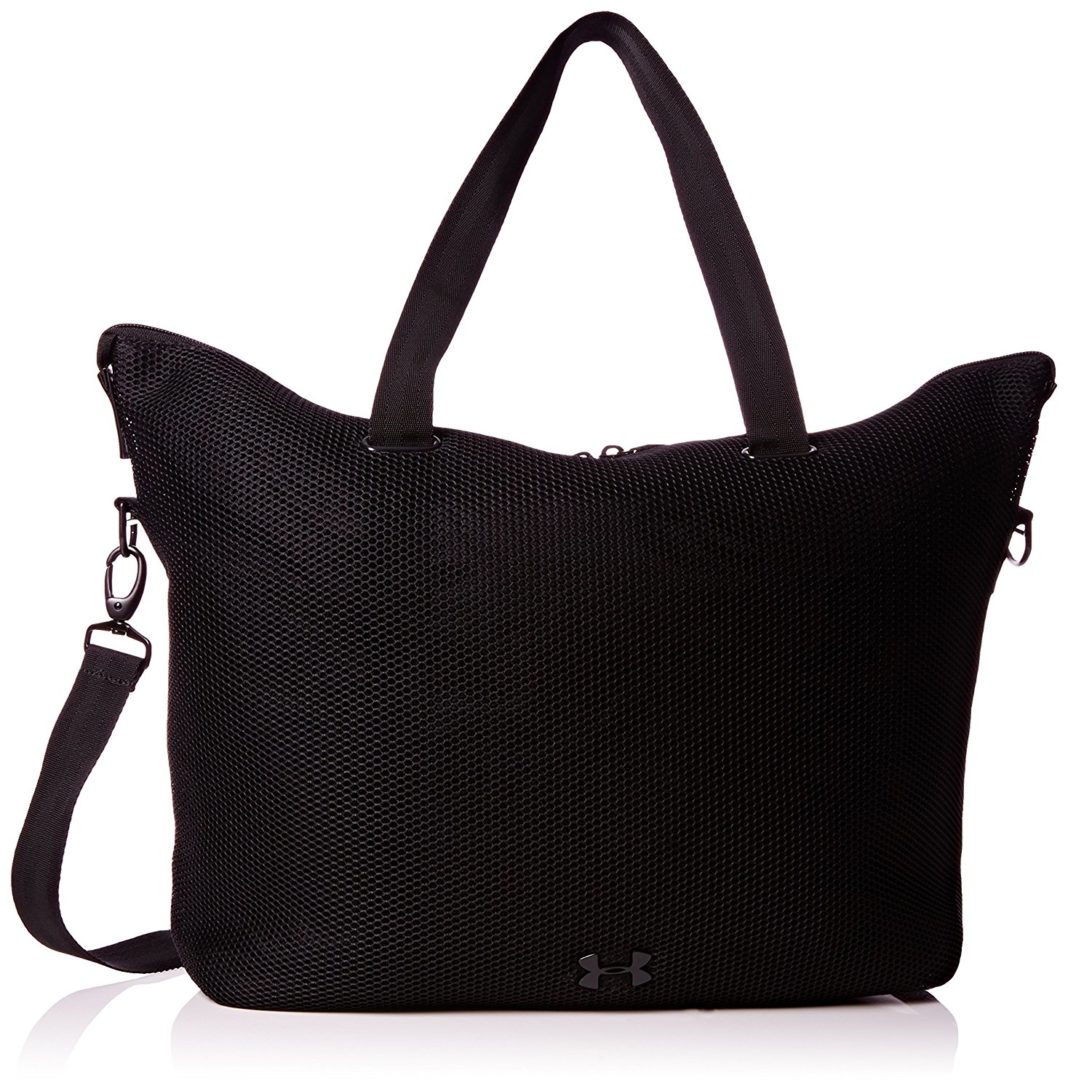 Are you one of those travelers who tries to pack everything but the kitchen sink? Well, this bag can fit everything. And we mean everything. Don't be fooled by its compact appearance and sleek black detailing. This little tote will have you wondering how you could have ever fit so much stuff in just one bag. We're calling it the Mary Poppins of Under Armour products.
We love that it comes with a soft-lined pocket for your electronics and everything is water repellent. If you get caught in a torrential downpour, fear not. Your belongings are safe and sound.
Ban.do Getaway Duffel Bag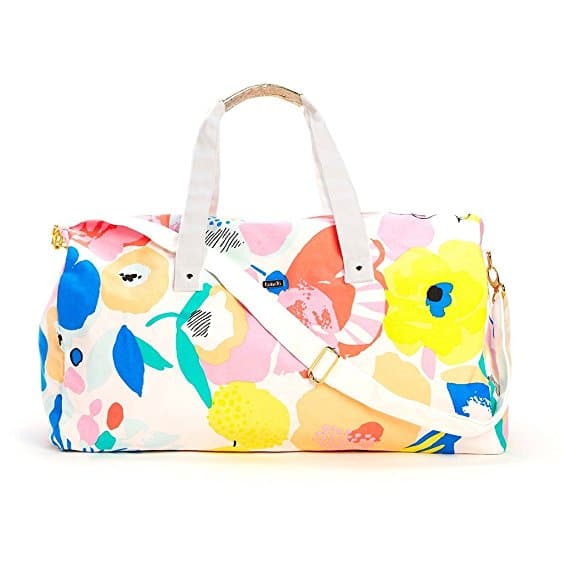 Have you seen anything more fun and cheeky than this bag? If you're comfortable with vivid colors and fun prints, this is the bag for you. It screams 'girl, you need a vacation!' If there was never a better reason to get out of town than this insanely cute getaway duffel, we dare you to find it. Trust us, this bag is huge! It's one of the best weekender bags for fun-loving people.
Invest In the Herschel Novel Duffel Bag for Your Next Trip
We absolutely love the Herschel Novel Duffle bag and we know you will too. This stylish, durable bag has all you need for your travel needs. Now, the only question left is where will you go next?
Related Article: Best Weekender Bags For Travel In 2018