Staying hydrated is a lot easier when you get to carry around one of these cute water bottles!
With so many options, you won't have to choose the utilitarian water bottle, like a red Coleman canteen. Instead, add your style with a cute water bottle, or two. Additionally, these cute water bottles make great gifts for your friends: a happy tails one for your dog-loving friend, or a Grand Teton one for your friend who just visited the National Park. Plus, who doesn't love a good floral print resting on a desktop? These cute water bottles will put a smile on your face (or a friend's).
Mira Vacuum Insulated Travel Water Bottle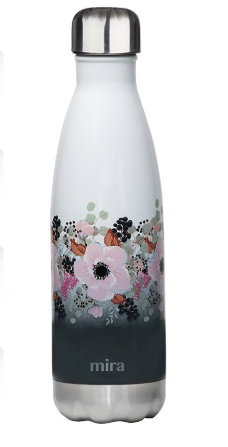 Credit: Amazon
We love this clean-looking floral pattern. Called "peonies" as the color option, these flowers are sure to brighten a day. Not into floral patterns? There are over twenty other options for colors and patterns for the Mira Vacuum Insulated water bottle. These other cute patterns include: blue granite, metallic rose gold, wood, sunset, or stars. It is not all about looks with this cute water bottle, though! The vacuum insulated means that it keeps drinks cold (or warm). Plus, it's made from food-grade stainless steel featuring a leak-proof cap! Cute and functional! Furthermore, the double-walled vacuum insulation style is Hydroflask's way of keeping drinks super cold, too. Check out some Hydroflask water bottles here.
Mami Wata Fruit Infuser Water Bottle
Credit: Amazon
This cute water bottle displays the fruit inside! Besides looking trendy, the water tastes so good this way! Add some lemons, or any other fruit and sip in the naturally flavored fruit water. Choose some stylish colors such as rose gold, ultra violet, or Arcadia green. This pretty water bottle makes a great gift since it comes in a cylindrical tube gift box. Even if you don't want to infuse your water with fresh fruit all the time, you can remove that part and still enjoy a stylish water bottle.
Asobu Skinny Glitter Water Bottle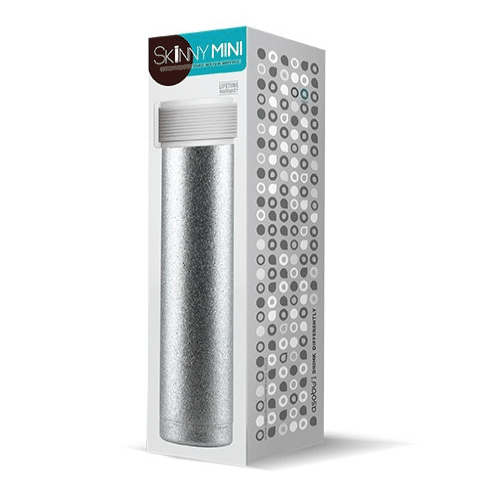 Credit: Amazon
If you're into a little glitter, here's a great option for some stylish bling. This "sophisticated glitter" facade means you won't have the same water bottle as a five-year old little girl. The slender, simple design with the shiny exterior adds a welcome amount of bling. It's only eight ounces, but that means it is perfect for slipping inside a purse. The double-wall helps to keep your drink cool, and it's BPA-free. As one of the cute water bottles out there, this one is especially sleek, chic and pretty! Add a little glitter to your day with this water bottle!
Manna Vogue Stainless Steel Water Bottle
Credit: Amazon
Who doesn't love a cute chevron pattern? These durable water bottles make our list of cute water bottles because of the pretty colors and pattern. Choose between a few different variations in colors. The double-layer vacuum insulation keeps drinks extra-cool. If you're looking for other well-insulated water bottles, check them out here. Plus, it's lightweight to begin. This water bottle's material is stainless steel, with a matte finish that makes it easier to grip.
Hallmark Home Ceramic Water Bottle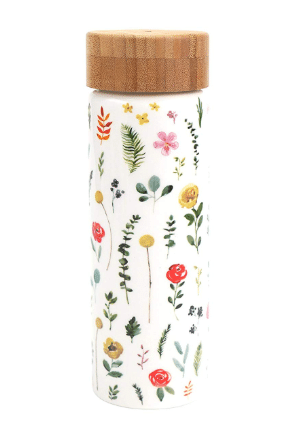 Credit: Amazon
This makes our list of cute water bottles because of the five adorable patterns this comes in. Choose a prickly cactus reading "It's okay to be a little prickly sometimes," the white-background floral, or a little polka dots among others. The bamboo wood lid is a nice cap for the top. This water bottle is ceramic, and good for cold liquids.
Hip Tritan Plastic Water Bottle
Credit: Amazon
We think this water bottle is so cute because of its unique shape. The short, colorful water bottle grasps nicely in your hand, or fits in pockets within a large purse. Choose from many colors for the exterior: mint, ocean, cloud or blush. The silicone sleeve as the exterior makes it easy to grip, and adds the fun pop of color. This water bottle's cute shape and fun color options make it one of our favorites!
Mad 2 Order Glass Water Bottle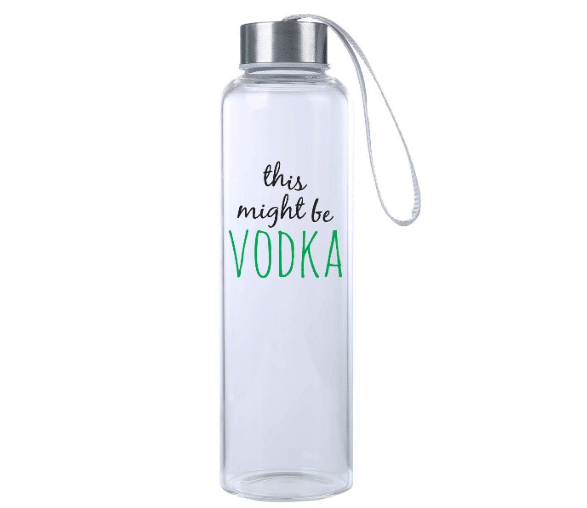 Credit: Amazon
This cute water bottle comes with various fun sayings to inspire you to get your workout on, and stay hydrated. Phrases featured on the water bottle include: "Agua-holic," "Chuglife," "This might be Vodka," "Strong is the new sexy," "I'm really a mermaid," "Sore Today, Strong Tomorrow" or "Goal Digger." Whether its you or a workout-loving friend, the owner of this water bottle can choose a humorous phrase to tag along with you. Plus, the scripted font and little pop of color makes the water bottle extra pretty. This glass water bottle comes with a fabric loop hold.
Luoda Stainless Steel Water Bottle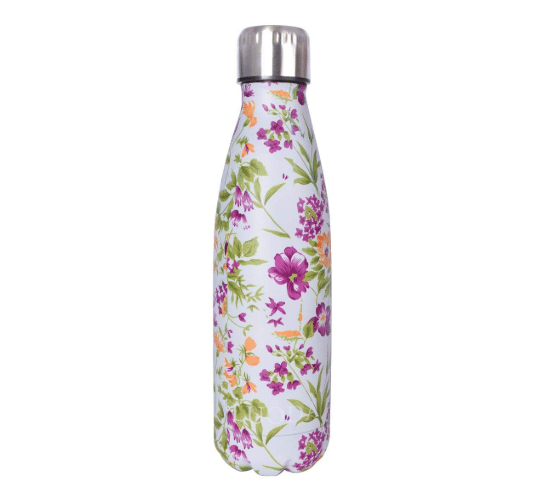 Credit: Amazon
This adorable print pattern and quality water bottle make our list of cute water bottles! The flowers against the white background will add a fresh, chic look to accessorize your outfits, purse, or desktop. The water bottle itself is made from food grade stainless steel. Additionally, it features a double-walled vacuum insulation; super effective for keeping your drinks cold. The other advantage is that this water bottle won't sweat, so its convenient for stashing in your purse or bag with other items.
Slant 18oz Drink Pretty Loop Water Bottle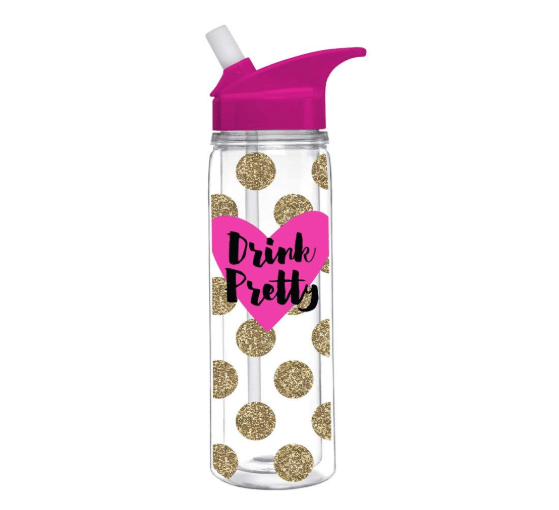 Credit: Amazon
Sure, it's all part of the advertising, but who doesn't want to "look pretty" while drinking from this water bottle? The hot pink with glitter polka dots make this water bottle a statement piece. Additionally, this Slant brand offers some other fun, glittery, girl-sass water bottle styles. This water bottle is 18 ounces, with a flip-open sip straw. The plastic is BPA-free. Sip in style, precisely as this water bottle says!
Simple Modern Wave Water Bottle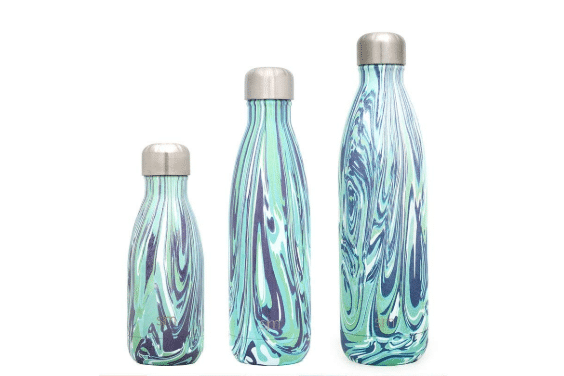 Credit: Amazon
This fun water bottle pattern and style comes in even more options than pictured above! Choose from vibrant, pretty solid colors, or other "marbled" color patterns. There are also gradient color trios, and color options such as glimmering gold and wood grain. With so many options from this cute water bottle, you are certainly sure to find one you or your friends will love. Additionally, you can choose your ideal size, or even order a few different sizes. That's especially great if you simply can't decide between the great color options! This water bottle is made from food grade stainless steel. It is vacuum sealed to be really effective in keeping drinks cold.
Cretoni Certified Pure Copper Water Bottle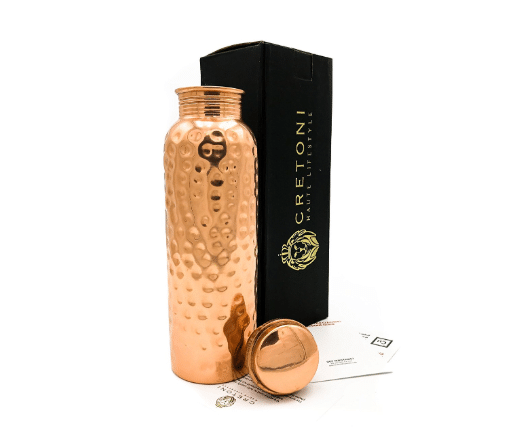 Credit: Amazon
This sleek, stylish water bottle is all copper! It's smooth and shiny with an indented, hammered polka dot design. Some consider copper to be a helpful mineral for the body, and storing water in this bottle serves two purposes then. It's stylish, and it may also be providing some health benefits since copper is found within body tissues and in the production of red blood cells. Therefore, it's a stylish water bottle that really serves two purposes: looks pretty, keeps you hydrated, and provides an essential mineral. How cool is that? Many love the taste of water in these bottles, too. The cap screws on and off easily, and doesn't leak. What's better than a totally luxurious-looking, mineral water bottle?
Rainbow Stainless Steel Insulated Water Bottle
Credit: Amazon
Here's a fun, summery style for your water bottle! The gradient sunset colors are pretty, and serve as the background for the words "Thirsty" or "Bottle." The exterior of the bottle is a matte material, and the bottom features a non-slip surface. Additionally, the soft rubber tab on top makes the whole water bottle easy to grab, and adds a happy yellow pop of color.
These cute water bottles will brighten your days!
Keeping some drinking water close by is easy when it's in bottles that are as cute as these! These cute water bottles make great gifts if you want to brighten a friend's day. Even better, if you keep these water bottles out on your desk or counter, they won't be clutter; they'll be a stylish accent!
Related article: ​8 Cool Water Bottles for Your Next Adventure​​​