LOUECHY has delivered a durable hiking shoe that easily doubles as a water and running shoe, too.
Finding a truly breathable shoe that excels while hiking is difficult. If you get a waterproof shoe, they don't breathe well. If you get a normal hiking shoe, it will become slushy and heavy when you do find water. But, don't fret. LOUECHY has created a lightweight shoe that gives you the best of the worlds if you're willing to get your feet wet. The LOUECHY Men's Ponrea Mesh Hiking Shoes blend together flexibility, traction, breathability, protection, and adventure all into one fairly simple shoe. So, for a new type of hiking shoe that might just be the perfect fit, read on about the LOUECHY Ponrea Mesh Hiking Shoe.
LOUECHY Men's Ponrea Mesh Hiking Shoes Features & Benefits
Mesh Textile Upper Providing Excellent Breathability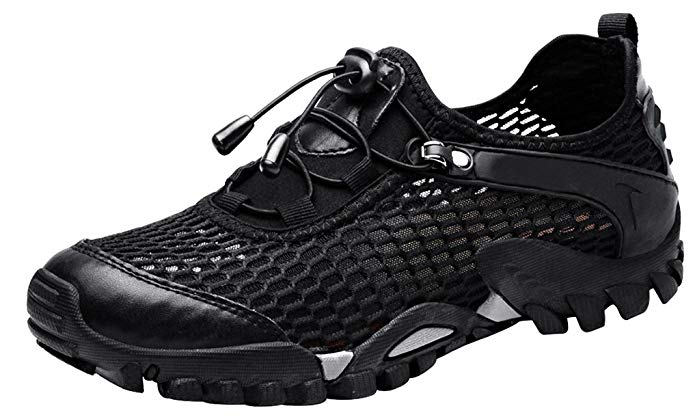 LOUECHY set out to build a shoe that would provide the best breathability in hot weather. They have had the sweaty feet at the end of a long day. It is one of those things that just makes sense: happy feet make a happy man. So, LOUECHY got creative. By using a mesh textile upper, they were able to create a shoe you can actually catch some breeze in. The hexagonal aperture of the mesh creates stellar airflow while still cradling your foot tightly. This feature also makes the LOUECHY Ponrea a quick-dry hiking shoe. With the breeze you will feel in these, don't worry about your feet staying wet all day if you trudged through a stream. Finally, this mesh does not compromise the fit or stability of the shoe. Instead, it adds a great thing to an already solid design.
Tractioned Rubber Sole
The LOUECHY rubber sole has been designed for optimum flexibility while still being durable and incredibly tractioned. When holding this shoe, you will be able to bend it over on itself. This is perfect for jumping around on rocks and still having full contact for the most traction. That being said, the flexibility of the sole means you may feel a few bumps through the sole. If you tend to like incredibly thick, supportive soles, this may not be the best hiking shoe for you. The directional pattern of the sole's texture delivers increased traction on both wet and dry surfaces as well. So, whether you're hiking down the road, fording a stream, or playing on rocks, these LOUECHY hiking shoes are ready to get you where you're going.
Supreme Protection from Toe Bumper & Heel Counter
You might be concerned about how well protected your foot is when looking at such a lightweight and flexible shoe. That is a valid concern. While this shoe obviously does not provide ankle support like a hiking boot, it does have many safety features. The toe bumper in the front of the LOUECHY hiking shoe provides protection where you need it most. Whether it's stubbing your toe on a rock or carefully coming down a steep side of the mountain, your toes will be just as safe as in any other hiking shoe. On the other side, the LOUECHY Ponrea Hiking Shoes have a heel counter which keeps your heel securely in place. In addition, it gives extra grip on the ground while protecting your foot from rocks and roots along the way. LOUECHY designed these safety features to still provide ample flexibility, too.
Speed Lacing for Quick Adjustments
The laces on the LOUECHY Ponrea Mesh Hiking Shoes are made with slightly stretchy material that conforms to your foot. By putting a bungee clip where you would normally tie the knot, you can easily pop these hiking shoes on and off. If you like to take your shoes off to rest occasionally on your hike, this feature will make it that much easier. You can also adjust the tightness depending on the activity level. For just walking around and laid back use, you can keep it loose for maximum comfort. But, when you're ready to scale some trails and rocks, cinch the laces down, So, the speed lacing on the LOUECHY Ponrea Hiking Shoes are a unique feature we've come to like quite a bit.
Soft Insole for Shock Absorption and Cushion
The soft insole in the LOUECHY Ponrea Mesh Hiking shoe gives some amount of cushion and shock absorption. This being said, this is still a lightweight hiking shoe. It does not provide ankle support and only a little bit of cushion. It is not meant to be used for long, multi-day hiking trips. But, with just enough cushion to get you through a good few miles of wet hiking, LOUECHY still delivers a brilliant day hike shoe to the market.
What Travelers Are Saying About the LOUECHY Men's Ponrea Mesh Hiking Shoes
Users from all over love the LOUECHY Ponrea Mesh Hiking Shoes. Travelers love to use them as a wet hiking shoe or water shoe. Most adventurers comment that they're the perfect shoe for a day or two canoeing or kayaking around lakes and rivers. Many hikers have been happily impressed that these hiking shoes are just as comfortable wet as they are dry, which says a lot. While they fit mostly true to size, a few consumers noticed that they fit a little large. This may be due to variation in socks. Many people do not wear hiking socks with this shoe, but instead, use it as a water shoe. So, keep your usage in mind when choosing the size for your LOUECHY Ponrea Hiking Shoes.
The one downside many people note with this hiking shoe is the rough heel. Where the shoe comes in contact with the back of the ankle is prone to rubbing. One easy way to fix this is to wear socks with the shoes, but for some people that were not an option. Take into account this did not happen with everyone, so it may simply depend on your ankle structure and how you fit in the LOUECHY shoe. But, with an overall 4 out of 5 stars, LOUECHY has delivered a fantastic, breathable, and lightweight water and hiking shoe at a minimal cost.
Alternative Men's Hiking Shoes You May Like
RAX Men's Quick Drying Slip-Resistant Water Hiking Shoes
If the LOUECHY Ponrea Hiking Shoe caught your eye, you're most likely looking for a lightweight hiking shoe that plays well in water. The RAX Men's Quick Drying Slip-Resistant Aqua Water Hiking Shoes are a great alternative with similar features. They are made with a quick dry mesh upper to keep your foot drying quickly. The slip-resistant rubber sole provides solid traction, even when wet. There are holes on the side of the sole to keep your hiking shoe draining quickly. The tip of the shoe is capped with a durable toe cap as well. These shoes are popular for light hikes as well as a shoe for all kinds of water activities. So, for an equally loved alternative water and hiking shoe, check out the RAX Men's Quick Drying Slip-Resistant Aqua Water Hiking Shoes.
QANSI Men's Mesh Breathable Barefoot Water & Hiking Shoes
The QANSI Men's Mesh Breathable Barefoot Water & Hiking Shoes are a great alternative to the LOUECHY Ponrea hiking shoes. They have been made totally seamless for maximum comfort and to eliminate rubbing when worn without socks. The high quality fabric and leather upper dries quickly but doesn't let sand into the shoe like mesh shoes. The rubber soles are anti-slip and made for playing in the water. Your toe is protected with a toe cap while keeping the design incredibly flexible. Lastly, QANSI has developed an antibiosis insole to keep your shoes breathing and void of any odor. This will keep your foot happier and healthier than before.
Teva Men's Arrowood Waterproof Hiking Shoe
Not all of us are okay getting our feet wet, and that's okay. If you'd prefer a waterproof alternative to not get your foot wet in the first place, read more about the Teva Men's Arrowood Waterproof Hiking Shoe. It will keep water out with its leather and synthetic upper. Additionally, it provides a bit more support than LOUECHY by being a simply beefier shoe. You won't compromise on traction with the cushy sole, either. The Float-lite technology that makes up the midsole keep this hiking shoe light and airy, providing you plenty of cushions. The sock liner is removable too in order to keep this shoe comfortable and airy at the end of the day. If you're looking for a light and cushioned shoe that will keep your feet dry, there is a great alternative.
Through plenty of feedback from customers who are actually out and about in nature, LOUECHY has created a fantastic mesh water and hiking shoe that performs incredibly well for the price.
If you've been trying to figure out the best way to play on both the dirt and in the water, you might have met your match. With each feature that LOUECHY incorporated into their design, they have made an unparalleled shoe for a specific purpose. These shoes don't look half bad either. Coming in five different earthy colors with just a little flair, you will find one that fits you and your adventurous style. So, try out the LOUECHY Men's Ponrea Mesh Hiking Shoes today if you're ready to get wet and wild out in the woods!
Related Article: The Best Hiking Shoes for Men: Durable, Lightweight Picks