The search for a hiking shoe that fits your foot and style can be confusing, stressful, and expensive.
Hopefully, our Men's Teva Arrowood Review can give you a little insight to see if this is the shoe for you. When looking into hiking and everyday shoes, there are so many things to consider. First off, what material would you like it to be made of? Do they need to be waterproof? How much support is needed, and how tall do you want them to be? Will you be wearing these off the trail too, and if so, how stylish should they be? These are just a few of the questions that we'll touch on when reviewing the Teva Arrowood Hiking Shoes.
Men's Teva Arrowood Waterproof Hiking Shoes Features & Benefits
Leather & Synthetic Upper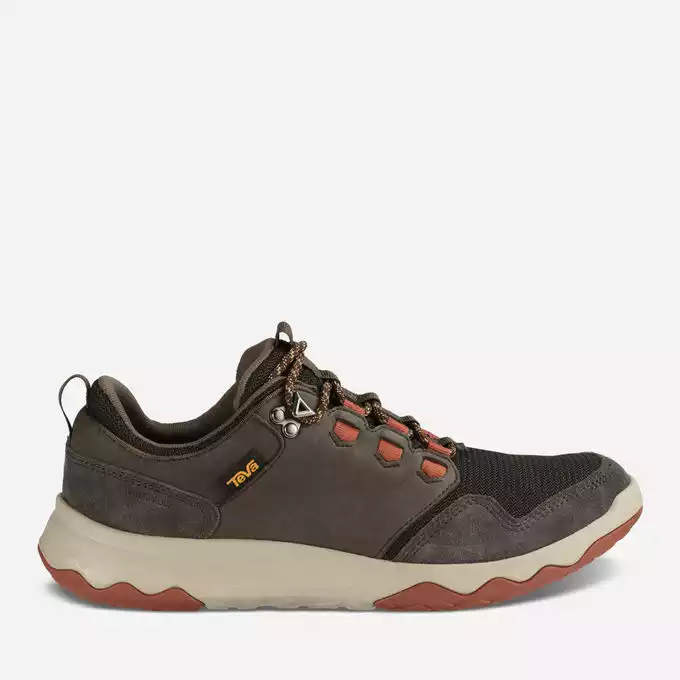 Credit: Teva
For a longer lasting hiking shoe, you'll want to go with a leather one. It may take a few more miles to break in, but natural leather has a glorious fit to it. It will shape to your foot incredibly well and feel like the Teva Arrowood was specifically made for your foot. The synthetic parts of the shoe look like mesh but are still waterproof. The overall combination of both leather and the synthetic upper makes an attractive shoe that molds to your foot and will last quite a while.
Waterproof
Avoiding inevitable puddles while hiking or avoiding a dewy field or lawn is not the greatest. By investing in a waterproof hiking shoe or sneaker, you won't have to think twice about what is wet and what is dry. Being fully waterproof, the Teva Arrowood will keep your feet dry and warm as long as you keep the waterline above the low top height. Both the leather and synthetic parts are waterproof as well, so as long as you close the laces up well, you'll be set for any weather that comes your way.
Float-Lite™ Midsole
Just by the name, you can tell that the Teva Arrowood Midsole is going to be incredibly light. The new Float-Lite™ technology allows the Teva Arrowood to be incredibly cushioned while staying feather light. Made from foam, the shoe will quickly adapt to your specific hiking and walking style, giving you cushion and support where needed. This is very similar to memory foam. It has been proven to last hundreds of miles as well. So, for cush support hike after hike and day after day, look to the Teva Arrowood with its' Float-Lite™ Midsole.
Rubber & Float-Lite™ Outer Sole
The same magical material that makes the mid-sole has been paired with rubber to create the tread of the sole. The rubber focused on the heel and toe provide extra grip, protection, and durability on the two most used parts of the shoe. Pairing this with the exceptionally cushioned Float-Lite™material which also appears on the sole, you have a flexible sole you can feel just enough of the trail in. You will be able to adapt to the different features of the ground without feeling the rocks jabbing through to you.
Removable PU Sockliner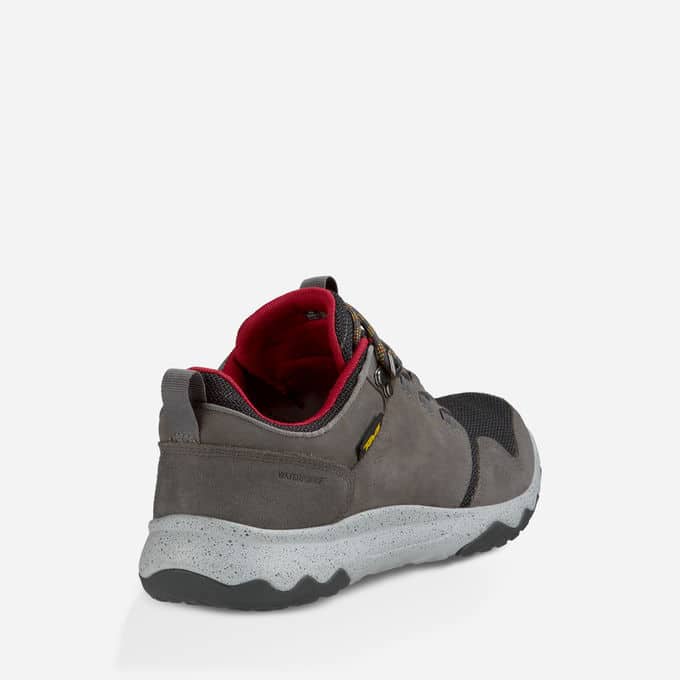 Credit: Teva
Some of the stinkiest things in the house are often shoes. Especially those that you've trudged through puddles, trails, and sweat in. The removable PU sock liner in the Teva Arrowood allows you to have a little extra spring in your step. It pairs super well with the Float-Lite™ Midsole, creating a little bounce back to help keep you moving. In addition, you can remove the sock liner and switch it out for a favorite footbed you prefer. If you need extra heel support or cushion, simply interchange it for the sole you've been using or already love. Lastly, you can pull out this sock liner and give it a quick wash. This will keep odor lower and help dry out a shoe after a long, sweaty day. So, the removable PU sock liner may be one of the best parts of the Teva Arrowood Hiking shoe.
What Travelers Are Saying About the Men's Teva Arrowood Waterproof Hiking Shoes
Travelers, hikers, workers, and commuters are all wearing the Men's Teva Arrowood around town and the trail. They most often comment on this being more of a nice waterproof sneaker than a specific hiking shoe. So, if you're looking for versatility this is a great choice. Averaging 4.4 out of 5 stars, we can all agree that it is a pretty solid hiking shoe when it comes down to it. The favorite things that hikers notice are that they are incredibly lightweight. If you like to feel light on your feet, stick with the Teva Arrowood. The last thing that everyone loves about the Men's Teva Arrowood Hiking Shoes is the variety of colors they come in. From keeping it casual with grey, brown, and black options, these can go from trail to town easily. For a little more spunk, grab a red or plaza taupe pair. Overall, we love the style of the Teva Arrowood.
There are a few things to note with this shoe, which may or may not sway you away from them. First off, they tend to run about a half size too small. So, order half a size up especially if you like to wear larger hiking socks. Secondly, a few, but not all, reviewers note that the sole does not last as long as they would like. In addition, the tread isn't specifically made for wet rocks or other treacherous conditions. So, they might not give as much grip if you are using their waterproofing to its full capabilities. Finally, all travelers to affirm they are very waterproof, although it makes their feet a little warmer because they don't breathe. That is a common trade off with waterproof hiking shoes that you should know before diving in to purchase the Teva Arrowood hiking sneakers.
Alternative Men's Hiking Shoes You May Like
Men's Salomon X Ultra 3 GTX
Salomon has been in the outdoor industry and market for quite a while. They have been honing in and perfecting their perfect hiking shoe. So, this is a pretty solid alternative to the Teva Arrowood. With a two-year warranty, you already know that Salomon believes in their X Ultra 3 GTX hiking shoe. They have included an Advanced Chassis in the shoe to help stabilize your heal and keep your foot cushioned and secure on the trail.
There are two types of rubber used in the sole to give extra good grip on slippery surfaces, which is a huge advantage to this shoe over the Teva Arrowood. They come in a variety of colors but have a more sporty look, so it may be less of an everyday shoe if that's what you're looking for. But, the Salomon X Ultra 3 GTX was made to keep you safe on trails, hills, and big climbs. So, seek this out as an alternative if you're in for more intense hiking days.
Men's Merrell Moab Edge Hiking Shoe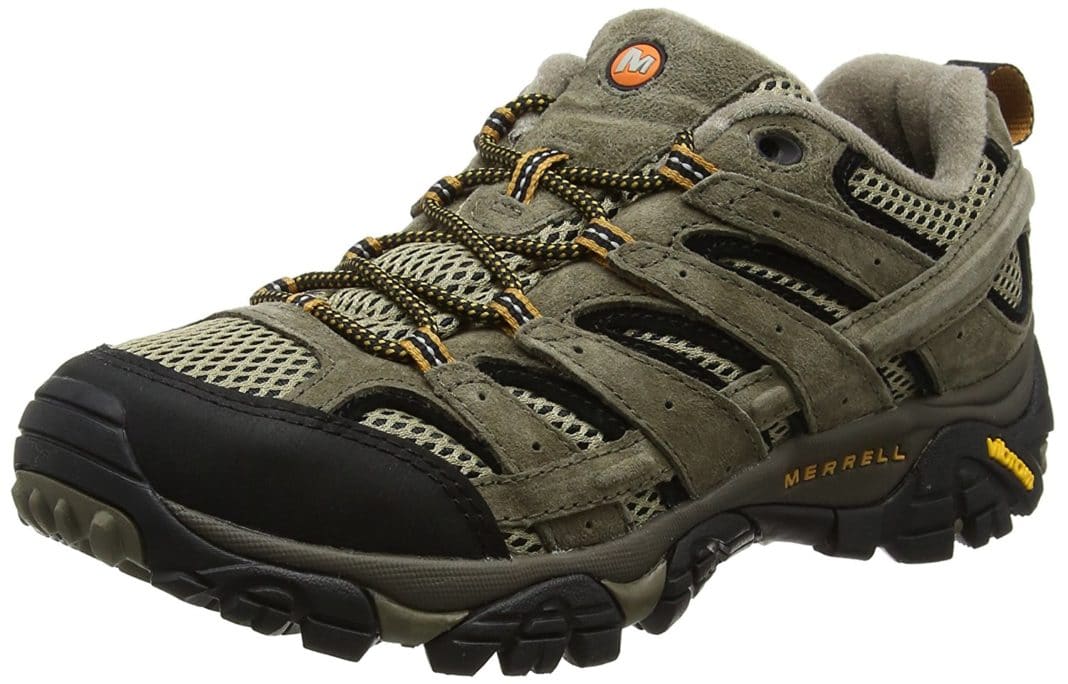 Merrell is shooting for spectacular out of the box comfort with their Moab Edge Hiking Shoes. With performance suede leather and mesh upper, they are incredibly durable and breathable. The closed-cell foam tongue keeps moisture and rocks out of your shoe, while the rubber toe cap adds extra protection against stubbing your toes on the trail. The footbed is contoured with extra arch and heel support for those long days on the trail. The footbed has an air cushion at the heel to absorb any shock you might get bounding down the mountain. Lastly, Merrell uses the infamous Vibram sole with a five-millimeter lug depth. This gives them superior traction and top quality endurance. If you're looking for a high adventure hiking shoe instead of the more casual Teva Arrowood, check this one out.
Men's TFO California Breathable Low Trekking Shoes
At a lower price point, the TFO California Low Trekking Shoes are also known for being trail runners. That means these can be a great shoe for daily work if you have a more casual office. They also have leather and nylon uppers and a rubber outsole, just like the Teva Arrowood. In addition, they also have a removable insole, arch and heel support. To keep you safe and secure, they have added a rubber toe cap and have great traction with five-millimeter lug depth on the soles. Overall, travelers rate these shoes with 4.5 out of 5 stars, so these are quite the bargain. Lastly, all the hikers using this product find them incredibly comfortable. So, if you're looking for a lower price point on a pair of hiking shoes, check these out.
The Men's Teva Arrowood Waterproof Hiking Shoes are a great all-around shoe for everyday use, but may not be the best option for intense hiking adventures.
The lightweight and incredibly cushioned Teva Arrowood is a solid shoe, especially when you consider its waterproofing. They look stylish while still providing you with great support. That being said, the tread is not as aggressive as many hiking shoes, which might not give you what you need on a hard, wet day out and about. But, if you're looking for a great day hiker or something to wear outside day today, these are a good choice for you.
Related Article: The Best Hiking Shoes for Men: Durable, Lightweight Picks