You won't regret a visit to Scotland, especially if you do these things.
Voted the most beautiful country in the world in 2017, Scotland is certainly one for the books. Passport books, we mean. It is a true tragedy to visit Europe and miss a chance to explore this wondrous historic isle. With such rich history and captivating culture, it is not a surprise that there are truly endless activities to do here in Scotland. From strolling across the lush, green hills of Scotland's landscape to getting lost in the winding alleyways of its capital Edinburgh, there is truly an adventure around every corner. Of course, the tricky part is narrowing down your personal favorites and then fitting it all in during the course of your trip. If you need a little help with this, don't worry. We have researched this spectacular destination ourselves and compiled a list of some incredible ways to spend your time in Scotland.
Check Out These Amazing Things To Do in Scotland
1. Enjoy an Authentic Scottish Eatery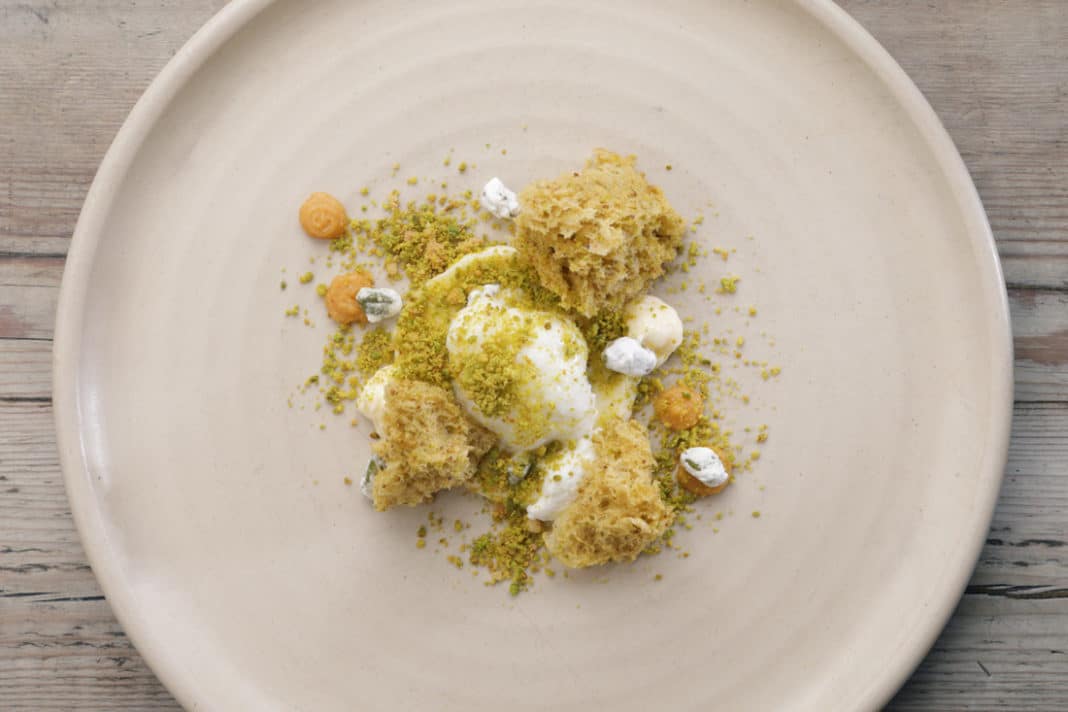 Credit: Three Chimneys
It is no secret that the food is generally better in Europe. Scotland is no exception to this. Regularly leading the charge in worldwide culinary trends, Scotland has plenty to share by way of restaurants. If you want a high quality, fully authentic Scottish experience, then eat at the Three Chimneys Restaurant. This dining experience is renowned throughout the entire United Kingdom and strives to offer much more than just good food. Head Chef, Scott Davies and his team of professional chefs aim to reflect Scotland's incomparable culinary heritage within each of their dishes. Take a bite of Scotland's bountiful gastronomic variety when you dine at Three Chimneys Restaurant.
2. Look for Old Nessie in Loch Ness Lake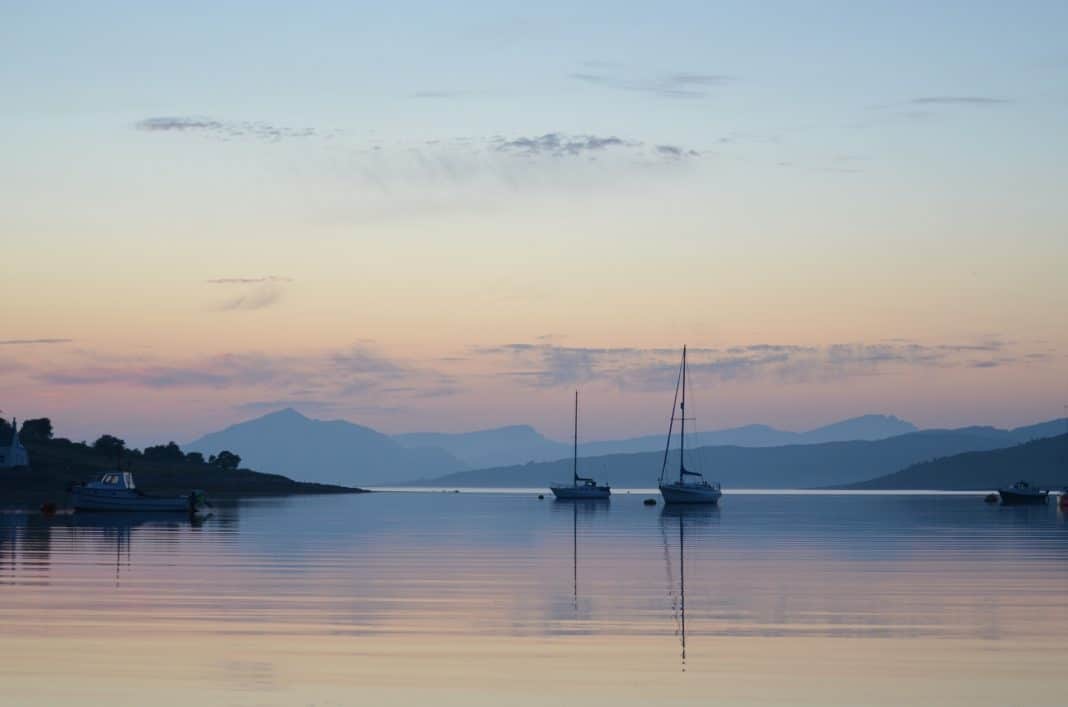 The Loch Ness Monster's existence might be debatable, but this lake is a different story. After Loch Lomond, Loch Ness is the largest lake in Scotland. This massive body of water is just a single example of Scotland's many lochs. Each one is entirely unique. You might just want to keep an extra eye out if you take a dunk in this particular body of water. Fishing is a primary activity at the lake, with fishing season running from March through October. You never know who could be swimming right beneath you.
There are a number of other lochs to highlight within Scotland's borders. Loch Lomond, the pleasure loch, is known for its numerous water activity options. Enjoy sailing, fishing, swimming, canoeing, and more within its clear waters. Besides Loch Ness, Loch Awe is another iconic freshwater lake in Scotland. It truly lives up to its name, as its picturesque setting makes it the classic posterboard image of Scottish scenery. The north east end of this loch hosts the ancient Kilchurn Castle, whose crumbling ruins find their way onto many a postcard and calendar.
3. Step Back Into the Stone Age
Long before kings and castles ruled the land, there were still inhabitants on the Scottish Isles. Though thousands of years have passed since these peoples dwelled in Scotland, remains of this life still lie across the isle. If you want to dive back into Scotland's primitive origins, then Maeshowe is a spectacular site dating back to 5,000 years ago. A Stone Age tomb, constructed from sandstone blocks, this archeological site gives you the opportunity for a close up view of ancient history. The laborious process of constructing this tomb is clearly evident as you observe the enormous blocks, some weighing several tons. Book a tour for a chance to walk through these still standing edifaces.
4. Pay a Visit to Edinburgh Castle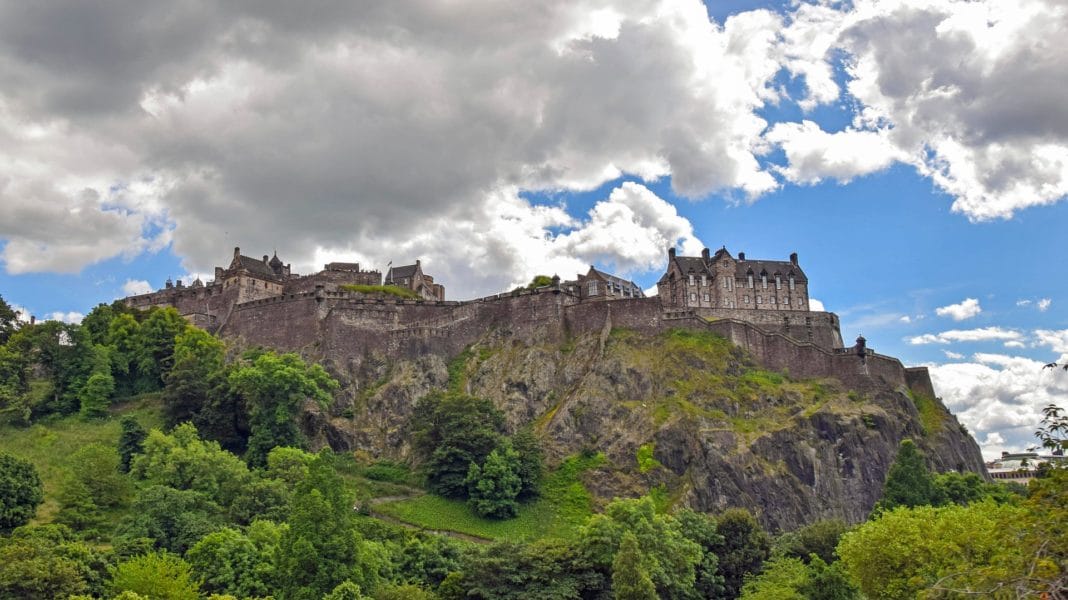 The land of over two thousand castles, Scotland is a true historic and architectural wonder. You don't get far here without spotting something truly extraordinary. Scottish castles appear to be straight out of a fairy tale, with their pointed spires and towering walls. It is not difficult to imagine noble knights riding towards the castle gates or the drawbridge being lowered over the surrounding moat. It is like a page jumped right out of history books and remained within modern day reality. Seated upon an extinct volcano is perhaps the most identifiable castle in Scotland. Edinburgh Castle remains an influential part of Scotland's government, as it houses the crowned jewels collection. Take a tour this illustrious castle as you venture up the hill it is perched majestically on.
5. Explore the Great Outdoors of Scotland
Of course if you are paying a visit to Scotland, you simply need to get outside to enjoy the scenic views. A free activity and a surefire way to evoke some Scottish spirit, the luscious Scottish highlands have captivated people for centuries. If you are interested in taking some hikes during your time here, there are certainly plenty to choose from. Holyrood Park and Arthur's Seat are two outdoor attractions right outside of Edinburgh. A short jaunt to the top, this hill is just as historic as it is picturesque. Dating back to 2,000 years ago, Arthur's Seat served as on of the four hill forts. Arthur's Seat also towers over the nearby city and offers spectacular 360 views of the surrounding terrain.
6. Check Out Scotland's Pink Sand Beaches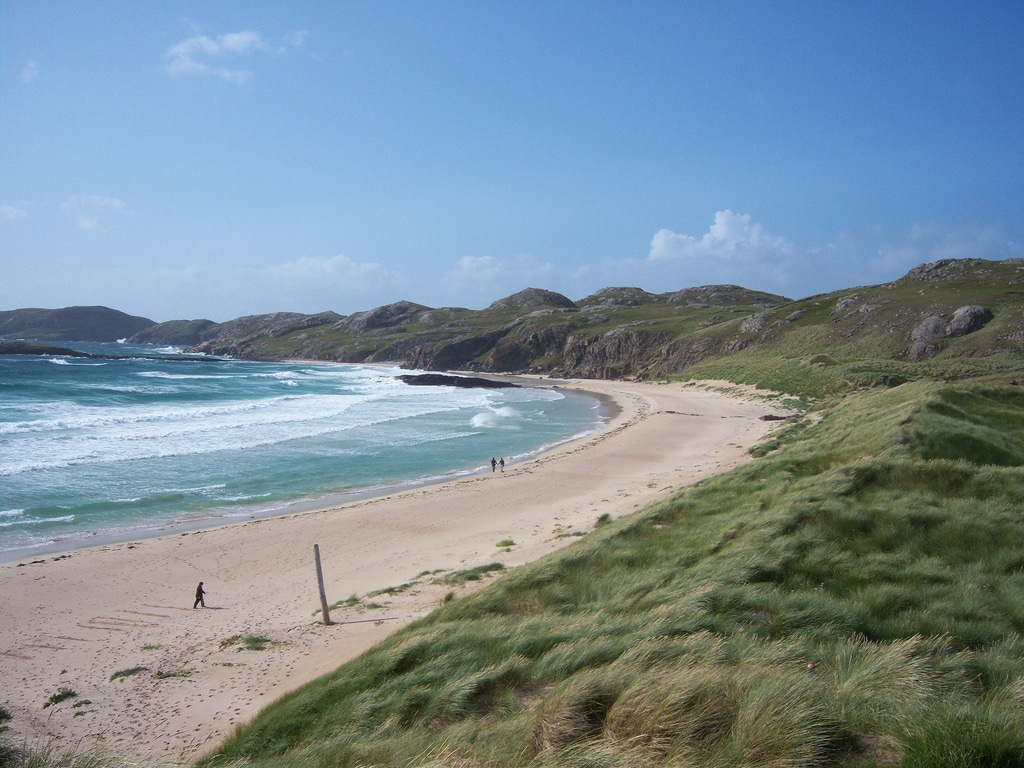 Credit: Graham Lewis
Everyone knows that uniquely colored sand beaches are way cooler than regular sand beaches. With that, you might be interested in checking out Scotland's pink sand beaches. Lunan Bay is a hidden gem within the Scottish coastline. This is the perfect place for a quiet retreat to clear your mind and simply enjoy the salt water and ocean breeze. Along the eastern shores of the Angust coast, discover the pink-tinted sandstone beachfront. This two mile stretch of unique sand lies beneath the ancient 12th century Red Castle.
7. Keep it Classy at the Scottish National Gallery of Modern Art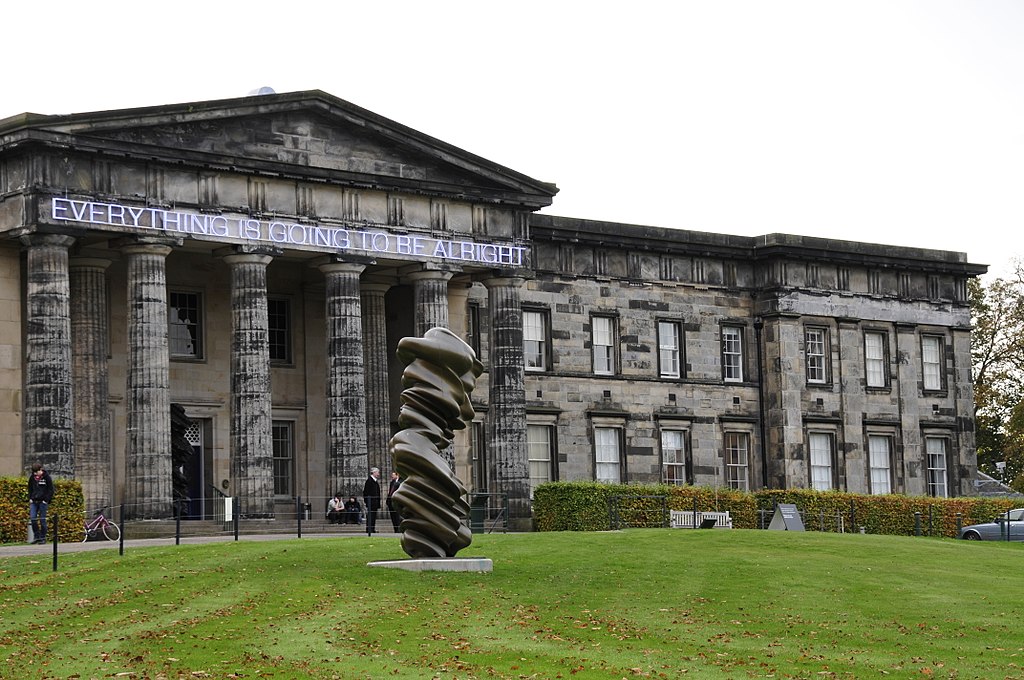 Credit: T. Thielemans
The Scottish National Gallery of Modern Art certainly qualifies as one of the amazing things to do in Scotland. The buildings themselves are a work of art, with their iconic Neoclassic design. The spectacular outer design and elegant landscape is the perfect framework for the thousands of masterpieces found within. While there are artists featured from throughout the world, naturally a majority of the exhibits focus on Scottish talent. Enjoy modern artwork, as well as pieces from hundreds of years ago. You can also enjoy classic works from renowned artists like Kirchner, Magritte, Miró, Picasso, Mondrian and Giacometti.
8. Spend a Weekend in Edinburgh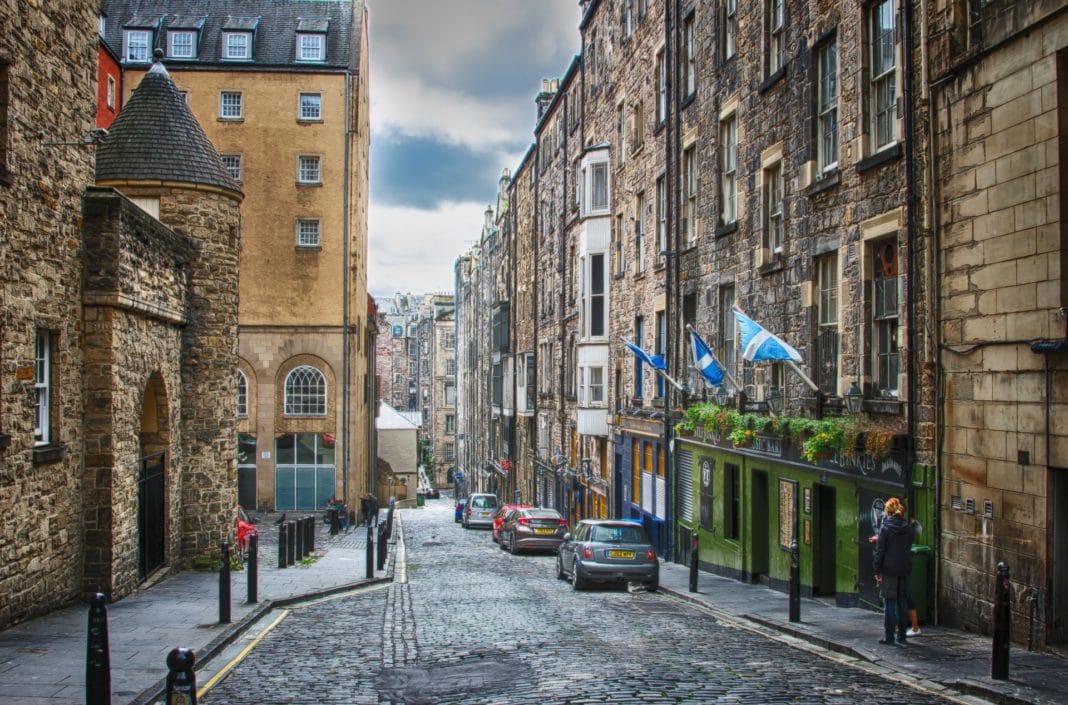 Edinburgh is Scotland's medieval and elegant capital city. If you have a packed trip itinerary, then a day trip to this town will have to do, but you really need more time here, if possible. There are countless things to do in Scotland just here in its capital. Nestled within Scotland's iconic rolling hills, Edinburgh is a place of discovery and magic. There are countless ways to spend your time here, so pick your favorite and dive right in. Check out the Camera Obscura, Edinburgh's oldest tourist attraction. If you like carnival optical illusion mirrors, then you will surely enjoy Camera Obscura. Its Latin origin name suits this venue, as you work your way through the tricky mirror maze and disorienting vortex tunnel.
Edinburgh's Old Town is another must see, with endless activities and historical attractions to enjoy. Walk down the Royal Mile to enjoy some traditional Scottish pubs, delicious dining, and souvenir shops and booths. This steep stretch of street runs from Edinburgh Castle all the way to Scottish Parliament and the Palace of Holyroodhouse, where the Queen often resides. Mary King's Close is another highlight within Edinburgh's Old Town. A perfectly intact preservation of a popular historic street, Mary King's Close contains many secrets. Explore the labyrinth of underground passages as you get a taste for Scotland's Medieval, and fully authentic social history tour. Learn more about the every day life within the closes as you explore these streets.
Enjoy these amazing things to do in Scotland.
Even if you have the chance to do just one of these things on the list, you will surely get a taste for the magic that is Scotland. Spend your time strolling through the Scottish Highlands, give ear to the classic bagpipe tunes, and marvel at the array of historic architecture. This beautiful place truly has a way of getting into your heart and making you want to return as soon as possible. With so many things to do in Scotland, no two of your encounters here will be the same. There are really endless ways to encounter the timeless culture of this petite isle. No matter where you choose to spend your trip, you will surely never leave Scotland the same.
Related Article: Things To Do In Belfast, Ireland: History, Adventure, and Culture