Seeking out the best hikes in Utah? You've come to the right place.
Visit Utah. This state is incredible. From delicate sandstone arches to carved out glacial geology, these trails offer a variety of terrain to traverse. With five national parks within its bounds, the best hikes in Utah touch on vast, beautiful landscapes – mountains, deserts, forests, and canyons. From craggy cliff tops, you'll find sweeping views, waterfalls, signs of early human history, and remnants of old forever kept in petrified form.
Here Are Our Picks for the Best Hikes in Utah
1. Delicate Arch, Arches National Park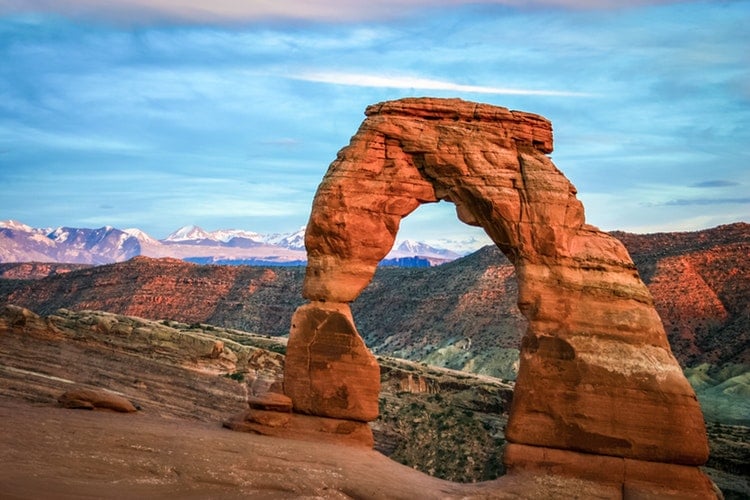 One of the most popular sites to be photographed in Utah is Arches National Park. And with good reason. Located near the town of Moab, this beautiful monument can only be reached by way of a three-mile round trip hike. While this arch is certainly iconic in the travel scene, it is only one of some 2,000 arches in the park overall. Rising up from a surrounding of smooth stone, it contrasts the mountains over on the horizon. We swear you'll never find a more stunning place to watch the sun rise or set.
While the trail is heavily trafficked in the summer, fall is a great time to visit. Sure, it will be a little cold. But if you bring the right gear and go, we'd happily trade warmer weather for less tourists. You'll start off over at the Wolf Ranch. We recommend starting out at the golden hour just before sunrise. Under the warm rays of the morning sun, the rocks catch a magical glow.
Before you head out on the trail, make sure to bring at least one quart of water each. A hydration pack or reusable water bottle will serve you well. Knowing what to bring makes all the difference, so make sure to invest in the right hiking gear. Even if you're traveling in the fall, you'd be surprised at how easy it is to work up a sweat; the trail has no shade. The first half mile starts out wide and then turns a bit more narrow, following a ledge around a rocky outpost.
There's no doubt about it. Delicate Arch is one of the best hikes in Utah. For anyone scoping out the state's national park scene, it's a can't miss spot. Make sure to take plenty of pictures and let us know what you think!
2. The Narrows, Zion National Park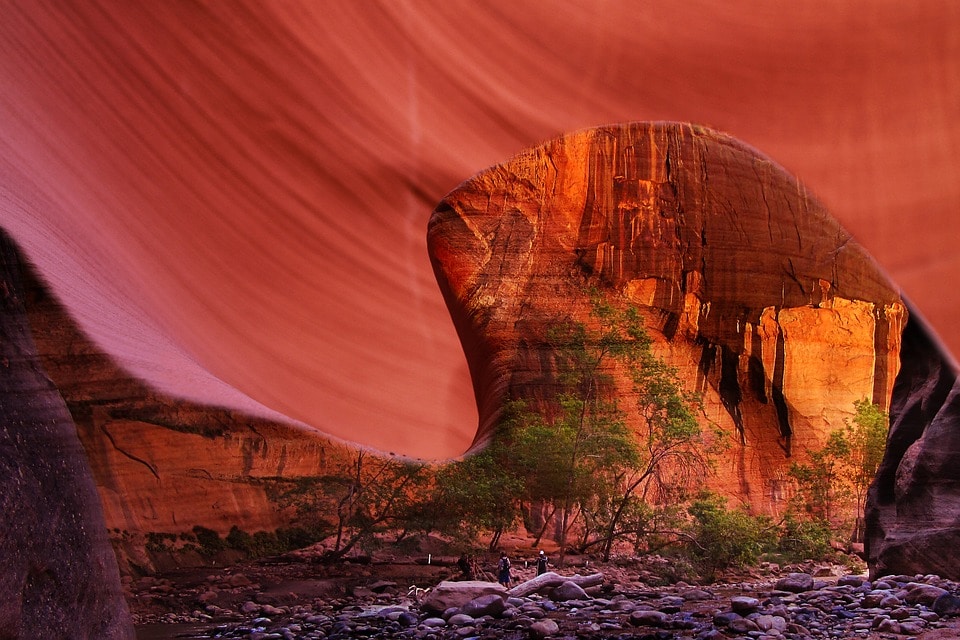 Okay, this one is going to take a little more preparation. As one of the best hikes in Utah, The Narrows leads adventurous travelers through some of the most beautiful scenery in the state. Make sure to dress appropriately for the weather. You're going to need to head over to some of the stores in the park near the ranger station for gear. They will set you up with special non-slip waterproof, knee-high boots to face the river as well as guide sticks to help you navigate the rocky terrain.
From there, you'll follow the Virgin River up the Narrows slot canyon. Twisting and curving canyon walls offer dramatic landscape views. The early morning sun shining through the rocks is nothing short of breathtaking. Hike up as far as you'd like. Most hikers make the journey about six to eight miles round trip. Keep in mind that since this is a river hike, it's also a seasonal one. After all, the water never gets warmer than about 46 degrees Fahrenheit.
If you're really feeling adventurous, you can get a permit to do a sixteen mile round trip hike from the top down. The number of permits is limited and it's a lot to undertake. But if you're up for it, the views and experience are more than worthwhile.
3. Queen's Garden / Navajo Trail Loop, Bryce Canyon National Park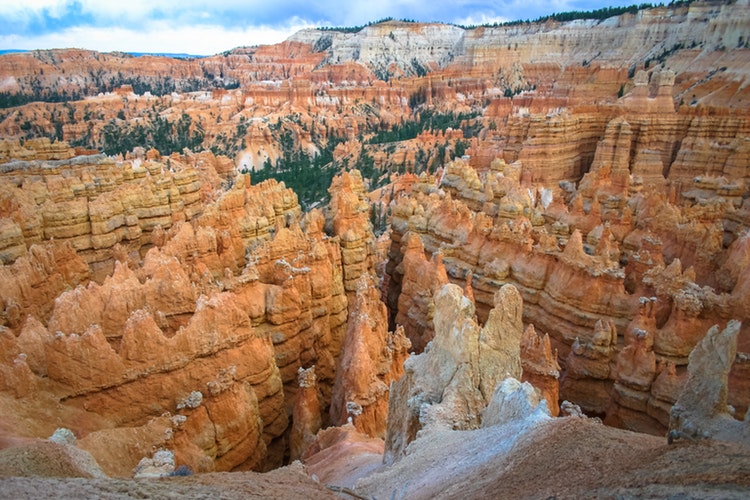 Vibrant red ridges are dotted with pine trees. The Queen's Garden hike along with the Navajo Trails connects to one of the most scenic lookouts, Sunrise Point. This loop trail runs only 2.9 miles round trip, following a well-carved path along the hill crest, to the base of the hoodoos, around the canyon floor, and then back up.
While the overall distance is easy to hike, the terrain does vary. Your ascent will guide you up a steep slope with switchbacks. If you want to avoid those and opt out for a shorter hike, the Queen's Garden Trail is easier to traverse. You'll still be able to enjoy some of the main features along the loop trail too. These are some of the best hikes in Utah.
4. Angel's Landing, Zion National Park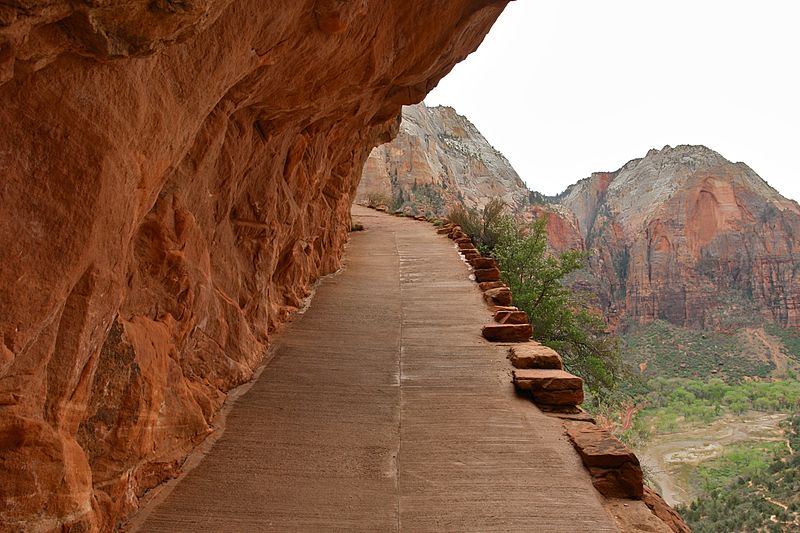 Credit: Wikimedia Commons
Like the Narrows, Angel's Landing is another one of the best hikes in Utah. While the Narrows is tricky in terms of navigation, this trail brings a whole new challenge. With steep drop off points and narrow ledges, let's just say it's not for the faint of heart. For those adventurers who don't have a crippling fear of heights, it's definitely a place to add to your bucket list.
Even the start of the trail is tough. A series of manmade switches (aka Walter's Wiggles) is enough to take your breath away. Literally – it's all an uphill climb. This trail leads you across the narrow fin of a ridge framed by sheer cliff walls on either side. The chains provide a small barrier and let's just be honest. They're a great way to hoist your tired self up the trail too.
From every part of the trail, you're greeted with outstanding views. However, it's the view from the top that makes it all worthwhile. From the pinnacle of Angel's Landing, you'll see a stunning vista over Zion Canyon. It's quite unlike anything else in this national park.
5. Lower Calf Creek Falls, Grand Staircase – Escalante National Monument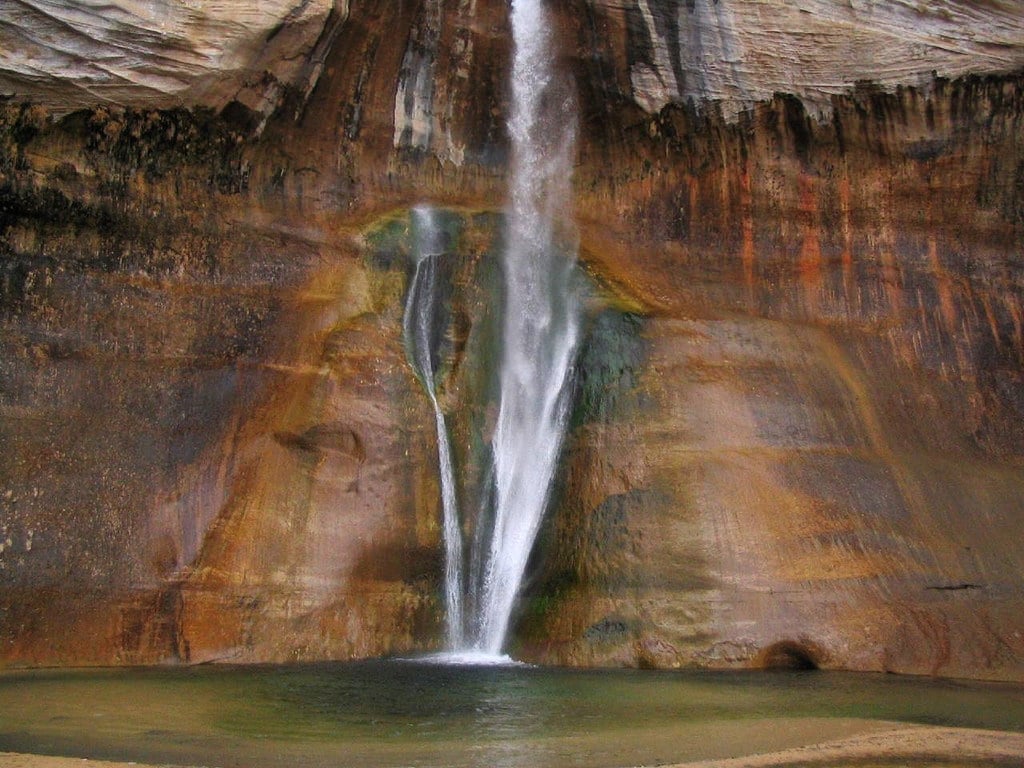 Credit: Ken Lund
Skip the tourist rush and visit Lower Calf Creek Falls in the offseason. This back trail near Boulder, Utah offers some of the most stunning natural scenery. Accessible year-round, this moderate hike is a great one to bring the kids and dog (just make sure to keep it on leash).
As one of the most well known features of Escalante National Monument, this sandy trail will lead you through stunning rock formations to a delightful shady haven. While it is six miles round trip, reaching the 126' high falls makes it all worthwhile.
6. Chesler Park Loop / Joint Trail, Canyonlands National Park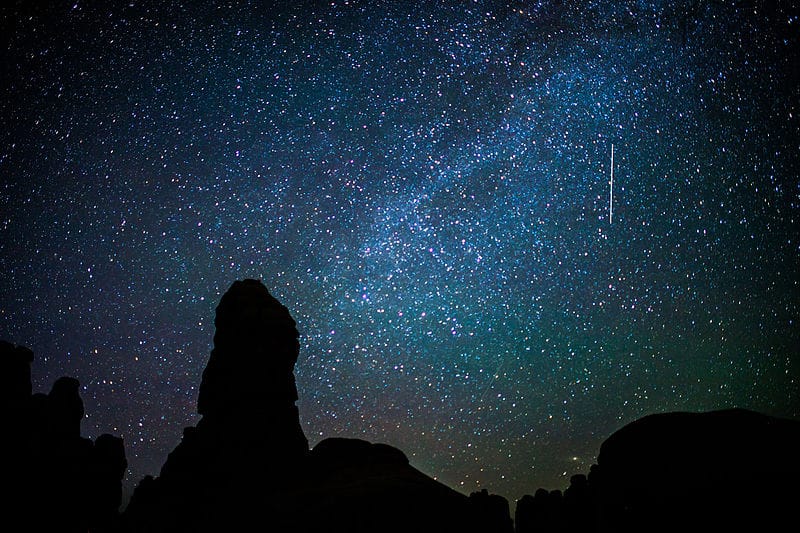 Credit: Emily Ogden
Here's a worthwhile hike that isn't on every traveler's radar. If you ask us, the Chesler Park Loop is one of the most underrated yet best hikes in Utah. Why do we love it so much? Well, first, you get to see such a diverse array of landscapes. At eleven miles round trip, this trail takes you through towering stone spires, slick rock, and up close to unique indigenous vegetation.
You'll find Chesler Park in the Needles District, just south of the popular Island in the Sky District. We're letting you in on one of our best kept secrets. This area doesn't get nearly as much tourism as the Sky District. Well, at least not yet. While most of the area's trails are busy in the summer months, this one offers a unique remote feel. Visit in the fall or winter and you just might get it all to yourself.
7. Mesa Arch, Canyonlands National Park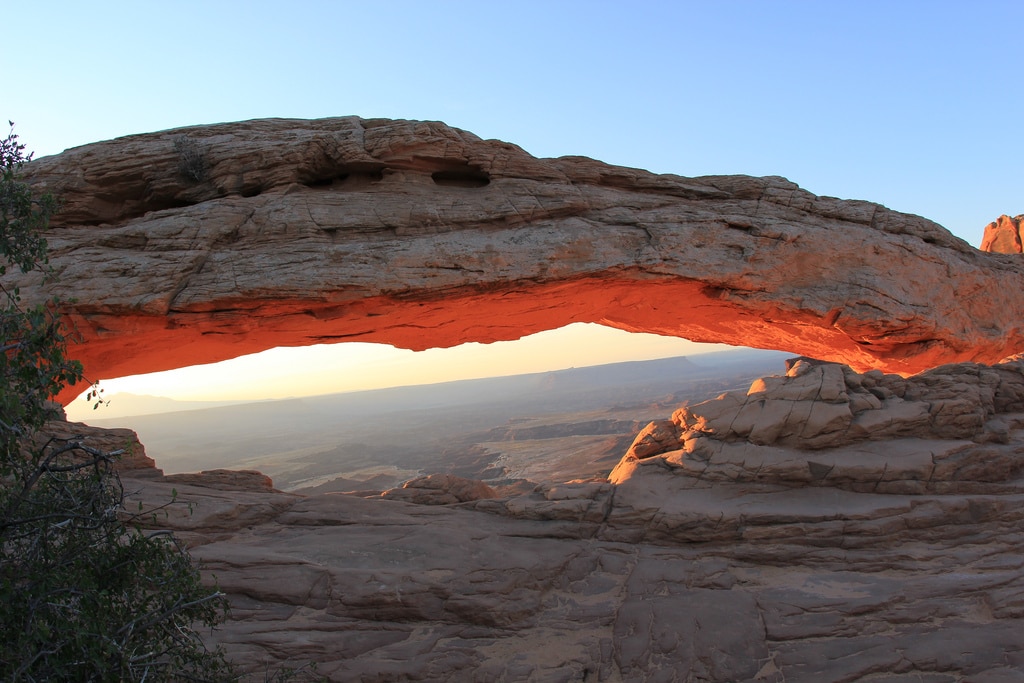 Credit: Flickr
Here's a fair warning. This one is in the popular Island in the Sky District. So, you can expect a few more tourists, even during the fall season. But don't let that deter you. Mesa Arch is still one of the best hikes in Utah. Photographers, this is your dream location.
If you're looking for an easy trail to explore, you've got it here. To be honest, Mesa Arch is more of a walk than a hike. This half-mile pathway leads you on level ground, descending gradually as you near the arch. Be careful though. The landscape's appearance is a bit deceptive. From a distance, it's hard to see that there is a 500-foot drop off point on the back side of the arch.
Standing proudly over Buck Canyon, Mesa perfectly frames the red cliff walls, casting a gentle shadow on the tall stone spires. If you've Googled this site before, we're sure you've seen plenty of photos of the arch's underside, lit by the sun's warm glow. In order to capture the full effect, make sure to show up just a little before sunrise. Yes, that means you'll have to get up bright and early. But that's what coffee was made for, right?
8. Fairyland Loop, Bryce Canyon National Park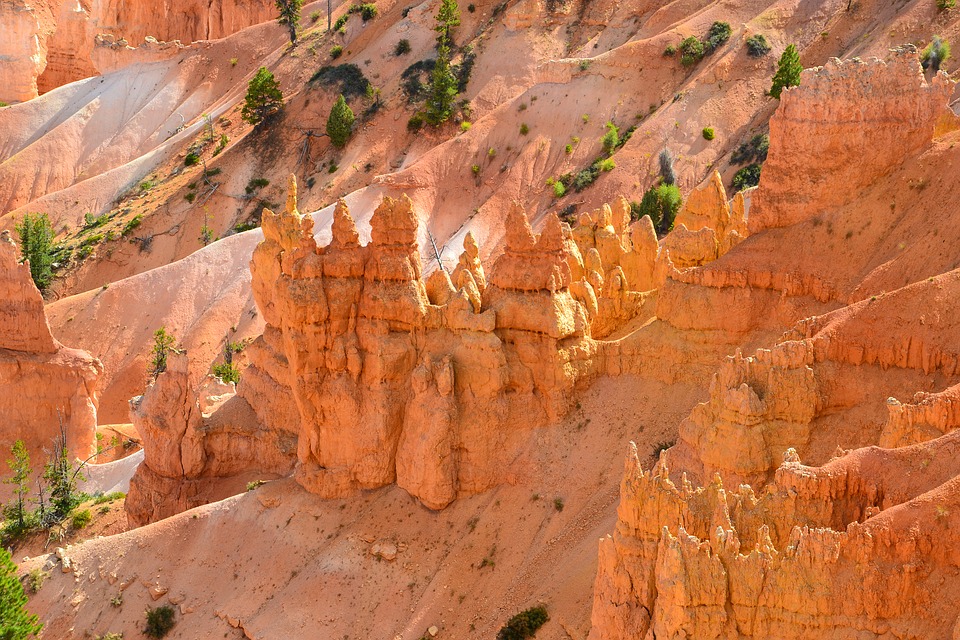 If you're looking for a longer alternative to the Queen's Garden hike, Fairyland Loop offers just that. An eight-mile round trip hike, you'll follow the pathway through vast ridges and deep canyons. Make sure to bring a good travel camera. As the sun warms the hoodoos in glows of rich red, creamy orange, and smooth pink, we swear you'll want to capture every glimpse of it.
Some of our favorite highlights along the way include the China Wall and Tower Bridge, a towering rock formation that looks like a stone castle gate. Want to know the biggest perk for taking the long way around? You guessed it. There are far fewer tourists and more wide open space for you to enjoy the great outdoors.
Explore Breathtaking Views on Some of the Best Hikes in Utah
Isn't it fascinating how our heart has a tug for the great outdoors? With work, school, and just life in general, we move at such a fast pace. There's something about getting away from the city and connecting with nature that makes us feel grounded. Take time to breathe, be mindful, and appreciate the little things in life.
We hope you enjoyed reading through our picks of the best hikes in Utah. While these are just a few of our favorites, we would love to hear about some of the top places you have been too. Feel free to leave us a comment below with your stories. For some other epic hike recommendations, check out these hiking apps. Happy travels!
Related Article: The Best Hiking Trails in Every State: Unveiling All of America