Thanks to lower airfare and hotel prices, travel is becoming more accessible. In fact, so much so that taking a spring break trip to Bali has become a trend among millennials. Whether you're going for a quick jaunt or a trip overseas, you need a good bag. No matter the trip, good travel backpacks always come in handy.
While roller bags are good if you're trying to carry as much as you can without checking a bag, they aren't always the best option. If you don't believe us, picture taking a rolling suitcase down cobblestone streets in Europe and then you might change your mind. A standard travel backpack is not only much better on your back, it's easier to handle. Don't just think your Jansport is going to cut it though. Travel backpacks are made specifically for the needs of globetrotters.
What Are the Differences Between A Travel Backpack and A Regular Backpack?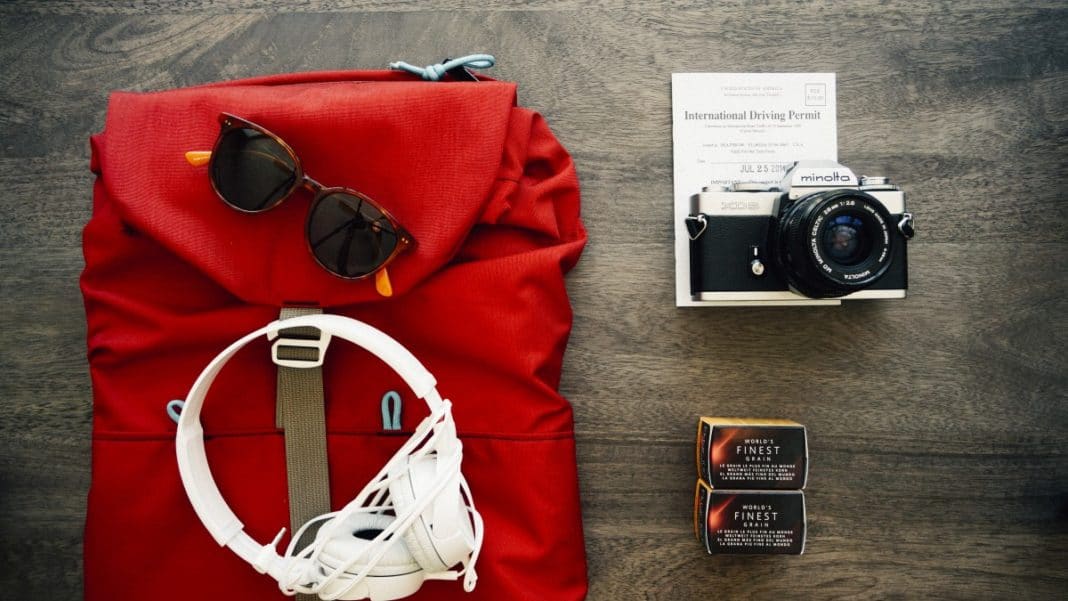 A travel backpack typically has the following characteristics, whereas a regular backpack does not.
Back support

Padding straps

Extra compartments

check

Stiff frame

check

Some are water resistant

check

Some offer USB charging and solar power capabilities
Are you impressed yet? We thought so. Choosing the right backpack is an important part of any trip. Choose a bag that's too big and you will have extra weight to lug around. If it's too small, you'll never be able to fit everything you need in it. The wrong material could leave your personal items soaked by the rain. There are a lot of options out there and we're not going to lie. It can be pretty confusing.
If you're trying to pack light or if you're a solo traveler or backpacker, brands like Osprey, Timbuk2, eBags, InCase, and Rick Steve's line have great options.
What to Look For In Good Travel Backpacks
While style is important, the best travel backpacks are the ones that last the longest. There are several important characteristics that make them good quality and long lasting. When looking for a good travel backpack, consider the following characteristics.
1. Waterproof or water-resistant material
While your pack doesn't need to be 100% waterproof, make sure your bag is made from some water resistant material in case you get caught in a drizzle. It happens more often than you'd think. Many travel backpacks also come with a tarp you can put over them in the case you're caught in a torrential London downpour. Make sure the material isn't exposed to water for too long though – because it will smell gross and musty. Ideally, you should be able to pour a cup of water over it without it getting wet (although we wouldn't recommend it).
2. Lockable Zippers Are A Plus
It's useful to have two compartments with lockable zippers. If the bag doesn't come with lockable zippers, you can purchase some TSA-approved travel locks. They have a special release valve that lets the TSA open it without breaking it so they can check the contents of your bag if need be. You can buy these locks at any major retail store. Target, Amazon, and Walmart usually have pretty good selections.
3. Multiple Compartments
For organizational purposes, a good bag should have multiple compartments. This way, it's easy to compartmentalize your belongings. Gone are the days where you have to furiously dig for your toothbrush at 2 AM in your trendy hostel. You can put your clothes in the main compartment of your bag, your umbrella, thin rain coat, and flip flops at the top, and your shoes in a separate bag. This prevents your items from getting mixed up and dirty.
4. Internal Frame
Most travel backpacks on the market today have an internal frame. What does this mean? The rods and back support are built into the backpack and hidden from view. Not only bags with internal frames look more sleek but they're also easier to move around.
5. A Padded Hip Belt
When you're carrying your backpack, most of the weight falls on your hips. To ensure maximum comfort, you'll want to invest in a travel backpack with a padded hip belt. The belt not only provides more support but also helps to take some pressure off your back. Make sure the hip belt is adjustable so you can tighten or loosen it as needed.
6. Contoured or Padded Back
Contoured and padded travel backpacks fit more naturally, allowing for a more natural arch in your back. In addition, these types of bags allow more air flow to your back, which is definitely useful when you're running to catch your train and working up a sweat.
Does the Size of Travel Backpacks Actually Matter?
In a word, yes. The most popular travel backpacks are between 40 to 80 liters. If you choose a backpack that's too big or too small, the weight won't be balanced properly. This can lead to back pain and you'll also look like that weird hunched over tourist walking tilted. Don't be that guy.
It's also important to remember that the bigger and more stuffed your bag is, the less likely you'll be allowed to carry it on the plane. Most European airlines limit carry-on bags to 10 kg (22 lbs.) and under 20 inches tall. This is especially true with budget airlines like Ryanair.
How Much Should You Spend On Your Bag?
The best quality travel backpacks on the market typically cost between $90 – $300 USD. Store brands are cheaper than big names like Osprey, North Face, and Gregory. We're not into spending $300, so we're going to show you some more affordable options that still meet our qualifications for a good travel backpack.
eBags TLS Mother Lode Weekender Convertible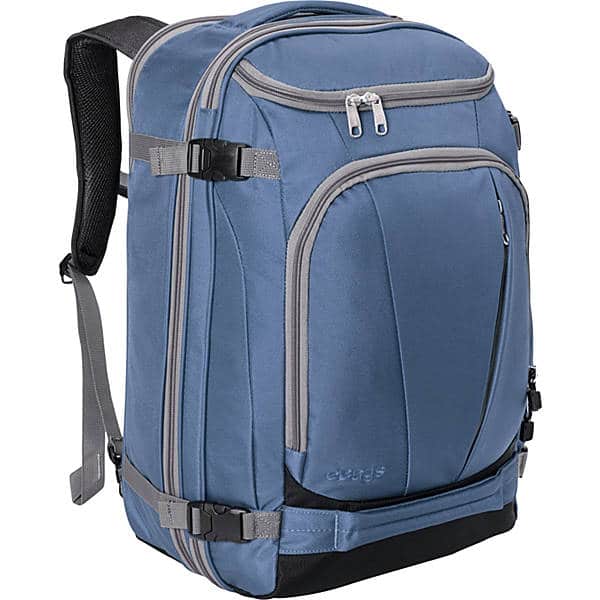 This is one of our favorite travel backpacks to date. The eBags TLS Mother Lode Weekender Convertible maximizes storage space like we've never seen before. First of all, the main compartment is so massive that some travel reviewers said they were able to use it to pack for a week-long trip to Europe.
Freelancers, listen up. The bag also has a laptop compartment with a safe opening so you can have easy access to your computer but also keep it safe. If you need a little extra storage space, the Weekender also has an expansion zipper. Internal dividers and tie-down straps help keep your stuff in place.
It's also super easy to carry your stuff around thanks to easy-to-grip handles at the top and side. Since it comes in eight different colors, you're sure to find one you'll like.
InCase EO Travel Backpack
Credit: Amazon
This sleek, stylish bag is designed to keep you cool and comfortable on the road. If the eBags collection are a little too plain for your aesthetic, consider the InCase EO Travel Backpack. We've got to admit it's a more polished alternative and can still fit a ton of gear.
The bag unzips down the middle and opens up like a regular suitcase. It has sections. The first is a big packing area that can be closed via a mesh flap. A smaller pocket sits inside the main compartment. Like the eBags, the InCase EO also has an extension zipper. Even if you're not a compulsive overpacker, it's still easy to expand your bag when you pack and then close everything up. Since the bag holds its shape well, it's easy to slide right under the plane seat.
We love that it's also made with organization in mind. It has a spot where you can comfortably fit a 17" laptop, a separate tablet pocket, and front organizer for accessories. Last but not least, it's also made with weather resistant material, has a breathable mesh back, and comfortable padded shoulder straps. Padded carrying handles on the top and side make it easy to hold.
Timbuk2 Aviator Convertible Travel Backpack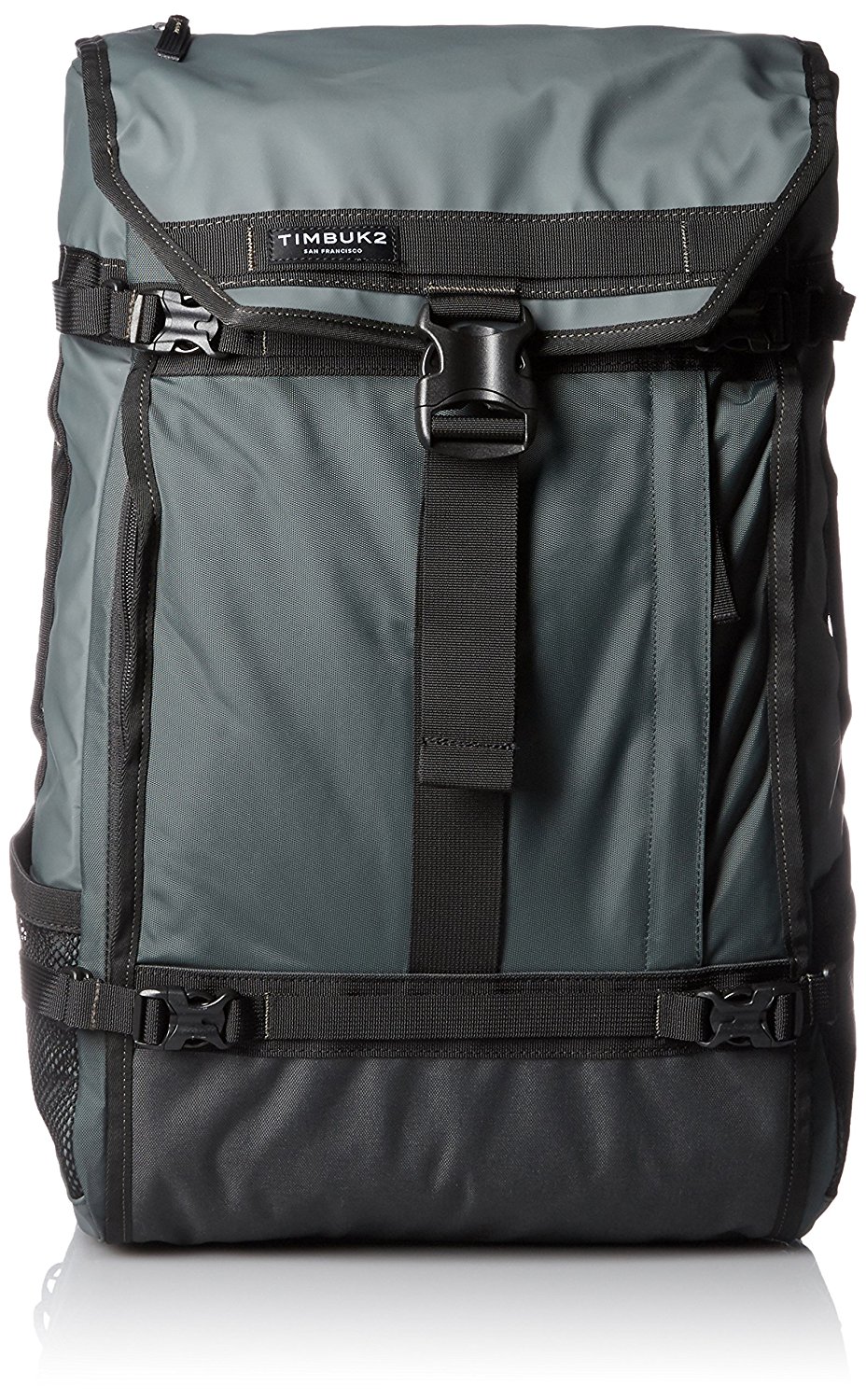 Like the InCase EO Travel Backpack, the Timbuk2 Aviator opens like a suitcase. Lay the bag flat on its back and unzip the entire panel. A pocket located right above the main compartment is great for holding quick-access items like small umbrellas, shoes, or a light rain jacket. The laptop pouch is also accessible through the main compartment and can hold computers up to 15 inches in length.
Several smaller pockets line the outside. They're perfect for storing pens, accessories, and travel documents. The bag is made of a pretty durable weatherproof material and it comes with an extra rain poncho to cover your bag in stormy weather.
The backpack straps are adjustable and can be tucked away. This makes it easy to use and you can carry it around like a duffel to give your back a break. The bag has plenty of room.
Invest In One of These Great Travel Backpacks
Make sure to do your research before getting a travel backpack. Shop around and compare prices, qualities, and brands. It's an important part of your travels and an investment that will hopefully last you a long time.
Do you have any questions or comments for us? Feel free to leave a message below. We will be sure to get back with you soon.
Related Article: 10 Best Travel Backpacks Of 2018 For Your Next Adventure