Is It a Cup? A Water Bottle? It's Both.
Dopper water bottles are versatile, economically-friendly, and environmentally-friendly. If you want a reusable water bottle that makes a difference in your own life and the world at large, check out Dopper water bottles. Made of BPA-free plastic or steel, there are options when it comes to choosing a Dopper water bottle. The design of these bottles in like no other on the market today. Why? Because travelers can choose to drink from a Dopper as a bottle or as a cup! This design makes sharing easy, especially when you are on the road. Let's talk about other reasons why one might consider purchasing a Dopper reusable water bottle.
A Little About Dopper Water Bottles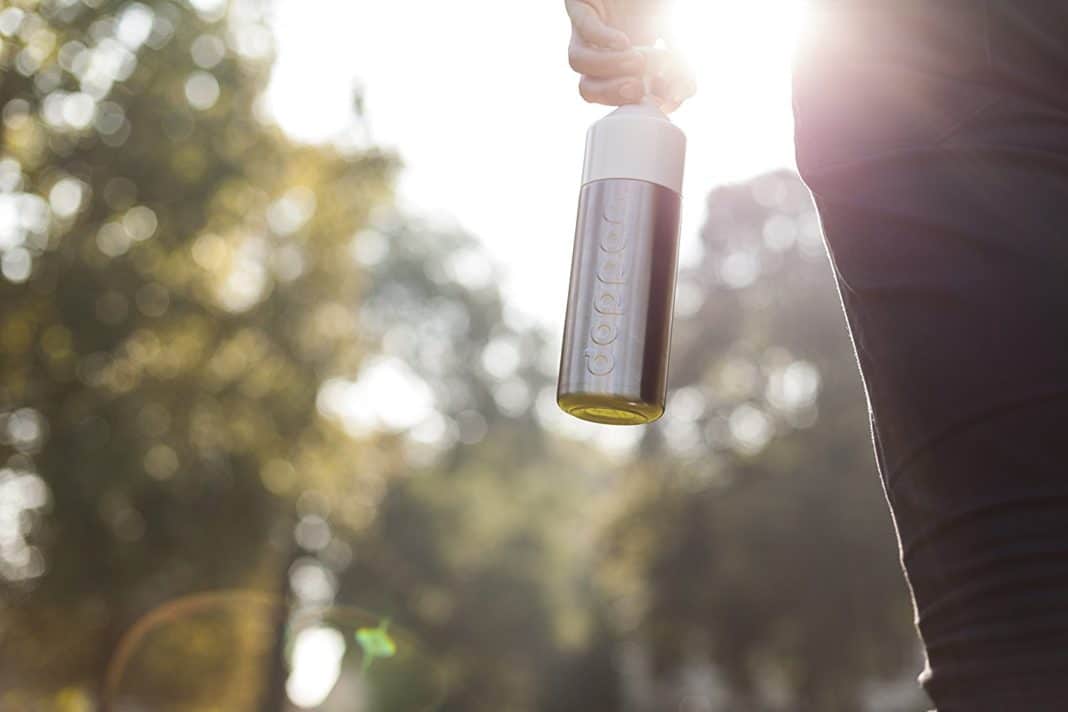 Dopper's greatest desire is to take better care of the environment. In a world where only 1% of plastic is recycled, Dopper strives to change that. Single-use plastic bottles harm the environment and can slowly burn a hole in your pocket. Have you ever thought about how much you spend repeatedly buying single-use plastic water bottles? To change all this, Dopper has created a reusable water bottle that is functional and beautiful. Coming in multiple colors and in a unique design, Dopper water bottles are ideal for travel. If you are hoping to purchase a reusable water bottle for your next expedition, let's talk about the key features and benefits of Dopper bottles.
Dopper Water Bottle Features & Benefits
Dopper Original Reusable Water Bottle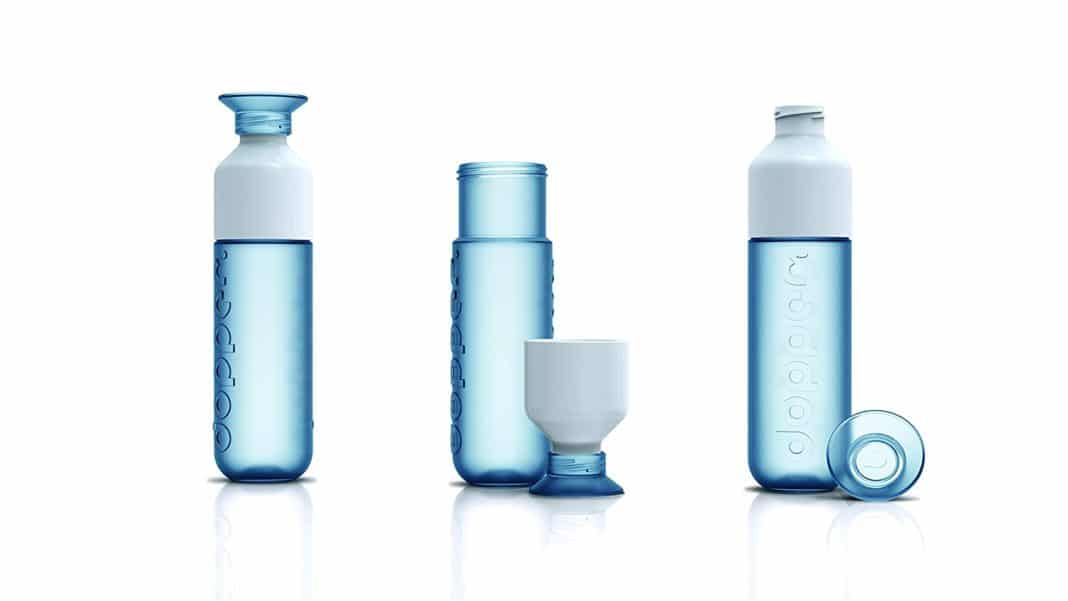 All Dopper Original water bottles are 15 oz. and come in three parts–bottle, cup, and cap. The Dopper Steel (which we will discuss shortly) is larger at 27 oz. These water bottles are portable, functional, and very lightweight. Dopper Original water bottles are made of BPA-free and phthalate-free materials. In other words, Dopper claims that customers should not have issues with tasting plastic when drinking from a Dopper bottle. In addition to being easy to clean, Dopper water bottles are also dishwasher safe. All parts–bottle, cup, and cap–are dishwasher safe. However, these Dopper Original plastic water bottles do not have any insulating feature to keep beverages cold.
Color Options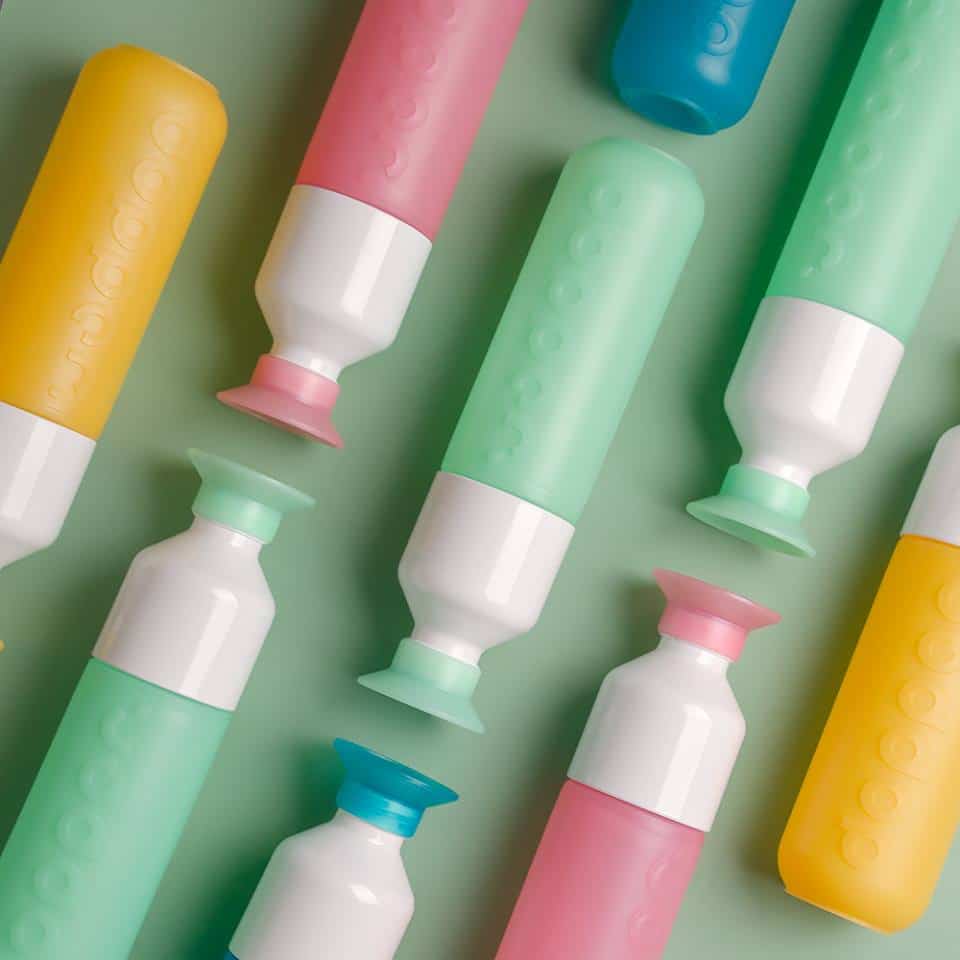 Credit: Dopper
The original, plastic Dopper water bottles come in many color options. Some of those colors include purple, white, blue, green, yellow, orange, and red. For each of these bottles, the top "cup" portion of the bottle is white with a colored base. The Dopper Steel showcases a steel exterior and white "cup" aka top. Many of the colors (apart from the Dopper Steel) of the bottles remain translucent. Because of this, travelers can easily see how much water they have left in their bottle.
Dopper Steel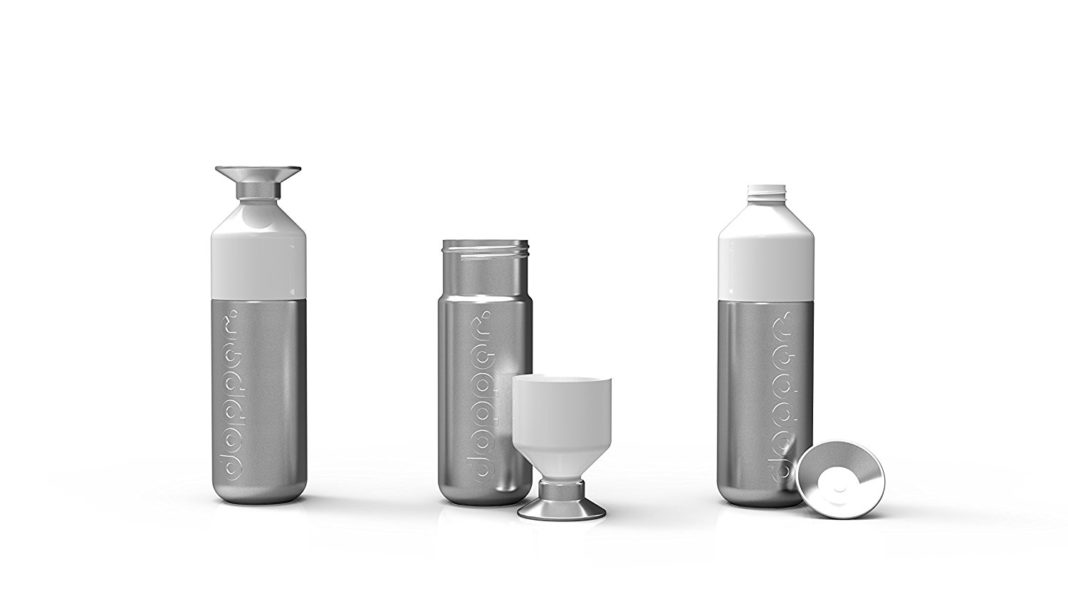 Whereas most Dopper water bottles are made of plastic, the Dopper Steel is made of steel. These are tough and strong bottles. They are also larger than the original plastic bottles at 27 oz. (800 ml). In fact, Dopper Steel bottles are almost twice the size of the Dopper Original. If you really want to be conscious about staying hydrating, the large size of the Dopper Steel is something to note. This bottle is a great option for outdoorsy adventurers.
The same three parts–bottle, cup, and cap–are including in the Dopper Steel water bottle. The bottle is also dishwasher safe, but only up to 65°C / 149°F. Though this reusable water bottle is made of steel, it should not be confused with a thermos. This bottle is not a thermos. It is best suitable for cold beverages.
How Using a Dopper Water Bottle Makes a Difference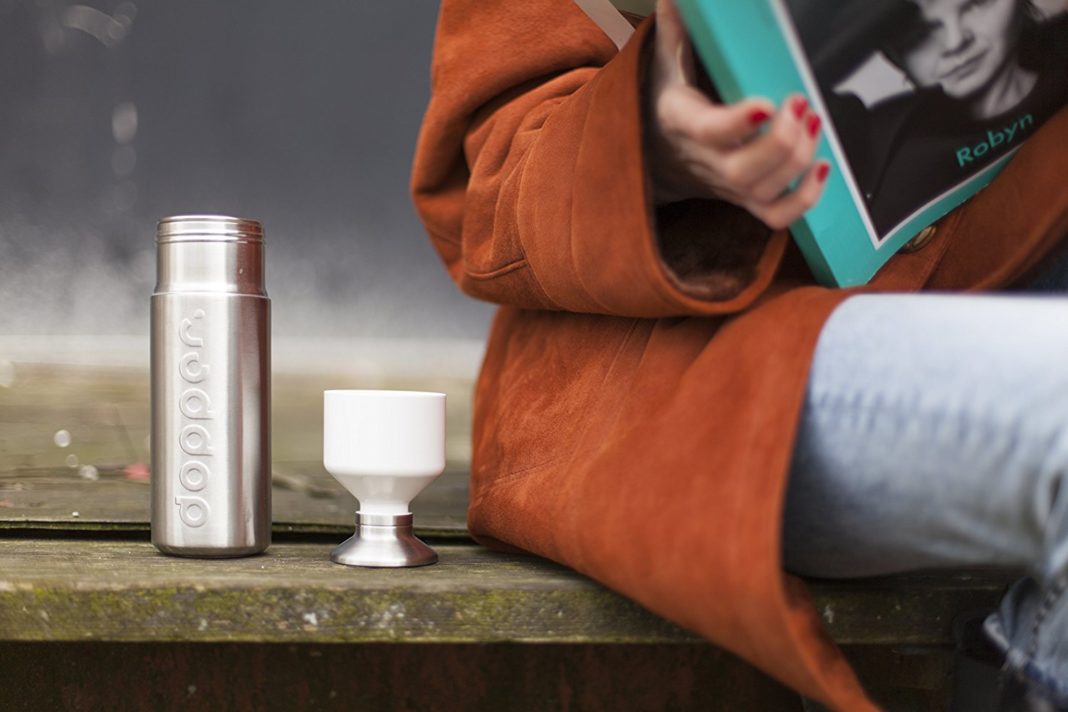 Helping the Environment
Most people know that single-use plastic water bottles do not benefit the environment. Plastic typically ends up being thrown away instead of recycled. To decrease your carbon footprint, purchasing a reusable Dopper water bottle is the first step.
Helping Your Wallet
Investing in a reusable water bottle is cost-effective. To purchase single-use plastic water bottles and plastic cups over and over and over again can easily add up. Why waste the money when you can purchase a durable water bottle that can be used repeatedly?
Helping Your Health
Staying hydrated is key to good health. Having a Dopper water bottle by your side will ensure that you will always have access to water. Whether you are flying in an airplane, riding on a travel, sitting at the office, or going on a hike, your reusable water bottle will quench your thirst anytime, anywhere.
Helping Safe Drinking Water Projects Worldwide
Dopper is a company engaged in global safe drinking water projects. Every purchase of a Dopper product will give 5% of the sales to the Dopper Foundation. The Dopper Foundation invests in projects worldwide that supply access to safe drinking water. The foundation also strives to encourage other changemakers to create more innovative ways to decrease plastic pollution.
What Travelers Are Saying About Dopper Water Bottles
The versatile design of the Dopper reusable water bottle is a praise from travelers. Being able to drink from the Dopper as a bottle or as a cup is convenient when traveling with others (and kids) who would like to share your beverage. Pour a glass for them so they can drink from the cup as you drink from the bottle! Travelers appreciate this design. Also, the bottle is lightweight and dishwasher safe. Both are major benefits to the bottle, particularly when on the go. One downside noted by travelers was that drinking from the Dopper Original reusable water bottle can occasionally come with a plastic taste. Though Dopper water bottles are BPA-free and phthalates-free, some customers still complained about tasting the plastic.
In addition, some customers have complained about the bottle leaking. However, others praise the bottle for never leaking. As you can see, water bottles commonly have mixed reviews. Perhaps they are due to manufacturing issues. The leaching and leaking are the only two things to be aware of if you are considering purchasing a Dopper water bottle. There were no issues found with the Dopper Steel water bottle.
Alternative Water Bottle Brands
Hydro Flask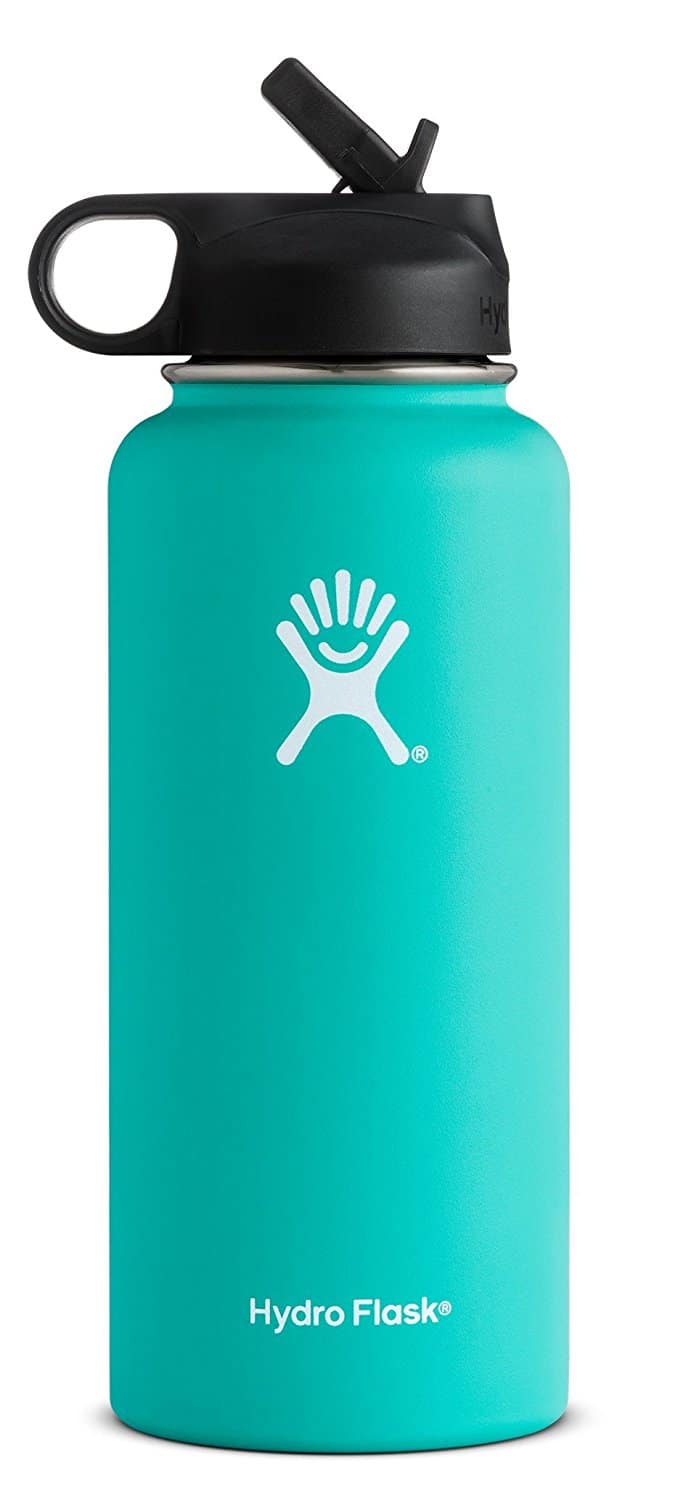 Are you interested in the Dopper Steel? Well, to take things up a notch, a great alternative is a Hydro Flask water bottle. Hydro Flask water bottles are made of steel–stainless steel. This means that Hydro Flask bottles keep cold drinks cold and hot drinks hot for a long period of time. Whereas Dopper Steel should not be confused with a thermos, Hydro Flask bottles can be used as a thermos. Hydro Flask has Kids Bottles (12 oz. wide mouth and standard mouth options), Standard Mouth Bottles (18 oz., 21 oz., and 24 oz.), and Wide Mouth Bottles (18 oz., 32 oz., 40 oz., and 64 oz.). There are also a number of caps to purchase. There are flip caps, straw lids, caps with a carry strap, and more. Color options are also widespread.
Hydro Flask makes Tumbler bottles that come in 10 oz., 22 oz. and 32 oz. For coffee lovers (or tea lovers) there is a separate Coffee bottle that comes in 12 oz., 16 oz., and 20 oz. These Coffee canisters have Hyrdo Flip caps and look like standard to-go mugs. The only difference is that they will keep your coffee or chai tea hot for up to 6 hours. Finally, when you are traveling and want to carry hot food, consider investing in the 12 oz. or 18 oz. Food Flask.
Grayl Ultralight Purifier Water Bottle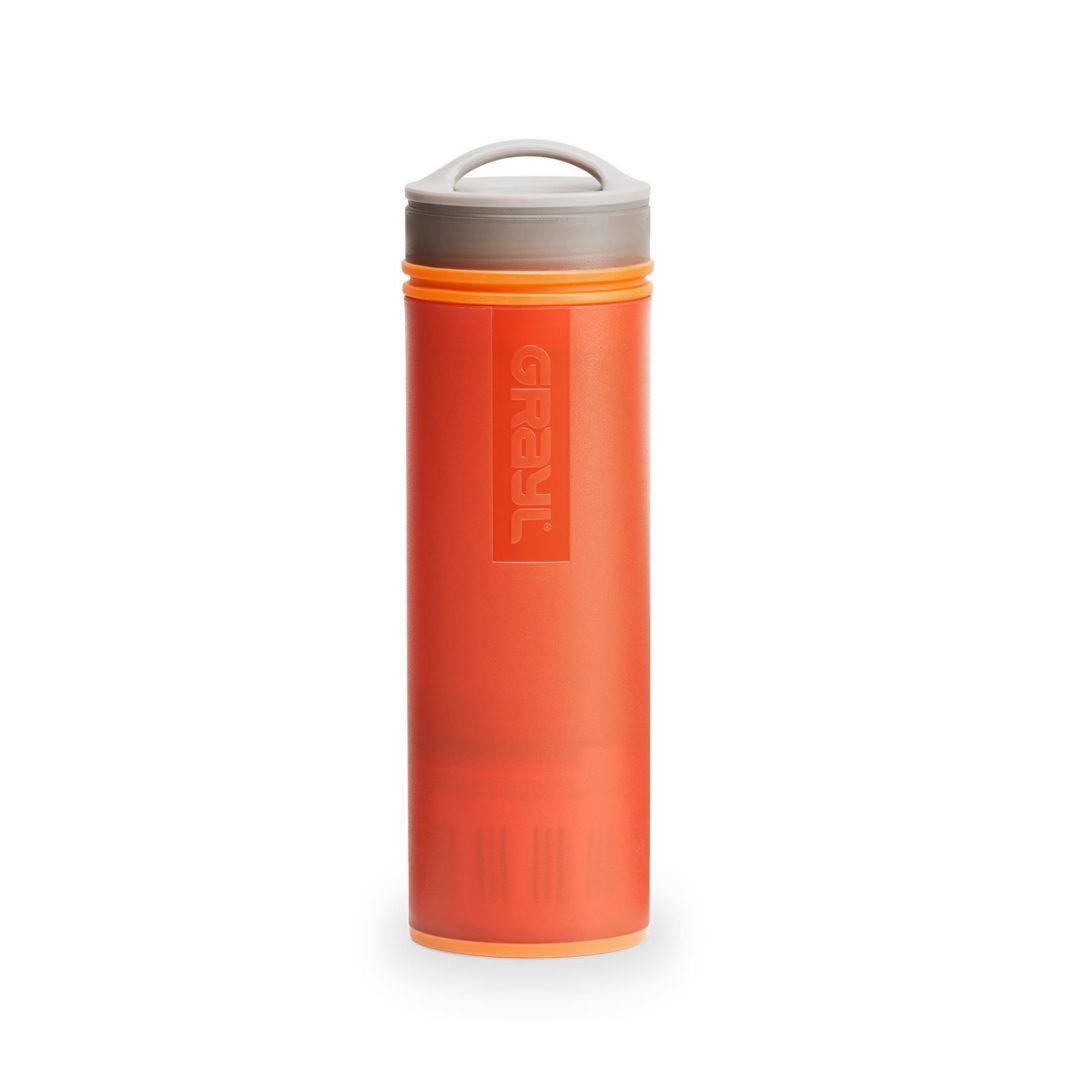 Do you need a water bottle that can purify and filter water? Dopper water bottles cannot do this, but the Grayl Ultralight can. The Ultralight can filter and purify any fresh water source. From creeks and rivers and lakes to sketchy sinks, the Grayl Ultralight makes water clean and safe to drink. You may be wondering, how long does it take to purify and filter the water? Only 15 seconds. In 15 seconds you can have access to clean and safe drinking water.
You don't have to be the serious outdoorsy type to purchase the Ultralight. Don't get us wrong, if you are a big camper, hiker, or backpacking, the Grayl Ultralight is certainly for you. That goes without saying. However, if you are more of a casual traveler, the Ultralight should still be a water bottle you consider. When you a traveling to a third world country, this water bottle can purify and filter water from the sink. The Grayl Ultralight is also a useful water bottle to have on hand when natural disasters strike. Water systems are, after all, the first to go in disaster situations. More optimum preparedness, the Grayl Ultralight is the water bottle to consider.
Is a Dopper Water Bottle the Reusable Water Bottle for You?
Purchasing a Dopper water bottle will help the environment, your bank account, your health, and global safe drinking water projects. With plastic and steel water bottle options, travelers can pick the best option for their needs. The Dopper Original bottle is lightweight and colorful. The Dopper Steel is twice the size and is far more durable than the Dopper Original. With both, you will be able to drink from your Dopper as a bottle or as a cup. To have this option will make it easy to share your drink with kids, friends, and even strangers–whenever someone is in need of water!
What are your thoughts on the Dopper water bottle? Share with us in the comments section below!
Related Article: ​8 Cool Water Bottles For Your Next Adventure​​​