If you're a movie buff who loves to travel, we have the Instagram account for you.
Have you ever wanted to visit the filming locations of your favorite movies? We found a photographer who is doing just that. Photographer, Instagram influencer, and cinephile Steve Peterson has spent the past few years visiting famous filming locations in real life. And he takes photos of all of them to post on his Instagram account, @hollywood_irl.
"Over the past few years I've visited many filming locations and collected a ton of pics. Figured I should probably put them all together in one place," Peterson's bio reads.
"Many filming locations" is a bit of an understatement. In the past few years Peterson has visited more than 400 famous filming locations. On Instagram, Peterson posts a side-by-side comparison of famous film and TV scenes and the real life filming locations as they stand today. Peterson has visited sets from shows like "Stranger Things," "Parks and Recreations," and "Twin Peaks" and movie filming locations including "Donnie Darko," "La La Land," "Mullholland Drive," and more. Keep reading if you want to learn more about famous filming locations and see how they look today.
What Inspired Peterson To Start This Account?
Peterson has been actively taking photos since 2001. However, it wasn't until a trip to Hawaii in 2014 that he began avidly photographing filming locations. Peterson was visiting Hawaii for a convention for "LOST," a supernatural television show that ran on ABC from 2004 to 2010. While he was in O'ahu, Peterson took photos of some of the show's filming locations and posted them online for fellow "LOST" fans to enjoy.
The reaction from fans was positive. And that's what inspired Peterson to continue on his journey to photograph filming locations. While getting to travel and see beautiful sites along the way.
(Needless to say, there are plenty of photos from "LOST" on Peterson's account.
The Filming Locations
We're going to highlight some of the best filming locations Peterson has been able to visit and photograph. As well as provide some context about the film, TV show, and the filming location.
So buckle up, cinephiles. You're about to begin the ride of your life.
1. LOST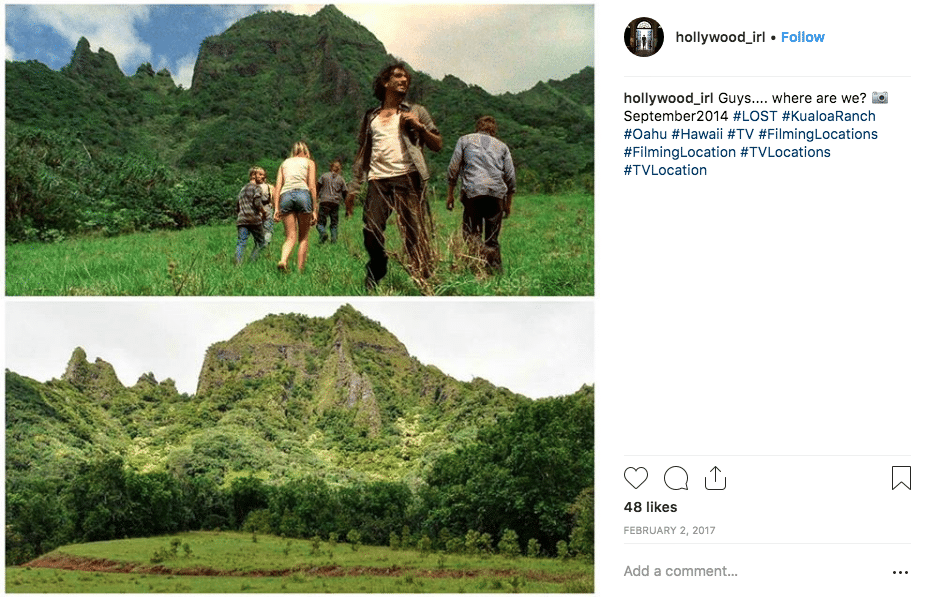 Credit: @hollywood_irl
The second photo Peterson ever posted on his Instagram account was from his trip to Hawaii in 2014. This filming location from "LOST" was taken at Kualoa Ranch in Kaneohe, Hawaii. And with such a gorgeous location, it probably doesn't surprise you that many other filmmakers have used this location, as well.
This is the location where Steven Spielberg shot the infamous fallen tree in "Jurassic Park." A few romantic comedies have been shot here, including "50 First Dates" and "You Me & Dupree." In fact, so many films and TV shows have been shot at Kualoa Ranch that it has been nicknamed Hollywood's "Hawaii Backlot." They even offer a Movie Sites Tour.
2. 12 Monkeys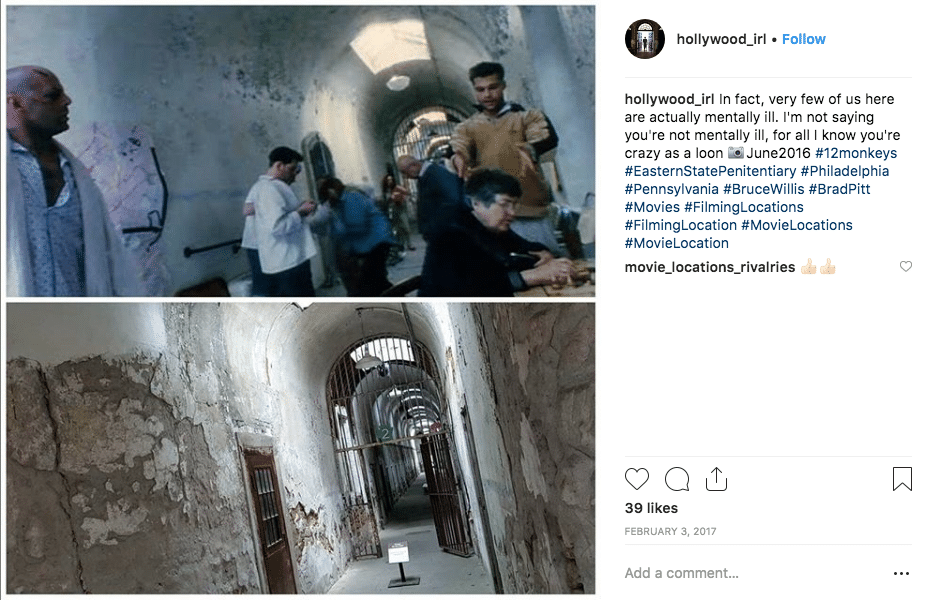 Credit: @hollywood_irl
The next location on our list is one of the creepier filming locations Peterson has visited. In June 2016, Peterson made his way to the Eastern State Penitentiary Historic Site in Philadelphia, PA to visit one of the filming locations used in the 1995 film, "12 Monkeys." Again, this is not the first film to be shot at the historic prison. Shia LeBouf and Megan Fox took shelter in the crumbling Eastern State Penitentiary in the 2008 sequel to "Transformers." Not to mention the TV shows "Ghost Hunters," "Ghost Adventures," and MTV's "Fear" have all shot episodes here.
But Eastern State Penitentiary is not the only Philadelphia prison that has been used for filming locations. Many films have also been shot at Holmesburg Prison, including "Law Abiding Citizen," "Condition Red," and "Up Close & Personal."
3. 10 Things I Hate About You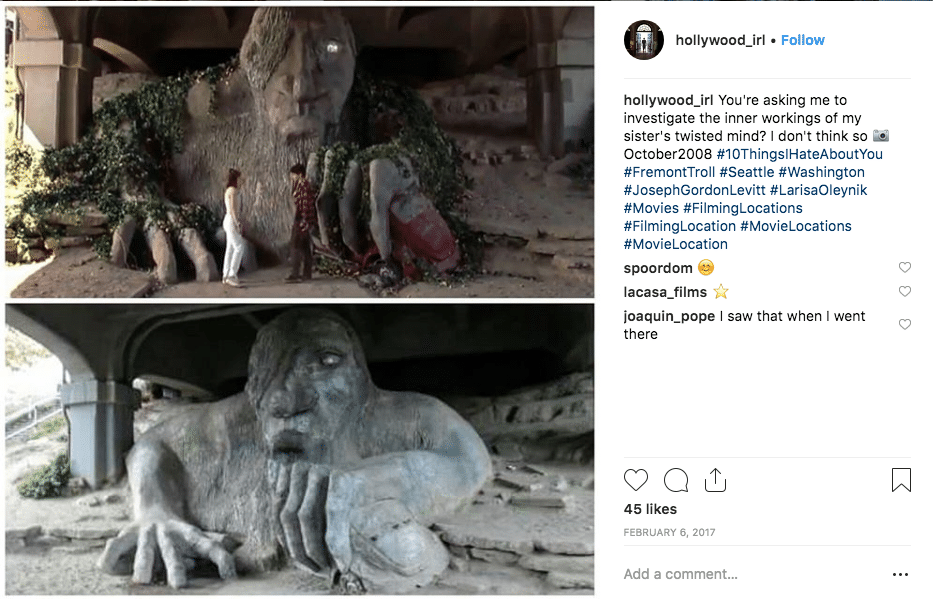 Credit: hollywood_irl
Do we have any Heath Ledger fans out there? Then you're going to love the next spot up on Peterson's list of filming locations. In October 2008, Peterson visited the famous Fremont Troll in Seattle, Washington. This is where Joseph Gordon-Levitt and Larisa Oleynik shot a scene for the 1999 film, "10 Things I Hate About You."
Though The Fremont Troll is one of the most iconic sites in Seattle, not many films and TV shows have made use of it. And "10 Things I Hate About You" was the first to snag it as one of its filming locations.
4. Iron Man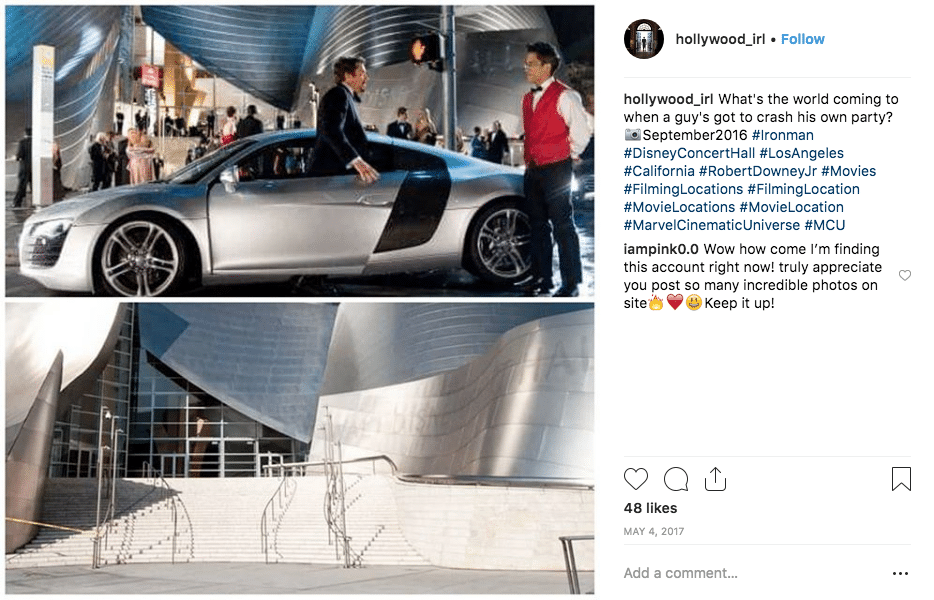 Credit: hollywood_irl
As you may have already guessed, many of the filming locations Peterson visits are in Los Angeles. It is, after all, the heart of Hollywood and movie central. And in September 2016 Peterson paid a visit to the Walt Disney Concert Hall in downtown Los Angeles to snap a shot of this filming location from the 2008 Marvel film "Iron Man."
Of course, "Iron Man" was not the first to use the concert hall as one of its filming locations. Many other directors have used it in the past. 17 other directors, to be precise. So the next time you watch "Her" or "Get Smart," keep an eye out for this familiar spot.
5. High Fidelity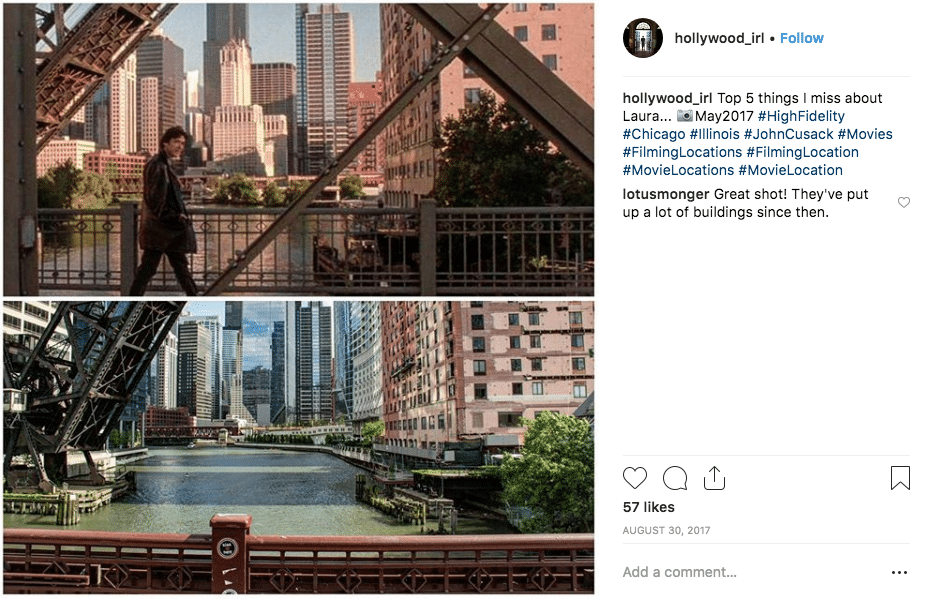 Credit: hollywood_irl
Music and movie fans alike will be able to spot this next one. In May 2017 Peterson visited the Windy City and snagged a shot of this bridge. If you're a John Cusack fan, then you probably recognize it from 2000, the year "High Fidelity" was released.
Fun fact: 66 music artists are discussed throughout the entire film, in addition to a few fake ones (did you really think The Kinky Wizards was a real band name?) And you know how it's so well-known for John Cusack breaking the fourth wall? Yeah, he didn't want to do that. He also isn't a fan of Disney's plans to adapt the film.
6. Halloween (1978)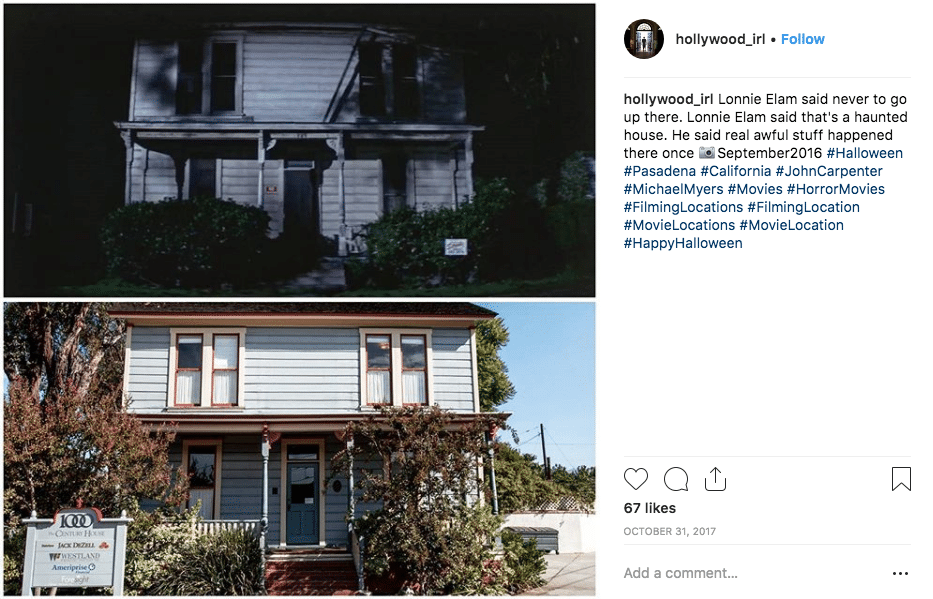 Credit: hollywood_irl
Now for a few filming locations for our horror buffs out there. In September 2016, Peterson visited Pasadena, CA and took a few shots from John Carpenter's 1978 horror classic, "Halloween." And no, it doesn't look nearly as creepy as it does in the film. But that doesn't mean it won't give you the slight heebie-jeebies when you visit.
But then again… Why would you ever visit? You know what Lonnie Elam said. Lonnie Elam said that's a haunted house. He said real awful stuff happened there once… So we advise steering clear of this house in Pasadena at all costs.
7. Nightmare On Elm Street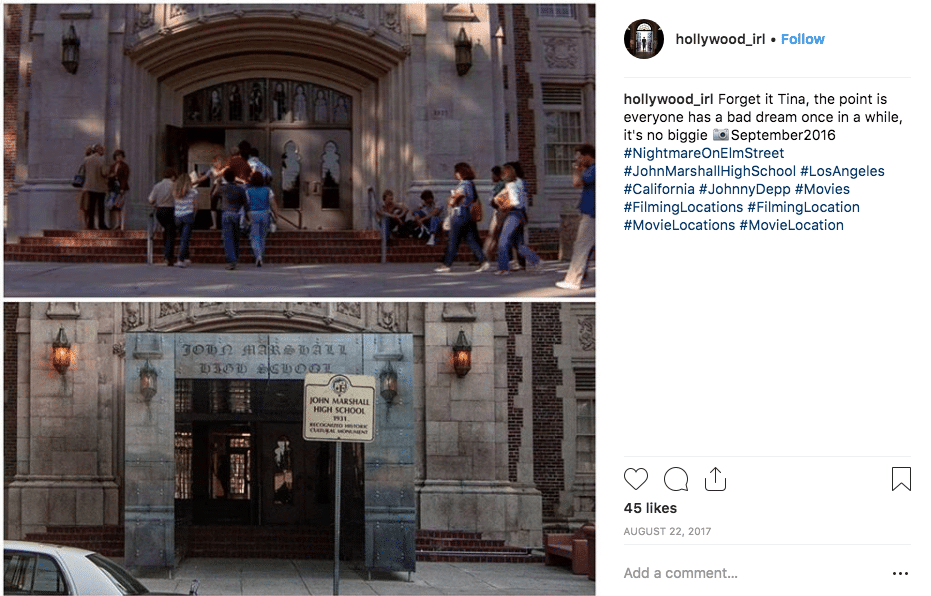 Credit: hollywood_irl
In 1984, director Wes Craven released "A Nightmare On Elm Street," a horror film that would later become a cult classic. And as a result would be remade time and time again. In September 2016, Steven Peterson visited a few locations from the film, including John Marshall High School in Los Angeles. Of course, this Craven is not the first to use the school as one of his filming locations. You will also recognize this building in iconic films like "Pretty In Pink," "Rebel Without A Cause" and the TV show "Buffy The Vampire Slayer."
But John Marshall High School is more than one of the more popular filming locations in Los Angeles. It also used to house a few well-known pupils, including Leonardo DiCaprio.
8. Baby Driver
Credit: hollywood_irl
If you work in the film industry – or keep up with it even slightly – then you are probably aware of how many shows are now shot in Atlanta. Some even call it the Hollywood of the South. The hit AMC series "The Walking Dead" is highly credited for bringing the Georgian city back alive. Since then, many directors and filmmakers have made use of filming locations throughout Atlanta. Including director Edgar Wright for his 2017 film "Baby Driver."
California will always be the original Hollywood. But Georgia is catching up. According to the Los Angeles film office, In 2016 more major feature films were made in Georgia than in California. Which brings us to the next filming location on our list…
9. Stranger Things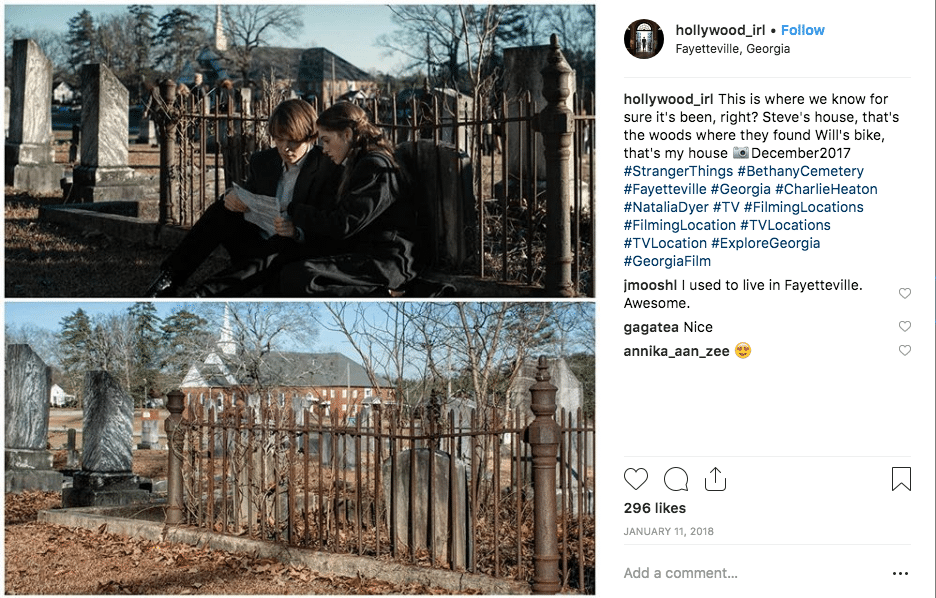 Credit: hollywood_irl
We know you've heard of this hit Netflix show. Both seasons of "Stranger Things" were shot in Georgia. This particular scene was filmed in Fayetteville. The Duffer Brothers, the creators of "Stranger Things," said they wanted to shoot the show in Georgia because there were many filming locations there that could resemble a midwest town. And that makes perfect sense, considering the town of Hawkins is meant to be in Indiana.
So if you were wondering if Hawkins, Indiana is a real place, the answer is sadly no. However, there are a few routes you can take in Georgia that will lead you to major filming locations used in "Stranger Things." This is just about the closest you'll get to recreating Hawkins. And if you're a mega-fan (like so many of us are) this road trip is definitely worth taking.
10. The Dark Knight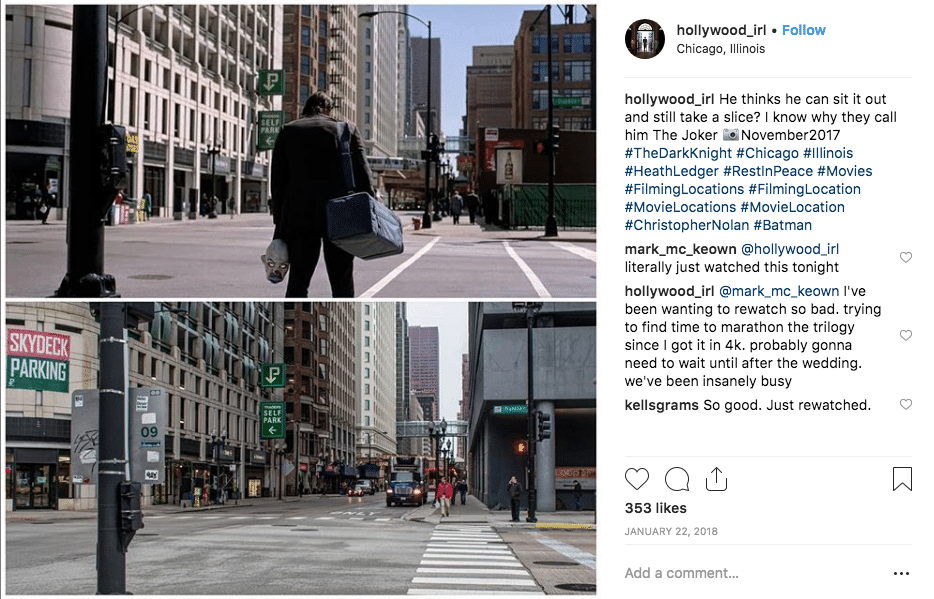 Credit: hollywood_irl
Ah, "The Dark Knight." It's arguably Christopher Nolan's best film. Well, it's' either that or "Memento." But for our money, "The Dark Knight" takes the cake for its opening scene alone. You all know which one we're referring to. It's just one of the best heist scenes in cinematic history. So naturally Peterson visited the site in Chicago where the opening shot of "The Dark Knight" took place.
Did you know that Christopher Nolan was initially reluctant to make a sequel? He never intended to shoot a follow up film to "Batman Begins." But thank goodness he did. Otherwise we wouldn't have "The Dark Knight" to watch time and time again.
11. I Know What You Did Last Summer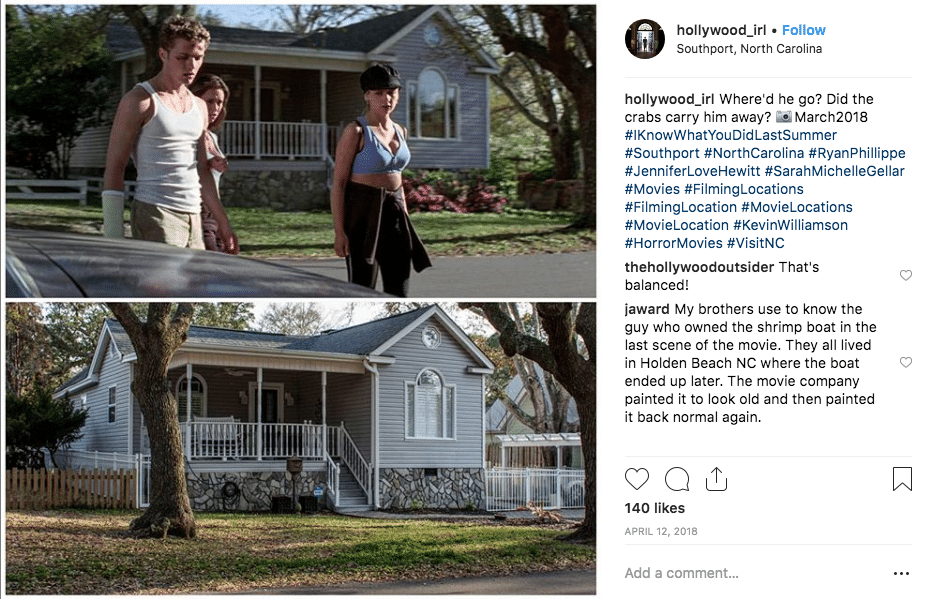 Credit: hollywood_irl
In addition to Georgia and California, North Carolina is another popular state to find famous filming locations in. The entirety of the hit CW show "One Tree Hill" was shot in Wilmington from 2003 to 2012. But if you're a true OTH fan, then you probably already knew that. TV shows "Dawson's Creek," "Under the Dome," and the movie "A Walk to Remember" were also shot in North Carolina. As was the 2013 comedy film "We Are The Millers," which is also featured on Peterson's Instagram.
This filming location in particular is from the 1997 thriller "I Know What You Did Last Summer." However, the iconic road incident that changed the lives of these teens forever was shot in California. And if you happen to be in North Carolina, you're in luck. The state's tourism office offers a tour of some of the most iconic filming locations throughout NC.
12. Sixteen Candles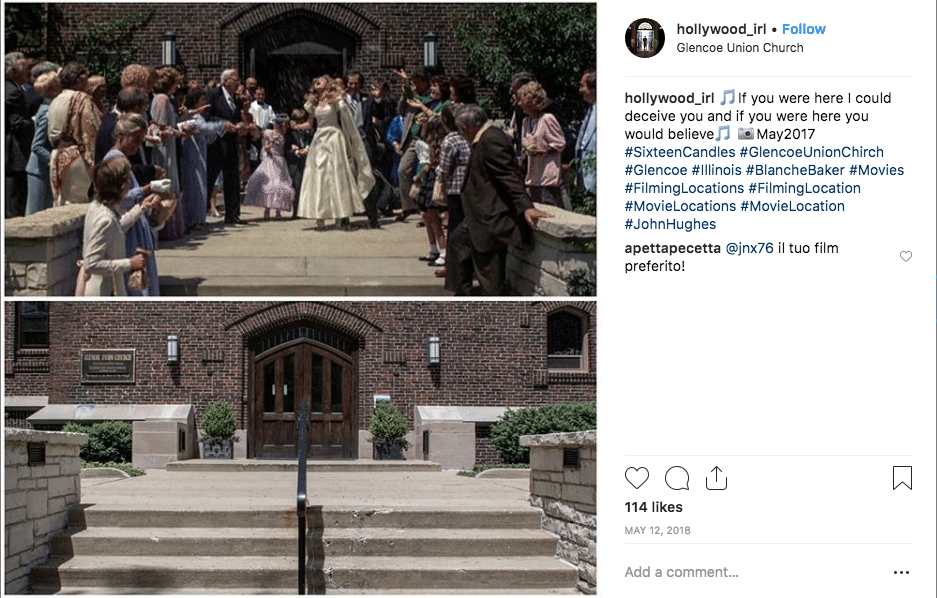 Credit: @hollywood_irl
You don't have to be an '80s baby to be a fan and follower of John Hughes. So you probably already know which Hughes film was set in this filming location. Glencoe Union Church in Glencoe, Illinois is where where Samantha (Molly Ringwald) begrudgingly plays maid-of-honor at her doped-up sister's wedding. You'll also be able to find Jake Ryan's house and other iconic filming locations, close by.
It isn't a coincidence that Hughes set his three biggest movies – "The Breakfast Club," "Sixteen Candles," and "Ferris Bueller's Day Off" in Illinois. Most of his characters were based off of friends and acquaintances Hughes knew from growing up in the Chicago suburbs. Therefore it was only natural for him to return to his old stomping grounds to shoot some of the best films of the 1980s.
13. Guardians of the Galaxy, Vol. 2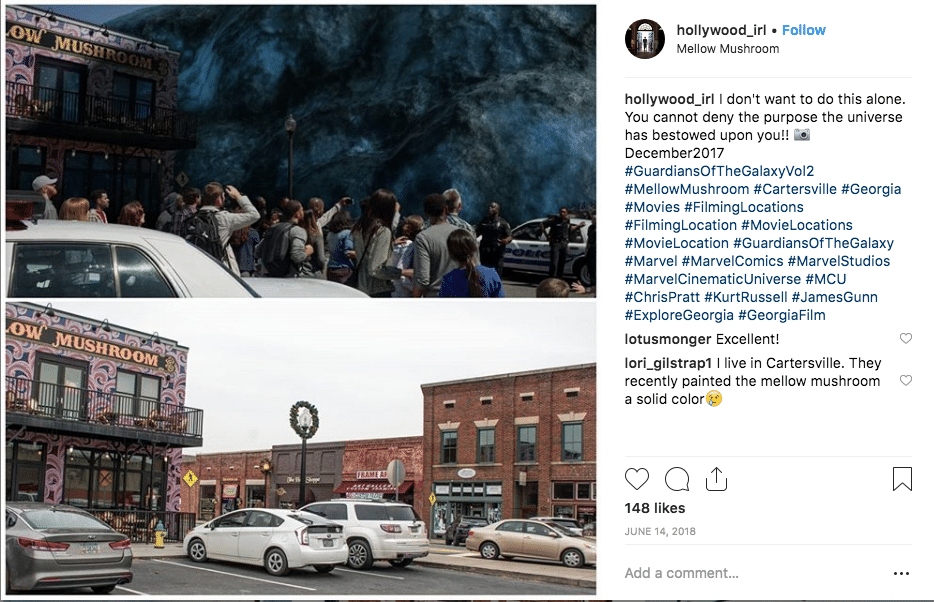 Credit: @hollywood_irl
One of the best parts of Peterson's account is that it shows off just how incredible movie magic can be. And that can be seen in this Instagram post of one of the filming locations from Marvel studio's "Guardians of the Galaxy, Vol. 2." This scene in particular was shot in Cartersville, Georgia. Just outside of a quaint Mellow Mushroom, a famous pizza chain. Perhaps one of the last places you would expect a battle between aliens to go down.
In addition to being shot in Georgia, "Guardians of the Galaxy, Vol. 2" has many filming location scattered throughout Portland, Oregon and in St. Charles, Missouri. The first film in the Guardians franchise even made its way across the pond to London for a few filming locations at Shepperton Studios and Longcross Studios.
14. The Conjuring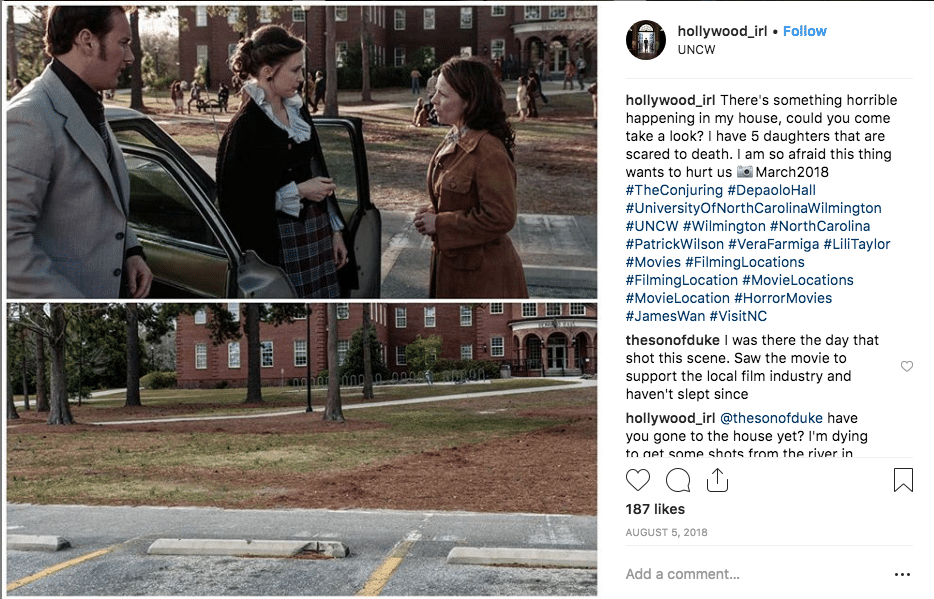 Credit: @hollywood_irl
If you watched the 2013 horror film "The Conjuring," chances are you didn't stop and consider where in the world the filming locations may be. To be fair, you were probably too scared screaming and/or jumping in your seat. But as with most horror films, its filming locations are less than scary. One of the first filming locations used in "The Conjuring" is on the campus of the University of North Carolina-Wilmington.
In fact, many colleges and universities have been used as filming locations in the past. "Good Will Hunting" made use of Harvard and M.I.T. "Animal House" was shot at the University of Oregon. "Legally Blonde" was not set at Harvard Law School, but at the University of Southern California and CatTech. "The Social Network" was at Johns Hopkins, "Mean Girls" was at the University of Toronto, "Rudy" was at Notre Dame… The list goes on and on.
15. 2 Fast 2 Furious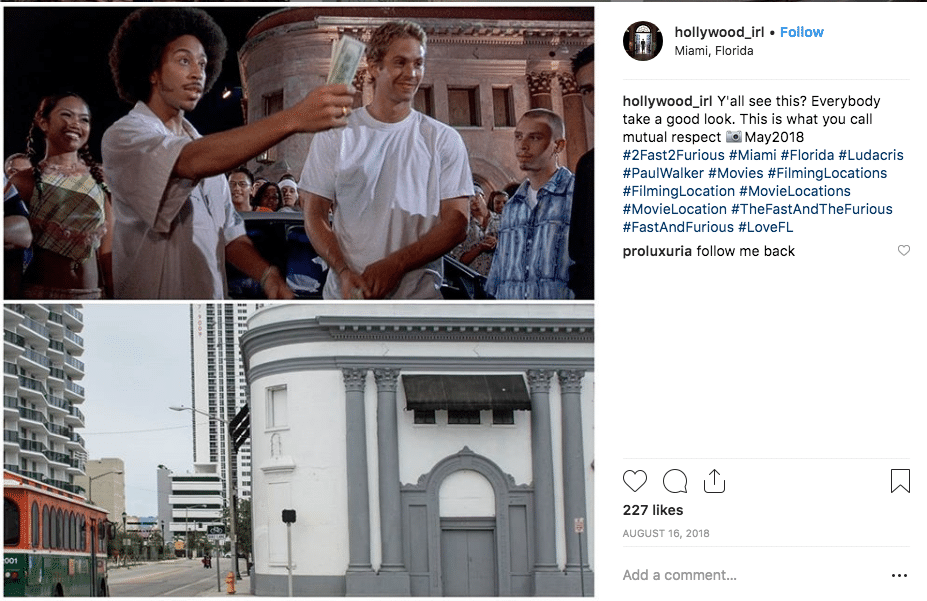 Credit: hollywood_irl
Miami, Florida is another popular filming destination. Many movies and TV shows have been shot there. "Moonlight," which won the 2016 Academy Award for Best Picture, was set in and shot in Miami. Other films shot in the Floridian city includes "Marley & Me," "Scarface" with Al Pacino and "Casino Royale," to name a few.
It's also where "2 Fast 2 Furious" was filmed. If you have ever been to Miami, you have likely walked by many filming locations used in "2 Fast 2 Furious" without even noticing. That's how inconspicuous filming locations can often be. Fun fact: the South Beach house owned by Hauser's villain, Carter Verone, once belonged to Sylvester Stallone. BUt when "2 Fast 2 Furious" was being filmed, the house was owned by Singleton's friend. And he let the production shoot there for free.
16. Magnum P.I.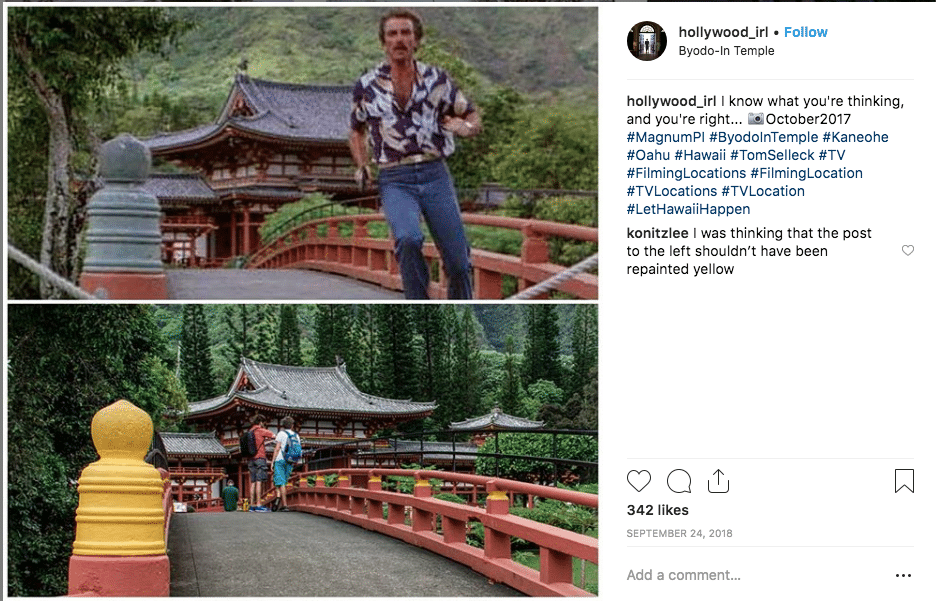 Credit: @hollywood_irl
Peterson scoped out some filming locations from "Magnum P.I." during his trip to Hawaii, as well. And this particular filming location is even more interesting than some. Because as with Kualoa Ranch, it has been used in more than one film project. Including "LOST." But unlike many movies and TV shows that make use of a location but pretend as thoug hit is somewhere else, "Magnum P.I." is set in Hawaii. Though technically Robin's Nest is not set on the southeast coast of Oahu on Kalanianaole Highway. It is located near Waimanalo Beach, on the fictional road of "Kalakaua."
Still, the fictional location was pretty close to the real thing.
17. The Five Year Engagement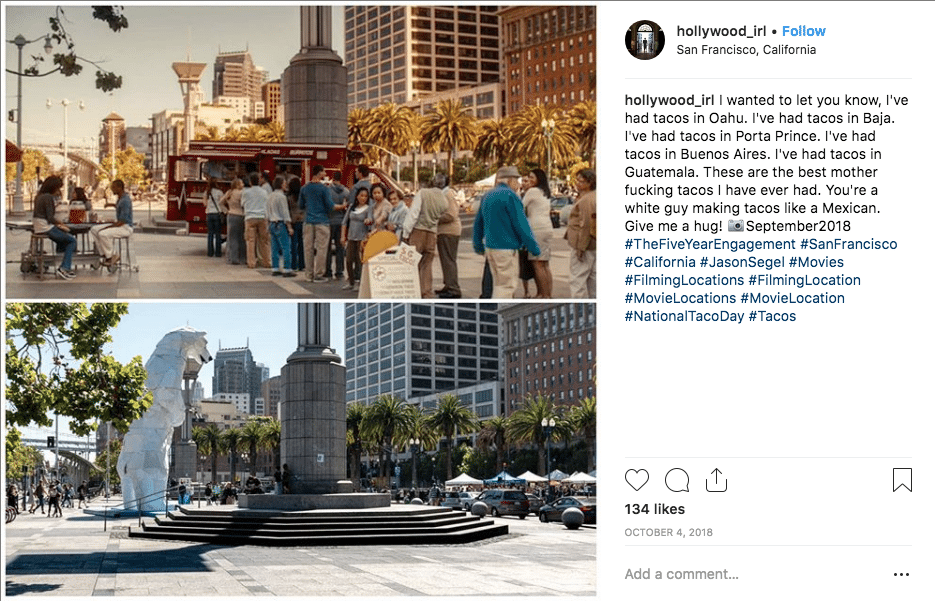 Credit: @hollywood_irl
Los Angeles isn't the only city in California where many films are shot in. San Francisco makes for a popular filming destination, as well. Take for example the above image from the 2012 romantic comedy "The Five Year Engagement." Other films that have been shot in San Francisco that you may not expect includes "Star Trek IV: The Voyage Home." There is also "George of the Jungle," "Dawn of the Planet of the Apes," and "Rise of the Planet of the Apes." This just goes to show that a little creativity can go a long way with filming locations.
You might be wondering, why is California such a hot spot for filmmaking? Well, the answer goes back to the Golden Age of Hollywood. Truth be told, it was the warm, beautiful weather is initially what drew filmmakers to Los Angeles in the early 1900s. There were other enticing reasons, of course, to set up Hollywood in California. And it continues to be such a great place to make movies today. This is largely due to how well established Hollywood is and California tax incentives for filmmakers.
18. Stranger Things… again
Credit: @hollywood_irl
Sorry, we just really love this show. And we really wish that Hawkins, Indiana were a real place. But it's probably a good thing The Upside isn't real… Or is it?
I think we've been looking at too many filming locations from "Stranger Things." Moving on…
19. Parks and Recreation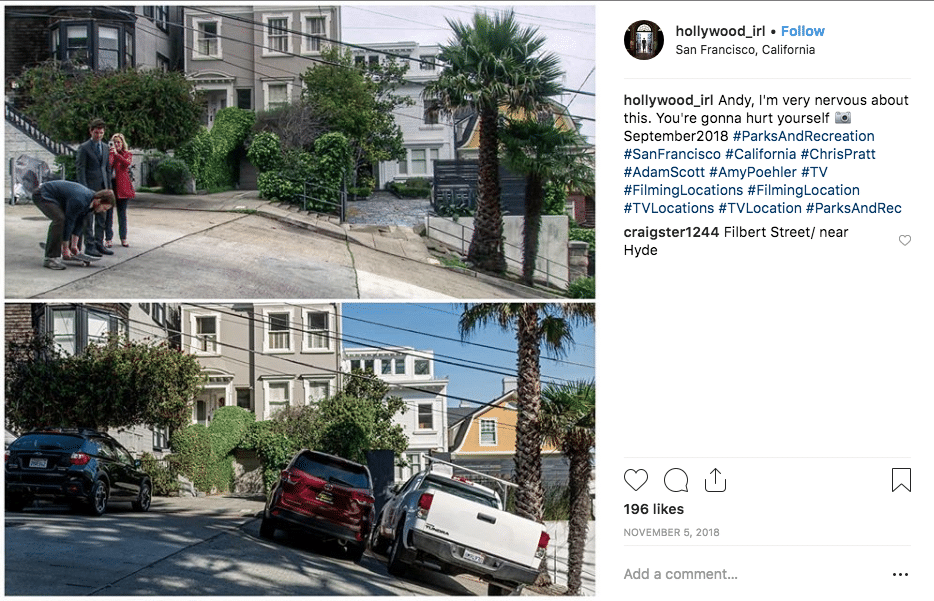 Credit: @hollywood_irl
Another fictional TV show town that we all know and love is Pawnee, Indiana. The great city of Pawnee from "Parks and Recreation" is in fact mainly shot in San Francisco and Los Angeles. Shocker, right? In fact, most Michael Schur shows are shot in California. That's right. While there is indeed a Scranton, Pennsylvania, "The Office" was actually shot in the backlot of a Hollywood studio. And no, unfortunately "The Good Place" is not shot in heaven or hell. That's on a Hollywood studio lot, too.
You may not be able to visit Pawnee, Indiana in person. But you can explore it's history and happenings going on in Pawnee online. And that's more than we can say about Hawkins!
20. Rebel Without A Cause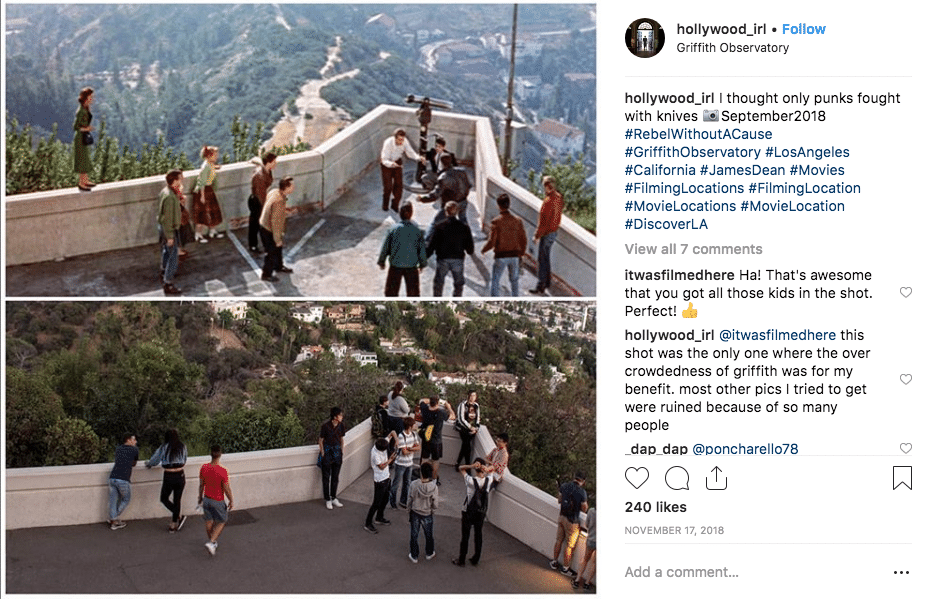 Credit: @hollywood_irl
The last of the filming locations we'll show you today comes from the 1955 teen drama, "Rebel Without A Cause." Starring the iconic and beloved James Dean, this scene was shot at one of the most iconic sites in Los Angeles: The Griffith Observatory. If you've never seen "Rebel Without A Cause," then you probably recognize the observatory from a more recent film: "La La Land." If that doesn't ring a bell, perhaps you've seen it in "Jurassic Park." No? Then maybe you saw it in "Freaks and Geeks." Or "Transformers." Possibly "The Terminator."
…To name a few.
Peterson has visited more than 400 filming locations so far. We hope he doesn't stop anytime soon.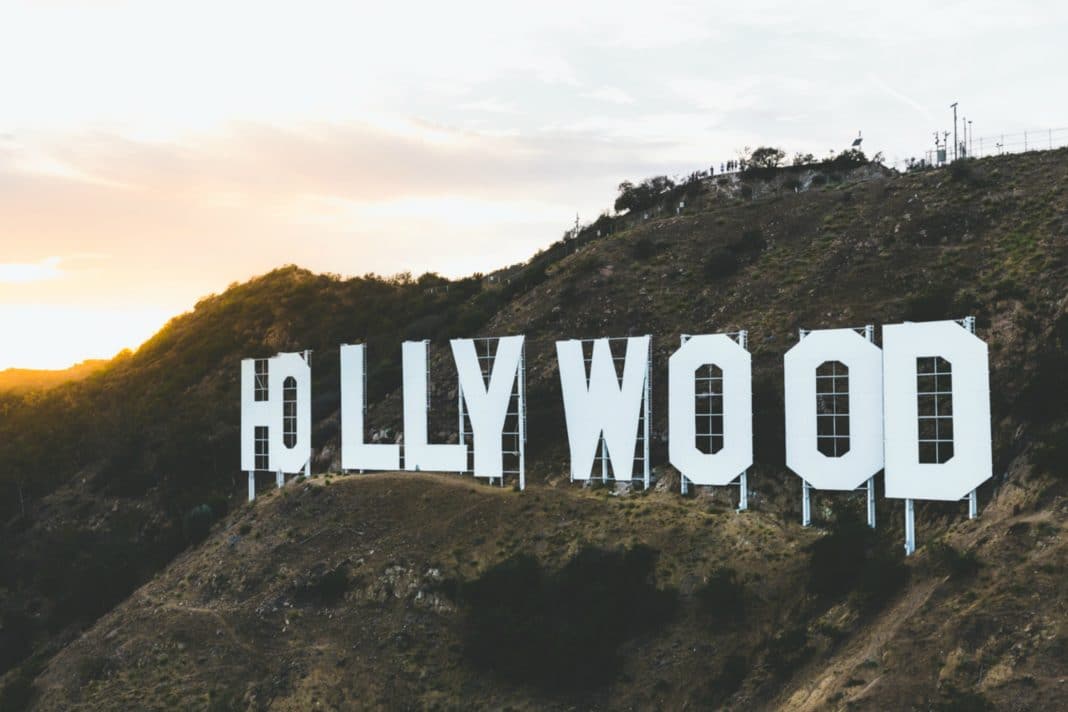 If you also identify as a cinephile or movie buff, then you'll probably find Peterson's account just as addicting as we did. We love seeing what filming locations look like off the screen. Plus, it's always inspiring to see someone do something creative with their traveling.
If you are an avid traveler, hopefully Peterson's photography project has inspired you to take a project of yours on the road. After all, Peterson had no idea how successful his Instagram account would become when he snapped that first photo of the "LOST" set. But you'll never know how something with go if you never even try.
Have you visited any interesting filming locations? Did you snag a picture of it? If so, leave it in a comment below!
Related Article: How To Become An Instagram Influencer In 16 Steps