Have you been looking for a simple, lightweight, water resistant hiking shoe? Well, the Ahnu Sugarpine Air Mesh has everything you need and more.
Stylish, lightweight, and affordable, the Ahnu Sugarpine Air Mesh shoes top our list of the best women's hiking shoes to get the job done. Besides offering playful color options and a style that translates well from the streets, they also bring comfortability and incredible water resistance. Hike in any and every condition; you're prepared to handle all of the elements.
About the Brand
Ahnu offers extra protection on the toe, heel, and outsole with a lightweight, everyday build.They engineer vibrant products that meet the active lifestyle needs of those who prefer trails over treadmills by pioneering Numentum Technology; a neutral positioning system engineered to encourage your foot's natural biomechanics. It centers and guides your foot to promote an efficient, stable and balanced stride.
Whether hiking through the Big Sur Mountains or taking a run through Golden Gate Park, Ahnu's products are designed to keep you naturally centered, balanced, and comfortable for miles on end. While their passions drive us to create products, our values guide us to be responsible throughout all of our social encounters. If we can inspire a more balanced life that begins with getting outside, then we're making the connections that influenced us to start this brand.
Updates to the Ahnu Sugarpine Air Mesh Shoes
So how are the new Ahnu Sugarpine shoes different from their predecessor. Well, they come in a fresh array of new hues. That's it. Now, you can choose from Black/Pink, Polar Sky, Tahoe, Tropical Teal, Astral Aura, and Dahlia.
Women's Ahnu Sugarpine Air Mesh Features and Benefits
Who would have known that a lovely lightweight mesh body and water resistance could have come together in the same shoe? This breathable mesh hiking shoe is capable of resisting water absorption while hiking in the elements and even while crossing shallow streams along the shore.
Weight
Credit: Amazon
Weighing in at 1.3 pounds, the Ahnu Sugarpine Air Mesh women's shoes are ounces lighter than most of their competitors. Mimicking a simple outdoor fitness shoe design, they are much more stylish than most clunky shoes ladies wear on the trail. Despite the sleeker design, they are still capable of managing dirt and grime without getting ruined. Last but certainly not least, these shoes feel as light on your feet as they do straight out of the box.
Comfort
Credit: Amazon
Did we mention that these shoes are comfortable? We appreciate the moisture wicking lining. In addition, inner padding and support make them super comfy on short hikes as well as longer, more strenuous ones. Since they do weigh over a pound, we find them best for shorter hikes and even for long-day wear exploring a new city.
They are suitable for indoor fitness as well. It's important to note that sizing runs slightly more narrow than other hiking shoes. If you're looking for a wider fit, these are not the shoes for you. Other than running a bit narrow, these shoes run true to size.
Support
Credit: Amazon
We love that the Ahnu Sugarpine Air Mesh shoes are supportive yet flexible in the forefoot and toe area. These shoes provide adequate arch support. When you take these shoes fresh out of the box, one of the first things you'll notice are the firm soles and soft, stretchy uppers. However, over the course of your trail-taking adventures, the soles will begin to soften and conform more to the shape of your feet. We found it has the flexibility to offer compromise even on the most rocky terrain.
When hiking on well managed trails and easy to moderate terrain, the Ahnu Sugarpine Air Mesh shoes excelled in their performance. However, as soon as the trails became too rocky and uneven, they did not provide quite enough support. As we mentioned earlier, these shoes are best for easy to moderate hikes. They are not by any means heavy duty shoes, nor are they marketed that way.
Furthermore, the Numentum Hike Technology when coupled with the nylon shank and a torsional control, keep the shoes stiff. You'll notice the flexibility the most above the toes and underneath your forefoot when you're in stride.
Lacing
The Ahnu Sugarpine Air Mesh shoes have the simplest lacing system we've seen in hiking shoes on the market. With only 4 eyelet pairs to weave through, the shoes can easily be tightened or loosened as needed. However, we do miss being able to lace the shoes and tighten along the lower foot if needed. The Sugarpine's laces stop just about an inch short of where your toes bend. This is one of the reasons why it lacks support when you're on steep trails.
Traction

Credit: Amazon
Let's take a look at the traction. When it comes to choosing hiking shoes, this is one of the most important features to consider. These shoes have been tested hiking in various parts of the Sierra Nevada mountain range. We've got to say that we were pleasantly surprised at how well they held up. On managed trails of boulders and steps, the Ahnu Sugarpine Air Mesh shoes held great traction.
When traversing more difficult trails, the shoes continued to excel and keep the wearer well supported. However, on steep downgrade hills, the shoes did lose some of their traction. On granite slabs and sandy trails, the Vibram soles provided a great deal of stability.
Versatility
Take these shoes from the trail into town. Like we said, they're so cute no one would know you'd just come back from a long day hike. You could even hit the gym in these shoes and they would do a great job; they're just that versatile. While most shoes that have a technical design lack a feminine fit, the Ahnu Sugarpine Air Mesh shoes have managed to incorporate both.
Water Resistance
One highlight of the Ahnu Sugarpine Air Mesh shoes is its water resistance. As we mentioned, a breathable mesh fabric isn't typically associated with water resistance. But that combination is exactly what makes these shoes the perfect hiking go-tos for summer. They're lightweight, airy, and dry out quickly.
They have completely evolved the definition of water shoes. In fact, we found them to be more water resistant than most of their competitors on the market. So go ahead. Hike along the shores of alpine lakes. Go for a run in the rain. Wander along the beach for an early morning walk. Cross shallow streams and creeks in the High Sierra.
Durability
The stiff Vibram soles lend so much to the durability of these shoes. Waterproof leather uppers ground the synthetic mesh and prove to be durable on all sorts of terrain. From scuffing your feet on rocks to catching your foot in narrow rock cracks, the mesh will not rip. While the soles soften over time, they remain strong enough to support you on all of your hiking adventures.
The Best Way to Use the Ahnu Sugarpine Air Mesh Women's Shoes
These shoes are ideal for easy to moderate hiking. Since they lack an aggressive tread, they are best kept to trails that will not encounter loose gravel, dirt, or snow. Stylish color choices and a versatile design make them a good fit for travelers seeking shoes they can take from the trail to the town. Technical features like water resistance really do go a long way.
Tech Specs:
Leather/Fabric

Imported

Rubber sole

check

Shaft measures approximately 2.72″ from arch

check

Heel measures approximately 1″

check

Hiking shoe with upper featuring breathable mesh and nubuck leather

check

Adjustable heel strap

check

Contoured EVA midsole

check

Cork-wrapped footbed

check

Non-marking carbon rubber outsole
Value for the Cost
The Ahnu Sugarpine Air Mesh shoes come at a moderate price point. On Amazon, they range from $45 – $126 based on size. They fall directly in between the affordable and expensive mark. They provide a well range of technical uses and are incredibly versatile. We think that they offer a pretty good bang for your buck. If you're looking for a stylish, water resistant hiking shoe, you'll be hard-pressed to find a better pair.
What Travelers Are Saying About the Women's Ahnu Sugarpine Air Mesh
Overall, travelers absolutely loved he Ahnu Sugarpine Air Mesh shoes. They come at a high rating across all of their metrics. We asked around and read various online reviews. The consensus said that they are comfortable and provide decent traction and water resistance. Many miles of wear proved no match for the durability of the breathable mesh upper body and the sturdy Vibram soles.
Whether you're hiking up a mountain or just around town, the Sugarpines are delightfully versatile and lightweight. Cheeky color options and a feminine design lend to their desirability. To our surprise, the water resistant quality outperformed most of the other shoes in its category.
Alternative Women's Hiking Shoes You Might Love
Do you want to shop around a little more? We understand. Choosing the right pair of hiking shoes is so important for having an enjoyable, successful trip. Take a look at these alternative women's hiking shoes. We have a feeling you're going to love them.
Lowa Women's Renegade GTX Mid Hiking Boot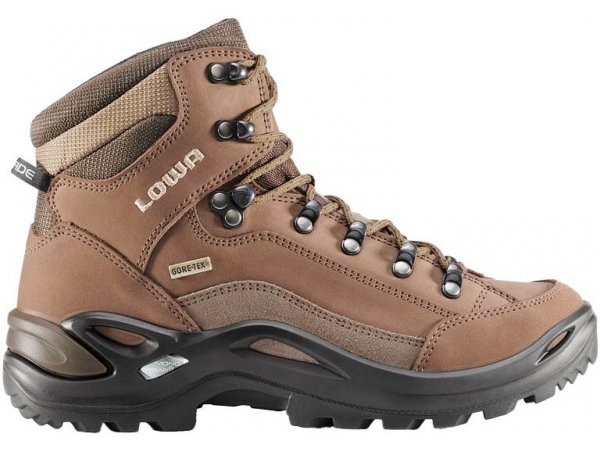 These shoes are perfect for the weekend adventurer. Do you need a lightweight adventure boot for day hiking? These are perfect for scrambling or everyday outdoor use. A Water-repellent nubuck leather upper and Codura ankle band offer optimal support.. The Gore-Tex lining offers waterproof/breathable protection for the ultimate climate comfort. Comfort Cuffs and Comfort Spoilers provide softer, contoured padding for the back of the Achilles and ankle areas.
These shoes are built on a women's-specific last featuring narrower heels and specially contoured padded tongues. The Vibram outsole offers improved grip and shock absorption.
These shoes are ideal for day hikes and short-haul weekend pack trips, the Lowa Renegade GTX Hiking Boot combines versatility with comfort. Featuring a moisture-wicking footbed, full-length nylon shank, and shock-absorbent Vibram sole, these all-terrain hiking boots are designed to support lightweight packs up to 25 pounds.
The Renegade's nubuck leather upper securely holds the foot in place, reducing strain on the toes during downhill sections. Its Monowrap midsole technology reduces overall boot weight, while providing extra cushioning and lateral stability. A rugged Vibram outsole and thick, non-slip rubber lugs make these boots ideal for hiking, light backpacking, and other outdoor activities where you need traction and grip. This shoe is built on gender-specific, men's and women's lasts, for optimal fit and comfort.
The Renegade boot features a climate-control footbed which keeps your feet cool, dry, and blister free. Perforations in the boot's lining allow air to circulate and wick moisture away from your foot, minimizing friction and fatigue.
About the Brand
Handcrafted in Europe for close to 90 years, LOWA boots have been acclaimed by climbers, mountaineers, and hikers as the finest outdoor boots in the world. LOWA incorporates thoughtful design and superb materials with clean, environmental manufacturing processes and fair labor standards. When you own a pair of LOWAs, you can be confident you're wearing authentic outdoor footwear that "walks the talk" when it comes to quality, performance, and sustainability.
Tech Specs:
Leather

Imported

Vibram sole

check

Shaft measures approximately 4.75″ from arch

check

Heel measures approximately 1.5″

check

Platform measures approximately 1″

check

Leather hiking boot with logo accents featuring corded lace-up vamp and speed-lacing grommets at top

check

Padded tongue and collar

check

Waterproof and breathable Gore-Tex membrane

check

Breathable Climate Control footbed

check

Full-length nylon stabilizing shank
Keen Women's Elsa Waterproof Winter Boot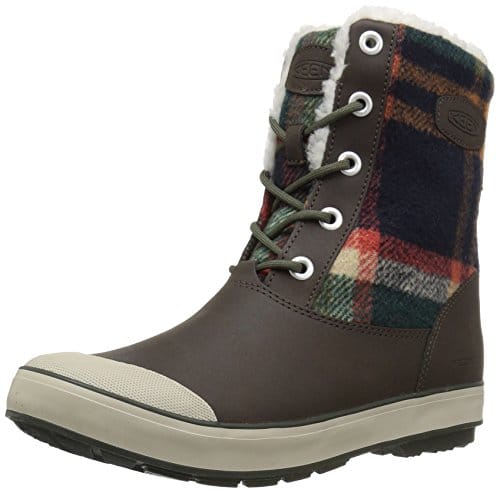 These boots go to show that the best hiking shoes don't have to be ugly. While they are marketed as being winter boots, we've found that the Keen Elsa is a great fit for other seasons as well. Bring them in a wet, slippery climate and you'll not only have warmth but great traction as well. The rubber shoe body prevents water from seeping in and the fleece lining will keep you super cozy. We love to wear them on mountain hikes and bring them along for those chilly camping nights.
About the Brand
Keen is an American footwear and accessories manufacturing company based in Portland, Oregon. Founded in 2003 by Martin Keen, Keen products are now available in retail locations throughout the United States, and are distributed worldwide.
In 2003, the first Keen shoes were invented to answer the unasked question, "Can a sandal protect your toes?"— and they featured a signature thick black toe bumper.
Keen found a ready market in sailing and other outdoor and water activities, and now offers products for many outdoor activities as well as lifestyle shoes.They have been a fast-growing company since its inception. As Keen has grown, there have been many changes, including the addition of a variety of styles, casual and cold-weather footwear and a line of bags, socks, and clothing.
Tech Specs:
Leather and Synthetic

Made in the USA or Imported

Rubber sole

check

Shaft measures approximately 6.5″ from arch

check

Waterproof pu leather and textile upper repels water in different weather conditions

check

Seam-sealed waterproof protection for dry comfort

check

100 grams KEEN warm insulation-4f/-20c

check

Sherpa collar and mesh lining for stylish warmth and breathability

check

Heat-reflecting strobel provides a thermal barrier for protection
Invest in a Great Pair of Hiking Shoes for Your Next Big Adventure (Aka the Ahnu Sugarpine Air Mesh)
Ladies, we hope you enjoyed reading our review of the Ahnu Sugarpine Air Mesh shoes. As you can see, these shoes offer a great deal of versatility to hikers seeking a stylish, ergonomic shoe. They are especially great for those summer months, as the breathable mesh upper offers optimal air flow in the heat. For this price point, you won't find a better pair of water resistant, durable shoes. We highly recommend them.
Questions and Comments
Do you have any questions or comments for us? If so, we would love to hear them. Feel free to leave a message for us in the comment section below. We will be sure to get back with you soon. If you're looking for some summer hiking sandals and what to wear hiking, check out our favorite picks and tips.
Related Article: Best Hiking Shoes For Women For All Seasons