Winner Outfitters Mummy Sleeping Bag Keeps You Warm Without the High Price Tag
In your search for best sleeping bags, you've without a doubt discovered the various options: do you want a mummy sleeping bag or an envelope shape? Do you want a synthetic filling or are you willing to pay for the down? Will you be sleeping outside in temperatures close to freezing? Will you be camping/backpacking often, or are you looking for an affordable sleeping bag that will still be reliable for you? If you're looking for a lightweight, mummy-shape, synthetic, super well-priced sleeping bag, then look no further. Winner Outfitter's Mummy Sleeping Bag could be just the right mummy sleeping bag for you.  
A Little About Winner Outfitters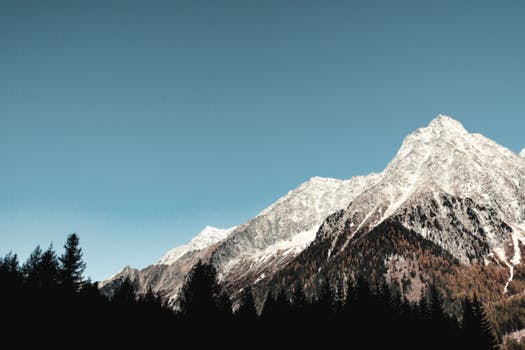 Winner Outfitter sells outdoor products on Amazon as well as on their own website. Winner Outfitters outdoor gear products include a few options for sleeping bags, hammocks, and sleeping bags. They compete with bigger, brand name products and Winner is often very comparable to those brands. However, Winner Outfitters offers their products at much, much lower prices. Therefore, if you're willing to take a risk with a non-name brand product and trust us, you'll find yourself with an excellent product and money back in your pocket. Winner Outfitters keep it simple with their sleeping bag options. If you're looking for a simple, yet effective sleeping bag for three seasons, you'll find yourself most likely content with Winner Outfitters Mummy Sleeping Bag. 
Winner Outfitters Mummy Sleeping Bag Features & Benefits
The Mummy Shape
Credit: Amazon
A mummy sleeping bag offers a few benefits over the more traditional envelope or rectangular shape. The mummy sleeping bag shape can provide more warmth. It wraps around closer to your body, much like its name suggests. A rectangular shape potentially wastes some space: those corners and extra width by your feet aren't necessary and don't mimic the shape of your body. That wasted space suggests wasted heat as well. Therefore, the mummy sleeping bag keeps you snuggled in warmth. Such "wasted space" also means that the rectangular shape includes more material which makes these shapes heavier.
Some campers or travelers consider the mummy sleeping bag to be like an extra layer. This way, you can turn over in your sleep and rotate the sleeping bag with you against your sleeping pad. Alternatively, in this sleeping bag, you could still turn over inside while the bag remains still, depending on how snug it wraps around you. Winner Outfitter's Mummy Sleeping Bag shape keeps you warm while remaining lightweight.
Temperature Rating: 35-40 Degrees Fahrenheit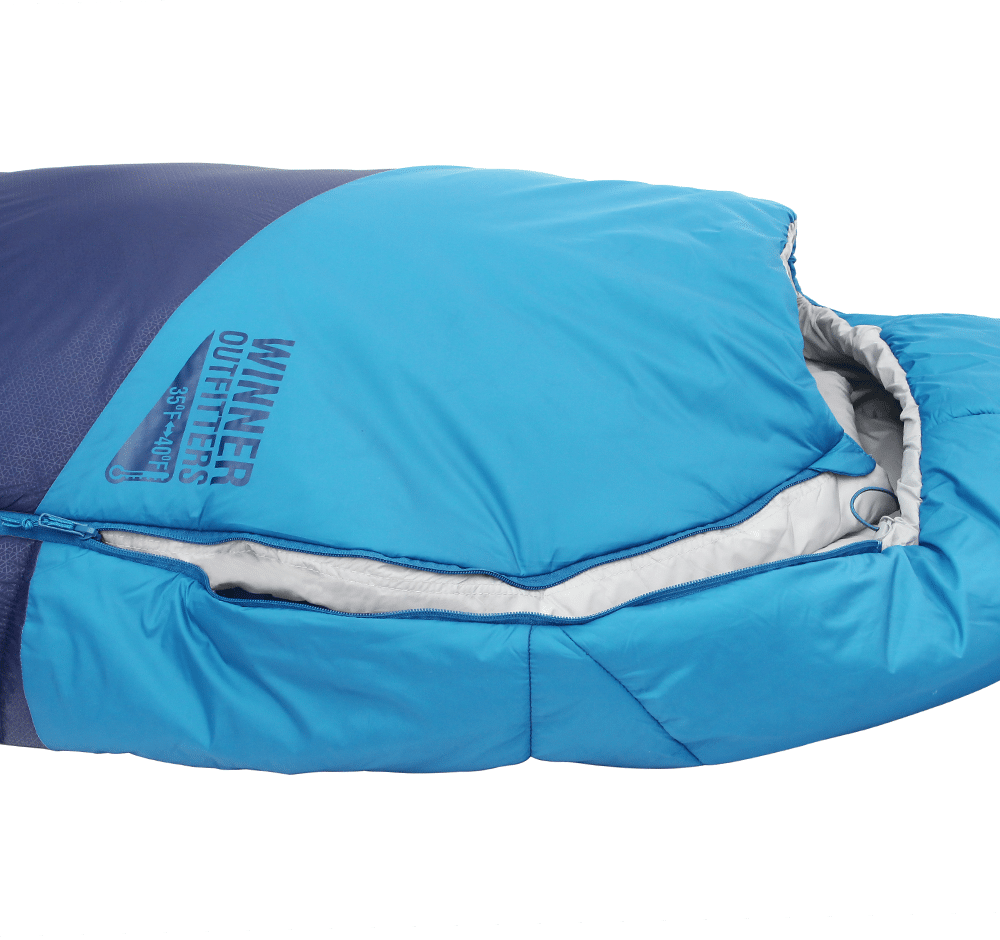 Credit: Winner Outfitters
If you're not going to be sleeping outside in zero-degree temperatures (we don't blame you for not wanting to), then this three-season sleeping bag will be just right for you. Perhaps you're camping in Colorado in the cool summer nights, or New England in the early fall. The Winner Outfitters Mummy Sleeping Bag promises to be just right for these sort of conditions. We'd say that this temperature rating would be for those who tend to be cold while sleeping. If you tend to be warmer than others while sleeping in general, this sleeping bag would even be good for slightly below freezing temperatures.
Soft Interior, Waterproof Exterior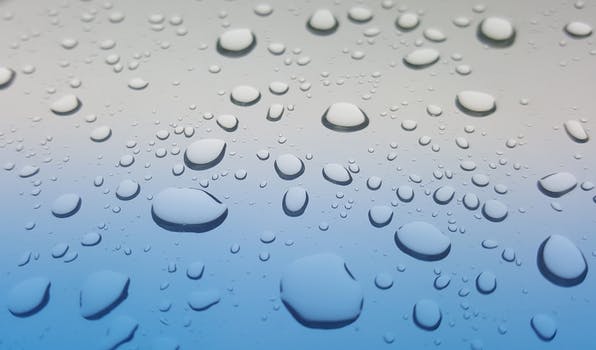 We appreciate the way the inside lining feels. It's soft, which makes it nice to sleep in a T-shirt and shorts. (Plus, the sleeping bag itself will keep you warm in the proper outdoor temperatures, so you don't want to ruin that with too many layers in the sleeping bag.) Inside this mummy sleeping bag is 200G/㎡ hollow fiber filling that's non-allergenic. A shell of 350T Polyester coats the outside of the bag. It's ripstop polyester and it's also waterproof!
Draft Tube and Draft Collar Block Any Heat Loss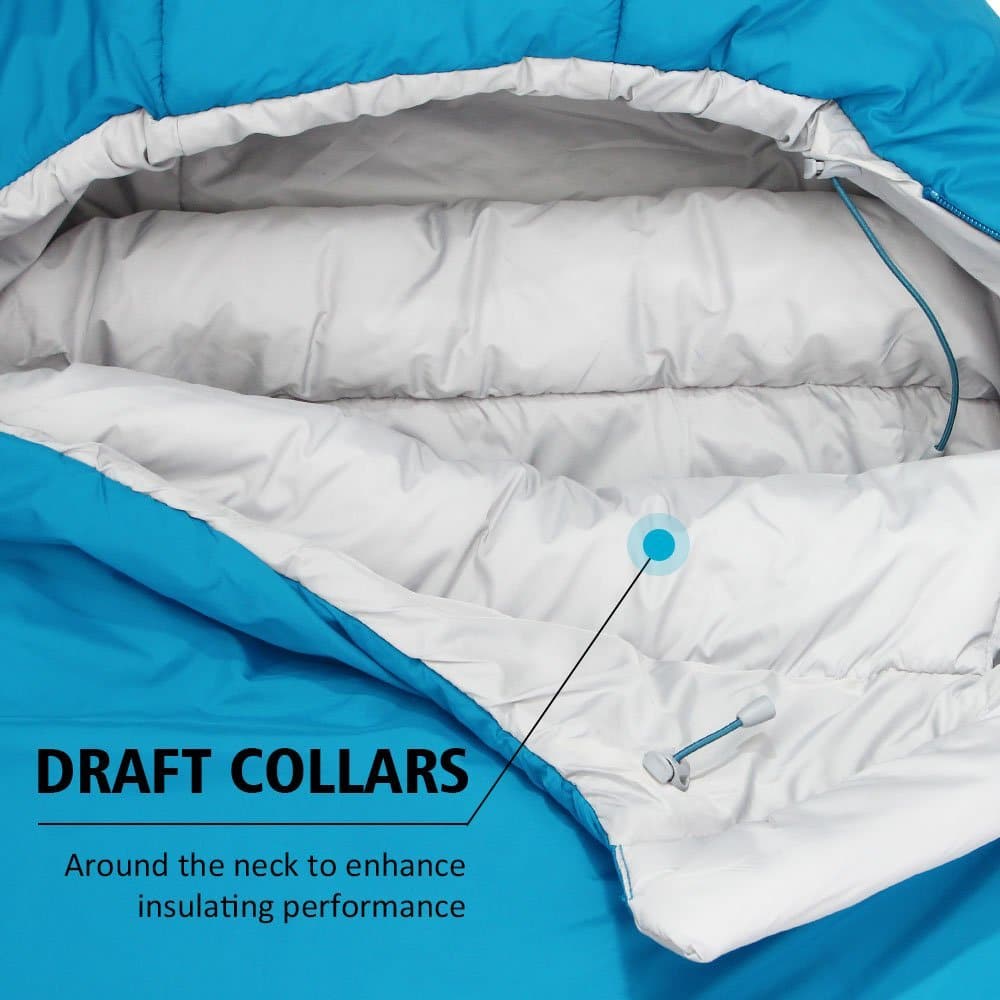 Credit: Amazon
Along the zipper, you'll find a sewn-in soft "tube shape" of extra puffy polyester filling. This helps reinforce an unavoidable weak spot: the zipper. Both sides of this draft tube come together when zippered, helping to keep your warmth inside the bag. These extra features are a way to ensure a lightweight sleeping bag that is effective for keeping you warm.
Included Compression Sack…With Straps!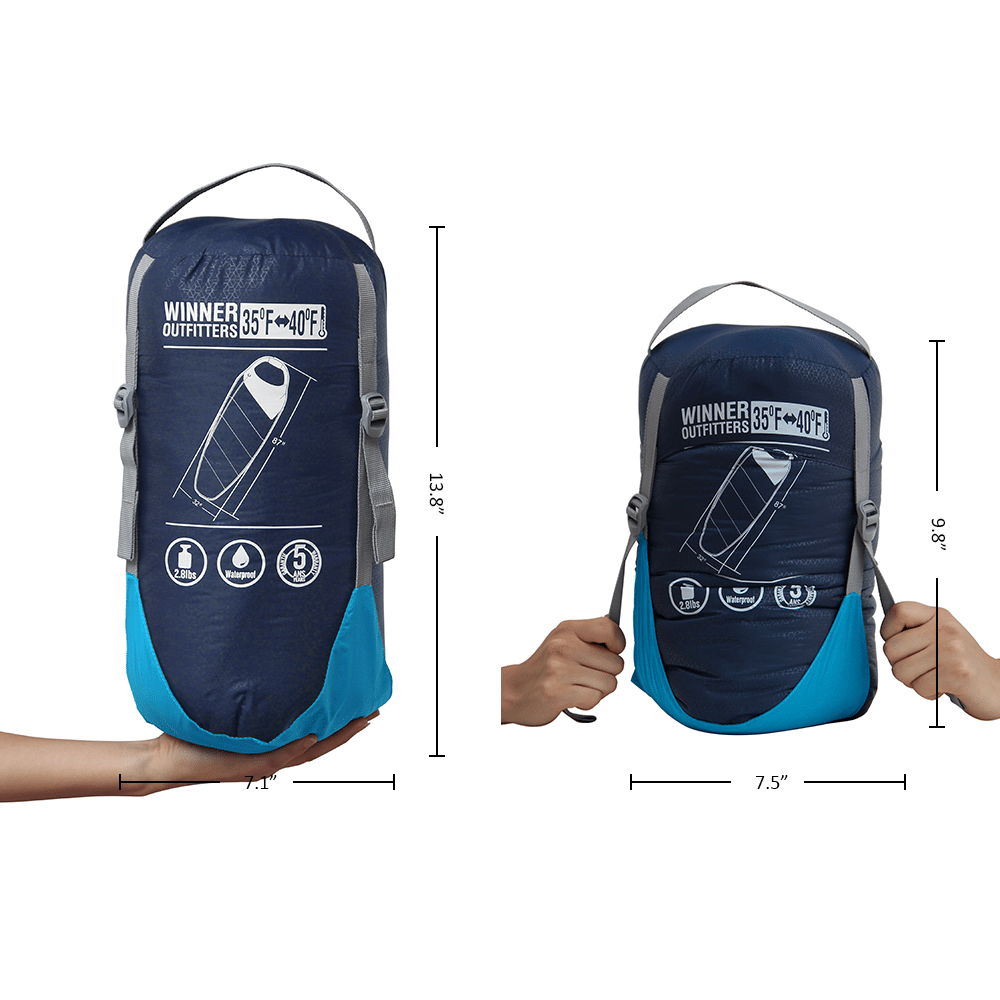 Credit: Amazon
The stuff sack, or compression sack, holds the sleeping bag and helps it to keep a super compact shape. As the name suggests, you'll need to "stuff" all the material in. For other stuff sacks, this is a seemingly impossible task. However, it's not as difficult with Winner Outfitter's Mummy Sleeping Bag. The compression sack is 14 inches by 8 inches. Once you have the sleeping bag in, you can pull down on two outer straps. This helps draw the whole bundle in, and it takes up even less room when you're packing! (Note that when you're not using the sleeping bag, or right before your trip, it's best to hang the sleeping bag up, so the fibers can spread and better keep you warm).
Smooth-Gliding, Double Zippers
Credit: Winner Outfitters
The zippers on the Winner Outfitters Mummy Sleeping Bag offer two perks: they zip smoothly and allow you to regulate heat. With a zipper at the bottom, campers or travelers can slide this up to allow for some ventilation. Smooth working zippers (these are specifically SBS zippers) make sure there's no unnecessary frustration when trying to get in and out of the mummy sleeping bag.
What Travelers Are Saying About the Winner Outfitters Mummy Sleeping Bag
Other travelers are pleasantly surprised by the Winner Outfitters Mummy Sleeping Bag. WIthout the name brand, expectations may be low, but so is the cost. Other travelers have discovered that this performs just the way they wanted. It's light enough to be a backpacking sleeping bag, but most are happiest with it as a car-camping sleeping bag. Others appreciate that it's a comfortable, inexpensive option for tent camping, or traveling to a place where one might not have a bed. The temperature ratings seem to hold true for others who have tested it out in 35-40 degrees. It's not going to be incredibly warm beyond freezing temperatures, but we'd suggest that it's most useful for when the lowest possible temperature might be 35-40 degrees.
Alternative Sleeping Bags
Coleman Silverton 0 Degree Sleeping Bag
The Coleman Silverton 0 Degree Sleeping Bag is an excellent mummy sleeping bag for frigid temperatures. If you're truly going to be sleeping outside when it's cold, you'll want the Coleman Silverton. The temperature rating falls around zero degrees. This is possible thanks to some Coletherm patented synthetic material, draft tubes, draft collars.  The top, polyester shell covers the inside which is packed with filler insulation. This Coleman mummy sleeping bag has smooth working zippers, and the option to zip open at the feet for some ventilation. Additionally, you can draw the hood in to keep the heat wrapped around you. You'll find the Coleman Silverton to also be a good deal. It's not a great sleeping bag for backpacking, but it does an excellent job keeping you warm when the temperatures are going to fall well below freezing.
Coleman North Rim Sleeping Bag
The Coleman North Rim Sleeping bag is another great 0 degree mummy sleeping bag. While Winner Outfitters Mummy Sleeping Bag is designed for a bit of a higher temperature rating, the Coleman North Rim is your choice for extreme cold weather. This sleeping bag is slightly bigger than the Coleman Silverton. This North Rim Sleeping Bag keeps you warm when temperatures are even below zero! The temperature ratings are slightly lower than the Coleman Silverton, meaning that you'll want to purchase this sleeping bag for even more extreme temperatures. The Coleman North Rim still has the many Coleman features to keep you warm. The draft tube helps to make sure that heat doesn't escape. The polyester material, quilted and covered, traps in your body heat. Zippers work smoothly, thanks to the ZipPlow. The hood allows you to draw in the sleeping bag around your head for extra warmth.
Marmot Trestles 30 Mummy Sleeping Bag
The Marmot Mummy Sleeping Bag will keep you warm when it's around thirty degrees outside. This one is comparable to the Winner Outfitter's Sleeping Bag regarding the thirty-degree temperature rating. One unique feature of this Marmot sleeping bag is the dual-sided zippers. One side zips all the way down, the other side zips down enough for you to fold it over. This helps you from feeling too "cocooned" in the mummy shape. Plus, it helps add some ventilation that might be nice if you're not in frigid temperatures. The material is soft on the inside bottom, which makes it just right to sleep comfortably without many layers. You'll stay warm thanks to SpiraFil high loft insulation. Additionally, the external polyester is moisture resistant. The YKK zipper works both ways, and can be unzipped at the bottom to help ventilate. This mummy sleeping bag weighs a three pounds, one ounce. 
Winner Outfitters is the Real Winner!
If you're looking for a mummy sleeping bag to keep you warm in the 35-40 degree range, then Winner Outfitters has a great option for you. This sleeping bag competes with other name-brand products, without much of the associated cost. You'll be warm and comfortable for those camping trips ahead!
Related Article: Best Sleeping Bags For This Year's Adventures