The Samsonite Winfield 2 Is One of Our Favorite Hardside Checked Bags!
With so many luggage options, how do you choose the right one? Thanks to our guide, you can narrow down your preferences. Perhaps you've decided between the hardside and softside (you'll get more protection with the hardside). Are you concerned about keeping your belongings locked and secured? Or, perhaps your greatest priority is a large amount of space without all the weight of some checked suitcases. Maybe you're looking for "just the right wheels," since it can be infuriating to deal with stubborn, broken wheels. Or, maybe you just want a style that catches your eye (we won't judge you for caring about looking good!) With the Samsonite Winfield 2 Hardside, you can have it all! It's very unlikely that you'll see Samsonite Luggage busted open on the luggage carousel. You'll glide through the airport, with a suitcase that's stylish, durable, lightweight and roomy.
A Little About the Samsonite Winfield 2 Hardside Fashion Collection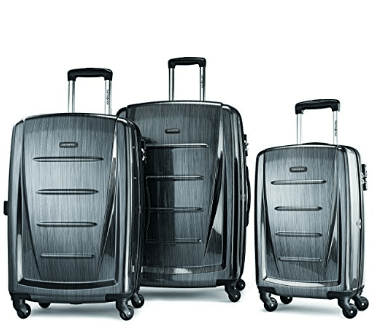 Credit: Amazon
The Samsonite Winfield 2 Fashion Collection features a variety of sizes. Those options are all within the same family of great style. Choose between the 20-inch, 24-inch, or 28-inch spinners. Or, purchase the set of three Samsonite Winfield 2 suitcase sizes for a discounted price. All pieces of luggage in this Samsonite Winfield 2 Collection offer the great protection of a hardside made from durable polycarbonate. The airbrushed look, tapered indentations and textured panels, and tasteful color options gives this collection its fantastic style.
Samsonite Winfield 2 Hardside 28″ Features & Benefits
TSA Lock to Keep Your Belongings Secure
Credit: Amazon
All Samsonite luggage features a quality TSA lock, and the Samsonite Winfield 2 Checked Suitcases are no exceptions. Rather than a key that would be easy to misplace, the Samsonite TSA lock is a combination lock. It's also sturdy, so it works well when you have the right combination, and you won't become frustrated by having to wiggle it into place. The lock doesn't take up a huge amount of space (since space is so precious on luggage), and works by holding both zippers securely in place. Additionally, the TSA lock on the Samsonite Winfield 2 is located on its side.
100% Polycarbonate to Protect Your Belongings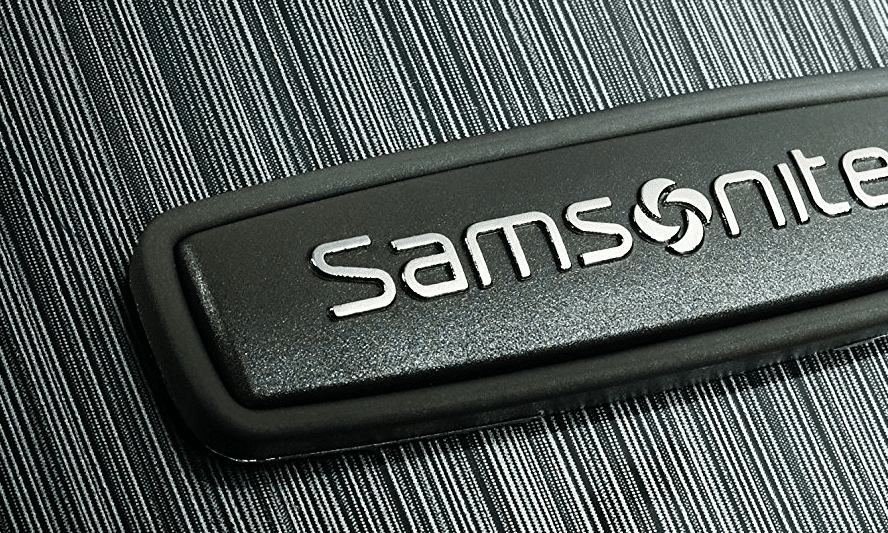 Credit: Amazon
Polycarbonate is one of the best materials for a suitcase. Polycarbonate as a material is known to be lightweight and high-performing regarding strength and stability. Because of the polycarbonate, the Samsonite Winfield 2 suitcase is both lightweight and durable. The suitcase is even made to flex in order to stay intact; this way, lots of weight from above, or collision from the sides won't break the suitcase. Samsonite doesn't compromise its durability by "watering down" their materials. The Samsonite Winfield 2 is 100% polycarbonate (rather than mixed with ABS). Therefore, you'll be sure you're purchasing a product made with fine qualities.
Stylish Design to Have You Cruising In Style
Credit: Amazon
To be quite honest, the airbrushed polycarbonate in any of Samsonite's various color options looks good. By "airbrushed," we mean that there's a sort of light pattern. This pattern gives the illusion of a grain in the material. Since suitcases inevitably become scratched and dented, this design helps to hide any imperfections. The front and back panels feature a design of indentations that contribute to the suitcase "looking strong." (And thanks to the polycarbonate, it doesn't just look strong, we know that is truly is strong). Color options include purple, orange and teal, as well as some more neutral options of gray and black. Those brighter color options are tasteful, rather than tacky, thanks to the darker hues. Plus, it makes your suitcase easy to spot at the baggage claim!
Interior Storage to Help You Stay Organized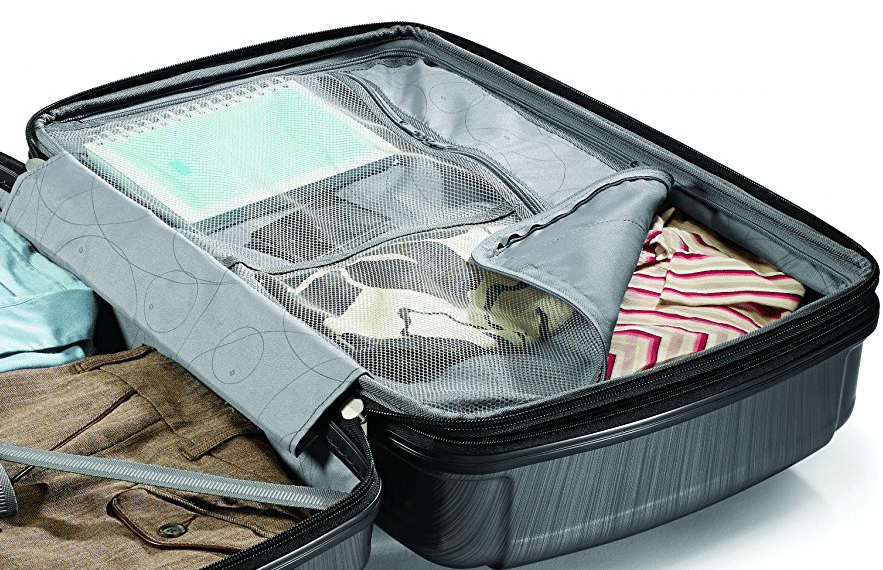 Credit: Amazon
With these large checked bag, internal organization is key so that your many days of outfits aren't tossed all over. The Samsonite Winfield 2 checked bags come with a fully zippered divider. When you open the suitcase completely, the left side features this divider. It's handy for making sure those contents don't spill out on you. Additionally, this divider includes various pockets on the front. On these, you can store smaller items, or items that you'd like to access immediately after opening. On the right half, you'll find a buckled X-shaped strap to tie down clothes on this side. The wheels don't take up any of the space on the inside, so you're just left with the square shape that maximizes the amount you can bring with you!
Quality Handles, Zippers and Wheels to Help Make Travel Easier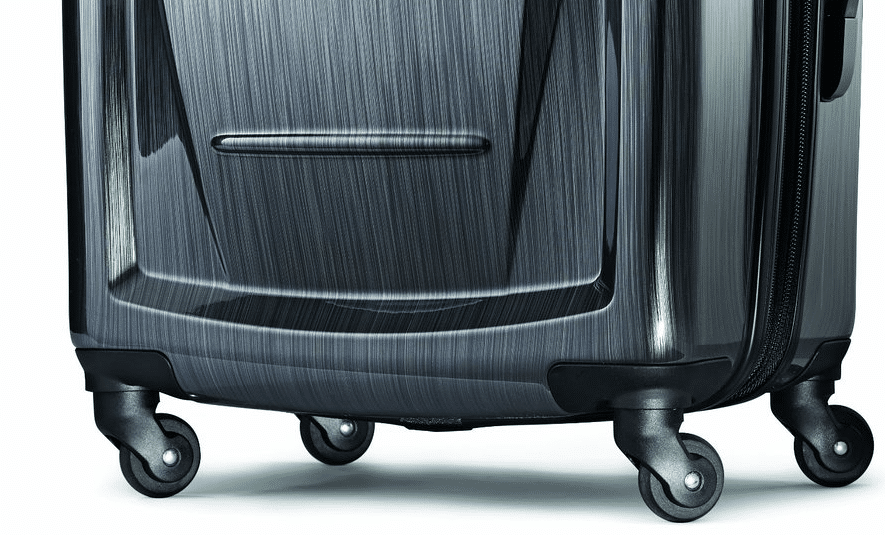 Credit: Amazon
Besides the shape and durability of the body of the suitcase, you want the auxiliary features to works nicely as well. On the Samsonite Winfield 2, the quality of the material is not the only selling point. The zippers work smoothly, to ensure that you can quickly access your belongings with no snagging and no frustrations. The hardside suitcase features smooth-rolling wheels that are multi-directional. This means you can pull (or push) them in any direction! These four spinner wheels are strong, yet lightweight, so they contribute to allowing the suitcase to be light and easy to manage. The telescoping, locking handle is yet another feature that is strong, yet lightweight. These features help allow this amazing feat to be possible: this large, checked suitcase weighs only 11.5 pounds!
What Other Travelers Are Saying About The Samsonite Winfield 2 Hardside 28″
Other travelers love the Samsonite Winfield 2 Checked Suitcase as much as we do! Customers love the trustworthiness of the brand, since they repetitively create quality products to make your trip easier. Others have reported using this large suitcase for years and they have no problems with quality. Of course we recognize that flights, conveyors, and the process of checking bags means that they'll have to be tough enough to withstand collision with other bags, and metal guard rails. However, any dents or scratches accumulated in this process are hard to spot. Therefore, travelers really like the brush-stroke coloration and indented panels which help keep the suitcase looking sleek, even after many trips.
Alternative Checked Luggage
Delsey Helium Aero 29″ Expandable Spinner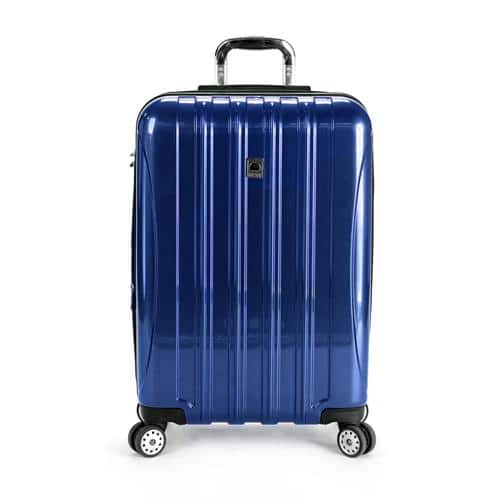 This Delsey Checked Suitcase is made from one-hundred percent polycarbonate. So, while it may scratch, it's going to be super durable. The material also means that this suitcase is lightweight for its size: the hard side weighs around 12 pounds. Amazon offers some great color options including Cobalt Blue and Emerald Green (these bonus colors means you'll be able to more easily identify your suitcase on the baggage claim). The wheels on the Delsey Helium Spinner work really well; they'll maneuver effortlessly through airports. On this Delsey suitcase, the double wheels mean extra stability when the bag is upright. Plus, the durability of those two wheels is tough to beat. This hardside features a TSA lock as well. Additionally, the expandable part means that you can an extra two inches of space, which would definitely come in handy on that return trip.
TravelPro Platinum Magna Expandable Spinner 25"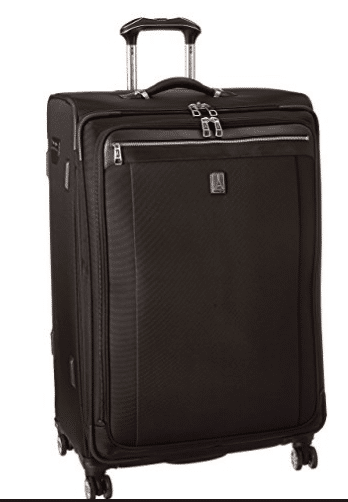 The TravelPro Spinner's name advertises its best quality: the super smooth wheels. This TravelPro checked suitcase will easily glide through airport corridors as well as sidewalks. Grab the sturdy handle and swivel the large suitcase right in place. Additionally, the expandable feature provides you with an extra two inches of wiggle room. The exterior is a soft shell, which allows for this extra feature: external pockets. That's precisely the perk of a soft side; you can have quick access to belongings in the outer, zipped pockets. Besides gliding smoothly, the zippers will work smoothly for you, too. We even like that the zippers themselves are large; this makes them easier to pull. High density ballistic nylon makes up the exterior, aided by DuraGuard to provide resistance to stains or other damage. Additionally, the PowerScope telescoping handle has three stops won't break on you since it's made from aluminum!
Merax Flieks Aluminum Frame Suitcase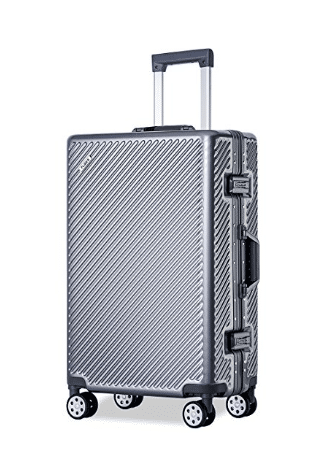 Perhaps you've never heard of Merax Luggage, but it's worth learning about their good luggage options. Their checked bag, the Merax Flieks Aluminum Frame Suitcase is durable and stylish without the high price tag. Therefore, we think you'll be pleasantly surprised. The wheels roll smoothly, and feature a soft plastic which makes them quiet, too. You'll find the telescoping handle to be right up to standard. Additionally, the internal storage space of this Merax Flieks Aluminum Frame Suitcase is roomy.
Inside, you will also find an divider panel with mesh pockets for storing smaller items. This suitcase is made from both polycarbonate and ABS material. Furthermore, Merax Luggage reinforces their suitcase with an aluminum frame. The Merax Flieks Aluminum Frame Suitcase closes with latches, rather than zippers. This helps add strength to the frame, rather than creating a weak spot with the zipper line. Choose from some classy color options (rose, gold, silver, black). Merax Luggage offers a great checked suitcase that's very budget-friendly.
And That's Why We Love The Samsonite Winfield 2 Hardside 28″
Here's yet another suitcase of superb quality from a trustworthy brand. This hardside suitcase is a great investment, and will likely accompany you on many of those longer vacations and adventures.
Related Article: ​Best Checked Luggage Pieces (Plus How to Choose Yours)​​​