If you know anything about tech, we're sure you've heard about the BenQ treVolo S electrostatic speaker.
And if you're not that tech-savvy, we'll break it down for you. The BenQ treVolo S is a top trending electrostatic speaker on the market – and also the world's smallest Bluetooth speaker. You're probably thinking it's a handheld miniature but oddly enough when you take it out of the box, it doesn't look all that small. So what sets it apart? We're gonna show you.
How An Electrostatic Speaker Works
First things first. Lets break down how an electrostatic speaker works. Most speakers of this size use a combination of small drivers and a passive radiator. Think of that combo like a subwoofer. Second, the BenQ treVolo S uses electrostatic panels. In turn, these panels use a large, thin film that vibrates between two stators. As a result, these electrostatic drivers can use a much clearer high transparency sound than that of the average tweeter.
Why Is This Electrostatic Speaker Such A Big Deal?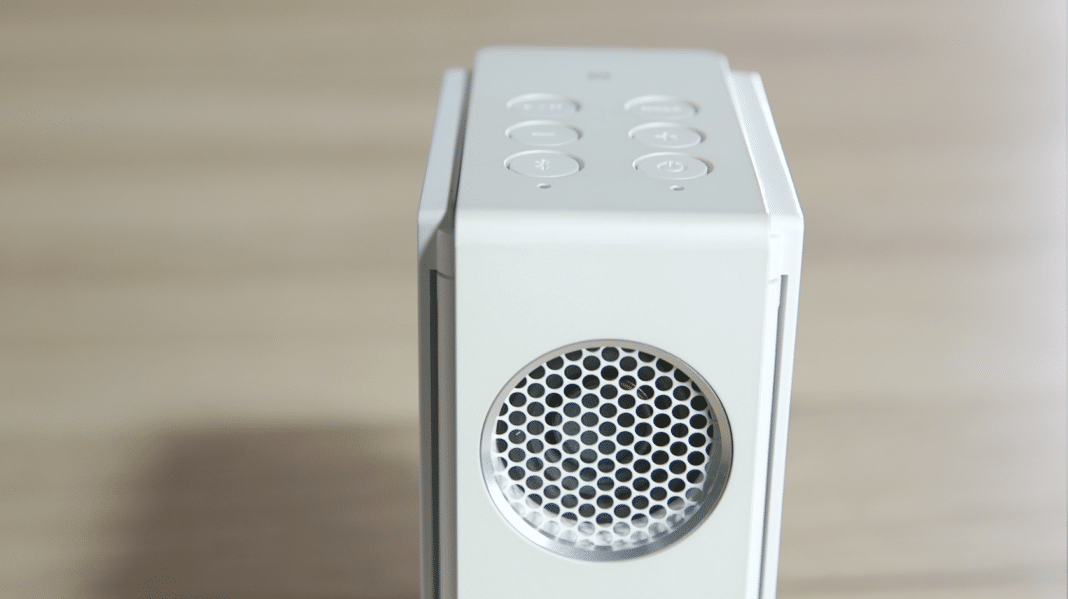 The BenQ treVolo S the first portable electrostatic speaker we've seen since the time when BenQ released the last version of their Trevolo speaker three years ago. Let's take a look at the features and see what it has to offer.
BenQ treVolo S Features & Benefits
Electrostatic speakers have been around for a while now but still remain relatively uncommon. When you do find them, they tend to be in high-end audio speakers and usually are large speakers. When BenQ first launched the treVolo series in 2014, they brought electrostatic speaker technology to a portable Bluetooth device for the very first time. To tackle the bass deficiencies in the tech, they incorporated cone woofers.
Furthermore, with the treVolo S, the company downsized the portable electrostatic speaker. Now, it's much more portable than the original option and with a sticker tag of $199, the price isn't too bad either.
Design and Overall Appearance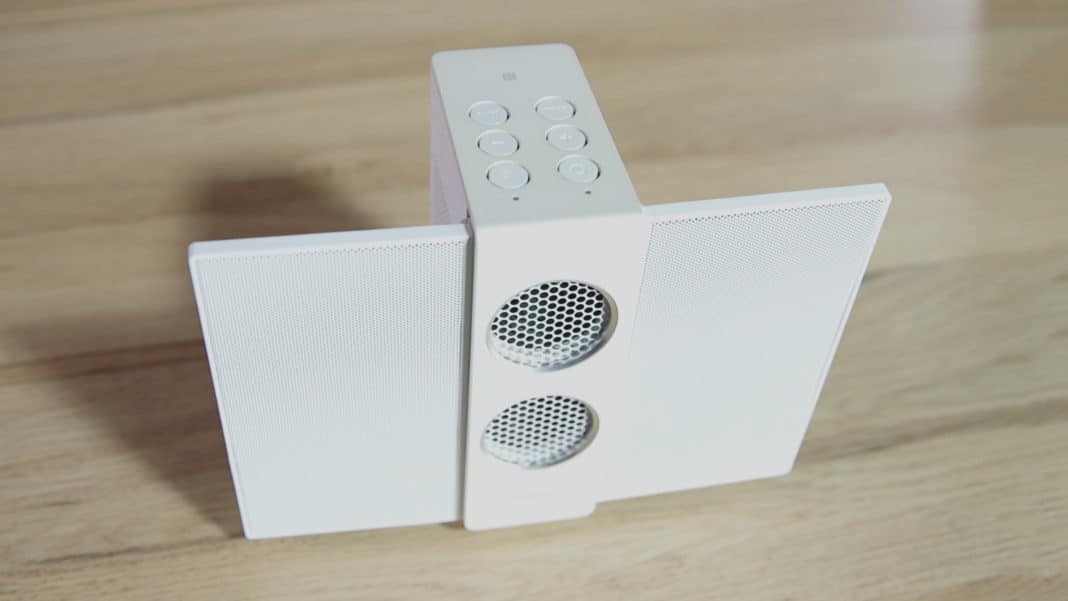 This electrostatic speaker is a nifty portable device you could easily throw into a beach bag or keep up in the front seat as an accessory on your next road trip. The electrostatic panels can fold onto the body, making it even more compact. While it's a 1kg thick piece of aluminum and plastic and feels very dense, dropping it on a hard surface could do some serious damage. Moreover, treat it with care. It's also important to note that the BenQ treVolo S is not water resistant. Make sure to keep it away from liquids at all times.
Features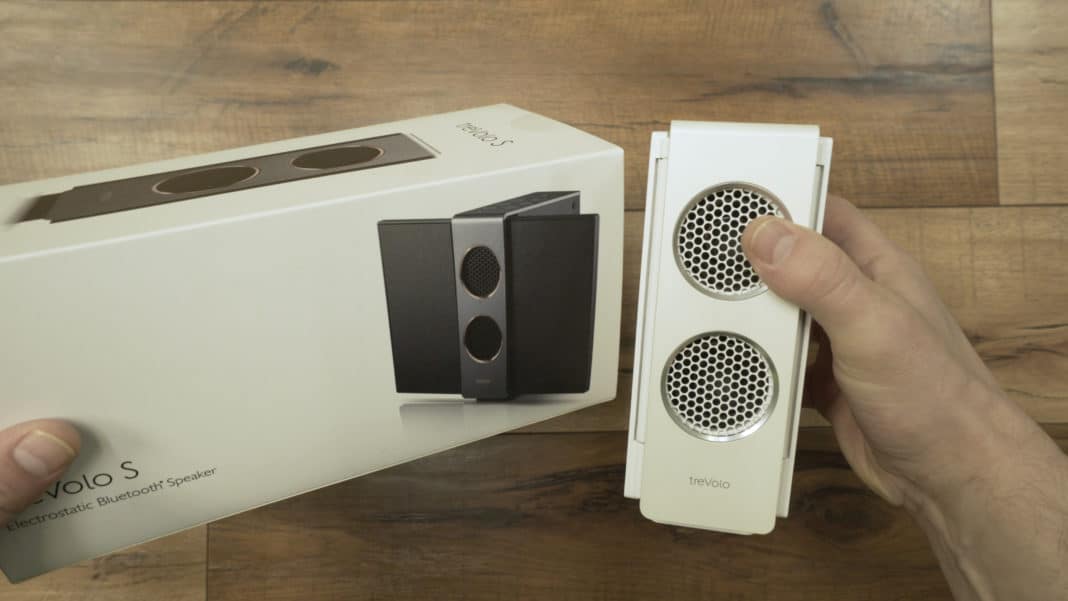 Putting its fragility aside, we love the overall appearance and tech of the BenQ TreVolo S. It can play the audio of YouTube videos, game sound, and audio from your phone very well. Pairing up wirelessly is quick and painless. If you'd like, there's also an NFC (near field communication) hook to let you pair your Android or iPhone simply by waving it over the NFC on the speaker's top panel. On the back, a conveniently-located aux input allows you to plug in your TV or laptop too. This is great when you want to play movies at home or on-the-go with friends.
Controls
On the top plate, you'll also find six buttons for direct playback control. You can play, pause, and change the volume. Switch the 3D sound on and off with the mode button. Let's move on to the most important part, the electrostatic panels. As we mentioned earlier, the panels use an ultra-thin mylar film that vibrates rapidly between two charged plates, controlled by an electrostatic field. The main benefit users get from them is distortion.
Sound Quality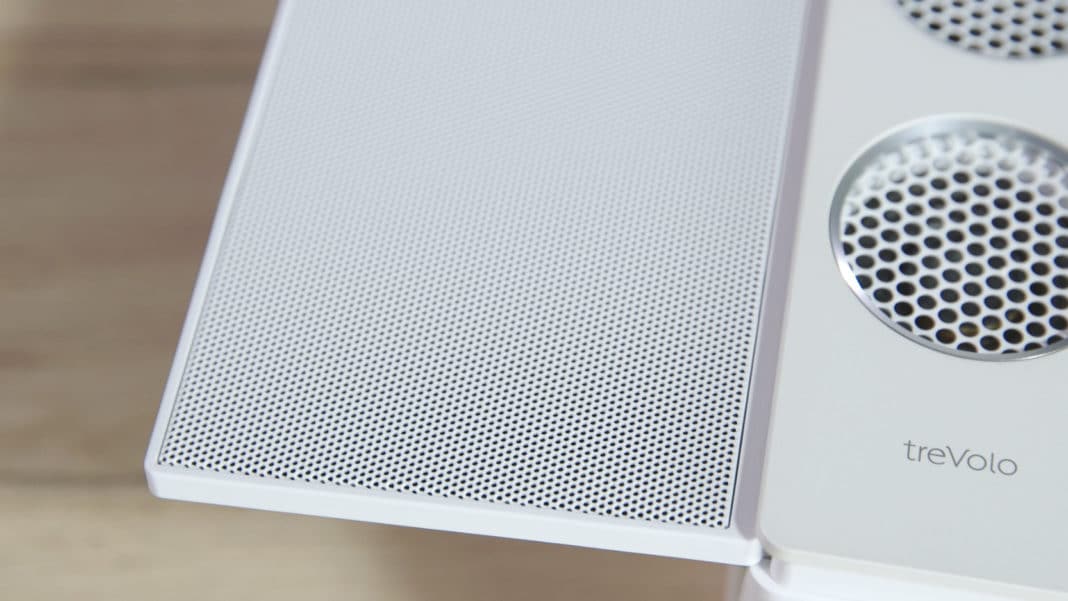 Here's the million-dollar question. Does the BenQ treVolo S live up to sound quality expectations? In a word, yes. We found this electrostatic speaker to be far superior to traditional speakers we've used. While the bass was a bit underwhelming, the overall effect was an incredibly accurate level of precision.
One of our favorite features of this electrostatic speaker is the 3D sound mode. This feature is described as "increasing the dimensions of the listening space without altering the original sound waves." In a nutshell, it's an EQ setting which makes a notable difference in boosting bass kick while maintaining detailed audio and depth.
Low Distortion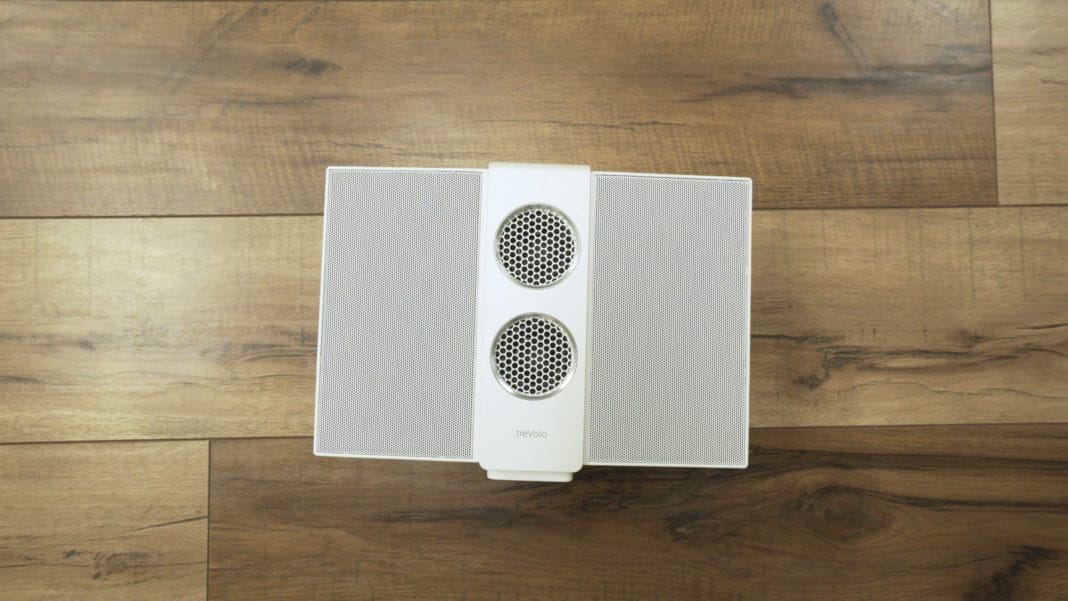 TreVolo S uses the same Electrostatic Speaker Technology that is typically reserved for high-end speaker systems. With a distortion rate that is only one-tenth of the rate of conventional speakers and no cabinet resonance, electrostatic speakers deliver natural and spacious sound. Powered by dual 12W woofers, dual amplifiers, and dual vibrating diaphragms, the treVolo S produces smooth, rich bass sounds and distinguishable sweet highs.
Limitations
It's a bit of an of an odd quirk but the BenQ treVolo S has a reduced sweet spot, so to speak. For example, when you set it on your desk or table in the middle of the room and walk six to eight feet away, it sounds fantastic. However, when you try placing it in a corner and stand off to the side or walk a greater distance away, the sound has a noticeable drop off in high-frequency detail.
Furthermore, since the electrostatic panels drive audio in both directions, the sound quality will drop when you place it too close to a wall. It's not an unbearable limitation but it's certainly worth noting. With this said, the positioning of the speaker and sound preferences of the listener are important. The BenQ treVolo S can be a bit finicky.
BenQ treVolo S Key Specs
Electrostatic technology: Hear all the details in your music with Electrostatic Speaker Technology

Dual woofers and Dual amplifiers: Enjoy a rich and expressive bass performance with dual woofers and dual amplifiers

Non-distorted 3D Sound: Enhance your audio enjoyment with non-distorted 3D and duo modes

check

Duo Mode: Enjoy lifelike sound (Stereo Mode) or maximize your auditory experience (Party Mode)

check

Convenient Connections: Connect to devices conveniently with NFC + USB DAC/charging
What Travelers Are Saying About the BenQ treVolo S
The last thing you need when you're lounging by the pool is a speaker that won't sync up to play your favorite tunes. Isn't it annoying when your phone can't find the device even when it's sitting *right* there? Lucky for you, this speaker makes for easy pairing. All you have to do is hold the pairing button, open Bluetooth settings on your phone, and select treVelo from the list. When you do, it'll pop right up.
Tips
As long as you're careful with it, the BenQ treVolo S has a good build quality. Don't toss it around too much and you should be fine. What travelers love the most about this electrostatic speaker is its battery life. We wouldn't believe it lasts for up to 18 hours of audio enjoyment if we hadn't seen it for ourselves. If you ask us, this alone makes it a worthy purchase.
Want to see a more visually-oriented review of this incredible electrostatic speaker? Watch the video below to see it in action and get a better feel for its performance!
Alternative Portable Speakers
Want to shop around a little more before you make your purchase? We've got you covered. Here are a couple of our other favorite portable speakers on the market.
JBL Flip 4
What do we love about this speaker? It's designed for active travelers, looking to get outside. Take it by the pool, to the beach, and pretty much anywhere. You don't have to worry about getting it wet. It's completely waterproof. Also important to note, it packs an impressive 12 hours of continuous playtime.
Furthemore, running out of juice during a full day of adventures isn't a worry. Last but not least, it's got a strong bass. If you're looking for a more rugged, loud speaker than the treVolo S offers, this could be the device for you.
Harman Kardon Onyx Studio 4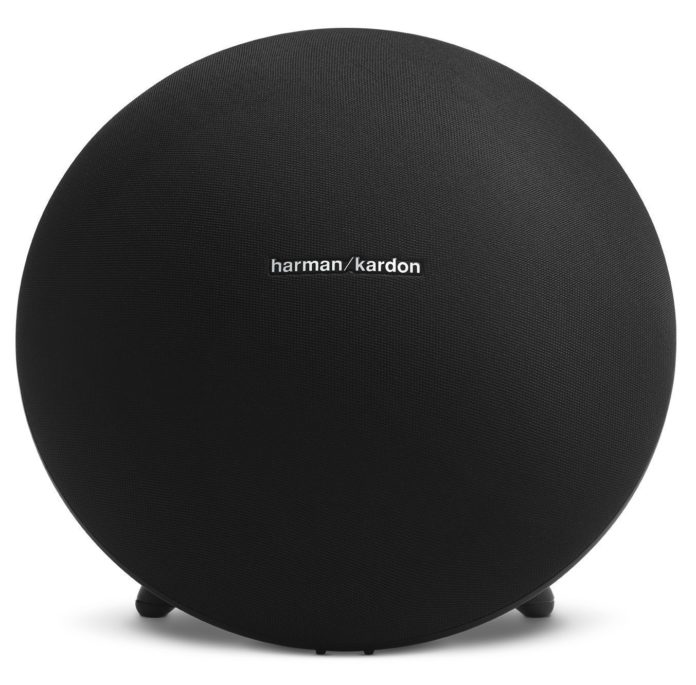 Do you love a loud bass? If so, then this is your speaker. While it's a little larger than the standard portable ones, the Harman Kardon Onyx Studio 4 makes up for it in a few other notable ways. The bass, durability, and easy pairing make it worth the sticker price. While the speaker doesn't support hands-free voice connecting, there is a button you can press for Siri or Google via the HK Connect app.
Our Take On the BenQ treVolo S
In conclusion, we love the BenQ treVolo S. If you're willing to put aside a booming bass, this electrostatic speaker still packs quite the punch for its size. Vertical dispersion of the entire thin-film diaphragm offers bi-directional sound projection allow for a more detailed audio performance and accurate delivery of natural, crisp and clear sounds.
Close your eyes and immerse yourself in a compelling audio scene with non-distorted 3D audio technology and rich bass powered by dual woofers and dual amplifiers. It is a musical journey that elevates you, taking you to new heights of audio satisfaction.
Questions and Comments
Do you have any questions or comments for us? Perhaps you have a favorite portable Bluetooth speaker you'd like to share. Whatever's on your mind, feel free to leave a message for us below. We love hearing from you.
Related Article: 10 Best Bluetooth Speakers Money Can Buy | Review