Camping is more comfortable with the right gear. Enter the Coleman SupportRest Double High Airbed.
Not all of us are cut out to rough it on the cold, hard ground. Bringing along an air mattress and pump makes all the difference in the quality of sleep when you're camping. The trick is that you've got to invest in a good one. Those of us who've been camping more than once or twice know that some air mattresses aren't the best quality. And that means you'll wake up with a sore back on a deflated mattress in the middle of the night. Luckily, we've found the quality item you need in the Coleman SupportRest Double High Airbed.
With so many types of air mattresses available on the market, it can be difficult to narrow it down. In this article, we'll take a closer look at the features and benefits of this air mattress and see if it's the right fit for you and your camping trip.
Coleman SupportRest Double High Airbed Features and Benefits
Coleman has brand recognition in the world of camping. Generally speaking, their products are pretty high quality and very reliable. The Coleman SupportRest Double High Airbed doesn't seem to be any different. Even better, it's not going to set your bank account back too much (college students, we're talking to you here). While there may be a few styles of air mattresses on the market that are better in size, they come at a higher price. However, if you're not looking to do some heavy camping and just want to take an escape for a four day weekend or so, this is definitely the right choice for you. Here's why.
Comfort Strong and Support Lock
Credit: Amazon
So what does this mean? Coleman's Comfort Strong design means it will ensure and support better weight distribution. The Support Lock makes the edges sturdier. In short, this just means that you will enjoy a quality night's sleep without having to worry about air leaks, mattress lumpiness, or sinking in the middle of it. With a plush surface and supported by heavy-duty PVC, it offers great quality that you can count on. All in all, you will be surprised at how similar it feels to sleeping on a real mattress.
Easy Set Up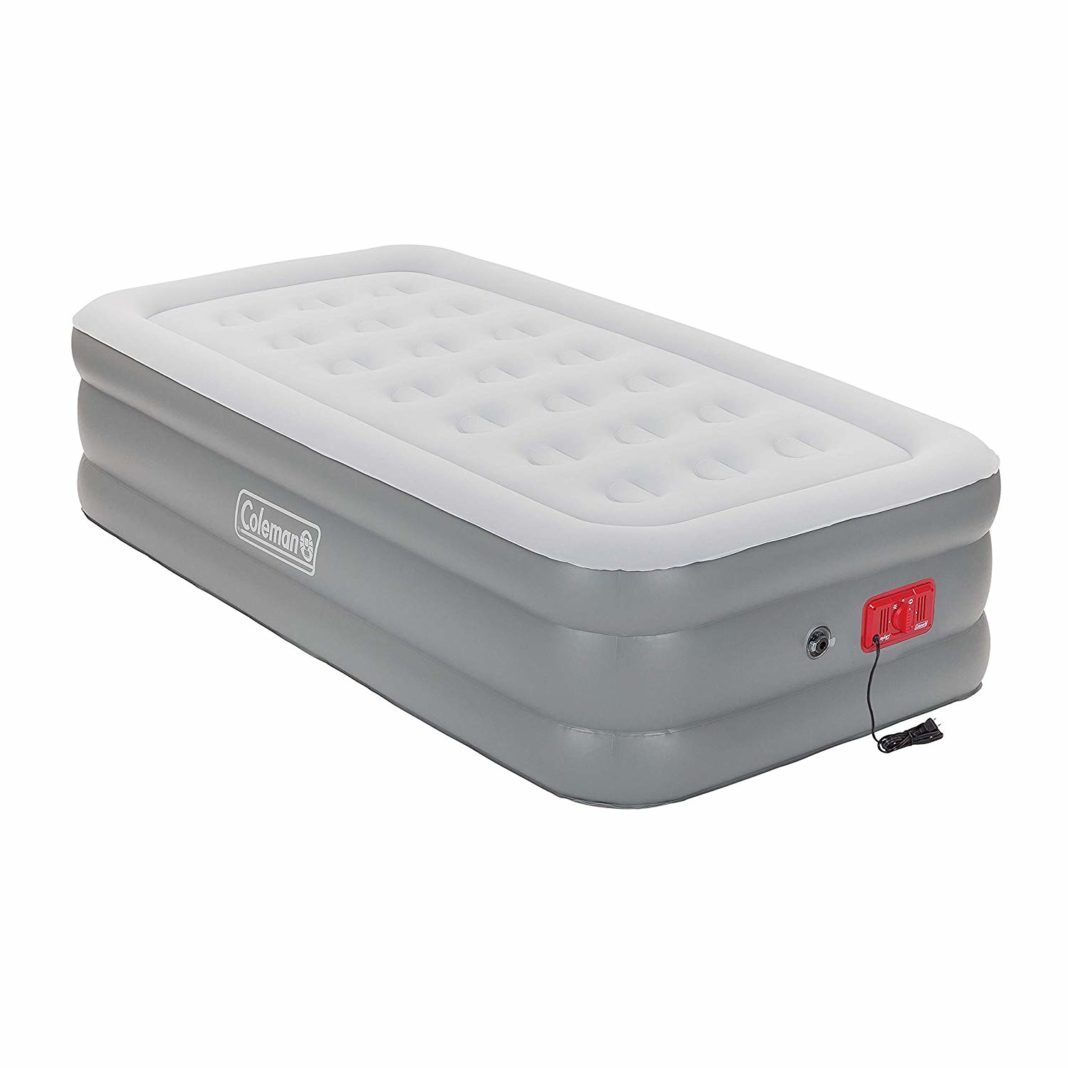 Credit: Amazon
We are honestly surprised at how easy the setup for the Coleman SupportRest Double High Airbed is. While it doesn't come with a built-in air pump, it's still a sweet and simple process to get it all blown up. The valve allows for quick inflation and deflation.
Portability
When you are done using it, this mattress packs away so easily. Simply deflate it by opening the valve, put light pressure on the air mattress to let out the air, and then roll it up when it's flat. It packs up into a compact bundle you can slide into your trunk or put on your backseat. Then, you can tie it up with the nylon protector. It doesn't come with a carrying bag either, so that is something you might want to invest in. It's not worth carrying it around lose and risking getting a hole poked in it by a sharp object.
Soft to the Touch and Antimicrobial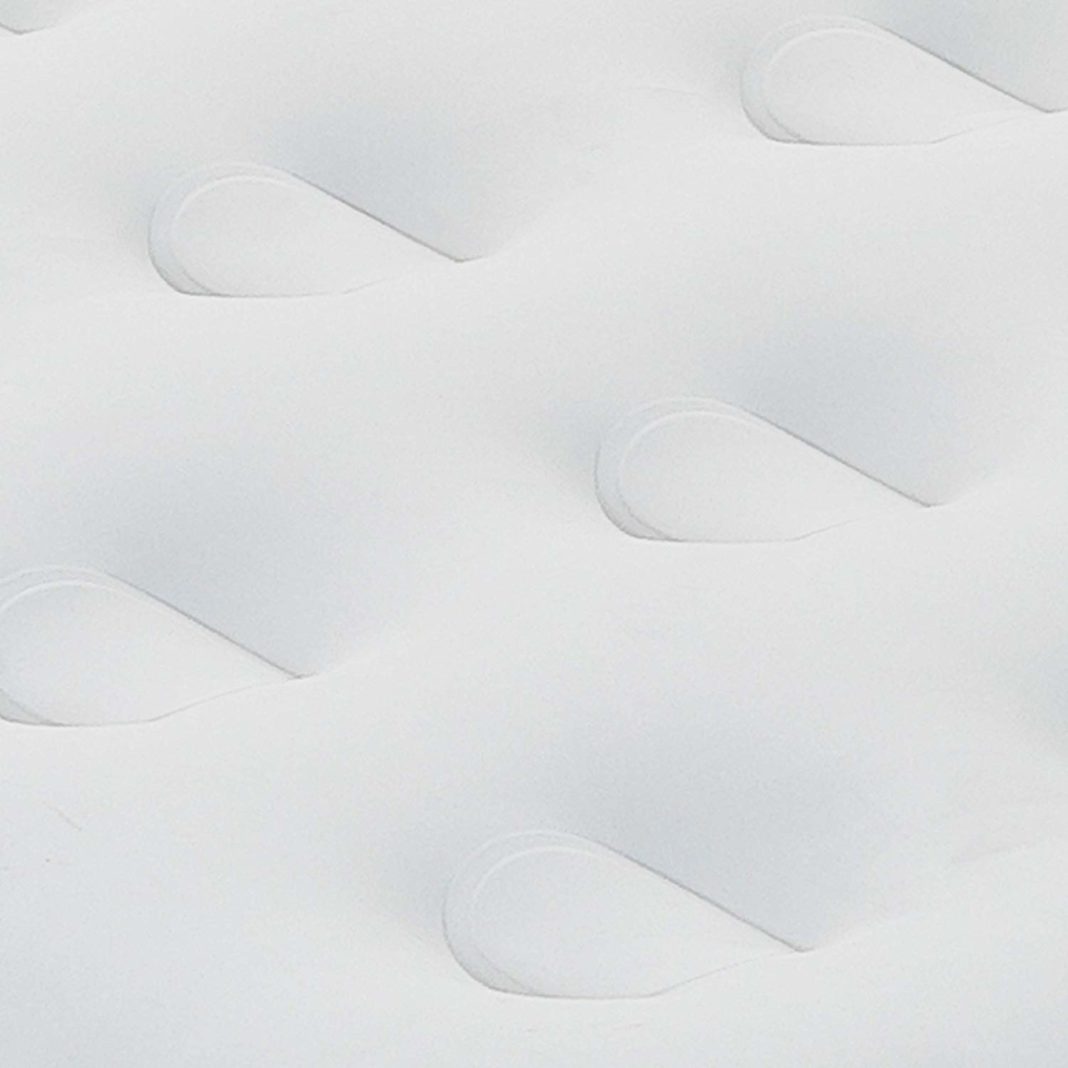 Credit: Amazon
As we mentioned earlier, the top of the mattress is flocked, making it super soft to the touch. You won't have to layer a bunch of blankets under you to be comfortable. Measuring about 0.4mm thick, the PVC gives just the right amount of cushion. Due to its super soft fabric, it's prone to catching a bit of dust. Make sure to clean it off regularly between your camping trips. Flocking surfaces aren't always the easiest to clean so it's important to be consistent about wiping the mattress down as soon as you see a little dirt or grime appear. Don't skip out on the cleaning and let the dust pile on.
The good news though is that this design is antimicrobial. The PVC is resistant to odor for mold, mildew, and fungus. Whether you're in the mountains or somewhere warmer and more humid, it's easy for a mattress to get damp on your travels. The antimicrobial feature will help keep your gear clean.
Comfort and Durability
The PVC and tight airlock make the Coleman SupportRest Double High Airbed a great investment in terms of comfort and durability. The high-quality construction ensures that the mattress won't sag over time. This makes it a great choice for your camping adventures. The mattress is made to hold up well against all of the elements of the great outdoors – inside of a tent of course. Coleman's Airtight system ensures the mattress won't leak air overnight, so you won't have to struggle with refilling your bed every couple of hours. Trust us. We've been there and it's not a fun place to be. In terms of aesthetics, we appreciate the minimalist design.
Double High Design
One of our favorite features about the Coleman SupportRest Double High Airbed is the double high design. Not only does it offer extra cushioning for sleep but it makes it easier to get in and out of bed. When the mattress is inflated, it measures 75" x 39" x 18", fits standard sheets, and can support up to 300 pounds in weight. The only thing you will have to be careful about with a double high design is making sure the mattress isn't too tall to comfortably fit inside of your tent. Measure the floor to ceiling and length to width dimensions of your tent before investing in a camping air mattress.
Tech Specs:
Soft to the touch PVC fabric

Takes only 1 minute to inflate and deflate

Dimensions when inflated: 75" x 39" x 18",

 Can support up to 300 pounds in weight

Double high design

Antimicrobial

Does not leak air

Portable
What Travelers Are Saying About the Coleman SupportRest Double High Airbed
The Coleman Support Rest Elite Air Bed is more than just a comfortable, convenient sleep solution. It's actually therapeutic since you can inflate it to your own comfort level, the design is such that it will either cradle you or give you the firmest of support, and it accommodates a memory foam topper well if you have the need. 
Travelers say that this mattress is probably the greatest camping purchase they have ever made on Amazon. If you go camping regularly, it's definitely worth it to have one of the best camping air mattresses around. Having one that self inflates and self deflates will make your life so much easier. Plug it in, turn the dial, wait a few minutes, and get ready for bed. Some said they even used it for an entire week vacation and it held up well. There was no leaking at all. It only takes 1 minute to blow it up. In addition, it is pretty high as well so it does look like an actual bed once you have the comforter on it. The overall quality of the Coleman SupportRest Double High Airbed is fantastic.
SoundAsleep Camping Series Air Mattress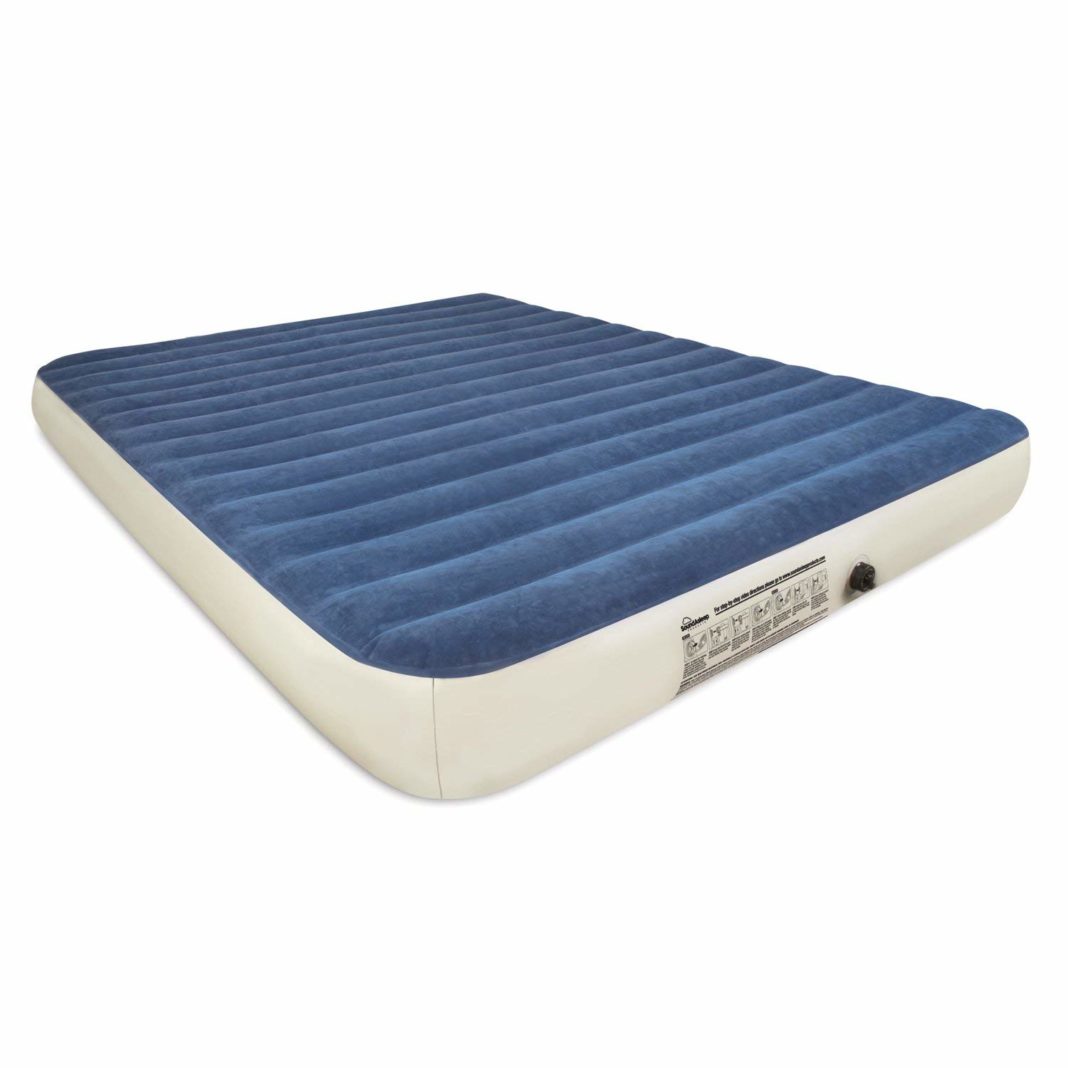 Fall asleep in comfort with the Camping Series Air Mattress from SoundAsleep. Thanks to comfort coil technology, it is specifically designed for use in the outdoors. It's perfect for those cold nights under the stars in a tent. If you're looking for an air mattress that comes with a pump, this one does. And it's super easy for inflation and deflation. Charge your pump before you go at home or at the campsite in your car. 
You can inflate the entire mattress in just under 3 minutes and be ready for a good night sleep. We don't know about you but after a long day on the road and hiking, sometimes we just want to hit the hay. Since it's made with super thick material, it's made to withstand the ups and downs of travel. In the event that you are looking for a style a little larger than the Coleman SupportRest Double High Airbed, this bed comes in both a queen and a twin size. The dimensions of the queen bed are 78″ x 60″ x 9″ and the twin dimensions are: 75″ x 42″ x 9″.
Last but certainly not least, this air mattress comes with a thick, waterproof flocked top for more comfort and is made from puncture resistant material. When you're done using it, take the carry bag for easy transport to your car or another campsite. Rest easy knowing it comes with a 1-year limited warranty.
Tech Specs:
Easy to deflate and inflate

Comes with a pump

Queen bed and twin bed size

Dimensions for queen bed: 78″ x 60″ x 9″

Dimensions for twin bed: 75″ x 42″ x 9″

Made from thick, waterproof, flocked material

Puncture resistant

1-year limited warranty
Invest in the Coleman SupportRest Double High Airbed for Your Next Camping Trip
We've said it before and we'll say it again. When you're camping, comfort is key. Here's one of the best camping tips we can give you. Investing in the right air mattress makes all the difference in your quality of sleep. Enjoy a good rest and wake up fully refreshed in the morning and ready to start the day. The Coleman SupportRest Double High Airbed offers the quality you need when you're camping.
Related Article: The Best Camping Air Mattress: Our Top 5 Picks