Are you new to the world of camping? We're here to help. These tent camping tips will go a long way.
You either love camping or you hate it. There's no in between. On the same note, you're either a newbie when it comes to this world or you're skilled. I definitely fell into the earlier box at one point. I remember going on my first ever trip to Joshua Tree with some friends a while back and not knowing what to expect. Even though a group text was sent out on what to bring, I severely underpacked. To keep you comfy and happy, I'm going to save you some stress. With these tent camping tips, your trip will go a lot more smoothly than mine did.
Tent Camping Tips You Need to Know
1. Have a Test Camping Run at Home
Newbies, listen up. You don't want to waste an entire evening figuring out how to pitch a tent. It's a great idea to test out your camping gear at home in the backyard or at a nearby park before you head out. This way, things will run smoothly when you're at the campsite and avoid common rookie mistakes. Another fun idea is to test it out in the living room. If you have kids, they'll love indoor camping. This is one of the best tent camping tips a rookie could ask for. Take it from someone who's been there and done that.
2. Make Sure You Read Reviews of the Campground Before You Go
When it comes to tent camping tips, I can't stress how important this is. While a place might look lovely in photos, there is nothing more frustrating than arriving and finding out it looks nothing like them in person. Google reviews will let you in on whether or not the campsite is pet friendly, proximity to the nearest city, whether you can or should make reservations, and so on. It's also important to be aware of what facilities they might have – e.g. restrooms, showers, electric, and more.
3. Consider Leaving the Dogs at Home
We love dogs as much as the next guy. While we've seen a lot of dogs who are fine in a campground, not all of them do well in a tent. You'd be surprised at how your well-behaved dog can act in a new environment with new smells and people. When you are in a small-space, it's important to be mindful of each other's privacy, peace, and quiet. Nothing is more disruptive than a barking dog in the night.
4. Get a ThermaCELL Lantern to Ward off the Bugs
There's one downside to camping – bugs and lots of them. Sure, you can invest in bug spray but that will only get you so far. To prevent bugs from getting in your tent, invest in a ThermaCELL lantern. We've used these little gems in the heat of the summer to ward off pesky mosquitoes. And we're happy to say that they work like a charm.
5. Splurge a Little on Comfortable Camping Chairs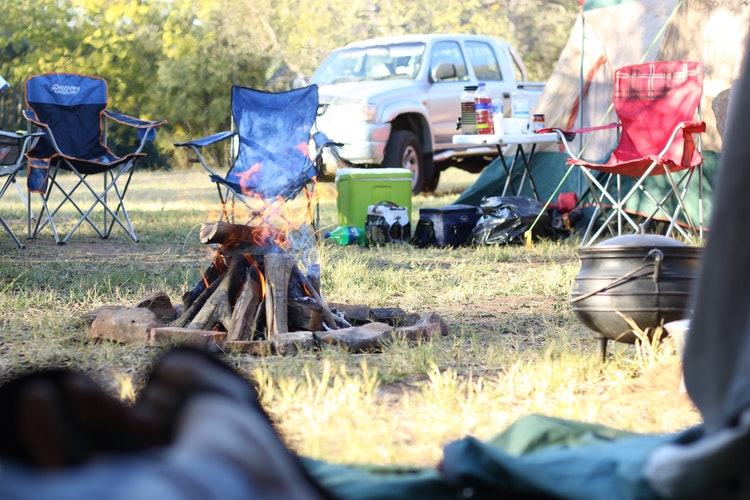 You might have some old camping chairs tucked away in your garage. But that doesn't make them right for the trip. One of the best tent camping tips I ever received was to invest in some good outdoor chairs. When you think about it, it makes sense. You're going to be sitting around the campfire a lot, why not be comfortable? It's worth every penny to feel good when you're out in the elements.
6. Pre-Prep Your Camping Meals at Home
This is one of the best tent camping tips I've ever received. But you would be surprised at just how many people miss this simple life hack. Instead of loading up on junk food at every grocery store you see, prep your camping meals at home. When you're not (completely) overloaded on caramel kettle corn from the Boy Scouts, you'll thank us later. Besides, cooking entire meals over a campfire can be tiring. Reduce your time spent cooking by prepping the food you want at home first.
For example, if you want shish kabobs, have the ingredients sliced up and stored in ziploc bags before you leave the house. Saving time on food will ultimately get you more time out and about in the great outdoors.
7. Pack Simply and Comfortably
The first few times I went camping I missed the mark – on the complete opposite ends of the spectrum. For my first time camping, I went to Joshua Tree National Park for a friend's birthday last December. I severely underpacked. I brought two sweatshirts, a few pairs of leggings, a sleeping bag, and a pillow for an entire weekend of camping. Needless to say, I was freezing.
The ground was cold and we didn't have an air mattress or padding to sleep on. I didn't bring extra blankets. Let's just say I ended up layering all of my clothes and looking like the Michelin tire baby. The moral of my story is to pack simply and comfortably. But with that said, make sure you pack enough. A simple checklist includes items like:
Tent

Tent tarp and rain cover

Extra stakes for the tent

check

Ear plugs

check

An inflatable mattress or memory foam pad

check

Pillows and blankets

check

Sleeping bag

check

Clothes you can layer (e.g. tanks or tees, sweatpants, shorts, leggings, extra socks, athletic shoes or boots, etc.)

check

Rain jacket

check

Ice chest (ice, food, drinks)

check

Tent heater (if needed)

check

Camping cookware

check

Propane

check

Camping stove

check

Lighter fluid

check

Wood

check

Lighter

check

Camping sticks for cooking
8. Bring a Case of Fresh Drinking Water
This is perhaps the most important of all the tent camping tips. I can't even begin to tell you how much water you'll consume in a weekend of camping. Load up and make sure you bring extra water with you. You never know how spread out the nearest gas station or grocery store could be. A day spent hiking out in the sun can really deplete your body of water.
Bring way more water than you think you should and then some. Reusable water bottles and portable water filters are good to have on hand too. You never know when you might need them. It's good to know that in the event of an emergency, you still have options.
9. Pack Extra Blankets and Padding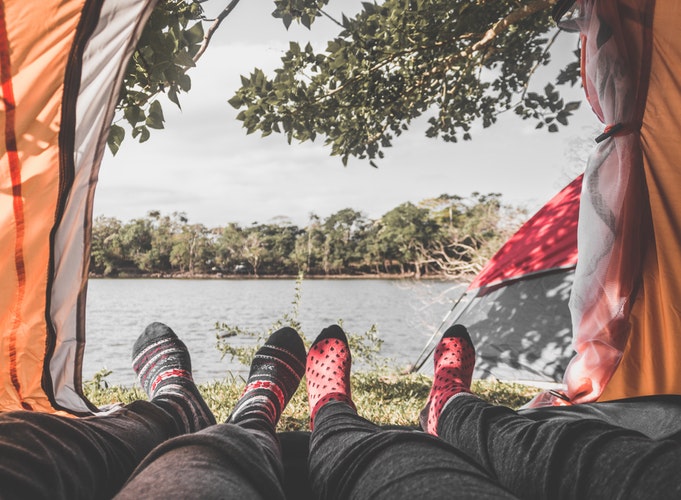 I mentioned this already but these tent camping tips are worth reiterating. If you want to be comfortable, you need to bring extra blankets and padding. When it comes to comfort, spare nothing. Okay, maybe that's a little dramatic but you get the point. You will want to pack extra blankets in case the temperature drops in the middle of the night. Make sure your sleeping bags are well equipped to handle whatever temperature the weather throws your way.
With extra padding in mind, there are several options to choose from. First and foremost, using an inflatable mattress is magical. We swear, you'll be so comfy, you'll forget you were outside in a tent. Just make sure you have a battery-powered air mattress pump (and the correct batteries of course). Not all campsites have electrical hookups. Other options include camping cots and using memory foam mattress pad for a good night's sleep.
10. Get to the Campsite Early if You Can
Have you ever tried setting up a tent in the pitch black? It's not easy. While I'm lucky my boyfriend has a particular set of skills, I wouldn't recommend doing it. It's a lot easier to get to your site and give yourself some time to get all the gear out of your car. Besides, who doesn't want to enjoy sun down around a warm campfire? If you could get to your site a few hours before sundown, that will be your best bet.
11. Keep Your Ice Chests and Food in the Truck
One of the best ways to avoid pests (aka ants, mice, raccoons, and more) is to keep your food in your car. Otherwise, you could wake up in the morning to find that all of your breakfast items have been sampled by the locals. Plus, if the food is out of sight, it'll keep the kids from burning through the snacks.
Keep These Tent Camping Tips in Mind for Your Next Adventure
I hope that some of these tent camping tips are helpful to you. There is honestly nothing better than escaping the city, getting away from the hustle and bustle of life, and exploring nature. So put that phone away and stop checking your emails. Unplug and unwind. This is your time to relax. If you can do anything to make your trip go more smoothly, do it.
Tent camping tips offer you the know-how to save yourself some stress and be more in the moment. Whether you're looking for the best camping tents, sleeping bags, want to know how to set up a tent, or just have questions, that's what we're here for. Let us be your guiding compass on your next adventure. If you have any camping tips you use that make your experience more enjoyable, feel free to share them in the comments below. Happy travels!
Related Article: The 6 Best Tent Heaters For Your Next Fall Camping Trip