Sleep soundly outdoors with the SoundAsleep Camping Series Air Mattress.
Travelers who spend a lot of time outdoors know how uncomfortable sleeping on the ground can be. While it may be fun to rough it outside, getting decent rest remains essential to any travel experience. You don't want to lay awake all night long, feeling cold against the lumpy, hard earth. As such, travelers may appreciate having an air mattress to sleep on while enjoying a camping adventure. These products allow users to rest in a cozy environment throughout the night. You'll be able to obtain optimum sleep when you choose to bring these mattresses on outdoors expeditions. However, with so many air mattresses available, you might not know which one to purchase. If you want a top-notch mattress for the outdoors, consider buying the SoundAsleep Camping Series Air Mattress. This product remains ideal for any camping trip. Read on to learn more about this mattress and its various features.
The SoundAsleep Camping Series Air Mattress Features & Benefits
Comfortable Construction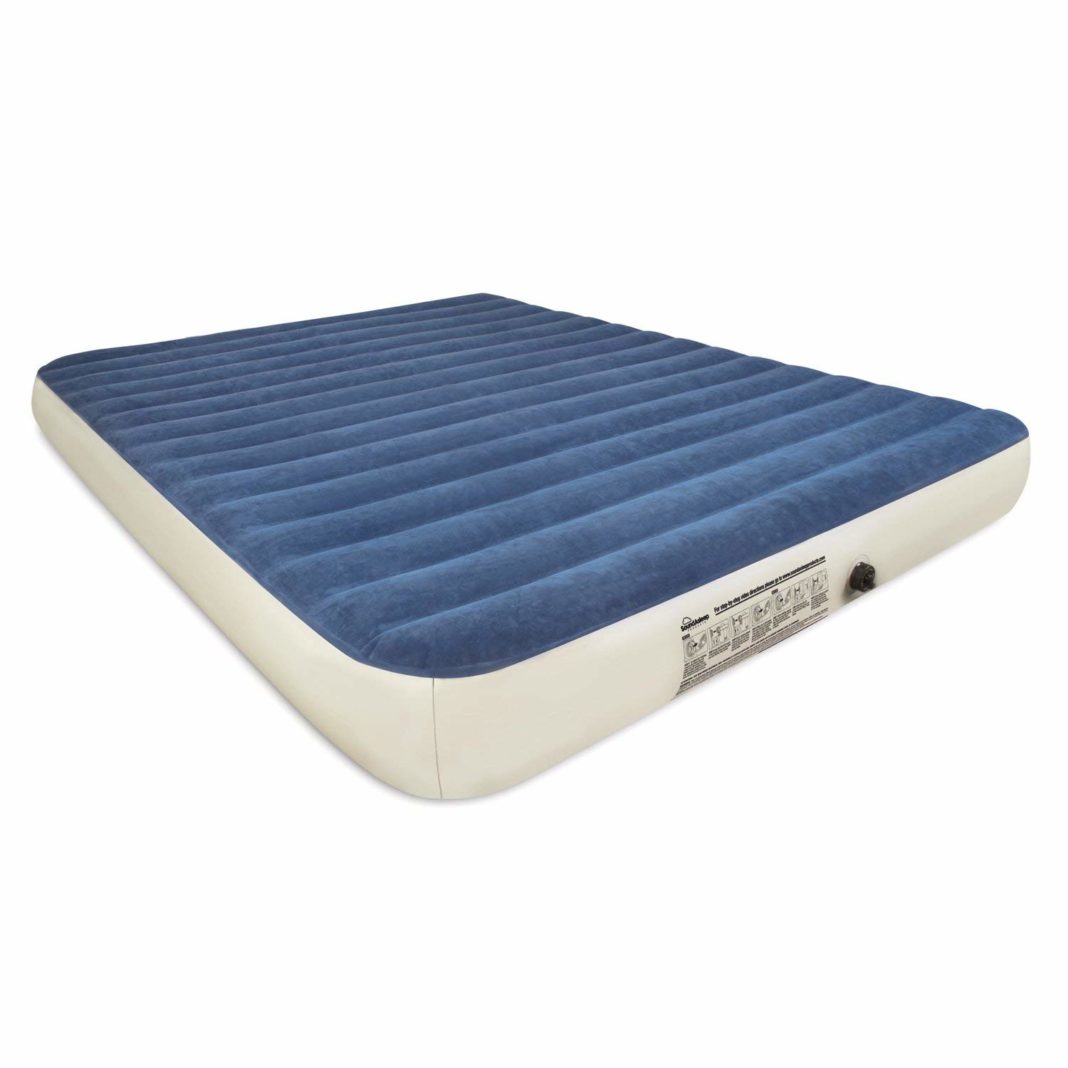 When you're looking to purchase a camping air mattress, your first priority should be its comfortable feel. Travelers who want to buy an outdoors mattress know how annoying it can be to sleep on cold, hard ground. That's why these products, designed for cozier sleeping, remain popular items for camping. At the same time, no one wants to sleep on an uncomfortable mattress all night long. Some air mattresses may not provide optimum levels of comfort, despite promises to do so.
If you purchase a SoundAsleep Camping Series Air Mattress, you'll always get a great night's rest. These mattresses offer tons of comfort, thanks to a plush and highly cushioned design. The thick material utilized to construct the mattress provides the firmness travelers want in their portable bed. Since the mattress will remain firm, you won't have to deal with back pain when you wake.
Durable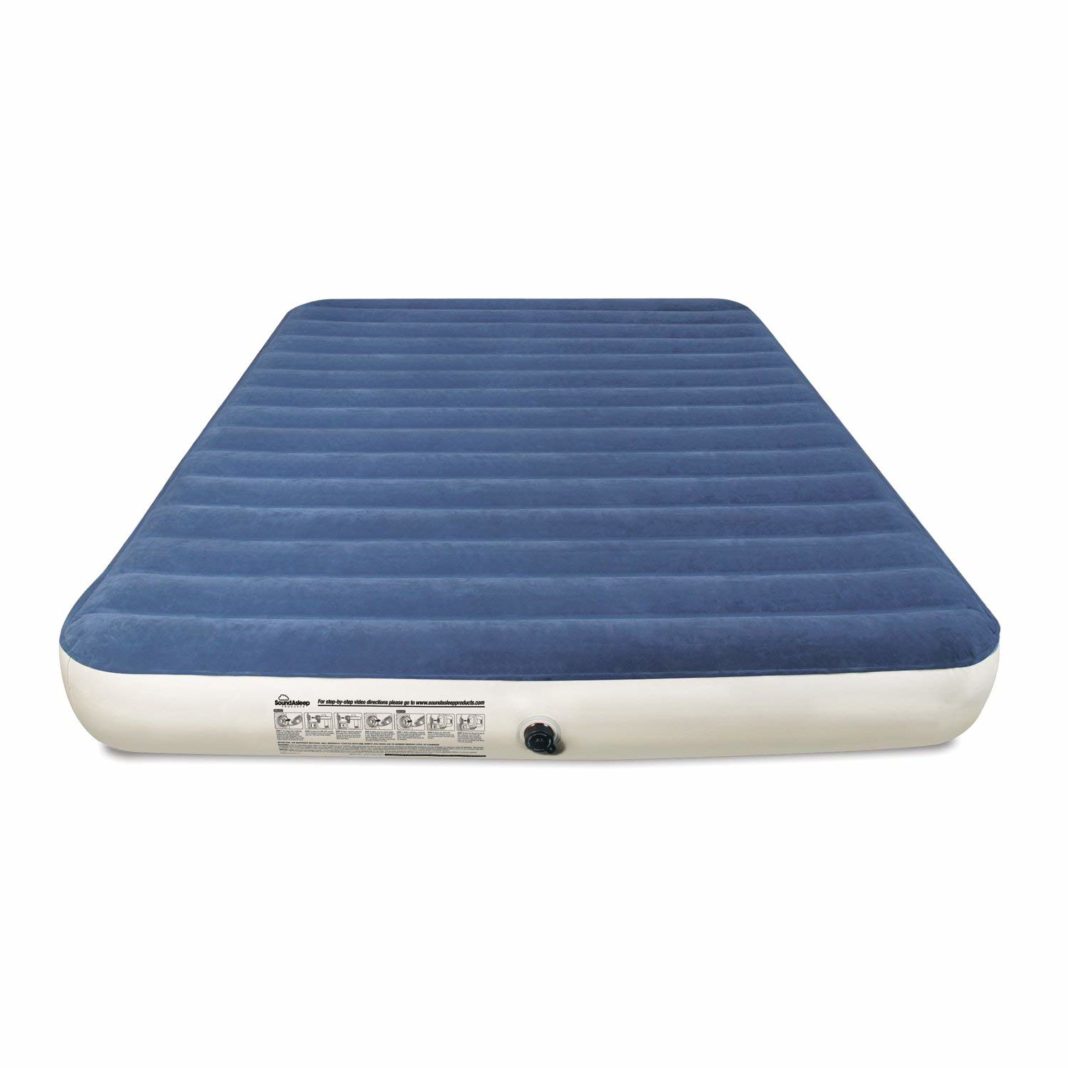 Those travelers searching for the perfect camping air mattress require products that remain durable. The best mattresses for outdoors travels should maintain their construction despite being used in rough conditions. These products will need to stay intact, even when hefting them around while traveling throughout various environments. You don't want your mattress to receive tears or holes when toting it around. This will lead to frustrations, as you won't be able to utilize the mattress after arriving at your destination.
With the SoundAsleep Camping Series Air Mattress, travelers will not have to worry about the product becoming damaged easily. The mattress should stay intact despite multiple camping adventures. Thick material utilized to construct the product ensures the mattress will remain usable for longer. You won't find holes in the mattress after only using it once or twice. Accordingly, travelers may have the chance to use this mattress for long periods of time.
Easy to Transport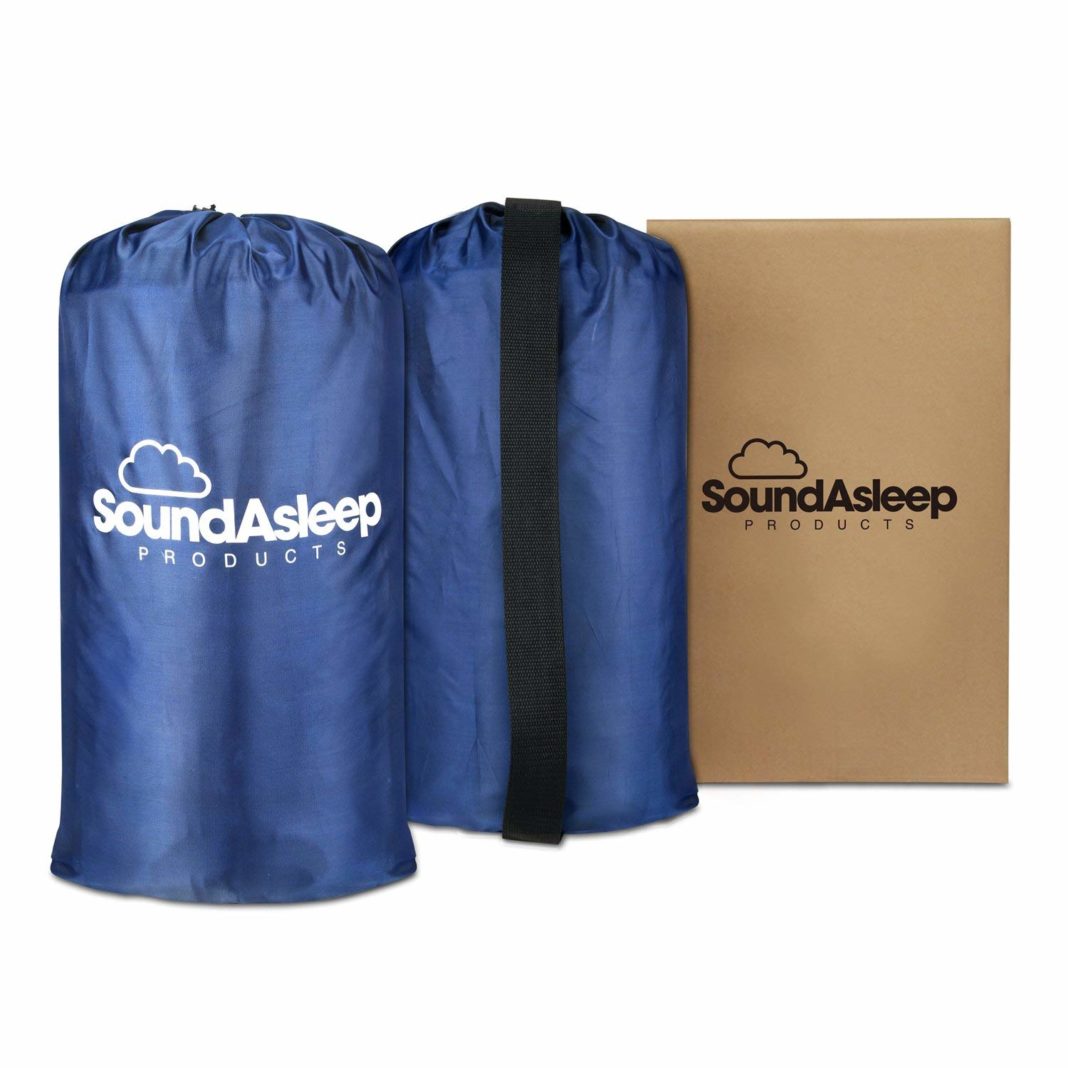 If you're going to go on a camping adventure, your gear should remain transportable. Traveling outdoors means you need to move around without feeling weighed down by your baggage. You don't want to deal with carrying heavy materials when you're trying to backpack through the woods. This will lead to problems, as you can't feel free to move around with ease while outside.
The SoundAsleep Camping Series Air Mattress remains ideal for travelers who will be wandering through the outdoors. This product can easily be packed up and stowed away before you decide to embark on any adventures. An included carrying bag makes it even simpler to fold up the mattress and put it away. You won't need to bring additional luggage to store the mattress.
Simple Setup
Those travelers interested in exploring the outdoors may prefer gear that remains easy to manipulate. For instance, the best tents for camping should be simple to put up and pack away. In a similar manner, camping air mattresses should also be easy to set up. Travelers will want these products to have an easy-to-use design, making it straightforward to utilize them.
Travelers hoping to find a simply designed outdoors bed should consider the SoundAsleep Camping Series Air Mattress. This product has an extremely simple construction, ensuring travelers may easily manipulate it. A paternal, external pump allows for straightforward inflating and deflating. You'll have a bed that's ready to use in just a few minutes. The pump also comes included with a rechargeable battery, allowing you to utilize it outdoors.
What Travelers Are Saying About the SoundAsleep Camping Series Air Mattress
Travelers who purchased the SoundAsleep Camping Series Air Mattress raved about the product's ability to keep them comfortable while outdoors. The mattress provided a cozy place for travelers to rest inside their tents when camping. Reviewers also found that the mattress remained firm even after people had laid on it for hours. This meant travelers didn't have to worry about waking up on a deflated mattress in the mornings. Additionally, the SoundAsleep Air Mattress maintained an extremely portable design. Travelers were able to bring the mattress to and from expeditions with ease. Similarly, reviewers thought the mattress was very easy to set up. The product inflated in only a few minutes, ensuring adventures could be continued soon after building their bed.
A few reviewers found that the mattress didn't hold air for as long as they had hoped. In these instances, travelers found themselves having to sleep on the ground since the mattress deflated quickly. At the same time, some travelers wished the mattress maintained a more durable construction. These reviewers realized their mattress had holes in if after they had rolled the mattress up and stored it somewhere. However, overall, most travelers considered the SoundAsleep Camping Series Air Mattress an ideal product for camping.
Alternative Camping Air Mattresses to Consider
1. Coleman SupportRest Elite Double High Airbed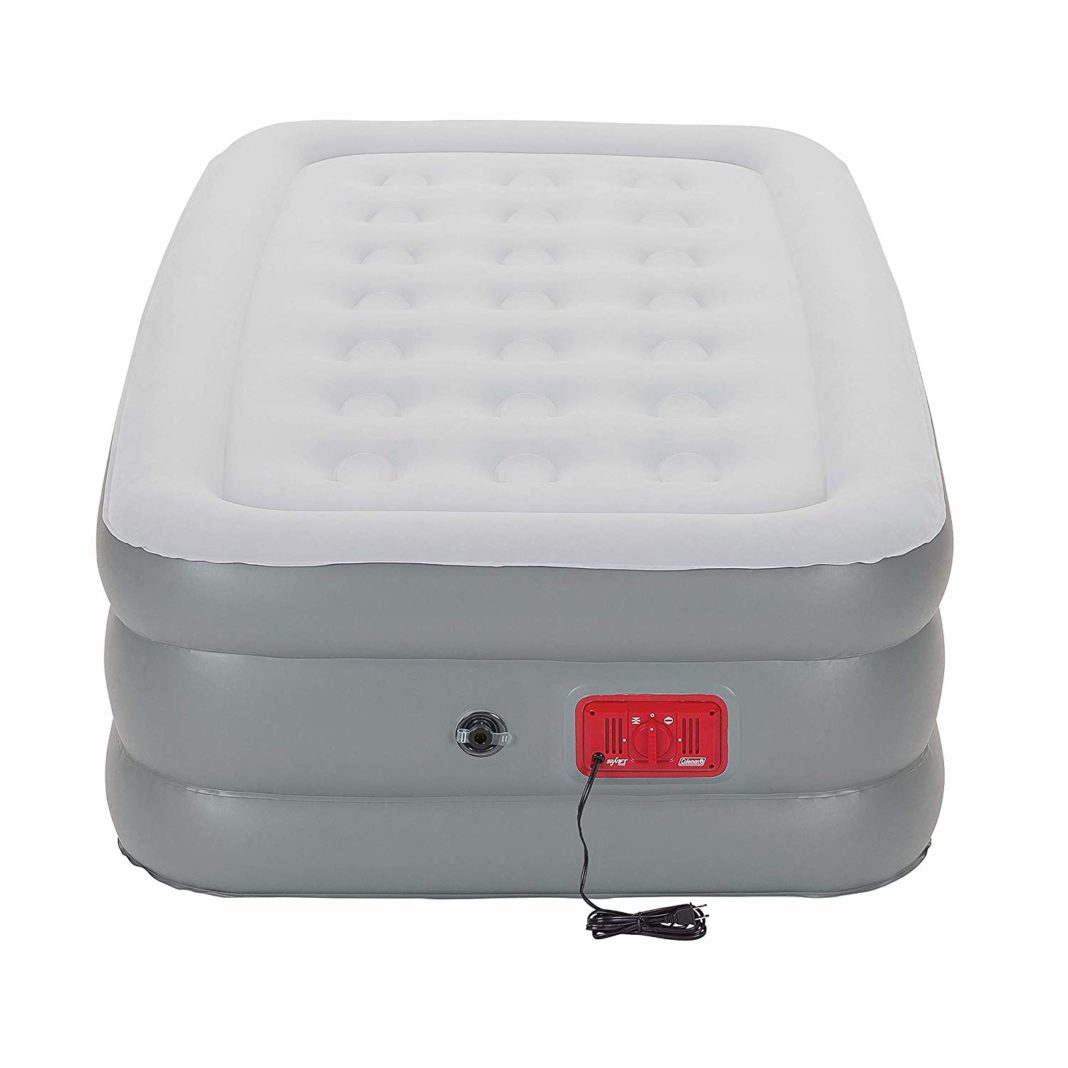 If you weren't completely satisfied with the SoundAsleep Camping Series Air Mattress, consider the Coleman SupportRest Elite Double High Airbed. This product maintains similar features to the SoundAsleep mattress, such as a comfortable design. A soft plush top ensures travelers will remain cozy all night long when they sleep on it. You won't have to worry about resting on the ground if they choose to sleep on this mattress. Additionally, a double high design allows travelers to get in and out bed with ease. Travelers won't need to squat down in order to sleep at night. The extra cushioning makes for a plush spot to rest after a day spent exploring the outdoors. At the same time, the additional cushioning means the mattress will remain firm despite many hours of usage. A treated surface, using antimicrobial materials, also keeps the mattress from absorbing harmful substances. Even when you're outdoors, the mattress will remain clean and sanitary.
2. Etekcity Twin/Queen Size Air Mattress Blow Up Bed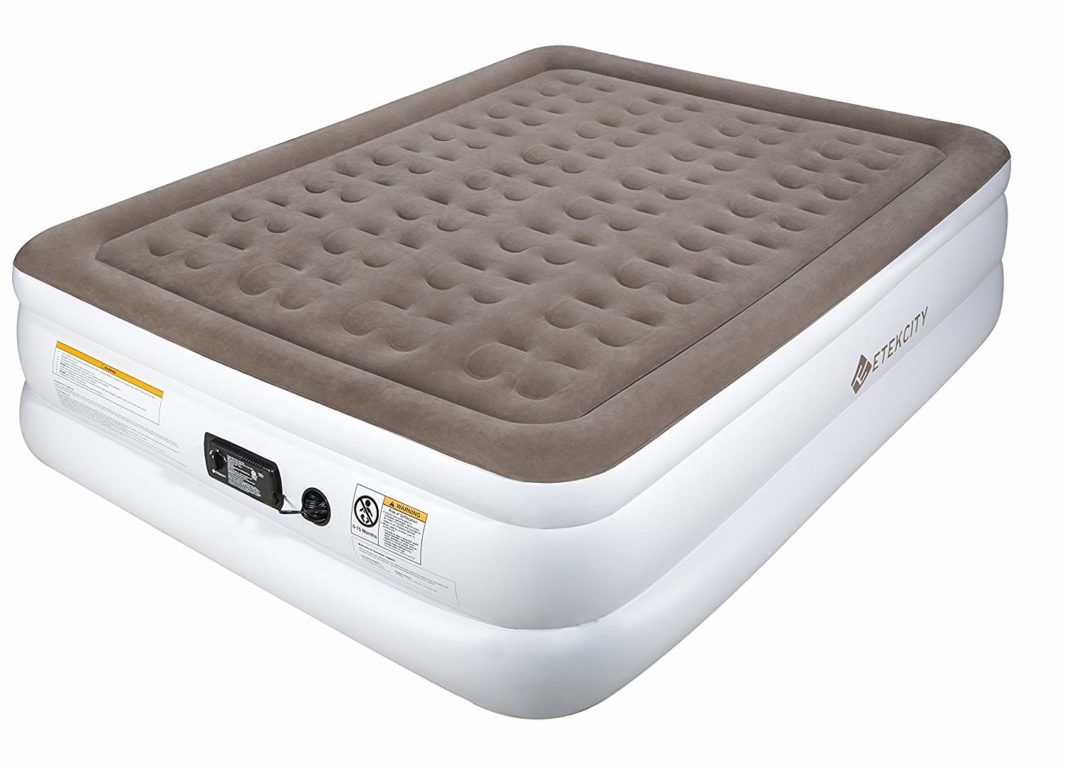 The Etekcity Air Mattress Blow Up Bed remains a top choice for travelers who want a comfortable outdoors mattress. This product feels extremely comfortable, ensuring users will have an excellent sleep when utilizing it. The size of the mattress makes it ideal for fitting inside tents and other shelters. Soft top flocking on the mattress provides the additional padding you want in a place of rest. With a uniquely strong construction, the mattress can handle up to 650 pounds of weight. As such, the bed will remain firm and comfortable no matter how many people share it. Those who like to maintain active lifestyles will appreciate the ease with which you can inflate or deflate the mattress. The mattress may even be used in both indoor and outdoor settings, making it a versatile product. A built-in compartment has been crafted to store the power cable away in a cinch. You won't need to worry about lugging around another bag simply to keep power cords while traveling.
3. TOPELEK Air Mattress, Queen Airbed with Built-in Electric Pump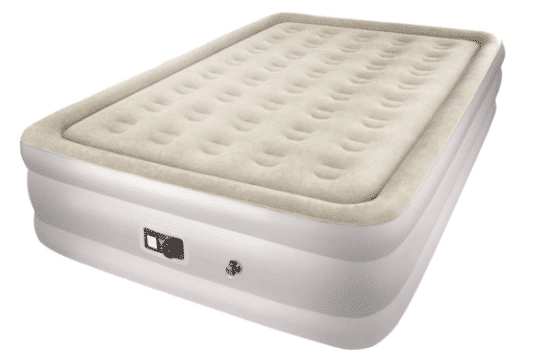 With the TOPELEK Airbed, travelers may have a comparable product to the SoundAsleep Camping Series Air Mattress. This product provides everything travelers want in a portable air mattress for camping adventures. Upgrade thickening makes the mattress extra soft, so you can sleep comfortably all night long. A flocked top layer adds a more velvety feeling, letting travelers enjoy an even cozier rest. This mattress remains able to hold 600 pounds, which means multiple people may rest without worrying about it breaking. You won't need to fear that the mattress will break after using it on multiple occasions either. Coil-beam construction offers additional firmness and thus a more supportive sleep. The waterproofed top allows travelers to clean the mattress with ease after spilling drinks or getting rain on it. A built-in electric pump also gives the mattress greater portability, as does the included carrying bag. Travelers who want to go backpacking after they've camped will find it simple to pack up and go.
Remain comfortable and cozy outside by using the SoundAsleep Camping Series Air Mattress.
If you're going to embark on a camping adventure, you might want to invest in an outdoors air mattress. These products enable travelers to rest in comfort while they're spending time outside. Instead of sleeping on the cold ground, you can enjoy a cozy bed inside your tent. You'll be able to feel fully awake after you've spent a night on these mattresses. Those who want a high-quality outdoors bed will especially appreciate the SoundAsleep Camping Series Air Mattress. This product lets travelers sleep soundly throughout the night. You won't ever have to worry about having an uncomfortable rest while partaking in a camping expedition again.
Related Article: The Best Camping Air Mattress: Our Top 5 Picks