The largest of the brand's bags, the ARC'TERYX C80 Chalk Bag is a good option for avid climbers.
Right off the bat, the size sticks out. Whether you use a ball of chalk or loose powder, the ARC'TERYX C80 Chalk Bag has got you covered. In all honesty, we're not sure why climbers go for the small bags. The zippered pocket in the back is perfect for storing items like your phone and car keys that you need to keep on hand. If you want to fit a little extra, you can also squeeze your wallet, a small snack, and climbing tape in too.
A Little Bit About Arc'Teryx
A Canadian outdoor and sports company, Arc'Teryx is a well known industry leader. Most people don't know but both the name and logo of the brand refer to the Archaeopteryx, one of the earliest bird species. If you're looking for a high performance tech company, look no further.
For climbing, skiing, and alpine technologies, this brand is top notch. Ever since 1989, they have been making travelers happy with high-quality gear that will last for years to come. We're avid users of their products and will continue to invest in gear that gets us far. Needless to say, the ARC'TERYX C80 Chalk Bag lives up to the hype.
Why You Need a Chalk Bag
If you're new to climbing, you're probably wondering 'why do I need a chalk bag?' Well, avid climbers know that your hands can get sweaty when you climb. And sweaty hands means your grip won't be as good. Carrying chalk around is easy with the right bag. Whether you like to use loose chalk powder or a chalk ball, the ARC'TERYX C80 Chalk Bag works well. The zippered pocket, drawstring closure, stiff rim, and waist belt are all great features.
ARC'TERYX C80 Chalk Bag Features & Benefits
When push comes to shove, the ARC'TERYX C80 Chalk Bag comes in where it counts. From durability to storage and overall quality, it checks all of the boxes. Let's go ahead and take a closer look at its features and benefits.
Durable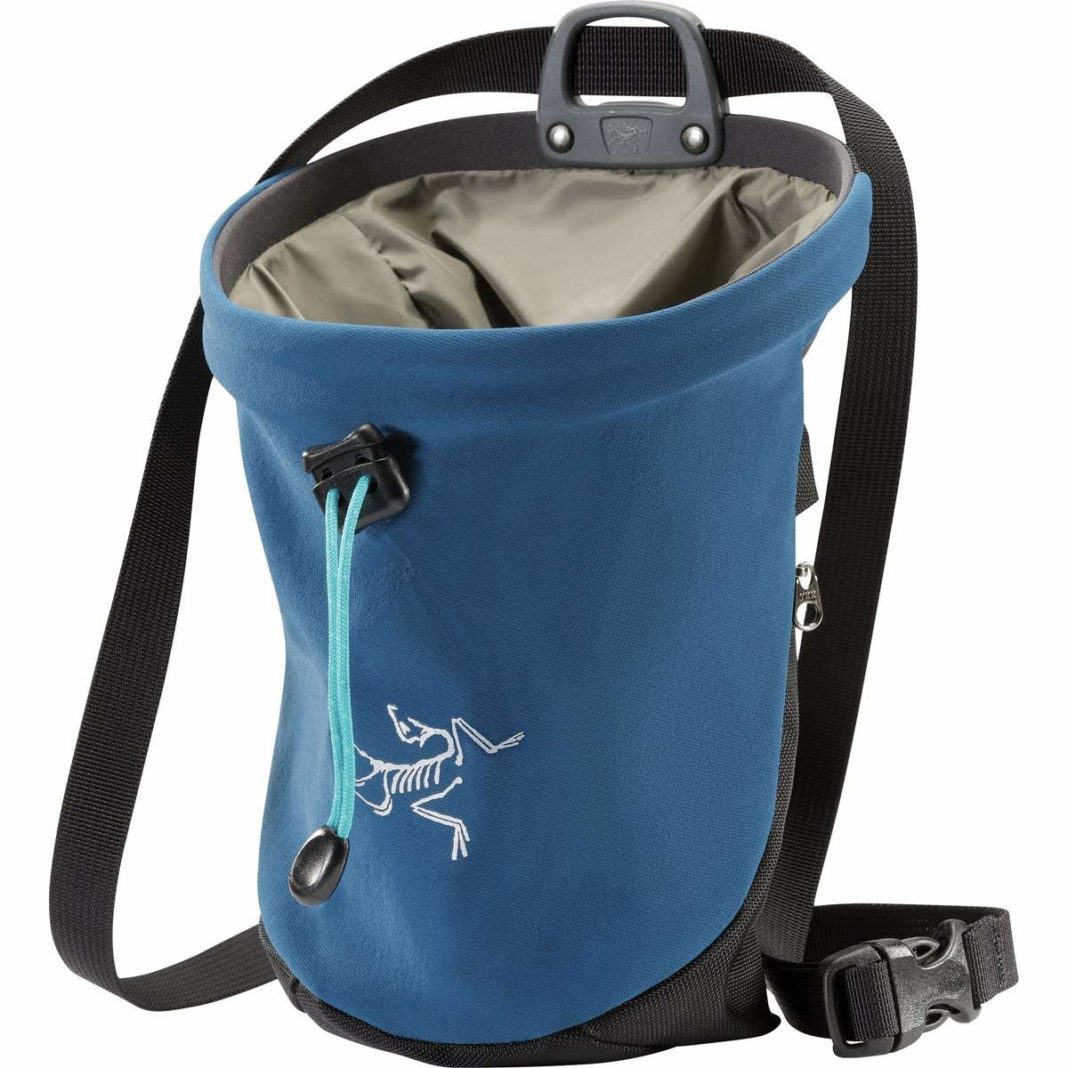 Credit: Amazon
Constructed from a nylon oxford four-weave stretch fabric, it's safe to say that the ARC'TERYX C80 Chalk Bag is durable. You will not have to worry about the bag getting easily snagged or torn. Nylon is well known to be one of the strongest materials out on the market. This bag is both supple and tough. It only makes sense that Arc'Teryx would use it for their rock climbing chalk bags. The engineered fabric offers enhanced properties and performance.
Classic Cylinder Shape
Another feature we appreciate about the ARC'TERYX C80 Chalk Bag is its classic cylinder shape. Nothing is more annoying than trying to reach into a collapsing chalk bag. Spare yourself the frustration and powdery mess by investing in a quality bag. Measuring 3 inches high and 8 inches wide, you have plenty of space to reach both hands in the bag. At the top of the rim is an odd, albeit handy feature – a bottle opener.
Bag Features
The stiffened rim helps to hold the bag open for easy dipping. Inside, a polar fleece lining keeps the chalk dust down. It also helps to distribute the powder easily on your hands. After you are done using the chalk, simply pull the drawstring cord to close up the bag. This will help to keep the chalk from spilling out while you are climbing. Since the bag comes with a waist belt, you can wear it while you scale indoors or outdoors. This climbing equipment is designed for alpinism and climbing. With the right gear, you will be able to achieve more efficient movement and protection in alpine environments.
What Travelers Are Saying About the ARC'TERYX C80 Chalk Bag
The ARC'TERYX C80 Chalk Bag really gets the job done. In terms of size, this is slightly larger than your average chalk bag. When it comes to size, we found that this is a reasonable size to fit two hands in. If you like to use loose chalk, you can rest easy knowing that it won't get all over the gym. All in all, this bag not only looks great but works well too. Reviewers highly recommend it.
Alternative Chalk Bags You May Like
Koda Chalk Bag by Petzl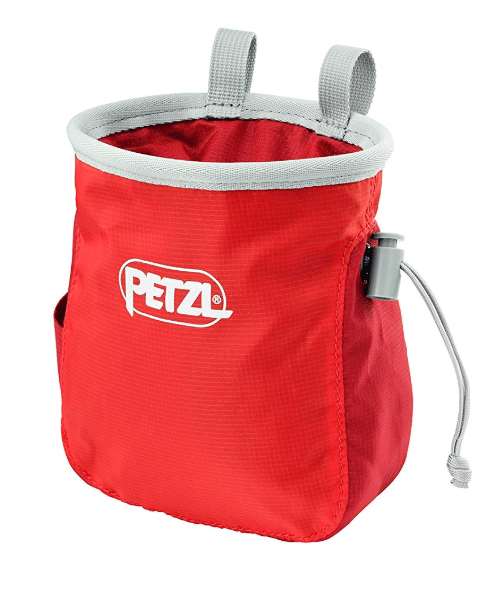 Have you heard of the brand Petzl? We love this style. This chalk bag offers an ergonomic shape and easy access to the chalk. Even if you're wearing a pack or your back is against the wall, it won't cause discomfort. When you're ready to chalk up again, the one-handed open feature is pretty handy. The combination of a drawstring and cord lock system makes it easy to open the bag when you're climbing. Finally, the Koda bag by Petzl features rigid brush holders and an inner liner sewn to the bottom of the bag.
Tech Specs:
Ergonomic shape

Rigid rim

Comfortable to wear

check

One-handed opening

check

Drawstring and cord lock closing

check

Rigid brush holders

check

Inner liner sewn to bottom of bag
Prana Chalk Bag with Belt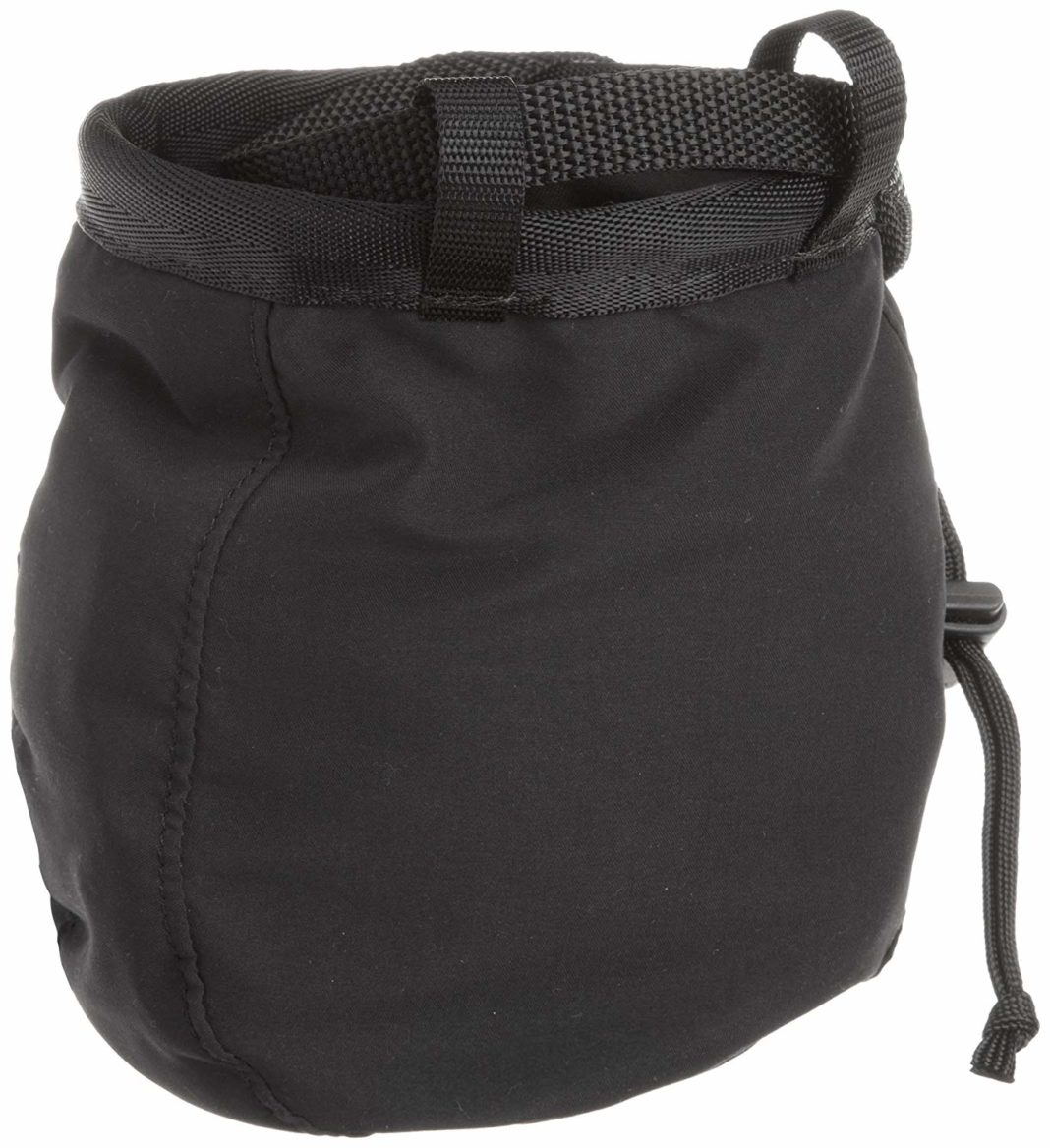 Constructed from a durable and lightweight polypropylene, this chalk bag from Prana offers quick release buckle and can be adjusted to fit most sizes. Double belt loops offer more stability than most bags. If you are looking for a smaller chalk bag to use when climbing, this one can come in handy. Drawcord closure, a fleece chalk compartment, and an elastic brush holder are all good features.
Tech Specs:
Durable and lightweight polypropylene

Quick release buckle

Double belt loops for stability

check

Small size

check

Drawcord closure

check

Fleece chalk compartment

check

Elastic brush holder
Mammut Multipitch Chalk Bag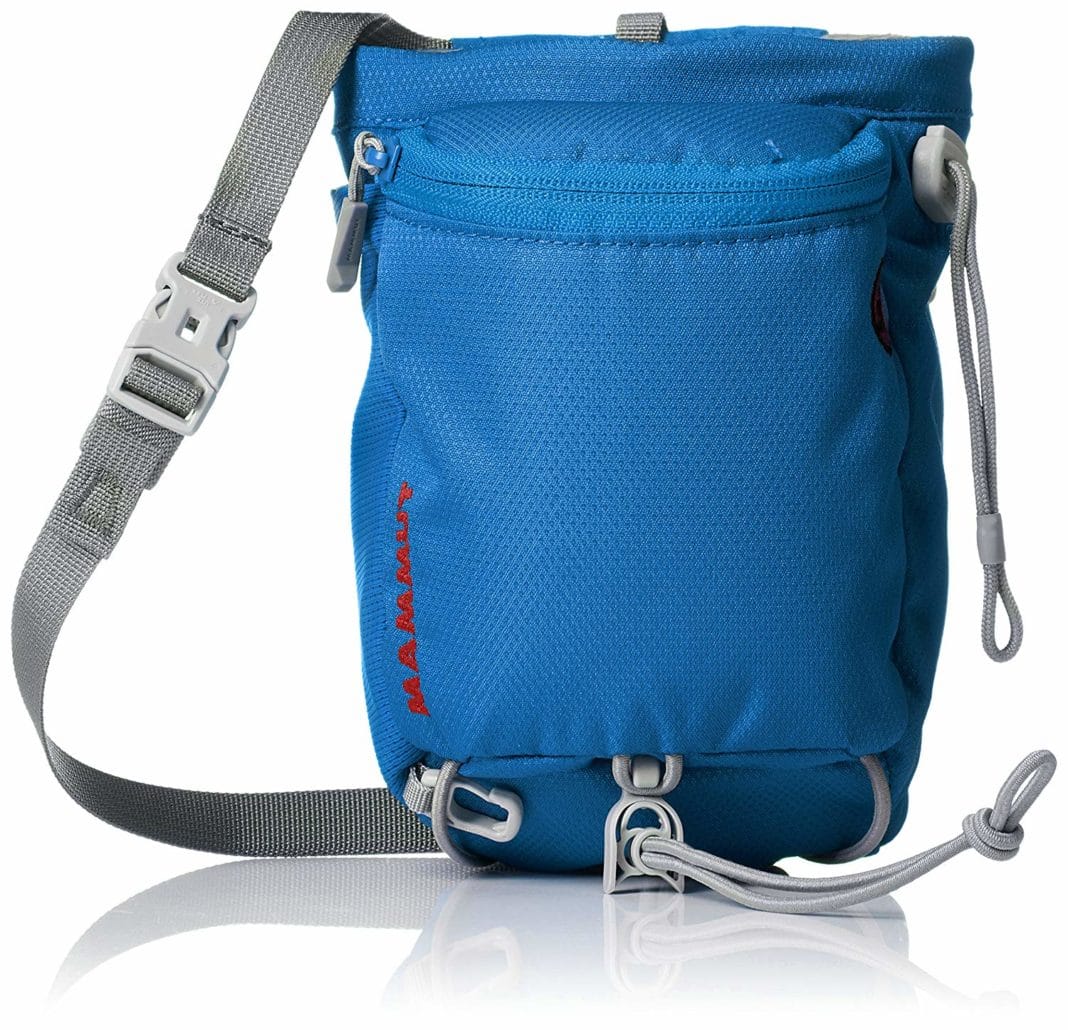 Do you enjoy a multi-purpose bag? This style from Mammut offers many useful features. Looking for a place to store your phone, keys, and a snack? Check. But wait. That's not all. There is also a toothbrush carrier and jacket attachment. This is very useful if you're planning on spending the day climbing outdoors. Two suspension points include a large waist belt.
Tech Specs:
Storage space for accessories

Attachment for jacket and toothbrush carrier

Two suspension points including a large waist belt

check

Multi-purpose bag

check

Thick fleece lining
Invest in the ARC'TERYX C80 Chalk Bag for Your Climbing Adventures
Are you an avid climber? If so, you know the importance of investing in quality products from the best climbing chalk brands like Arc'Teryx. The ARC'TERYX C80 Chalk Bag offers top-notch quality you can count on when you're working on your athletic performance. Say goodbye to sweaty palms.
Related Article: The 5 Best Chalk Bags Of 2018: Your Shopping Guide