Discover the best pair of compression leggings for every expedition.
When you're constantly on the go, finding comfortable clothes remains essential. Your journeys may be ruined by uncomfortable clothing that restricts movement and feels stiff or tight. This means you need to wear items designed to make travels cozier and more relaxed. At the same time, frequent travels can mean constantly riding planes and sitting for many hours. Since you may not get to move like you normally would while traveling, clothes that enable circulation remain helpful. With clothes like compression leggings, travelers will receive enhanced circulation during travels and always feel comfortable. That's why we've created a list of the ten best compression leggings for travel. Check out our article below to read all about these compression leggings and find your ideal pair.
Why You Should Purchase a Pair of Compression Leggings
Comfort
If you're interested in clothing that remains ideal for travel, comfort remains a top priority. The clothes you wear during travels can make or break the journey. Those who choose to wear clothes made of stiffer or tight materials will restrict movement and cause discomfort. Though you may want to don a fancy outfit for travel, you might not feel your best while wearing it. This means that choosing clothes fit for frequent movement remain ideal during travel adventures. Additionally, if you want to feel totally at ease during winter travels, materials that keep you warm should be essential. The clothes you wear during the winter season should keep you from losing heat when out and about. Garments made of materials that maintain optimum heat levels should be a part of your essential travel gear. Similarly, if you're traveling from somewhere warm to somewhere cold, your clothes should transition between climates well.
With a pair of compression leggings, you'll feel extremely comfortable no matter where you journey. These pants maintain soft and flexible constructions, allowing tons of movement. If you travel during colder times of year, you'll find them extremely cozy, even when outdoors. These leggings will also remain tight against your body, so you won't need to adjust them often while walking.
Style
Travel clothes might feel super comfortable but fail to match your personal style. Some kinds of clothes designed for travels may remain extremely cozy to wear throughout your travels. However, this clothing could appear unflattering or lack a certain look that you might desire. Though you may want to remain comfortable during your journeys, your style might be just as important to you. As such, travelers should consider buying clothes that don't just make them feel comfortable during travel adventures. Think about purchasing items that will complement your personal style, so you'll always feel your best while traveling. While you might believe you need to sacrifice style for comfort, this just isn't the case. Many kinds of clothing designed for travel appear attractive while remaining extremely cozy to wear.
Compression leggings appear stylish, coming in a range of colors and patterns. These leggings will satisfy your desire to match personal tastes and feel cozy. Since travel gear nowadays has been crafted with high-quality materials that maintain stylish appearances, these leggings remain no exception. From brightly colored leggings to simple black ones, you'll easily find a pair that look as good as they feel.
Versatility
Sometimes, certain clothes might seem functional for only one kind of purpose. The best heavy winter jackets and thick pants may be most useful during the coldest times of the year. Or, your durable pairs of boots could provide the stability you need on hikes but seem impractical for regular walking. When you're buying travel clothes, you shouldn't have to purchase tons of items for various reasons. The items you decide to wear while traveling should also be wearable for tons of other occasions. For instance, exercise gear could also function as the proper clothing for sitting on long flights. On a similar note, the clothes you wear while traveling should be functional for simple treks through the city. Versatility in clothing will additionally save you much-needed time, as you won't have to visit hotels to change clothes. Travelers needing to get somewhere in a flash will appreciate clothes that work double-duty when they journey to new places.
Since compression leggings can function in a variety of situations, you won't need to worry about lack of versatility. These kinds of pants allow travelers to go from place to place without having to change depending on the occasion. Those on a flight across Europe will find themselves easily transitioning from travels to a brief gym workout. Additionally, compression leggings appear stylish enough to remain wearable on casual nights out. You can travel on flights, through cities, and embark on fun nightly adventures all while wearing the same leggings.
Health
Travelers who take frequent flights know that sometimes your body can grow sore from sitting in one place too long. If you're staying in the same spot for hours, you'll inevitably feel a bit stiff, especially in your legs. Similarly, those who drive often may experience cramping and stiffness in multiple places. Since you may not get to stretch properly during travels, certain types of clothes can assist in reducing aches. Additionally, those with concerns about blood clots or swelling may want clothes that help create circulation in the body.
Those concerned about their health while traveling may especially appreciate compression leggings. These pants help the body stay in shape when you can't get up and move around during travels. The compression features in these leggings increase circulation in the legs. This means the pants will help blood flow better, contributing to reduced swelling and chances for blood clots. You'll feel satisfied knowing you're helping your body function better simply by wearing these leggings. If you can reduce the level of pain you experience during travels, you'll have more enjoyable adventures as well.
Here are the 10 Best Compression Leggings for Travel
1. Spanx Active Leggings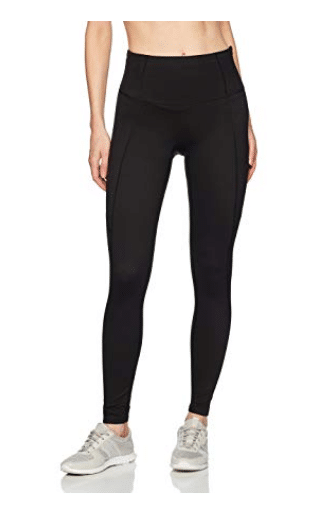 The Spanx Active Leggings remain a top choice for travelers who want to remain extremely comfortable during journeys. These leggings utilize a mix of nylon and spandex to produce a super-stretchy and flexible feel.
A double-layer waistband provides a smoothing effect, so you won't deal with bunching or a bulky appearance. Wicking capabilities prevent sweat from sticking to your body as you wear these leggings. This means you can travel all day, and then go workout at the gym without worrying about suffocating materials.
2. Puma Everyday Graphic Leggings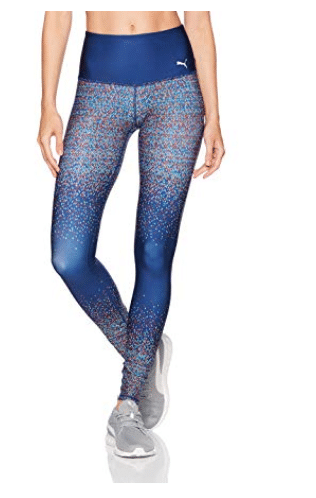 Some compression leggings don't maintain a very exciting appearance. You might find tons of leggings with simple black designs, but none that appear vivid or bright. Travelers who like to wear clothes that match their vibrant personalities should consider the Puma Everyday Graphic leggings.
These pants remain available in a variety of shades, such as turquoise and red or purple and olive. Dry cell materials also make these leggings functional for working out, as the pants wick away sweat. A convenient back pocket for your cell phone will additionally make these leggings extremely functional for travel.
3. CW-X Stabilyx Compression Legging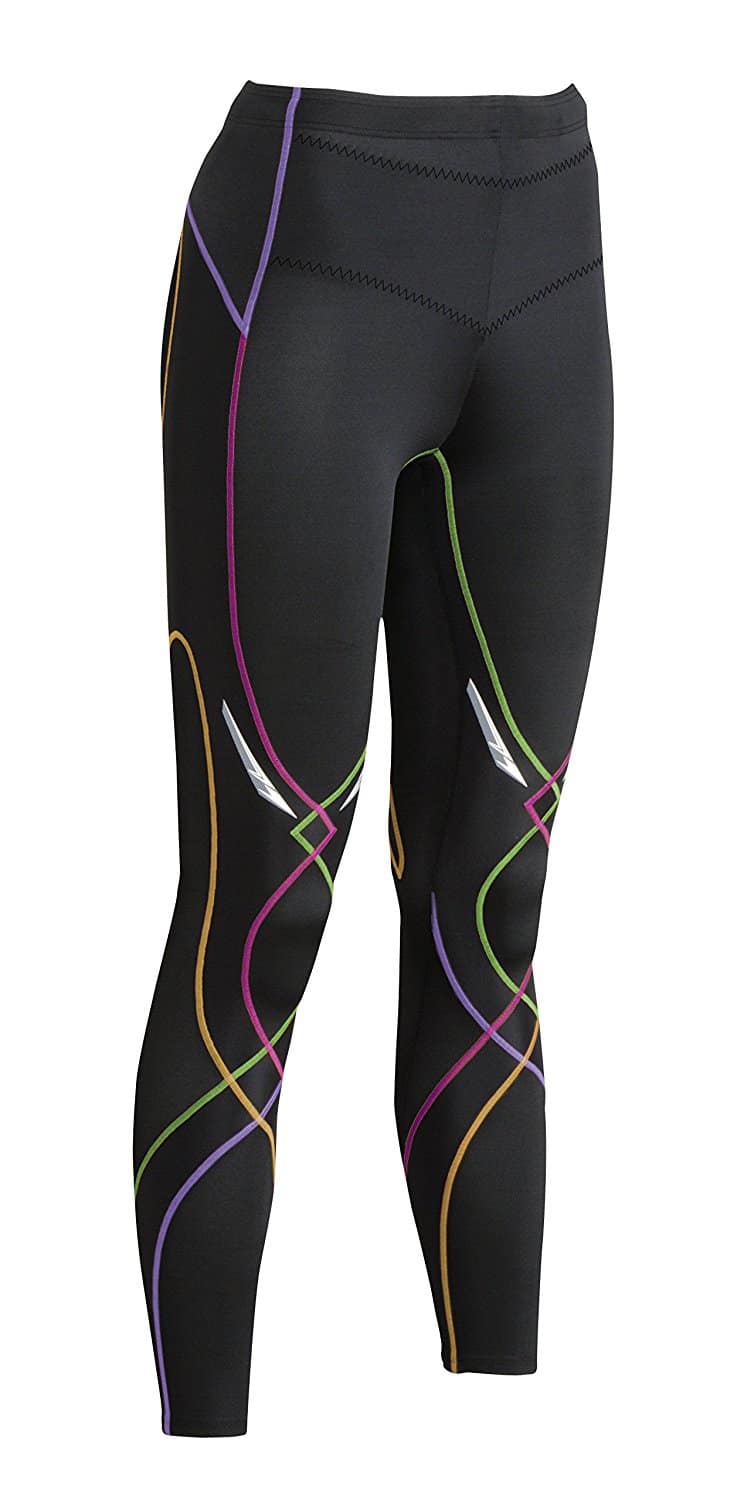 With the CW-X Stabilyx Compression Leggings, travelers will have the chance to look cool and feel comfortable during expeditions. These leggings, constructed with Lycra, Nylon, Polyester, and Spandex, remain extremely stretchy and flexible. This means you won't feel restricted in any way while wandering around in these pants.
A double-reinforced waistband and flat draw cord enable you to adjust the leggings to your perfect fit. Travelers can also purchase these leggings in many fun patterns and colors, like black and rainbow or pink and purple.
4. CompressionZ High-waisted Leggings
These compression leggings will help you optimize your workouts as well as your travel experience. The CompressionZ High-waisted Leggings utilize special compression technologies to enhance circulation while wearing them. According to CompressionZ, these leggings will also reduce pain both during and after exercise. If you want leggings to wear during runs as well as long flights, consider buying these pants. The pants also create a slimming effect, making them attractive to wear on regular travel explorations. You could wear these leggings all day long and never worry about not looking or feeling your best.
5. Reebok Women's Legging Full Length Performance Compression Pants
When you're looking for leggings to wear during travels, you want your pants to remain versatile. With the Reebok Women's Full Length Performance Compression Pants, you'll feel comfortable throughout a variety of situations. These pants provide the ideal clothing option for travelers who live very active lifestyles. From sitting on flights to partaking in yoga classes, these compression leggings will feel extremely cozy to wear. As compression leggings, these Reebok pants utilize compression capabilities that increase circulation all day long. Accordingly, your muscles won't feel as sore from sitting in one spot or exercising heavily.
6. Active Research Women's Compression Pants
Travelers who want leggings for everyday wear should think about purchasing the Active Research Women's Compression Pants. These compression leggings appear basic but offer tons of functionality. For instance, the Active Research Pants remain breathable and odor-resistant, so you'll stay fresh even when you sweat. Cozy fabric ensures you don't experience chafing or itching, even after wearing the leggings for extended periods. The compression features additionally prevent stiffness in legs after you partake in high or low impact activities. If you're a traveler who works out often, these leggings will prevent your body from experiencing extreme amounts of soreness. Additionally, the Active Research pants, with their black coloring, appear simple and understated, making them appealing for daily wear.
7. Tesla Women's Thermal Wintergear Compression Baselayer Leggings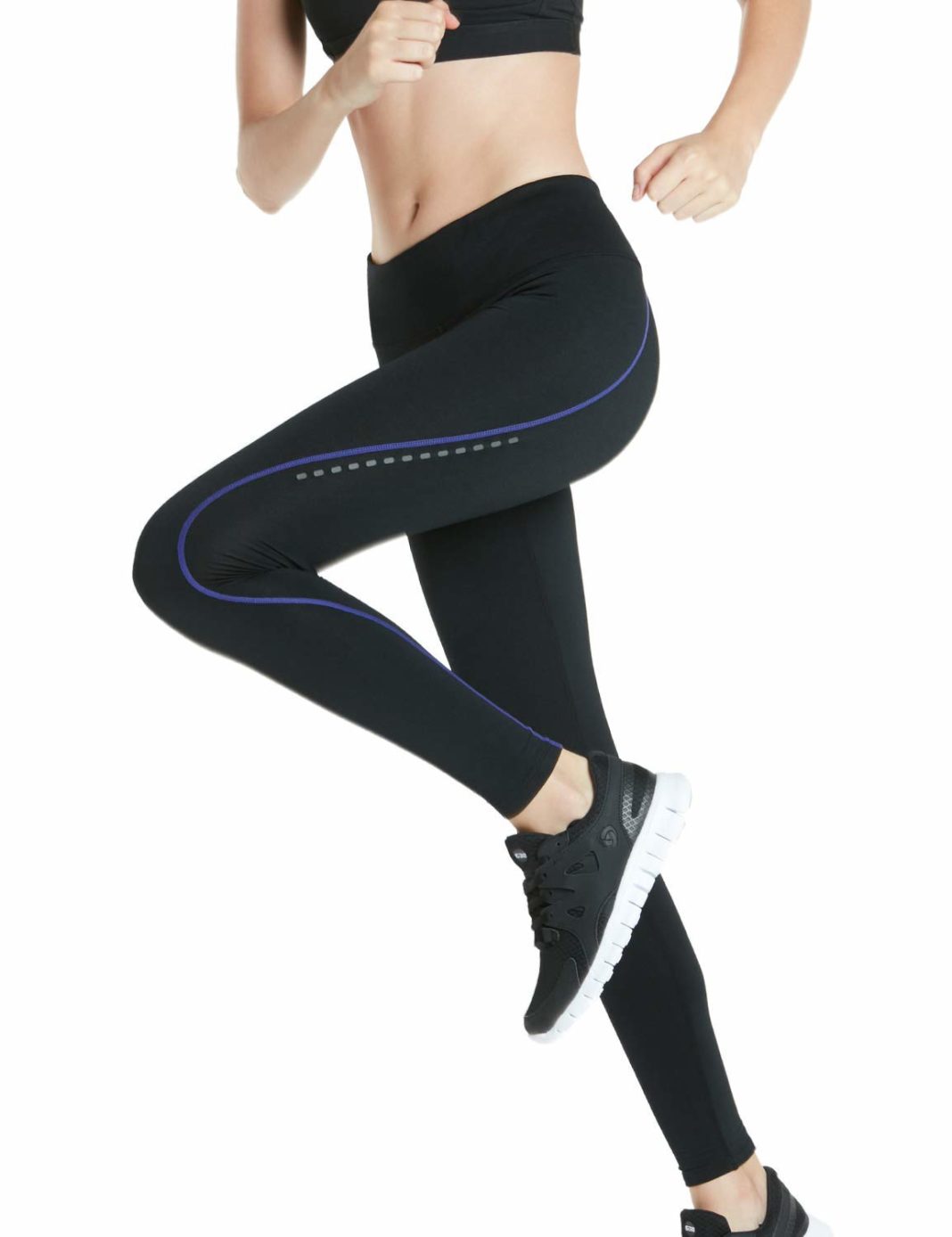 The Tesla Women's Thermal Wintergera Compression Leggings remain ideal for traveling in colder temperatures. These leggings have been designed for wear in a variety of wintry climates. Thanks to a fleece lining, the pants will always keep you warm, even when the weather grows frigid. The elastic materials used to craft these leggings ensure travelers will feel super comfortable when wandering outdoors. Anti-microbial features keep you feeling fresh and clean, even after you've worn the leggings all day.
8. Nike Epic Lux Cropped Compression Leggings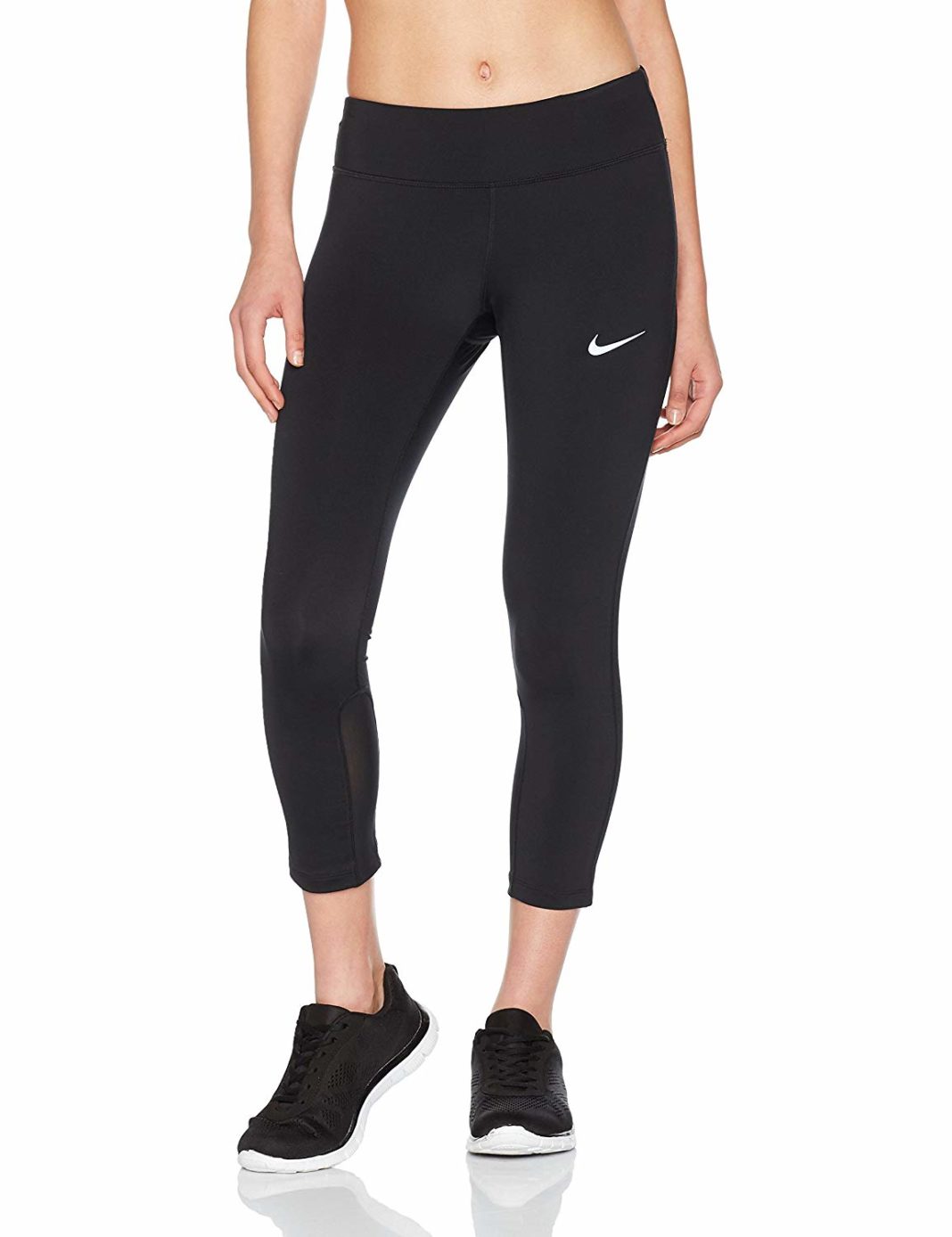 If you're planning to travel during the spring or summer, you may prefer pants that don't feel too warm. In this situation, travelers should think about purchasing a pair of cropped leggings. Those who want comfort and versatility in their leggings may appreciate the Nike Epic Lux Cropped Compression Leggings. The cropped style of these pants allows travelers to remain cool and comfortable when the travel in warmer conditions. Zoned mesh even offers greater levels of ventilation, allowing the pants to remain breathable.
9. Ultracor Ultra Silk Bolt Leggings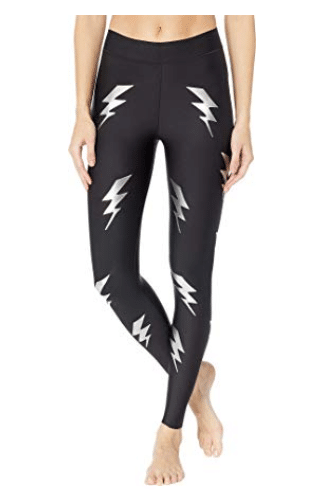 When you buy the Ultracor Ultra Silk Bolt Leggings, your legs will feel swathed in luxury. These compression leggings utilize high-quality fabrics to produce a silky-soft sensation during wear. The fitted nature of these leggings also ensures the pants stay on your body in the right way. A unique bolt pattern on these leggings even differentiates them from other typical pants. The pants, which end at just above the ankle, will look attractive no matter when and where you don them. You'll stand out subtly when you wear these pants during your travels.
10. Homma High-waist Leggings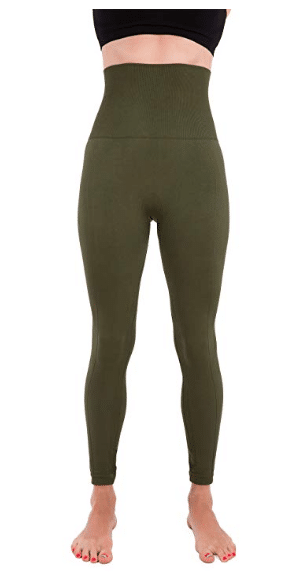 The Homma High-waist leggings remain a top pants choice among travelers hoping to experience real warmth. With a thick construction, the Homma leggings feel comfortable to wear during cold-weather days. Additionally, the compression leggings utilize high-waist body contouring, so you can look and feel your best when wearing them.
Never travel again without a pair of compression leggings.
If you're constantly traveling, wearing comfortable and functional clothing should always be a priority. Travelers who wear stiff and immovable clothes won't have a great time while moving from place to place. Additionally, sitting in one place for a long time can cause pain and discomfort in your legs. Accordingly, items like compression leggings remain ideal for enhanced comfort and functionality while traveling. These leggings enhance circulation while travelers sit for hours at a time. You'll also feel extremely relaxed when wearing a pair of these cozy items on your legs. Before you plan your next adventure across the world, consider buying some compression leggings. You won't regret it once you've discovered how great these feel to wear while traveling.
Related Article: Best Winter Coats for Women (Plus How to Choose Yours)