Dip into the Prana Chalk Bag and keep your hands dry while you're on a route.
Made with a classic oval design, this wide mouth bag is easy to dip your hands into. When you're climbing, it's important to keep your grip game strong. Thanks to the Prana Chalk Bag (and its belt), you can do just that. The shape of the bag makes it super easy to hold a lot of chalk without spilling around the mouth. You'll also find that the closure system is reliable.
A Little Bit About Prana
A premium lifestyle company, Prana has its roots in rock climbing and yoga. They design some of our favorite apparel for men and women. At their core, they thrive in their ability to couple useful fabrics and creative features with contemporary designs. The result is a truly genuine and versatile product that signifies their ethos.
To the folks at Prana, fit and performance are key. Not only are their designs comfortable to wear but they last for years to come. Every piece of their equipment supports ultimate mobility, strong technical performance, and top-notch styling. Since the beginning, nature guided them. They draw inspiration from clothing and products that are best utilized in the great outdoors.
Prana is always innovating. This is evident in their use of sustainable materials and product lines. Every day, they strive to reduce their environmental footprint using only sustainable supplies and natural resources. Did you know that they belong to the Organic Trade Association? They are continuing to increase their use of organic cotton among other materials.
Prana Chalk Bag Features and Benefits
The Prana Chalk Bag offers a durable fabric, strong closure system, and excellent craftsmanship. On the side, there is even a toothbrush holder. A good belt and plastic buckle make for a great overall package. Whether you are a beginning climber or a seasoned expert, you will love this chalk bag.
Good Fabric
Credit: Amazon
A durable and lightweight polypropylene contributes to a strong overall design. If you are climbing inside or outdoors, you can rest easy knowing that this bag does not easily rip or tear. This is important when you are scaling rough surfaces. Your chalk will stay safe inside the bag. It doesn't matter if you are using a chalk ball or loose chalk powder. This kind of fabric is made to last you for many years of use. We all know that Prana is a brand you can trust.
Adjustable Drawstring Closure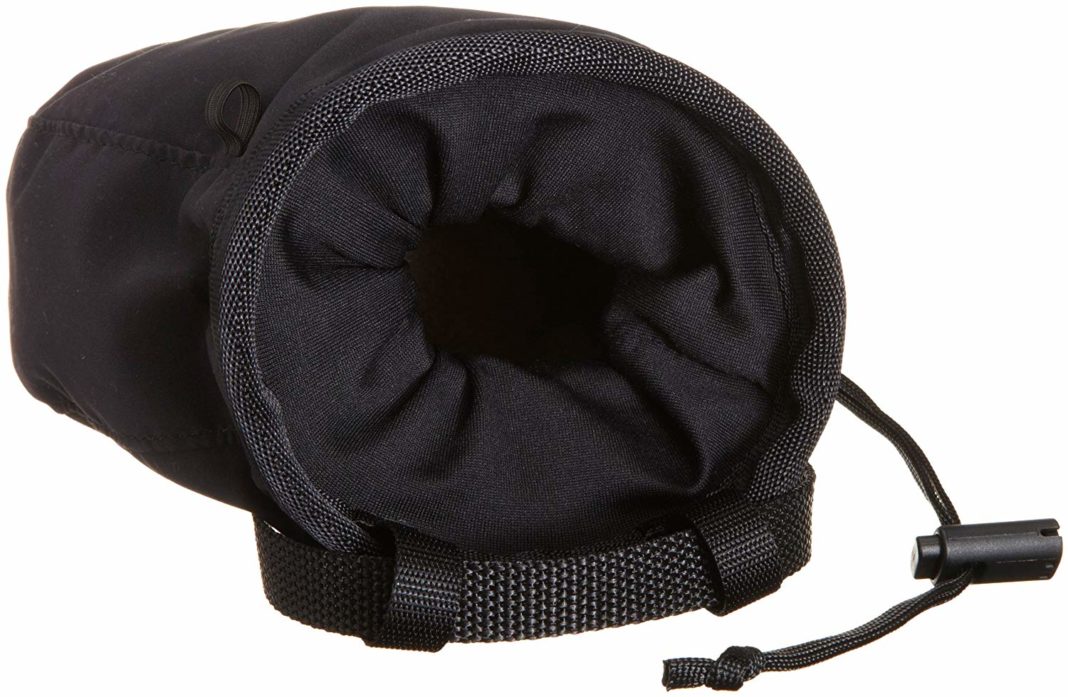 Credit: Amazon
Keep your chalk inside the bag. With an adjustable drawstring closure, you can seal it when you need to. As we previously mentioned the mouth of the bag is wide enough to dip your hands into when you need chalk. When you are done using it, simply pull the drawstrings and close up the bag. We love that it doesn't leak or spill chalk out. There's nothing quite as annoying as scaling halfway up the gym wall and realizing that some of your powder has spilled out. Don't be that person leaving a trail of chalk behind.
Double Belt Loops for Stability
Double belt loops offer stability for the Prana Chalk Bag. When you hook it up around your waist, the bag will stay stationary. You will have easy access when you need to use it. When you're climbing, the last thing you need to worry about is your chalk bag swinging every which way. Since the chalk bag belt is included, you can get your perfect fit before you start scaling. The belt is designed with a quick release buckle and can fit most sizes.
Fleece Chalk Compartment
The fleece lining helps the chalk to stick inside. Besides keeping the chalk inside, it is also soft on your tired hands. Using a fleece lining is also important to make sure that the chalk is distributed evenly across your hands. Are you leaving behind chalk smears when you climb? If you are, this is considered to be bad form. If clouds of chalk dust form when you are climbing, you are using too much. Before you climb outdoors, make sure you read up on chalk etiquette beforehand. Some sites do not allow certain types of chalk.
What Travelers Are Saying About the Prana Chalk Bag
With 4.5 out of 5 stars and over one hundred reviews, the Prana Chalk Bag speaks for itself. If you are doing indoor bouldering, this bag works well for two people and holds a lot of chalk. You could easily do fifteen to twenty sessions without evening having to refill the bag. Users happily reported that the belt is comfortable and did not slide around while they were climbing.
The top of the bag closes well when you are done. After you leave the gym, you can throw the bag in the back of your trunk. The chalk won't spill out. Other travelers noted that they bought the Prana Chalk Bag because Prana is one of their favorite fair trade brands. Even if it costs a little more than a no-name brand, you know you are getting better quality. Plus, don't you love all the prints that they come in?
We were impressed by users reviews that said this bag has held up for over a year with regular use in a climbing gym and works really well with no signs of wear. It has a good sized opening that adjusts with a drawstring, though it may be small for someone with larger hands. All in all, this is a great bag. Travelers note they would buy it again and honestly, we would too.
Tech Specs:
Durable and lightweight polypropylene

Quick release buckle

Double belt loops for stability

check

Small size

check

Drawcord closure

check

Fleece chalk compartment

check

Elastic brush holder
What Travelers Are Saying About the PRANA Chalk Bag With Belt
The PRANA Chalk Bag really gets the job done. You will get compliments on the fun graphic design whether you're in the gym or outdoors. In person, the print is a little more washed out than it appears in the photo. However, this is to be expected and the bag looks great nonetheless. In terms of size, this is slightly larger than your average chalk bag. Did we mention it's affordable too?
When it comes to size, we found that this is a reasonable size to fit two hands in. If you like to use loose chalk, you can rest easy knowing that it won't get all over the gym. The only complaints that users seemed to have about this bag is that the interior lining is black. So, it can become discolored due to the chalk, especially around the opening. All in all, this bag not only looks great but works well too. Reviewers highly recommend it.
Alternative Chalk Bags You May Like
Are you looking to shop around just a little more before you settle one style? Don't sweat it. Here are some alternative chalk bags from some of our other favorite brands. We have a feeling you're going to like them just as much as we do.
Arc'teryx C80 Chalk Bag
We can't rave enough about this style. This chalk bag is both supple and durable. Travelers use it the most for alpinism and climbing. You can enjoy both efficient movement and protection out in the elements. This bag was the only one in our book to earn a perfect score for closure. While it is unusual, the twist closure method is highly effective. The opening is wide and the rigid brim allows for you to get your hands in without the bag losing its shape. Arc'tertyx is a brand we know and love.
Tech Specs:
4-weave stretch fabric

Supple and durable

Used for alpinism and climbing

check

Twist closure

check

Wide opening

check

Rigid brim

check

Synthetic fibre construction
Mammut Multipitch Chalk Bag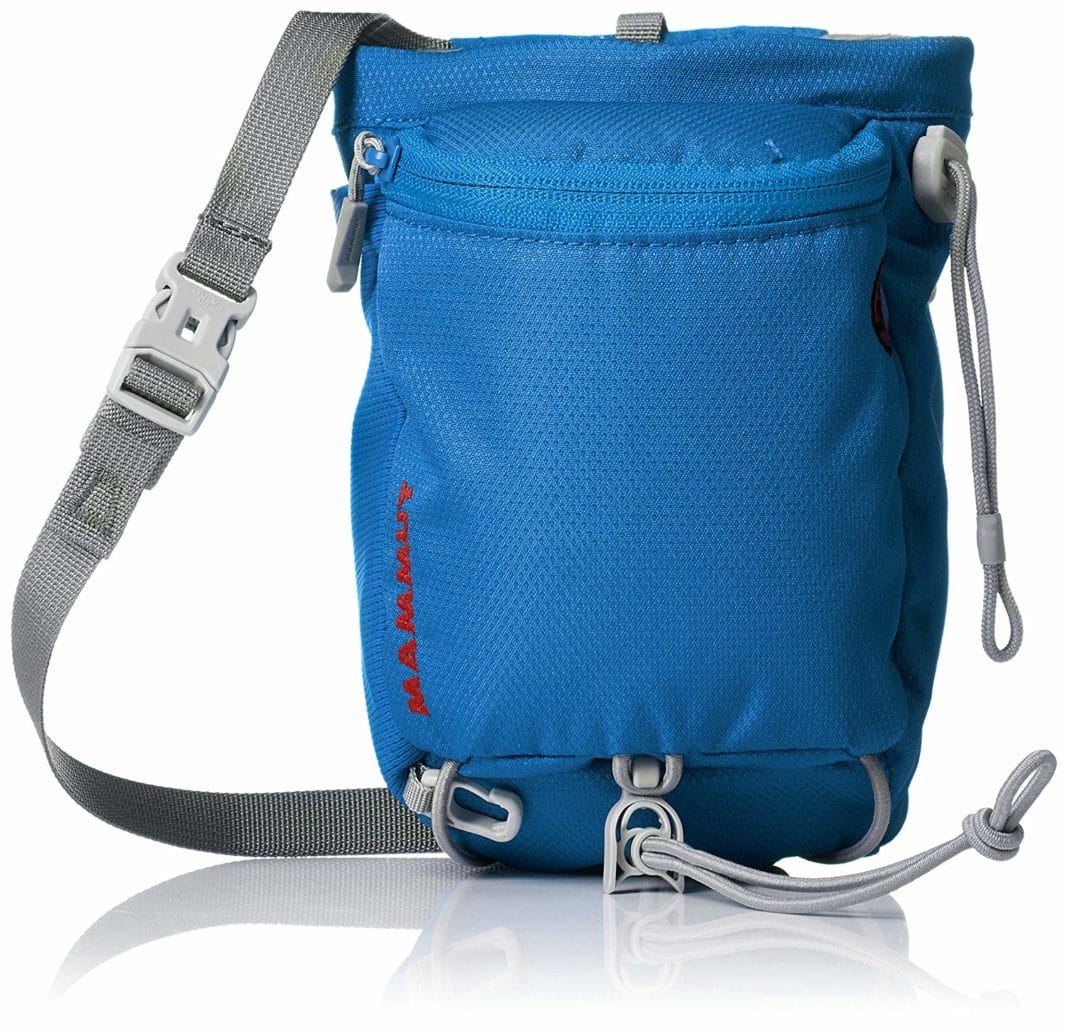 Do you enjoy a multi-purpose bag? This style from Mammut offers many useful features. Looking for a place to store your phone, keys, and a snack? Check. But wait. That's not all. There is also a toothbrush carrier and jacket attachment. This is very useful if you're planning on spending the day climbing outdoors. Two suspension points include a large waist belt. What more could you ask for in a sweet, simple style?
Tech Specs:
Storage space for accessories

Attachment for jacket and toothbrush carrier

Two suspension points including a large waist belt

check

Multi-purpose bag

check

Thick fleece lining
Invest in the PRANA Chalk Bag for Your Climbing Adventures
Are you an avid climber? If so, you know the importance of investing in quality products from the best climbing chalk brands like Prana. The PRANA Chalk Bag offers top-notch quality you can count on when you're working on your athletic performance. From the durable material to the drawstring closure, belt, and zipper pocket, there are so many useful features. Say goodbye to sweaty palms and hello to good grips.
Related Article: The 5 Best Chalk Bags Of 2018: Your Shopping Guide