We've got your guide to dining for the best restaurants in Boulder.
While you might think of this city as a hippie haven, it's so much more than that. Over the decade, this picturesque town has transformed into a poppin' culinary scene. Nestled at the foot of the Flatiron Mountains, the best restaurants in Boulder have so much more to offer than their beautiful views. We're going to take you on a tour of our favorite places. We hope you came hungry.
Here Are Our Picks for the Best Restaurants in Boulder, Colorado
1. Chez Thuy
If you're craving Vietnamese food, this is the place to go. Chez Thuy brings a rich blend of traditions, French, Chinese, Thai, and Indonesian. Of course, all of the elements come together with the restaurant's signature touch. Whatever you're craving, your stomach will be satisfied here.
Take a look at the menu and choose from mouth-watering pho and noodles to hot pot dishes and stir-fries. It's all served up in a simple, yet cozy space with a full bar. When it comes to ingredients, only the finest meats, seafood, and seasonings are used. The same goes for the vegetable pairings. Think fresh cilantro, tamarind, ginger, and more. This fusion of flavors brings guests exciting and authentic dishes. You'll find Chez Thuy conveniently located in the heart of downtown, just steps away from the city's top attractions.
2. River and Woods
Credit: River and Woods / Facebook
Yes, this place is as cozy as it sounds. As one of the best restaurants in Boulder, River and Woods offers a menu of delicious comfort foods. You know, like the favorite ones your mom makes or that special pie your grandma bakes. These dishes are so much more than food on a plate. To the folks at River Woods, food is about community and sharing. Some come enjoy delicious fare at this cottage with a kid-friendly backyard.
3. Frasca Food and Wine
Italian food always sounds like a good idea, especially when it's at Frasca Food and Wine. As one of the most acclaimed restaurants in the county, the meals here are nothing short of fantastic. Here, refined plates from the northern region of Italy are served based on locally sourced ingredients. Pair it with a top shelf wine and you're good to go. When it comes to fine dining, this is one of the best restaurants in Boulder. Taking a look at the menu, you will find course options such as lamb with polenta and squash, white truffle scampi, and huckleberry creme brulee. Yum.
4. Izakaya Amu
Credit: Izakaya Kamu / Facebook
Is this Japanese pub small? Sure. But that doesn't detract from the ambiance or food any. Here, traditional artistic bites are paired with sake in a complementary fashion. From the high quality sushi to the dinner specials, Izakaya Amu is a great place to spend your evening.
Ever since 2002, they have been pleasing guests with their seasonal menu and daily specials. The concept offers a similar layout and ambiance to that of a sushi place in Japan. You will also find the same level of commitment to fresh ingredients, good service, and an all around great guest experience. Bring your friends and share some rolls. This is one of the best restaurants in Boulder.
5. Emmerson
Are you in the mood for American cuisine and refreshing cocktails? Make your way over to Emmerson. At just one year old, it is still one of the most exciting additions to Boulder's culinary scene. The neo bistro menu is the result of two New York chefs putting their heads together.
What's on the menu? Think grain salads, tartare plates, and delicious sweet treats. The good news is that it's all pretty healthy, so you can feel good about what you are eating. You can't say that for every place. When you're ready to visit, consider booking a reservation in advance. This place can get pretty crowded, especially towards the weekend.
6. Lucile's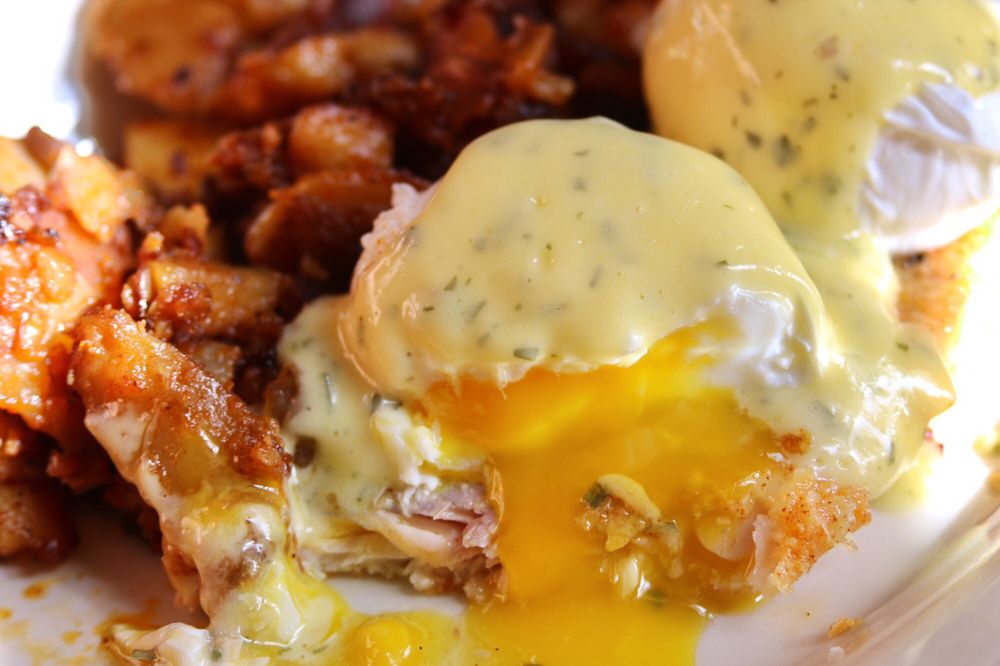 Credit: ​Lucile's
Cozy and bright, Lucile's offers nothing but the best in Creole and Cajun favorites. Since this place serves breakfast and brunch only, make sure you're up early to snag a seat. You'll find this cute little eatery tucked away into one of the city's oldest (and most charming) Victorian houses. This is a can't miss place on our list. From the pale yellow paint to the friendly staff and menu specialties, you'll love everything about this place.
The menu takes on items like eggs benedict with creamed spinach and shrimp to classic southern specialities. Yes, French toast and shrimp and grits are also on the menu. If you're in the mood for something a little less hearty, you can order the 'totally organic breakfast.' This special will get you some healthy spinach, tofu, and eggs with ginger.
7. Boulder Dushanbe Teahouse
We can't think of a cooler place for an afternoon pick-me-up than this Tajik teahouse by the Rocky Mountains. Consider Boulder Dushanbe the city's cultural site slash restaurant. The building itself was handcrafted by forty Tajik artisans. The materials of the restaurant were taken from the disassembled buildings in the Tajik Soviet Socialist Republic back in 1987. The teahouse was assembled some eleven years later and remains one of the city's most idyllic spots.
Today, they host an impressive collection of teas as well as internationally inspired dishes. All of these factors come together to make it one of the best restaurants in Boulder. Among our favorite dishes is their signature plov, a rich collection of meat, rice, and dried fruits.
8. Flagstaff House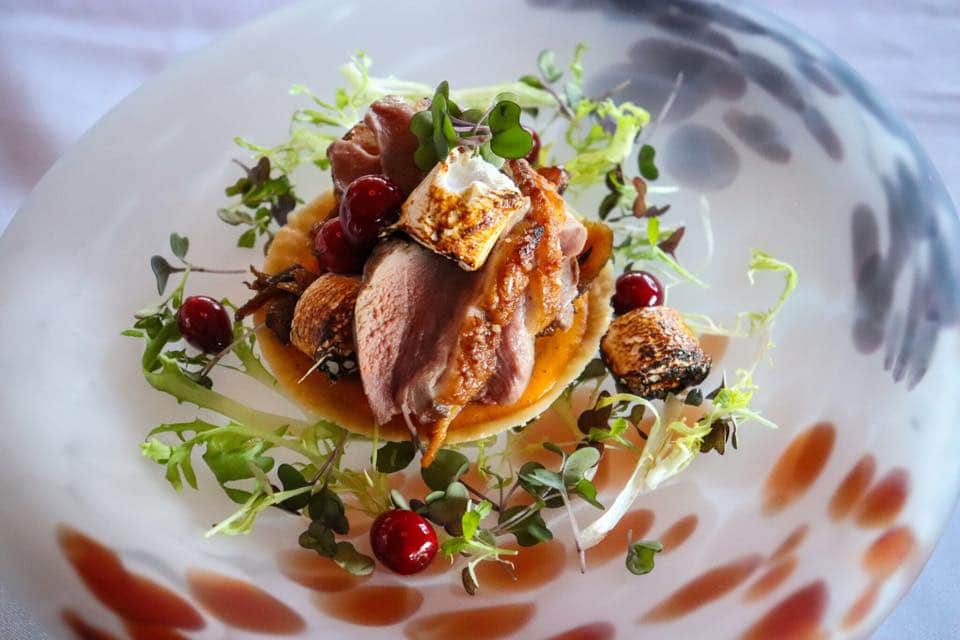 Credit: Flagstaff House / Facebook
While the name might be confusing to some, this restaurant is not in Arizona. Flagstaff House is just a five minute drive outside of Boulder. Travelers and locals alike come here for the breathtaking vista views and lovely menu drawing upon American and French inspiration. The building was originally built as a cabin and now has numerous expansions.
Moving on to the menu, you will find delicious French specialty items like duck pate tart to American classic items like steak and braised lamb. But do you want to know the real attraction of Flagstaff House? Here's a hint. It's not the food. Their award winning wine list draws from their cellar of over 15,000 bottles. Yes, you read that right. If you are interested, the restaurant organizes tasting dinners every so often featuring some of the best blends from Napa Valley.
9. The Kitchen
Spacious and homey, The Kitchen serves fresh farm to table food in a trendy urban space. Plus, you get to enjoy drinks from the community bar upstairs. This restaurant is exactly what it sounds like. It's all in the name, right? Picture the charm and familiarity of home cooked meals with all the fun of dining out. As a community bistro, they focus on sustainable sourcing and supporting community-oriented gardens. As a result, the delicious and international dishes stand out even among the best restaurants in Boulder.
10. Brasserie Ten Ten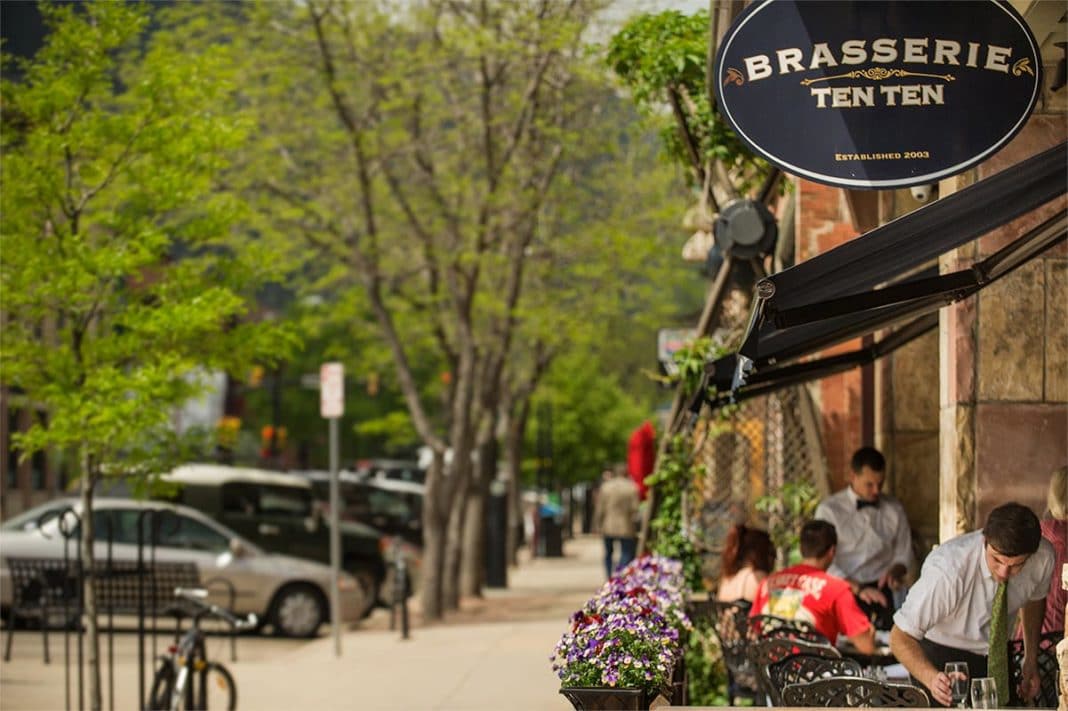 Credit: ​Brasserie Ten Ten
As you may have guessed from the name, this lovely little eatery specializes in all things French. If you're looking for a quiet, elegant night of dining, you have found it in Brasserie Ten Ten. The menu runs the full spectrum of all things delicious. From baked treats for brunch to crepes, soups, and salads, the early and midday eats do not disappoint. With this said, our favorite time to visit is for dinner.
Are you wondering what's good. Well, in a word, everything. We do have our favorites though. May we tempt you with heated brie and lobster rolls? For entrees, you can't go wrong with steak frites and bouillabaisse. There's always an opportunity to pair a good wine or cocktail with your meal too. Why pass up on the good stuff? It's time to treat yourself.
11. Oak at Fourteenth
If you're a local, you know all about Oak at Fourteenth. There's no doubt in our minds. This is one of the best restaurants in Boulder. It's named after the oak-fired oven responsible for producing the delicious taste in most of its menu options. Like many of the area's joints, Oak emphasizes local and seasonal ingredients within their cuisine. Most of the dishes are focused on fresh American style foods.
What really sets it apart is the refined ambiance and bar services between meals. From lunch through dinner and dinner to close, the drink specials are flowing. Expert mixologist and co-owner Bryan Dayton whips up some of the finest cocktails you've ever tasted. Fresh herbs and a rare combination of ingredients result in unforgettable signature beverages.
Plan Your Trip to Visit the Best Restaurants in Boulder
We hope you enjoyed reading our picks of the best restaurants in Boulder to grab a bite and brew. As you can see, this gem offers a variety of places to choose from. From casual food to fancy dining and international cuisine, there's surely something here for all tastes. There are so many things to do in Boulder for the curious traveler.
While you're there, why not take a little road trip and see the state? From the natural beauty of the Rocky Mountains to burgeoning metropolises, this state is not short in the adventure department. Regardless of what kind of vacation you are seeking, there is truly something here for every type of traveler.
Are you ready to visit the best restaurants in Boulder? From exploring the top things to do to scoping out the foodie scene, or catching up on some much needed R&R at a great hotel, you'll find it all here. If you've been to Boulder before and have some recommendations for us on where to eat, let us know. We always enjoy learning about new places and your favorite spots – even if they didn't make the list.
Which one of the restaurants on our list would you like to visit the most? Feel free to let us know some of your favorite stops and hidden gems you found along the way. We'd love to hear them.
Related Article: Best Restaurants in Denver For Your Dining Pleasure