The JBL Flip 4 just might be the Bluetooth speaker soulmate for adventure travelers everywhere.
We know, we know: there plenty of Bluetooth speakers out there to choose from. With the ever-growing advances we're making in technology, having limited options is not one of our issues. Even for adventure travel fanatics, there are plenty of solid speakers on the market to serenade us along our journeys. But that doesn't mean there won't be some that stand out from the rest, and the JBL Flip 4 does so masterfully.
This Bluetooth speaker is guaranteed to be cherished by all kinds of travelers, from businesspeople, to thrill seekers, and everyone in between. But as you'll see, its impressive specs have "hardcore adventurers" written all over them. So, stick with us and read our JBL Flip 4 review to see if it's really worth all the hype.
JBL Flip 4 Speaker Features & Benefits
Curious about the JBL Flip 4 specs? This section will give you all the details you're looking for (along with what makes them so awesome).
1. Ultra Durable for Whatever Comes Its Way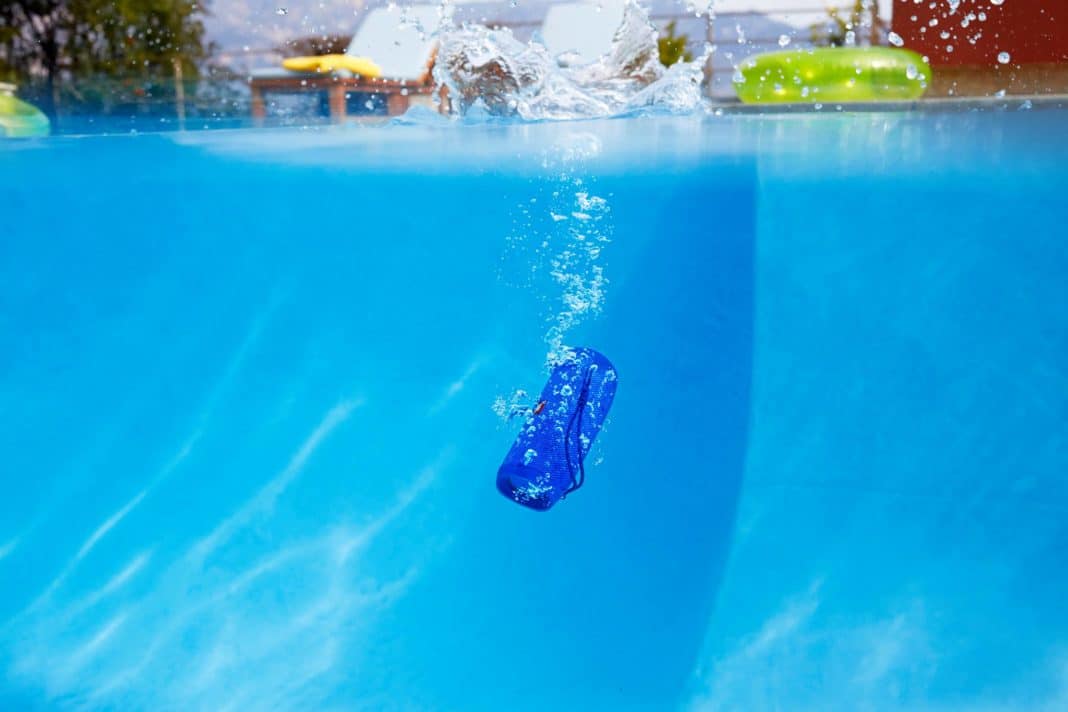 Credit: JBL / Facebook
Seriously Waterproof (No, Seriously)
Some Bluetooth speakers claim to be waterproof, and we're not saying they're lying! It's just that what that often really means is that they can endure a splash or a little rain. Hey—that's important for sure and will satisfy many a music lover. But the JBL Flip 4 takes "waterproof" to a whole other level.
To break it down for you, this JBL Flip speaker is IPX7 waterproof. This refers to its ability to be submerged under water for a little over 3 feet for up to 30 minutes. Not just splashed or sprayed, but submerged. That means when you're hiking and it starts to downpour, exploring waterfalls, or if it falls in a lake, it'll survive. No frantically hurrying to get it to safety or trying to revive it. Crazy, right? The JBL Flip 4 waterproof qualities ain't no joke.
That being said, salt and chemicals in various bodies of water can eventually cause damage to the waterproof qualities. Just take care of it by washing it off with fresh water after using it when it's touched saltwater and the like.
To top all of this off, its rubber and fabric materials are as durable as they are waterproof. Whether you drop it on the road while exploring a national park or it's hit by a volleyball on the beach, it's all good. The JBL Flip 4 is equipped to handle some serious roughing up.
2. Incredible JBL Flip 4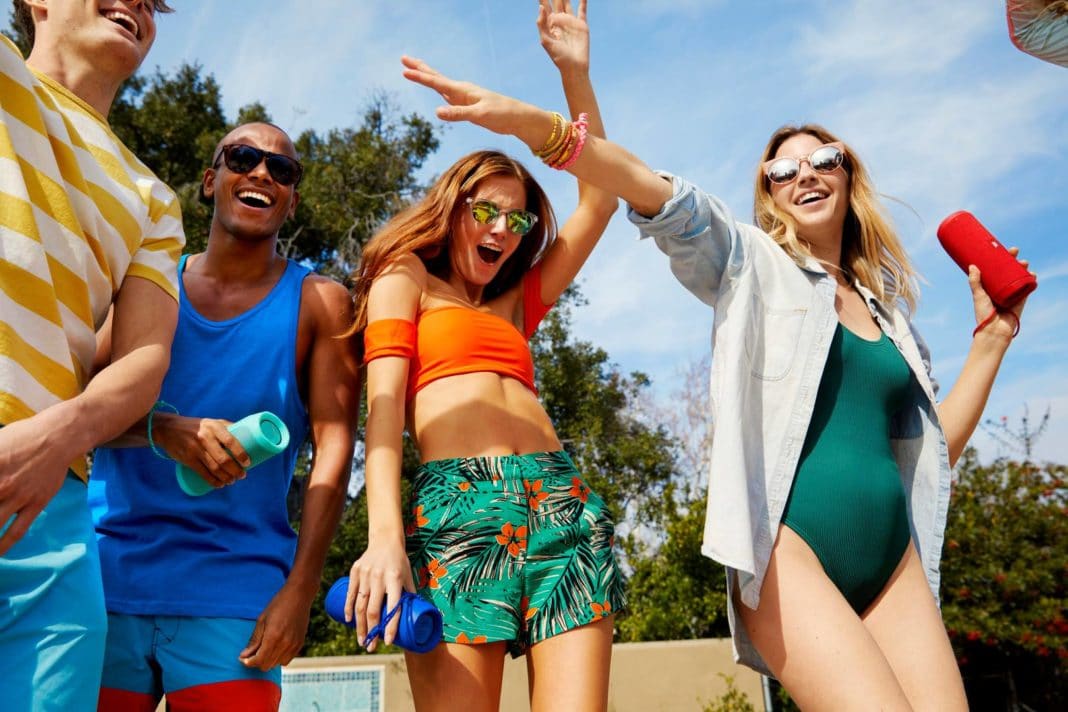 Credit: JBL / Facebook
Another thing to love about the JBL Flip 4 is its powerful sound. It is louder than you'd expect it to be considering its small size—and it's not all treble either. Along with a few other JBL Bluetooth speakers (such as the JBL Charge 3), its JBL Bass Radiator puts the oomph on display. The dual external passive radiators pump along with the beats so you can see the bass with your own eyes.
But in case you still want your tunes even louder, the JBL Connect+ feature will come in handy. This impressive feature lets you wirelessly link other speakers that are JBL Connect+ enabled together, and not just two or three. You can connect over 100 of these speakers are long as they have this feature, too. Yep, you can pretty much make your music as loud as you want to with this feature. All you have to do is convince other friends to purchase the JBL Flip 4 (or the Charge 3)!And the icing on top? You can play your music continuously through the JBL Flip 4 for up to 12 hours before it dies on you. No need to worry about it dying on your hours-long adventures through forests or lounge time on the beach.
3. Voice Assistant Integration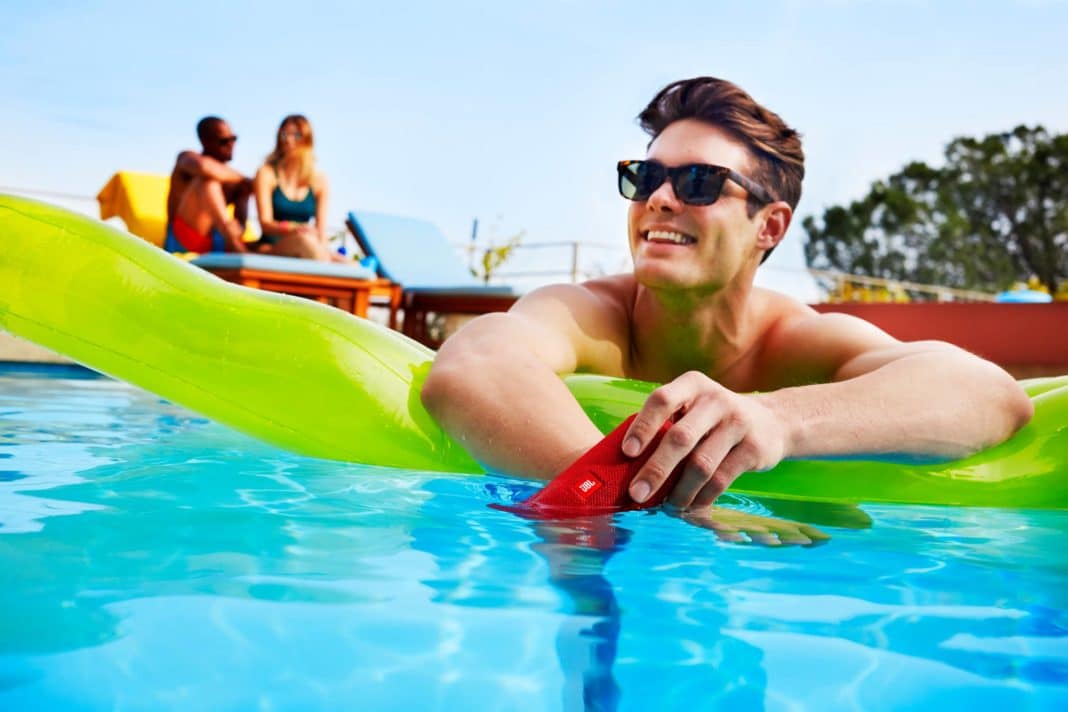 Credit: JBL / Facebook
By far one of our favorite perks of the JBL Flip 4 is its voice assistant integration. With this feature, you can simply press a button and utilize Siri or Google Now (depending on your phone type). Whether you're in the middle of setting up tent at your campsite or backpacking through sand dunes, no long interruption is necessary. All it takes is a quick click of a button, and you can continue doing what you're doing; piece of cake!
4. Awesome Bluetooth Capabilities
Credit: JBL / Facebook
We're sure it's no surprise that the JBL Flip 4 speaker comes with Bluetooth capabilities, but not like you've seen before. This portable speaker can be connected to two smartphones or tablets at the same time. That means you and your adventure partner can alternate DJ responsibilities without even having to mess with the speaker. How sweet is that? So when you're in the mood for a specific song that's not on your phone, make your friend play it.
In addition to that, the Bluetooth aspect makes it possible for you to take and make calls. Sure, you still have to use your phone to actually call someone or pick one up. But you can talk through the JBL Flip 4 thanks to the combination of its Bluetooth characteristic and speakerphone feature. Say goodbye to the hassle of needing to reconnect your phone to your speaker after taking a call.
5. Stylish Color Options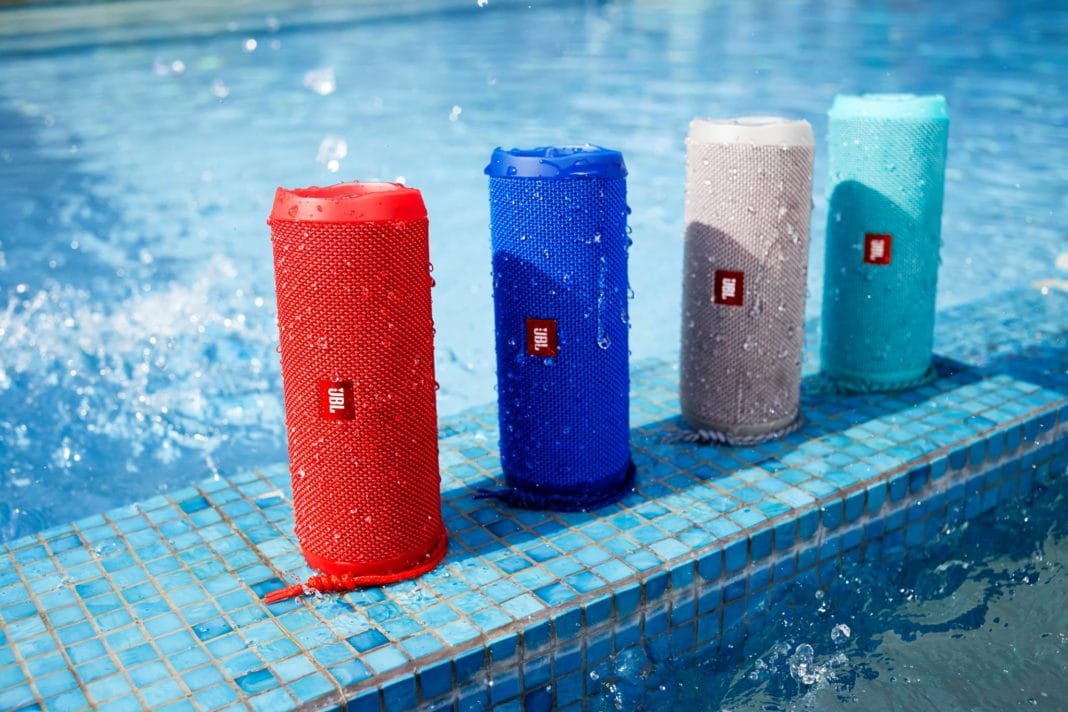 Credit: JBL / Facebook
Okay, it might not be the most important feature of them all, but it's definitely an added bonus. These fun color options almost add an extra element of fun to using the JBL Flip 4 speaker. With six different choices, you can opt for the cool white to the spunky red. There's a color to match just about every personality type for you to pick from.
What Travelers Are Saying About the JBL Flip 4 Speaker
So, is the JBL Flip 4 really worth it? You can probably guess how we'd answer that question, but here's what other travelers are saying.
To get a feel the positive feedback to this powerful little speaker, it flaunts 4.6 out of 5 stars out of over 2,000 Amazon reviews. In other words, most people only had good things to say about the JBL Flip 4. Some of the most common pros people shared? Its sound is incredibly well balanced, its battery life is impressively long, and that it's easy to set up. Another frequent report is that it is genuinely waterproof and is super handy to carry around. Many travelers bring it along on bike rides, camping trips, hiking excursions, and the like.
As far as the bad stuff goes, there's really not much of that going around. However, a small handful of people (relatively speaking) have experienced this JBL Flip speaker suddenly stop working after a while. Party foul without a doubt, but a rare issue considering the number of reviews there are.
All in all, it seems clear that most travelers agree with us that the JBL Flip 4 speaker is quite a catch. Whether you'll hop onboard is up to you!
Alternative Bluetooth Speakers
In that event that you're not convinced that the JBL Flip 4 is for you, we've got your back. Check out some of these other Bluetooth speakers to see if they might be what you're looking for.
JBL Charge 3
Credit: JBL / Facebook
Love the JBL Flip 4 specs but hoping for a little more battery life? That's exactly what you'll get with the JBL Charge 3. It's very similar to the Flip 4 in that it's also waterproof (really) and boats the JBL Bass Radiator and voice assistant integration. Where it comes out on top is with its 20 hours of playing time and its ability to charge your phone. You can literally plug your smartphone into this speaker to keep it alive. Definitely a tool that'll come in handy if you're ever losing battery on an adventure in the middle of nowhere!
JBL Clip 2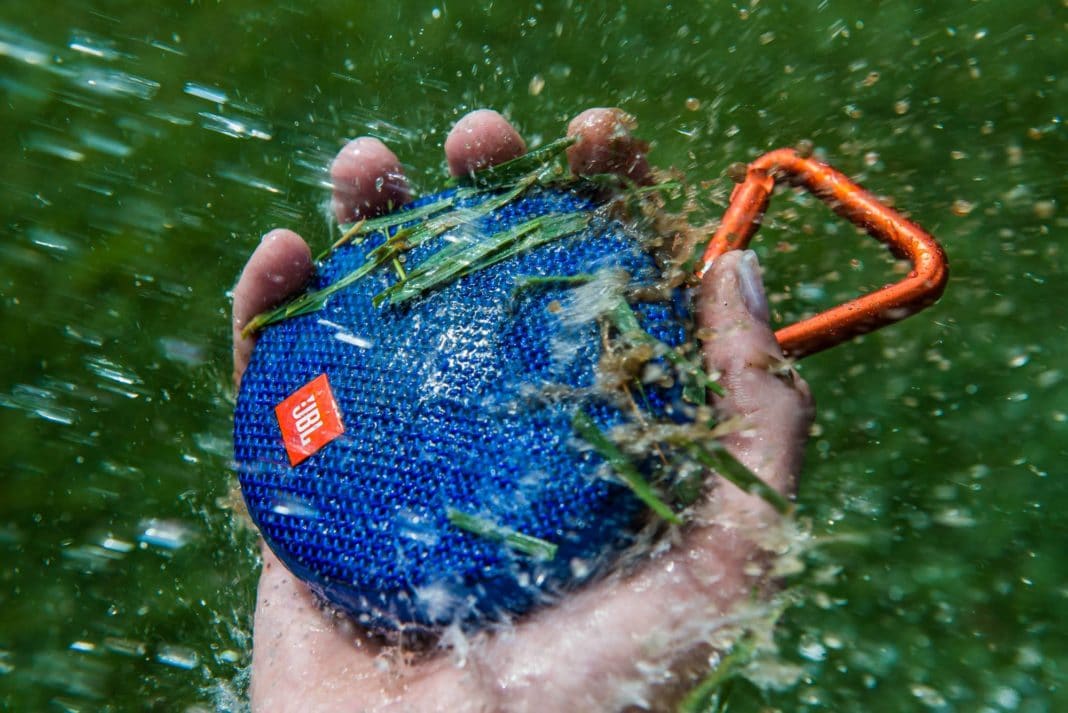 Credit: JBL / Facebook
Yes, we're recommending yet another from JBL, because JBL Bluetooth speakers are just that good. For those of you looking for something even more portable, the JBL Clip 2 might be your best option. It's even more compact than the ones we've previously mentioned, but that's not all that makes it a winner. It comes equipped with a carabiner, so you can attach it to whatever you want while exploring your next destination. Plus, it's as waterproof as the JBL Flip 4 and JBL Charge 3. No need to put it in your travel backpack when it starts to rain.
UE Boom 2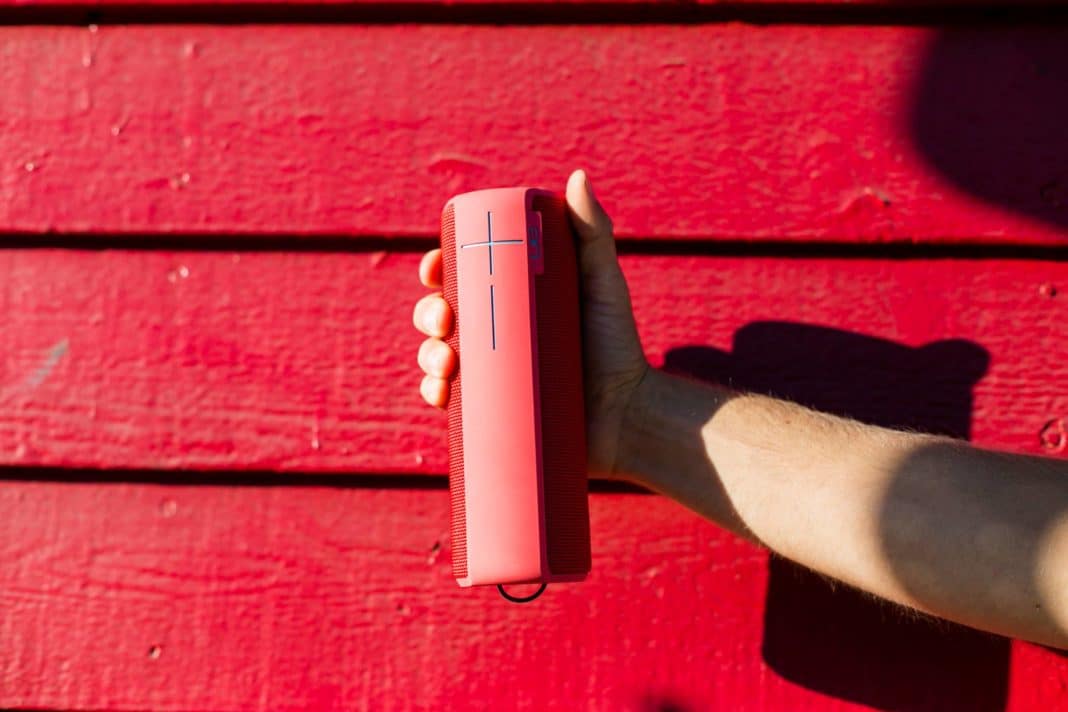 Credit: Ultimate Ears / Facebook
Last but not least of our Bluetooth speaker alternatives is the UE Boom 2. Ultimate Ears is a company known for putting out high-quality speakers, and this one's one of their best. It might be a little pricier than the JBL speakers, but for good reason. The UE Boom 2 is also ultra waterproof and can be wirelessly connected to over 150 Boom 2, Boom, and Megaboom speakers. Its Bluetooth capabilities are wildly innovative, integrates with Siri and Google Now, and can even navigate songs without touching your phone. But what makes it an even more stellar alternative to the JBL Flip 4 speaker is its 15-hour battery life and 360-degree sound. You'll be blown away at the quality tunes this thing pumps out, and it'll last longer than you need it to. Perfect for that day-long getaway you plan on spending at the beach!
Great sound, long life, sweet price, amazingly durable; what more could an adventurer ask for?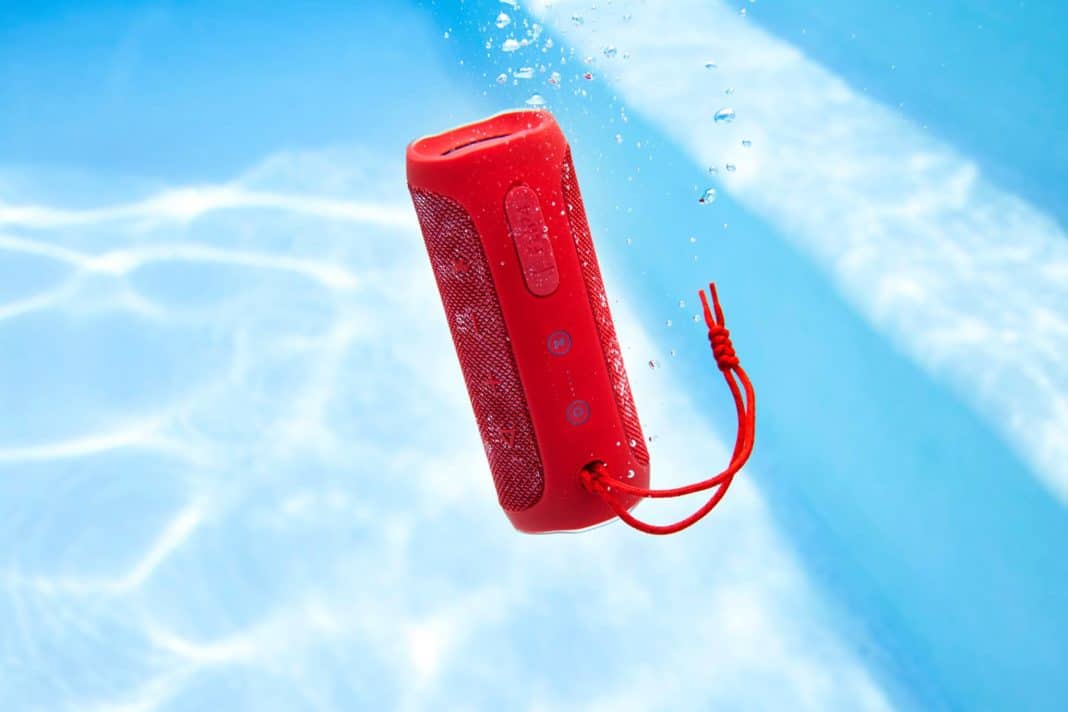 Credit: JBL / Facebook
The JBL Flip 4 speaker is one that every adventure traveler out there should own. No matter where you're exploring, what you're doing, and how you're getting there, it'll deliver you flawless sounds to enhance your experience. What will it be? Are you putting the JBL Flip 4 on your list?
Related Article: ​​10 Best Bluetooth Speakers Money Can Buy | Review​​​