It seems not too long ago; hard-shell luggage was just becoming a trend. They looked as if they were the protection of something expensive out of some sci-fi movie. Not only did they look high-end, they were downright expensive. Like any other thing that becomes high in demand, the supply also goes up. When supply goes up, well, prices get cheaper. Cue in the Delsey Helium Aero.
Finally, a luggage brand from Paris named Delsey has created a suitcase that is not only hard-shell but provides durability and quality that won't break your bank. The Delsey Paris brand runs familiar with our luggage reviews, and for a very good reason. The Delsey Helium Aero 29" spinner is the perfect suitcase that will keep your belongings safe and sound, all while staying classy. Furthermore, Delsey luggage made its way with their polycarbonate exterior and packing capabilities. This brand packs a good amount in each luggage piece, whether one slides it into an overhead compartment or checked bags.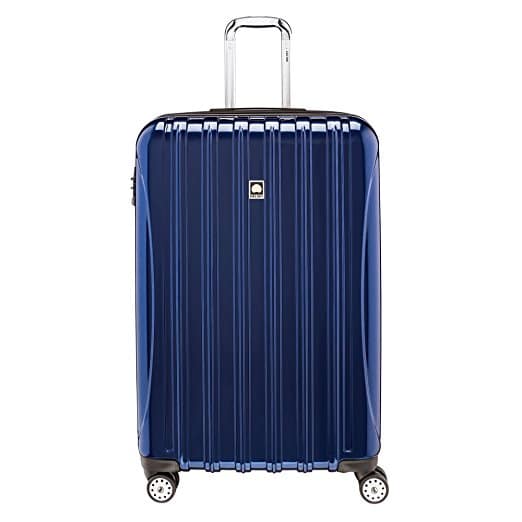 Credit: Amazon
They Delsey Luggage Helium Aero Expandable Spinner Trolley prices in the middle for hardside luggage. This style comes in four sizes: two version of the carry-on size and two of the full-size checked bags. Alternatively, the Delsey luggage helium shadow gives another great example of the models that come out of Delsey suitcases. In fact, even the Delsey helium shadow contains detailed differences from the Helium Aero. Here is why we chose the latter as one of our favorites.
Delsey Helium Aero 29″ Expandable Spinner Features & Benefits
The Delsey Helium Aero is the perfect suitcase for anyone looking to invest in a durable hard-shell that includes plenty of features.
Reinforced Exoskeleton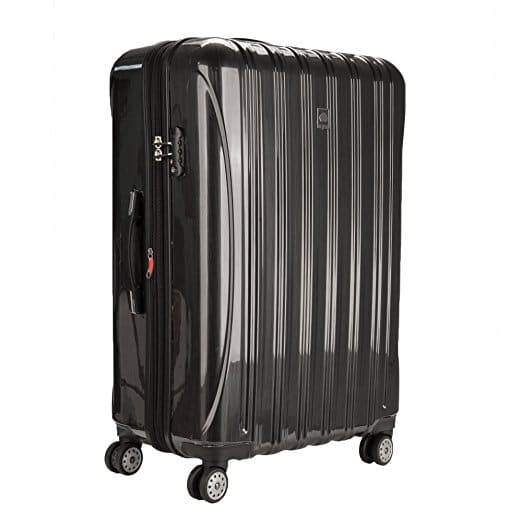 The Delsey Helium Aero Hardside luggage contains 100% polycarbonate material, which is why this suitcase feels so light. Despite the exterior reinforcements, you won't feel weighed down trying to travel in between terminals. The lightweight carry-on luggage of this Delsey luggage collection even offer small front pockets that can hold chargers, little toiletries, and boarding tickets. The larger pocket gives access to smart devices like tablets or laptops. For the 29", one can expect a no-fuss exterior.
This highly durable luggage withstands the craziest bag handlers for years to come. Additionally, the 29" comes in nine colors on Amazon. Have your color pick from basic black to pinky peony! Also, some of these shells have a deep metallic finish, or glossy finish, resilient against breakage for those who like shiny things. You won't find sacrifice in personality with Delsey suitcases.
Four Twin Spinners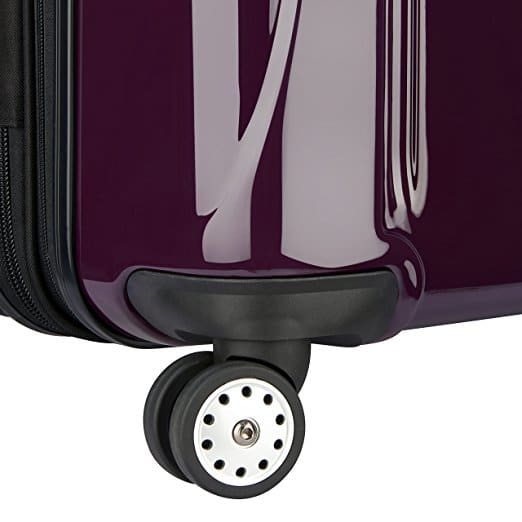 Spinner wheels may seem small in importance. However, you may change your mind when you are rushing to your next flight and you are left to carry your luggage on its handle. To add to the list of high-quality features, the Delsey Helium Aero 29" includes 4 double spinner wheels that come standard. Instead of single wheels, the doubles ensure that make sure that you can maneuver without putting any weight at all on your arms. This also one-ups in-line skate wheels when it comes to putting shoulder strain on users.
You will effortlessly roll your Delsey Helium Aero beside you instead of dragging heavy weight. The four twin spinner wheels prevent the suitcase from tilting, unless you want it to. It will switch from cart to trolley-style pulling with ease. Alongside this, these wheels should last longer since two wheels share the load instead of one. Durability tends to trend with Delsey. Simply put it on the ground and get to rolling!
Built-in TSA Lock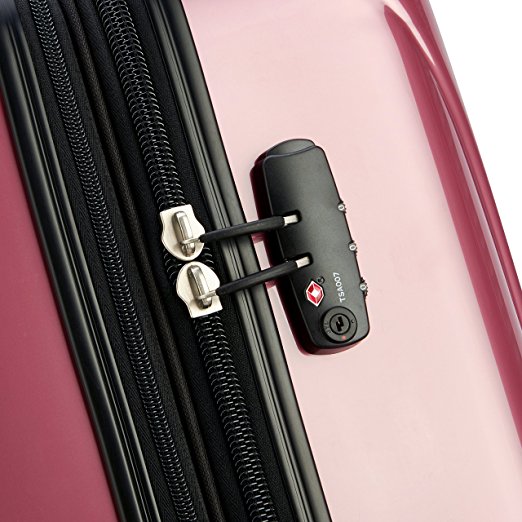 Often an overlooked feature in bags today, the Delsey Helium Aero comes installed with a TSA-approved lock. In a nutshell, this lock allows you to keep your valuables safe but also allows TSA to make inspections if required. The built-in system is much better than any other lock that hangs freely, as it will also keep the zippers intact. The TSA-approved lock feature includes the Delsey carry-on luggage. The system itself takes less than a minute to set up.
The 3-dial combination lock makes things super easy during long travels when needing to get in and out of your bags. With the TSA-approved lock, you won't have to worry about TSA agents breaking a lock on your suitcase. Essentially, other locks would require workers to open your suitcase forcefully. No one wants that. Especially, you will not want to purchase a new lock- or worse- a new suitcase in the middle of your travels. Talk about chaotic. With the Delsey Helium Aero, you no longer have to stress over the security of your belongings.
Professional Yet Stylish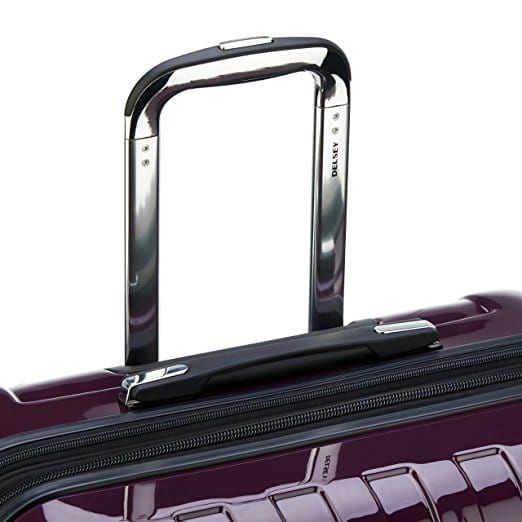 Not only did Delsey make sure quality was key with the Helium Aero, but they did not forget that form and functionality go hand in hand. Based and designed in Paris (the fashion capital of the world), no shortcuts were taken here. This spinner luggage ranks well when it comes to aesthetic. Delsey luggage reviews love the telescopic handle that features aluminum and comfort grip. The suitcase comes with one handle on top and another handle on the side. Whether you own the Delsey carry-on or larger sizes, this brand wants to make it easy as possible to carry your belongings.
Also, say goodbye to handles falling back down after pulling it up a gazillion times! The Delsey Helium Aero features a handle button that locks it into one position. You press the button on the handle to lock and release. It is that easy. No more bobbing up and down, moving sideways, and flipping the wrong way. It's time to give up that old ripped bag and upgrade to this classy piece.
Never Run Out of Space Again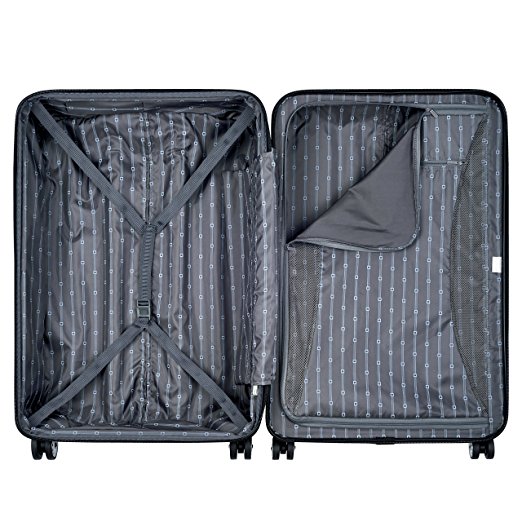 Let us not look over the obvious here. The Delsey Helium Aero 29" is a whopper of a suitcase. This was made to carry with the long-distance traveler in mind. 29" suitcases are easy to fill up, but are also very easy to go overweight if not careful. Most airline carriers limit the checked piece's weight to 50 pounds, so be cautious to not overfill your Delsey Helium Aero. On the flip side, you don't have to stress about not having enough room for your belongings. Just be sure to pack wisely and accordingly.
On top of its 29" size, the Delsey Helium Aero can expand another 2 inches if you need to squeeze in that extra outfit. This size also contains a large, zippered accessory pocket for all your loose gizmos. To secure all of your belongings, the fully lined interior also features tie-down straps. The two compartments keep items separated and certain belongings separate from others. The Delsey Helium Aero made finding items super simple. Packing with the extra space and web straps make travel less stressful.
Note:
A few handful of customers have said that the size of this piece has occasionally been classified in the oversized category. While not all airlines are as strict, some may be quick to upsize it. I personally have never been fined when I've traveled with oversized pieces as none of them were over the 50-pound limit.
What Travelers Are Saying About the Delsey Helium Aero 29″ Expandable Spinner Review
Boasting a strong 4.3 out of 5 stars on Amazon, the Delsey Helium Aero 29" has seemed to make a name for itself. One satisfied customer quoted, "The luggage looks great and very stylish; I have taken it right to meetings with me and even had some compliments". Another said,
"This suitcase has a ton of room and held everything my husband and I needed for a weeklong trip. It has a handy zippered compartment on one side and clip-together straps on the other. The wheels seem pretty durable, and the case rolls easily. TSA-approved locks are also great. We did not experience any problems some reviewers had with checking the suitcase; there was no mention by the airline of it being oversized."
More on What Travelers Are Saying
Despite a plethora of positive reviews, many customers have noted that the Delsey Helium Aero has had a tendency to be easily scuffed on its exterior. In terms of the potential to accidentally over-pack, one owner said,
"I've used mine on 4 major US airlines about 15 times over the past year. I am always nervous about that zipper coming unsewn or jumping the track. Otherwise, it is a joy to use. Wheels around like a champ, and once you learn which side is "up", you'll not dump your things all over the hotel room. The heaviest I've ever loaded it was 37 pounds, but it could be very easy to exceed that 50-pound mark, depending on what you pack in it."
Continued
If you are worried about this issue and would like something closer to a carry-on bag, Delsey offers smaller styles in the Helium Aero collection. Notably, their hardside carry-on suitcase presents a smaller version of the equally dazzling 29" version of itself. However, if you need more space than a carry-on luggage, but less than an oversized checked bag, the Delsey Helium Aero 29" may win you over.
Also, Delsey offers garment bags, luggage tags, and other accessories. Here are some of the Delsey Helium Aero 29″ Expandable Spinner's Pros and Cons:
Pros
plus

Roomy

plus

Rolls great

plus

Stylish

plus

Excellent handle
Cons
close

Exterior scratches easy

Possibility of "oversize"
Alternative Checked-Luggage Bags
As great of a suitcase that the Delsey Helium Aero may be, there certainly are other viable options that may just compare. Considering this, take a look at a few that generally share the same features and would make great alternatives.
Samsonite Winfield 2 Hardside 28″ Luggage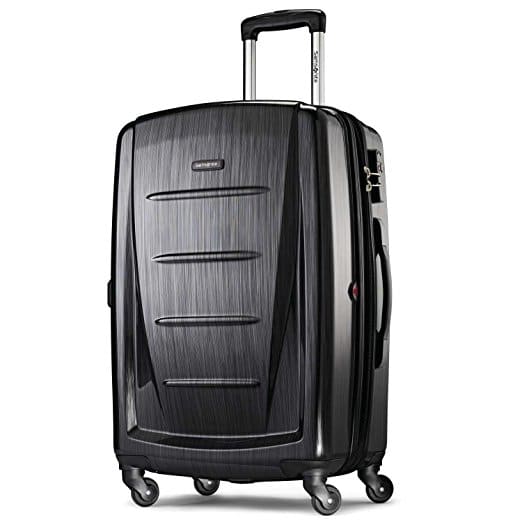 Similar in both size, price, form/features, the Samsonite Winfield 2 Hardside 28" suitcase just might catch your eye. One of its distinct differences is its single wheels, instead of the dual spinners found on the Delsey Helium Aero. Loyal Samsonite customers love this suitcase and one owner reviewed the following:
"I purchased the Samsonite 28″ Spinner for business and personal travel. The suitcase looks great, I purchased charcoal, and is LARGE with multiple pockets (see pictures). I fully understand this will likely be scratched after being loaded and unloaded and thrown about by airport attendants. I also like the zipper lock feature."
More on Samsonite Winfield 2
To broaden on the locking system, Samsonite also has an easy to use combo lock on every piece of luggage. Likewise, the zippers engage the lock in a very similar method to the Delsey. Stated previously, the Samsonite hard shell design does not always win everyone over aesthetically. However, people can definitely testify to most Samsonites, including the Winfield, being able to take a beating. Having made a name through its quality luggage and travel accessories, Samsonite aims to impress you with this bag.
ful Luggage Payload Series 29in Expandable Hard Case Spinner Upright Luggage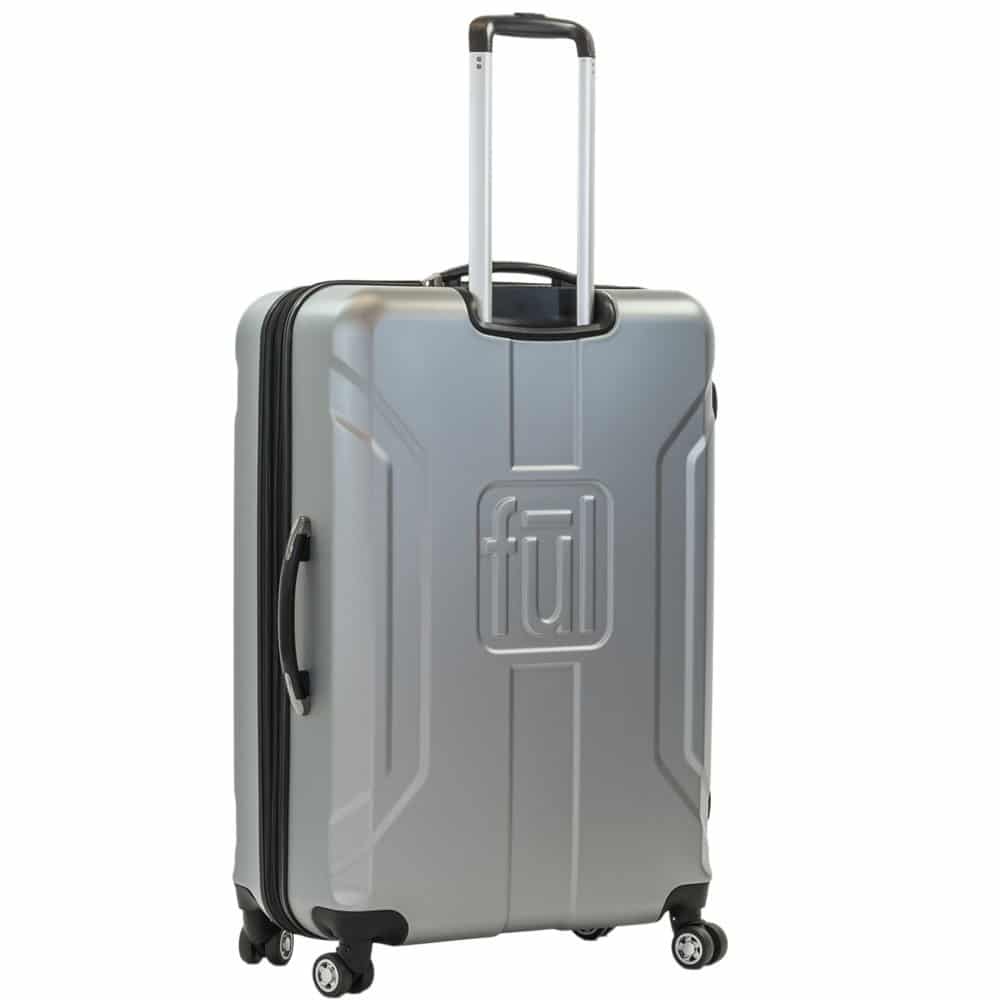 Most commonly known for their backpacks, ful has proven themselves in the design world, and the Payload Series 29" is nothing short of a testament. With features almost identical to that of the Delsey Helium Aero, you can expect a hassle-free experience with ful's Payload Series. The 29" features a heavy-duty outer shell that will tackle any baggage handler with ease. Moreover, the four double-wheel spinners offer easy transport rolling. This choice even features an aluminum telescopic pull handle too.
The Payload series features its own unique spin on interior compartments that divide for easy storage. It even features an additional mesh pocket for little stowaways. You can purchase the silver or the black in the 29" size. However, one can even choose a 3-piece silver set that will give you the bang for your buck; this set includes the 29-inch, 25-inch, and 21-inch. If you're looking for a sturdy yet industrially stylish alternative, don't look past the ful Luggage Payload Series 29".
Travelpro Maxlite 4 29″ Hardside Spinner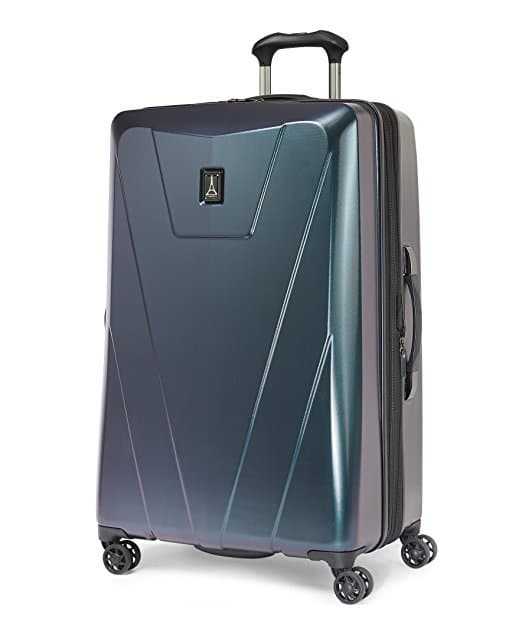 Making its way onto the list of high-quality hard-shell alternatives: the Travelpro Maxlite 4 29" hardside spinner proves an excellent investment. Crafted out of sturdy ABS, the exterior of this suitcase has a color changing feature that adjusts according to the light. How cool?! Its dual-wheel system is also top in class, compared to the dual-spinners on the Delsey Helium Aero. This features 360-degree 8-wheel spinners that roll with ease.
Moreover, customers generally have nothing but good things to say about Travelpro's products, and this suitcase is no exception. One satisfied customer said,
"Withstood a plethora of abuse. It moved gracefully in all directions and was very easy to maneuver even with the handle in the down position. We got tons of compliments on these, two, one purple and one the green/black color shift. Two complements were from airline staff at check in points who asked where we got them!! They are so light weight and empty that more can be packed inside. Very sturdy, and I loved them."
Check it out if you want to turn heads on your next trip.
Kenneth Cole Reaction Out Of Bounds 28 Inch 4-Wheel Upright Luggage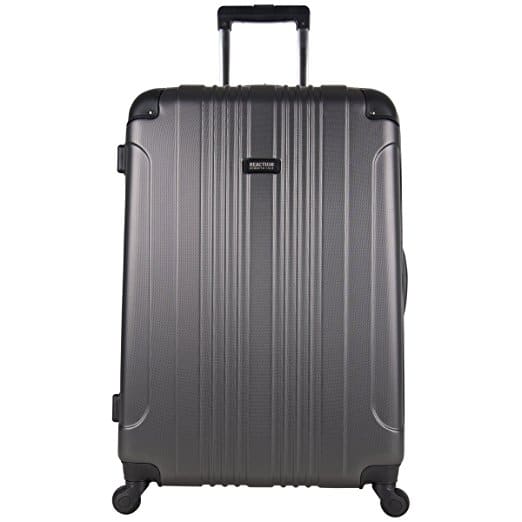 Eye-catching with its handsome looks, the Kenneth Cole Reaction Out of Bounds 28" will keep you looking fresh and protect your belongings all at once. Available in a whole slew of colors to match your style, this cheaper hard-shell will not disappoint. The Out of Bounds features 4-wheel spinners and lightweight construction. The molded corners prepare for max impact defense, and the interior comes full lines with securing straps. Alongside the restraints, users can also find a u-shaped zipper pocket and compartments for storage.
This particular suitcase contains side bezels that allow the body to stand on its side when carrying from the handle. The Out of Bounds luggage itself weighs less than the Delsey Helium Aero 29". Equally sporting many similarities to the Delsey Helium Aero 29", the Kenneth Cole Reaction 28" makes a great second option. With many reviews and high ratings, consider this suitcase for your long-term traveling needs.
All in All
While choosing the perfect suitcase may seem difficult, make sure that your biggest needs are your number one priorities. You will find the best luggage that suits your travel needs! As far as big suitcases go, the Delsey Helium Aero 29" Expandable Spinner does an excellent job of holding your belongings, all while keeping you fresh.
Interested in picking up this great suitcase for yourself? Leave a comment below to let us know!
Related Article: Best Checked Luggage Pieces (Plus How to Choose Yours)