Go out and explore with the Suunto Traverse Alpha.
When you are looking for a good sports watch, the Suunto Traverse Alpha will keep you on track. Thanks to a host of outdoor features, such as GPS/GLONASS navigation, it is prepared to be your guide in the great outdoors. We are going to take a look at specific features that will be useful for your activity.
The Suunto Traverse Alpha Features & Benefits
Will this watch be durable enough to handle the ups and downs of travel? This is something you should ask yourself when you are considering purchasing a sports watch. And the answer for the Suunto Traverse Alpha is yes. Let's dive deeper and look at the features and benefits it has to offer. It's time to find your perfect fit.
Durability
Credit: Amazon
One thing that particularly stood out to us about this watch is its durability. When we look for a piece of new gear, durability goes a long way. You don't want to get a watch that scratches easily, can't handle a little water, or breaks right away when you drop it. Thankfully, the Suunto Traverse Alpha can be worn in everything from rain to snow. Some travelers said they have had the watch for a year and a half now and it has held up so well.
The watch's stainless steel bezel and sapphire glass are scratch resistant. Let's just say this watch can pretty much handle whatever the road might throw at it. The nylon strap is strong too. The only complaint users seem to have about the strap is it can retain odor after you sweat on the trail. To avoid this, you can either wash it separately or replace it with a silicone strap.
Easy Data Transfer
Credit: Amazon
This isn't just a sports watch, it's smart too. Did you know that you can use it to transfer data to and from Google Earth? Talk about options. For example, if you're looking for water sources to use your filter and hydration pack when hiking, you can mark their location on Google Earth. This makes it so much easier to find and you'll save hours of unnecessary location scouting.
A Good GPS System
Here is another super helpful feature. When you're out on the trail, it's easy to get turned around. We're happy to say that the Suunto Traverse Alpha has an incredible GPS system. We have found that when we marked the location of a water source with the GPS, it was accurate up to within a few feet. You will never have to worry again if your watch is accurately marking your travel route.
You'll Get the Sunrise and Sunset Times
This is one of our favorite features. Even when you're out in the great outdoors, it's easy to forget to get up early enough to watch the sunrise and miss out on finding a viewpoint for the sunset. Since the Suunto Traverse Alpha has a built-in feature to track the sunrise and sunset time, you will never have to miss them again. These times automatically update for you when you move into a new time zone. How cool is that?
Other Notable Features
But wait, that's not all. The Suunto Traverse Alpha has a few more features that are useful for the avid traveler. The first is automatic shot detection. Your watch can detect when you shoot your rifle using the recoil. From there, it will mark and date your shot. Just be sure to be careful you are recording a route when you do so. Otherwise, it will not mark it.
Did you forget to bring a flashlight? No worries. This watch has a good one. It is also equipped with an altimeter, barometer, moon phases, backlight, thermometer, and more. Every time we hit the trail, the Suunto Traverse Alpha is coming with us. This watch is one of the best pieces of travel equipment that you could own. Sure most backcountry trekkers carry a GPS these days but why shouldn't you get one that's both reliable and small enough to fit on your wrist?
Tech Specs:
Scratch-resistant stainless steel bezel and sapphire glass

Automatic shot detection tech

GPS

check

Flashlight

check

Barometer

check

Altimeter'

check

Thermometer

check

Backlight

check

Detects moon phases

check

Sunrise and sunset time (automatically updates with time zone change)

check

Can receive text and email push notifications

check

Waterproof
What Travelers Are Saying About the Suunto Traverse Alpha
With a 4.3 out of 5-star rating, the Suunto Traverse Alpha speaks for itself. Travelers love the watch overall and are very happy with its functions and performance. One of the best things about it is general battery life. Many of us get a lot of texts and calls a day. Since you can sync your phone with the watch, you might think this would chew up your battery quickly.
However, if you keep your watch set for just the time and general notifications, it can last for up to two weeks of battery life. Another good thing to know is that you can keep the battery on locked mode so you won't accidentally push other buttons throughout the day.
While the GPS does have impeccable accuracy, it does drain the battery quickly. One user noted that you might get 6.5 hours of the best accuracy GPS recordings. If you are in the back country with no internet access or cell service the watch won't have to do extra work with your phone, so we're sure it would do better in the wilderness. The Movescount App shows you exactly on the highway the whole way down. It is very accurate in this mode.
Users were very impressed by the GPS connection speed. Reading the manual, it says that as you keep connecting to satellites over time the watch will become even faster at connecting. This part is true. When users first used the GPS it took a number of minutes to get a connection, but after it is instant and even somehow get connected while inside of buildings. One user even turned it on inside a warehouse and it quickly got a connection. This is encouraging since you know you will be able to get a connection even if you're among a dense tree grove.
This is definitely a rugged useful watch for hiking in the backcountry. The Movescount App adds plenty of function for this watch as well. We are really impressed with the Suunto Movie option. The Movescount App will tell you some things that the watch itself won't show like how elevation or temperature changed throughout the time you recorded your route.
You will get lots of useful information from the app. While the battery can be drained quickly from the GPS, a handy tip is to carry a usb solar panel with you. This way, you can charge your tools – even when you're in the middle of nowhere. All in all, this is a fantastic purchase for travelers seeking a reliable sports watch.
Garmin Fenix 3 HR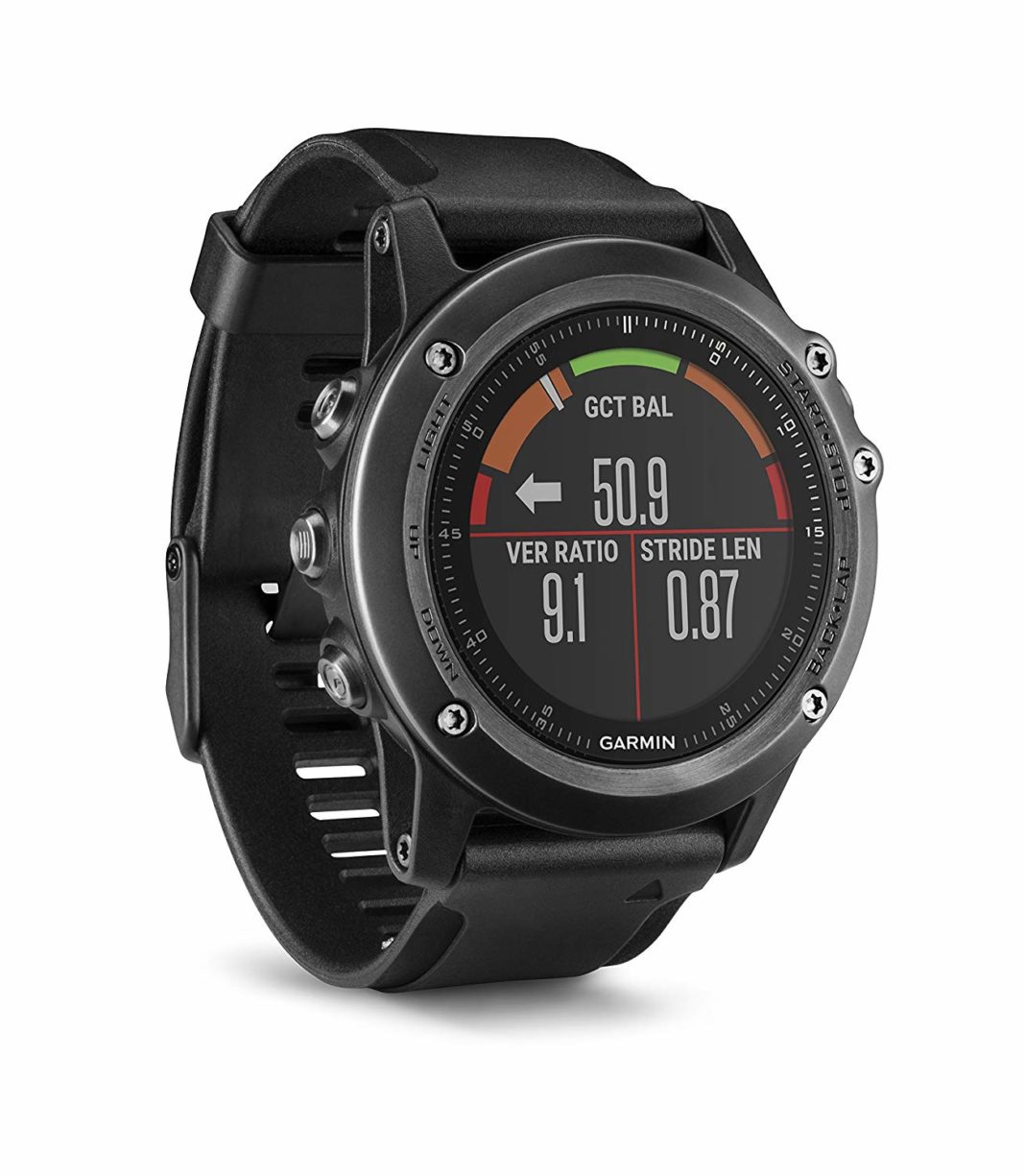 You don't have to sacrifice style for practicality. This fashionable watch from Garmin is made to stand up to the roughest conditions. A sleek fenix 3 HR style offers a durable stainless steel bezel and buttons, silicone-treated band, and reinforced housing. It's also sunlight visible and offers a LED backlight. When you're on the go, you don't have to be afraid to get it wet either. This sports watch is water rated for up to 100 meters and has a 40-hour maximum battery life. You can spend up to 16 hours in GPS mode if needed and up to a whopping two weeks in smartwatch mode.
Tech Specs:
Wrist-based heart rate technology

Soft black silicone wristband

Chroma display screen

check

Water rated up to 100 meters

check

Long battery life

check

LED backlight

check

Durable stainless steel bezel and buttons

check

Reinforced housing

check

Sunlight visible
Casio ProTrek PRG-270-1
We all know Casio as a brand that produces top-quality products at a price we can afford. The ProTrek PRG-270-1 offers nothing less. This solar powered style incorporates a new Triple Sensor Version 3 engine. The advanced technology has allowed for a much smaller direction size sensor than previous models. The result is better accuracy and more energy efficiency. We're sure that's something we can all appreciate.
For example, this watch can measure your altitude in one meter increments and display compass readings continuously for one minute. Besides having an altimeter and digital compass, it also has a unique barometer designed for outdoor performance. With large side buttons and one-press access, you have all of the features you need at your fingertips. Other notable features include tough solar, 100-meter water resistance, and more. Everything about this style lends to an overall essential piece you need for the great outdoors.
Tech Specs:
Solar-powered style

Smaller sensor with more energy efficiency than previous models

Barometer, altimeter, and compass

check

Large side buttons with one-press access

check

100-meter water resistance

check

Low temperature resistant

check

Storage battery (has battery level indicator)
Invest in the Suunto Traverse Alpha for Your Next Outdoor Adventure
If you like to hike in the backcountry often, it is smart to invest in a good sports watch. Capabilities like the GPS feature make it easy to track your location if you get turned around. Alerts from the sunset feature to the barometer can help keep you on time and safe. If you're ready to invest in your next adventure, choose the Suunto Traverse Alpha to add to your gear list.
Related Article: The Best Hiking Watch: 6 Top Contenders And How To Pick The Right One