Have you been craving the best Guatemalan food?
We've taste-tested, asked around, and found amazing eats that you need to try. Tough work, we know. Most of us know that Guatemalan food is influenced by the country's rich heritage of Mayan and Spanish cultures. But did you also know that it has some African and Caribbean influences too? Today, its food is a mixture of a few other influences too – namely Chinese, American, and vegetarian dishes. We're going to take you on a foodie tour to sample classic dishes as well as some with international influences. Are you ready? Let's go!
We've said it before and we'll say it again. One of the best ways to understand a culture is by exploring their culinary scene. Well, we've got good news for you. Not only is Guatemalan food delicious but traveling in this beautiful country is affordable too. Here, the diversity of flavors reflects an eclectic blend of social and historical influence. Come along with us as we take you on a journey to explore all that this gem has to offer.
Understanding the Culture: A Little Bit About Guatemalan History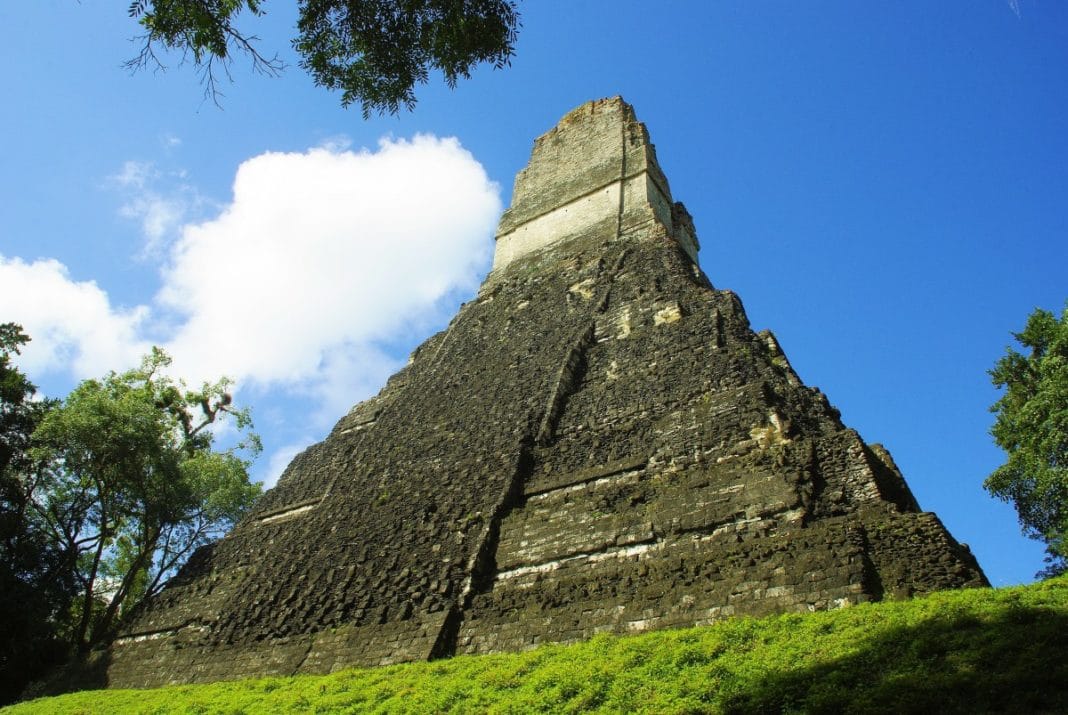 In order to understand the significance behind different types of Guatemalan food, you need to know a little bit about the country's history. Going back to its origins, we know the peak of the Mayan empire lasted from 300 to 900 A.D. Moving forward a couple hundred years, the Spanish arrived and colonized all of Central America. Spanish rule in Guatemala lasted from the 1500s to the 1800s. This allowed for the integration of Spanish ingredients into Guatemalan food. Following Guatemalan independence, there has not been much of a change in cuisine. Many of the locals still make their foods following in the ways of old methods.
Geography and Architecture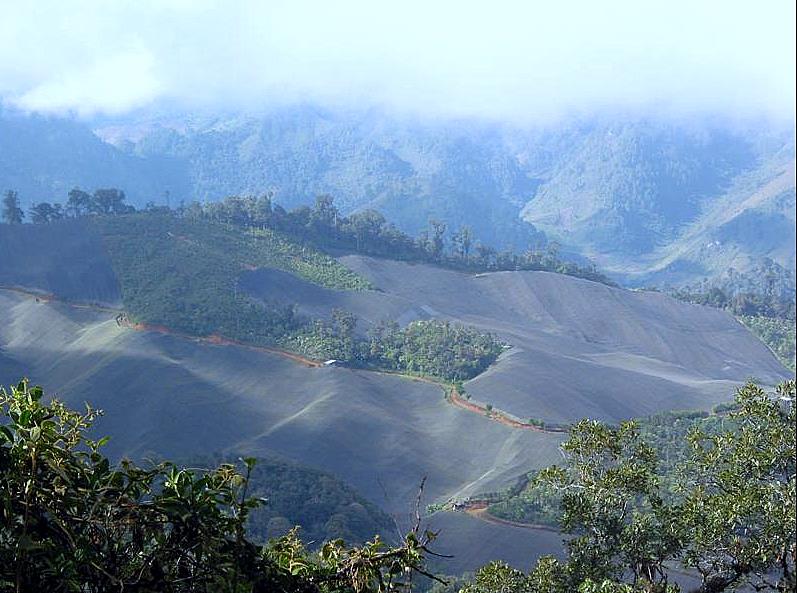 Credit: Wikimedia Commons
Since Guatemala is in a prime geographic location, this sets it up at an advantage with its agriculture. The country's lush landscapes receive plenty of rainfall and sunlight throughout the year. The result is a fertile setting where a wide variety of produce can flourish. The most common crops grown in Guatemala are bananas, cocoa, sugar, and coffee. While deforestation has caused problems in recent years, the nation remains one of the world's top exporters of both coffee and plantains.
Where to Eat
In Guatemala commodores (restaurants) are simple and offer modest decor. While you can find fast food chains and nicer restaurants in touristy areas, the most authentic places are the common ones. Meals here are informal, emphasizing community rather than just the meal. With inexpensive and mid-range restaurants, it is customary for guests to leave a tip for good service. A good rule of thumb is to leave a ten percent tip at the minimum.
Traditional Guatemalan Beverages
I can't think of a better way to start the morning than with a hot cup of coffee. Locals like their coffee weak with a little bit of milk and sugar in it. Fruit juices are plentifully served made fresh and mixed with water or milk. Gallo, the country's favorite national beer is something you should try during your visit. If you're looking for a stronger beverage, try out quetzalteca. This potent beverage made from raw cane juice is authentic. Keep in mind that tap water in Guatemala is not always the most pure and can cause stomach aches. Most restaurants and stores offer bottled water and purification tablets for travelers.
Guatemalan Food: Breakfast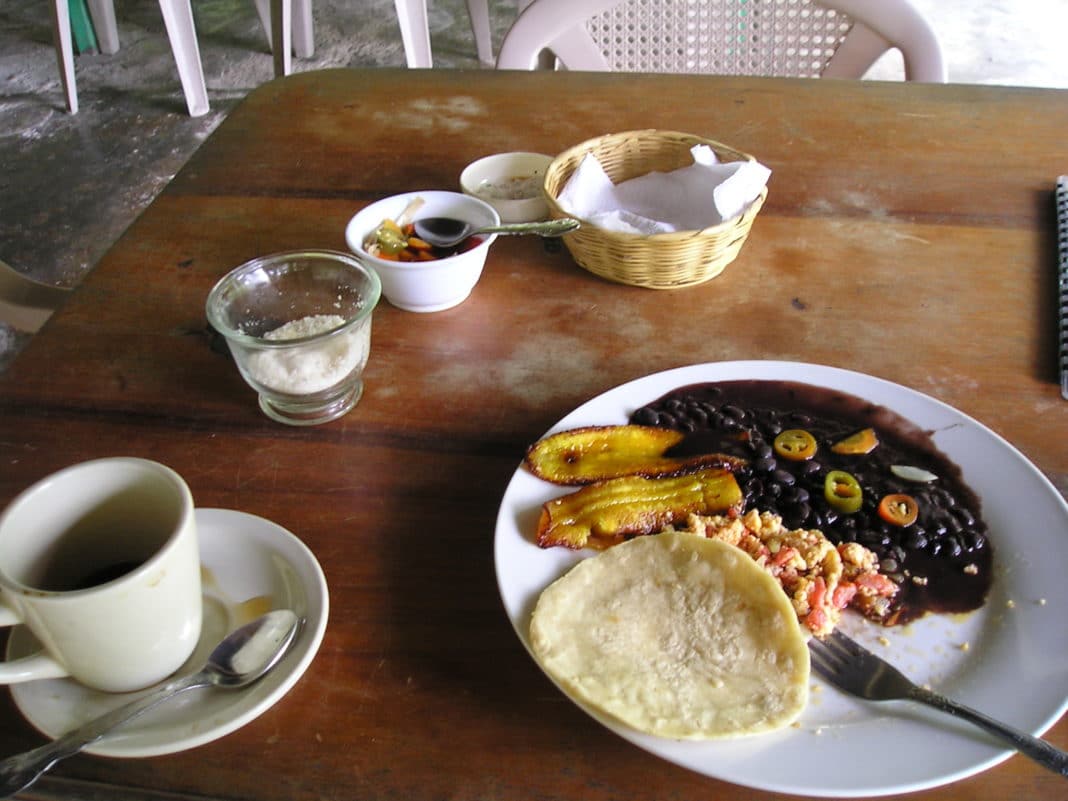 Credit: Flickr
If you didn't already know, breakfast is my favorite meal of the day. When it comes to Guatemalan food, their breakfasts are wonderfully simple. Typically, you will have light fluffy eggs, warm tortillas, beans, and plantains. If you'd like a little something extra, you can add some cheese and cream too. I'm a sucker for overloading on the sweet, tropical fruits for my side. I can never quite get enough of bananas, mango, papaya, and avocado. And of course, no breakfast is complete without a good, hot cup of coffee.
Guatemalan Food: Staple Meals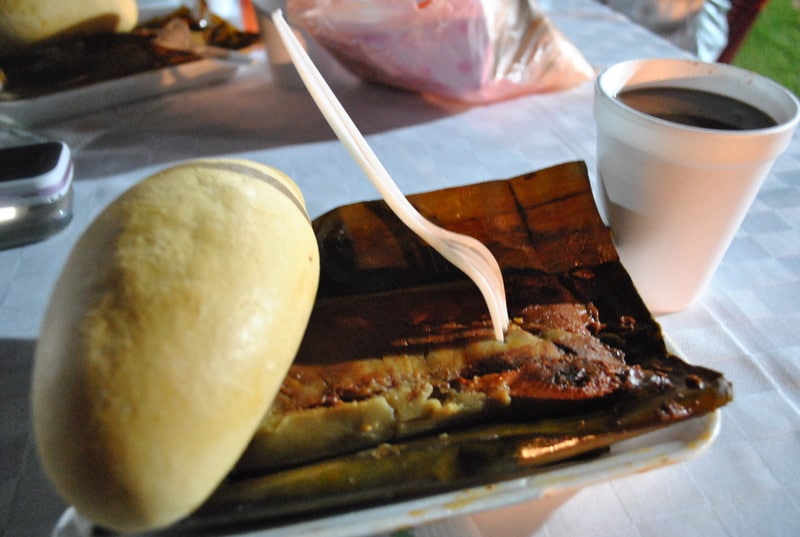 For lunch and dinner, there isn't much of a variation among Guatemalan food. One of my best friends is Guatemalan and her family makes the best dishes whenever I come over. Some of the primary staples they like to use in their kitchen include beef, chicken, cheese, corns, beans, rice, and pork. These staples make for a hearty base.
When you go to a restaurant, you will find that many types of Guatemalan food are similar to something you would find in Mexico. In Guatemala, the foods we all crave (aka tamales, nachos, and enchiladas) are just as good here and they are even more affordable. It sounds like a win-win to me. A few meals worth trying during your visit are: chicken pepian, kak'ik, and chiles rellenos.
1. Chicken Pepian
There is no one national dish of Guatemala. But if I had to pick one, I'm pretty sure chicken pepian would be it. This beloved classic is a spicy stew with flavors that draw upon both Mayan and Spanish cultures. Furthermore, it is one of the country's oldest dishes. While chicken is the most commonly used base ingredient, you can also mix things up a bit and try it out with beef and pork. Any way you mix up the meats though, the fruit and veggies stay the same. Pear, corn, squash, carrots, and potatoes are the constants. After these ingredients are mixed in, it's topped off with rich spices and served up with filling rice and tortillas.
2. Pupusas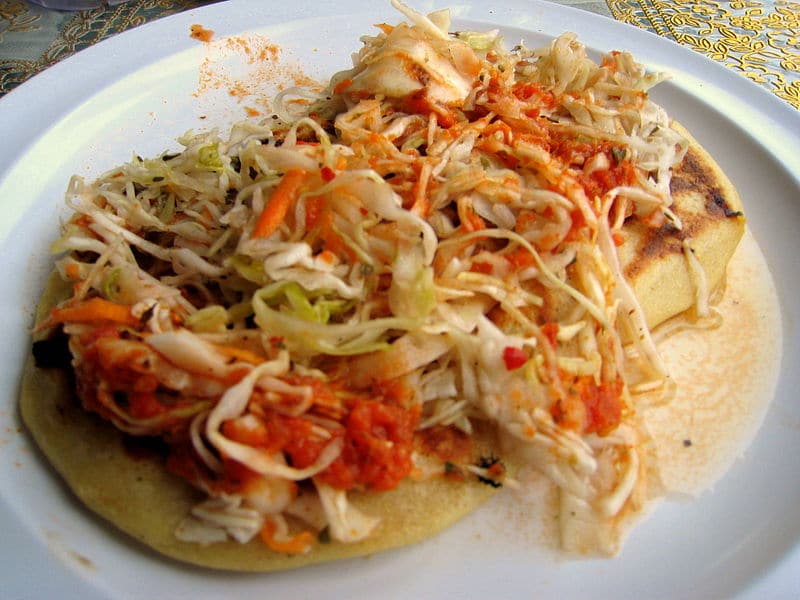 Credit: Wikimedia Commons
This is my favorite type of Guatemalan food. Give me all of the pupusas. These little pieces of delight are everywhere, offering the perfect comfort food to fill up on when you're hungry. And they're cheap, too. Thick corn tortillas are filled with a myriad of hearty ingredients. Think refried beans, cheese, and chicken or pork. After the tortilla is stuffed, it is fried until the outside is crisp and the inside is melted to perfection. Pupusas are typically served up with a heap of fresh cabbage and salsa. Yum.
3. Kak'ik
This is one of Guatemala's most popular dishes. I can't get enough of this delicious Mayan turkey soup. It's packed full of yummy spices like achiote and chillies. The roots of this dish are traced back all the way to the Q'eqchi' group. Today, residents of Guatemala still prepare the dish the same way as it had been hundreds of years ago.
4. Empanadas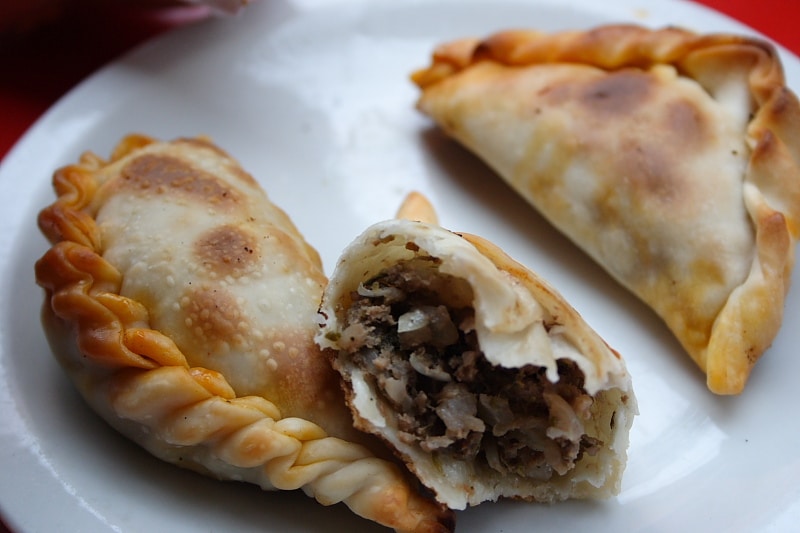 Credit: Flickr
These crispy, light pastries are perfect for a midday pick me up. You can find them all throughout Central America. While they typically have a meat filling, most of them are vegetarian when it comes to Guatemalan food. Typical fillings include potato and spinach or a variety of toppings. Guacamole, cilantro, onions, and tomato are common favorites.
5. Hilachas
A popular Guatemalan food dish, the name Hilachas means 'rags.' This might sound like an odd name for the dish until you see what it looks like. This savory meal is made from shredded meat and cooked in a simmering mild tomato sauce. To make it a little more hearty, squash, potatoes, and carrots are added in. If you are still hungry, you can also eat the hilachas with rice and fresh corn tortillas.
6. Tamales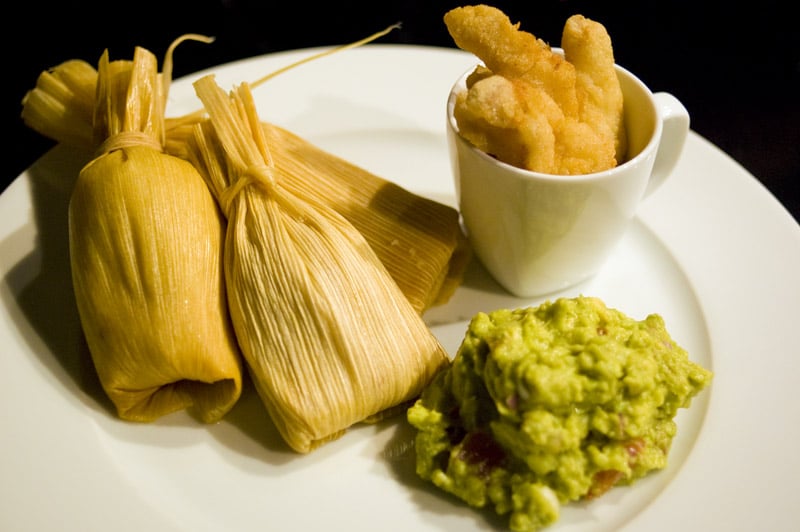 Credit: Flickr
Did you know that there are literally hundreds of types of tamales in Guatemalan cuisine? When you think of a tamale, what do you picture inside? Most of us would say they contain corn, rice, potato dough, and some meat. Some types of tamales have hot pepper and others are wrapped up in green leaves or corn husks.
Ask the locals. Every local has their favorite types of tamales. You can either eat them at home or save them for Sunday's breakfast. One of my favorite types of tamales are a little hard to find but definitely worth the search. They are called tamales negros (black tamales). Made from a sweet corn dough, they are served up with a chocolate mole sauce, raisins, prunes, and chicken. Order a hot chocolate with it for the perfect combo. These meals are not only healthy and filling but are inexpensive too. If you're a budget traveler looking to get the most bang for your buck, eating tamales will save you some money.
7. Chuchitos
These little snacks are similar to tamales. Instead of being made in soft dough, they are wrapped up in tough corn husks. The most popular types of chuchitos have pork or chicken on the inside and are topped off with tomato sauce and cheese. If you would like, you can swap out the tomato sauce for some spicy sauce at no additional cost.
8. Chiles Rellenos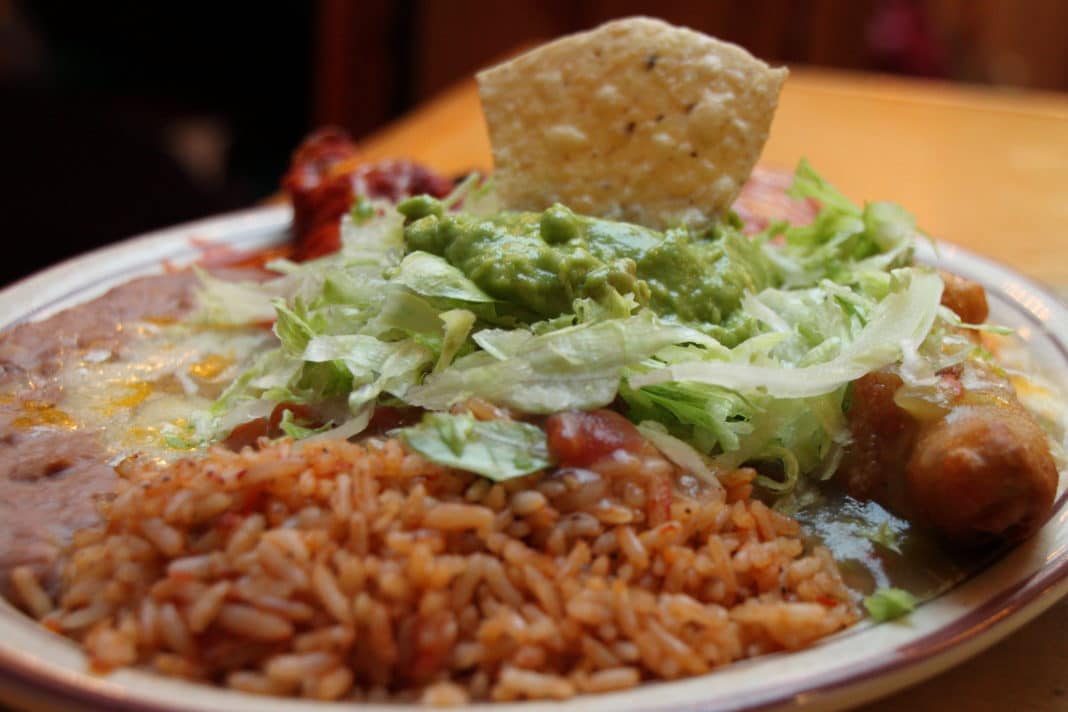 Credit: Flickr
These meat-filled peppers are commonly associated with Mexican cuisine but they are actually just as popular in Guatemala. Here, pimento pepper is used and stuffed with red meat, veggies, and spices. Then, it is coated in an egg batter and fried. If you're looking for the most authentic type of Guatemalan food, order your chiles rellenos topped with tomato sauce. You can find these yummy treats at nearly every street stall.
Sides
Sometimes we just want a little more. When traveling, why not treat yourself? As I mentioned earlier, most of the main dishes are served up with rice and tortillas. These tortillas are much thicker than the ones you would find in grocery stores. Make sure to try out the crispy blue corn tortillas. They taste amazing. Even if you're full, try out a small side of rice too. Authentic Guatemalan rice is made with chopped carrots and bell peppers.
Plan Your Trip and Indulge in the Best Guatemalan Food
We hope you enjoyed reading our article of the best Guatemalan food to try. Now, it's time for a taste test. While you can certainly try your hand at these recipes at home, we recommend the real deal. Even from this simple list, it's easy to see that cuisine is incredibly diverse. Guatemalan food is incredibly diverse.
With so many tasty dishes and drinks to choose from, it was hard to narrow down my list to the top favorites. While you're there, make sure to sample as many dishes as you can. Seek out authentic places to try the dishes. Ask for the local's recommendations. Or when you're feeling creative, put your culinary abilities to the test and try to cook up some Guatemalan recipes on your own. Either way, it's time to visit Guatemala.
Related Article: 10 Delicious Types of Venezuelan Food and Drinks You Need to Try