The Outfandia Camping Hammock is a traveler's dream accessory.
Are you an avid hiker and camper? Then you know that having the right travel gear makes all of the difference when you're in the great outdoors. From having the proper hiking shoes to a sturdy tent, the kind of equipment you have can make or break your trip. Today, we are going to take a look at the Outfandia Camping Hammock.
What makes this product a worthy purchase? First, it combines both a hammock and a tent. Now that we've got your full attention, we'll walk you through a bit of the product's technical features. After all, an informed purchase is a good purchase.
The Outfandia Camping Hammock with Mosquito Net Features & Benefits
When it comes to outdoor gear, there are a number of brands on the market you can choose from. We're happy to say that we have found a standout one in Outfandia. This incredibly diverse hammock is one of their many great products. Affordable, durable, and practical, it checks all of the boxes.
Hammock and a Tent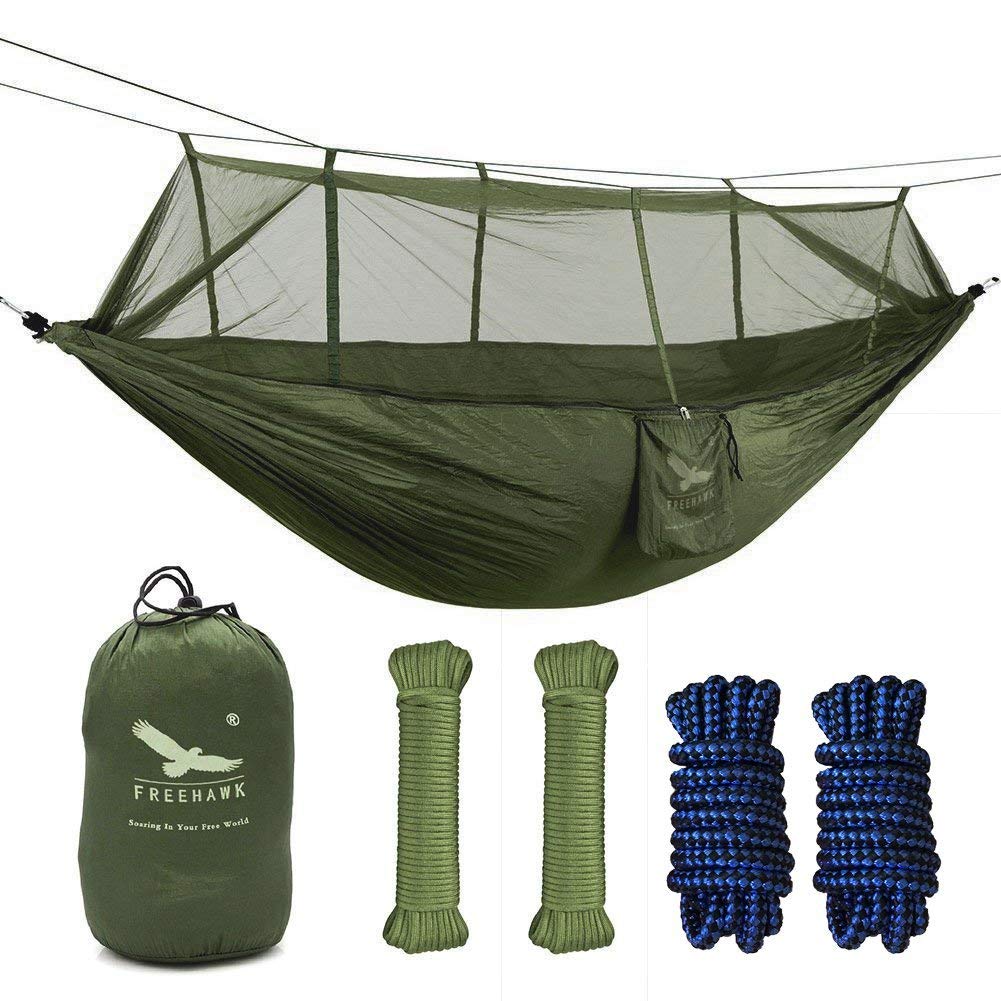 A double duty travel accessory, the Outfandia Camping Hammock also functions as a tent. This means you can cut down some of the weight in your backpack and only take what's necessary. Easy to set up and tear down, this lightweight item is a dream for any traveler seeking a little R&R among nature.
Set Up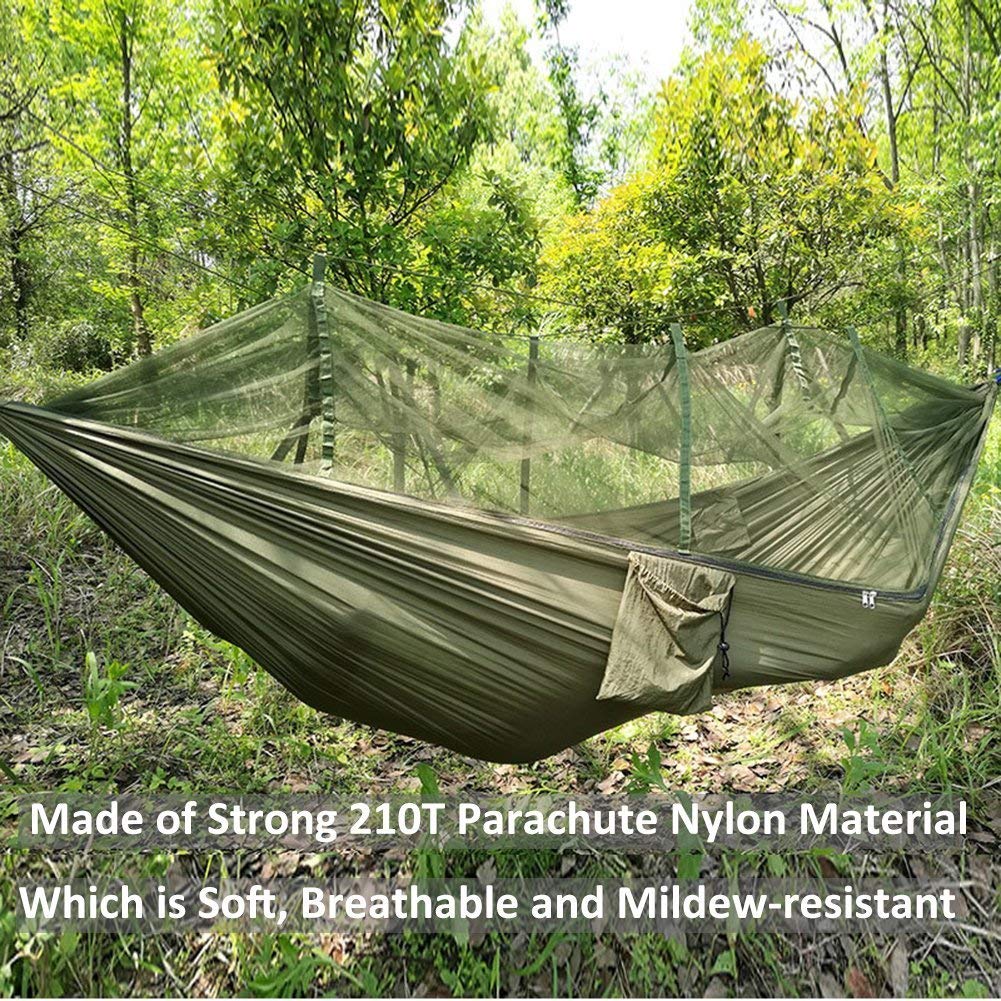 We love how easy the Outfandia Hammock is to set up. It comes with everything you need to stake out that perfect viewing spot. Ropes for hanging it, the net, hammock, and carabiners are all included in this purchase. You won't need tools for this installation. The featherweight body makes it simple to use for even the most inexperienced of campers.
Mosquito Net and Durability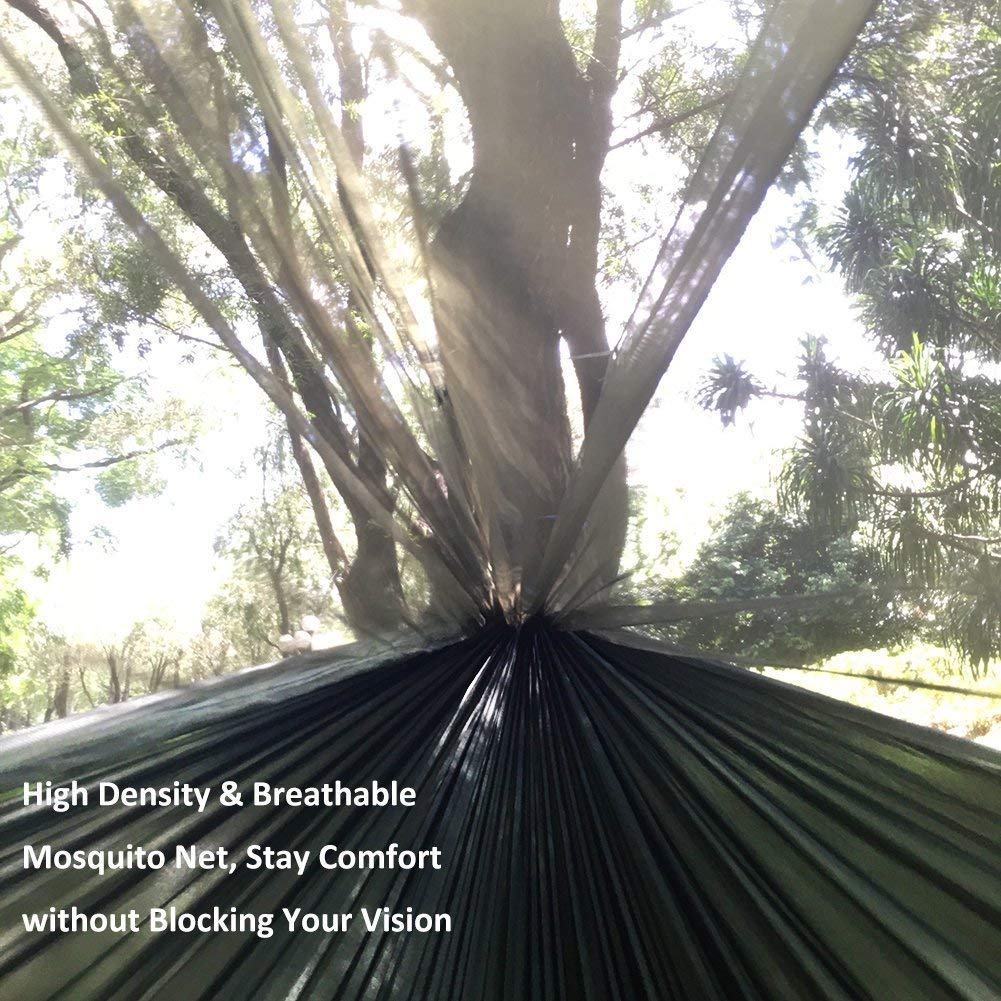 Don't spend extra money on a mosquito net. Thanks to the Outfandia Camping Hammock, you can sleep in peace. Their bug net is composed of a high density polyester, keeping bugs out of the tent and providing campers like yourself with a comfortable night's rest. In the event that you don't need the bug net, you can simply turn it upside down. You won't have to struggle with tearing or snagging the mosquito net – nope, not even with kids.
Despite its lightweight fabric, the Outfandia Camping Hammock has amazing endurance. As campers ourselves, we understand that space is often limited. So, Outfandia designed their hammock to fit inside a small pouch. While it folds out to a size of 94.5 x 47.2 inches, it packs down to an incredibly compact 10 x 6 inches, weighing 16.9 pounds. The 210T parachute nylon material is capable of holding up to 660 pounds. This is much stronger than your average two-person hammock.
Packable Pouch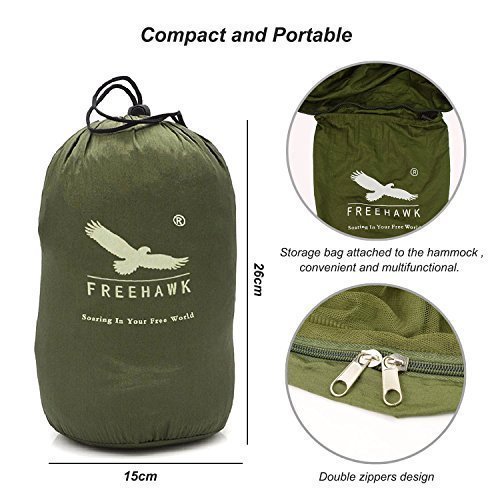 We love that the Outfandia Camping Hammock is compressible into a small sack. This packable pouch provides easy access on the go. It's incredibly convenient for travelers seeking to carry only a small backpack on their adventures. Whether you're going on a day trip, weekend adventure, or a longer excursion, this accessory makes the ultimate travel companion. After all, who doesn't want to post up shop somewhere beautiful? Spending an afternoon or night between two trees sounds pretty good to us.
Price Point
Take a look at the price point. You won't be able to believe your eyes. Where else can you find a top notch outdoor hammock for only $19.99? While it's hard to believe, you can get great quality products without breaking the bank.
What Travelers Are Saying About the Outfandia Camping Hammock with Mosquito Net
Travelers love the Outfandia Camping Hammock. With a 4.3 out of 5-star rating and nearly 200 customer reviews, this hammock speaks for itself. Most of the reviews noted that this item came just as they expected it to be. We think it is more than comfortable for a night under the stars. Make sure to test it out in your backyard before you take it out in the great outdoors. This will give you a good feel for how to set up the hammock and get it in a comfortable position where it won't sway too much.
Users also noted that the hammock is quite roomy. The mosquito net has also been noted as strong and durable. While the material of the hammock is thin and soft, it's not so thin that it tears easily. We love that the carrying bag is attached and is just as easy to set up as it is to put away.
Finally, travelers absolutely love the customer service that is provided when you purchase an Outfandia Hammock. If there is an issue with your Outfandia Camping Hammock, you can get in touch with a representative who will assist you in a timely and professional manner.
Tech Specs:
Dual use: It's a hammock and tree tent combined

Durable fabric and breathable stitching

No-hassle mosquito net

check

Size: 94.5 x 47.2 inches and 91 x 33.5 inches when it is hung up

check

Capacity: 660 pounds

check

Lightweight and Compact

check

Extremely easy set up

check

Easy to clean and dries quickly when wet

check

210T parachute nylon fabric

check

Comes with ropes for hanging, a packable bag, hammock, and carabiners

check

Tool free installation
An Alternative Tree Tent You May Love
If you're still wanting to shop around for a bit, we have a few favorite styles we think you will love too. Have you ever heard of a tree tent? Basically, they are camping tents you can set above the ground. In rainy conditions or if you just want more of a bird's eye view, these travel accessories are both fun and useful to have on hand. Take a look at some of the best styles on the market.
Lawson Hammock Blue Ridge Camping Hammock
If you're seeking a more heavy duty hammock for the great outdoors, might we suggest the Lawson Hammock Blue Ridge Camping Hammock? With a unique hybrid design, it's no wonder this travel accessory has been voted as the best hammock by leading publications. Like the Outfandia Camping Hammock, it offers a portable design for those adventurers who like to venture further off the grid.
What's the difference? Well, this style from Lawson Hammock has more structure for one thing. It's designed with a spreader bar and pole arch system keep the hammock flat and taut, eliminating that uncomfortable cocoon effect. It also comes with a rain fly in addition to the bug netting. There's no hassle in the set up or tear down. Thanks to the arch poles, you can use it any way you would like – for laying or lounging.
When it comes to the versatile sleep system, we can't praise Lawson's design enough. You can use the Blue Ridge Camping style as either a sleeping bag or hammock. So how do you set it up? First, put up the two arching poles for the mosquito net and rain fly. Next, you will find that at both ends of the tent, the arched poles can be lifted to form an elongated dome tent. You'll have enough room in here to sit up if you'd like or move around to get something out of your bag.
When you pitch the tent on the ground first, it comes together to create one of the best small tree tents. Lightweight and durable, it's easy to set up and is perfect for all types of camping. If you're looking for a good quality budget buy, you won't find a better option than this Lawson hammock.
What's all included? Let's take a look inside of the box. Here's what you will get: a rain fly, poles, storage, and ceiling o-rings. The waterproof ripstop fabric and full-coverage rainfly offer support and protection from the elements. We love that the no-see-um mosquito netting keeps all the annoying bugs out. This hammock and all of its contents are easy to pack and unpack from the stuff sack. When you're all set up and ready to hit wind down, feel free to use the two interior storage pocket or attached o-ring for a reading light. This little tent really does have all that you need and then some.
Tech Specs:
Polyester straps

Hybrid ground tent as well as a hammock

Great for all types of camping

check

Easily portable

check

Comfortable
Invest in the Outfandia Camping Hammock for Your Next Adventure
We hope you enjoyed reading our feature on the Outfandia Camping Hammock. As you can see, there are affordable hammock styles on the market that can meet your needs. Whether you're traveling solo, looking for something small and affordable, or a tent that can fit the whole family, you'll find it in our reviews. The Lawson Blue Ridge Camping style is a great buy if you're looking for a hammock that's a bit more rugged.
Related Article: 5 Best Tree Tents And Hammocks For Your Next Outdoor Adventure