Men's Rockport Elkhart Snow Boot Review
When it comes to winter shoes, you don't have to sacrifice style for warmth. Travelers, you know you need multipurpose shoes that can take you from the trail to the streets. Are you in need of a durable pair of shoes that tie your outfit together? Consider the Men's Rockport Elkhart Snow Boot. While there are plenty of styles out there on the market, we know we've found one of the best ones in this product.
The Men's Rockport Elkhart Snow Boot Features & Benefits
Winter is here but that doesn't mean your options for exploration are limited. Gear up to hit the streets (or the trail) with the Men's Rockport Elkhart Snow Boot. Each element of the shoe is crafted to support you. From the waterproof exterior to the cushioned EVA midsole and light shock absorption, these shoes are designed for max comfort. When you're facing the cold unfamiliarity of a new environment, we can't tell you how helpful that is. Let's dive in and take a closer look at the features of these shoes.
Design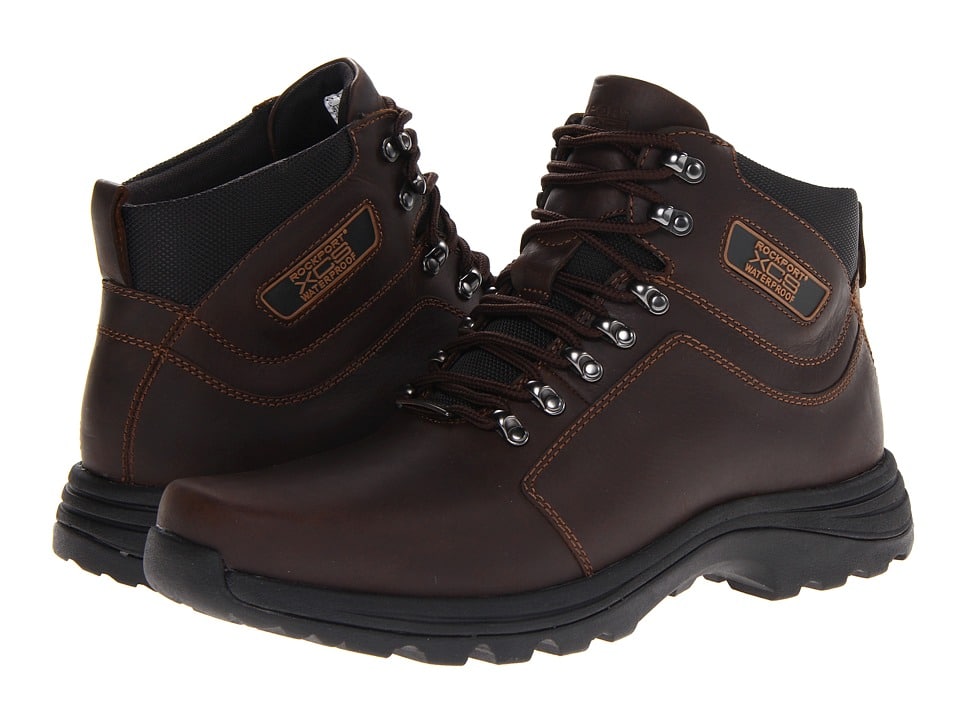 Credit: Amazon
Obviously, these shoes aren't made purely for fashion. While the exterior is made of a waterproof treated leather, they are still flexible. Each and every element has been designed to flex, providing you with a full range of motion. Enjoy the freedom to move with comfort. While they may look a little rugged, the Men's Rockport Elkhart Snow Boot is surprisingly lightweight. Every element is chosen for lightness all the while exceeding your expectations for function and durability. This shoe has everything that you could want.
Hydro-Shield Waterproof and Extended Sizing
Keep warmth in and water out. Seam sealing, waterproof materials, and a specially formulated water insole come together. The result is the Hydro-Shield Waterproof tech from Rockport. Even in rainy conditions, you can take to the streets knowing you will stay dry and comfortable throughout your travels. In addition, the Men's Rockport Elkhart Snow Boot comes in extended sizes and width. This customized approach guarantees that regardless of your size, you will find a great fit. These shoes are smarter by design.
Lacing System and Fit
Strong clasps and a well-made lacing system means you can enjoy a snug fit. Not only does this make the Men's Rockport Elkhart Snow Boot more comfortable to wear but it also protects your feet. Elements like rain and snow have a harder time getting into snugly-fitting shoes. Rest easy knowing you will be comfortable and warm during the winter season.
Top Features
Waterproof, shock absorbent, and cushioned, the Men's Rockport Elkhart Snow Boot is an all-around comfortable style. With the ability to keep you dry in all types of weather, you are ready to go exploring. Breathable mesh panels and traction rubber outsole also allow for flexibility and comfort every step of the way.
Tech Specs:
Leather

Rubber sole

Outdoor-style boot

check

EVA midsole provides lightweight shock absorption

check

Breathable mesh tongue and collar

check

Traction Rubber outsole
What Travelers Are Saying About the Men's Rockport Elkhart Snow Boot
With a rating of 4.4 out of 5 stars and nearly 700 reviews, the Men's Rockport Elkhart Snow Boot speaks for itself. Travelers who want stylish, sturdy shoes that offer traction in the snow opted for this pair. They fit well, keep your feet warm, and are quite comfortable. It's also worth noting that they are nicer looking than most snow boot styles. You could easily pair them with a pair of dark jeans for a dressy look and no one would know the difference between them and regular shoes.
While these shoes are not made for hiking in the snow for prolonged periods of time, they do offer a decent grip on slippery surfaces. Travelers noted that when they walked long distances during winter trips, these were their go-to shoes. Four upper shoelace loops allow you to slide the shoes on and off with ease. The closed loop on the tongue of the shoe helps to keep the laces in place and the tongue up.
Some users noted that they have had these shoes for over one year. They continue to be comfortable and have barely worn down over that period of time. One downside that people did mention is the leather easily scuffs. Oiling them regularly helps a lot. We all know that leather material is prone to strong creasing.
Finally, when it comes to sizing, the wide label shoes tend to run long and narrow. Unless you have a very wide foot, we recommend opting for the regular size. In the event that they do not fit, Amazon's exchange policy is easy to use.
Alternative Winter Boots for Men You May Like
Kamik Men's Nationplus Boot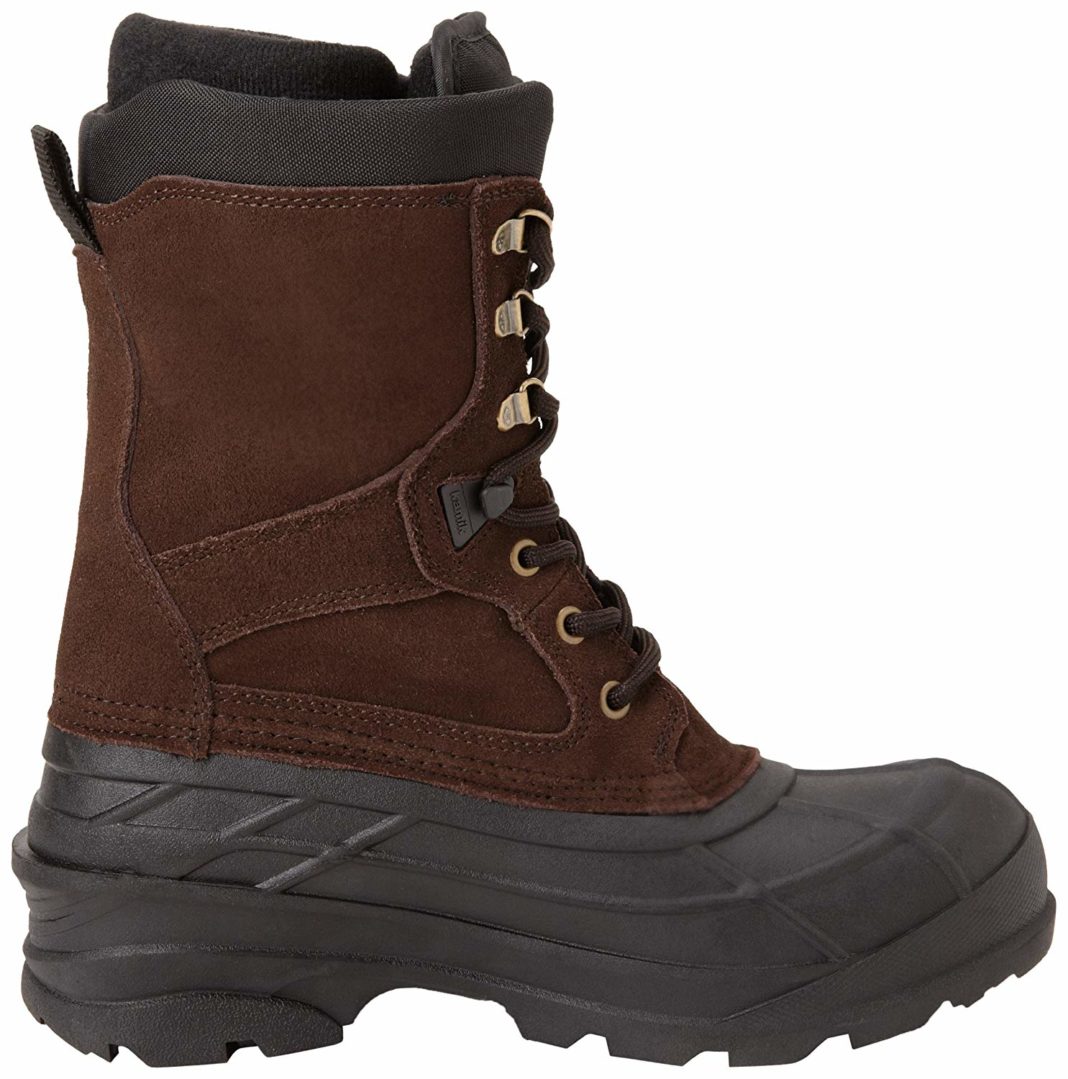 These are one of our favorite pairs of winter boots yet. Kamik makes it easy to want to get out and face the elements when you travel. Besides offering a great durable exterior and insulation, they have great traction. Despite the grittiness of their appearance, these shoes are still surprisingly lightweight to wear.
Thick rubber soles give your feet a good distance from the cold, wet ground. Furthermore, thick metallic lining increases the R-value, blocking heat transfer from your feet. The Kamik Men's Nationplus Boot is rated to -40 degrees Fahrenheit. You will be able survive harsh winters and offer wear resistance. While they are 100% leather, they are not completely waterproof. Getting a good waterproofing spray is one way to protect your goods from water. Simply spray it on the shoes a day in advance of your planned stay.
Tech Specs:
100% leather body

Thick rubber sole

Rated to -40 degrees Fahrenheit

check

Wear resistant

check

Great insulation properties (thick metallic lining increases R-value)

check

Shoe's platform measures 0.75 inches

check

Rustproof lacing
Columbia Men's Bugaboot Plus III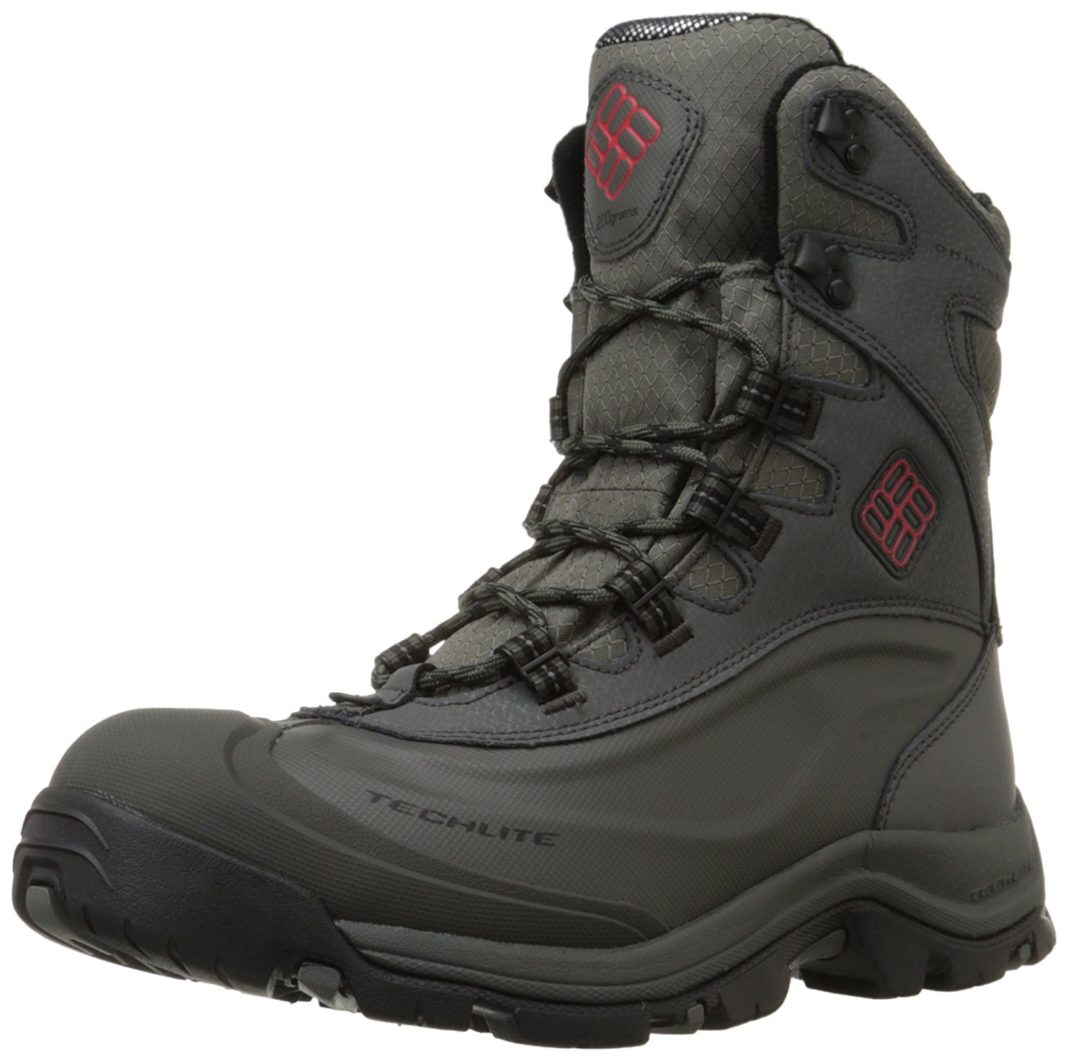 Kick it up a notch with the Columbia Men's Bugaboot Plus III. This heavy duty style is designed with 200g of insulation. Paired with reflective thermal layers, these shoes have been rated to withstand temperatures of -25 degrees Fahrenheit. Leather, nylon, strategic webbing, and hardware come together to form high-quality winter wear. As you know, Columbia is an industry leader when it comes to outdoor travel gear. The Bugaboot lives up to every expectation we hold of the brand.
Tech Specs:
Omni-grip rubber outsole

200g insulation

Reflective thermal layers

check

Rated to -25 degrees Fahrenheit

check

Nylon and leather

check

Tech lite shell

check

Shaft measures 7 inches from the arch of the foot
Kamik Men's Greenbay 4 Cold-Weather Boot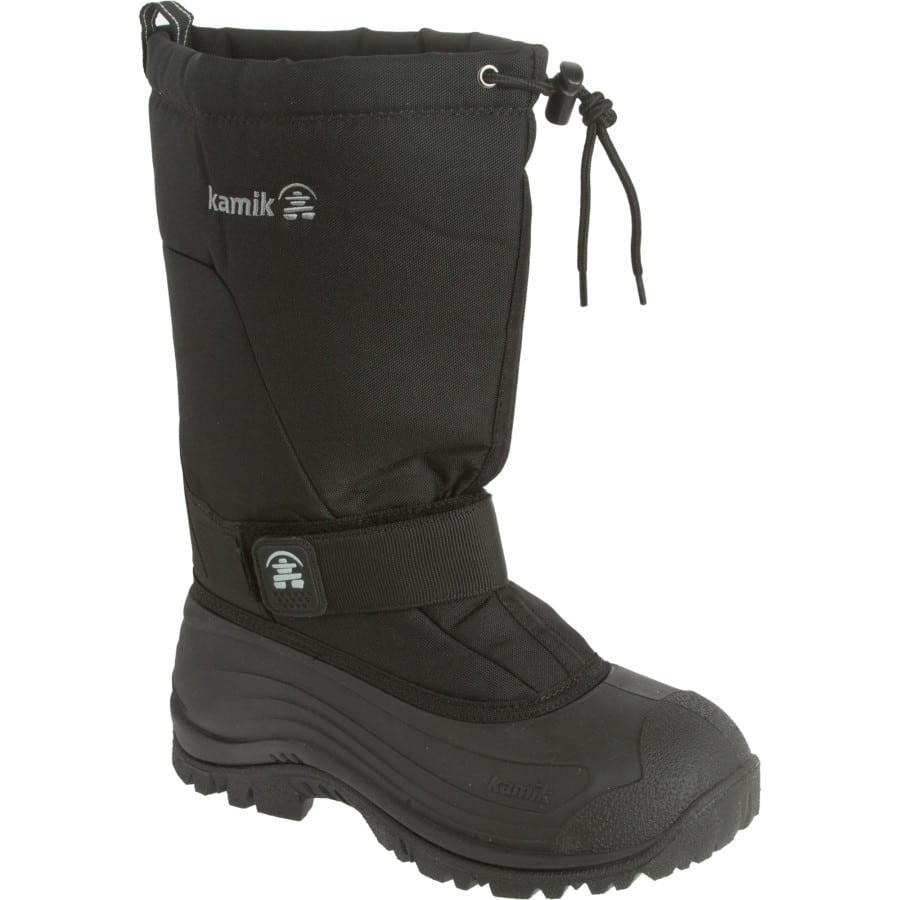 Prepare to face the harshest elements with the Men's Greenbay 4 Cold-Weather Boot from Kamik. Tried, tested and true, these boots can keep you warm even in the frozen tundra of the Arctic Circle. Completely waterproof, equipped with 6-denier nylon uppers, and an 8mm thermal guard liner, they can keep you warm down to -40 degree Fahrenheit.
Even in the coldest weather, the rubber outsole remains flexible and offers great traction. While the removable thermal guard liner keeps heat in, it still wicks moisture well. You will never have to worry about wearing uncomfortably moist shoes. A thick tread rubber outsole is great for slippery surfaces. Finally, the velcro closure straps keep the shoes fitting nice and snug.
Tech Specs:
600-denier nylon

Made in the USA

Rubber sole great for ice and other slippery surfaces

check

Cold-weather boot

check

8mm thermal-guard liner and hook-and-loop strap

check

Drawstring at top
Our Take on the Men's Rockport Elkhart Snow Boot
This is a shoe that will work above and beyond what you expect. All in all, the Men's Rockport Elkhart Snow Boot is a great choice for travelers who want comfort and ease of use. In terms of practical application, these shoes are great for day trips, city explorations in cold and wet weather, playing in the snow, and short winter hikes. We appreciate the quality that Rockport has been able to offer this style and at a solid price point.
Right out of the box, you will enjoy a great fit without having to break them in. If you looking to add a bit more durability to your shoes, consider swapping out the skinny stock laces for some kevlar ones. They are not only thicker but also easier to handle with cold fingers. For us, the big test was if we could drive a car well while wearing them. What was the result? Absolutely.
While they did a lot of walking, the shoes offered complete waterproof protection, warmth, and support for his feet. The EVA footbed does wonders for shock absorption and general arch support. For their price point, they are a great value. Pair them with some great hiking socks (preferably merino wool) and your feet will stay warm while you brave the cold. All in all, the Men's Rockport Elkhart Snow Boot is a great find for the winter season at an affordable price point (check out our picks for additional affordable men's and women's boot styles).
Related Article: 9 Best Winter Boots For Men: Stylish, Functional Finds