Are you looking for a classic, timeless accessory? The Treehut Redwood and Ebony Watch is just what you need.
For all the guys out there seeking a minimalist watch, you'll love the line from Treehut. Their Redwood and Ebony Watch is made from all wood with a strap quartz analog. It features push buttons, stainless steel, and a tri-fold clasp. We love that it is handcrafted using real wood. An absence of chemicals and paint means that it's not only eco-friendly but also safe for the skin to wear.
This watch is made for great performance. Equipped with high-quality Japanese Miyota watch movement, it offers an accurate and precise time. Since it's composed of Rosewood and Ebony, the watch's appearance is not only aesthetically pleasing but also highly durable.
A Little Bit About Treehut
Handmade in San Francisco – what an appeal. Tree Hut is a small team of 20 people dedicated to making handcrafted watches out of a studio. The team shares a love of one of a kind designs, so each watch is handcrafted from real wood. As sentimentalists, they also engrave inspiring messages on each watch to ensure a personalized experience. Their Tree Hut family has grown from a tiny basement home in SF to a full service team including manufacturing and service, customer service, and creative and marketing.
Their watch making process starts with a desire to make you smile. First, they individually check the quality of each piece of natural wood prior to cutting. The watch is then hand assembled with great precision and skill before engraving your custom message. The watch is polished and, with white gloves, placed into a Tree Hut watch case before shipping.
It's hard to believe all steps from manufacturing to shipping are done in a tiny San Francisco studio! From the adventurous soul to the everyday commuter, these handmade designs are completely versatile with a dash of personality.
Men's Treehut Redwood and Ebony Wooden Watch Features & Benefits
Design
Credit: Amazon
With this watch's wooden concept, it will fit any men's outfit. This watch's simple and classic design is suitable to man's taste, whether he is fashionable or meek. Rather than painted, its finish is a polished wood grain. No worries about the battery because it can last up until 5 years. The bands can fit up to 8.5 inches and can be easily adjusted for when you want that perfect fit. Give yourself a great timepiece that is ideal for any occasion. Treehut's Rosewood and Ebony Wooden Watch for men keeps you ahead of the times!
Special Features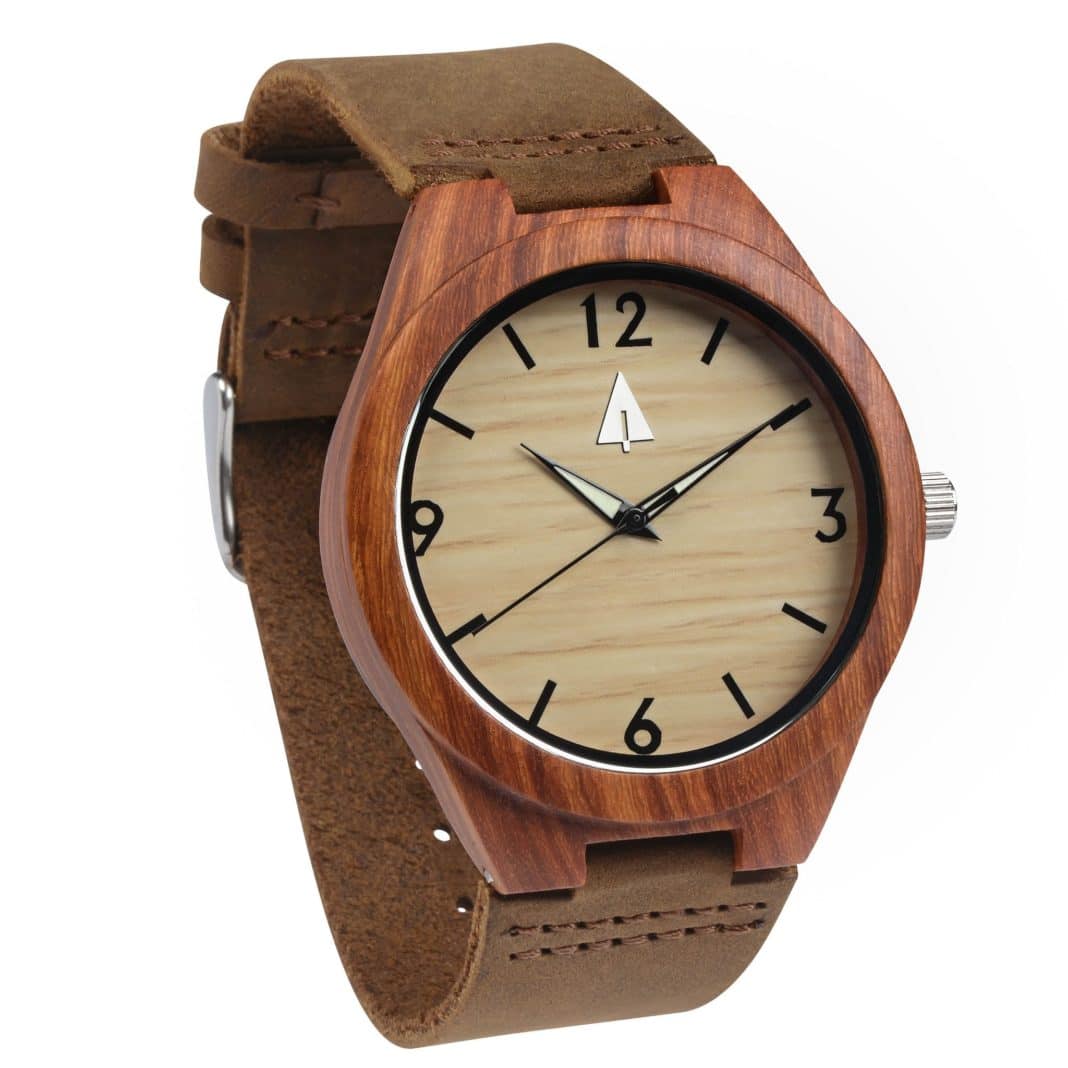 Credit: Amazon
Each watch has its own unique and beautiful wood grain, It's ready and waiting to be gifted with the box included. Miyota movement ensures a battery life up to five years. Durability and style come together with unpainted polished wood grain finish and whole wood bands with a high quality stainless steel buckle, The bands fit up to 8 1/2 inches (wooden links with screwed pins can be adjusted when taken to jewelers.)
Durable All Wood Construction
Credit: Amazon
Made from all wood, the Treehut Redwood and Ebony watch is durable. Take it anywhere with you. You don't have to worry about scrapes or knicks. Any marks on a wooden watch only add to the character of the piece. Crafted with real bamboo, it has a unique lightweight feel and has no paints or chemicals included. As a handcrafted item, each watch is one of a kind, making it truly special to wear.
Japanese Quartz Movement
Credit: Amazon
Always keep perfect time with Japanese quartz movement from Miyota. The time movement of this watch is precise and dependable. It's great for men on the go who like to stay ahead of their schedules.
What Travelers Are Saying About the Men's Treehut Redwood and Ebony Wooden Watch
Travelers absolutely love the men's Treehut redwood and ebony watch. All the reviews say the same thing in other words. Despite prolonged wear, the watch does not get knicks, scratches, or wood deterioration. The quality is truly impressive. Despite the lightweight construction, the durability is excellent.
If you've been looking for a wooden watch for a while you will fall in love with this style. Users rave that it looks even better in person than in the photos. The craftsmanship is excellent and we love that the company does personal engravings. What a thoughtful idea for a gift! Just be prepared. Everyone will be asking you where you got it.
Tech Specs:
100% Wood: This analog watch is totally Earth-friendly. It is created with real, bamboo wood and has no paint and chemicals included. It is crafted by bare hands of workers, making it extra special to wear.

Classic Design: Men will definitely appreciate the simple and clean look of this watch. Thanks to a polished wood grain finish, the entire watch is smooth to the touch and comfortable to wear. With its trendy design, it can be worn with formal or casual outfits. It's a timepiece great for all occasions!

Japanese Quartz Movement: Always keep perfect time! The Miyota time movement of this watch from is precise and dependable. It's great watch for men who always want to be ahead of their schedules.

check

High Quality: Only the finest materials are used for this watch, making it durable and great for longer use. This watch also has a 2-year manufacturer's warranty with every purchase. The tri-fold clasp of this watch is made from stainless steel and is also made with push buttons for hassle-free time adjustments.

check

Gift Ready: If you want to get a timepiece with excellent wrapping ready for gift-giving, Treehut has got you covered! It comes with a padded gift box when purchased. It's the perfect present for your boyfriend or male friend who considers timepieces to be an everyday essential.
Alternative Travel-Worthy Watches You May Like
Haven't seen enough watches yet? We can't blame you. Here are some of our other picks for travel-worthy watches.
Apple Watch Series 3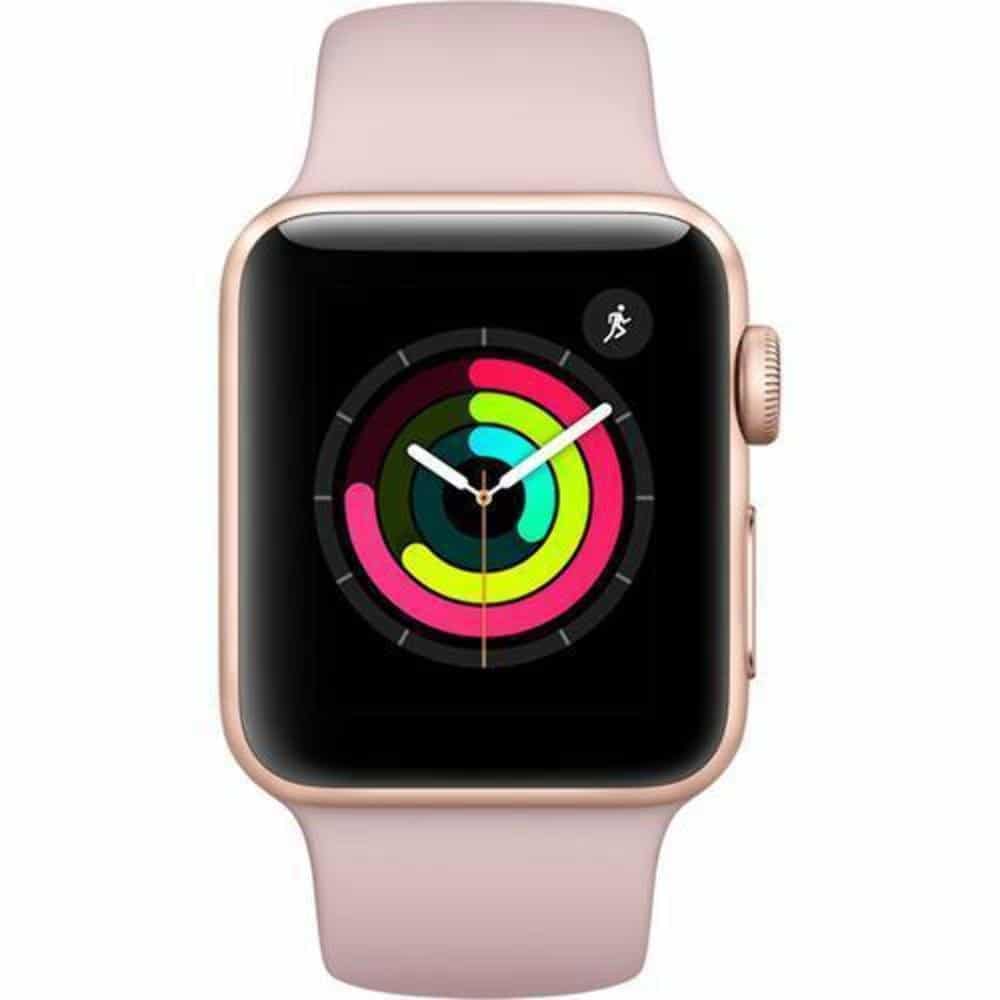 Don't miss out on the things that matter. If you're looking for sleek and stylish sophistication, the Apple Watch Series 3 has it all. Not only will it help you stay organized on the go but it's a great travel companion. A powerful dual-core processor launches all of your apps twice as fast as before. When you store your favorite apps in the main dock, they will automatically update when needed.
Did you know that the Apple Watch Series 3 is known on the market as the ultimate sports watch? With high-speed cellular connectivity, the Apple Watch allows you to forget your phone while you hit the gym. Still, you'll never miss a text or call. You can receive all these notifications conveniently from your wrist. For motivation, download and listen to a customizable workout playlist.
But that's not all. The watch has a built-in personal assistant option. Tell Siri to text your boss back. While you're bored on the plane, stream up to 45 million songs from Apple Music. Make a playlist while you're on a jog. Make calls and send texts with just a few clicks of a button.
Return your missed calls. Get directions to that new dinner place downtown you and your friend have been wanting to try. With the Apple Watch Series 3, you can access all the important information you need whenever you need it. No hassle, no phone needed. You can leave your phone wherever – and still stay connected. That's right. Send texts, call your friend, share your location, of Facetime your significant other all from the watch on your wrist.
Last but certainly not least, fitness options abound. If you're wondering how to stay fit on the go, here's a great option. Track your steps throughout the day. The Apple Watch Series 3 tracks all of your daily movement – from biking to work to hitting the gym. So sit less, move more, and find a way to fit some exercise into your daily schedule. When you need a nudge, the watch is your gym buddy.
Just like a personal trainer would, it gives you all the motivation you need. Wake up to personalized progress charts and suggestions in the evening for how to complete your progress rings. Each month, you'll receive new challenges based off your prior performance and workout history.
Tech Specs:
Gold Aluminum Chassis with Ion-X Glass, Pink Sand Sport Band, 8GB of Storage

1.3 Inch (340 x 272) Display, Changeable Faces with Widgets

Displays Notifications and Runs Apps, Accelerometer and gyroscope, Heart rate sensor

check

Water-Resistant to 164 feet (50 meters), Heart Rate Monitor, Built-In GPS, Barometric Altimeter

check

Up to 18 hours of battery life, Apple Watch Series 3 38mm (GPS) requires an iPhone 5s or later with iOS 11 or later; Bluetooth 4.2, 802.11b/g/n Wi-Fi, Apple watchOS 4.0
Ticwatch S Smartwatch-Knight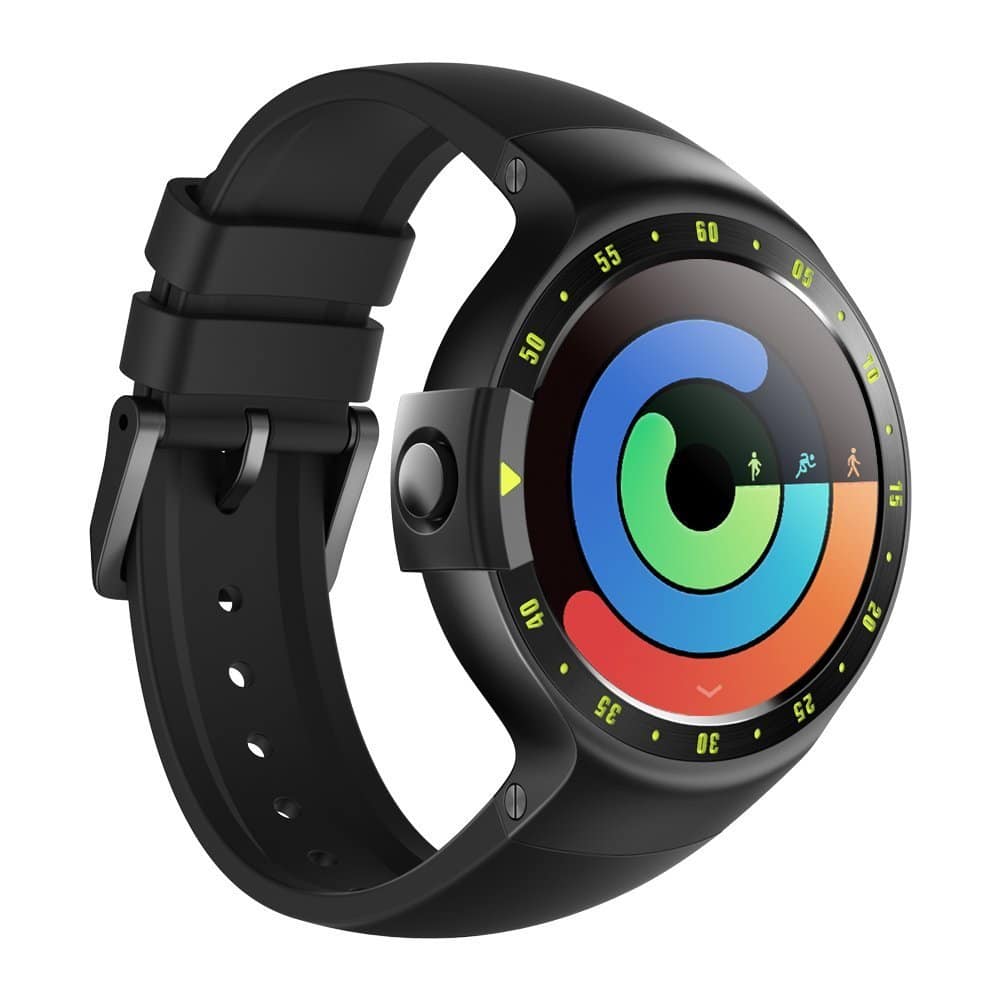 Now this is the watch to bring on the go. Water resistant, durable, and equipped with smart tech, it's ready to handle whatever you throw at it. It also provides you with an easy way to stay fit on the go. With Google Play, you can download top-rated fitness Wear OS apps like Google Fit. All you need for your fitness goals is at your fingertips.
Did we mention that it's also IP67 water and dust resistant? Never worry about sweating it out.. This makes it the perfect workout companion. The TicWatch S also provides independent navigation while running and cycling. Accurately track your performance with stats like steps, speed, distance, calories burned and much more. You can also accurately track your heart rate in real-time with the built-in PPG sensor. Get training mentor with six heart-rate intervals data. Map out your jog with Glonass and GPS sensor.
Stay motivated with music from your wrist. Unplug and run. With Google Play Music on TicWatch S, enjoy music without your phone. Perfect for those on a run. Be notified of incoming calls, messages, emails and news with just a glance. For Android users, the TicWatch S enables you to receive calls, make calls and reply to messages right from your wrist. Last but certainly not least, you can also personalize your display options with a variety of customized watch faces available on the Google Play Store.
Tech Specs:
Androidwear 2.0. Make the most of every minute.Get your favorite apps and watch faces.Request a car ride. Perfect your golf swing. Explore a new neighborhood. With thousands of Android Wear apps, there's no limit to what you can do with your watch.

Stay connected with a glance.Personalize your watch face to show your next appointment, your fitness stats, or your contacts. Android cell phone could check calls and respond to messages, right from your watch.

Android Wear requires a phone running Android 4.3+ or iOS 9+. Supported features may vary between platforms. Android Wear for iOS is available for iPhone 5 and later.

check

30-Day Money-Back Guarantee for Any Reason, 12-Month Warranty for Quality-Related Issues

check

Follow your fitness. Track workouts data from Google Fit and your favorite apps. Get fitness coaching, measure heart rate and stream music right from your wrist. Androidwear watches with cellular connectivity let you use apps even when leaving phone behind.
Invest in a High Quality Watch for Your Travel Needs – aka the Treehut Redwood and Ebony Wooden Watch
We hope you enjoyed reading our feature on the Treehut Redwood and Ebony watch along with some of our other favorite brands and styles. Treehut offers quality you can count on. All the quality and care put into it cannot be overlooked. From handcrafted touches to chemical free wear and personalized engravings, we can't get enough of this menswear style.
Questions and Comments
Do you have any questions or comments for us? If so, we would love to hear them. Feel free to leave a message for us below. We will be sure to get back with you soon.
Related Article: The Best Watches For Fashion-Minded Travelers