Are you looking for some durable women's winter apparel? Check out the Kamik Snovalley Boot.
Whether you're trekking through the mountains or going for a hike in the elements, these boots have you covered. With a classic style and suede overlays, fashion and durability come together in the very best of ways. Inside, the boots are equipped with a thermal insulation layer, so you can keep the warmth in and the cold air out. The best part of it all is they are incredibly lightweight, at only one pound.
About the Brand
If you love exploring the great outdoors, chances are you've already heard of Kamik. This dynamic brand is steeped in 120 years of tradition. Needless to say, they have developed a reputation as an industry leader in their craft. Since 1898, they have been family owned and operated.
Each new pair of Kamik shoes comes from four generations of proven quality. And every day, these folks push themselves to further their craft, developing a product that travelers can wear with confidence. From their manufacturing process right down to the finished product, sustainability is the focus.
This brand comes from a place of extremes. When the harshest conditions meet nature's most beautiful sights, durable footwear is necessary. The Kamik Snovalley Boot are strong and simply dependable. The result of their effort is a dedication to superior comfort that transcends most other brands on the market. We know you wouldn't want it any other way.
Women's Kamik Snovalley Boot Features & Benefits
Cozy and Waterproof Materials
Credit: Amazon
Warm and waterproof, these winter boots are designed to hold up to extreme temperatures, dipping down to -40 Fahrenheit. You want boots that will be able to keep up with you and the Kamik Snovalley Boot is made to do just that. With nylon fabric, synthetic uppers, and a canvas webbing overlay, the boots are well structured and supportive.
With these features, it's no wonder they are perfect for playing in the snow, embarking on an icy hike, or simply going a bit off the grid. The lace closure is sealed well enough to keep out any of the snow or sleet that may come your way. All of these materials add up to just one pound in weight. So, you won't feel heavy or weighed down by the materials that make up the  Kamik Snovalley Boot. It's a high quality design that will last you for years to come.
Fun, Stylish Design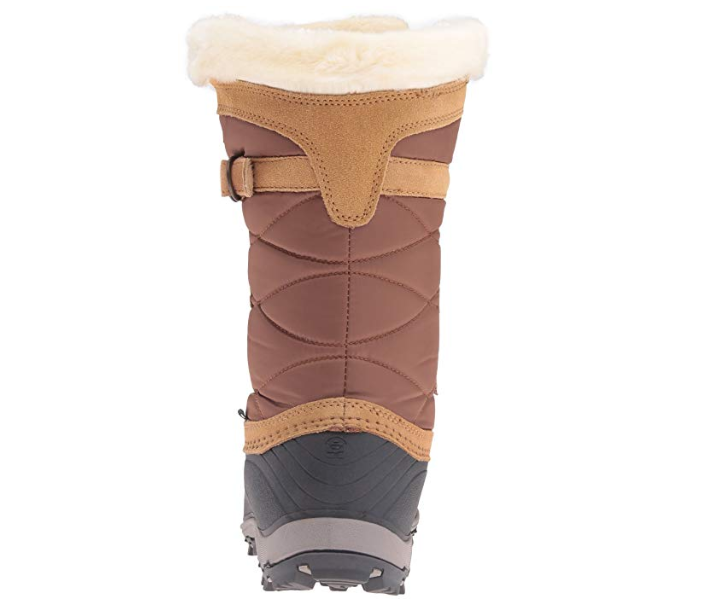 Credit: Amazon
The  Kamik Snovalley Boot is a spectacular blend of both fashion and function. The simple design offers a youthful look while still sticking with a classic minimalist style. They are perfect for you to enjoy your next winter getaway. The next time you hit up the slopes for snowboarding and skiing, take these shoes. They provide a fun take on an otherwise boring accessory – the winter boots.
Great Treads and Comfortable Footbed
Kamik Snovalley Boot takes their outdoor gear very seriously. With this said, they design every aspect of their winter boots. While this means you won't have vibram lugs, the treads on the shoes are just as great. Crafted from a molded rubber, you can rest easy knowing that the shoes will work well on any type of terrain. In addition, the molded footbed offers all of the comfort you could possibly want in a pair of winter boots. The heel cup and arch provide plenty of support while you are on your feet throughout the day. Kamik has created these winter boots to keep your feet warm, safe, and you – happy.
Durability
Let's be honest, women's travel apparel can be costly. With this in mind, you're going to want a pair of shoes that will keep you comfortable on your travels and last for a long time. Now that we've checked off the comfort box, let's move on to check out the durability of the Kamik Snovalley Boot.
Months of wear and tear on these shoes won't make them fall apart. As a high-quality item, travelers can rest assured that the Kamik Snovalley Boot is equipped to hold up for the ultimate city exploration. While these are by no means outdoor adventure shoes, they will definitely do the job when you're pounding the pavement (or cobblestone).
The shoe's nylon material features a durable exterior, so they can withstand some scratches along the way. The insulation and removable insole helps to keep your feet warm, supported, and aid in shock absorption. The water resistant fabric means you can take them out without worrying about a little rain or snow. When you wear the Kamik Snovalley Boot  you can count on durability.
Tech Specs:
Synthetic fabric – nylon

Imported

Faux fur lining

check

Synthetic sole

check

Waterproof

check

Gusseted tongue
What Travelers Are Saying About the Kamik Snovalley Boot
The reviews speak for themselves. Travelers absolutely love the Kamik Snovalley Boot.  That's why they've earned a bold 4.5 out of 5 stars from all their Amazon customers. Some of the favorite qualities of these boots are the warmth, waterproofing, and fit. In the reviews, the boots have kept users warm and dry even in the craziness of New York winters. Even after seasons of continued use, they have held up well and retained their waterproof and insulation factors.
With the laces and webbing, these shoes are also easy to slip on and off. However, the drawstring means you still have control over the tightness of your shoes. This brings a bit of extra warmth too. We can't find any downsides to the Kamik Snovalley Boot. Even the color options are vast. Seriously – you have have sixteen different colors to choose from. Yes, you read that correctly. So, there is something suited to the taste of even the choosiest of travelers. 
We also appreciate that they run true to size. If you are looking to wear them with thick socks, go a size up. This will depend on the build of your foot to be sure. But they can also be easily adjusted with the webbing too. Overall, these are fantastic winter boots.
Alternative Women's Winter Boots You May Like
UGG Adirondack II Winter Boot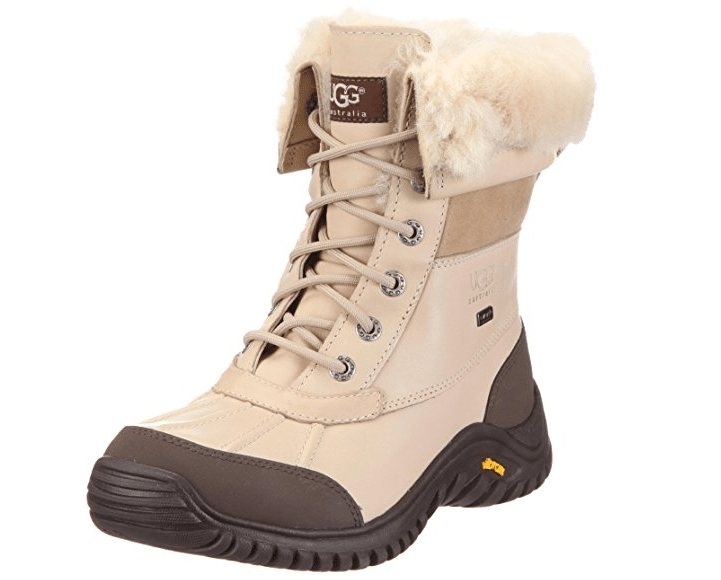 We swear these little boots can do it all. In the event that you are seeking boots with a little more girth, well, here you are. The Adirondack II style looks good, feels good, and checks all of the boxes. As if that wasn't enough, UGG added in a comfort insole with micro-pod tech. What does this mean?
The top layer of the insole is breathable, moisture wicking, and antimicrobial. At the bottom layer, cushion and support come into play. This thinsulate tech uses synthetic compression fiber and insulation properties to keep you warm and comfy. A waterproof membrane prevents sweat and moisture from seeping through. Last but certainly not least, the outsole features lug pattern treads for the ultimate grip in icy conditions. Having the right kind of boots is critical for hiking safety.
Tech Specs:
Leather, suede, and synthetic materials

Rubber sole

Fully waterproof

check

Seam sealed boots

check

Cold weather rated to -20 Celcius 

check

UGGpure wool lining
KEEN Women's Elsa Waterproof Winter Boot
One of our favorite alternative styles to the Kamik Snovalley Boot. They are both made of synthetic materials and come in a myriad of color options. In addition, they are both waterproof and seam-sealed. So, no snow, ice, or moisture can seep in. Your feet will stay warm even in weather down to -4 degrees Fahrenheit. Last but not least, they are lined with a sherpa color for warmth, style, and breathability, as well as a heat-reflecting Strobel. All in all, the KEEN Elsa Winter Boot is a great choice for the cold weather adventurer, as they can go from a hike to happy hour without missing a beat.
Tech Specs:
Waterproof

Seam-sealed

Insulated to -4 Fahrenheit
SOREL Glacy Explorer Cold Weather Boot
When in doubt, buy a pair of SORELs. The Glacy Explorer style has brought together a rare combination of fashion and function in a durable style. These shoes are sleek, stylish, and minimal. A thick waterproof suede exterior will keep your feet warm and dry.
SOREL has even added a faux fur trim and fleece lining for maximum warmth retention. The lace up design with an elastic drawstring provides a secure fit while the outsoles provide traction on the snow or ice. You can use these shoes pretty much anywhere you would like to travel in the winter. Regardless of which activities you choose, you'll have fun, stay warm, and look good while doing it too.
Tech Specs:
Leather fabric

Waterproof

Rubber sole

check

Durable construction

check

Great treads

check

Snug design with lace-up fit
Invest in a Great Pair of Winter Boots for Your Next Adventure (aka the Kamik Snovalley Boot)
We hope you enjoyed reading our article on the Kamik Snovalley Boot and alternative styles. As you can see, there are so many high-quality brands on the market to choose between. The type of boots you need as a traveler depends on where you want to go and what activities you are pursuing on your getaway.
The brands and boot styles we included all offer style and function. When a sleek minimal looks meet practical design and waterproof elements, you've got a durable design you can take just about anywhere.
Related Article: Best Winter Boots For Women: 6 Cold-Weather Styles To Keep You Warm