Take your favorite hot or cold beverage with you in the Thermos Stainless King 16-oz Tumbler.
If you're anything like us, you drink coffee and lots of it. When you're constantly on the go, whether for work or for travel, having a travel mug you can count on is essential. Enter the Thermos Stainless King. This ultra durable travel mug handles both hot and cold beverages with a 16 ounce capacity. It offers a durable stainless steel interior and exterior, leak-proof drinklock sealing lid, and stays cool to the touch with hot liquid. This is a combo that you just can't beat.
Thermos Stainless King 16 oz Stainless Steel Travel Mug Features & Benefits
Thermos brand products deliver what matters every time. As the leading manufacturer of convenient insulated products for over 110 years, Thermos is trusted by consumers to provide innovative portable containers that promote a safe and healthy lifestyle. They deliver when it matters most.
Vacuum Insulation Technology
Credit: Amazon
This 16-oz Thermos(R) mug features double wall insulation for maximum temperature retention, hot or cold. The unbreakable stainless steel mug is cool to the touch with hot liquids and sweatproof with cold. It fits most automobile cup holders, making it perfect for travel. With traditional containers, heat or cold finds its way inside through the process of convection. Thermos vacuum insulation creates an airless space between two walls, virtually eliminating the convection process and temperature change. Your drink will stay icy cold or steamy hot no matter what the forecast.
Stainless Steel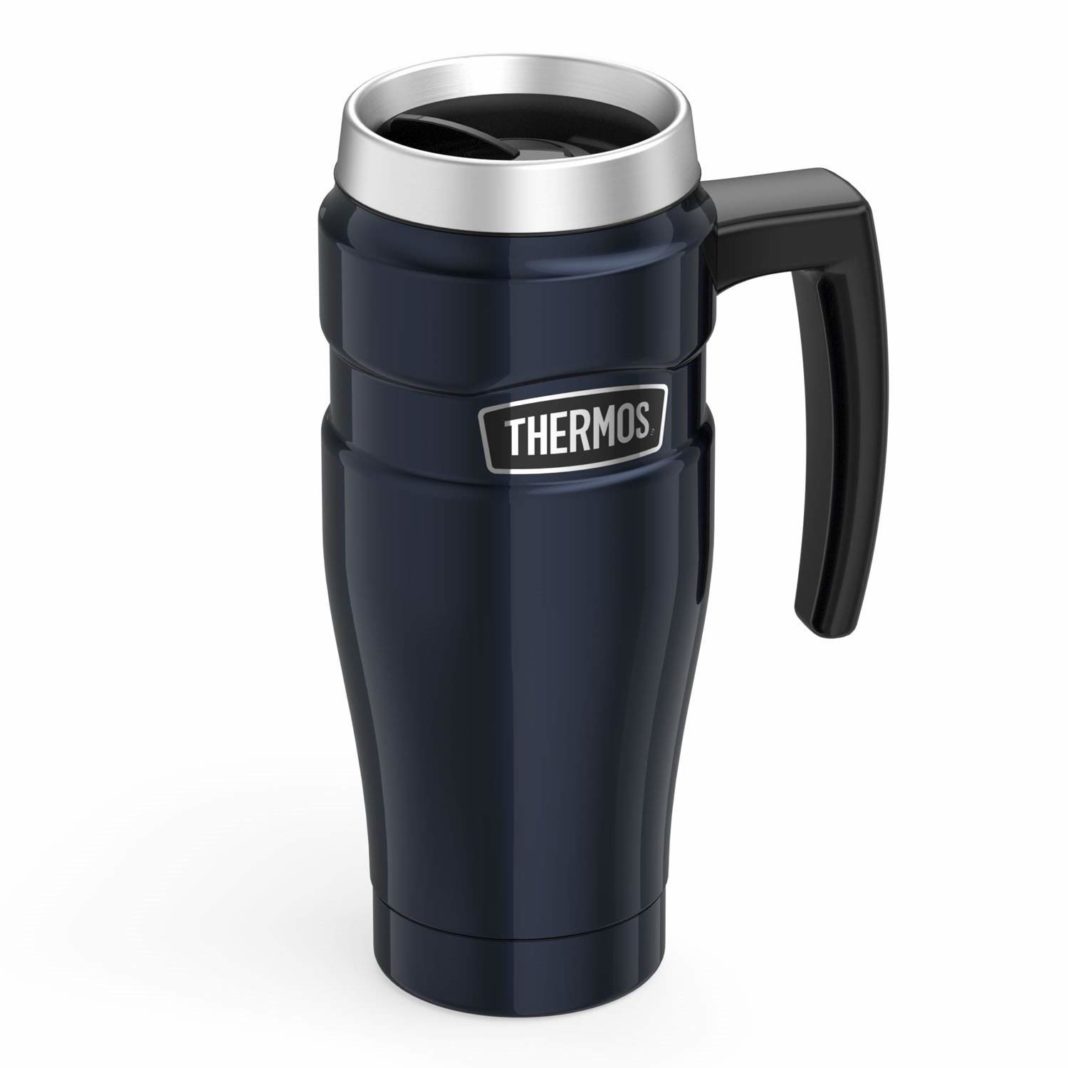 Credit: Amazon
When it comes to what makes a great tumbler, just keep your eyes out for stainless steel. Function-wise, it's the best material for the job. It's clean, smooth, doesn't trap weird tastes, won't stain, and is aesthetically pleasing. As far as we are concerned, it's an all-around great product. In case you didn't know, stainless steel is also very easy to clean. Just use warm water and some dish soap.
Leakproof Drinklock Sealing Lid
Credit: Amazon
Here's something to ease your mind. While it's easy to spill out of a regular mug, the Thermos Stainless King offers a 100% leakproof drinklock sealing lid. Simply switch the lever on the top one way or another. Not only does this thermos retain heat and cold, but it also reduces spillage. And it'll save you the trouble of getting a new laptop in case you're the kind of person prone to accidents. You can literally shake this tumbler around or even hold it upside down. It's not going to leak.
In addition, you're probably aware that plastic disposable coffee cups contribute to pollution. If you want to be eco-friendly when you drink, opt for reusable water bottles and reusable travel mugs. We've all created islands of garbage in the ocean and we could stand to take more action when it comes to carrying out environmentally responsible practices.
Great for People On the Go
Travel tumblers like the Thermos Stainless King seem quite simple. And it is. That's the beauty of it. It's not only good at what it does – it's leagues better than the rest. If you're a get up and go type of person, this travel tumbler is great. For all of the aforementioned reasons, it keeps hot things hot and cold things cold, has a seal to prevent leakage, is made of stainless steel, and is highly durable.
These are all great reasons why you can just toss the Thermos Stainless King in your bag and go. Whether you're traveling across town, going on a road trip, or traveling across the world, you should take this thermos with you. It's simple, versatile, and perfect.
Tech Specs:
Ultra-durable travel mug with handle for hot and cold beverages; 16-ounce capacity

Durable stainless steel interior and exterior

Leak-proof Drinklock sealing lid

check

Stays cool to the touch with hot liquids and is condensation-free with cold

check

Hand wash only
What Travelers Are Saying About the Thermos Stainless King 16 oz Stainless Steel Travel Mug
Overall, travelers seem to really love the Thermos Stainless King. Reviews praised the insulation properties, noting that the double-wall insulation kept their coffee hot for hours on end. One trick that really seemed to work was boiling the mug for 5-10 minutes before putting your coffee in. This will keep it hot even longer; we're talking for up to eight hours.
In addition, it's leakproof. We can't stress how important that is. Add milk and sugar or creamer in your coffee. Then, you can just close it and shake it instead of stirring. Amazingly, users haven't had a single spill doing this. The cover to the mug also comes in 5 pieces that are easy to disassemble and reassemble. If you've ever had a mug where funky smells got trapped in the lid before, we're sure you will appreciate this ergonomic design. This mug lets you clean the lid thoroughly.
Alternative Travel Mugs You May Like
Do you want to look around a little longer? No worries. We've got you covered. Here are some picks for travel mugs. We're pretty sure you will love them just as much as we do.
Contigo Autoseal Transit Stainless Steel Travel Mug 16 oz
I hate spills as much as the next person. Whether it's a coffee stain on your favorite sweater or a sticky mess all over your car's interior, you don't need the hassle. That's where one of the best travel mugs from Contigo comes in handy. Thanks to their autoseal technology, you can enjoy a spill and leak-proof design that eliminates the possibility of spilling anywhere.
This autoseal stainless steel travel mug is the ultimate travel companion. The Transit mug has all of the features you know and love – and more. So what makes it so great? Besides being spill-proof, drinks stay hot for up to 7 hours and cold for up to 12. Thanks to the clean guard lid, it's easier to wash than ever and the spout keeps gross germs and dirt out.
Tech Specs:
Sealed Lids – No leaks, no spills, no accidents with Autoseal lids

For the Long Haul – Drinks stay hot up to 7 hours and cold up to 12 hours with Thermalock Vacuum Insulation

Lend a Hand – Easy one-handed drinking with the push of a button

check

Cleaner Drinking – Newly engineered Clean Guard lid protects the spout to keep out gross dirt and germs

check

Squeaky Clean – Easy clean lid completely opens for an extra squeaky clean with no separate parts to take apart or misplace

check

Lock it Up – Clean Guard lid also rotates to lock the Autoseal button lock for added peace of mind
Contigo Snapseal Byron Stainless Steel Travel Mug, 16 oz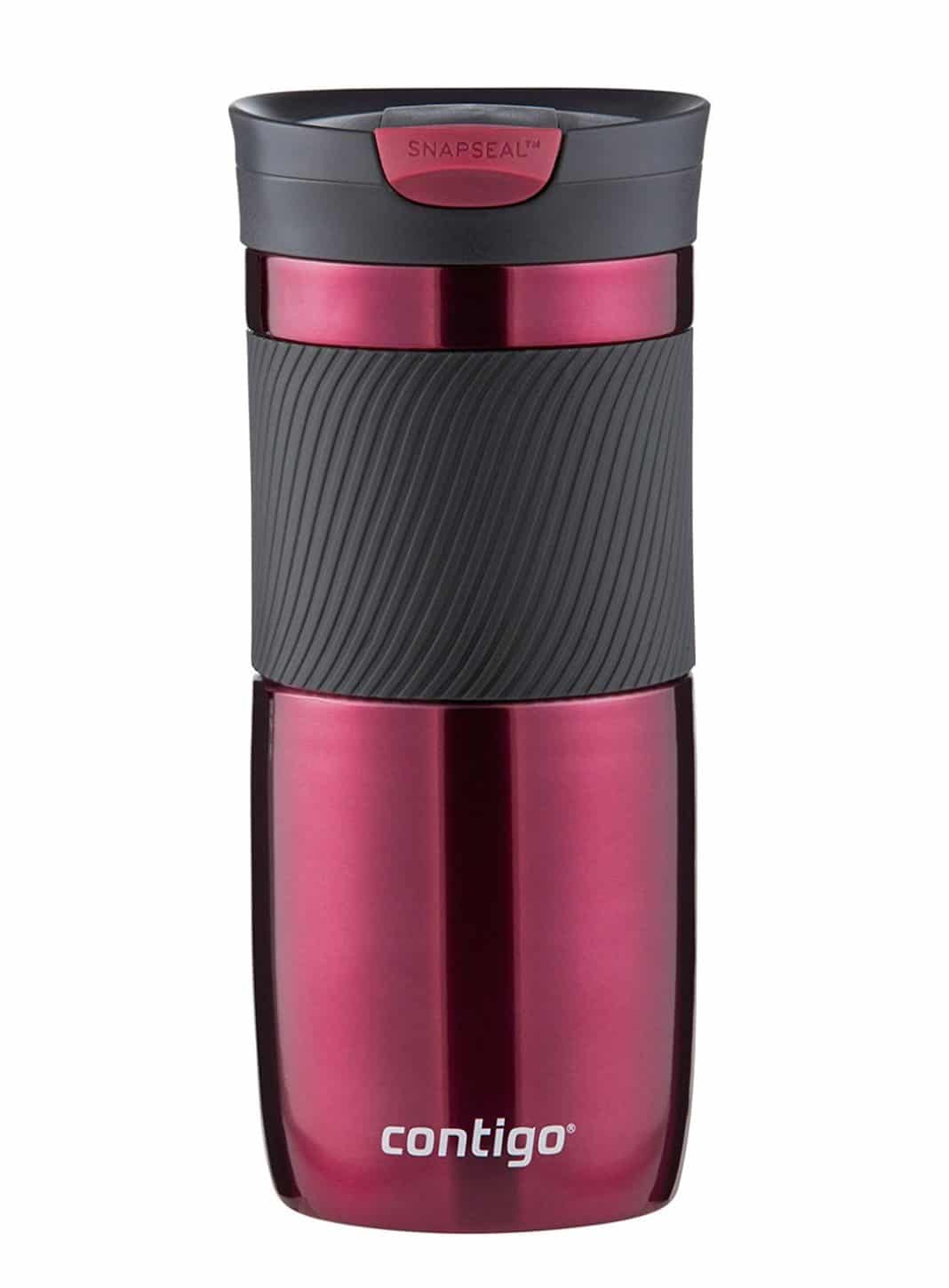 Can you tell I love the Contigo brand yet? Take your coffee on the go in this lovely snapseal style mug. This large capacity mug does the work so you don't have to. Just snap the mug's lid open and closed and then it's sealed shut. Goodbye spills, I won't miss you.
If you're a slow coffee drinker, you can enjoy your hot cup of joe 7 hours after you've poured it. I also love that its top-rack dishwasher safe and BPA free. Last but certainly not least, you have a lifetime guarantee when you buy from this brand. Material issues, workmanship issues, defects, and replacements are all available if something goes wrong. Now, this is a deal I can get behind.
Tech Specs:
Do not use cleaners containing Chlorine, bleaches, abrasives and/or other harsh chemicals

SnapSeal lid features a 1-piece leak-proof lid

Easy, one-handed use

check

Double-wall vacuum-insulated stainless steel keeps beverages hot for 6 hours or cold for 12 hours; 100% BPA Free

check

Fits most single-serve brewers and car cup holders

check

Top-rack dishwasher safe lid

check

Lifetime Warranty
Ello Cole Vacuum-Insulated Stainless Steel Travel Mug
This vacuum-insulated stainless steel travel mug by Ello is perfect for your on-the-go need. Thanks to a newly patented slider lid, it's 100% leak-proof and easy to use. Furthermore, the vacuum insulation keeps your beverages hot for up to five hours and cold for up to ten.
The cork composite base is more than just cute. It protects your tabletop and fits in most cup holders. Last but not least, the Ello is 100% BPA/BPS free and dishwasher safe. All in all, this stylish dishware is sure to brighten up your day.
Tech Specs:
New patented slider lid is 100% leak-proof for easy transport

Built-in cork composite coaster base protects surfaces and fits in most cup holders

Vacuum insulated stainless steel keeps beverages hot for 5 hours, cold for 10

check

 

All parts BPA/BPS free

check

Top rack dishwasher safe

check

Do not microwave
Invest in the Thermos Stainless King for Your Next Travel Adventure
We hope you enjoyed reading our review on the Thermos Stainless King. As you can see, this thermos offers a great value for the price. It's durable, has great insulation properties, is made from stainless steel, and features a leak-proof design. What could be better?
Questions and Comments
Do you have any questions or comments for us? If so, we would love to hear them. Feel free to leave us a message below. We will be sure to get back with you soon.
Related Article: Choose The Best Travel Mug For Your Next Adventure | Review