Celebrate your special day with a romantic getaway. These all inclusive honeymoon resorts are nothing short of swoon-worthy.
When you're ready for the VIP treatment, the best all inclusive honeymoon resorts are waiting for you. Think 24/7 room service, luxurious rooms and suites, posh dining, and incredible views. We've searched the globe to find resorts that truly stand out from the rest.
Here Are Our Picks for the Best All Inclusive Honeymoon Resorts
1. Sandals Emerald Bay Golf, Tennis and Spa All Inclusive Resort
Credit: Sandals Emerald Bay
Fly over idyllic waters and powder-white sand of the Exumas until you get to Sandals Emerald Bay. Deep within the heart of the Bahamas, this adults-only resort offers unparalleled luxury. Create a world for just the two of you. Here, service reigns supreme and the lovely Bahamian-style architecture of the villas and suites harmonizes effortlessly with nature.
Here, you'll enjoy 500 tropical acres along a pristine, mile-long beach. Pick a spot on the sand or choose to lounge near one of the three impressive pools. Our favorite spot is the half-acre pool with a dramatic fire pit in the middle. It's something you'd see out of a multi-million dollar home in Beverly Hills. When you're done lounging, choose from eleven exceptional restaurants for a bite and then head out on your big adventure. The resort offers a myriad of activities for adrenaline-seeking couples, including scuba diving, kayaks, windsurfing, SUP, sailboats, snorkeling, golf, volleyball, and more.
2. Grand Velas Riviera Nayarit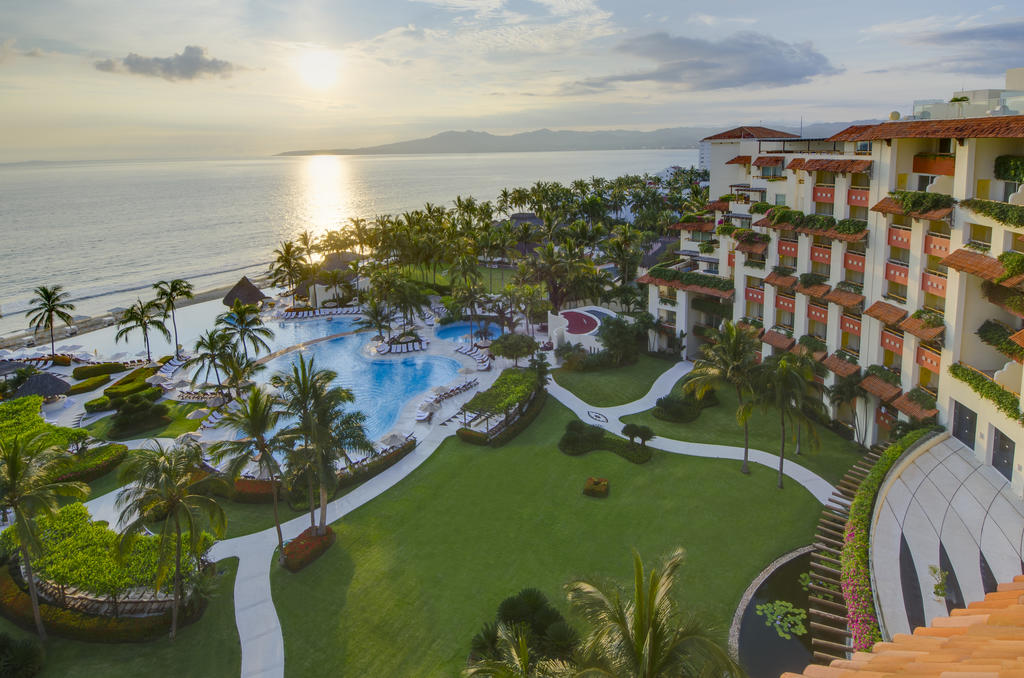 Credit: Grand Velas Riviera Nayarit
Discover a breathtaking resort on the Puerto Vallarta coast of Mexico. The azure waters of Bandera Bay, snow white sand, and green fairways lure in lovebirds from all over the world. The Grand Velas Riviera Nayarit has reinvented the meaning of 'all inclusive.'
The resort offers a vacation experience beyond compare with exceptional dining, lovely suites, and great service on Mexico's stunning coast. It's the only all-inclusive resort in the Mexican Pacific that has been awarded Five Diamonds by AAA. So come and embrace radiant sunsets, fall asleep to the sound of the ocean's rhythm, and lose yourself in the wonder of a tropical world away.
3. Secrets Playa Mujeres Golf & Spa Resort
Credit: Secrets Playa Mujeres
Exclusive, alluring, and pure, Secrets Playa Mujeres is one of the best all inclusive honeymoon resorts. Set along the coast of the stunning Playa Mujeres Community, it is famous for its sun-soaked beaches and ocean views. As an AAA Four Diamond Hotel, it offers the perfect place for an adults-only escape. Come and experience an unlimited luxury oasis in a perfect tropical location.
Here, you can take your pick from nine restaurant options, seven bars, and explore two protected fauna and flora areas. Free flowing access to the new Dreams Playa Mujeres Golf & Spa Resort enhances the luxury experience by adding an additional ten restaurants, thirteen bars, and facilities to choose from. Talk about options.
Unlimited luxury is more than just a phrase. The hotel staff are committed to treating guests to an all-inclusive experience by fulfilling every desire and exceeding all expectations. You'll find every amenity you could wish for and more. You'll also find you have access to the lovely Delphinus Dolphin Habitat.
This world-class interactive program gives guests the opportunity to observe these lovely marine creatures close up, right in their natural habitat of the ocean. Various programs are offered, including swimming and interacting with these highly social and interactive mammals. We love that they're a socially responsible company committed to the well-being of dolphins under their care. This is truly one of the best all inclusive honeymoon resorts.
4. Live Aqua
Credit: Live Aqua
Unique and innovative, Live Aqua is truly one of the best all inclusive honeymoon resorts. With a "Be Yourself" motto, the hotel offers relaxed luxury exclusively designed for modern adults with a limitless lifestyle. Leave your worries behind and trade them for a pina colada. Here, all your senses come alive…entertainment and leisure, relaxation, introspection, intimacy, passion, indulgence, style, and spontaneity abound … Come and experience places and moments aligned with your desires and moods.
5. Jade Mountain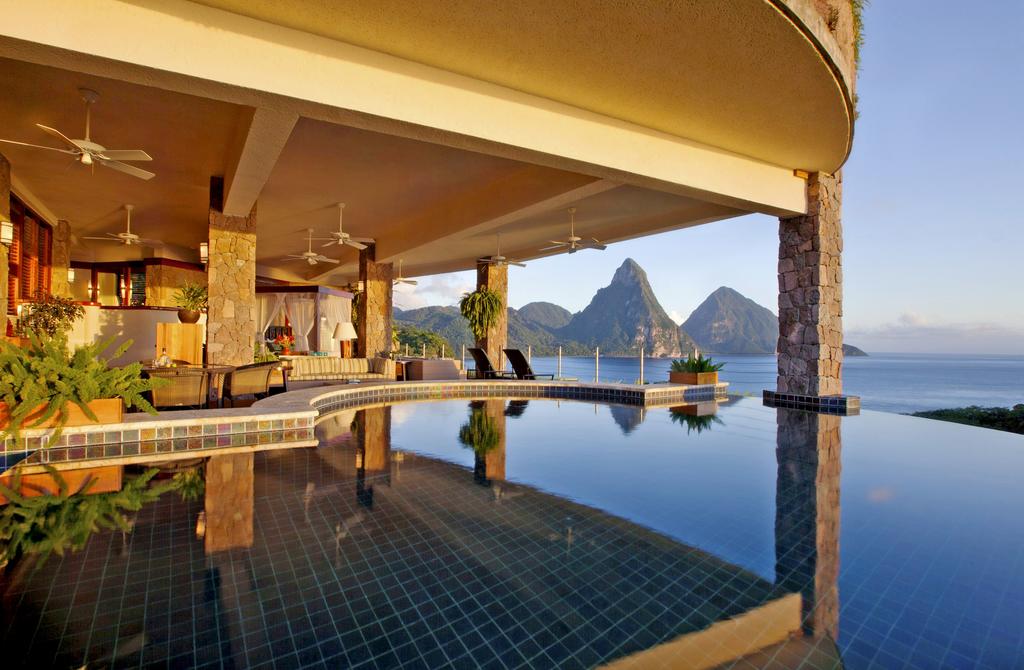 Credit: Jade Mountain
Travel a world away to the jewel of the Caribbean coastline. That's right, we're talking about Saint Lucia. Of all the all inclusive honeymoon resorts on our list, this has to be one of our favorites. We swear there's magic in the air. You'll find the Jade Mountain Resort nestled into a lush green cliffside, perched 600 feet above the sand.
Needless to say, the resort offers the most jaw-dropping views of the sea, in a stunning celebration of the region's natural beauty. While most resorts stand out from their surroundings, this one blends right in. The architect and owner Nick Troubetzkoy intentionally created it in harmony with not only the landscape but also the culture. Sweeping bridges lead you to individual infinity pools, rugged columns pierce the sky.
Step inside and experience the awe of a sweeping space. The bedroom, living area, and an extravagant private pool flow effortlessly. Here's the best part. The fourth wall is entirely absent. While you'll enjoy the privacy of a room, the back opens up into a stage-like setting to soak up the island views. That's right. Unobstructed views of the sparkling sea and towering mountains are just below.
So go ahead and treat yourself. Swim in your own personal infinity pool under the setting sun. Sip cocktails and watch the stars from the resort's Celestial Terrace. When you're really wanting some R&R, Jade Mountain has just the thing. Enjoy a wide range of spa services from the sanctuaries, boutique, and even the fitness studio. Pampering yourself has never looked better.
It's all about your dream stay. As one of the most scenic all inclusive honeymoon resorts, you'll have everything you could dream of and more. Art galleries, boutiques, world-class restaurants, scuba diving, and a world of adventure await you. Welcome to paradise.
6. Tadrai Island Resort
Credit: Tadrai Island Resort
You deserve your dream vacation. So come and find everything you've been hoping for at the Tadrai Island Resort. Fiji's newest five-star resort was made just for couples like you. Hold your calls and escape to the peace and tranquility of your own private paradise. Picture thatched villas nestled amongst a palm-fringed cove. The backdrop? It's nothing less than a spectacular sunset.
Here, everything is included – especially the memories. You'll find this lovely resort on the scenic Mana Island, a short distance away from Nadi International Airport. Step inside your lovely room, the product of international award-winning designers, Hare + Klein and Kenneth Cobonpue. And adults-only getaway, this is the perfect location for you two to get away.
When it comes to your accommodations, expect subtle luxuries that make all the difference. A spacious suite, tropical shower, and personal mini bar add island touches. For a little luxury, check out the 42-inch flat screen LCD TV, private plunge pools, opening directly onto elevated decks with panoramic ocean views.
7. Los Altos de Eros
Credit: Los Altos de Eros
Who else could use a Costa Rican escape right about now? Los Altos de Eros is an escape perfect for lovebirds. Tucked away in Guanacaste, this luxury boutique hotel is perched above the ocean on a mountaintop, fifteen minutes from Tamarindo. The jungle privacy is just the beginning. Indulge yourself in a luxurious spa, enjoy fine dining, relax poolside, and explore the area's natural beauty.
There's a reason why Los Altos is among the top 1% of the world's hotels for staff, service, spa, and cuisine. Of all the boutique suites, our favorite has to be the poolside queen. Just steps away from the infinity pool, you'll find two queen rooms with tropical decor, a secluded indoor/outdoor shower, and lush amenities. Enjoy a large balcony with panoramic ocean views, flat screen TV, and a spacious sitting area.
For honeymooners, the hotel offers a special package, the Tamarindo. Enjoy five nights in the hotel's finest and romantic suite – Eros. Located on the second floor, you'll enjoy prime ocean views from your private balcony, a large suite area, raised Roman bath, king bed, and an airy space with 17-foot-high ceilings. The package also includes champagne upon arrival, a sunset massage for two and romantic dinner in the spa, a snorkel sunset cruise on the 60 ft. Catamaran Marlin del Rey, $250 in spa credits, and more.
8. Banyan Tree Samui
Credit: Banyan Tree Samui
For many travelers, Thailand is a dream destination. A tropical sanctuary awaits you at Banyan Tree Samui. Overlooking the azure blue waters of the Gulf of Thailand, Banyan Tree Samui is nestled amidst the beauty of a private bay in Lamai. This gorgeous all-villa stay brings the best elements of a tropical getaway with pristine beaches to lounge on, blissful spa escapes, excellent dining, a personal concierge, and unparalleled views. Retreat to this haven and your stress will disappear the moment you arrive.
Experience sweet serenity with the honeymoon package in a villa sanctuary with the one you love the most. This lovely package includes a 90-minute spa treatment for two, a romantic villa set up during your stay, daily breakfast at the Edge for two, and optional honeymoon activity, and more.
9. Le Blanc Spa Resort
Credit: La Blanc Spa Resort
Discover this lovely adults-only oasis far away from the crowds. Sure you're in Cancun, but that doesn't mean you won't feel like you're on an island away. The Le Blanc Spa Resort is perched on a tranquil beach with vibrant turquoise oceans providing the perfect backdrop. Here, a spirit of sophistication pervades, offering the discerning traveler a world-class luxury experience.
As one of the best all inclusive honeymoon resorts, there are so many amenities to indulge in. First and foremost, is the resort's wellness program. Put your mind, body, and spirit at ease with luxury amenities like an aromatherapy room, yoga, hydrotherapy, mindfulness sessions, and massages.
When it comes to activities, you can do as much or as little as you'd like. With the lapping Caribbean just feet away and a warm tropical breeze beckoning, all the adventure you could want is at your fingertips and a luxury golf course on the grounds. Take the hotels "Tour of Mexico" where you'll marvel at Mayan monuments and swim with dolphins or crank up the action with a Jungle Tour and Aquatwister Package.
Book Your Dream Getaway at One of the World's Best All Inclusive Honeymoon Resorts
We hope you enjoyed reading our feature of the best all inclusive honeymoon resorts. As you can see, there are plenty of options out there beckoning lovebirds to a romantic getaway. With an all inclusive resort, you'll get the best of all worlds. Luxurious rooms offer a spacious stay, teeming with amenities. When you're in the mood for a candlelit dinner, say no more. Adventure? They've got it. Which one of the resorts on our list do you like the most?
Questions and Comments
Do you have any questions or comments for us? If so, we would love to hear them. Feel free to leave a message for us below. We will be sure to get back with you soon.
Related Article: Best All-Inclusive Resorts In The USA