We've found your new favorite climbing accessory, the Petzl Koda Chalk Bag.
Climbers, we know you need to chalk up every now and then. Why not make it easy on yourself? Whether you are the type that likes to use a chalk bag, block, or loose powder, the Petzl Koda Chalk Bag has got you covered. With a durable design and smart features, it is made to keep up with all of your adventures.
A Little Bit About Petzl
If you haven't heard of the brand Petzl before, it's time for an introduction. As a manufacturer of climbing gear, they make some of the best equipment on the market. Their headquarters are based in Crolles France, started by the cave explorer Fernand Petzl in the mid 1970s. Through their innovative product invention, they provide solutions for professionals and sports enthusiasts alike to access places that would otherwise seem inaccessible. Among their top specialties are: mountaineering, climbing, and caving.
Petzl Koda Chalk Bag Features & Benefits
Durability and Shape
Credit: Amazon
Made from nylon and polyester, the Petzl Koda Chalk Bag will last you for years to come. This material does not rip or snag easily, so you don't have to worry about it getting scraped on craggy rock edges. The fabric won't cause discomfort when you are wearing a pack or if you are pressed against a rock. Furthermore, the ergonomic shape and wide rim make it easy to get your hands inside to access the chalk.
The rigid rim retains the shape of the bag. You can also open the bag one-handed if need be. Thanks to the drawstring and cord lock system, you can open and close the bag with ease while you are climbing.
Closure System and Lining
Stop worrying about your chalk spilling out. It won't. Take this bag with you on a climb and toss it in the trunk of your car after you head out. You won't have to give it a second thought. The closure system in the woven fabric prevents chalk from leaking or spilling out during transport. In addition, there is also an inner lining sewn into the bottom of the bag. This prevents it from flipping when you pull your hand out of the chalk bag.
Zippered Pocket for Easy Access Storage
Did you know that the Petzl Koda Chalk Bag has a zippered pocket? This makes for super easy access for storage. When you are ready to go climbing, you can store those small personal items in here that you would like to have on hand. Keys, your wallet, phone, and a snack can all go inside. Due to its gusseted design, it is expandable for extra storage capacity. Other good ideas to put in the pocket include an e+Lite emergency headlamp, energy bar, topo map, or other small provisions for a day on the wall.
Rigid Brush Holder
New climbers might be wondering 'what is the brush holder for?' Here's the 411. Climbers carry brushes with them to clean holds. Whether you are climbing in the gym or outside, holds get dirty. And sometimes just downright gross.
Grease, oil from your hands, chalk, dirt, and other grime builds up and holds over time. This means that when you try to find your hand or foot placement, things can get well, slippery. As a result, climbers are forced to use more pressure to hold on. And this isn't the best use of your energy.
Over time, climbers have started using special brushes (deemed toothbrushes) to clear the gunk off of these holds. Stiff, durable bristles and a good texture make it easy to clean off a hold you want to use and gain a good grip. So, it only makes sense that the Petzl Koda Chalk Bag would have a brush holder built on. But it doesn't only have one, it has two. Pick and choose which types of brushes you would like to bring before you head out. We strongly recommend something akin to boar hair.
Interior Fleece Lining
Inside of the bag, a fleece lining helps to keep chalk from spilling. It's also soft to the touch and helps to distribute the chalk more evenly on your hands. When you're tired from climbing, this soft fabric is soothing to feel.
Double Loops for Stability
Did you notice the double loops on the bag? These will keep the bag stable even when you are climbing. Simply get a waist belt, slip it through both loops and start climbing.
Color Options and Weight
While we like the classic coral color of the Petzl Koda Bag, we're happy to have another option. Variety is the essence of life, right? This bag also comes in a fun raspberry (fuschia-like) tone. Taking a look at the bag, you might guess it's lightweight. But even we were surprised when we opened the box and took it out. It's like a feather. All in all, this chalk bag only weighs 85 grams (1.6 ounces). The only downfall we could see about this bag is its small size. As a result, it may not have the capacity to hold as much chalk as some users may want.
What Travelers Are Saying About the Petzl Koda Chalk Bag
With 5 out of 5 star reviews, the Petzl Koda Chalk Bag speaks for itself. If you are doing indoor bouldering, this bag works well for two people and holds a lot of chalk. Users happily reported that the belt is comfortable and did not slide around while they were climbing.
The top of the bag closes well when you are done. After you leave the gym, you can throw the bag in the back of your trunk. The chalk won't spill out. Other travelers noted that they bought the Petzl Koda Chalk Bag because Petzl is one of their favorite fair trade brands. Even if it costs a little more than a no-name brand, you know you are getting better quality. Plus, don't you love all the prints that they come in?
We were impressed by users reviews that said this bag has held up for over a year with regular use in a climbing gym and works really well with no signs of wear. It has a good sized opening that adjusts with a drawstring, though it may be small for someone with larger hands. All in all, this is a great bag. Travelers note they would buy it again and honestly, we would too.
Alternative Chalk Bags That May Be a Better Fit for You
Metolius Climbing Galaxy Competition Chalk Bag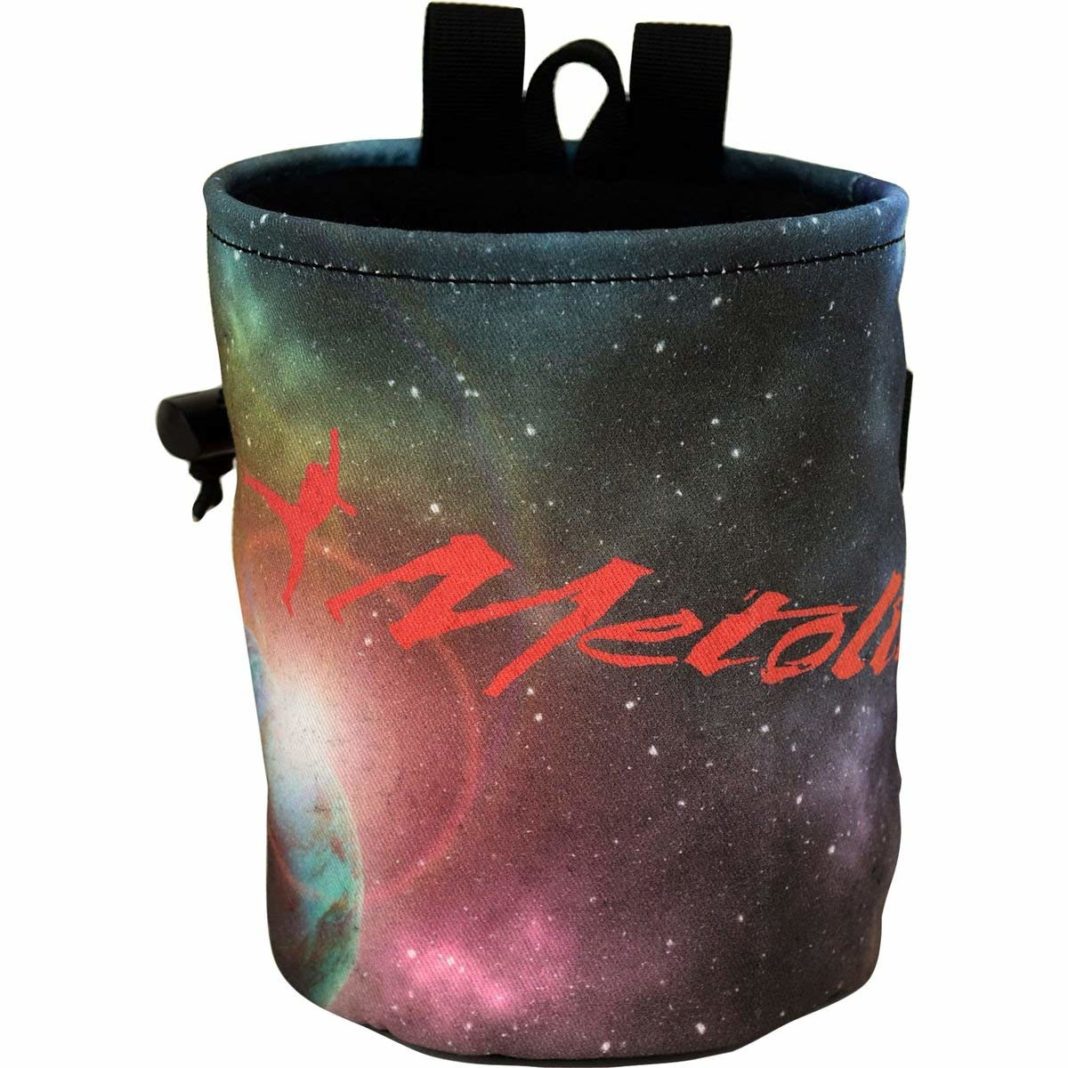 If you are looking for a larger style than the Petzl Koda Chalk Bag, check out this one from Metolius. Like the aforementioned style, it is also made from from nylon, so we know it is good quality. High capacity and ergonomic, the classic cylinder shape holds well and is made for easy access.
This bag is ideal for bouldering, rock climbing, and indoor climbing. It comes with a chalk bag belt with a side release buckle. We can see that this one falls into the standard size category. The dimensions measure 7 x 7 x 4 inches and it weighs in at 4 ounces. Standard bags are the most popular option. Larger bags work well for those times when you need to coat your hands and forearms in chalk (typically for routes with wide cracks). The cylindrical shape of the Metolius Climbing Galaxy Competition Chalk Bag is ideal for longer climbs, since it is capable of holding a high reservoir of chalk.
All in all, the Metolius Climbing Galaxy Competition Chalk Bag really gets the job done. You will get compliments on the fun graphic design whether you're in the gym or outdoors. In person, the print is a little more washed out than it appears in the photo. However, this is to be expected and the bag looks great nonetheless. In terms of size, this is slightly larger than your average chalk bag.
Tech Specs:
Durable nylon fabric

Fun print style

Wide mouth for easy chalk access

check

Sturdy structure and rim

check

Comes with belt and side release buckle

check

Full length soft interior lining

check

Classic cylinder style shape
Mammut Multipitch Chalk Bag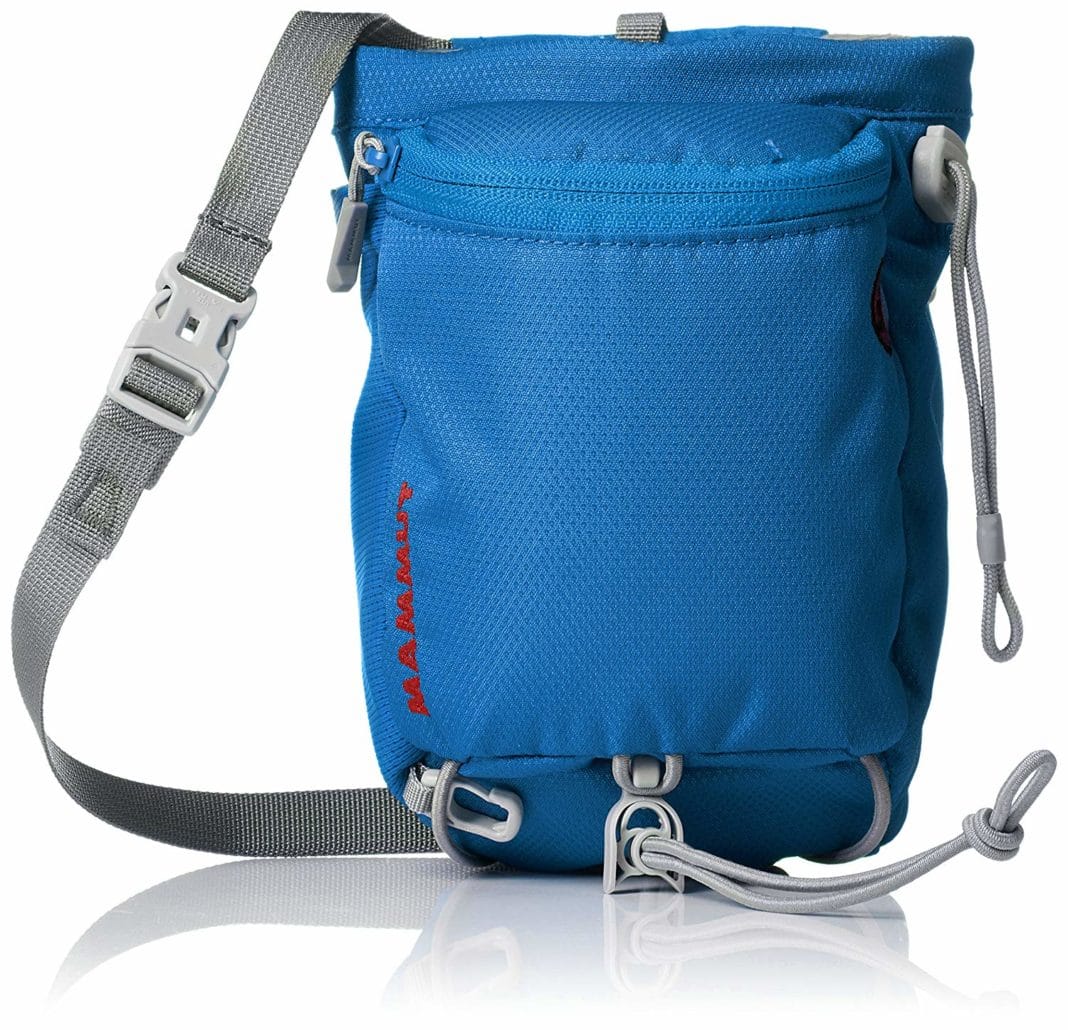 Do you enjoy a multi-purpose bag? This style from Mammut offers many useful features. Looking for a place to store your phone, keys, and a snack? Check. But wait. That's not all. There is also a toothbrush carrier and jacket attachment. This is very useful if you're planning on spending the day climbing outdoors. Two suspension points include a large waist belt.
Tech Specs:
Storage space for accessories

Attachment for jacket and toothbrush carrier

Two suspension points including a large waist belt

check

Multi-purpose bag

check

Thick fleece lining
Invest in the Petzl Koda Chalk Bag for Your Climbing Adventures
Are you an avid climber? If so, you know the importance of investing in quality products from the best climbing chalk brands like Petzl. The Petzl Koda Chalk Bag offers top-notch quality you can count on when you're working on your athletic performance. Say goodbye to sweaty palms.
Related Article: The 5 Best Chalk Bags Of 2018: Your Shopping Guide