Travel and work simultaneously with the ASUS Transformer Book T300.
Those who travel frequently know that bringing laptops along for the ride can be a burden. Some devices remain heavy and uncomfortable to tote around in backpacks. Others may have weak batteries that die after only a short time of usage. In these instances, travelers must make do with the devices they have. However, if you're tired of lugging around a heavy, ineffective computer, considering purchasing the ASUS Transformer Book T300. This device provides all the capabilities you look for in a laptop, without all the heavy machinery. You can easily stow this lightweight device in your purse or backpack and travel around the world. Check out our article below to learn all about the ASUS Transformer Book T300 and its amazing features.
Things to Consider Before Buying a Laptop
Size
If you're hoping to buy a new electronic device like a laptop, you'll want to consider numerous things. Since travelers need to purchase items that remain portable, the size of the laptop should be a main consideration. Those interested in laptops with the ability to fit inside purses may need tinier devices. These smaller products will slide easily inside the best travel tote bags and carry-ons. On the other hand, if you want something with a large screen, you'll require a bigger laptop. Devices on the larger side may provide more enhanced views of television shows and movies as you consume them. Travelers who need to look at multiple projects as they work may additionally benefit from larger laptops.
Similarly, certain laptops come with certain types of keyboards, which may or may not be removable. This will affect the size of the laptop, as keyboards that may be removed enable greater portability. In this manner, travelers may want to think about the size of laptop they'd prefer. You could measure your favorite travel bag before buying the computer in order to see if the device will fit. Rather than wasting time purchasing massive laptops that won't slide into your bag, you can purchase the perfect device.
Weight
Those interested in buying laptops should always consider the weight of the device. This remains especially important if you're going to be traveling while carrying the laptop. Frequently, heavier laptops cause discomfort when toted around in travel bags for hours at a time. These heftier devices may lead to back and shoulder pain over time as well. As such, you probably don't want a massive laptop to bring along on all your travels.
Yet, some travelers might think that they need their massive laptops in order to accomplish each of their work tasks. Though some laptops enable a wider range of activities than others, many smaller devices provide the things you require. You can easily find many devices with the abilities you want, but with a smaller, portable weight. For instance, laptops with removable keyboards enable travelers to utilize the laptop like a tablet, without the extra weight. These will be especially useful if you don't need to spend hours typing on your screen. Or, those who only want to watch movies or television shows as they travel probably won't require keyboards. Any travelers needing keyboards will still have the chance to find a lightweight laptop option that works for them.
Capabilities
As mentioned previously, every traveler has different requirements when it comes to their laptops. Some may only need the device to watch their favorite television shows as they travel. This means they may simply require products that can connect to the Internet and have attractive screens. Conversely, other travelers might need a whole range of capabilities from their laptop. Work tasks could necessitate various programs that certain laptops might not be able to maintain. Accordingly, finding the laptop with the right capabilities remains an important task for travelers. You don't want to purchase a device, only to find that it doesn't meet all your requirements.
While many believe massive, hefty laptops provide the capabilities they require, you can easily find portable devices with these features. As new laptops become available for purchase daily, travelers shouldn't have trouble locating a device they love. You won't need to sacrifice portability for productivity if you purchase the right laptop. Overall, researching different laptops can assist travelers in finding the ideal product. Those who understand exactly what they need won't have to waste money and time on ineffective devices. In this manner, you should consider all the capabilities you want in a laptop before purchasing one.
Battery Life
One annoying thing about bringing laptops along on your travelers can involve dealing with weak batteries. If you're out and about, you don't have any place to charge your devices. Accordingly, your electronic equipment should maintain a decent charge for extended periods of time. Otherwise, you'll have to stop somewhere to plug in your device or leave it at home. In these instances, travelers may have to sacrifice exciting travel time or accomplishing their work goals. You don't want to deal with annoyingly ineffective batteries when you're attempting to do work on your laptop. In order to save your battery, you may think of different ways to reduce battery usage. This may mean not getting to watch your shows and movies or accomplish every work goal.
At the same time, carrying extra batteries and chargers leads to heavier travel bags and backpacks. You'll end up with shoulder and back pain due to the weight of these additional products. No one wants to feel uncomfortable when attempting to traverse landscapes or explore new cities. As such, you'll want to consider buying a laptop with an extended battery life. With so many innovations occurring daily, you can easily locate a device that maintains its battery after numerous hours. Just know that you may have to research in order to find your ideal device.
ASUS Transformer Book T300 Features & Benefits
Lightweight Design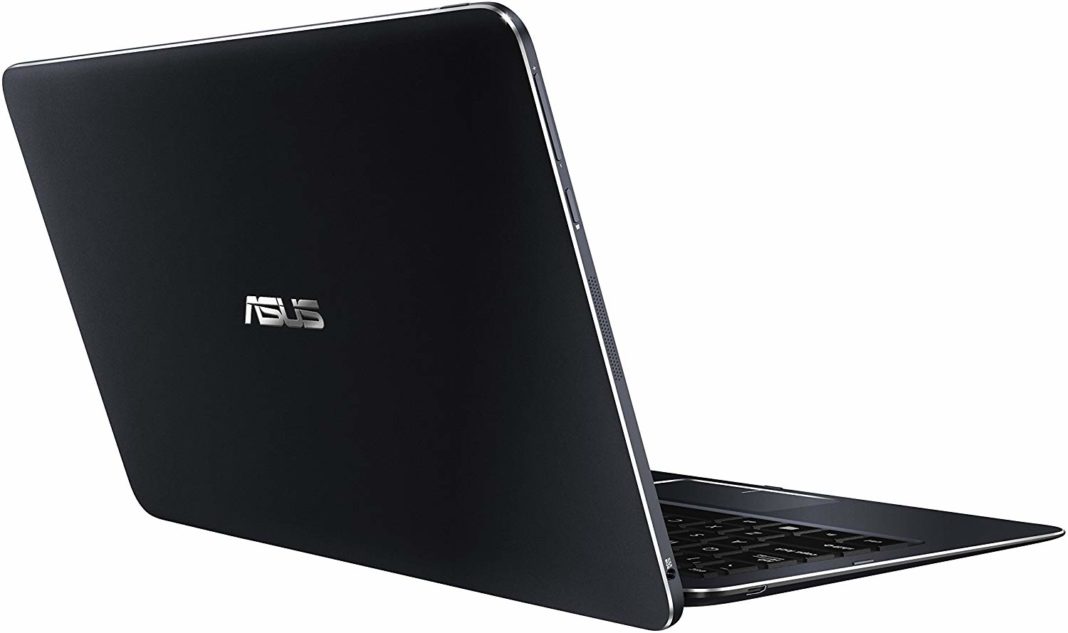 When you're looking to purchase a laptop for travel, you may want one with a lightweight design. These kinds of laptops will ensure you don't feel weighed down while carrying them. Instead of worrying about hefting around a massive device, you can remain unencumbered by a lighter product. The lighter laptop will also remain easier to fit alongside your other travel gear. Since heavier devices often take up more space, travelers may feel as if they're bags have become very crowded. When you utilize a lightweight laptop, you won't have to worry about that anymore.
If you're hoping to purchase a lightweight laptop, consider the ASUS Transformer Book T300 Chi. This device maintains such a feathery weight, you won't even feel it while carrying the product around. You could travel for hours without every feeling any pain, thanks to the laptop's lack of heftiness. The ASUS product additionally maintains a very thin width, at just around 0.3 inches. This means you'll have tons of room inside your bag to store other things, like notebooks and wallets. Since the device remains so thin, travelers won't need to worry about heavy bags weighing them down.
High-Powered Processor
Those who need a laptop that can accomplish a variety of tasks require devices with efficient processors. Some laptops may not have the best processing power, leading to problems completing work and entertainment goals. At the same time, many devices with great processors also maintain bulkier constructions. In these cases, the laptop will remain extremely bulky and annoying to carry around. However, you won't need to worry about bringing along a massive laptop simply to watch your favorite shows. Travelers can easily find laptops with great processors and slim designs.
With the ASUS Transformer Book T300, you'll be able to do whatever you please while traveling. An Intel Core M processor enables travelers to accomplish a variety of tasks at once. You could check your emails, browse the web, and write a document at the same time. The number of tasks open on your laptop won't cause the device to slow down. Accordingly, you can do a number of things and still maintain optimum functionality on the laptop. Multi-taskers will find themselves extremely satisfied by the laptop's ability to accommodate their needs. Overall, you won't need to worry about a laptop that runs inefficiently if you purchase this device.
Extended Battery Life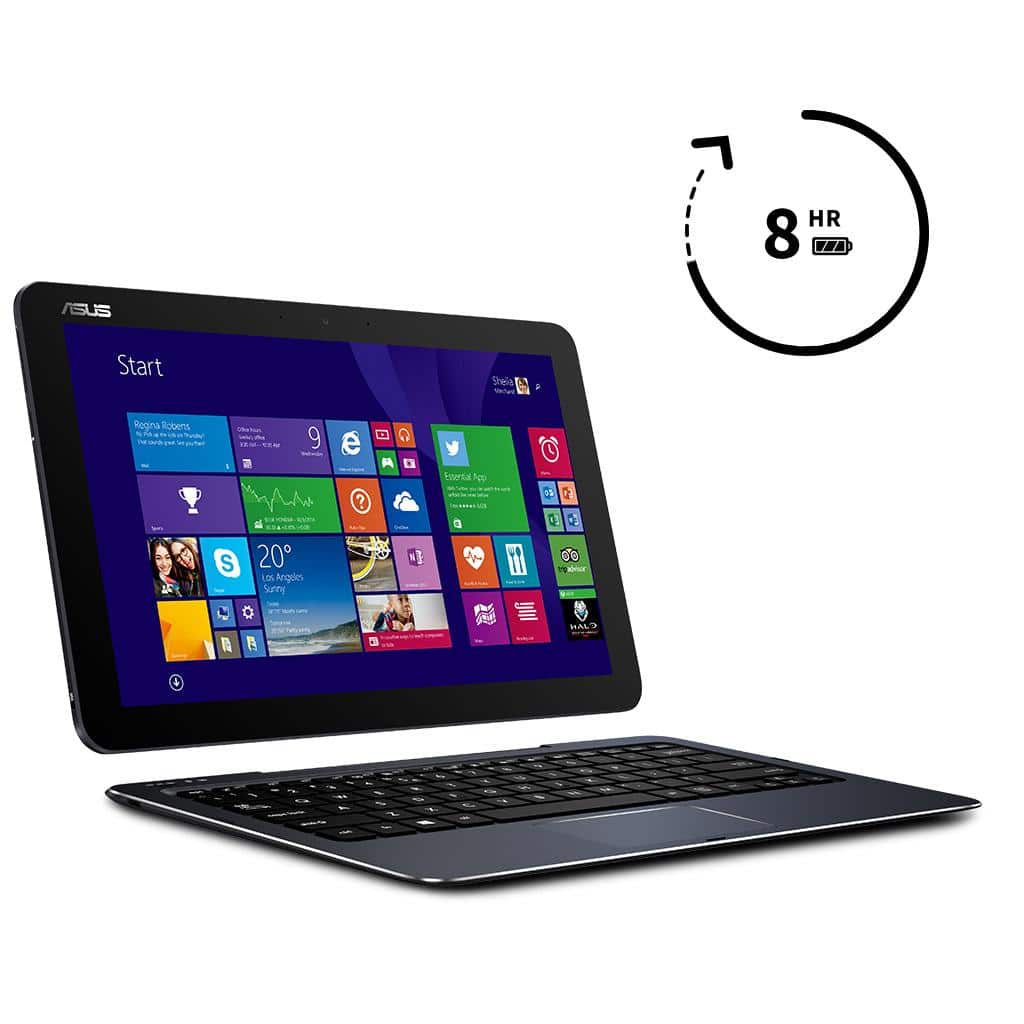 Often, travels can become curtailed or interrupted by electronic devices that fail to remain charged for long periods. This leads to frustrations, as travelers will have to take breaks or return home to charge their devices. You don't want to find yourself in the middle of a travel adventure before realizing your laptop has died. However, carrying along additional batteries and chargers can be burdensome as well. These products remain somewhat heavy, causing discomfort when you have to carry them around. As such, you don't want to buy devices that require charging only a short while after you've unplugged them.
When you purchase the ASUS Transformer Book T300, you can remain productive for hours and hours. This device maintains an extended battery life, so you won't need to worry about it dying quickly. The laptop won't give out just after a few hours of usage. If you're needing a laptop that will function all day, this might be the product for you. The ASUS laptop stays ready-to-use even after you've been binge-watching movies for lengthy periods of time. This device promises eight hours of usage in between charges. Accordingly, you won't need to carry extra batteries or chargers along while you travel.
Durable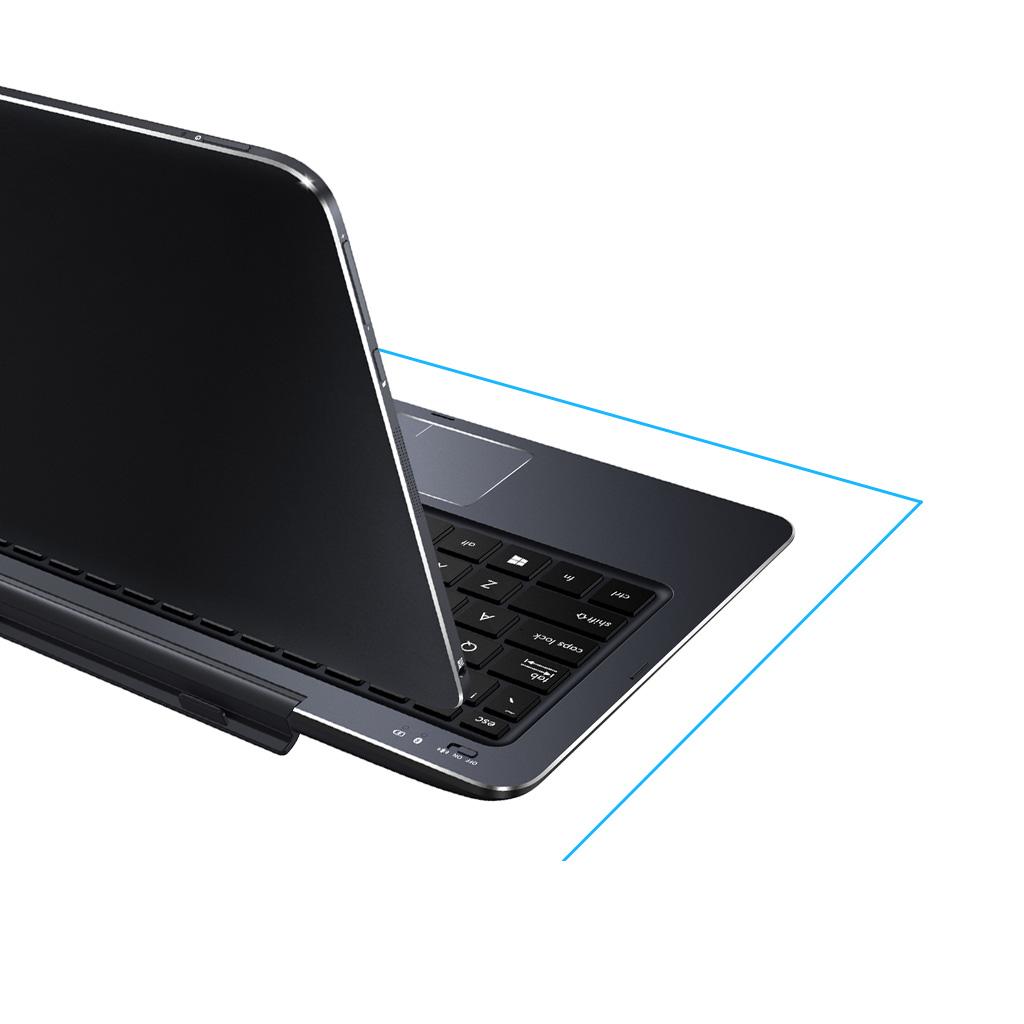 Devices for travel must maintain a certain level of durability. If you purchase a product that can't withstand frequent travel, you'll have to deal with broken electronics. This will also cause frustrations, as travelers shouldn't have to constantly fix their devices or worry about damage while traveling. Those who have to encounter faulty devices may find themselves constantly in fear of incurring damage. You don't want to feel anxious while you travel due to flimsy and weakly constructed electronics. Since many devices might not have heftier constructions, you may find yourself unsure where to look for the ideal laptop.
Thankfully, devices like the ASUS Transformer Book T300 exist to provide travelers with the durability they need. This laptop maintains a highly durable construction, ensuring you won't have to deal with easily damaged devices. The sturdy unibody design provides the stability necessary to keep the laptop from falling apart. A diamond-cut shape also offers straight, sturdy edges, which means the laptop won't easily bend or snap. In this manner, travelers won't need to worry about their laptop falling apart if they choose this device. Despite its lightweight look and feel, the ASUS laptop will remain sturdy and usable for long periods of time.
Removable Keyboard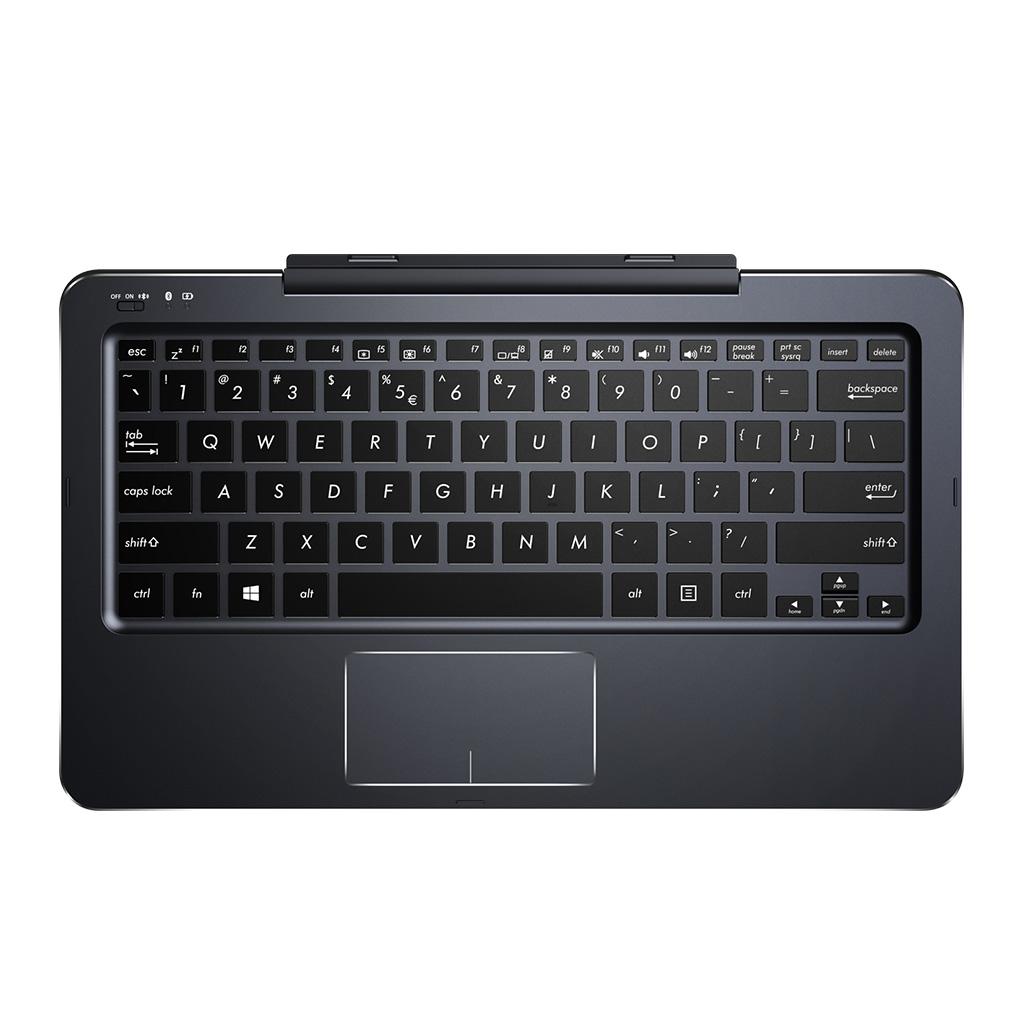 Some travelers enjoy having devices that can be manipulate according to their daily needs and wants. Many devices, such as laptops, don't allow users to change their constructions at will. Usually, the device you purchase will remain the same after hours and hours of usage. This means you have to be completely satisfied by the product you purchase, since you can't change it afterwards. However, some products may be manipulated, depending on the item you buy. You may have the chance to alter the device at your will if you choose the correct product.
Those who want a laptop that adheres to their changing needs should consider buying the ASUS Transformer Book T300. This device has a removable keyboard, ensuring you can change the laptop at will. If you don't need to type that day, you can simply leave the keyboard at home. This enables you to utilize the laptop as a tablet. Or, if you need to accomplish numerous work tasks, the keyboard can return to its place under the screen. In total, travelers will feel satisfied knowing they can change the laptop however they see fit.
What Travelers Are Saying About the ASUS Transformer Book T300
Travelers who purchased the ASUS Transformer Book T300 raved about the product's various capabilities. The laptop allowed travelers to accomplish a variety of tasks while on the move. For instance, the ASUS laptop enabled users to browse the web and watch their favorite shows and movies. Those interested in accomplishing work-related tasks had the ability to complete everything they needed, like type a document. Similarly, travelers appreciated the stunning screen, which enabled clear and easy viewing. Even when they went outside, users to see the laptop screen and each of their tasks. Instead of squinting at the screen, travelers could easily view it without straining their eyes. Additionally, users loved the laptops portability. Features like a lightweight design and long-lasting battery remained top capabilities among those who reviewed the laptop.
A few travelers thought that the ASUS Transformer Book T300 could have been a little more durable. For instance, some reviewers found that their laptop failed to work properly after a few months of usage. This meant that the travelers needed to either purchase a new device or try to fix the issues. Some also had problems with charging their laptop on certain occasions. However, overall, many reviewers consider the ASUS laptop an ideal product for working on the go.
Alternative Travel Laptops You May Love
1. Dell XPS 13 Laptop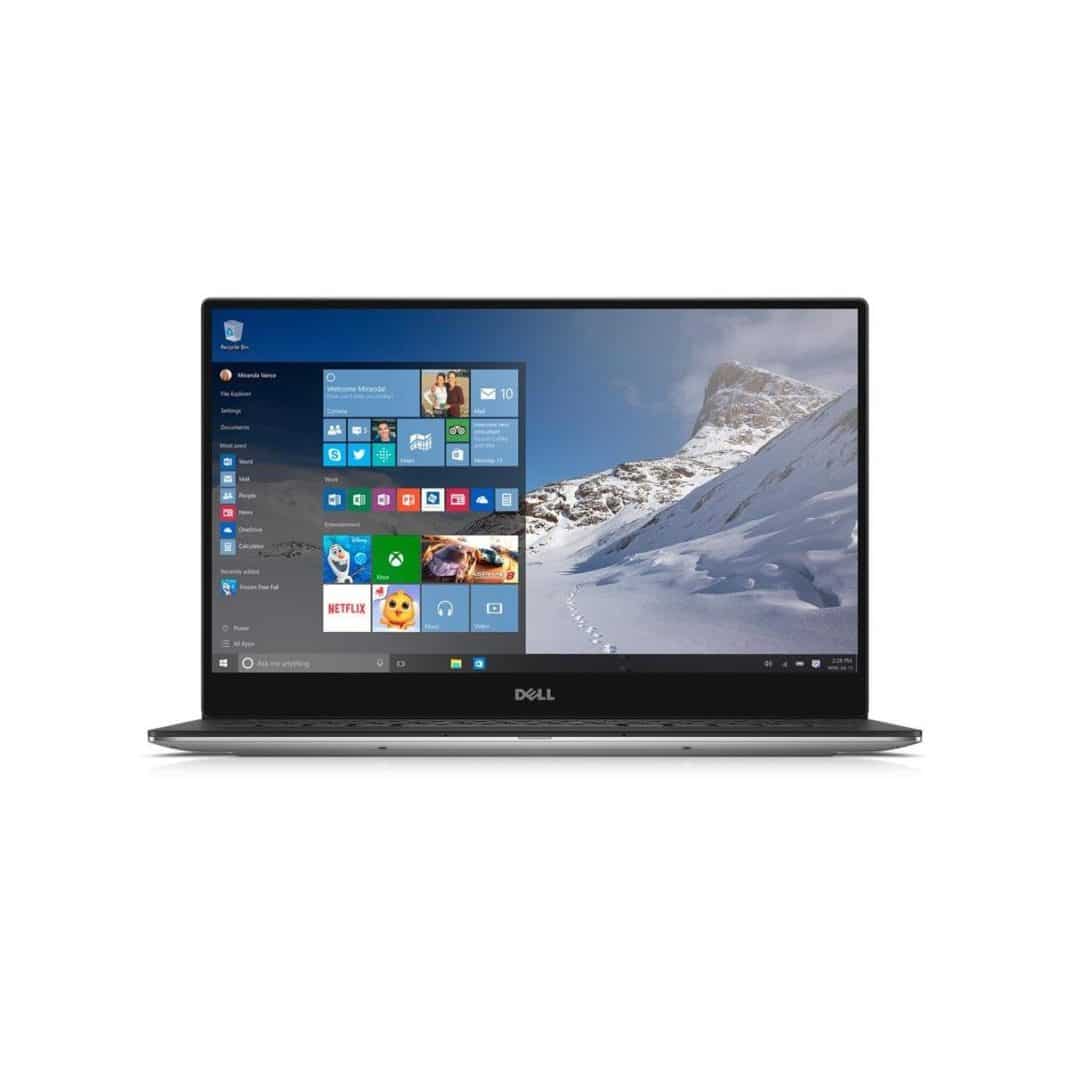 If you weren't satisfied by the ASUS Transformer Book T300, consider buying the Dell XPS 13 Laptop. This device maintains similar features to the ASUS product, such as a sleek and lightweight design. You won't need to worry about feeling weighed down when you bring this laptop along on your journeys. At the same time, the Dell Laptop allows travelers to accomplish all of their productivity goals. The device contains features like a high-powered processor, ensuring your device can handle every application you use. A large and bright screen also lets users watch their shows and movies with ease and clarity.
2. ASUS Chromebook Flip C302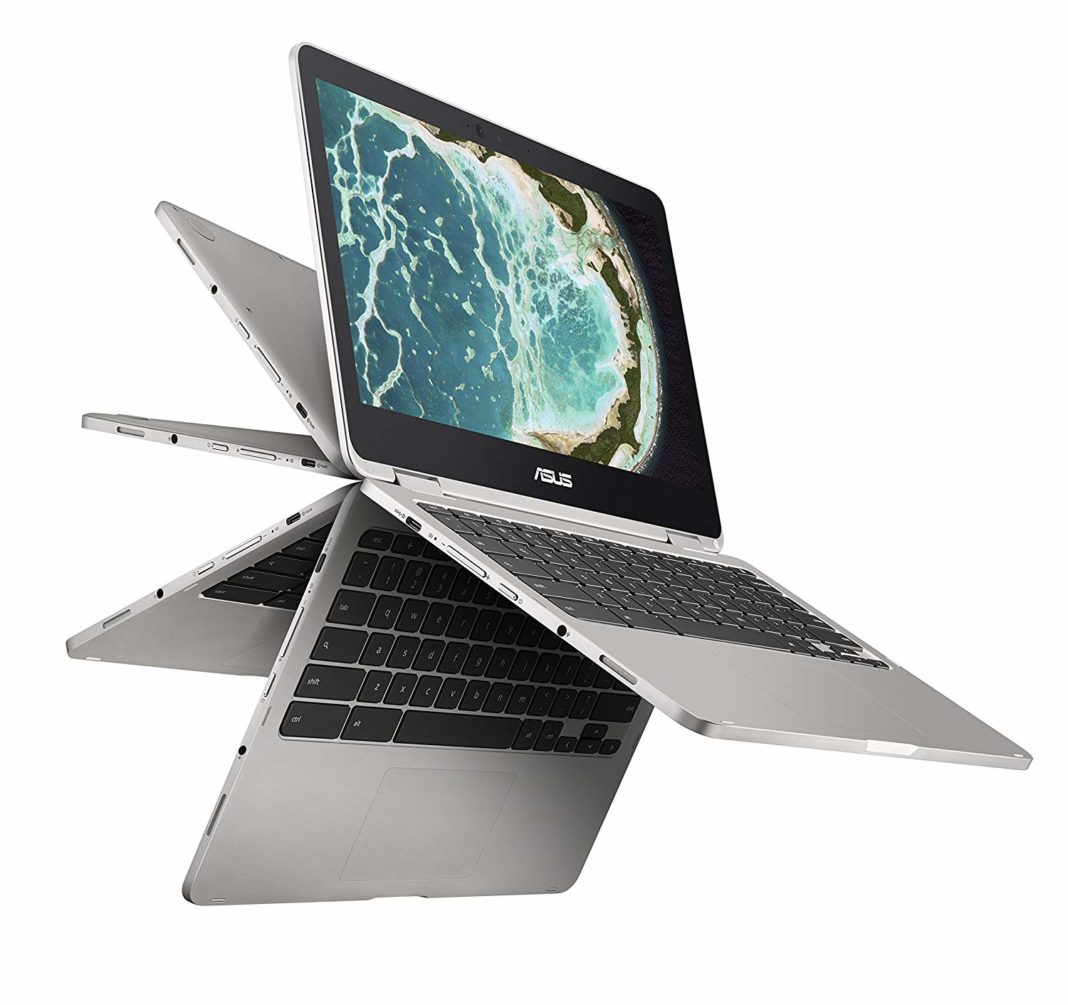 Another ASUS product, the ASUS Chromebook Flip C302 remains an ideal device for travelers. This laptop maintains a highly portable design, ensuring you can take it wherever you go. The flip design means you can manipulate the device however you see fit. You could flip the product around and turn it into a tablet or use it as a laptop. The touchscreen also ensure you don't need to utilize a keyboard when attempting to work the device. With an amazing core processor, you might even spend hours multi-tasking on different projects and never feel it slow down.
3. HP Envy x2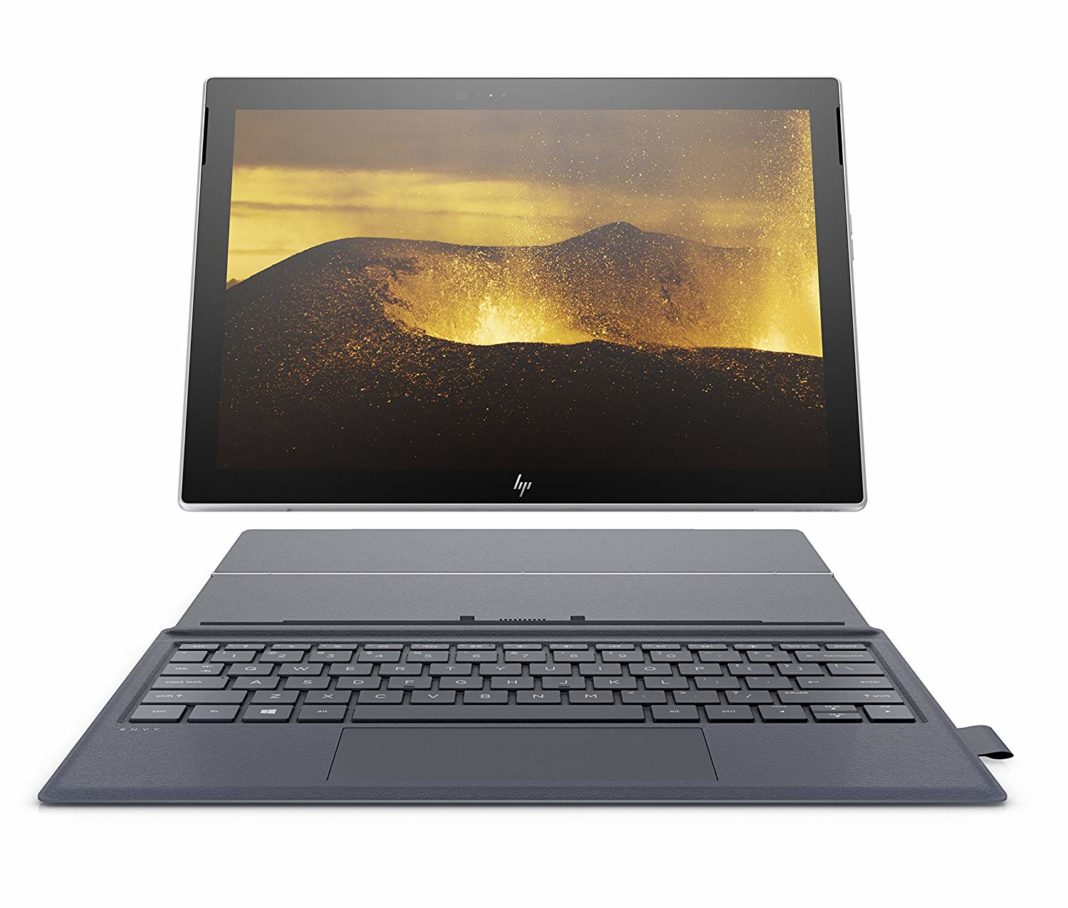 The HP Envy x2 represents a top choice of laptop for those who want an efficient device for traveling. With this laptop, travelers can do whatever they please while on the go. Built-in 4G LTE allows travelers to stay connected to the web even without Wi-Fi. This means you can truly use the internet while on the go. The device also charges extremely quickly, ensuring you don't have to wait around to build up your battery life. As such, you'll be able to power up in a flash before embarking on your adventure.
Stay productive and entertained on the go with the ASUS Transformer Book T300.
If you're someone who has to work while traveling, the devices you carry remain crucial to your productivity. Frequently, heavy laptops and accompanying chargers can weigh down bags and backpacks, causing tons of discomfort. This means travelers will deal with back and shoulder pain, thanks to hefty equipment. At the same time, you want to have the ability to accomplish all your work and entertainment goals. This necessitates carrying computers that enable you to work and watch your favorite shows. Thankfully, devices like the ASUS Transformer Book T300 exist to make your travels easier and more productive. You can carry out all of your work tasks and entertain yourself, all with this lightweight, portable laptop. Be sure to purchase one of these awesome products before embarking on your next adventure.
Related Article: Best Mini Laptops Travelers Will Love and Need