Looking for the best hotels in Dallas?
There is something in this city for truly everyone. Whether you're traveling solo, bringing the entire family, or seeking out a romantic escape, there are plenty of activities to keep you entertained (and great places to eat). We've listed our top picks for the best hotels in Dallas. From Uptown to Las Colinas, Downtown, and Park Cities, you will have plenty of options. It's easy to see why people love living here. Without further adieu, here are our picks for the best hotels in Dallas, Texas.
Here Are Our Picks for the Best Hotels in Dallas, Texas
1. Omni Dallas Hotel
Credit: Omni Dallas Hotel
If you are traveling for business, we highly recommend the Omni Dallas Hotel. With more than 1,000 rooms to choose from direct access to the Dallas Convention Center, it is a top contender for a spot as one of the city's best hotels. The weekday crowd is full of businesspeople and convention travelers. On the weekends, the crowds change up a bit. For those on a budget and seeking a nice place to stay in the heart of the city, you will be hard-pressed to find a better place to stay. There is a wide selection of restaurants to choose from and you will enjoy close proximity to some of the city's best attractions. This is certainly one of the best hotels in Dallas, Texas.
2. The Ritz-Carlton Dallas
Credit: The Ritz-Carlton Dallas
You can never go wrong with a stay at the Ritz-Carlton. This Dallas stay offers nothing but the finest treatment. When it comes to amenities, state of the art facilities, and friendly service, this location is among the best hotels in Dallas. As soon as you enter the property grounds, you will see what we mean. There is a chauffeured car that will take you around within a three-mile radius of the hotel, housekeeping twice a day and a fully stocked snack bar for you to enjoy. While it is a little on the pricey side, you won't be short on anything in the comfort department.
3. Hotel ZaZa Dallas Uptown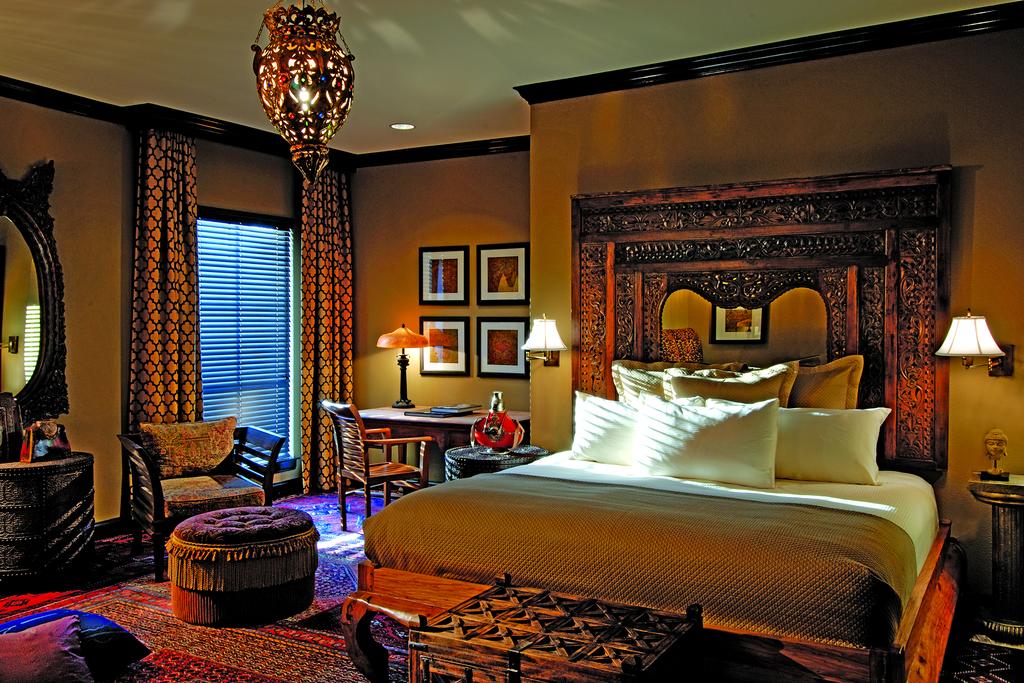 Credit: Hotel ZaZa Dallas
Discover the luxury of a premium stay at the Hotel ZaZa Dallas Uptown. If you're looking for a lively, upbeat stay, nothing beats this pumping pool scene. If you're looking for a quiet place to read a book and relax outdoors, this is not the place for you. However, if you're looking to get in on the action, enjoy a few cocktails, and meet some people, this is just your speed. With this said, although the hotel is rowdy, to say the least, the staff here really go above and beyond to ensure that each guest is enjoying their stay and is attended to well. Everyone who comes here is sure to have a blast.
4. Belmont Hotel
Credit: Belmont Hotel
Welcome to one of the best hotels in Dallas, Texas. We absolutely love this historic stay. Dating back to 1946, the Belmont Hotel offers a rare and unique character, true to the heart of the city. Here, the popularity goes well beyond its luxurious rooms. With views of the downtown skyline, and a state of the art restaurant on-site, what's not to love? Furthermore, its close proximity to the Bishop Arts District makes it ideal for your staycation. For the best experience, we highly recommend booking a king suite with a sweeping balcony.
5. The Joule
Credit: The Joule
Art aficionados will appreciate this tastefully-designed hotel in the heart of the city. The Joule is filled with fantastic works from big names like Andy Warhol, Tony Tasset, Millard Sheets, and more from the moment you walk in the front door. There's no doubt that this is one of the best hotels in Dallas. It's absolutely stunning and the service goes above and beyond what you could ask for. Want to know an added perk? There is a cocktail cart where you can get custom mixed drinks in the lobby every evening.
Located in a landmark building from the 1920q, this trendy hotel is only a 7-minute walk from the closest DART station. Furthermore, you're only a mile from the Kennedy exhibits at the Dealey Plaza. Open up your vintage chic room and take a look around. Guests will appreciate thoughtful features like free WiFi, smart TVs, minibars, and Nespresso machines. Seriously, what's better than waking up to a perfectly-made frothy espresso every morning?
It's hard to believe but upgraded rooms have it even better. Think plush sofas and city views. Suites come with a full wet bar and separate living room areas. Room service is available for all of the guest rooms and suites around the clock (aka 24/7). So if you're craving some French toast and hot chocolate at 2 am, that is an option.
Last but certainly not least, there is a delightful modern dining option. Did we tell you about the on-site fine dining Asian restaurant and cocktail bar? There's also a lively eatery with bowling and live music. This hotel offers it all; you won't even have to leave the property if you do not want to. Other notable amenities include a rooftop pool, gym, private parlor, and large event space.
Come and experience the Joule Dallas, a luxury stay located right in the heart of downtown. Offering an award-winning design and 129 guest rooms, this location welcomes you with beautiful art installations, a world-class spa, unique retail shopping locations, and award-winning food and drinks. Even the locals know this is the cultural epicenter of town. Since it is right next to the Dallas Arts District and the flagship Neiman Marcus, you have a great place to call home base while you get out and sightsee.
Each of the rooms is tastefully decorated and thoughtfully equipped with signature amenities. It's clear that The Joule has a taste for the finer things in life. Super soft linens, cozy lighting, Taschen books, and creative minibar offerings are all well-received. If you are really looking to live large, consider renting out one of the hotel's four penthouses. Each has a unique design and layout, spanning from 1,350 feet to 2,500 square feet. Are you looking for a view straight from the top? Yes, please.
6. Rosewood Mansion on Turtle Creek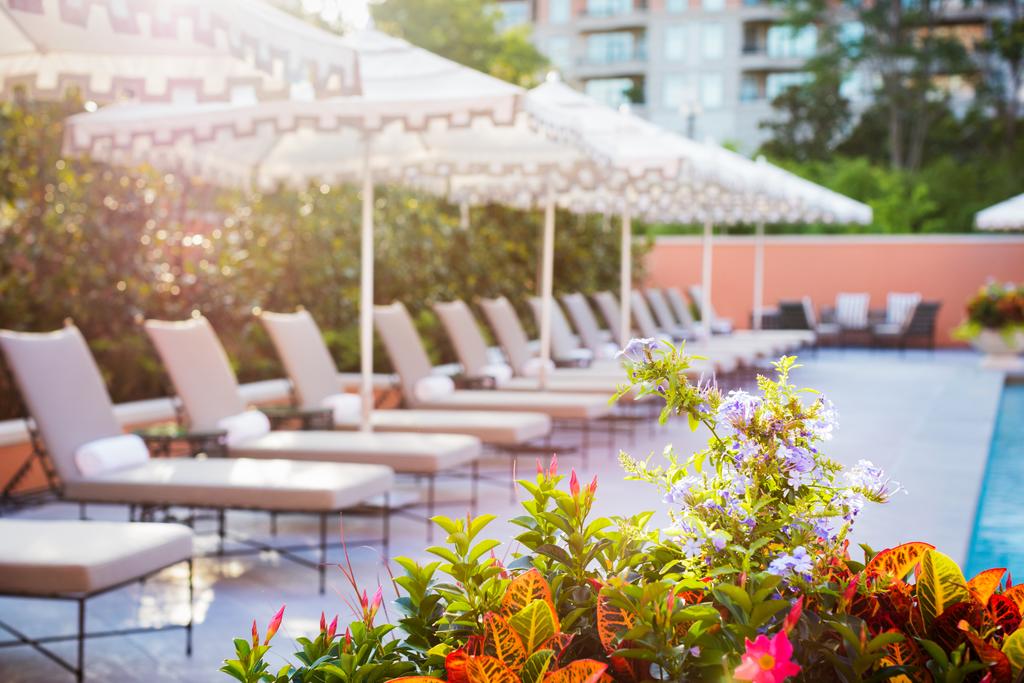 Credit: Rosewood Mansion on Turtle Creek
Tucked deep away within the Turtle Creek neighborhood, this is one of our favorite picks for the best hotels in Dallas. As soon as you step through the doors, you will pick up on the old school Hollywood vibes. The attentive staff makes it their mission to make you feel comfortable and at home during your stay. And we guarantee that you will.
Overlooking the lovely Turtle Creek, this upscale stay is only 1.3 miles away from the Dallas Museum of Art and 1.4 miles from the AT&T Performing Arts Center. After a day of exploring the city and taking in shows, come and relax at your home away from home. The guest rooms offer lovely refined patios or balconies, feature 42-inch flat-screen TVs, and minibars, as well as complimentary WiFi.
But that is not all. After relaxing in your room, head downstairs to the fine dining restaurant. There is plenty of outdoor seating and a chic leather-paneled bar where you can sit back and enjoy contemporary American cuisine with French influences. There is also an outdoor pool and hot tub as well as an exercise room, steam room, and a sauna. Massage treatments are available for a fee and there is a free local car service for when you want to get around. In our book, the Rosewood Mansion on Turtle Creek is one the best hotels in Dallas, Texas.
7. Four Seasons Resort and Club Dallas at Las Colinas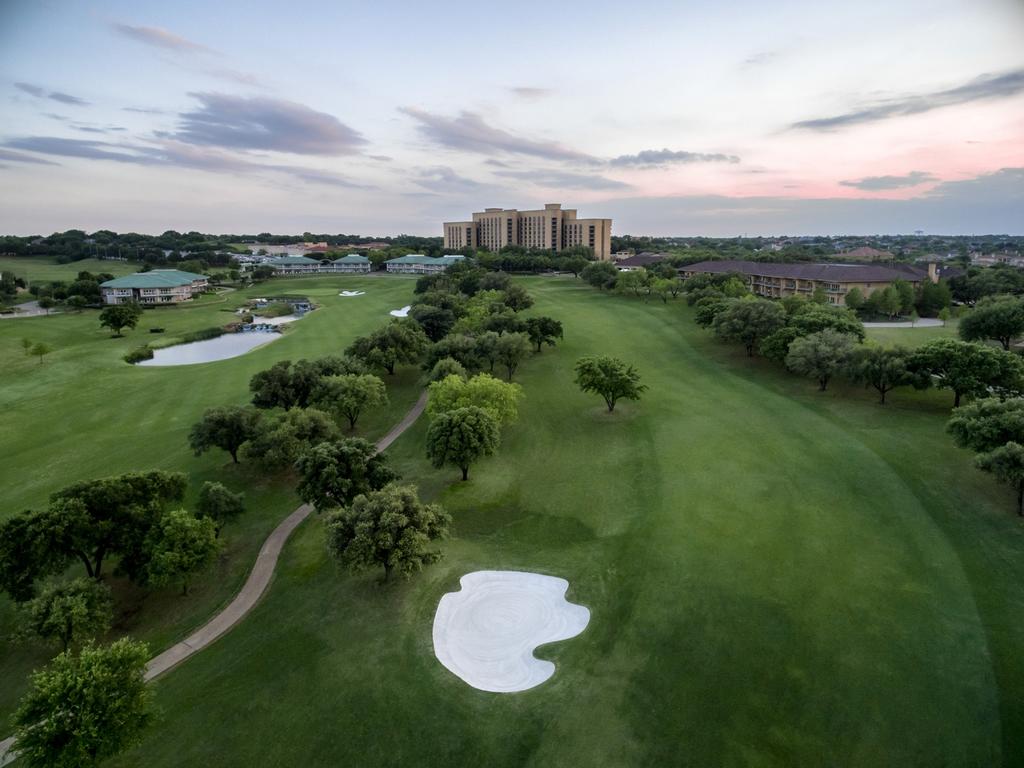 Credit: Four Seasons Resort and Club Dallas at Las Colinas
There's always something special about a stay at the Four Seasons Resort. And the Club Dallas at Las Colinas offers nothing less than the luxury you would expect – albeit with a southern twist. Located a little over two miles from the Dallas Convention Center, business people and travelers can enjoy close proximity to places they need to be. Families will love that the hotel is only five miles away from the Zero Gravity Thrill Amusement Park.
Refined rooms and suites offer marble bathrooms, sweeping balconies, free WiFi, flatscreen TVs, and desks. With the suites and villas, guests will also have access to kitchenettes, dining areas, and fireplaces, as well as private patios. But that is not all. There is also an elegant on-site restaurant serving American cuisine as well as a relaxed lounge where you can play billiards and a poolside bar with a Mexican menu. Other notable amenities include an 18-hole golf course, full-service spa, 3 pools, tennis courts, a fitness center, and a kid's club. This is one of the best hotels in Dallas, Texas.
8. The Lumen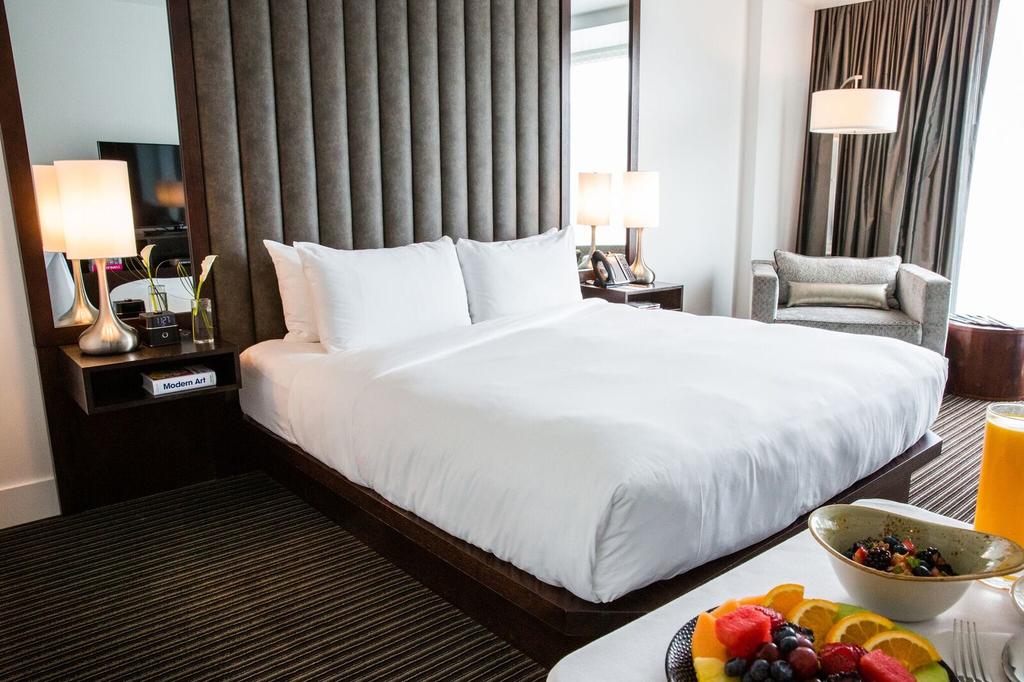 Credit: The Lumen
Just across from Southern Methodist University, this upscale hotel offers a desirable mid-century modern vibe and is just five minutes away from the Dallas World Aquarium. Each of the guest rooms is equipped with flatscreen TVs, iPod docks, yoga mats, and glass showers, WiFi is also available for a fee.
Lush studios and one-bedroom suites offer balconies, sitting areas, large soaking tubs, and kitchenettes. We love that your morning tea and coffee, local car service, and evening wine specials are all complimentary. As if that wasn't enough, there is also a seasonal heated outdoor pool surrounded by private cabanas and adjacent to a trendy lounge. Other notable amenities include loaner bikes, a trendy tavern-style eatery, and 24/7 fitness and business centers. Parking is available at an additional rate. This is one of the best hotels in Dallas.
9. W Dallas – Victory
Credit: W Dallas – Victory
Go big or go home, right? This trendy hotel offering views of the downtown skyline is only a 12-minute walk from the famous Dallas World Aquarium. Stylish rooms offer southwestern-inspired accents, sweeping city views, a 42-inch flat-screen LCD TV, and sleek-open concept bathrooms. For those who choose a suite, you will have access to a separate living room area, floor-to-ceiling windows, and expansive balconies with panoramic views. Amenities also include an infinity pool, full-service spa, fitness center, lobby bar, gastropub, eight meeting rooms, and a 24-hour fitness center. This is one of the best hotels in Dallas, Texas.
Book Your Stay At One of the Best Hotels In Dallas, Texas
We hope you enjoyed reading our article on the best hotels in Dallas, Texas. As you can see, this city is such a unique place to visit, offering some of the most spectacular historical sites in the country; the scenery will leave you in awe. Whether you're seeking adventure, urban exploration coffee shop hopping, or simply some R&R, this city offers it all and more. Dallas, Texas is one of our favorite places to explore both the metropolis feel and get back to good old nature. The best time to visit all depends on what you want to see.
Dallas isn't usually the first place that pops in most people's heads when they think of a vacation. But that's what makes it so perfect. Unlike popular picks like Orange County, CA or some Mexican beaches, it's not packed with party-seekers or overflowing with tourists.
While those places certainly have an allure, there's something fun about this urban exploration. If you're looking for a unique, relaxing summer vacation destination, Dallas is the place to be.
The best hotels in Dallas, Texas are right in the middle of it all, offering close proximity to either downtown or all the cultural attractions. Each one is truly unique and equipped with luxury amenities, sure to satisfy the needs of any traveler. Do you have any favorite hotels in Dallas that were not featured on our list? Perhaps, you have some questions or comments for us. Whatever's on your mind, we'd like to hear it. Let us know your thoughts in the comment section below.
Related Article: 12 Best Hotels And Resorts In Texas