Here are the best things to do in Dallas with kids.
Hey, you! We know that family vacation is coming up. Are you visiting Dallas for the holidays? If you're looking for ways to keep the kids entertained and you sane, we've got 'em. Sure, this city has a reputation as a hipster coffee shop mecca and for a great country music scene. But there is so much more to the city than that. This is also a great place to travel for families. You'll find that the weather here is nice pretty much all year-round and there are plenty of places to explore. When it comes to fun things to do in Dallas with kids, we've got you covered. Don't sweat it parents. That does not mean you'll be sitting bored at a Wiggles' concert.
Here Are Our Picks for the Top Fun Things to Do in Dallas with Kids
1. Head Over to Dallas Arboretum and the Botanical Garden
Have you seen anything more beautiful than this 66-acre botanical garden? We love roaming the grounds here and learning about all of the different plants. This is also a great way to get the kids outside, get some exercise, and have a fun, educational experience. You'll find the Dallas Arboretum and Botanical Garden located on White Rock Lake just outside of the city center.
Sprawling picnic areas offer prime places to sit on the grass and lounge. Pack your own lunch, sit back, and watch nature at its finest. Did we mention that there is also a kid-sized pioneer village? This place has fun activities even the pickiest of kids are sure to love. The opportunities to explore are nearly endless. We have to say that visiting here is one of the most fun things to do in Dallas with kids.
2. Spend the Afternoon at Adventure Landing
It's all in the name, right? This aquatic chain offers fun attractions like mini golf, laser tag, go karts, and more. If you're up for some awesome family fun and exciting attractions, Adventure Landing is the place to be. This theme park is located just outside of Dallas and has everything you need to get that adrenaline pumping. You can choose to buy either an all access pass to the park or pay by the attraction.
3. Get Your Adrenaline Fix at Six Flags over Texas
Credit: Wikimedia Commons
You've heard of Six Flags but have you heard of Six Flags over Texas? You'll find this theme park in the city of Arlington, just outside of Dallas. When you're ready to spend a day of fun in the sun on soaring roller coasters, splash rides, and eat your weight in cotton candy, go ahead and book your tickets. After all, what is a family vacation without a trip to the theme park? This is easily Dallas/Ft. Worth's most popular attraction, featuring dozens of thrill rides, shows, activities, and more. Choose to buy an all-access fast pass or a day pass and enjoy all that this fun zone has to offer. Don't forget to pick up a few souvenirs on the way out!
4. Go See the Animals at the Dallas Zoo
Credit: Wikimedia Commons
Located three miles south of downtown Dallas, you will find the zoo. Did you know that it has been around ever since 1888? It's the oldest and largest zoological park in the state and is managed by the non-profit Dallas Zoological Society. If your kids love animals, this is wonderful place to spend the day. The zoo offers a number of fun and exciting exhibitions like Safari Nights, a nightly concert series. Plus, they have wine and beer for tired parents who have been running around after the kiddos all day.
5. Marvel at Marine Life in the Dallas World Aquarium
In the historic West End district of the city, this aquarium offers plenty of fun things to do in Dallas with kids. Here, you will find a myriad of activities and exhibits from around the world. Among them include Borneo, Fiji, Indonesia, Japan, and South Africa. While you are there, make sure to go and check out the Flooded Forest, Ancient Mayan exhibits, two of the most popular sites at the aquarium.
6. Take in a Ranger's Game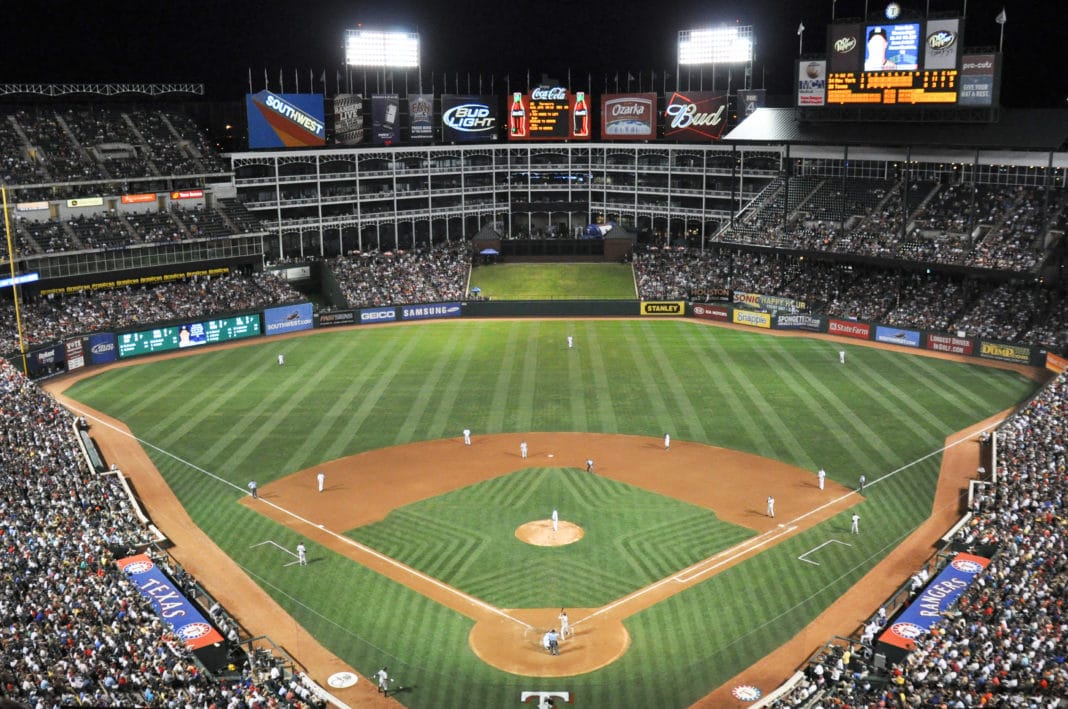 Credit: Flickr
Does your kid love sports? Nothing is more fun than taking in an afternoon at the Rangers game. The Globe Life Park in Arlington is a fun place to beat the heat in the summertime. Get some water, ice slushies, and hot dogs. If you come early before the game starts, you can watch the Rangers warming up. Even if you're not a baseball nut, this is a fun place to be for the atmosphere. If you're looking for fun things to do in Dallas with kids, come on out.
7. Make a Splash at Six Flags Hurricane Harbor
We told you about Six Flags Hurricane Harbor. Now, it's time for the waterpark fun version. Did you know that this is not only the largest waterpark in the city but one with the best rides? There's nothing quite like the intense twister and Black Hole rides. Now, those are ones that even the parents will love. Or if you're not into the intense rides, kick back and put your feet up on the lazy river water rides and wind your way around the park.
There is truly something for everyone here. Either way, you'll beat the summer heat. Want a pro tip? If you want to get in on some rides before the crowds start piling up, come as soon as the park opens. This way, you and the kids will be able to get at least two or three rides under your belt before the lines start really forming. Everyone seems to come in the early afternoon when the heat hits the city.
8. Have Some Fun (and Save Some Money) at Sandy Lake Amusement Park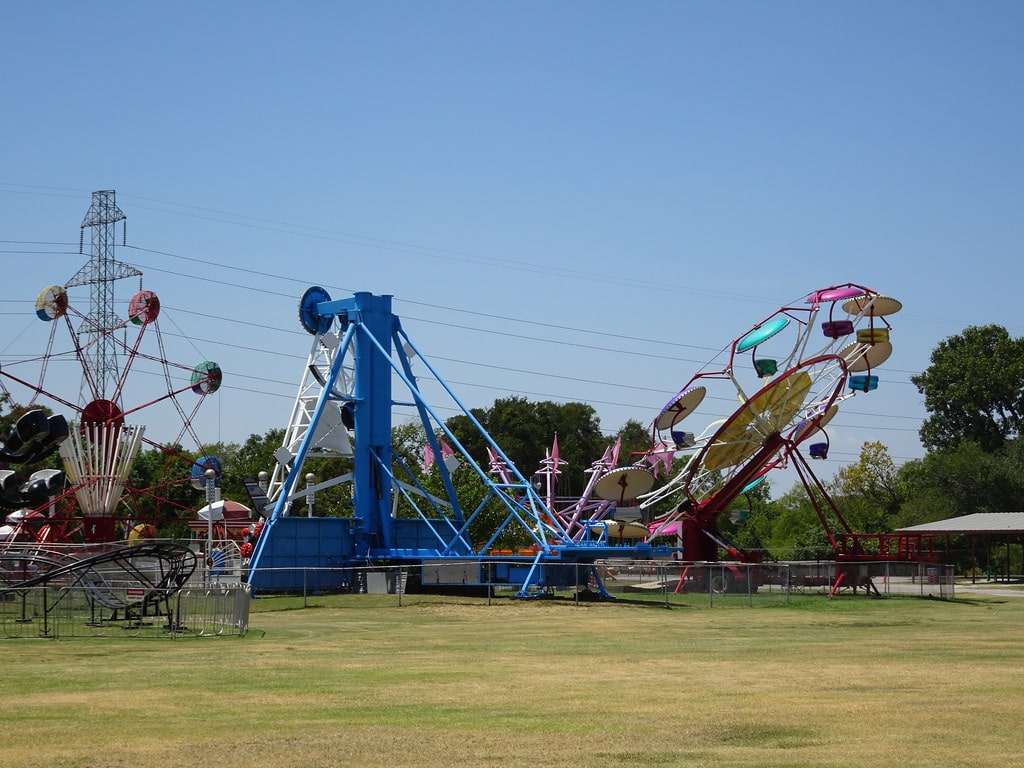 Credit: Flickr
This isn't your ordinary park. It's better. If Six Flags is too crowded for the day, here is another great option. You'll find Sandy Lake Amusement Park located in Carrollton just outside of the city. There is a reason it is a true favorite among the locals.
Picture the entertainment of a carnival without all the crazy lights and sounds. This picturesque park is a place the whole family can truly enjoy together. Here, you'll find a myriad of activities to take part in. There are paddle boats, a petting zoo, pools, mini golf, rides, arcade games, and more. Your kids will think they are in paradise. And your wallet will thank you. General admission is only $2 a person and children under 3 get in for free. After you are inside, you can buy tickets for the activities that you want to do. Pick and choose your own adventure.
9. Learn and Laugh at the Perot Museum of Nature and Science
Two sprawling campuses sit on Victory Park and Fair Park. If you're looking for fun things to do in Dallas with kids, take them here. Offering eleven permanent exhibits, the Perot Museum of Nature and Science offer a truly unforgettable experience for guests of all ages and interests.
here are so many fun and educational programs for kids to take part in. A few of our favorites include Story Time Under the Stars and Budding Scientists. The latter offers curious young minds the opportunity to take part in hands-on experiments with scientists on the museum staff. How cool is that?
10. Get a History Lesson at the Dallas Heritage Village
Credit: VisitDallas.com
Home to one of the greatest collections of pioneer and Victorian homes, the Dallas Heritage Village is hands down one of our favorite places in the city? Do you have any history buffs in your family? If so, they will absolutely love your visit. And even if you don't, what better way to learn than immersing yourself in the heart of the city's heritage itself? You will find this fun stop set along the red brick-lined Main Street. Children and parents alike will enjoy learning about what life was like in Dallas in the 19th century.
11. Go See a Show at the Dallas Children's Theater
Kids and families alike will enjoy coming to the Dallas Children's Theater. Here, there are a variety of fun shows put on as well as classes and educational programs to come and take part in. Did you know that it has been consistently ranked as one of the top theaters in the country? If that doesn't want to make you come and visit, we do not know what will.
It's a wonderful place to see classic productions come to life. Some of our favorite past performances include The Wizard of Oz, Peter Pan, and the Musical Adventures of Flat Stanley. P.S. If you don't know who Flat Stanley is, prepare yourself. You're in for a fun 90s throwback treat. All in all, the Dallas Children's Theater offers a fun way to get good, clean entertainment.
Book Your Vacation and Enjoy the Best Things to Do in Dallas with Kids
You don't have to be bored taking in kids activities. And they don't have to be bored at yours. There are activities out there that the whole family can truly enjoy. Things like bike riding in the park, checking out the best restaurants, and hitting up local museums are just a few examples of fun for everyone. Luckily for you, there are plenty of things to do in Dallas with kids and nearby. There are also some fun weekend getaways and national parks not too far away.
Have you been to the city and have some recommendations for us? While this city has so much to see, we realize we can't include it all. Let us know your thoughts in the comment section below.
Related Article: 10 Fun Things to Do in Austin with Kids