Are you looking for the best harness that money can buy? Invest in the Petzl Sama.
What do we love about the Petzl Sama climbing harness? In short, everything. Not only is it a harness that you can use for every type of climbing but it is super comfortable for belaying. Did we mention that it is affordable too?
Petzel recently updated the already popular Sama style. What is the result? It's a newly improved harness that is somehow even more comfortable and durable than the last style they made. We don't know how they have done it but they really stepped up their game. A fixed loop style, it offers a large set of gear loops as well as a rated haul loop. This makes it a great choice for long free routes. Whether you're hanging, belaying, or climbing, you will be hard-pressed to find a more comfortable fit than the Petzl Sama.
A Little Bit About Petzl
If you haven't heard of the brand Petzl before, it's time for an introduction. As a manufacturer of climbing gear, they make some of the best equipment on the market. Their headquarters are based in Crolles France, started by the cave explorer Fernand Petzl in the mid 1970s. Through their innovative product invention, they provide solutions for professionals and sports enthusiasts alike to access places that would otherwise seem inaccessible. Among their top specialties are: mountaineering, climbing, and caving.
Improvements Made to the Petzl Sama Style
Let's talk about the improvements that have been made to the Petzl Sama style, shall we? First off, we have to acknowledge the progress of aesthetics. Yes, function is the most important thing when it comes to gear. We recognize that. And we can't help but appreciate that the company has gravitated away from bright orange colors to a soft muted gray. What can we say? We like it when your climbing gear matches your apparel. Call us minimalists.
Moving on to the more important changes, another update to call out is the elastic fixed leg loops. Since the fit is larger and looser now, you will enjoy greater mobility and reduced friction. Since the leg loops are also less bulky, this helps out too. Finally, the waist belt has changed too. Larger, more durable gear loops have been added to the front of the belt for easier access.
Comfort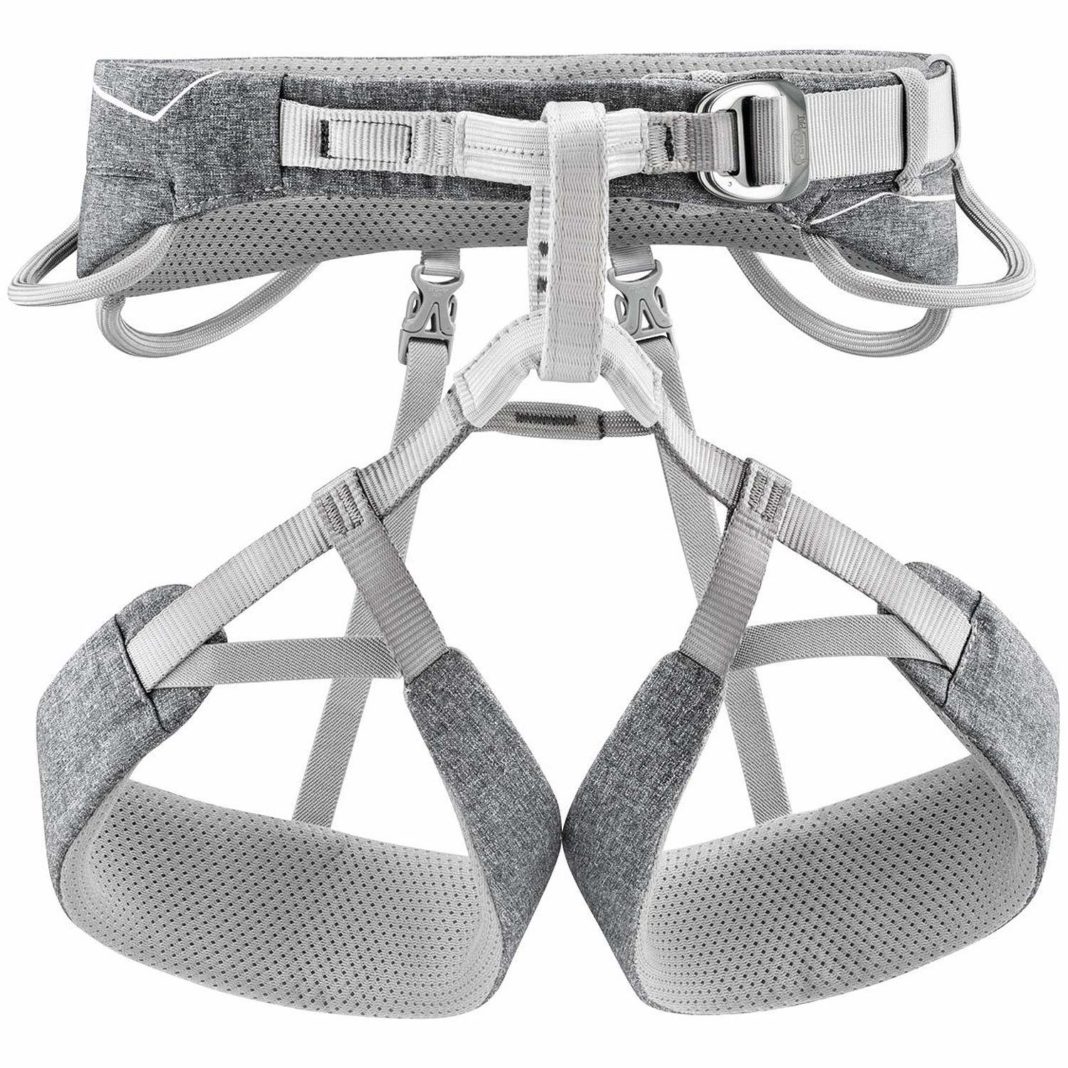 When you're climbing, we all know that comfort is key. After all, who wants a harness that cuts into you when you are hanging or belaying? We are happy to report that the Petzl Sama checks all of the boxes in the comfort department. When it comes to hanging comfort, you won't find a better style climbing harness. You could hang out in it for a long time and don't need to worry about it riding up at all. Since the waist belt is thicker across the top, the smaller strap that splits off to the bottom helps immensely with weight distribution.
How about standing comfort? As we mentioned earlier, the newly-improved leg straps on the Petzl Sama are much more comfortable than the ones on the previous version. If you're looking for unrestricted mobility, this harness has what you need. Even when you have a full rack of gear on the loops, the extra weight doesn't make the harness sag.
Features (aka the bells and whistles)
One of the changes we noticed in the features of the Petzl Sama is that there are no ice clips now. In all honesty, we wish we had kept them. With this said, the lack of ice clips is not a deal breaker for us. There are plenty of other good features and additions that more than make up for it.
For example, we really appreciate the reinforced tie point of slippery polyethylene fiber. In addition, the lower tie in point has an indicator that shows when you need to move on and get another harness. On each side, you will find two gear loops. At the front, the clips are rigid. The back offers more space for all of your essentials.
Versatility
The Petzl Sama wouldn't be one of our favorite styles if it wasn't versatile. Light, easily packable, and low profile, it checks all of the convenient boxes. All in all, it is a fantastic option for climbing in the high mountains. Due to its oversized gear loops, there is a great storage capacity. Finally, the combined comfort and mobility make it a solid option for hitting the gym.
Best Use for the Petzl Sama Harness
So what is the best overall use for the Petzl Sama Harness? The answer is wherever you want to take it. Whether you are going on a rugged outdoor climb or simply going to the gym, this harness is made to keep up with you. We have no doubts that it will work well for every type of climbing. That's why when it comes to versatility, we give it a score of 10/10.
Tech Specs:
Two rigid equipment loops in front for easy clipping and unclipping of quickdraws.

Two rear equipment loops are flexible, for bringing gear to the front and for comfort when carrying a backpack.

One rear loop for trail line.

ENDOFRAME Technology construction allows for excellent weight distribution.

Padded waistband and leg loops for a very comfortable and snug fit.

Material(s): nylon, polyester, EVA, polyurethane, aluminum, high-modulus polyethylene.

Certification(s): CE EN 12277 type C, UIAA.

Flexible waistband that is slimmer in the front.
What Travelers Are Saying About the Petzl Sama Climbing Harness
All in all, users love the Petzl Sama Harness. With a rating of 4.5 out of 5 stars, it really does speak for itself. Among the reviews and from use, we have found that it's so lightweight, you will often forget you are even wearing it. When you are climbing, having a durable, lightweight harness is so important. You don't want to add more weight to your gear. Versatility and mobility come together to create a useful product. Since it is so comfortable and easy to wear, you can get some good use out of it on long free climbs as well as alpine routes.
Alternative Climbing Harnesses You May Like
Are you still wanting to browse for climbing harnesses? No worries. We have got you covered. Check out these additional styles from some of our other favorite climbing-related brands.
Arc'teryx AR-395a Harness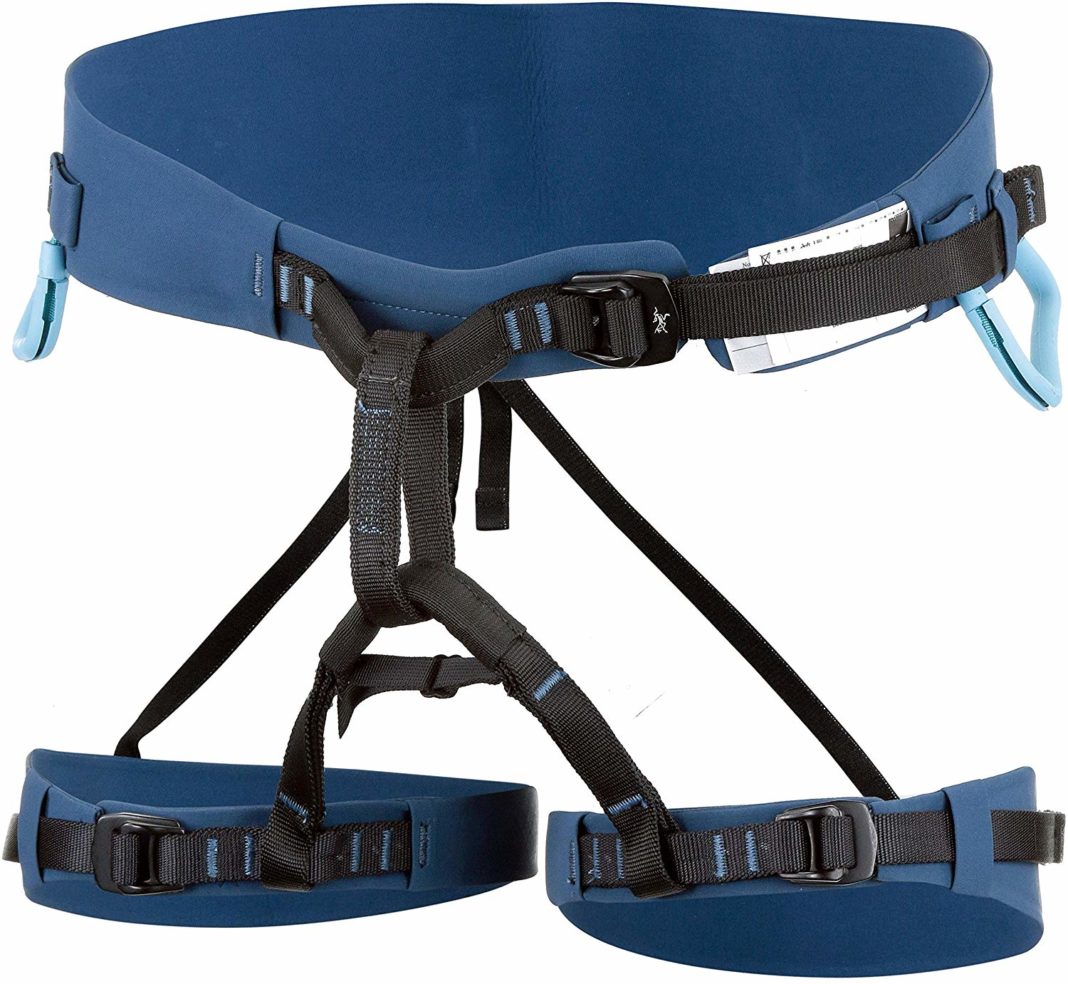 Hands down, this is one of the most versatile styles that we have reviewed. Whether you're planning on climbing an alpine summit or simply heading to the gym, the Arc'teryx AR-395a Harness has got you covered. What do we love about it? For one thing, it is very low profile. This means the harness is thin and won't weigh you down. What's the downside? The price is a little steep.
Since the Arc'teryx AR-395a Harness is noticeably wide, you can't help but feel it. If you tighten the waist belt well, it does a good job of carrying the rack. The waist belt fits so well underneath the hip belt, making it a good choice for mountaineering expeditions. Since the leg loops are adjustable, it will work underneath your clothing well.
In terms of mobility, there are a couple of things you should know. The elastic leg straps are tight (but remember that you can adjust them as needed). If the waist belt is not properly tightened, it can cause some rubbing as you climb. But this is to be expected. Arc'teryx is a brand we know and trust.
Tech Specs:
Ergonomic freedom that allows long wearing performance for versatility on both rock and on ice.

The AR-395a design reflects hiking gear innovation, comfort and performance converge.

WARP STRENGTH TECHNOLOGY – Light weight, comfortable and durable harness construction. Evenly disperses load across width.

Material Used – N72s 3L GORE WINDSTOPPER, Leather300 g/m², and polyester fleece

Construction and design provide near zero resistance, no shear (unnecessary slippage between material layers) and good grip

All-weather protection
Black Diamond Vario Speed Harness
As you probably know, Black Diamond is known for their high quality gear. Needless to say, you should expect nothing less than greatness from the Black Diamond Vario Speed Harness. If you are focused on speed and agility in your climbing game, this is your best bet. The material is made to stand up against the elements, ensuring your harness will stay put and not easily snag.
ot only that, but the waist features a large quick adjust buckle that makes clipping yourself in a breeze. This waist belt is pre-threaded. Because of that, it does not require double backing. The wide nylon webbing is the primary source of padding you will find. Unfortunately, for some hikers, this is not an ample amount of padding. This may mean that you will find that it might not be the most comfortable harness for you. While it is considered the best climbing harness by some, others have a different reason why they love it. This harness is one of the best when it comes to going to the gym. In fact, if you often find yourself in the need for a gym harness, then this is a great selection to go with.
Tech Specs:
Large Quick-Adjust buckle on waist belt is pre-threaded and doesn't require doubling back.

Quick-adjust leg loops means less time fussing and more time climbing.

Wide nylon webbing allows durability.

Material used: Nylon
Invest in the Petzl Sama Harness for Your Next Climbing Adventure
We've said it before and we'll say it again. This harness is lightweight, durable, and made for mobility. As a climber, you want gear that can keep up with you. The Petzl Sama harness does that and more. The wide waist belt and elastic leg straps offer plenty of support. This is one of the most portable climbing harnesses on the market. You won't get any extra bulk here. In addition, the large haul loop offers plenty of places for hanging gear.
If you invest in the best climbing harness, it will last you for many years to come. It makes sense to have one really good one. All in all, this is one of our favorite pieces of climbing gear on the market. We highly recommend the Petzl Sama Harness to any climber looking for versatile adventure gear.
Related Article: 7 Best Climbing Harnesses For Your Next Adventure