Climbers, you know the importance of owning good gear. Enter the Arc'teryx AR-395a Harness.
While it's natural to own several pairs of climbing shoes, you only need one quality harness. If you choose to invest in the Arc'teryx AR-395a Harness, we promise you won't need to go out and replace it anytime soon. As you well know, this brand is an industry leader in the travel and outdoor gear industry. It's no wonder that this product is a popular one among adventurers.
Hands down, this is one of the most versatile styles that we have reviewed. Whether you're planning on climbing an alpine summit or simply heading to the gym, the Arc'teryx AR-395a Harness has got you covered. What do we love about it? For one thing, it is very low profile. This means the harness is thin and won't weigh you down. What's the downside? The price is a little steep.
A Little About Arc'Teryx
A Canadian outdoor and sports company, Arc'Teryx is a well known industry leader. Most people don't know but both the name and logo of the brand refer to the Archaeopteryx, one of the earliest bird species. If you're looking for a high performance tech company, look no further.
For climbing, skiing, and alpine technologies, this brand is top notch. Ever since 1989, they have been making travelers happy with high-quality gear that will last for years to come. We're avid users of their products and will continue to invest in gear that gets us far. Needless to say, the ARC'TERYX C80 Chalk Bag lives up to the hype.
While it is the most expensive among the selection of Arc'Teryx's harnesses, there is a reason for it. The Arc'teryx AR-395a Harness is the only one with adjustable leg loops. In addition, it features a wide waist design and doesn't have padding. Does this sound uncomfortable? Yes. But it actually reduces tension, diffusing pressure. This warp strength technology design doesn't constrict you with unnecessary straps around the body. So what's the big idea? The waist and leg loops are all one large strap.
Let's Compare Performance
Hanging comfort is a biggie in the world of rock climbing harnesses. When you're taking a breather and resting those sore muscles, the last thing you want to feel is your harness cutting into you. We appreciate how comfortable the waist belt is and that the leg loops don't ride up.
How about standing comfort? Since the Arc'teryx AR-395a Harness is noticeably wide, you can't help but feel it. If you tighten the waist belt well, it does a good job of carrying the rack. The waist belt fits so well underneath the hip belt, making it a good choice for mountaineering expeditions. Since the leg loops are adjustable, it will work underneath your clothing well.
In terms of mobility, there are a couple of things you should know. The elastic leg straps are tight (but remember that you can adjust them as needed). If the waist belt is not properly tightened, it can cause some rubbing as you climb. But this is to be expected.
Features (aka the bells and whistles)
What other features does the Arc'teryx AR-395a Harness have? To start, it has a belay loop and reinforced tie. Looking at the leg straps, you will find auto-locking buckles. A large haul loop makes for a great place to clip extra things you need. In addition, you will also find four ice clipper slots. Last but certainly not least, the leg loops are removable if you are seeking out a little extra comfort.
While we love these features, there are a few things that we need to point out. The auto-locking buckles are a well-intended one. However, they can be difficult to loosen under pressure. The design is more depending on webbing than the friction from it to remain tight. Is this a deal breaker? No. But we wouldn't mind having the buckles just a tad bit tighter.
Versatility
The Arc'teryx AR-395a Harness wouldn't be one of our favorite styles if it wasn't versatile. Light, easily packable, and low profile, it checks all of the convenient boxes. All in all, it is a fantastic option for climbing in the high mountains. Due to its oversized gear loops, there is a great storage capacity. Furthermore, you can place your ice clips at the front, in the middle, or both. This is a feature that is hard to find – even among many of the other leading name brands. Finally, the combined comfort and mobility make it a solid option for hitting the gym.
Best Use for the Arc'teryx AR-395a Harness
So what is the best overall use for the Arc'teryx AR-395a Harness? The answer is wherever you want to take it. Whether you are going on an alpine climb or simply going to the gym, this harness is made to keep up with you. We have no doubts that it will work well for every type of climbing. That's why when it comes to versatility, we give it a score of 10/10.
Tech Specs:
Designed for men

Weather resistant (windproof)

Belay loop and reinforced tie

Auto-locking buckles at leg straps

Large haul hoop and four ice clipper slots

Removable leg loops

No extra padding

Lightweight and easy to wear

Runs slim
What Travelers Are Saying About the Arc'teryx AR-395a Harness
All in all, users love the Arc'teryx AR-395a Harness. With a rating of 4.3 out of 5 stars, it really does speak for itself. Among the reviews and from use, we have found that it's so lightweight, you will often forget you are even wearing it. When you are climbing, having a durable, lightweight harness is so important. You don't want to add more weight to your gear. Versatility and mobility come together to create a useful product.
Travelers concur that the Arc'teryx AR-395a Harness is well made and they are satisfied overall with their purchase. With this said, there were a few suggestions for improvement. First, the harness tends to run on the slim side. With this said, it can be difficult to fit over cold weather gear for ice climbing. In addition, the bag that the harness comes in is very small. It can be difficult to get the harness to fit back in the bag when you want to store it away. While the bag isn't a big deal, for this price, some people think that Arc'teryx should have included a better storage bag.
Alternative Climbing Harnesses You May Like
Are you still wanting to browse for climbing harnesses? No worries. We have got you covered. Check out these additional styles from some of our other favorite climbing-related brands.
Petzl Sama Climbing Harness
Are you looking for the best climbing harness? Look no further than the Petzl Sama. The gray and polyester blend is sure to match your apparel and other climbing gear. When it comes to practicality and ease of use, it passes our test with flying colors.
First things first. The material is comfortable and offers support in both the waist belt and padded leg loops. We know that mobility is important and this harness allows you to have full range of motion. Furthermore, the wide waist belt allows for additional support and comfort. Climbing and carrying your gear has never been more of a breeze.
Tech Specs:
Two rigid equipment loops in front for easy clipping and unclipping of quickdraws.

Two rear equipment loops are flexible, for bringing gear to the front and for comfort when carrying a backpack.

One rear loop for trail line.

ENDOFRAME Technology construction allows for excellent weight distribution.

Padded waistband and leg loops for a very comfortable and snug fit.

Material(s): nylon, polyester, EVA, polyurethane, aluminum, high-modulus polyethylene.

Certification(s): CE EN 12277 type C, UIAA.

Flexible waistband that is slimmer in the front.
Black Diamond Vario Speed Harness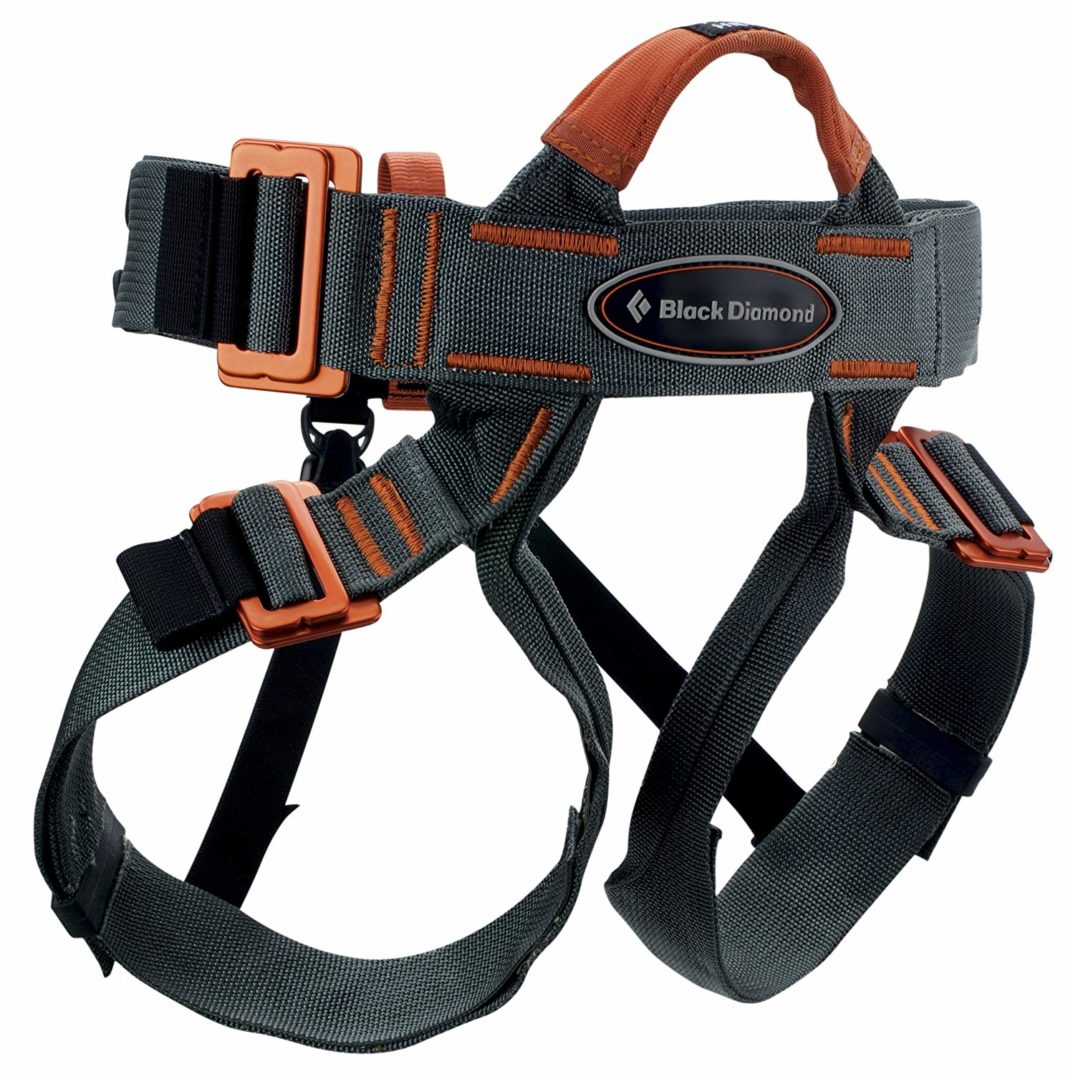 As you probably know, Black Diamond is known for their high quality gear. Needless to say, you should expect nothing less than greatness from the Black Diamond Vario Speed Harness. If you are focused on speed and agility in your climbing game, this is your best bet. The material is made to stand up against the elements, ensuring your harness will stay put and not easily snag.
Not only that, but the waist features a large quick adjust buckle that makes clipping yourself in a breeze. This waist belt is pre-threaded. Because of that, it does not require double backing. The wide nylon webbing is the primary source of padding you will find. Unfortunately, for some hikers, this is not an ample amount of padding. This may mean that you will find that it might not be the most comfortable harness for you. While it is considered the best climbing harness by some, others have a different reason why they love it. This harness is one of the best when it comes to going to the gym. In fact, if you often find yourself in the need for a gym harness, then this is a great selection to go with.
Tech Specs:
Large Quick-Adjust buckle on waist belt is pre-threaded and doesn't require doubling back.

Quick-adjust leg loops means less time fussing and more time climbing.

Wide nylon webbing allows durability.

Material used: Nylon
Invest in the Arc'teryx AR-395a Harness for Your Next Climbing Adventure
We've said it before and we'll say it again. This harness is lightweight, durable, and made for mobility. As a climber, you want gear that can keep up with you. The Arc'teryx AR-395a Harness does that and more. The wide waist belt and elastic leg straps offer plenty of support.
While there isn't a lot of padding in the waist, this reduces extra weight. As a result, this is one of the most portable climbing harnesses on the market. You won't get any extra bulk here. In addition, the large haul loop offers plenty of places for hanging gear.
This is a great buy for any type of climbing. Something to keep in mind is that it is made with a slim design. Make sure you know your measurements if you plan on using it for cold weather climbing. This is important since you will need to fit the Arc'teryx AR-395a Harness over your gear. Thanks to warp strength technology, this harness is lightweight, comfortable, durable, and distributes weight evenly.
Despite the pricey sticker, this harness is worth the buy. After all, if you invest in the best climbing harness, it will last you for many years to come. It makes sense to have one really good one. All in all, this is one of our favorite pieces of climbing gear on the market. We highly recommend the Arc'teryx AR-395a Harness to any climber looking for versatile adventure gear.
Related Article:​ 7 Best Climbing Harnesses For Your Next Adventure