Spacious and sturdy, the isYoung Parachute Fabric Hammock is perfect for the great outdoors.
There's nothing quite as peaceful as lying between two trees. Whether we're camping, hiking, or road tripping, we're big believers that you should always have a hammock in the trunk of your car. Just think of all the places you could bring it to. If you're in the market for an affordable, reliable buy, consider the isYoung Parachute Fabric Hammock.
A Little About isYoung
Have you ever heard of isYoung? If not, it's about time you did. Their line is quickly becoming some of our favorite travel products. Beautiful, simple, and easy to use – it really doesn't get better than that. With a keen attention to detail, their designs reflect a unique dedication to craftsmanship and service.
In pursuit of perfection and diversity in life, the result is a varied product line ready to meet the needs of every adventurous heart. Their designs cover a wide spectrum of practical products, categorized by pet goods, outdoor devices, sports goods, smart household items, and vehicle items. Some of our favorite products include their hammocks, battery operated misting fans, and multi-purpose travel storage bags.
The isYoung Parachute Fabric Hammock Features & Benefits
Lightweight and portable, the isYoung Parachute Fabric Hammock is perfect for bringing on camping and backpacking trips. Take it on a solo trip or take a pit stop and relax with your special someone. Made from a durable parachute nylon fabric, it is capable of supporting two adults up to a weight of 440.9 lbs.
Durable and Antibacterial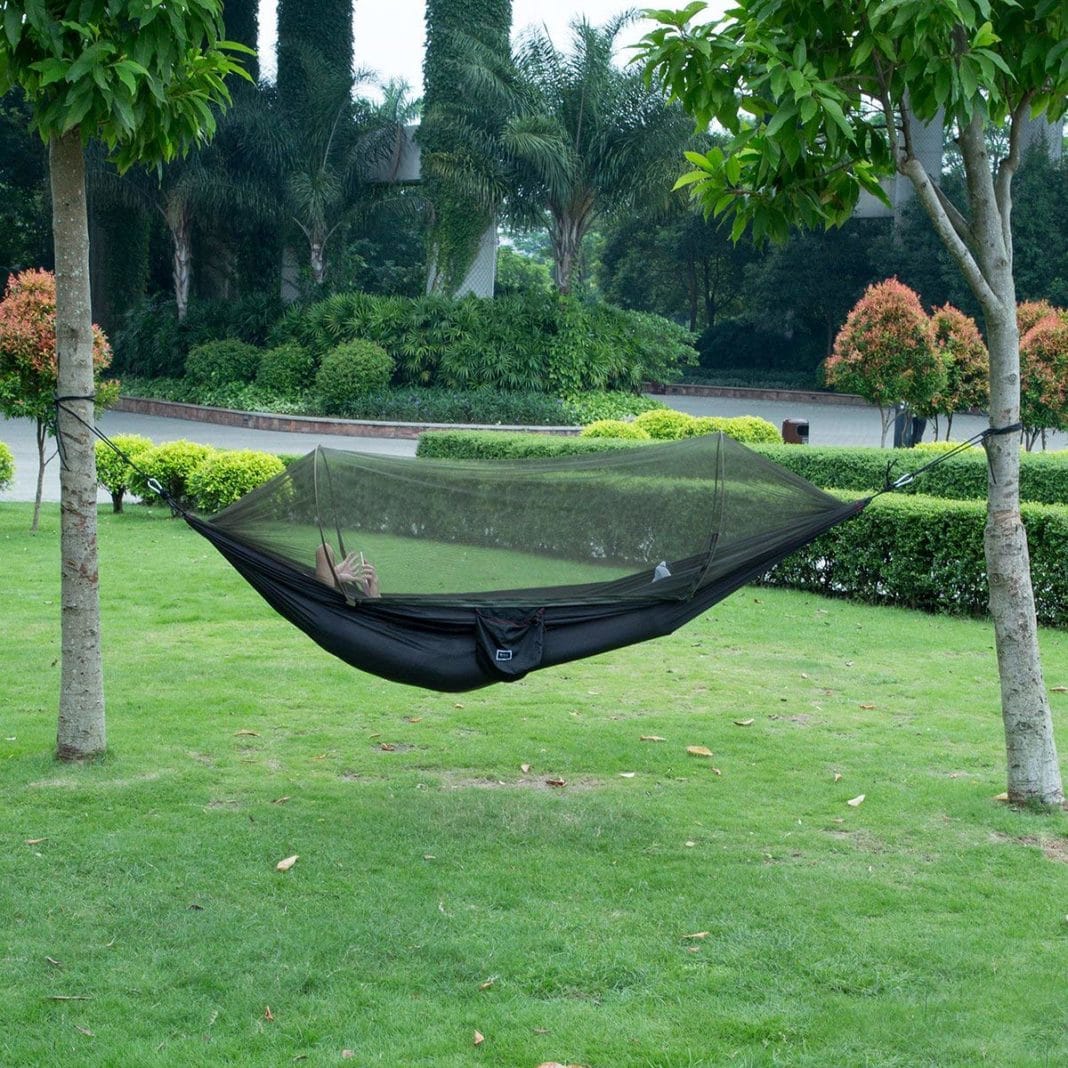 A strong and safe hammock, the isYoung Parachute Fabric Hammock is designed to keep up with all of your adventures. Take it anywhere you'd like. Thanks to the durable fabric, you don't have to worry about it getting easily snagged or torn. Furthermore, the fabric is naturally antibacterial so it will stay cleaner longer.
Mosquito-proof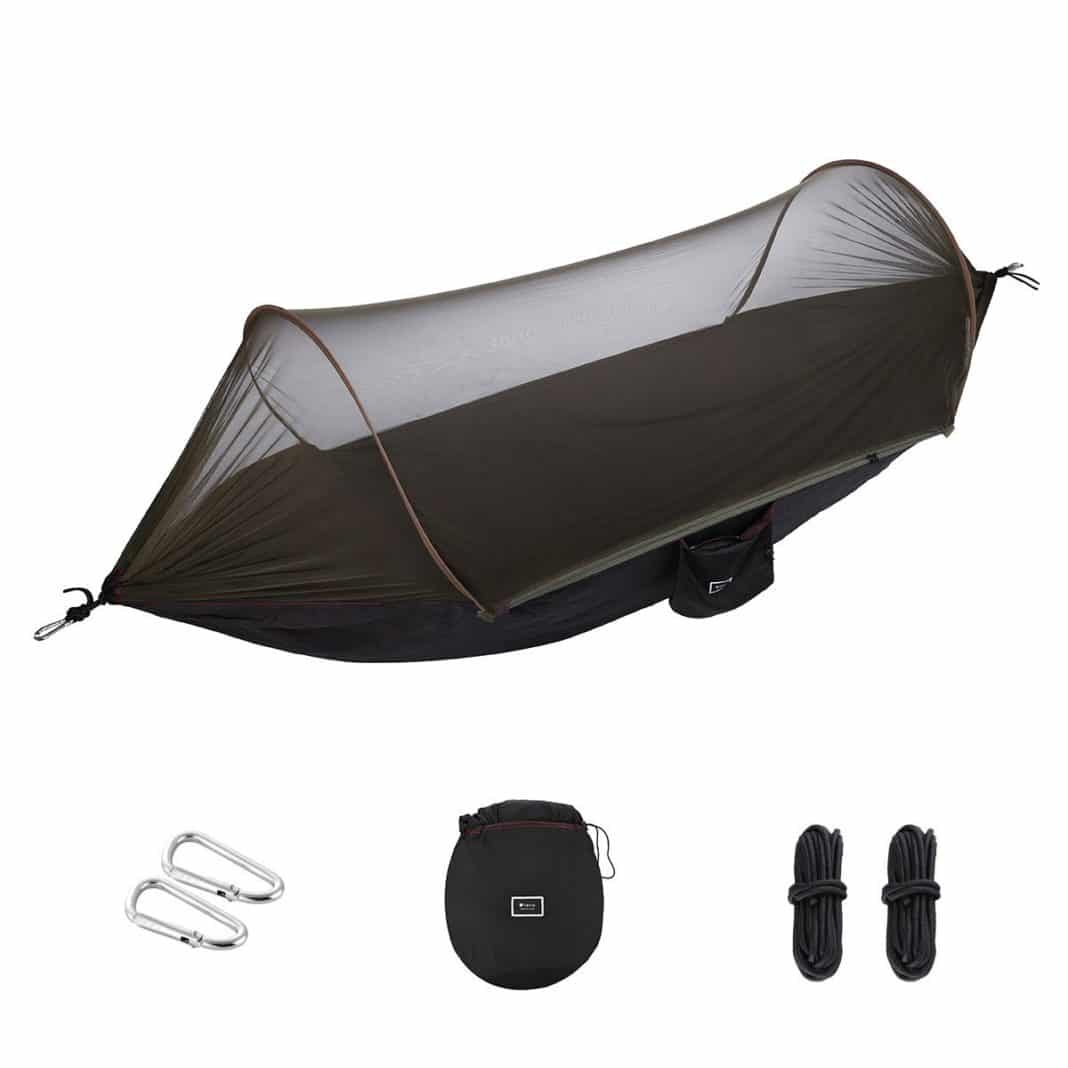 One of the downsides of camping and hiking is that there are bugs and lots of them. If you've forgotten to bring some bug spray (let's face it, we've all been there) or you just want some extra protection, the isYoung Parachute Fabric Hammock has got you covered. We really appreciate the extra care put into the design. Not only is the hammock durable and antibacterial but it also has a mosquito-proof feature.
Made with a tunnel-like mosquito net cover and smooth, reversible zippers, you can keep the bugs out and the cool, fresh air inside. Plus, the fine needle-like mesh has great visibility. So, you can still see and enjoy every bit of the beauty of the night sky.
Multi-Functional and Portable
Did you know that the isYoung Parachute Fabric Hammock can also work as a tent or a swing? That's right. It's multi-functional. So, if you ever want to set up shop on the ground by the fire or sit on a swing and eat breakfast, those are options you have. When you're ready to pack up and go, it can be folded up into a small sleeping. To pack it up, first, flatten the hammock and gather it up. Second, bend the staying bars of the net. Third, put the staying bars into the bag. Bend the rest of the bars into the bag. Next, put the hammock and ropes into the bag. Then, tie it all up. A viola!
It's easy to carry and ideal for traveling. The hammock net comes with two steel carabiners and two 118-inch nylon ropes. It's sturdier and safer. One of our favorite things about this hammock is that it is easy to install. All in all, it weighs only 2.4 pounds. Set up and tear down is always a breeze with the isYoung Parachute Fabric Hammock.
Tech Specs:
Spacious and sturdy

Color: black

Weight: 2.4 pounds

check

Size: 114.2 x 57.1 inches

check

Supports up to two adults and a total weight of 440.9 pounds

check

Durable and safe hammock net

check

70D breathable and antibacterial parachute nylon fabric

check

Mosquito-proof: tunnel-like net cover

check

Smooth and reversible zippers

check

Multifunctional and portable: works as a hammock, tent, and swing

check

Can be folded down to a compact size

check

Easy to carry

check

Comes with a small carrying bag, two steel carabiners, two 118-inch nylon ropes
What Travelers Are Saying About the isYoung Parachute Fabric Hammock
Travelers love the isYoung Parachute Fabric Hammock. With a 4 out of 5-star rating and nearly 200 customer reviews, this hammock speaks for itself. Most reviewers noted that this item came just as they expected it to be. It's more than comfortable for a night under the stars. Test it out in your backyard before you take it out in the great outdoors. This will give you a good feel for how to set up the hammock and get it in a comfortable position where it won't sway too much.
Users noted that the hammock is quite roomy. One user who was 6'4" noted that he still had plenty of space to stretch around in. The mosquito net has also been noted as strong and durable. While the material of the hammock is thin and soft, it's not so thin that it tears easily. We love that the carrying bag is attached and is just as easy to set up as it is to put away.
The few negative comments on the isYoung Parachute Fabric Hammock noted that it would be more comfortable without the support bars. But then again, you don't want to feel like you're in a cocoon. The second downside is that the framework often pokes out of the fabric and has to be tucked in. But for a price of $27.99, you really can't beat the overall quality that you are getting. We highly recommend this hammock and are excited for you to try it out.
Alternative Tree Tents You May Love
If you're still wanting to shop around for a bit, we have a few favorite styles we think you will love too. Have you ever heard of a tree tent? Basically, they are camping tents you can set above the ground. In rainy conditions or if you just want more of a bird's eye view, these travel accessories are both fun and useful to have on hand. Take a look at some of the best styles on the market.
Tentsile Flite+ Tree Tent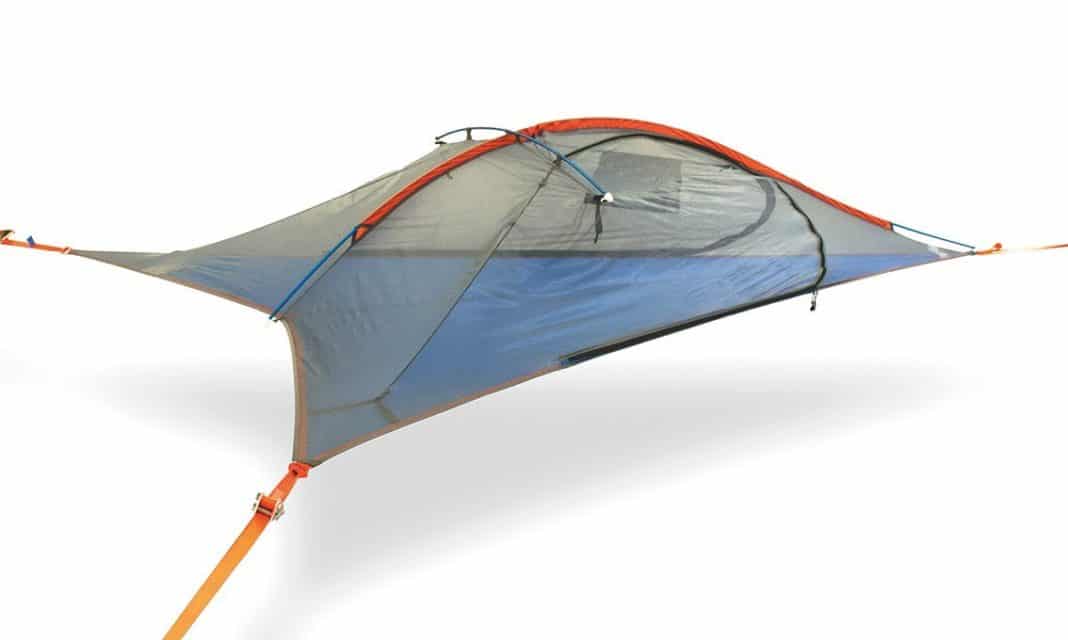 You really can't go wrong with travel items from Tentsile. For anyone seeking a two-person tree tent, you've found your perfect travel purchase. What do we love so much about the Tentsile Flite+ Tree Tent? First, it's lightweight and portable. We can't think of a more perfect style to bring for backpacking trips and camping excursions.
If you haven't heard of tree tents before, you're probably wondering – how does it stay in place? To keep you stationary, the Tentsile Flite+ Tree Tent is equipped with a cross brace that creates the extra space for headroom. We appreciate that it is a bit more spacious than its predecessor. Its handy size means it can be set up between most types of tree configurations with relative ease. You won't have trouble finding a spot to secure it – even in the densest of forests.
The Flite Plus comes equipped with a full insect mesh top with two doors. There's also a removable rain fly you can take off and catch the most incredible views. When you're not using them, simply fold the rain flaps underneath the tent and hook them to each other.
You can enjoy the protection of a windbreak as well as a thermal buffer. All in all, it only takes ten minutes to set up. Due to its size, the tent is best suited for individuals under 6'1" and 485 pounds. In the event that you're looking for a more spacious model, their Connect Tree Tent is a great option.
Tech Specs:
Lightweight model great for backpacking and camping

Cross brace for extra headroom

One ratchet helps to save on weight

check

Easy 10 minute set up

check

Insect mesh top and rainfly

check

Floor area measures at 40 square feet

check

2.5-tonne webbing straps

check

Windbreak and thermal buffer
Lawson Hammock Blue Ridge Camping Hammock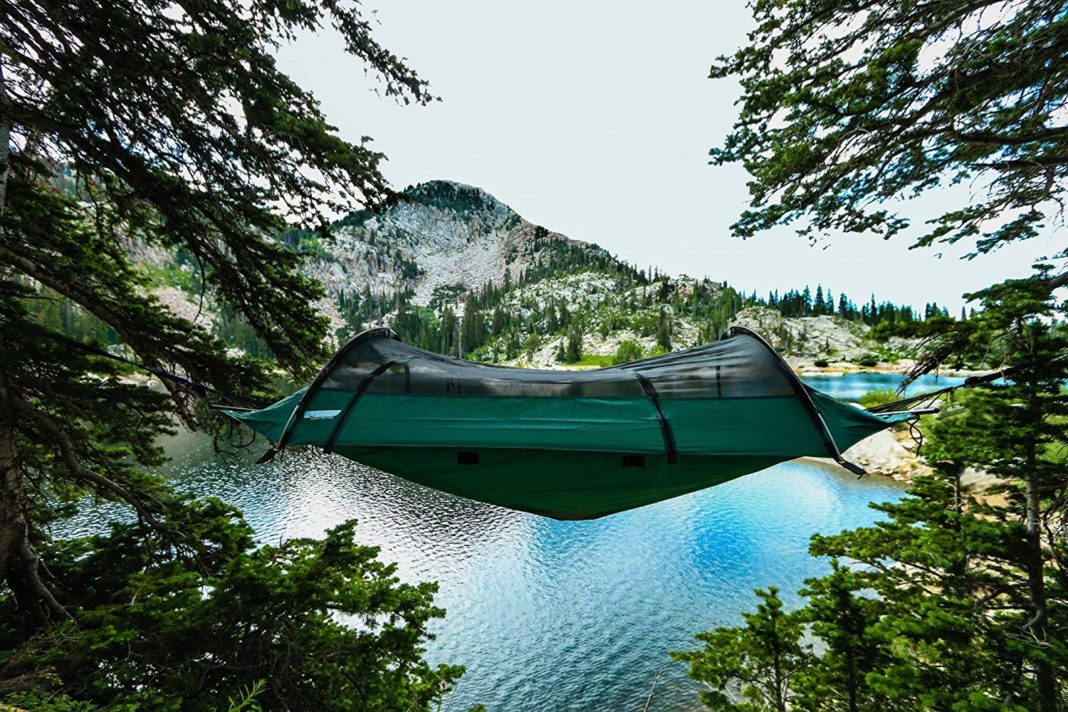 There are plenty of tree tent brands on the market. But Lawson Hammock is one of our clear favorites. With a unique hybrid design, it has been voted one of the best hammocks on the market by several leading travel publications.
Thanks to its portable design, it's perfect for travelers who like to go a little bit off the grid. In addition, the attached bug netting and rain fly offer all the protection you need from the elements. You won't need any additional tarps or staking. Another great feature is the arch poles. With them, you can also use it as an open/regular hammock for lounging in the sun.
As a versatile sleep system, the Lawson Hammock Blue Ridge Camping Hammock can act as either a sleeping bag or a hammock. To set up, first, you will set up two arching poles for the mosquito net and rain fly. At both ends of the tent, the arched poles can be lifted to form an elongated dome tent. You'll have enough room in here to sit up if you'd like or move around to get something out of your bag.
The bar system attaches to the ropes at the end of the hammock and spreads out over a flatter area. This not only helps to keep the floor more stable but it also reduces the hammock sag. When you pitch the tent on the ground first, it comes together to create one of the best small tree tents. Lightweight and durable, it's easy to set up and is perfect for all types of camping. If you're looking for a good quality budget buy, you won't find a better option than this Lawson hammock.
In addition, no-see-um mosquito netting keeps all the annoying bugs out. This hammock and all of its contents are easy to pack and unpack from the stuff sack. When you're all set up and ready to hit wind down, feel free to use the two interior storage pocket or attached o-ring for a reading light.
Tech Specs:
Polyester straps

Hybrid ground tent as well as a hammock

Great for all types of camping

check

Easily portable

check

Comfortable
Invest in the isYoung Parachute Fabric Hammock for Your Next Adventure
We hope you enjoyed reading our review on the the isYoung Parachute Fabric Hammock. As you can see, it is a great buy for those seeking an affordable, reliable travel hammock. Whether you're traveling solo or seeking a tree tent/hammock for two, this hammock and the alternative styles on our list have got you covered. Happy travels!
Related Article: 5 Best Tree Tents And Hammocks For Your Next Outdoor Adventure