Could the Garmin Vívoactive 3 be your next favorite smartwatch?
When it comes to the topic of travel, having the right gear can make all the difference. The good news is, the world of travel gear has continued to evolve making travelers that much more equipped for all their adventures. You don't have to go too far in your adventures in order to see that travelers really love one specific gadget; a smart watch. Smart watches have totally revolutionized the way travelers go about their day. Not only that but if you happen to be a traveler who loves a great athletic adventure, a smart watch can be your best friend. Today, we are going to take a look at one smart watch in specific. This smart watch is the Garmin Vívoactive 3.
When it comes to cool smart watches, the Garmin Vívoactive 3 unsurprisingly leads the way. The Garmin Vívoactive 3 has so much to offer. In fact, this watch goes beyond being the best friend of a traveler. For many athletes, this is one of the best watches that you can get your hands on. This is because it offers so much in terms of performance and versatility. Today, we are going to take an in depth look into what makes the Garmin Vívoactive 3 so great. Not only that, but we are going to take an in-depth look at all the special features and benefits that the Garmin Vívoactive 3 has to offer.
After today's review If you find that the Garmin Vívoactive 3 may not be the best watch for your needs, we have got you covered as well. At the end of this review, we have listed some smart watch alternatives. From hiking watches to athletic watches, we have got some great choices to help narrow your search for one of the best smart watches on the market right now. Let's get started!
A Little Bit about the Brand Garmin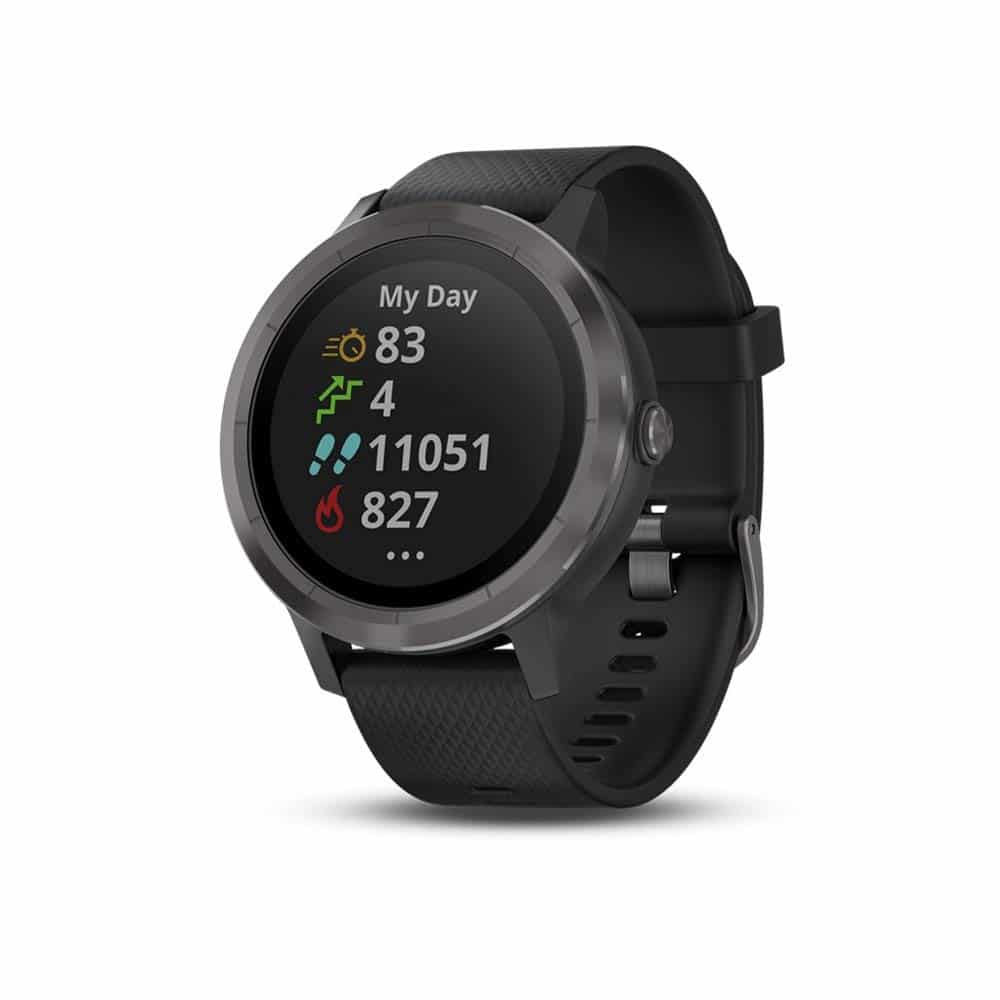 When it comes to navigating the rough roads of the world, there is no better brand that should come to mind than Garmin. Garmin is one of the leading brands in the travel industry. And it is no surprise why. From their products to their technology, Garmin is an all around awesome company that delivers.
One of the standout features that has enabled this brand to grow is their ability to adapt. What once was a brand that was primarily used for navigating the roads has now turned into a brand that can help you reach so many of your personal travel and athletic goals. For athletes all around the world, Garmin has revolutionized the way that many people approach training, sports, and physical fitness in general. Along with that, they have done a fantastic job taking out at guess work of how to use a GPS watch. In our review of the Garmin Vívoactive 3, you will see how. Along with that, you will see why the Garmin brand has been a popular choice for many athletes.
The Garmin Vívoactive 3 Watch Features & Benefits
1. Design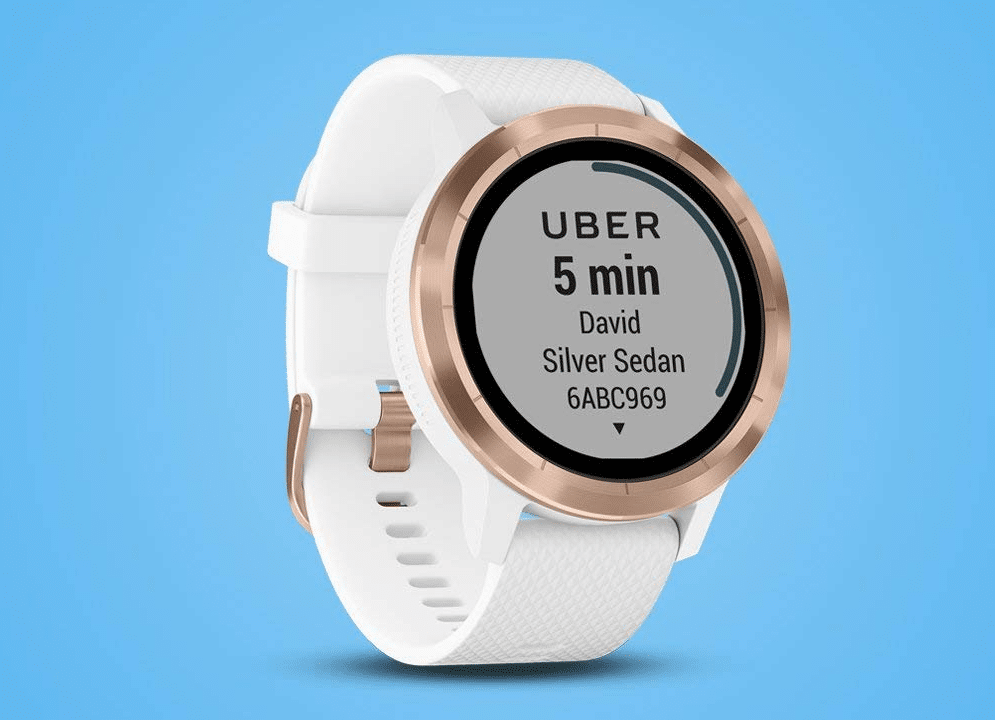 When it comes to the overall design of the Garmin Vívoactive 3, we are sure you will be pleased. For starters, Garmin Vívoactive 3 comes in three different style options. There is an all black version of the Garmin Vívoactive 3 that blends with almost every outfit. Go from one setting to another with ease. If the all black option is too mundane for you, then the black with silver accents is another great style to choose. This subtle accent is perfect if you are looking for a little bit of pop. Finally, the white option of the Garmin Vívoactive 3 is an option that is a really bold choice if you are looking for a smart watch that stands out.
Compared to most of the other smart watches in the Garmin brand, this fitness smart watch stays relatively close to the design of all the others. However, it is clear that fashion was a priority behind the Garmin Vívoactive 3. You can wear the Garmin Vívoactive 3 in a variety of settings. When you are done working out, you can seamlessly transition to a work environment or a more formal environment with your watch.
The Garmin Vívoactive 3 does away with the bulky sports look. Rather, you can tell that it is centered around fashion as opposed to being centered around sports for the outdoorsman. Don't discredit this either. Just because the Garmin Vívoactive 3 is more fashionable does not mean that it is lacking in all the other ways. There are plenty of features both basic and advanced that make this one of the best fitness watches on the market today.
The Face
When it comes to the design of the face itself, travelers and athletes are typically pleased. The Garmin Vívoactive 3 features a round face. This is a progressive deviation from the standard square face of many smart watch. The overall look of the watch's face is pretty stylish as well. It features a sleek face that is favorable to travelers who have an eye for fashion.
When it comes to the specs of the case, travelers will be impressed. The watch face is composed of a chemically strengthened glass that is super tough. You can expect the glass to withstand almost any environment and harsh conditions that you put it through. A stainless steel bezel frames this strengthened glass. This stainless steel bezel does a fabulous job of accentuating the overall look of the watch. When you flip the face of the watch over, you will be met with a stainless steel rear cover. This cover is framed within a fiber reinforced polymer. Just the face itself can easily be distinguished as a finely crafted watch.
The Band
The band of the Garmin Vívoactive 3 is also something to pay attention to. The design of the band is nice and sleek and not bulky at all. Along with the look, this band is super comfortable. It is made out of silicone and fits wrists up to 204mm. Along with the fit, the smallest circumference of the band is 127 mm. The silicone band is super comfortable. Along with that, the silicone band will ensure that your watch stays in plays no matter what type of activity you are participating in.
3. Durability
4. Performance
One of the cool things about the Garmin Vívoactive 3 is the fact that it is a great tool to have if you are an athlete. For example, the Garmin Vívoactive 3 is able to track some details of your daily performance such as your sleep tracking, and heart rate monitoring.
Along with that, your Garmin Vívoactive 3 will come preloaded with a range of sports profiles to choose from. In fact, there are 15 sports profile that will be waiting for you on your watch to play around with. Some of the popular sports profiles include golfing, swimming, and running. With these profiles, you are able to track your activity. Along with that, you will be able to set goals for yourself so that you can be at the peak of your athletic performance. Although the Garmin Vívoactive 3 watch comes preloaded with sports settings, you can always add more. There are custom profiles available for additional activities if you are in need of them.
The Garmin Vívoactive 3 also comes equipped with state of the art GPS capabilities. For hikers, this means its time to explore, so be sure to download some of the best hiking apps available. The GPS capabilities on Garmin Vívoactive 3 are pretty awesome for so many reasons. For starters, outdoor trails will easily be recorded and displayed through the Connect app. This means you will be able to hike some of the best trails in each of the 50 states with ease. If you are working out indoors or simply want to track your steps throughout the day, then the accelerometer will come in handy too.
Additionally, you also find awesome features such as calorie counting and details about distance covered. Along with this, many athletes will also appreciate the move alert feature. This cool feature can detect and record when you have fallen asleep and when you have woken up. For athletes who like a play by play of their daily performance, the Garmin Vívoactive 3 has got you covered.
5. Connectivity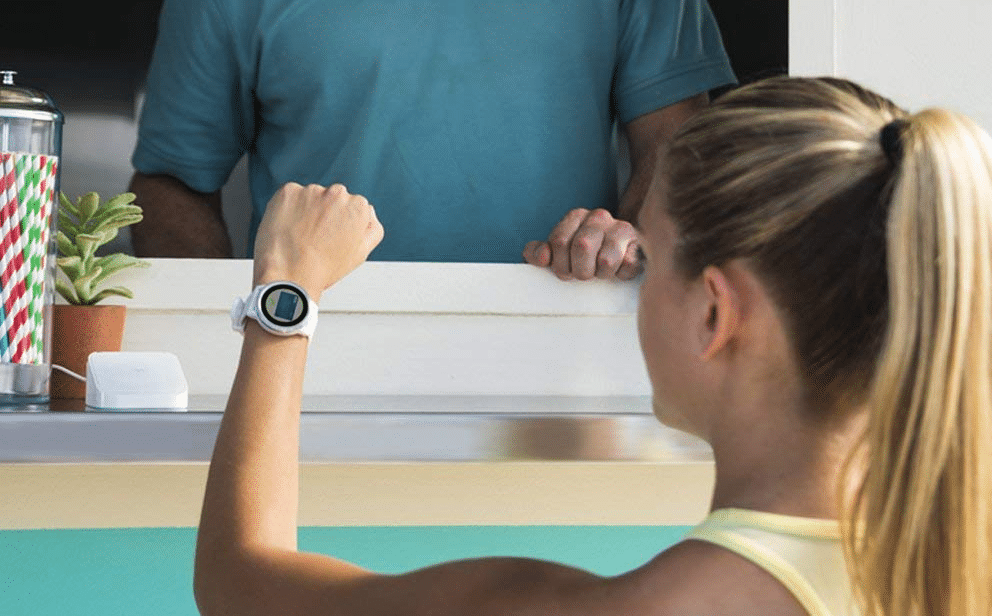 In the true fashion of a smartwatch, its connectivity is of the utmost importance. When it comes to the Garmin Vívoactive 3, the watch's connectivity abilities are pretty sweet. For starters, the Garmin Vívoactive 3 can be used with Garmin's awesome Connect application. This application is truly useful for athletes as it can give you an in-depth analysis of your training and activity. To use this application, either an iPhone or Android device will be needed. From there, you can track your progress and share it on social media platforms.
When it comes to other activities such as music control, notification, and accessory connections, the watch uses Bluetooth Smart and ANT+ technology. This ability to connect allows you to see things such as notifications ranging from your text to your email to your Uber ride right on your phone.
One of the coolest features that Garmin Vívoactive 3 has to offer is its ability to be a portable wallet. This is a feature that not many smart watches are able to offer. If you are an athlete who is on the go, you have the luxury of leaving your wallet at home. With the Garmin Vívoactive 3, you can essentially pay for anything simply by using your watch. This new feature that was recently Roll out by Garmin is called Garmin Pay. Garmin Pay works a lot like Apple Pay in the sense that you do not need a physical credit card to pay for anything anymore. Your paying capabilities are right on your smartwatch allowing you to pay that way instead.
The only downside to Garmin Pay is the fact that it is not yet readily available the way other programs such as Apple Pay are. While efforts are still in place to get Garmin Pay accepted worldwide, many travelers have been a bit disappointed that they have not always been able to use this awesome feature.
Finally, if you are an Android user you are sure to love the Garmin Vívoactive 3. If you get an incoming call or text on your Android device, you can easily respond with your Garmin Vívoactive 3. for Android user, this is super convenient because your smartwatch allows you to work out without having to always be connected to your cell phone.
While this is great there are two hiccups that are still in the process of being resolved. For starters, iPhone users completely miss out on this feature. However, it is not out of the question of whether or not this feature will be available with iPhones for future use. Along with that, if you allow push notifications, you will get all notifications directed to your smart watch. At this point, you are unable to select what notifications you get. Again, this is a feature that might be tweaked out a little more in the future.
6. Accuracy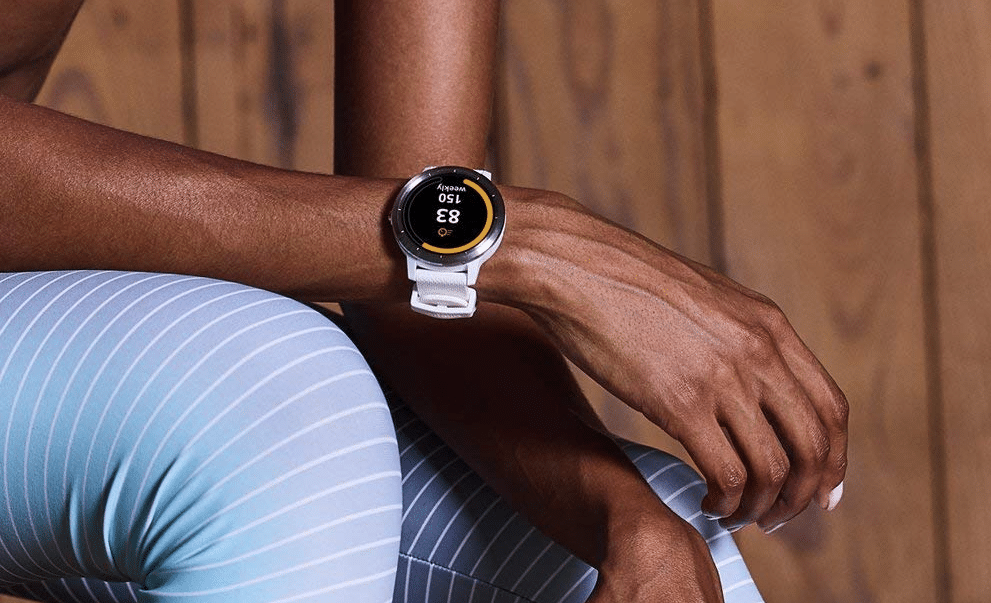 With any athlete, accuracy is a key component in a smartwatch. When it comes to the Garmin Vívoactive 3, travelers and athletes have expressed that the watch is pretty accurate when collecting data. For example, the wrist heart rate monitor captures everything from your resting heart rate to your heart rate variability. The heart rate variability allows your smart watch to detect whether or not you have different changes in your stress level. When the accuracy of this wrist heart rate monitor was tested, the results came back pretty conclusive. The Garmin Vívoactive 3 does a pretty great job accurately measuring your performance when it is collecting data.
Along with that, the accuracy of the watch is favorable when it comes to the GPS capabilities too. Whether you are cycling, running, golfing, swimming, or even hiking, the GPS will accurately track your movement. For travelers who rely on GPS capability, the Garmin Vívoactive 3 delivers well. After all, this is a smartwatch that was put out by one of the world's leading GPS brands. In order for GPS to be enabled, you do have to enable it manually. Just be aware that enabling GPS well put a strain on the battery life of your Garmin Vívoactive 3.
What Travelers Are Saying About the Garmin Vívoactive 3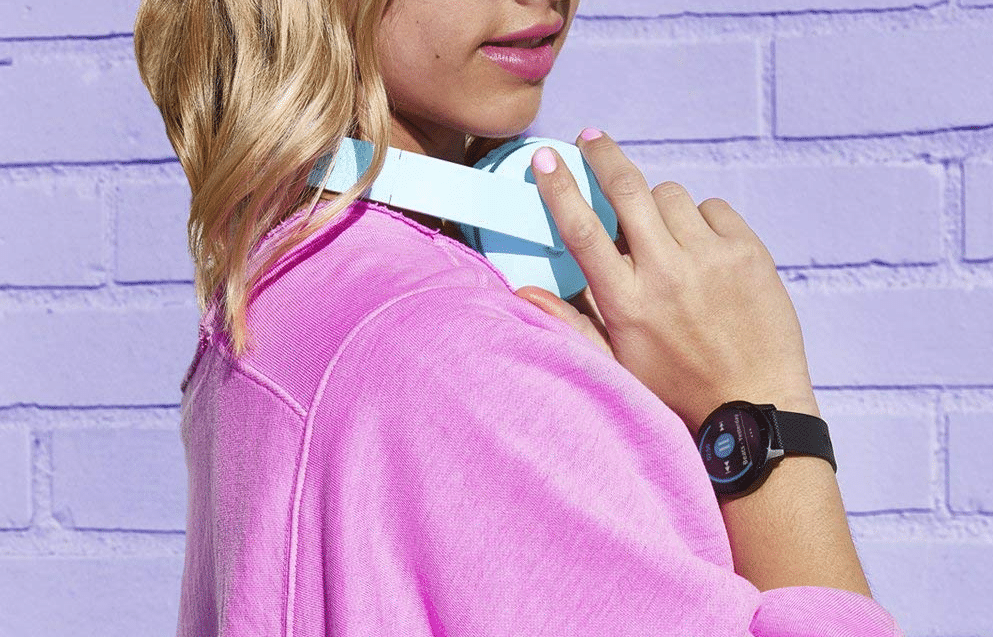 The Garmin Vívoactive 3 has been a big hit with so many travelers. More specifically, the Garmin Vívoactive 3 has especially been popular among female travelers. Many times, smart watches tend to be bulky and not really fashion forward. When it comes to the Garmin Vívoactive 3, the attention to detail and design has been much appreciated. Along with that, both novice and advanced travelers and athletes continue to spell out positive reviews. The ease of use and it's many connectivity features are downright awesome. Perhaps this is what has allowed it to continue climbing the lists as one of the best smartwatches to invest in.
Alternatives
If the Garmin Vívoactive 3 does not meet your needs as a traveler, no sweat. Check out some of these additional GPS watches that are simply awesome.
1. Garmin Epix GPS Watch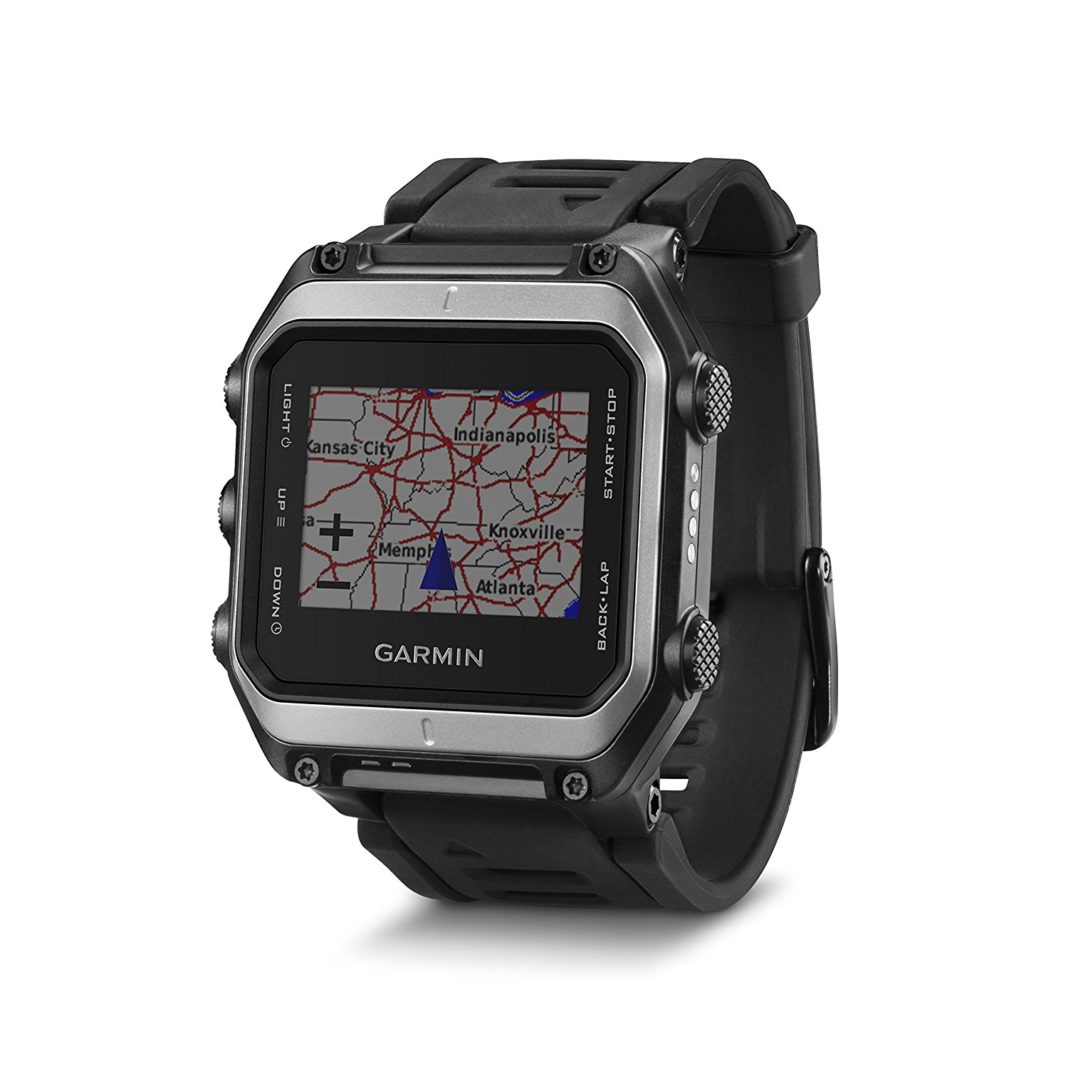 One of the defining features of a Garmin Epix GPS watch is the fact that it features a touch screen. This touch screen is a 1.4 inch high resolution touch screen that is as easy to navigate as it is easy to read. The watch's visible color chroma touch screen display makes navigating the face of the watch easy and effortless. Even in the harshest of conditions, you will have an easy time using your watch. The Garmin Epix also offers 8 gigabytes of storage. This is an awesome feature for hikers who rely on maps. Your internal memory will allow you to download a range of maps that will help guide you on your travels.
2. Garmin Fenix 3 GPS Watch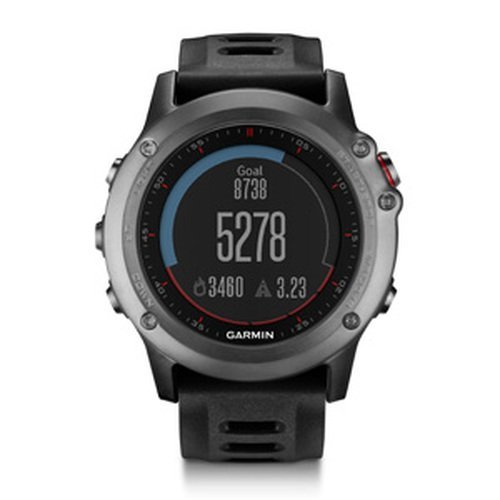 This next watch is one of the best hiking watches if you are an outdoor enthusiast. The Garmin Fenix 3 offers so many features and benefits that travelers and athletes alike will love. For starters, this watch is incredibly durable. If you are an outdoor lover who is constantly in rough conditions, this GPS watch is a great choice to go with as it will easily collect info about your travels. Along with that, water lovers will love that the Garmin Fenix 3 is water rated up to 100 meters.
In regards to its GPS capabilities, it stands out in all the ways you would expect a Garmin product to. For example, you can go out into the wilderness and track your performance easily and effortlessly. The Garmin Fenix 3 features an Omni directional EXO antenna. This antenna allows for faster and more accurate position when paired with GLONASS and EPO. Hikers who require a constant knowledge of position will get great use out of these GPS capabilities.
If you are an athlete, you will love that the Garmin Fenix 3. This is a great gadget to help you enhance all your athletic goals. For example, there are fitness training features like VO2 Max and Recovery Advisor. These features allow you to get an understanding of your performance, and make adjustments as needed. Finally, the Garmin Fenix 3 has awesome connectivity features. You can connect it with Garmin's applications as well as devices with a Bluetooth connection. If you are an outdoor enthusiast who prioritizes GPS capabilities then this is for you. Athletes who enjoy collecting accurate data such as heart rate and distance covered, then this watch is a great option to go with as well as well.
3. Garmin Tactix Bravo GPS Watch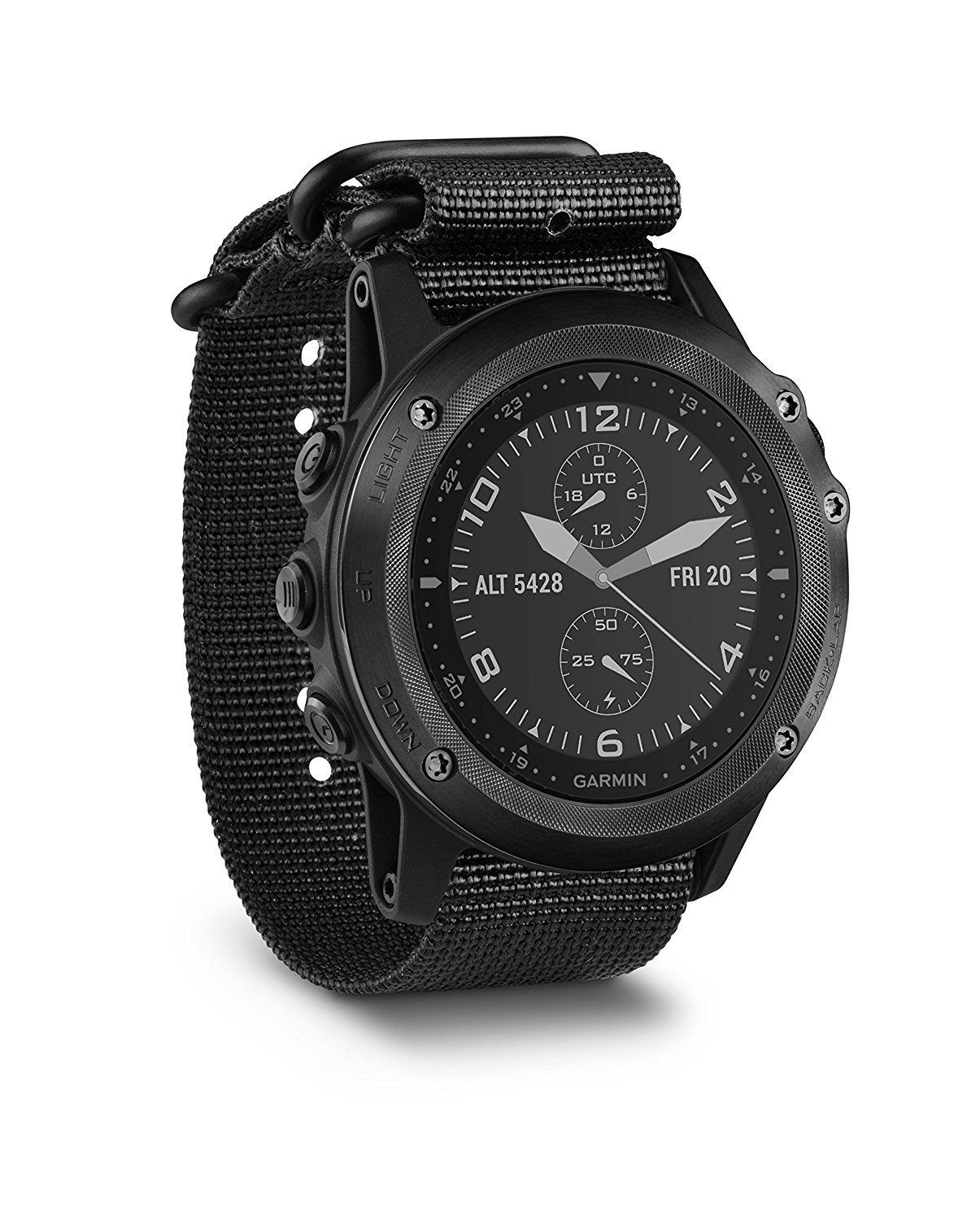 This next watch is one of the best for a multitude of reasons. The Garmin Tactix Bravo GPS watch was made for the rugged traveler. In nearly any condition or environment, you can plan on exploring without worry. The Garmin Tactix Bravo GPS watch is certainly up for the challenge. When it comes to navigation, the Garmin Tactix Bravo provides navigation with a high sensitivity GPS/GLONASS positioning. This watch also offers an automatic calibrating altimeter, barometer, and 3-axis compass.
In terms of the connectivity, The Garmin Tactix Bravo utilizes Wi-Fi hot spots to automatically sync your data with Garmin Connect as well as update software. Garmin Connect is a fantastic app that will allow you to view all the details regarding your performance. Along with that, you will be pleased with the 1.2-inch high-resolution, sunlight-readable Garmin Chroma Display. This display is protected with a high-strength domed sapphire lens and is capable of switching between two modes: day use and night vision goggle compatibility.
For the outdoorsman who is looking for a reliable GPS, the Garmin Tactics delivers. If you are in the market for a rugged and dependable watch, going with this choice would not be a bad option.
Final Thoughts
For many travelers and athlete, shopping for a smart watch depends on a multitude of factors. What makes the Garmin Vívoactive 3 stand out from many of its competitors is the fact that it is able to blend many of these factors together. The Garmin Vívoactive 3 takes the concept of navigation, and athletic performance and seamlessly blended with a sleek design. The result is a product that is simply too good to pass up. If you are in the market for a great smartwatch, then the Garmin Vívoactive 3 is a great choice. It is an absolutely wonderful product that you should keep on your short list of choices. To get your hands on your own Garmin Vívoactive 3 smart watch today, click below.
Related Article: The Best GPS Watch for Hiking: The Top Performers