Explore the Lone Star State in the best way possible. We're going on an adventure to find some of the best national parks in Texas.
If you've ever driven through Texas, you have a small idea of just how massive this state is. It's bigger than a whole lot of countries. While southern stereotypes pervade Hollywood movies and popular TV shows, the real state is  vast, diverse, and pretty welcoming. There's more to this state than you would believe. We're awestruck by its natural beauty. Skip the Texas state parks. The national parks in Texas are particularly spectacular.
For adventurers like yourself, it has it all. Big cities like Houston and Dallas have a lot to offer but we're here for the national parks. So get your Nikes on and get ready to see some vastly different landscapes. From white sand beaches to back road hikes, it's all here.
Country is just a much a way of life as it is a phrase. Slow down and live the Texan lifestyle. Take the back roads, park your car and spend an evening under the stars, and then spend a Sunday floating down a lazy ride along the Rio Grande River. Although most Texans live in urban areas, we can see why they escape to the country as often as they can.
Adventure Through the Best National Parks in Texas
We've got our sights set on Big Bend National Park. You can't really appreciate Texas until you've walked amongst its nature. Just try not to get lost doing that in their national parks.
1. Big Bend National Park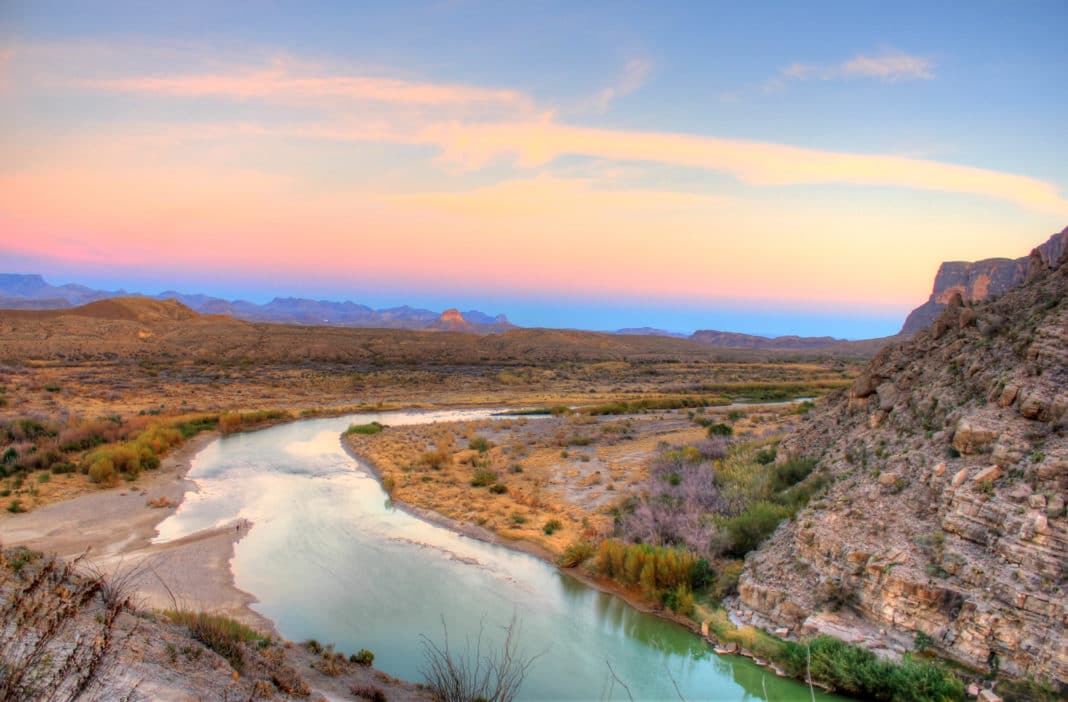 Welcome to Big Bend, a national park the size of Rhode Island. When you're traversing its roads, you'll come to understand just what the term 'big' really means. While this is a popular tourist spot, especially in the summer when it's at an all-time high, the Chisos Basin seems to absorb most of the visitors traffic.
The Chisos Mountains are absolutely stunning. You can't take a trip through the national parks in Texas without visiting them. Since this national park is so large, we highly recommend giving yourself at least two to three days to see it. Don't think you can come and just do a quick day hike. Some of the best hiking trails in all of the park are several-hour treks to get to by foot, but they are well worth the journey. So are the epic photos you'll get from it. You've earned them.
While you're there, make sure you also take time to see the Chihuahuan Desert, home to many unique desert creatures and highly-adaptable flora. Grab a few pamphlets from the visitors center to learn more information.
The Top Hiking Trail In Big Bend National Park
When you climb the trail to Chisos Mountains, it's all about the views. As you ascend over 1,000 feet in elevation, they get better and better. When you reach the summit (and even a bit before), you'll be right up there along with Casa Grande, Lost Mine Peak, and Sierra del Carmen.
When you think you've finally reached the summit, be warned. The end of the trail has a huge drop. Round trip, this hike is about 4.8 miles, so it's pretty moderate. If you don't have the time to see it all, you can cheat and take a shortcut by catching the views from the ridge top. You'll only have to walk one mile up the trailhead.
Activities in Big Bend National Park
National parks in Texas offer some of the best backpacking routes you can find in the south. Big Bend National Park is no exception. From well-worn paths to challenging limestone uplifts, there's a trail for every level of hiker and backpacker.
Because of the constantly-changing trail conditions, you can't really plan an extensive backpacking trip until you get to the park. This said, you can still try to do as much pre-emptive research about what you'll need to bring and weather conditions before you go.
You can also figure out how much distance you want to cover. Park rangers can help you plan this trip. Just bring the compass and topographic map.
Bird Watching
Over 450 species of bird live within Big Bend, making it one of the most diverse national parks in Texas. To watch nature, head over to the Rio Grand Valley, Sam Neil Ranch, or Chisos Basin for some prime viewpoints. Of all the birds in the park, Big Bend is most famous for its peregrine falcons and the golden-cheeked warbler. While the peregrine falcons are still on the endangered species list, their population is certainly making a comeback.
Go Hiking in Big Bend National Park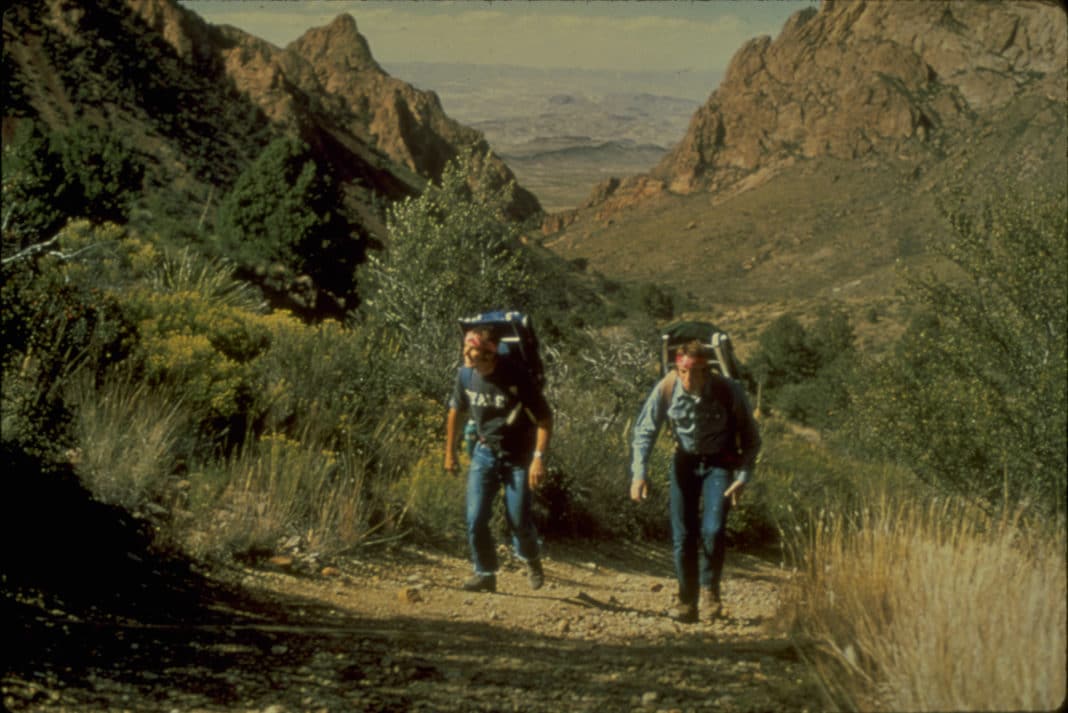 Did you know there are more than 150 trails to explore in Big Bend? You better get moving! Some of the most popular hikes in Chisos Mountain include: Santa Elena Canyon, Window View Trail (0.3 miles), Chisos Base Loop Trail (1.8 miles), Lost Mine Trail (4.8 miles), Window Trail (5.6 miles), Emory Peak (9 miles), and South Rim (13 to 14.5 miles).
There are also some amazing desert hikes and riverside hikes to explore. For desert hikes, we recommend trekking Grapevine Hills Trail. The highlight of this hike is Balanced Rock, a highly-Instagrammed formation of three balanced boulders that form an inverted triangle-shaped window.
If you'd rather take a riverside hike, go to Hot Springs Historic Walk. In just a little under a mile, you'll reach nature's very own hot tubs. Ease your way into the 105 degree mineral water bubbling at the river's edge and make sure you don't miss Native American pictographs painted on the nearby rock walls.
2. Guadalupe Mountains National Park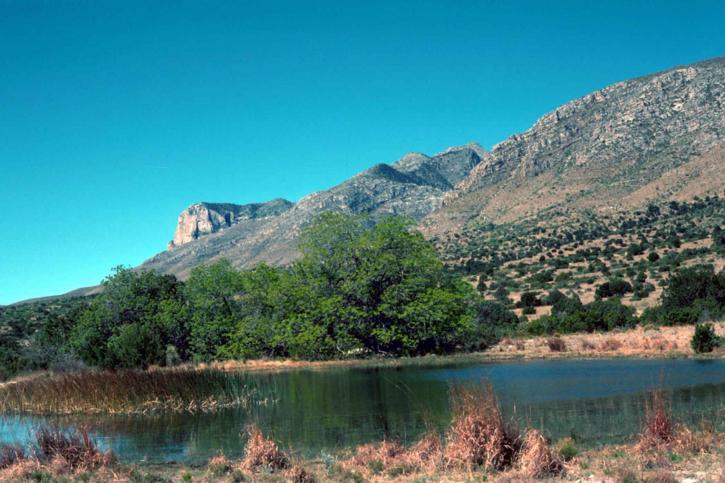 Believe it or not, many Texans aren't even aware of Guadalupe Mountains National Park. Why? It's a long trek from any major city in the state. This means there's more space for you and you won't have to trudge behind a line of tourists making their way up the mountain trails. It sounds like a pretty good trade to us. Let the drive begin.
Despite its low profile, Guadalupe Mountains is home to a Texas high spot. Literally. Measuring 8,749 feet, it's the highest spot in all of the Lone State. What we love most is that of all the national parks in Texas, this one hasn't allowed much development.
How They're Keeping the Park Wild
So how does the National Parks Service keep this park wild? There are no touristy restaurants or fancy indoor accommodations. There is no national monument or historic sites here. The only buildings you'll find are just a few program and tourist centers to lend you a helping hand as you pick which trails you want to explore.
With this in mind, keep your gas tank full and your cooler fully stocked. It's also worth mentioning that there are no paved roads in this park when you're winding through canyons. So it's not the best idea to bring your Toyota Corolla. If you can, take a truck with four-wheel drive. You'll get a bit further with it. But for most of the roads, you'll have to trek it on foot. It's all worth it though. The sights are unbeatable.
Related Article: ​Don't Miss Free Admission Day to Any National Park​​​
Activities In Guadalupe Mountains National Park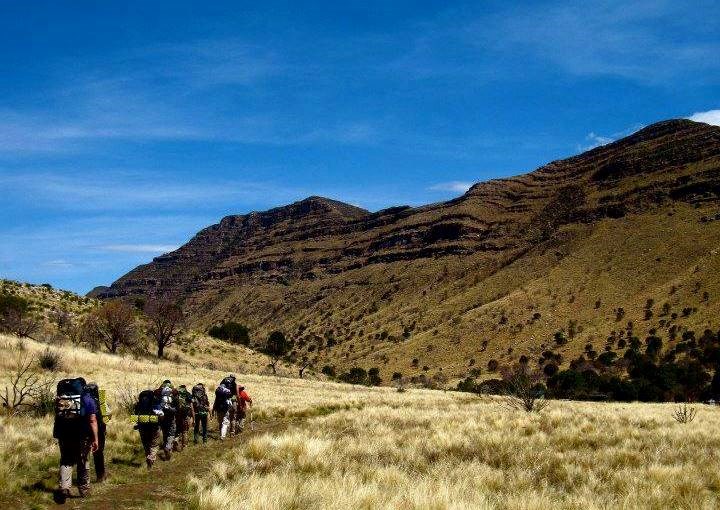 Relive your childhood camp days and spend a week at the Pine Springs Campground. Here, you'll find several interpretive programs to choose from. Indulge your outdoor adventure fantasy. You have the options from stargazing to geology. We'll take stargazing, please.
If you've made it this far, don't turn your truck back without seeing the Carlsbad Caverns National Park. Although it's technically just over the border in New Mexico, it's only forty miles away from Guadalupe. This already makes it closer than everything else out in Texas.
We're going to bribe you. Cave entrance fees are good for up to three days after purchase. They'll also get you a one-hour self-guided tour of the Big Room, the seventh largest cave chamber on the planet. If you'd like to go on a guided tour, you can for one with the park's rangers (at an additional cost) and explore the King's Palace and Hall of the White Giant.
Go Hiking in Guadalupe
There are more than 80 miles worth of trails and no marked scenic drives. So, do your research before you go and load up on a wealth of information from the park rangers. To find the hike that's right for you, head to the visitor's center. Between us though, some hikes are better than others. Avoid the tourists and hit up these spots: McKittrick Canyon Trail, Spring Trail, and Manzanita Spring.
Make sure to be prepared for weather changes. The temperature here is often unpredictable and winds can frequently blow anywhere from 40 mph to 50 mph in the spring and summer seasons.
3. Padre Island National Seashore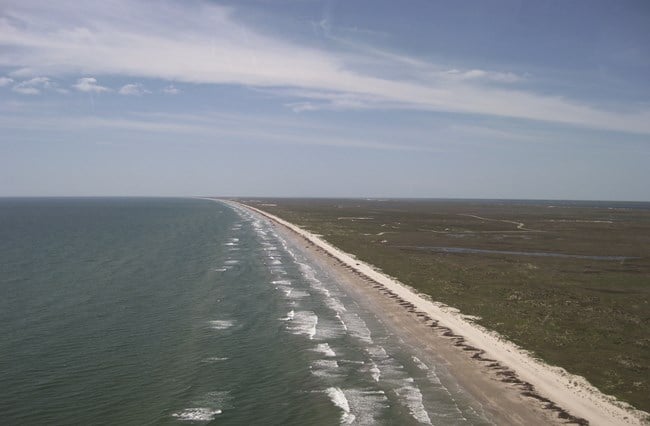 Credit: National Parks Service
Drive south past San Antonio to the waiting shores of Padre Island National Seashore. In the 1960s, Lady Bird Johnson dedicated this stretch of land to the federal government. While it offers plenty of recreational activities, one of its greatest claims to fame is their work with turtle restoration. A special NPS division is entirely devoted to ensuring baby turtles make their way to the sea. Yes, we know what you're thinking. They do have events the public can watch during certain times of the year.
4. Palo Alto Battlefield National Historical Park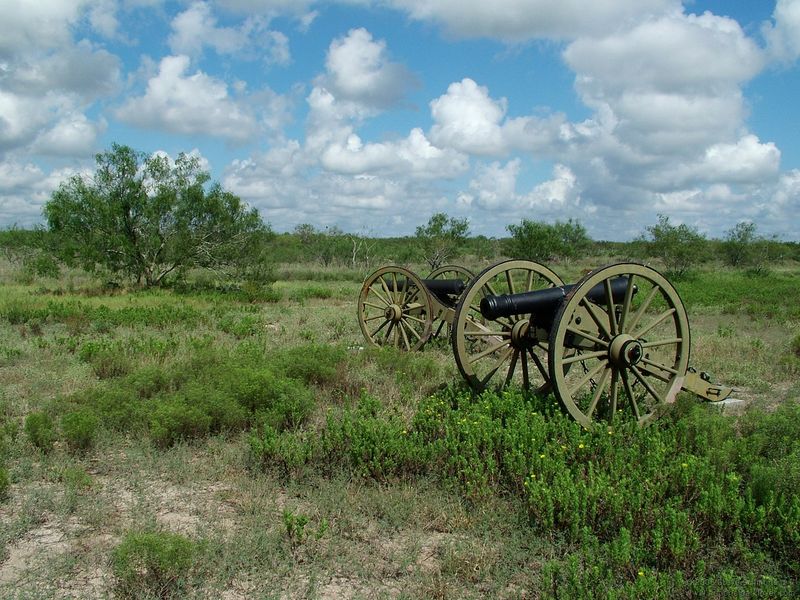 Brush up on your military history and visit Palo Alto Battlefield. On May 8, 1846, Mexican and American troops first clashed on these prairies. This battle was the first in a two-year long war that changed the map of North America. Palo Alto Battlefield National Historical Park preserves this historic site and provides an understanding of the historical causes and context of the times too.
Visitors can experience a landscape almost as it existed on the day of the battle. The park enjoys the unique distinction of being the only National Park Service unit to interpret the U.S.-Mexican War.
Together with the Resaca de la Palma Battlefield unit, Palo Alto Battlefield provides an opportunity to learn about the war, its causes and consequences, and its impact on the relationship between the U.S. and Mexico.
Something for the Kids
Palo Alto Battlefield NHP is a great place for kids to learn about an important chapter in the history of the United States. Whether you're exploring the park on your own, at a special event, or on a field trip, the park has something to offer visitors of all ages.
Junior Ranger Program
The Junior Ranger program is great fun for the whole family. It will enhance your visit to the park and make for fond memories as well.
Junior Birder Program
Do you have a little amateur naturalist in your family? We've got just the thing for you. Ask for a Junior Birder booklet at the front desk and start discovering the birds of Palo Alto. Be sure to ask about earning a patch for completing the booklet.
Every Kid in a Park
Marvel at the St. Louis Arch, the Florida Keys, and the Frederick Douglass house. Listen to wolves howl. Walk in dinosaur tracks. Look up into the inky night sky, and reach for the stars! These sites belong to all of us —including you.
President Barack Obama created Every Kid in a Park so fourth graders and their families could discover our wildlife, resources, and history for free.
Go Visit the Best National Parks in Texas
There are so many national parks in Texas to see! We hoped that we helped to make your choice a bit easier by telling you about two of our favorites. The Lone Star State is vast, diverse, and full of charm. Do some searching of your own and plan your visit to one of the best national parks in Texas. While you're there, make sure to keep in mind that it's our job to keep these parks nice for future generations.
Do you have any recommendations for us? We would love to know your favorite spots in the Lone Star State. Feel free to share with us! Comment below and let us know all about your favorite hot spots, pit stops, and Texas roadside attractions. We're all ears.
Related Article: ​The Top Things To Do In El Paso, Texas​​​