Welcome to a Central American paradise. The best beaches in Costa Rica are every bit as perfect as they seem on the postcards.
Ask anyone what their dream vacation looks. We bet they'd say they'd name white sand, clear, waters, and a lush green oasis (aka the best beaches in Costa Rica).The rich coastline stands apart from its neighbors by offering world class surfing, farm to table restaurants, and sustainable tourism.
Better yet, the best beaches in Costa Rica are virtually untouched slices of paradise. As one of the world's most bio-diverse countries, there are a world of adventures to be had. Here are our top picks in no particular order.
Here Are Our Picks for the Best Beaches In Costa Rica
1. Osa Peninsula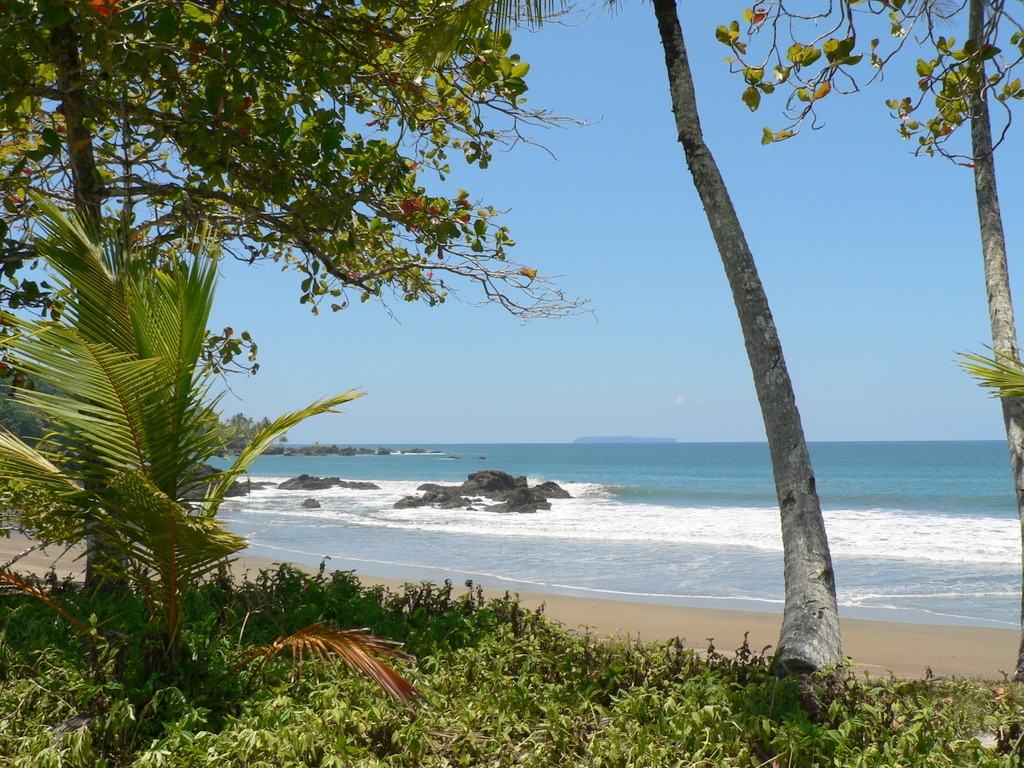 Journey with us down to the Southern Pacific coast. While the country has admittedly risen as a tourist destination, the Osa Peninsula remains one of the most remote areas in the county. If you're looking to escape the tourist traps, come catch up on your much needed R&R on these stretches of sand.
Here, you'll find Instagram-worthy waterfalls, tide pools to explore, and rainforests to wander through – all without a soul around. If you're looking for some adventure, this is also one of the best places to snorkel and scuba diving. A whole new world of fun and marine life await in the warm waters.
Needless to say, this peninsula is teeming with plant and animal life. We suggest you bring a good travel camera. You're going to want to capture every memory of this island gem. One of the greatest attractions is Corcovado National Park. This stunning national park covers almost half of the peninsula and showcases impressive views.
2. Guanacaste
Are you ready to jump around? We're gonna hop all the way across the map to the northwestern region. Here, you'll find Guanacaste, one of the best beaches in Costa Rica. Known affectionately as the "Gold Cost" of Central America, this stretch of paradise offers pristine sands, lush green hills and mountains, volcanoes, and all-round natural beauty. Two popular cities to explore within Guanacaste are Santa Cruz and Liberia, the capital city of the province.
The best part about Guanacaste is you can choose to be as active or zen as you please. The region leaves ample room for both. If you're anything like us, you'll mix it up a bit. Beach loungers can do their thing and adventurers, another. More active travelers will enjoy paddle boarding, swimming, hiking to waterfalls, and getting a good view of volcanoes. However you decide to spend your days at Guanacaste, make sure you stop to watch the sunsets.
3. Playa Negra
Black sand beaches? Yes please. We bet this beach has never been on your radar. But it very well should be. Like Guanacaste, you'll find it on the northwestern coast. However, it feels worlds away from the surf towns of Tamarindo and Jaco. Fall in love with smooth, barreling waves, gorgeous tide pools, and a relaxed community atmosphere.
Less than a two-hour drive from the Liberia International Airport, Playa Negra is a great place for a day trip. The town and surrounding areas can be accessed via dirt roads. This means a four-wheel drive vehicle is necessary. We can't say we're mad about it. The road can be rough and there are several river crossings. We love that part of the adventure is just getting there. When you reach empty stretches of sand without a flock of tourists and urban development, you'll appreciate it even more.
4. Manuel Antonio Beach, Manuel Antonio National Park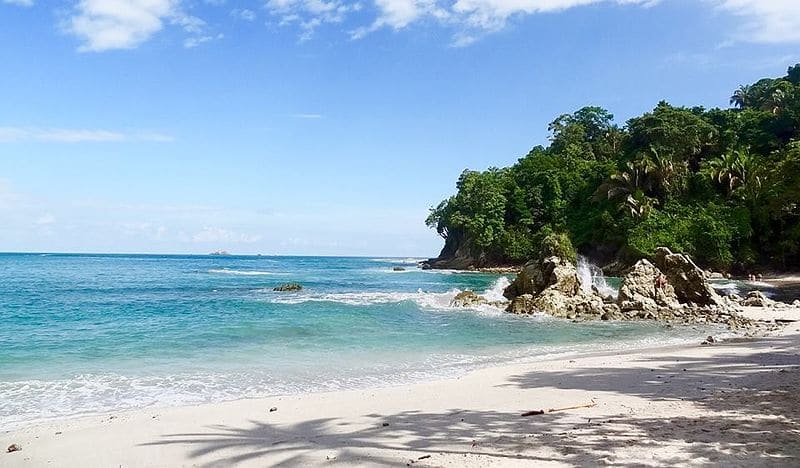 There's a reason why Manuel Antonio is listed as of the best beaches in Costa Rica. This coastal gem offers amazing glimpses at local wildlife and gorgeous natural scenery. From the park's main entrance, it's only about a 30 minute hike down to the sand. If you're down to explore some rainforests, check out the interconnected trails winding from the beach through the rest of the national park.
Regardless of which path you take, you'll be surrounded by lush green scenery and see plenty of indigenous flora and fauna. Last but certainly not least, don't forget to bring your snorkel gear. While the monkeys might be fun to see, the marine life is equally fascinating. The coral reefs are definitely worth exploring.
5. Nacascolo Beach, Papagayo Peninsula
Check out this hidden gem in the  Papagayo Peninsula. Nacascolo is truly one of the best beaches in Costa Rica. This beautiful stretch of sand sits between the Four Seasons Costa Rica and the Andaz Papagayo Resort.
We highly suggest renting a kayak. Pack a picnic (put it in a waterproof dry bag) and head out for Nacascolo. If you're staying at either one of the hotels above, it only takes an hour or so to get there. The water is calm, warm, and absolutely perfect.
6. Tortuguero National Park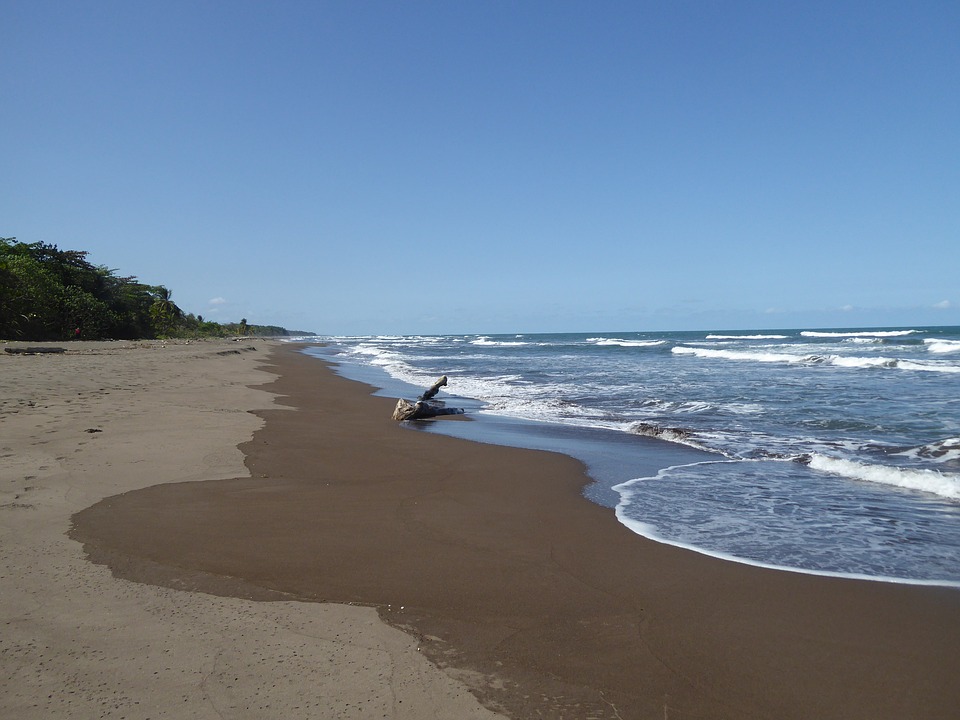 Here's another lovely national park you need to visit. Lucky for you, this country is chalk full of them. We love that it hasn't become a tourist hub just yet. That has a lot to do with its geographic location. You'll find Tortuguero National Park in the province of Limon, only reachable by plane or boat.
Just a heads up. Bring a poncho. It's also one of the rainiest parts in the entire country. But with beauty like this, who cares? There is so much biodiversity to observe. Here, you'll find beaches, swamps, rainforests, lagoons, and a myriad of wildlife.
A big draw of Tortuguero National Park are the turtles. In fact, this park is  home to the second largest green sea turtle nesting area in the world. Sea turtle conservation is a huge priority. Visitors can watch the turtles lay eggs and the baby turtles venture out to sea. Book a guided tour for this; it is definitely worth every penny. Just so you know, there are no cameras or lights allowed on the beach. So, collect experiences not pictures. You won't find any place like this in the world.
7. Dominical Beach, South Pacific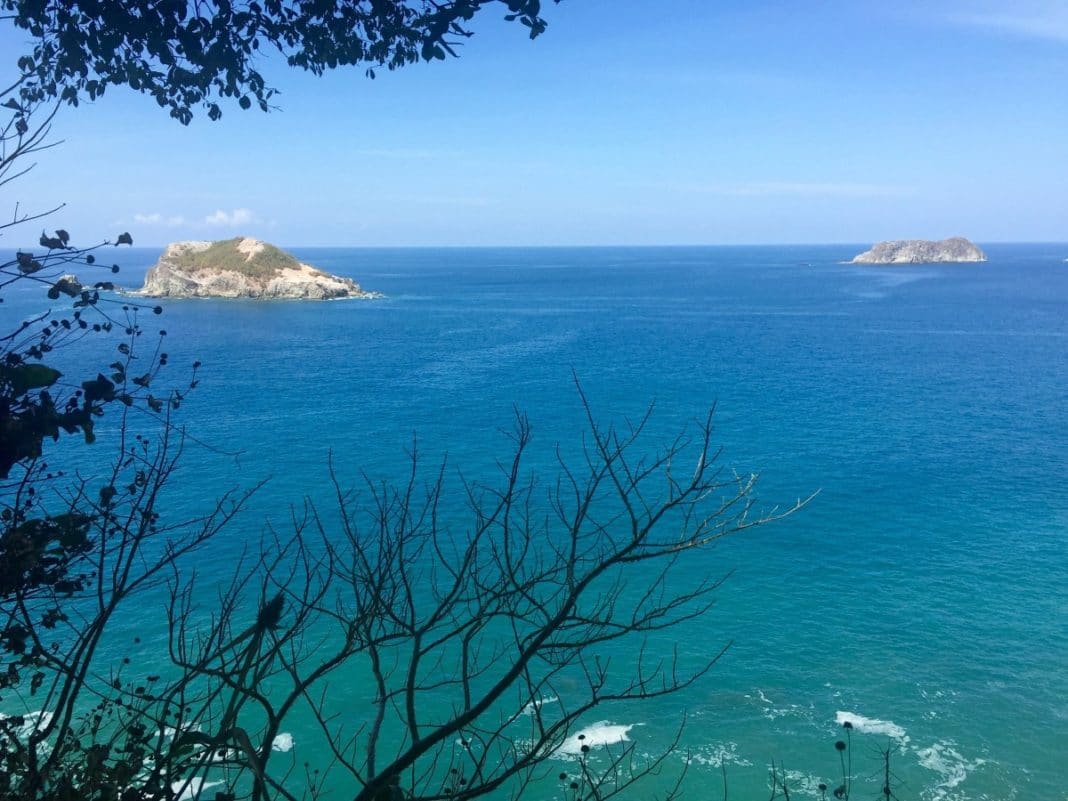 You'll find Dominical Beach located off the beaten path on the south Pacific coast. It's one of the best places in the country for surfing. Spread out your blanket on the sand, have a picnic, and watch the locals ride smooth barrel tubes all the way into the sand. When you've had your fill of sand and surf, head off to grab a bite. There are so many wonderful restaurants only a short walk away.
8. Costa Ballena (Whale Coast), South Pacific
Ah, Costa Ballena. The treasures of Uvita Beach and Hermosa Beach are not to be overlooked. Look up aerial photos of the coastal park and you'll find a whale's tail-shaped sand bar. Coincidentally, this is also a popular migratory spot for humpback whales as they return to breach annually from August through October and then again from December through April.
Sea turtles also come to nest here from May to November. When you visit, book a whale watching tour and rent out some snorkel gear. The expansive coral reefs offer a whole new kind of adventure for travelers visiting Costa Ballena. If you have some extra time, kayak and stand up paddle boards (SUP) are also available to rent.
Are You Ready to Visit the Best Beaches In Costa Rica?
Hey you! Are you ready to visit the best beaches in Costa Rica? When you arrive, be prepared to spend all of your time outside roaming. The natural beauty is so amazing. You're going to want to soak up every drop of it that you can. We highly recommend diving into all that this stunning country has to offer.
Spend time surfing at the beach, explore the rainforests, take a dip in the nearby hot springs, snap epic pictures of the volcanos, soar through mountains ranges on a zip line, indulge in fine dining in local restaurants, and explore off-the-beaten-path places.`
We hope our list of the best things to do in Costa Rica has both helped you plan your itinerary and gotten you excited about your next trip! We understand you might not have time to check all of this off your bucket list but hey, it gave you a great head start, right?
Questions and Comments About the Best Beaches In Costa Rica
Costa Rica isn't a place you'll want to visit only once. There is so much to see and do. Believe us. This country will keep you coming back for more. Have you traveled to Costa Rica before? What keeps you coming back to this budget-friendly destination? Share in the comments section your list of the best places to visit in Costa Rica! We have so many favorite spots, its hard to choose just one.
Perhaps this is your first time planning a trip to Costa Rica. If you have any questions, please feel free to message us below. We really love hearing from you and will make sure to answer your inquiries shortly.
Related Article: The 10 Best Beaches in Cuba: Discover Your Coastal Paradise