Journey Around the World with Us to Find the Most Magical Pink Sand Beach Destinations
Travel from country to country and you are bound to behold beaches of multiple colors. There are white sand beaches, black sand beaches, and pink sand beaches sprinkled across the globe. Pink beaches are perhaps the most rare, which make it all the more spectacular when you press your heels into the pink-hued grains of sand for the first time. Today we are surveying the greatest pink sand beach locations that are dotting the globe.
So, why exactly are pink sand beaches pink? Great question. What happened was, over time, red coral from the sea has tumbled around into fragments, creating sand that has a pink tinge to it. Most pink sand beaches are located in areas with crystal clear water, creating scenery that is awe-striking. Between the pink sand complexation and the turquoise waters, the warmth of colors at these beaches cannot compare to any other place in the world.
From Indonesia to Greece to Bermuda and beyond, here are the top pink sand beaches that travelers must walk upon before they die. Few people can say they have traveled to a pink sand beach because of how few are sprinkled around the world. Let's make sure you are one of them. Bring your cameras and bring a heart that is prepared to capture new memories. We are heading to the most unique pink sand beach destinations.
Tangsi Beach, Indonesia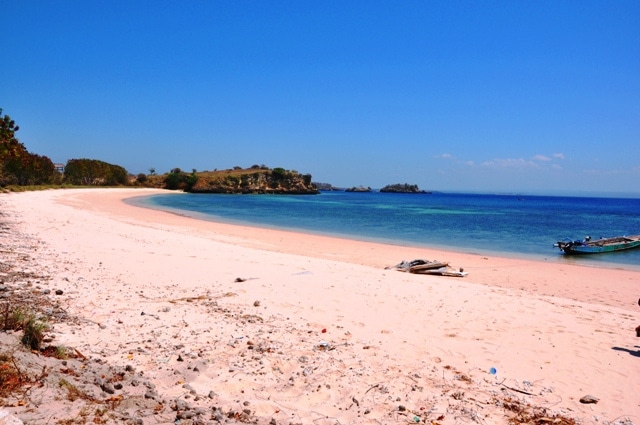 First stop on this global tour: Indonesia. Located on Indonesia's island of Lombok is Tangsi Beach. Beauty seekers, you will find delight in this scenic and tranquil escape. Unlike other pink sand beaches that receive many tourists to its shores, Tangsi Beach is not very well-known by tourists. This makes it the best place for a quiet retreat amid extravagant surroundings. For even better views of Tangsi Beach, you can hike a nearby cliff. From above, travelers hungry for beauty will be able to absorb an even fuller, more stunning perspective of the pink shore and glistening sea.
While at Tangsi Beach, many travelers find swimming, snorkeling, and sun bathing to be among the top activities to do. Also, during your visit, you can ride boats to several nearby islands. The water is calm and very safe, so we highly recommend splashing around in the water while at the beach. Because there are only small waves, the kiddos traveling with you will feel comfortable snorkeling in the ocean as well.
Balos Lagoon Beach, Greece
To access Balos, travelers can drive up a dirt mountain or take a ferryboat to the mainland. The hikers in the group can even trek from Kaliviani. It is a trek that takes around 3 hours and is very much worth the journey. With pink tones to the sand, travelers will be left in awe and wonder at Balos Lagoon Beach. The water here is not deep, making it a great beach for children to swim in. However, watch out for the rocks that may be present in and around the Lagoon.
Should you be interested in snorkeling in this turquoise water, you can do just that at Balos. Grab your goggles and plunge your head underwater to observe tropical fish and perhaps even spot a sea turtle! We highly recommend walking along the lagoon and exploring the surroundings of Balos. Silver sand with a hint of pink is awaiting you at Balos Lagoon Beach.
Horseshoe Bay Beach, Bermuda
Named after the horseshoe shape of the beach, Horseshoe Bay Beach is a tropical destination in the Atlantic. With soft, powder-like pink sand and warm water, we highly recommend putting Horseshoe Bay Beach on your bucket list of places to visit. The waters in this Bermuda beach can be rough, so we advise swimmers to be careful when in the ocean. That's not to say travelers can't enjoy a dip in the water. Visitors can even go snorkeling if they desire to go on an underwater expedition.
Because it is a popular port for cruise ships, this pink sand beach can be rather crowded. If you prefer more privacy, journey down to the far end of the beach where you can find that quiet space to enjoy the view. We love this wide beach that is sweeping with pink sand and we believe you will too. Climb up one of the rock formations for an even greater view. When in Bermuda, this spacious oasis is a must-visit. Everything about Horseshoe Bay Beach is mesmerizing.
Crane Beach, Barbados
Crane Beach in Barbados is a lovely retreat amid pink sand and crashing waves. The attractive nature of the pinkish sand leads many tourists to the area, but not too many. Still a rather low-key destination, Crane Beach is an ideal place for travelers desiring peace and quiet. The beach is truly picture-perfect. The photos you will capture will look like postcards purchased at the gift shop. You will not forget the memories you made during your stay at Crane Beach. For the adventurous folks out there, Crane Beach even has a cliff that you can jump or dive off of.
As for the waves, they can be rather strong. Children may have difficulty in these waters, so we recommend for only strong swimmers to venture out. However, travelers have been known to love the boogie boarding scene at Crane Beach because of the powerful waves. If the water sounds too intimidating for your liking, opt for sitting on the beach with a book or a refreshing beverage in hand. From where you sit with your toes pressed into the pink sand, the view of this endless blue ocean will leave you speechless.
Elafonisi Beach, Greece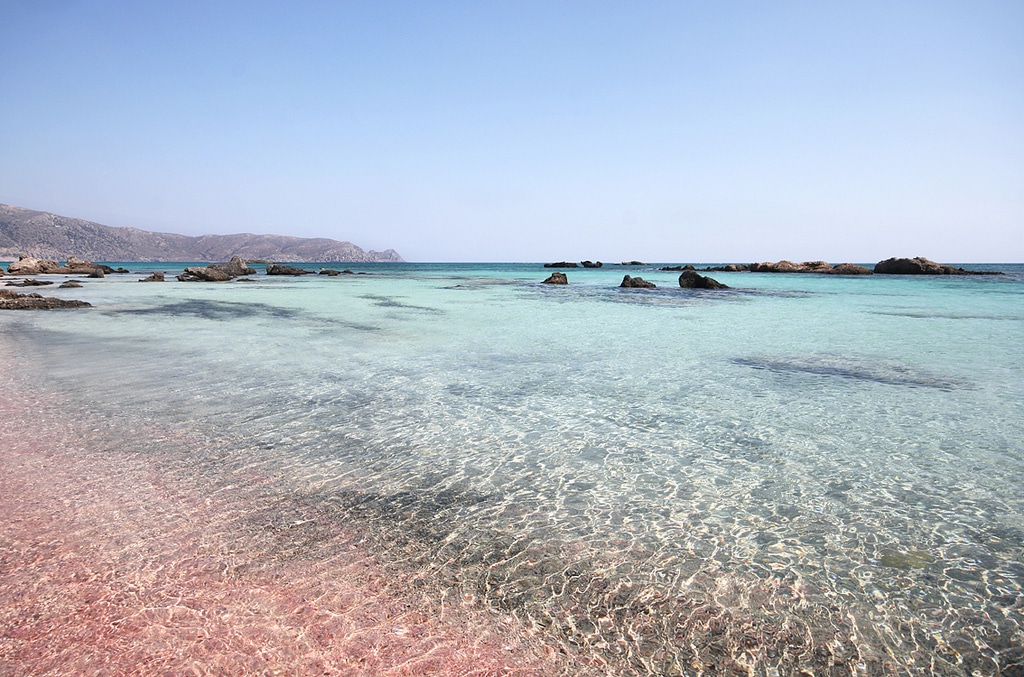 Elafonisi Beach lies on the southwestern side of Crete, Greece. Here, travelers can find both white sand and rosy pink sand. With waters that ripple up to greet you and pink hued sand to sink your heels in, this Greek beach is an exotic destination for travelers of every age. Families traveling with small children will find that the shallow water at Elafonisi Beach is ideal for splashing around in with their kids. Also, because of the shallow water, Elafonisi Beach can only be accessed by foot. You may even get your toes slightly wet along the way!
At nearly one mile long, this beach has a surprising amount of coves to explore and rock formations to climb. Because the island is a protected zone, travelers will discover beauty around every corner of the island. Come feel the cool breeze on your face and the sun pouring its glorious light onto you at Elafonisi Beach.
Bonaire Pink Beach, Dutch Caribbean Island
The Dutch Caribbean Island of Bonaire is a magical pink sand beach destination. Millions of shells have been crushed up to create the pink tinge that is present in the sand. Travelers will enjoy strolling along the shore and swimming in the clear water. You may even want to rent some snorkeling or scuba diving equipment. Travelers can dive in to explore the vibrant world beneath the surface of the water. After a time of swimming in the ocean, come back onto the pink shore for lunch. Travelers can bring their own food and picnic on the beach while beholding the tropical scenery.
Pink Beach of Komodo, Indonesia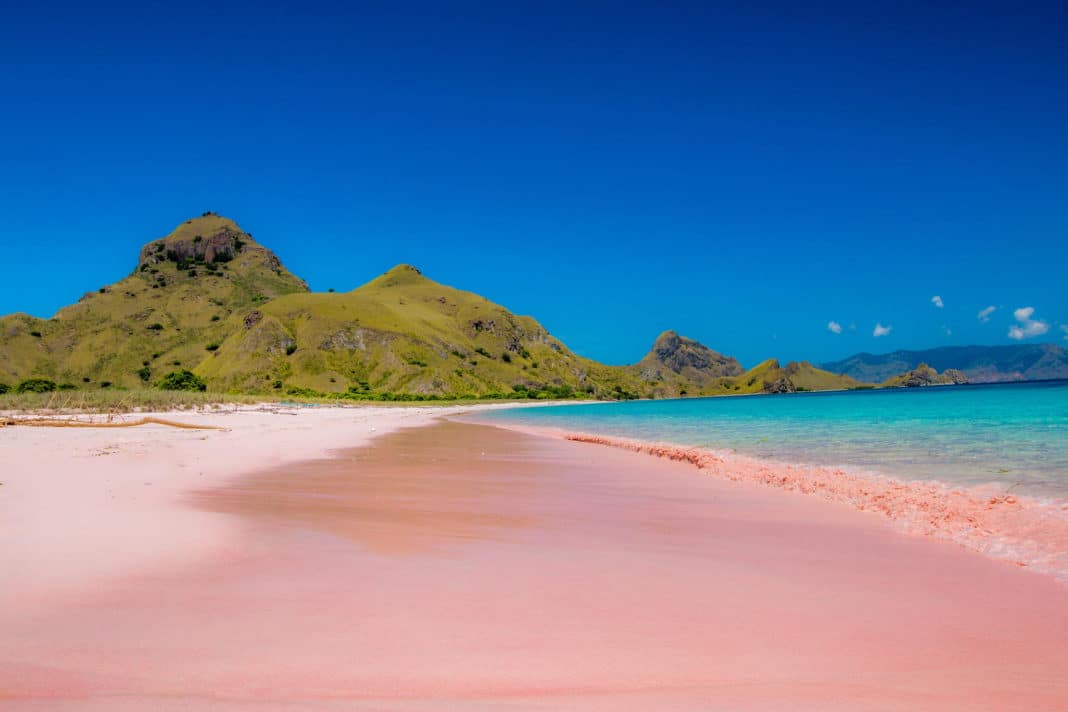 This Indonesian pink sand beach is a treasure. As part of Komodo National Park, Pink Beach is a stunning display of natural beauty. Travelers longing for beauty and quiet will find refuge here at Komodo Island. Sit on the beach and relax, explore the surrounding hills, or snorkel in these pristine waters. The terrain of the island is magnificent. If you can find a way to ride a helicopter over Komodo Island you will know exactly what we mean. Patches of land lift into the sky to create mountains of various colors. The water is all exquisitely blue and at Pink Beach, the sand is, of course, rosy pink.
Pink Beach of Komodo is also a haven for snorkelers and scuba divers. Between the colorful coral, vibrant fish, and large sea turtles, the views from underwater are unlike anything you have ever seen before. Pink Beach of Komodo, Indonesia truly has it all. It just might be our favorite pink sand beach in the world.
Beaches with Pink Sand are Beaches Worth Visiting
Each of these beach destinations will have you leaving with sun-kissed skin and pink grains of sand suctioned to your feet. Pink sand beaches deserve to be admired and we know that a trip to one of these locations will render you speechless. Picturesque in every way, travelers will leave will a collection of photos stored on their camera and a collection of treasured memories stored in their mind. Not only are pink sand beaches there for your admiration, but also enjoyment. Many of these destinations are located in unique cities and towns where travelers can find tons of activities to do. Water sports are also abundant just off the pink-hued shore. Swimming, snorkeling, scuba diving, and kayaking are only a few of these enjoyable activities to try when at a pink sand beach.
Which of these pink sand beaches have you been to? Share with us in the comments below!
Related Article: 18 Best Black Sand Beaches in the World