Where are all our beach lovers? We have scoped out the Emerald Coast and found the perfect hotels right on the beach in Destin, Florida.
Once a sleepy fishing village, Destin beach has grown into an idyllic place for relaxing, romantic vacations, or fun family getaways. Visitors can enjoy the glittering white sand and clear turquoise waters that the Panhandle is famous for without the crowds and commercial overkill of nearby Panama City. The beautiful beachfront hotels in Destin provide easy access to the waves and water sports. Moreover, other attractions nearby include amusement parks, golf courses, and plenty of boutique shops. Take a walk down the Destin Harbor Boardwalk or go out on a glass-bottom boat tour. Although condos and house rentals are most common in Destin, there are plenty of full-service hotels to choose from without compromising beachfront or near beach perks. Here are some of the top Destin Florida hotels for you to choose from for your next Gulf Coast vacation.
On the Beach
1. Sandestin Golf and Beach Resort
Credit: Sandestin Golf and Beach Resort
Those looking for a family-friendly spot to stay should check out the Sandestin Golf and Beach Resort. Overlooking the Gulf of Mexico, Choctawhatchee Bay, and a lake, this beautiful hotel sits on 2,400 acres. There are plenty of activities for kids and teens nearby at the Village of Baytowne Wharf along with bars and spa treatment for adults. And of course, there are plenty of restaurants to choose from when the family gets hungry. Before heading down to the beach, be sure to rent beach chairs, umbrellas, and cabanas. Oh, and don't forget those complimentary boogie boards! Other perks include access to kayak rentals and four award-winning golf courses.
2. Henderson Park Inn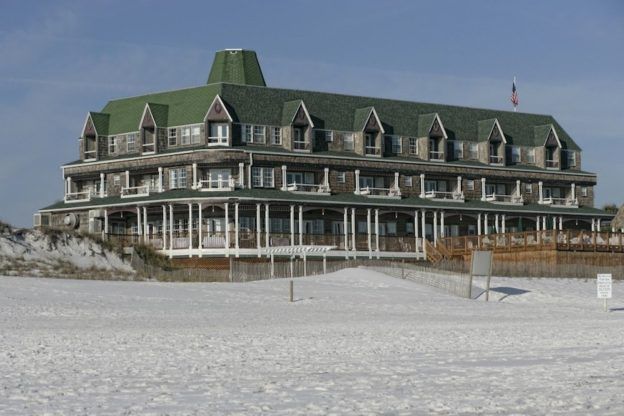 Credit: Henderson Park Inn
This highly acclaimed Henderson Park Inn is for adults only. Luxury begins at hello here. Walk into fresh grapes and flowers in your room followed by an afternoon snack of lemonade and cookies. The only bed and breakfast in Destin, this all-inclusive resort has only 35 suites. Catch the sunrise on the oceanfront terrace or warm up during cooler months by the fireplace. Other amenities include whirlpool tubs and beach service including towels and chairs. Henderson Park Inn hasn't skimped on the perfect food for your romantic getaway with excellent dining options for lunch and dinner, a complimentary sunset happy hour, and their Inn Beach Walk Café. Ideally located near Henderson Beach State Park, couples are sure to enjoy all the natural beauty Destin has to offer.
3. WaterColor Inn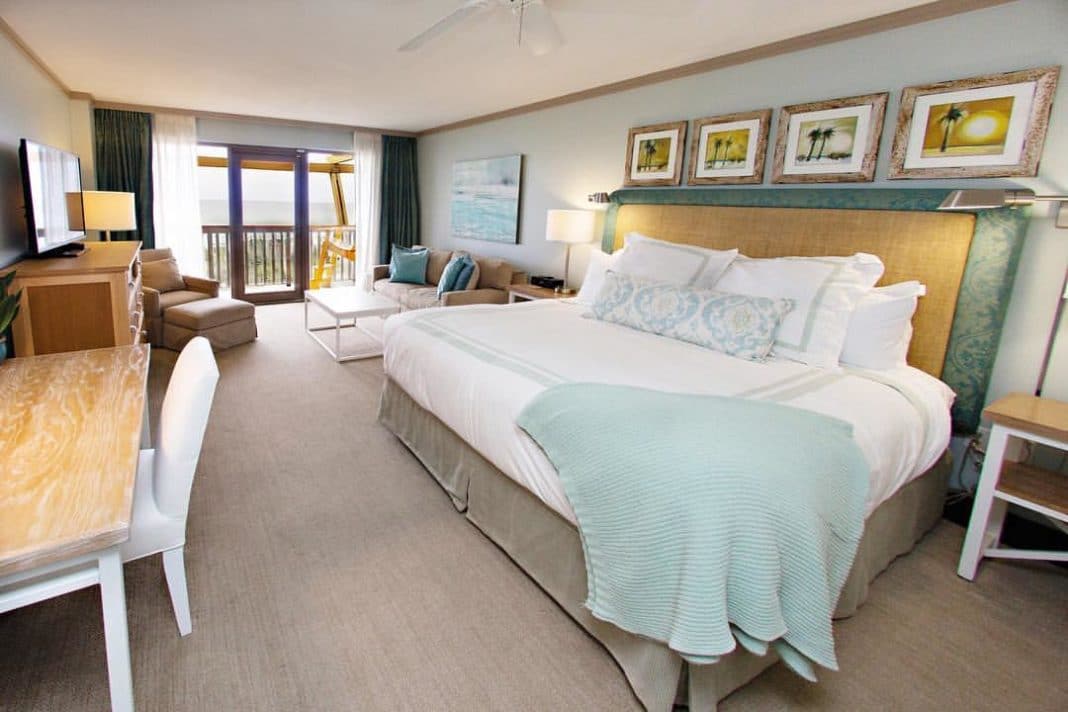 Credit: Watercolor Inn
Ranked #1 for "Best Resort in Florida" by Conde Nast Traveler, this waterfront Destin hotel sits on 499 acres. On a secluded stretch of white sand, the view from the private balconies is exquisite. With sixty rooms, the Watercolor Inn's style strikes the perfect vacation blend of extravagance and comfortable. Nice and spacious with private terraces, this resort does not leave much room for disappointment. There's also plenty to keep everyone occupied. Hike up the steep dunes, canoe or kayak around the lake, take a bike ride on the trails, or simply chill in one of six resort pools. Satisfaction is in the details like beach-towel service and a beachfront grill. Palettes will not be bored with multiple dining options and Watercolor's signature Fish Out of Water, a classy, fresh seafood restaurant.
4. Hilton Sandestin Beach Golf Resort & Spa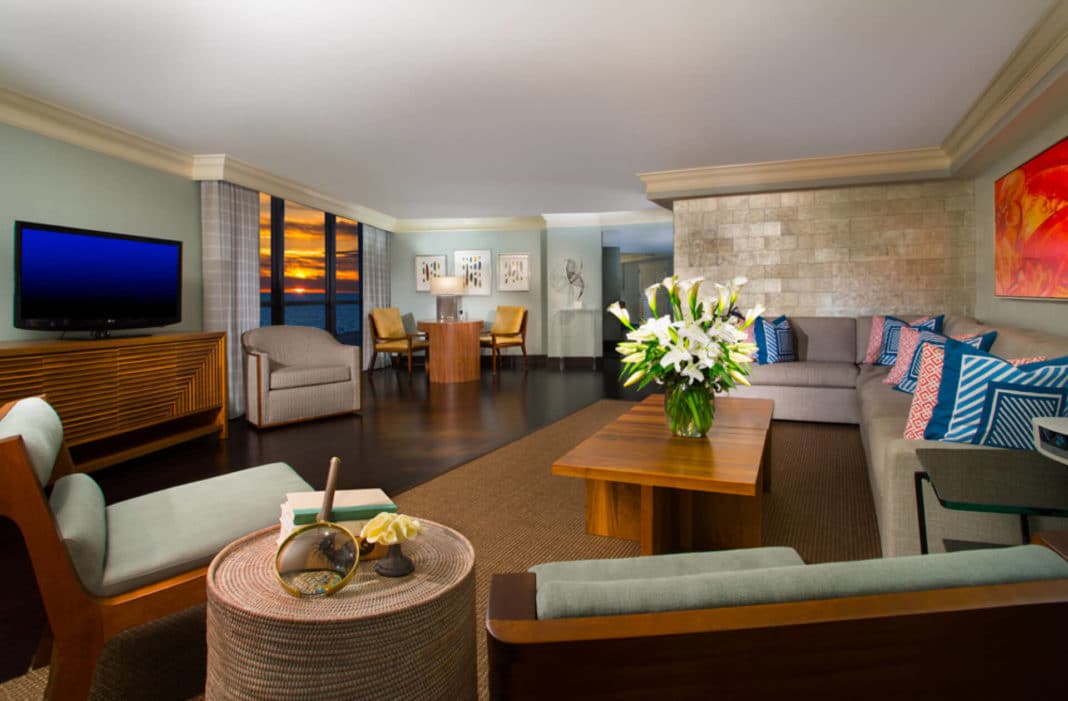 Credit: Hilton Sandestin Beach Golf Resort & Spa
Of all the Destin Florida hotels, this one is perfect for families. Overlooking the Choctawhatchee Bay and the Gulf, Hilton Sandestin is the largest full-service beachfront resort in Destin. Boasting 602 rooms on 22 stories, this resort provides stunning views and plenty of activities. Those with a lower budget can choose the "Parlor" rooms. And those who would like a more luxurious stay can opt for the "Presidential" suite with separate bedrooms, a fully equipped kitchen, and a private balcony. Hilton Sandestin's restaurants also range from gourmet to room service. Little ones are sure to enjoy the arts and crafts offered in the Kids Krew program. Furthermore, the Village of Baytowne Wharf nearby has plenty of boutique shops for teens and parents to explore. And you certainly won't lack for outdoor excursions with four golf courts, fifteen tennis courts, three swimming pools, and a fitness center to choose from.
5. Four Points by Sheraton Destin-Fort Walton Beach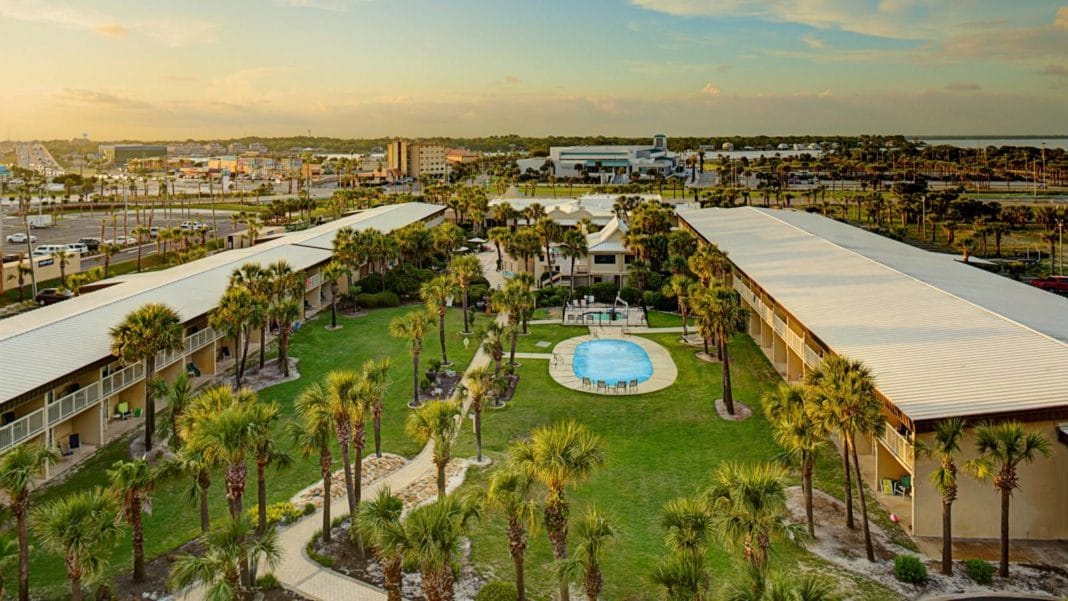 Credit: Four Points by Sheraton
Be sure to ask for a room facing the Gulf when you book a stay at this large beachfront hotel. With easy access to the beach, Four Points by Sheraton is perfect for a family vacation. This Destin hotel has 216 rooms with balconies overlooking the crystal-clear waters. Some of their amenities include two heated pools and a volleyball court. Kiddos are sure to love the activities offered at Kid's Club, while all the adults (aka older kids) can enjoy the other fun outdoor offerings such wave runners and kayaks. When you get hungry at the end of the day, check out the bar and grill or the café. Finally, top off the day with a tropical drink from the tiki bar while watching the sunset.
6. Wyndham Garden Fort Walton Beach
Credit: Wyndham Garden Fort Walton Beach
Not all Destin Florida hotels are affordable and high-quality, but the Wyndham Garden Fort Walton certainly is. A great choice for families, couples, or a group of friends, you can enjoy the oceanfront view without an exorbitant price tag. Enjoy the free beach chairs and umbrellas for a day out on the sand. Or relax in one of the two outdoor pools or the hot tub. If you happen to get hungry, there's plenty to choose from at the poolside bar and grill. With easy access to parasailing, snorkeling, and scuba diving, there's a little something for everyone at the Wyndham Garden Fort Walton.
Near the Beach
7. Emerald Grande at Harborwalk Village
Credit: Emerald Grande
If luxurious Destin Florida hotels are what you're after, this one's for you. Though Emerald Grande doesn't technically sit on the beach, this choice still offers a waterfront view of Destin Harbor. Ideally located close to everything, a boat leaves every thirty minutes from the hotel's dock giving visitors a ride to the beach. Their spacious rooms come with fully equipped kitchens and up to four bedrooms. Amenities include indoor and outdoor heated pools, a fitness center, and a luxury bar. A stone's throw from Harborwalk Village, you can enjoy the town's marina, shops, restaurants, and bars just a short walk away. And there's plenty to do for families with children. From zip-lining, rock climbing, fishing charters, and watersport rentals like jet skis and pontoon boats, we promise you won't be bored.
8. Fairfield Inn & Suites Destin
Credit: Fairfield Destin
Another budget-friendly choice among Destin Florida hotels, Fairfield Destin offers lovely, spacious rooms and exceptional customer service. Simple but sweet, this family-friendly spot includes indoor and outdoor pools, a 24-hour convenience store market, and a complimentary breakfast. Just three minutes away from Henderson Beach State Park, it is not waterfront but ideally situated in a central location. Right nearby you'll find restaurants, bars, Big Kahuna water park, and deep-sea fishing charters.
9. Embassy Suites by Hilton Destin Miramar Beach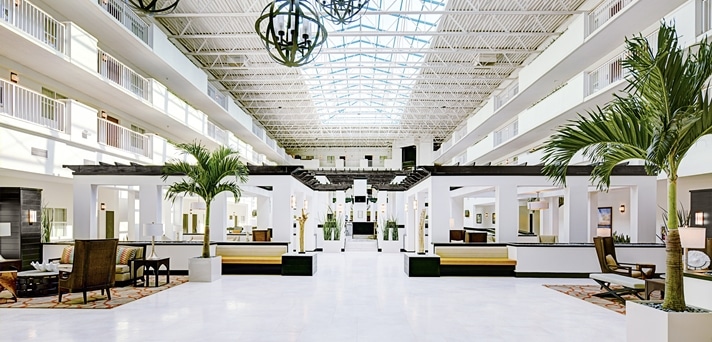 Credit: Embassy Suites Destin by Hilton
This is one of our favorite Destin Florida hotels, and it's not difficult to see why. With private beach access and a boardwalk, this hotel offers as close to beachfront perks without technically being located on the beach as you can get. A three-diamond property according to AAA, Embassy Suites Destin boasts 155 suites with Jacuzzi tubs. They also have a complimentary breakfast and private parking. Other amenities include an outdoor pool, a fitness center, and a full-service restaurant. Newly renovated, their rooms are comfortably sized and styled. You can walk right across the street to spend the day at the beach. Or you can enjoy world-class golf courses, deep sea fishing, Big Kahuna's Water Park, and plenty of shopping all close by. The food is also on point with an award-winning chef offering healthy and delicious dishes at their Calypso Café in addition to made-to-order breakfasts.
10. Holiday Inn Destin
Credit: Holiday Inn Destin
Within walking distance to the Gulf, Holiday Inn Destin is another perfect choice for families looking for affordable Destin Florida hotels that won't compromise their vacation. Relax in the Jacuzzi or go for a run in the fitness center. There's plenty of activities for the kids between Big Kahuna's Waterpark nearby, heated indoor and outdoor pools, and plenty of beach fun with boogie boards, a beach cabana, and kayak rentals. This hotel is nine-stories tall with 223 rooms. Their recently updated rooms come with mini fridges, microwaves, WIFI, and free movie rentals and DVD players. Additionally, there are plenty of food choices between the breakfast buffet, two restaurants, and seasonal oceanfront bar.
The white sands are calling. We don't know about you, but we're adding Destin beach to our list of vacation destinations and jotting down these beachfront hotels to try.
Whether it's a family reunion or a friend's retreat, these Emerald Coast hotels are the perfect hub for your getaway. Destin Florida hotels have all the right ingredients for a beautiful and relaxing time away at the beach. From the time you wake up in the morning until you lay your head down at night, you will feel like you have arrived in paradise. Have you already enjoyed the pleasure of hotels near the beach in Destin, Florida? Tell us about your favorites in the comments!
Related Article: Best All-Inclusive Resorts in the USA