Travel an hour south from Cancun and you'll find a blissful escape at the best Playa Del Carmen all inclusive resorts.
Escape the touristy sprawls and raging nightlife scene. When you're ready for some rest, relaxation, and just the right amount of adventure, Playa Del Carmen has what you need. Once a quiet fishing village, it has blossomed into a trendy paradise. Straw hat beach goers sip pina coladas out of hand carved coconuts, locals fry up fresh ceviche, and curious travelers wander off the grid chasing waterfalls. There's no doubt about it. These Playa Del Carmen all inclusive resorts offer the best escape on the Riviera Maya coastline.
What kind of vacation are you looking for? For some, family getaways are the priority on the agenda. Others are seeking a couple's getaway at an adults-only resort. Whatever kind of getaway you're seeking, we've got you covered. Our picks for the best Playa Del Carmen all inclusive resorts cover the full spectrum. We'll be taking you for a whirlwind trip around the globe and give you the inside scoop on the ultimate travel destinations. So where should you go? Buckle up and we'll show you.
Let's Talk About Playa Del Carmen
While the luscious landscapes certainly are alluring, this town offers so much more than just a white sand beachfront. As travelers began to trickle in, this little fishing town began to grow. You'll find a slew of waterfront restaurants, fun bars, and boutique shops to pop into. At night, the town turns from the perfect place for a seaside stroll to a vibrant salsa scene.
During your visit, you'll also find that it is a great entry point to Cozumel. If you're interested in taking a day trip there, there is a great ferry service that runs all day. The Playa Del Carmen all inclusive resorts also offer great opportunities for an escape. Whether you're traveling solo or with that special someone there is something on our list for you. Without further ado, here are our picks for the best resorts in no particular order.
Here Are Our Picks for the Best Playa Del Carmen All Inclusive Resorts
1. El Dorado Royale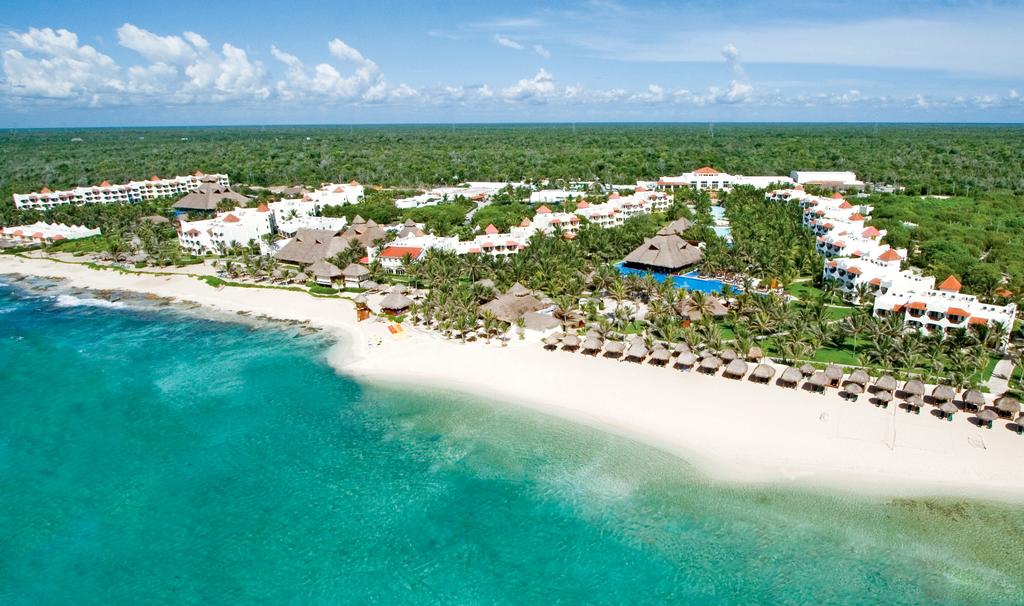 Credit: El Dorado Royale
Experience authentic Mexican luxury. Watch the sun rise over beautiful turquoise waters. At the El Dorado Royale, you'll taste flavors you never knew existed. Here, a warm ambiance invites you in to experience delightful moments and an unwavering commitment to luxury. Set in a lovely location along the Riviera Maya coastline, this adults-only resort was designed to showcase the passion and ingenuity of authentic local hospitality. Every single detail of this Playa Del Carmen all inclusive resort echoes sheer sophistication.
This gourmet inclusive experience gives you the VIP treatment. Delight in the El Dorado Royale's award-winning experience in gourmet luxury. Here, guests receive an unmatched, five star level of service, amenities, activities, and cuisine. You'll enjoy the Gourmet Inclusive Experience, a place of creative passion. The cuisine is artfully crafted, the drinks drawn from an award-winning menu, and the service sets the bar. We love that all of your meals come included with your stay.
Did we mention this place is adults only? When you're ready for that romantic escape, El Dorado Spa Resorts offers just the right setting for couples to kick back, relax, and rekindle that spark. Enjoy long, romantic stretches of beach, beautiful oceanside cabanas, and a world class spa. Every detail of this spacious resort is designed to bring you closer in paradise.
As if that wasn't enough, you can go explore ancient Mayan ruins together. They're just nearby. After a day of long hikes and exploring Chichen Itza, unwind with a couples massage and cool down in a refreshing open-air shower. All around you, the natural raw beauty provides the perfect experience for a memorable getaway.
2. Paradisus Playa del Carmen La Perla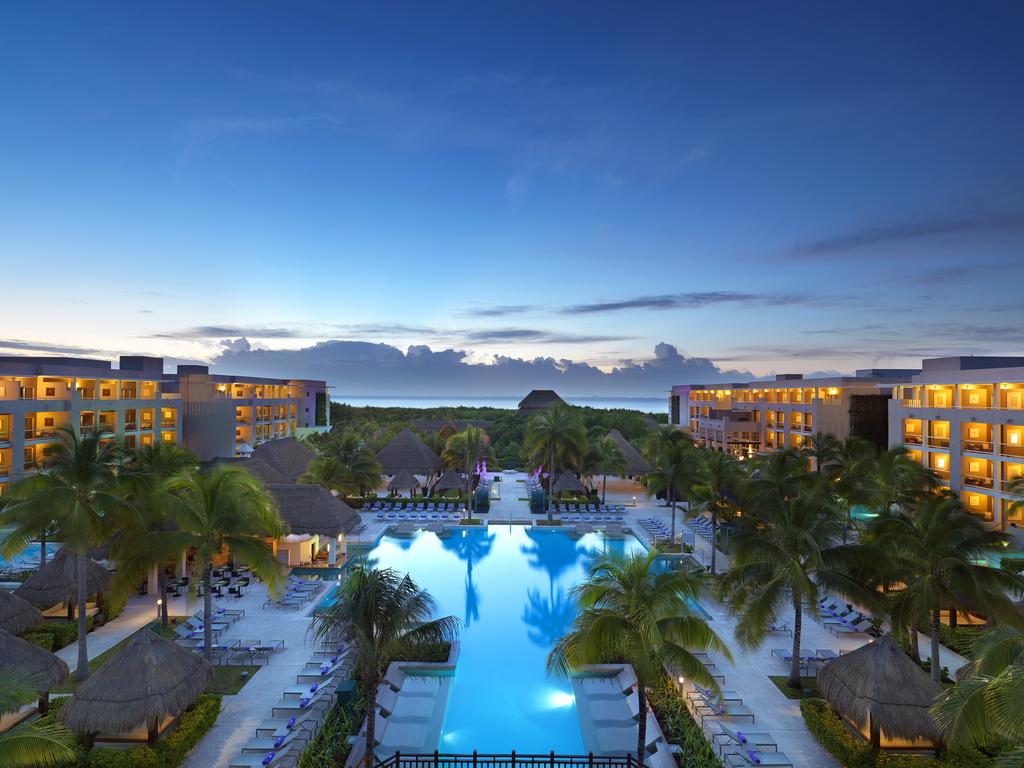 Credit: Paradisus Playa del Carmen La Perla
You'll never see anything quite as lovely as this exclusive resort on the Playa Del Carmen Bay. From the free form pool to the YHI spa, and exquisite 14 restaurants, it's easy to see that luxury abounds here. The location here is prime. Nestled between a private bay and the vibrant Fifth Avenue in downtown, you'll enjoy the best of both possible worlds.
Are you seeking a quiet morning alone with the beach and a book? You've got it. When you're ready for some shopping and a night out on the town, it's just a hop and a skip away. Here, every room comes with a spacious balcony or terrace. Many of the higher tier rooms offer direct pool access. Besides having fourteen on-site restaurants and sixteen bars, this property also offers the sweeping 20,000-square-foot Yhi Spa. Whether you're in the mood for yoga, spin class, or pilates, they have it all.
3. Royal Playa Del Carmen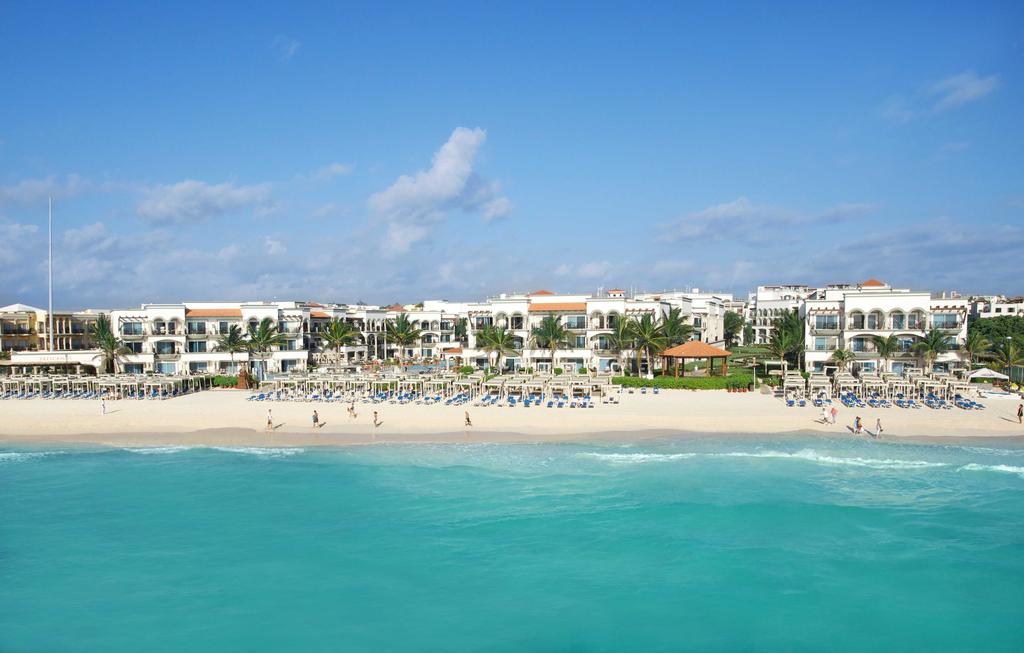 Credit: Royal Playa Del Carmen
Steps away from Fifth Avenue, you will experience a AAA Four-Diamond Resort with lush accommodations. Despite a convenient proximity to the city, you'll still feel a world away. Private balconies and sweeping terraces offer the perfect place to enjoy a hot cup of coffee in the morning. Whirlpool tubs, swim-up suites, and beachfront walks offer just the right amount of luxury. Beach butlers and concierges give you royal service as soon as you enter one of the hotel's seven gourmet restaurants. Sip a cocktail in one of the stylish lounges or unwind at the swim-up bar.
Craving a day of fun in the sun? All the options are yours. Play volleyball in an oceanfront pool, get up close with the marine life while snorkeling, play a friendly game of tennis, or sign up for a culinary class. The Royal Playa Del Carmen is known for its endless options and ultimate luxury. Did we mention that this resort is adults only?
Kick off your shoes and relax in the comfort of spacious suites. From your balcony, you'll enjoy sweeping garden and ocean views below. Walk through your room and you'll notice thoughtful amenities like a fully-stocked mini bar, 24-hour in-suite dining options, and royal service housekeeping. But the luxury doesn't end there. You'll also enjoy steam showers, a pillow menu (yes, you read that right), your own private beach cabana, Nespresso gourmet coffee machine, and more.
Don't forget about dining and drinks. Whether you're in the mood to sample authentic Mexican dishes or indulge in exotic Asian or Mediterranean cuisine, you'll have your pick. At the gourmet on-site restaurants, the house cooks whip up mouth-watering eats and mixologists craft delectable libations. Enjoy your food poolside, take in the views, and revel in the fact that it's all included. This is no doubt one of the best Playa Del Carmen all inclusive resorts.
4. Grand Velas Riviera Maya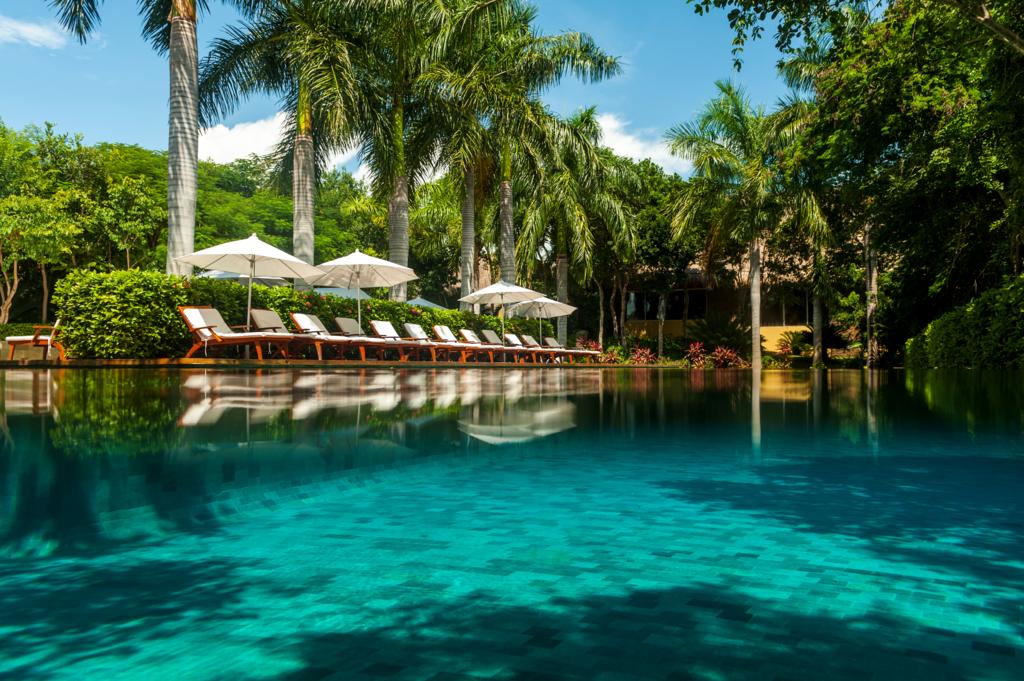 Credit: Grand Velas Riviera Maya
Spread along the gorgeous white sand beaches of Playa Del Carmen, Grand Velas is an all-inclusive luxury refuge. It's no wonder this resort is one of the most highly sought after destinations. Everything you need is right here. After a long day of travel, find your peace point on the white sand beach.
Unlike the crowded vacation hot spots like Miami or Cancun, you can really carve out your own piece of paradise here. As tempting as the beach is, remember the infinity pool is always an option too. After all, this is luxury redefined. Join in on an excursion out in the lush jungle, underwater caves, or Mayan ruins. Rejuvenate in the holistic spa, book a massage to your room, or grab a drink at one of the many lounges.
When it comes to rooms, you can choose from three unique experiences. First, there are the Zen Grand Suites nestled among the lush Mayan jungle. The Ambassador Suites offer the opportunity to capture memories together in family-friendly suites. Finally, if you're looking for an adults-only type of stay, Grand Class offers just that. Each suite offers a different type of ambiance, traditional decor, 24-hour room service, and all the comforts of home.
Last but certainly not least, come the restaurants. At the Riviera Maya, you'll discover a whole new world of global flavors. What would you like? It's all at your fingertips. Treat yourself to gourmet meals prepared by renowned international chefs. Indulge in rich french dishes. Share an Italian meal family style. The on-site restaurants offer a fantastic blend of options for breakfast, lunch, and dinner.
5. Azul Fives by Karisma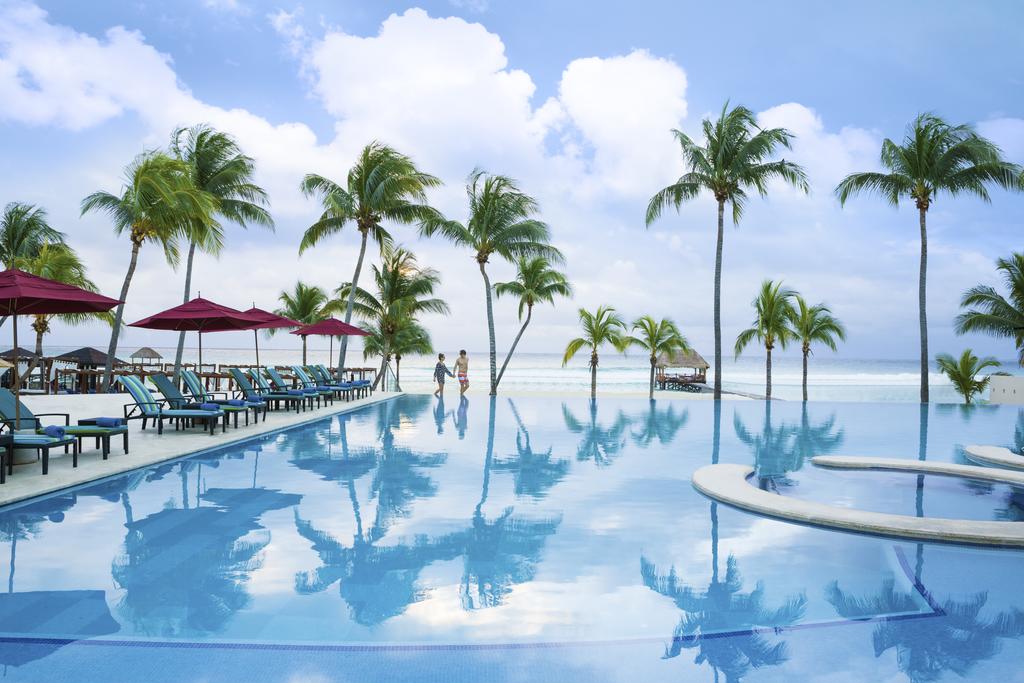 Credit: Azul Fives by Karisma
Whoever believes youth is wasted on the young clearly hasn't been to Azul Fives by Karisma. This all-inclusive playground offers just what brings out the inner kid in everyone. At the same time, it's beautifully curated aesthetic and luxury accommodations are elegant enough to satisfy even the most refined of tastes.
Over at The Fives Plaza, you will find a series of shops, incredible live entertainment, four restaurants, and two bars. After a long day of hitting the streets, head on over to the swim-up bars and indulge in some sweet treats from the gourmet a la carte eateries. Whether you're young or young at heart, you will feel at home here. Travelers like yourself are sure to appreciate the resort residence, featuring separate living and sleeping areas. Rich mahogany wood, private balconies, and lavish amenities run throughout. Choose from a one, two, or three-bedroom residence or a spectacular penthouse.
Book Your Stay at One of the Best Playa Del Carmen All Inclusive Resorts
We hope you enjoyed reading our article on the best Playa Del Carmen all inclusive resorts. As you can see, this vibrant city offers so many opportunities for those seeking a trip of both relaxation and adventure. Some of the best beaches in Mexico are right here. The cultural history pervades throughout – from natural scenery to Mayan ruins, and exquisite culinary cuisine.
These hotels are right in the middle of it all, offering not only a unique place to experience the local wonders but also a home away from home. Which one of the hotels on our list did you like the most? Let us know in the comment section below.
Related Article: 14 Best Hotels in Tulum You Need to See