Find the best travel adapter to bring on every adventure.
If you're a traveler who loves their electronics equipment, you know how hard it can be to keep devices charged. Phones, laptops, and other items may easily run out of battery, especially when you use them often. When you're at home, this usually doesn't cause problems, as you can simply plug in and charge a device. However, those who will be spending a lot of time traveling may require adapters that charge on the go. Or, you may simply want a travel adapter that can be easily transported or usable wherever you go. In this manner, we've created a list of the top ten travel adapters to help travelers locate their ideal product. Read our article below in order to find the best travel adapter that fits your specific needs.
Things to Consider Before Buying
Travel Destination
However, if you're planning to leave the United States, you may find difficulties using the same adapter. Since countries outside the U.S. utilize different kinds of power sockets, your electronics might not work the same worldwide. If you use the wrong type of plug, you could end up ruining your equipment. Variations in voltages could additionally lead to burning out and breaking your devices. You don't want to plug in your charger into an outlet that doesn't fit properly. This will lead to frustrations as you may have to go out and purchase new adapters every time you travel.
Due to these potential problems, travelers should consider their destination before buying an adapter. For instance, if you're going to visit Europe, you'll want to think about the plug shapes used there. On the other hand, those planning to see Asia will have a different style of plug to worry about. While you may know of only a few plug styles, you'll find a variety of them around the world. Universal travel adapters might be even more useful, as they will help your chargers work with various plugs. Overall, the best travel adapter will remain effective and functional when you travel to your chosen destinations.
Size
Backpackers and world travelers need to consider that kinds of equipment they carry while embarking on their journeys. When lugging around your belongings, you'll have to take into account how much each item weighs. Some belongings might weigh a ton, causing you pain as you carry them on backs and shoulders. At other times, you may have to carry a ton of equipment, especially if you're traveling outdoors. Extended trips or taking long flights might mean you want to carry lots of things inside carry-on bags and backpacks. If you want to bring tons of items inside your everyday travel bag, you'll have to think about weight. You don't want to cause yourself unnecessary pain or discomfort due to heftier items.
With travel adapters, you may find yourself worrying about heavy electronics equipment. Of course, you can discover an array of adapters of differing sizes and weights. The best travel adapter will maintain the size that's perfect for your specific travel needs. Smaller, more compact adapters should have lighter constructions, leading to lighter travels. Other adapters might have heavier designs, which may only be desirable if you don't need to carry them for long. Just think about sizing variations when considering the best travel adapter for you.
Type of Adapter
Different electronic devices require differing sorts of chargers. The best travel adapter will comply with your specific needs and wants. Thankfully, you can find a variety of travel adapters, each offering a certain kind of function. As mentioned previously, various kinds of plugs and power sockets exist. This means you'll find an array of adapters that may work in certain places and formats. You can find adapters with different shaped pins and prongs. At the same time, you'll be able to discover travel adapters that remain functional for specific purposes. You can have single adapters that work for just one charger at a time.
Travelers could also invest in adapters with multiple or universal types included in their designs. These devices may allow you to charge more than one piece of electronic equipment at a time. Certain adapters might even work better with a specific kind of device. Phones, laptops, cameras, and other devices may each charge differently depending on the adapter. Some adapters maintain constructions fit for charging at a certain speed as well. You could charge your device at a higher speed, or power up multiple products simultaneously.
Price
Travelers on a budget know the importance of finding the right travel gear and accessories. Accommodations and flights easily add up when you're trying to book an exciting vacation. Other things might be necessary to purchase before going on a trip. Certain items may cost a lot more than most travelers may be willing to spend. This may especially be the case when it comes to purchasing electronic equipment. These types of products tend to have higher price tags, especially if you want top-notch quality items. In these instances, travelers may feel that they have to decide between charged devices and saving money. Yet, you can easily locate tons of travel adapters that don't cost a fortune. Products such as these will improve your travels while helping you keep more funds for other activities.
You don't want to waste money on items that fail to live up to expectations. Before you fork over cash to purchase your best travel adapter, consider how much you're willing to spend. While many travel adapters have affordable prices, some may still cost more than others. As such, you might want to think about paying for that extra level of quality or functionality. In total, travelers should budget wisely when purchasing travel adapters for their next adventure.
Check out our ten options to find the best travel adapter.
1. Travel Smart by Conair All-In-One Adapter with USB Port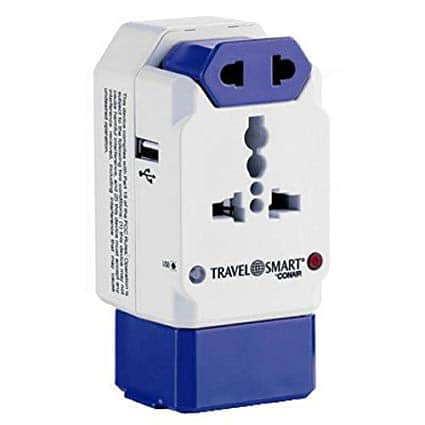 The Travel Smart All-In-One Adapter represents an ideal product for those who will be traveling internationally. This adapter accepts plugs from all kinds of destinations around the globe. You could visit multiple continents and still be able to utilize this device for charging electronics. The product's hard plastic construction makes it much lighter to travel with inside bags and backpacks. Travelers may also charge up to four devices at the same time when using this adapter. Accordingly, the Conair Adapter remains the best travel adapter for those who want to travel internationally and lightly.
2. Epicka Universal USB Travel Power Adapter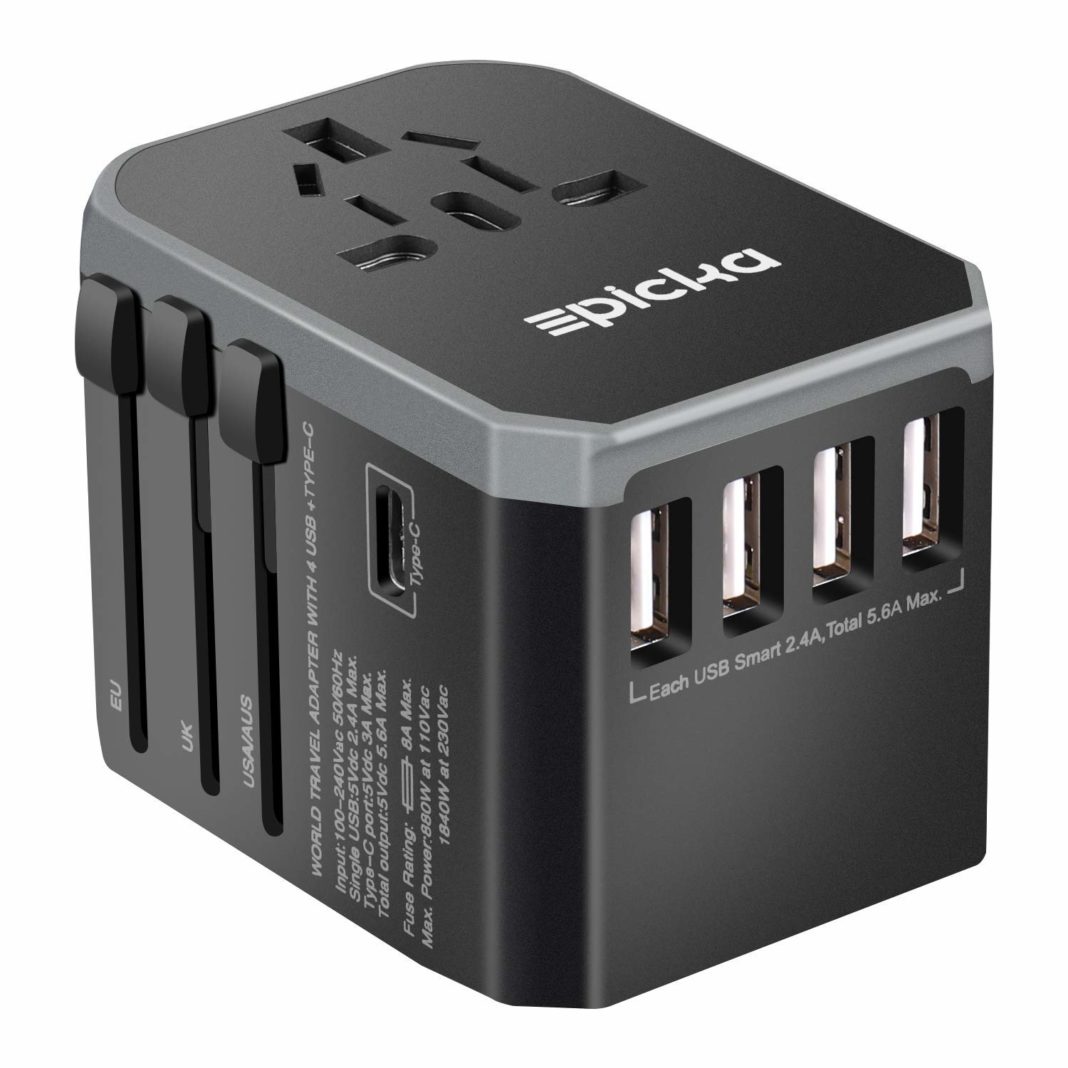 Travelers interested in a travel adapter that helps devices charge quickly should consider the Epicka Power Adapter. The Epicka product maintains tons of voltage, so you can power up phones in a flash. Six devices may be charged at the same time, letting you charge quickly and get going on your travels. Since this product has been designed for plugging into walls, those who prefer more portable adapters should look elsewhere. This product remains compatible with a variety of electronic devices, ensuring you can charge many items at once.
3. BESTEK Advantage Adapter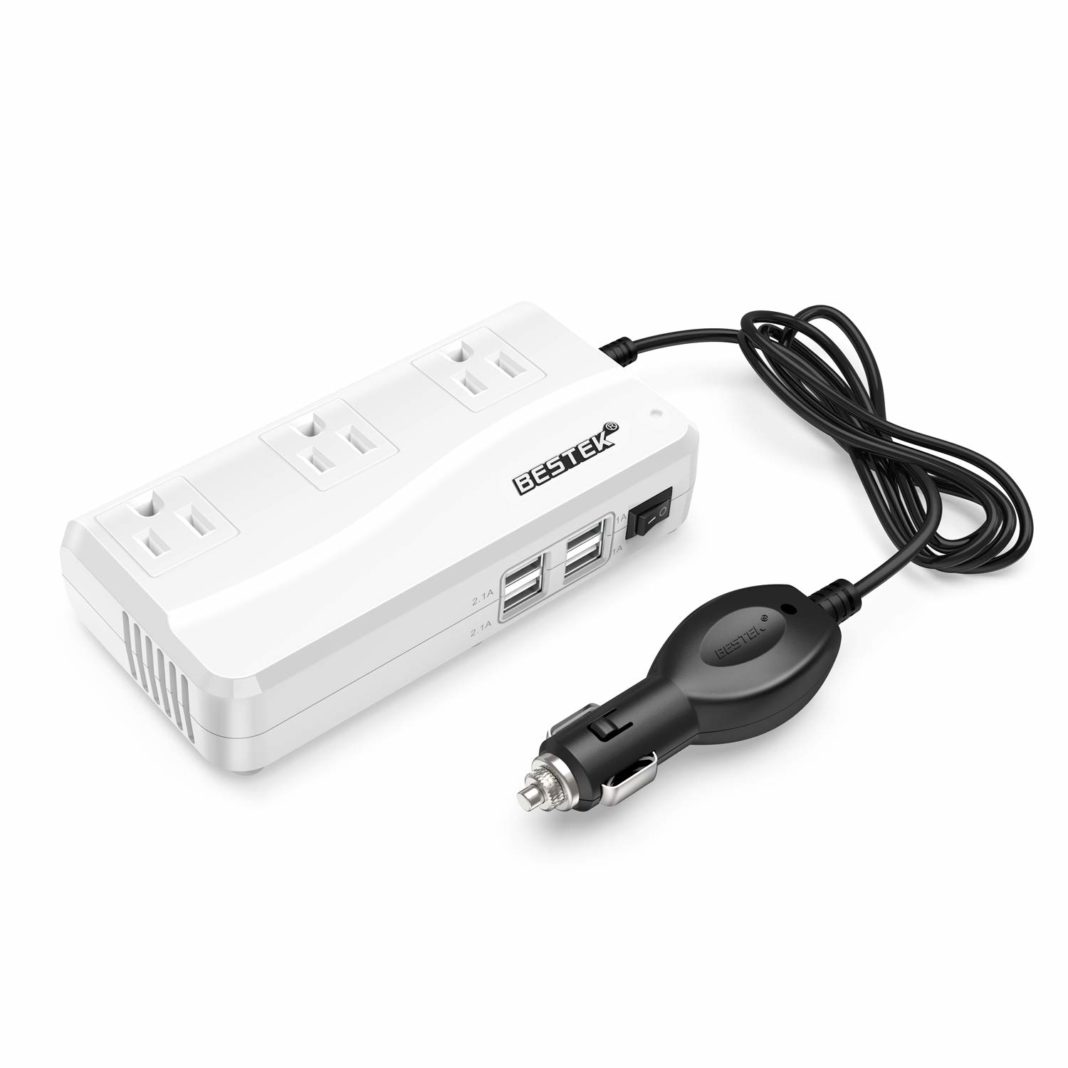 As its name suggests, the BESTEK Advantage Adapter remains a top choice among our list of travel adapters. For those who want portability in charging devices, this device will be an ideal product. The BESTEK Advantage Adapter has been crafted to work in cars. This means you can charge your phone as you travel from place to place. The product also has multi-use functionality, as you can charge seven items simultaneously. You won't have to purchase varying kinds of adapters simply to charge all your devices.
4. NEWVANGA Travel Adapter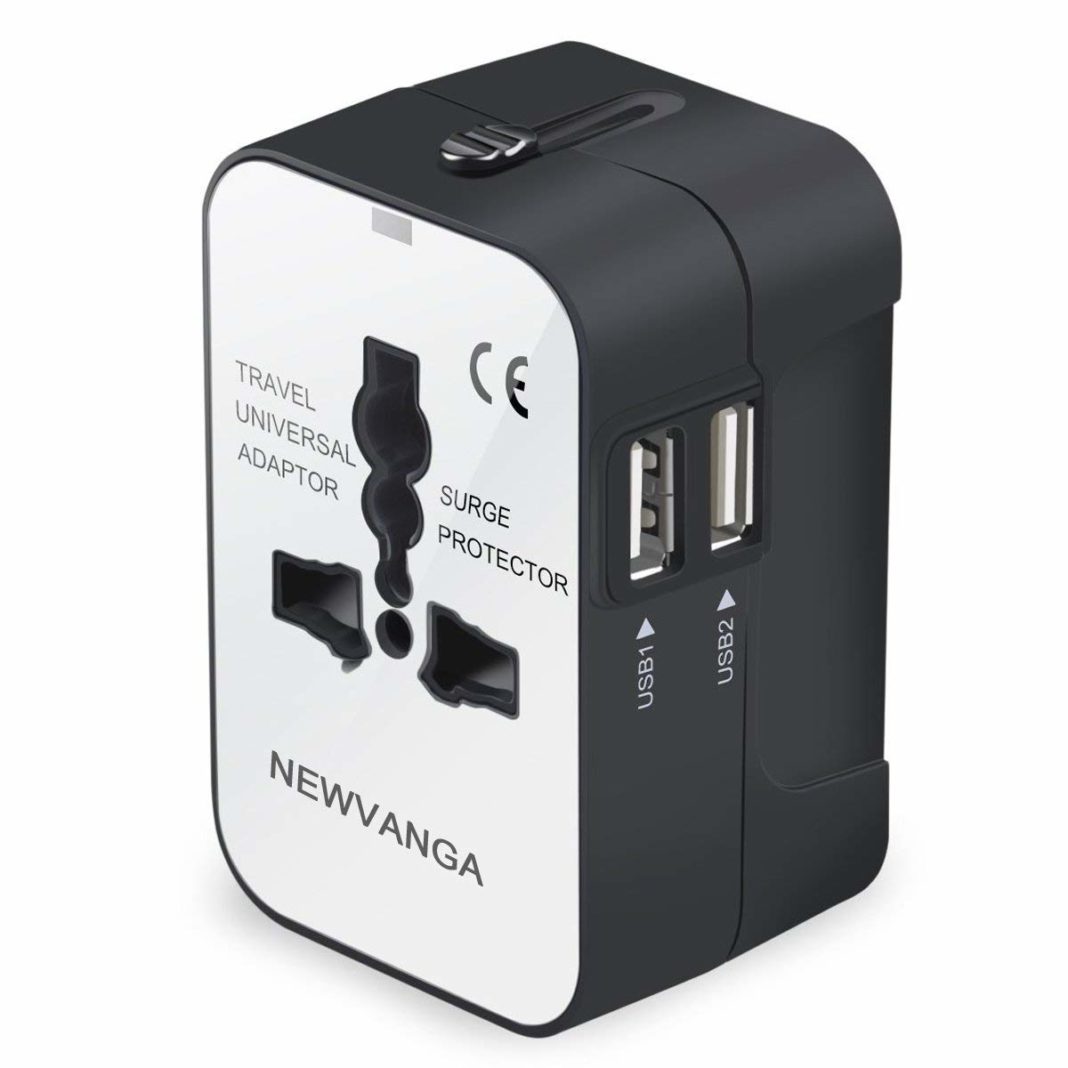 Those looking for an inexpensive way to charge their devices while abroad should think about buying the NEWVANGA Travel Adapter. The adapter accepts plug types from over 150 countries around the globe. At around $12, this adapter won't put a huge dent in your budget after buying it. This product even lets travels power up phones, tablets, computers, and all kinds of other items at once. You could save time and money when you choose to make this your best travel adapter.
5. Amir Travel Power Strip with USB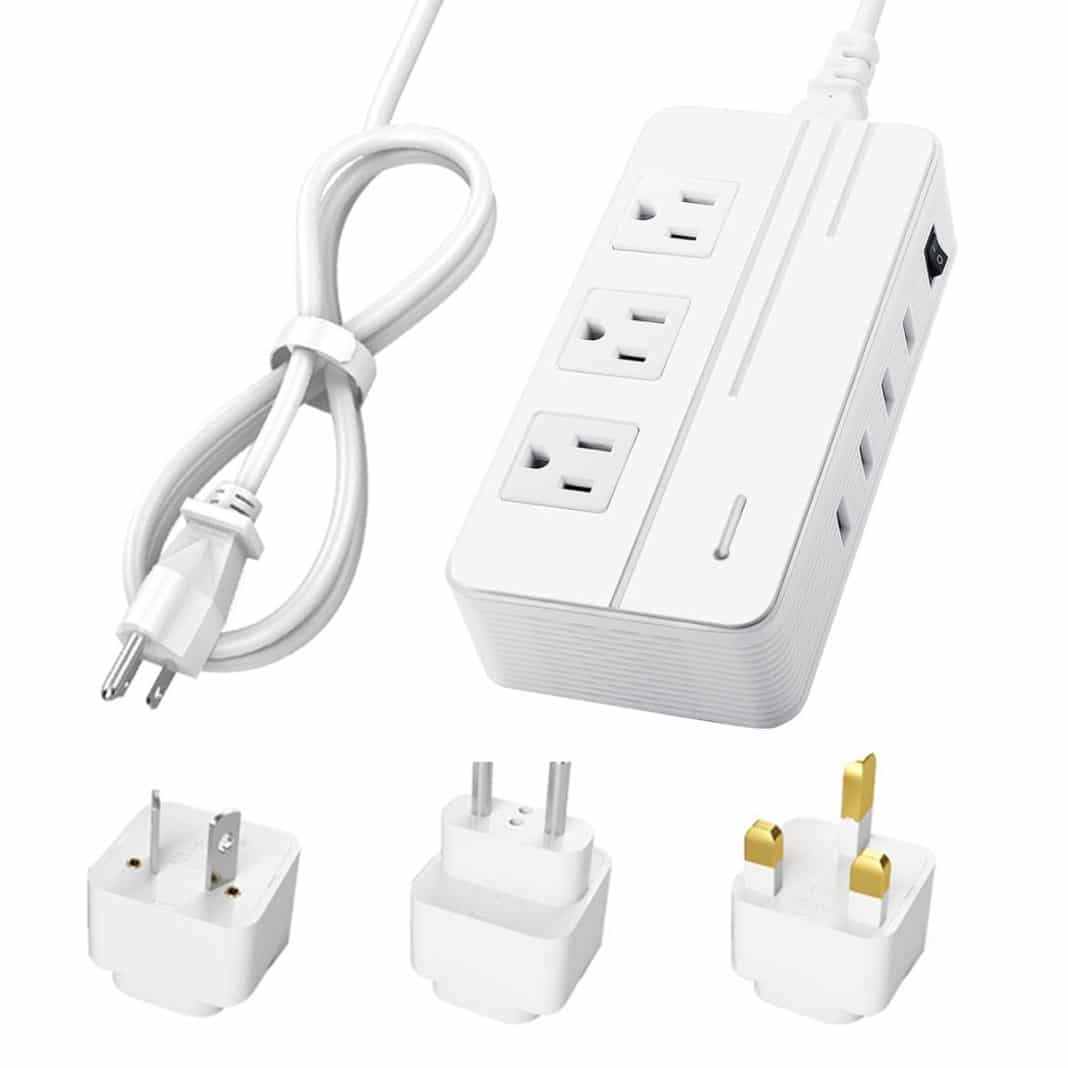 The Amir Travel Power Strip with USB offers travelers the chance to charge devices no matter where they travel. This power strip has universal capabilities, meaning you can utilize your plugs' charging abilities in countless locations. Thanks to a compact and slim design, the Amir Travel Power Strip remains ideal for carrying along on journeys. You can bring the power strip inside your carry-on bags when riding airplanes or in your luggage. Instead of feeling weighed down by heavy equipment, you can travel lightly.
6. Bonazza All-in-One Adapter and Converter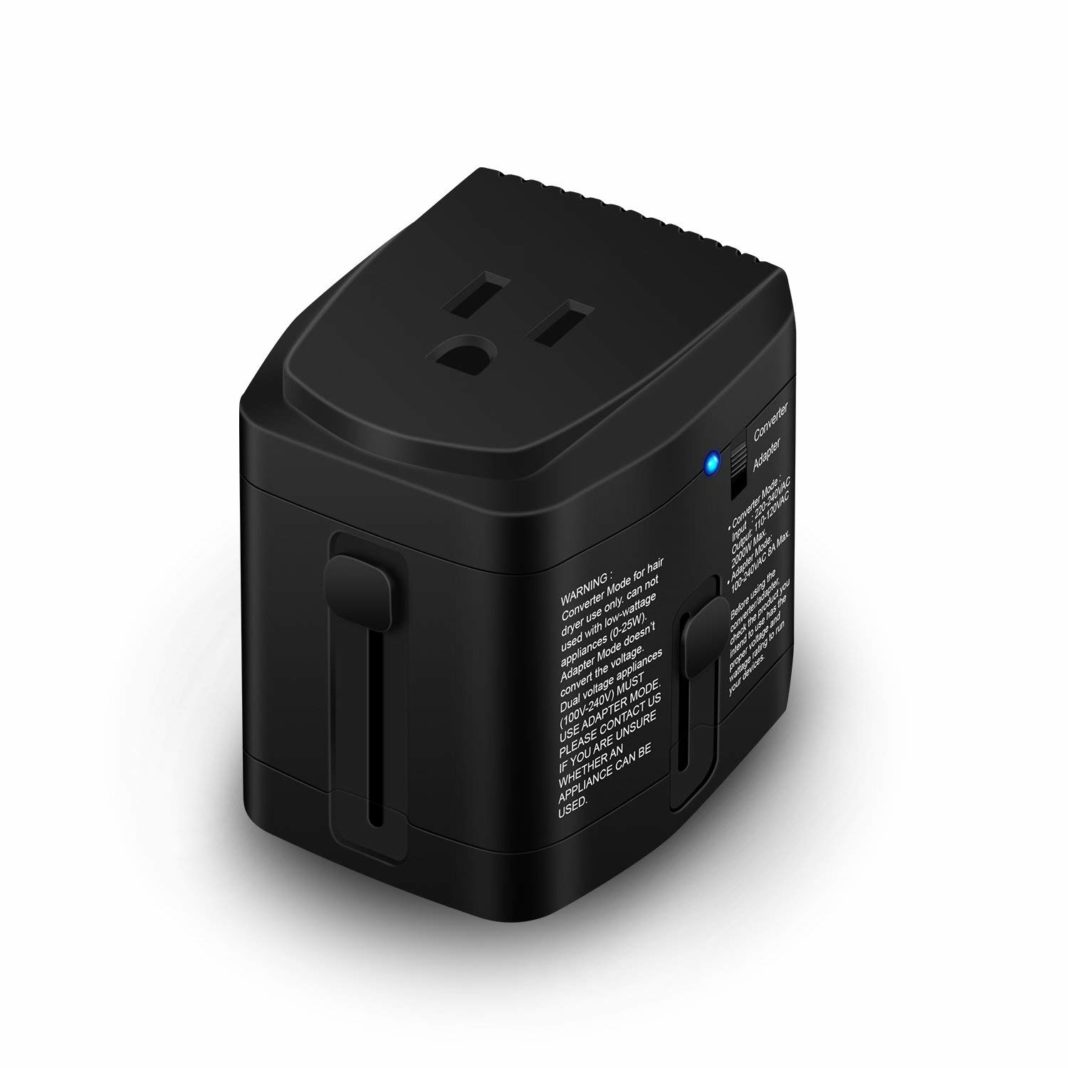 With the Bonazza All-in-One Adapter and Converter, travelers will have the opportunity to power up all kinds of devices. You can charge your phone as well as plug in your hair dryer or straightener while traveling abroad. This makes the device ideal for those spending long periods abroad. Since you can plug in multiple devices into the adapter and converter, you can use it in various settings. You'll also have the ability to remain aware of the device's tendency to overheat. With safety measures implemented into the design, the adapter won't short-circuit and break.
7. Syncwire USB Charger Plug
When you choose the Syncwire USB Charger Plug, you'll never worry about having dead devices while traveling. This charger plug powers your devices up in a flash, thanks to super-fast charging speeds. The charging current remains powerful enough to charge four devices at the same time. Those who have different brands and electronic equipment of varying types will appreciate this plug. With a universal compatibility, this product will charge an array of different items.
8. Dandelion Archetype Travel Adapter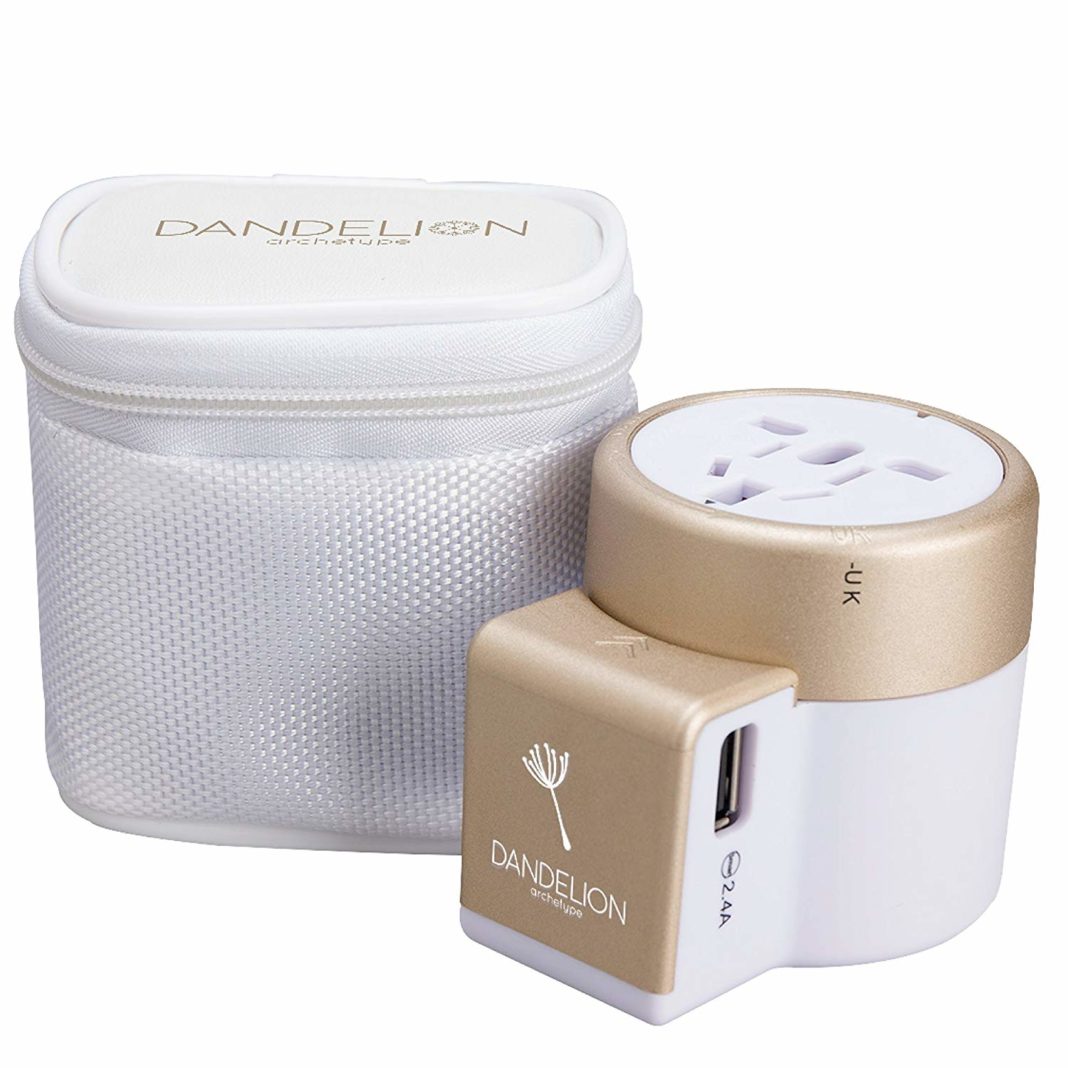 The Dandelion Archetype Travel Adapter remains ideal if you're interested in traveling light. This product may represent the best travel adapter for those who hate carrying heavy equipment. With the Dandelion Archetype Travel Adapter, you'll feel as if you're lugging along air. This device has a tiny, compact construction, ensuring the product maintains a light weight. You could stow this away in your purse along with a bunch of other items. You'll forget you even have this useful adapter in your bag as you move.
9. FLIGHT 001 4-IN-1 Adapter
In accordance with this product's name, you'll find the FLIGHT 001 Adapter perfect for bringing along on planes. While carrying the adapter in your luggage on your flight, you'll know you can charge your phone wherever you land. The 4-in-1 design of the adapter ensures you can utilize it in various settings. With the color-coded adapter system, all you have to do is match the color to your destination. You can plug in your devices with ease when you make this your best travel adapter.
10. SAUNORCH Universal International Travel Power Adapter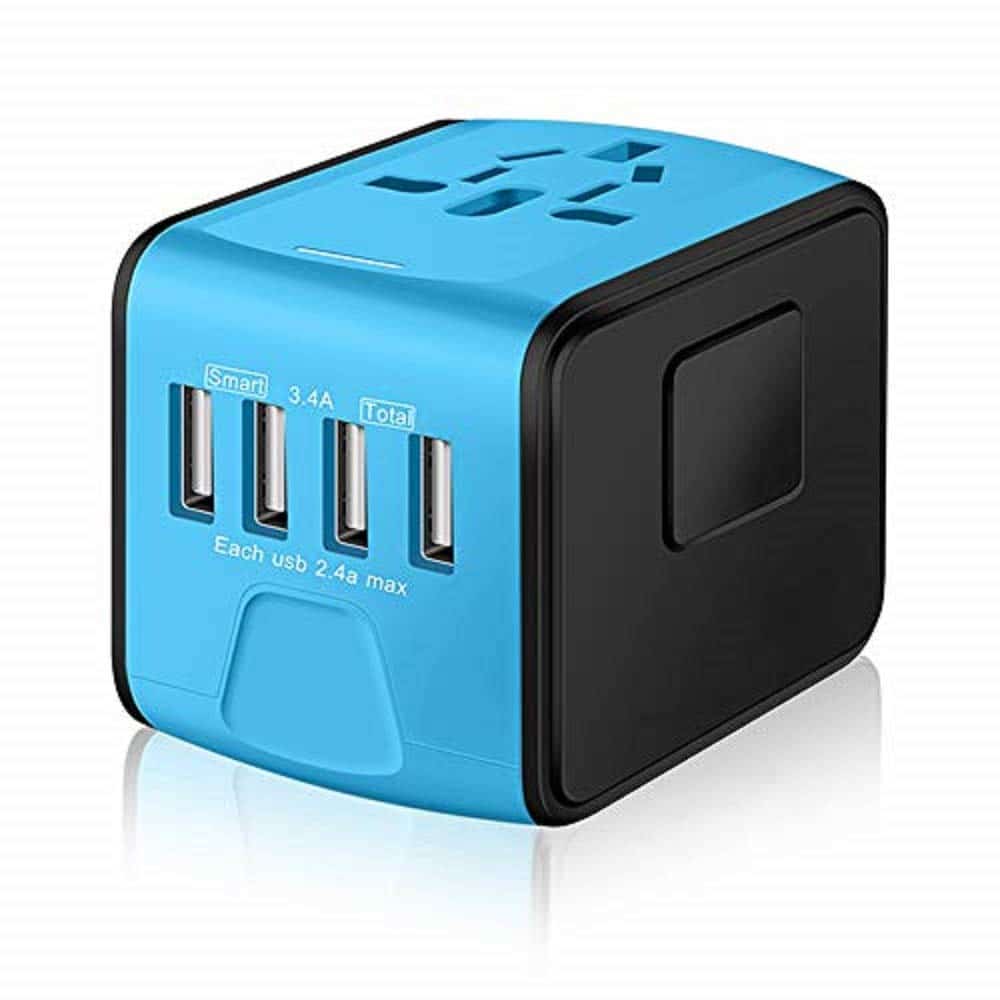 Anywhere you travel, you'll have the ability to use your phone, if you bring along this travel adapter. The SAUNORCH Universal International Travel Power Adapter allows travelers to charge devices while in various countries. You could travel to Europe, South America, and Asia, and still utilize this adapter for charging equipment. With a Smart IC Chip, this adapter even adjusts the correct current output according to your chosen device.
Never leave home without the best travel adapter for all your devices.
Travelers who constantly embark on journeys around the world might understand frustrations involved with keeping devices charged. Many times, phones, laptops, and tablets run out of battery quicker than most would like. This leads to road blocks on your expeditions, as you'll have to stop and find some place to charge devices. Similarly, visiting new destinations may mean your old chargers won't work the way they did back home. At the same time, you might require adapters that can be utilized on the go. Accordingly, travelers can benefit from finding the best travel adapter to charge their electronic equipment. Once you have one of these products, you'll never have to worry about uncharged devices while traveling.
Related Article: Top 3: The Best Bluetooth Tracker for Your Travels