Hiking Helper

Pack Fjallraven High Coast Trail 26 Review

In this Fjallraven High Coast Trail 26 Review, I'll show you how it is all about the hiker. This is a great tool. Not only is this bag durable and easy to carry, but it also comes with extras. There is a whistle, and a chest and hip strap. You'll also have a perfect place to keep all your valuables with the inside special pocket as well as a clip for the keys. You even have the ability to fit your laptop in her. One of the best things about this pack is the rain cover that fits nicely inside when it is not in use.
The Fjallraven High Coast Trail 26 Features & Benefits
Feature/Benefit #1: Comfort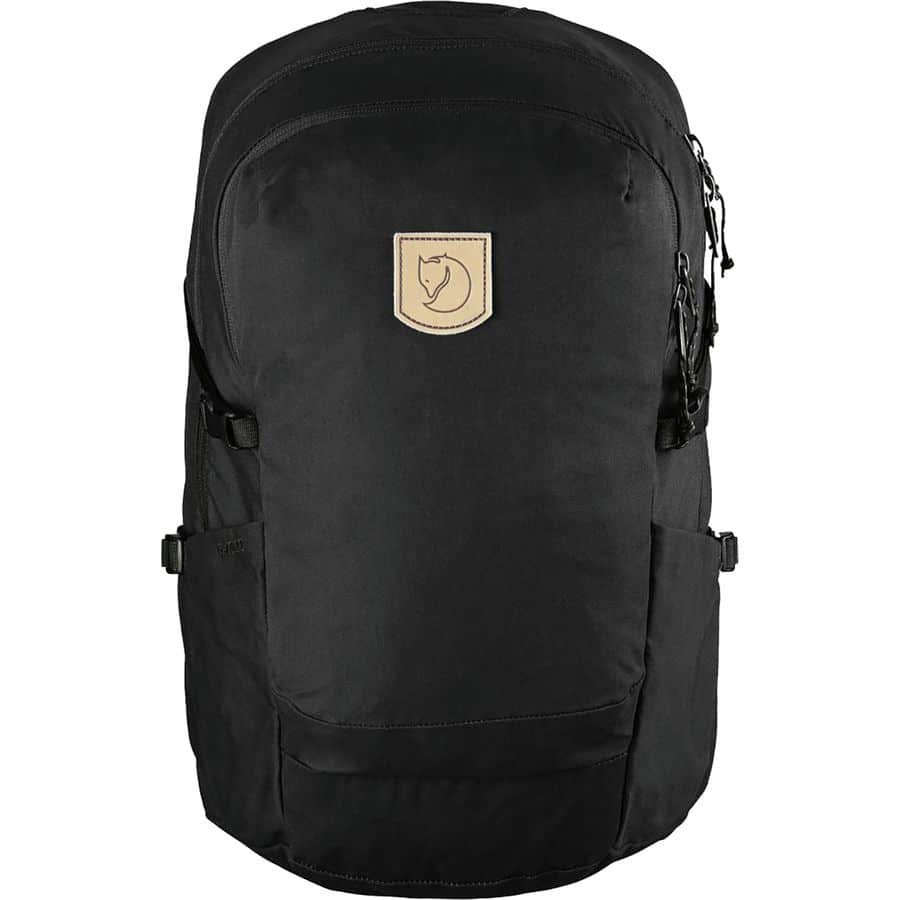 Comfort is the first benefit. There are so many features that offer this. We start with the light and sturdy size build of the bag. Then we move on to the chest and hip straps. These allow for a comfortable fit on your body when using the Fjallraven High Coast Trail 26.
Feature/Benefit #2: Moisture Resistance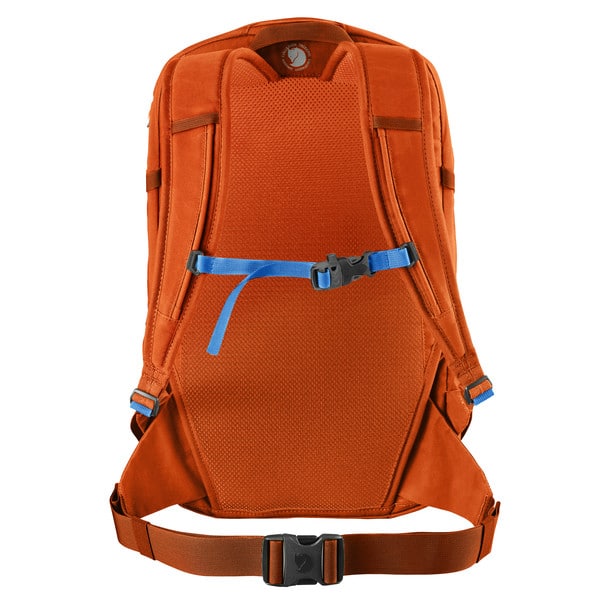 One of the top perks of this bag is the way it protects itself from the water and moisture it faces. The fabric has a wax on it that is resistant to moisture. There is also a rain cover that has its own pocket to be stored in for the pack as listed above. This is a great feature if you are traveling somewhere with heavy moisture in the atmosphere or rainy weather.
Feature/Benefit #3: Pockets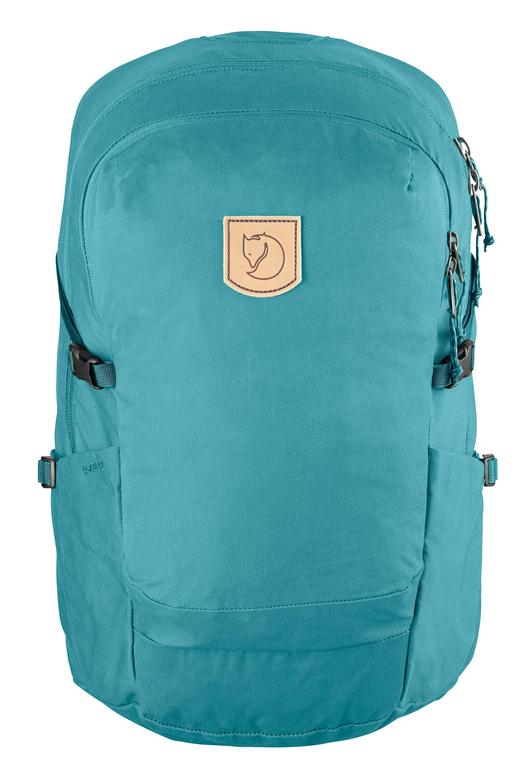 You can never have too many pockets, can you? A great feature about this bag is the amount of pockets to place things in. There is even a pocket big enough for a laptop as well as a front pocket and side and inside pockets. When hiking or traveling, pockets are a must. Many of these have zippers, including the security pocket on the inside of the Fjallraven High Coast Trail 26 pack.
Feature/Benefit #4: Color Options
The details of this bag matter, and we can't talk about details without talking about the wide variety of color options. Having so many colors gives you the opportunity to personalize your bag. Some of the colors this bag comes in are green, flame orange, black, navy, purple, and lagoon which is a nice blue. It is always a good thing to find a great bag with a variety of color options.
What Travelers Are Saying About the Fjallraven High Coast Trail 26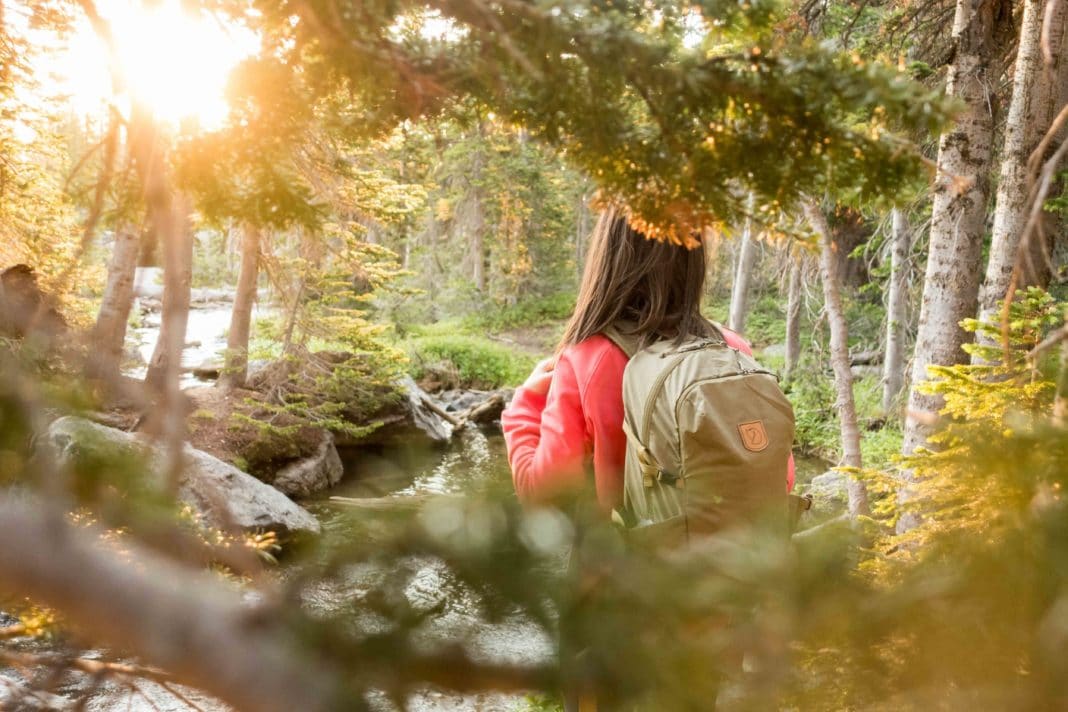 Photo copyright Max Seigal, www.maxwilderness.com
Reviewers use the Fjallraven High Coast Trail 26 pack for more than one reason. They use it for all types of travel and trekking. Many reviewers are well versed in the pack world. They are convinced that this pack is well made and has no obvious defects. Reviewers are saying they see the pack lasting for years to come. A big positive in the reviews by those who have commented is the size. This is a great bag to take on a flight and put under your seat or fit in your car or gym locker.
Alternative Daypacks That Might Work Better For You:
Alternative #1

: Osprey Men's Talon 22 Pack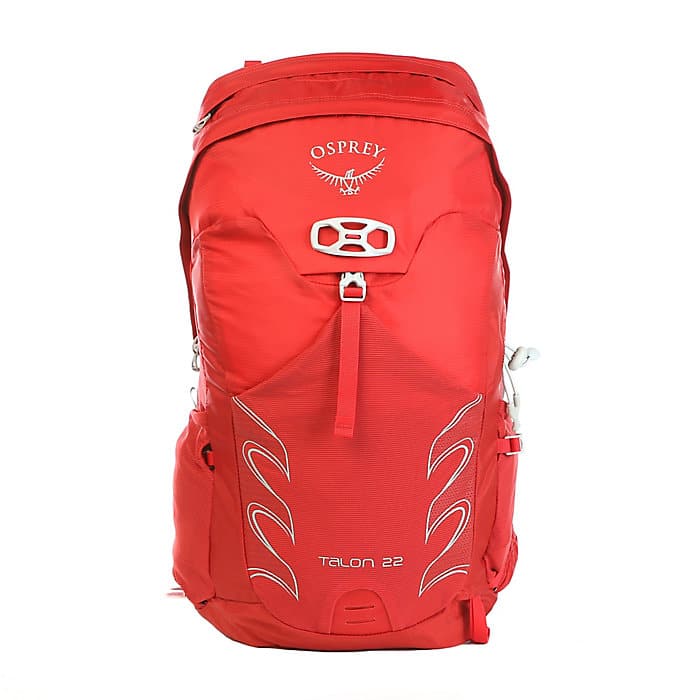 The Osprey men's talon 22 pack is a great pack for all types of needs. Hikes, biking, traveling, and things of this nature. There are so many features that come with this daypack. Some of these include zippered pockets, a hydration sleeve, and a hipbelt.
Alternative #2: Osprey Parsec Pack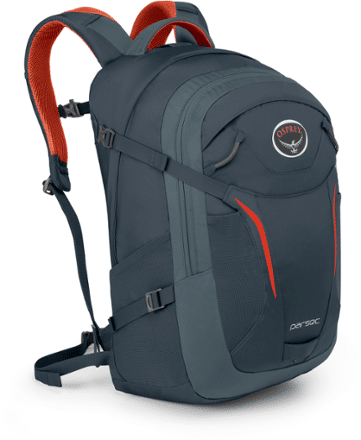 The best part about this pack is the way it is great for everyday use. There is a padded sleeve for an electronic, plenty of pockets, and a handle at the top. These features make it great for your daily commute to work or a day trip adventure. This can be a good alternative to the Fjallraven High Coast Trail 26.
Alternative #3: The North Face Women's Jester Backpack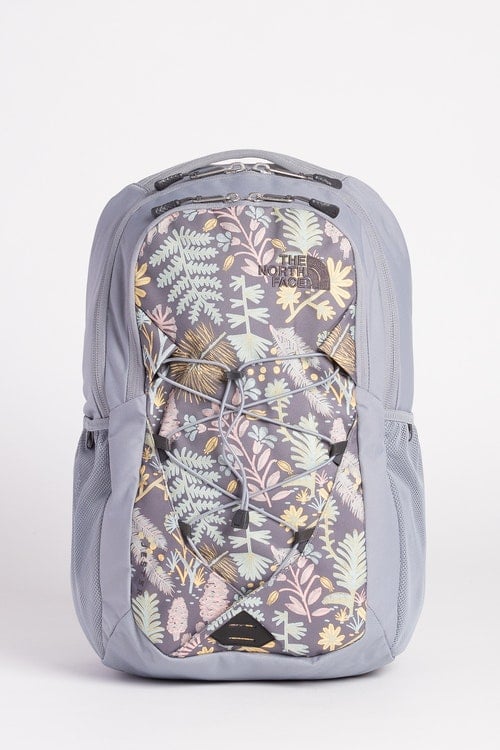 This bag is great for women! It molds to the shape of a woman perfectly. It comes in many different pretty colors, patterns, and designs. This bag is great for hiking as it protects and keeps all your gear safely inside. It also, just like our featured bag, has a sleeve large enough for a laptop. This is a great bag to buy if you are looking to be organized on your travels. There is even the ability to store more in the front of the bag with the criss-cross elastic bungee feature! This bag contains a water bottle tab as well as two water bottle pockets to keep you hydrated. You can find more details about this bag and the next one here.
Alternative #4: High Sierra Loop Backpack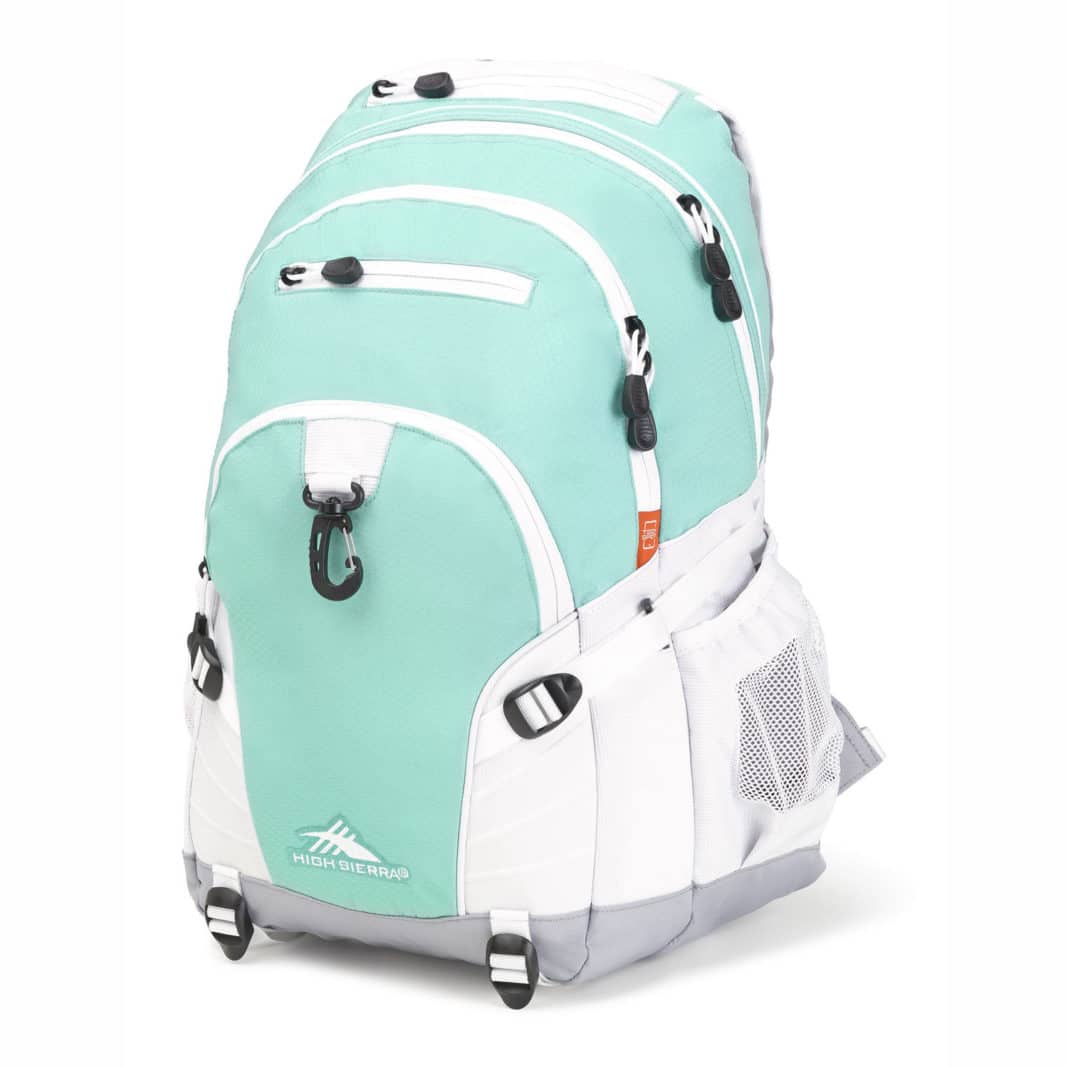 The High Sierra Loop Backpack is an affordable choice with many color and pattern options. This bag weighs 2.04 pounds. It is a larger option, which may be good for your specific needs. This bag contains a sleeve for a tablet. It also has pockets for drinks, as well as many other pockets just like our featured bag, which is always a plus! There are also plenty of compression straps which help with adjustments as well as double as more storage space for you. A water resistant coat which is great for keeping your bag nice and dry covers this bag. The High Sierra Loop Backpack is an all-around great option if you're looking for more space and an affordable fit than the Fjallraven High Coast Trail 26 can offer.
Alternative #5: REI Co-op Flash 22 Print Pack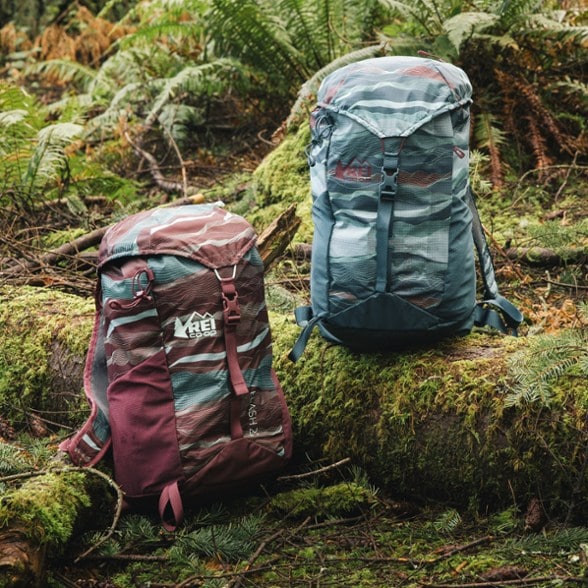 REI Co-op Flash 22 Print Pack
This day pack is not only pretty but it also comes with so many amazing features. There are comfortable mesh shoulder straps that give room to move around as you hike. The back is a mesh back so it is just as comfortable as the shoulder straps. There is a waistband to help with the fit but it can be taken off when not in use. There are zippered pockets which, if we know anything, it is that you can't go wrong with a zippered pocket! Everybody loves a secure pocket, right? There is also a sleeve on the inside that can hold a hydration reservoir. On the sides are pockets that can hold water bottles, snacks, sunscreen or other things like this you want to journey with.
Though this bag was created for hiking, it can be used on a variety of different activities. It's comfortable fit and variety of areas for all your possessions makes it a great option, as well as the multiple print options you can buy it in. This bag has a very high rating. There are many reviewers who have given it five stars. Many have raved about the key holder that is sown in. This is a great feature that gives peace of mind. It is said to be packed with amazing features and places to store important things, and this is why many recommend it.
Fjallraven High Coast Trail 26 Details
If you are wondering about the details and measurements of this great little everyday use pack called the Fjallraven High Coast Trail 26, here they are. This is a bag built for both genders. There is a color for everyone to choose from. The point of this bag was for outdoor use, but of course, you can use this for plenty of indoor activities as well. This bags height is 44 cm, width is 28 cm. The depth is 22 cm and the weight is 1150 g. The volume is 26L. On the outside material of the bag is fabric made out of polyester and cotton. If you are looking for a different daypack option that is similar to the one reviewed here in this article, you can find an Osprey Talon 22 here.
Helpful Video Guides
You may be looking for some visuals to check out in order to get the full picture of this daypack before purchasing it. There is a great video that goes in depth here as to the feel, make, and details of the pack. This video shows you exactly how much storage and padding there is. It will walk you through all the organizational space available. For those like me who appreciate a good visual when looking at an item to purchase, videos are very helpful. This video will take up one minute of your time during the daypack search you're on. It will help you decide if the Fjallraven High Coast Trail 26 is the right fit for you or not.
There Is a Perfect Daypack for You
Regardless of which option you choose, there is a daypack for everyone. Make sure to do all your research before making any final decisions. Having the right daypack can make or break your hike or whatever day to day use you need a daypack for. This will be the thing that carries your necessities as you hike, travel, or live. There are enough options out there to find the perfect fit for you, whether the perfect pack is the Fjallraven High Coast Trail 26 or not.
Related Article: Top 8: The Best Daypacks to Try out This Season