The Men's Kamik Greenbay 4 Cold-Weather Boot is meant to keep your feet warm and dry.
Since Kamik has been in business for more than 100 years, they know just what you need. What are some of our favorite features about the Men's Kamik Greenbay 4 Cold-Weather Boot? Well, a flexible rubber sole, -40 Fahrenheit cold rating, and weatherproof exterior are a few good places to start.
Whether you're outside shoveling the driveway on a cold winter morning, pulling the kids on a sled or hitting the slopes in Austria, these boots will do the trick. Kamik is known for their dedication to crafting high quality outerwear. As a traveler, you know that having the best gear makes all of the difference when you explore.
The Men's Kamik Greenbay 4 Cold-Weather Boot Features & Benefits
Don't let rain, snow, and sleet keep you from enjoying yourself in the great outdoors. The Men's Kamik Greenbay 4 Cold-Weather Boot is made for extreme weather conditions. And they are affordable too. While it can be difficult to find the best winter boots for men and women, we've taken the guesswork out of it for you. If you're looking for an affordable seasonal buy, this could be the style you need.
We know how hard it can be to strike a balance between looking good and feeling good. But these little boots check both boxes. Rated one of the best pairs of snow boots for men on Amazon, this pair from Kamik packs a punch. For only $65, you're getting a steal.
Insulation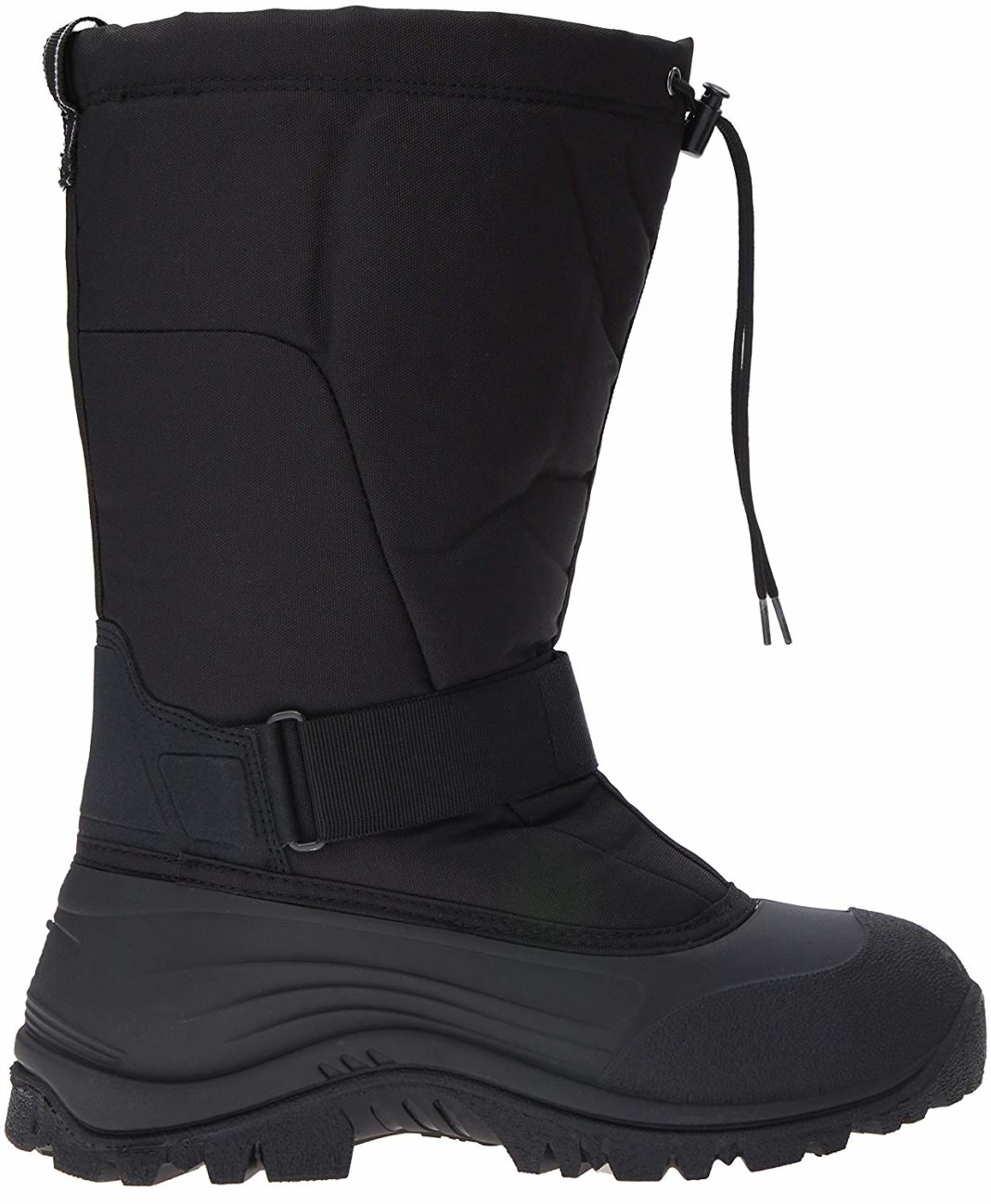 One of the biggest factors to consider for winter boots is insulation. We're happy to say that the Men's Kamik Greenbay 4 Cold-Weather Boot excels in this department. They are fully lined inside with a felt that can be removed for cleaning. The insole is soft and comfortable, insulating body heat naturally to keep your feet toasty even in the freezing winter. These boots are guaranteed to keep you warm. The great insulation properties of the Kamik boots goes to show how well they are constructed.
If you're looking for extra warmth, keep the lining in. Simply slide it in and out of your shoe. Something to consider when purchasing your winter boots is whether or not you want to or need to go a half size up. Remember, when you are wearing layers like wool socks an adding insulation, toe space can become cramped quickly. With a 13-inch shaft inside, it will be harder for the snow to get through when you're walking outside.
Waterproof
Another way to gauge a good pair of winter boots is to find out whether or not they are waterproof. Thankfully, the Men's Kamik Greenbay 4 Cold-Weather Boot is. When you are out walking in the cold and extreme weather, the last thing you want is wet, numb toes. Constructed from 600 denier nylon, these shoes hold up well.
Thanks to the waterproof upper and removable 8-mm thermal guard liner, water and snow have no chance of seeping into your shoes. Your feet will stay dry, comfortable, and warm. Furthermore, the seams are designed to keep your feet dry. The Men's Kamik Greenbay 4 Cold-Weather Boot is a product you can feel good about purchasing.
Warmth and Comfort Level
While we wouldn't recommend using these boots for long hikes, they are extremely comfortable to wear while you're out playing in the snow. The width seems slightly narrow so we recommend going up by a half size or so. This is especially important if you plan on pairing them with thick socks.
General Fit and Traction on Snow and Ice
Take a look at the ankle of the boots. You'll find an adjustable velcro strap that will allow you to slip the boots on your feet with ease and tighten them quickly. With just a few simple steps, you can have your boots on and be ready to head out the door. Tug on the pull on loops, tighten the ankle straps, and pull on the drawstrings. Once the boots are snugly on your feet, the rubber soles will keep you from slipping and sliding around on the ice. These boots have great overall traction. You'll be prepared to face the elements.
Things to Consider Before You Make Your Purchase
Before you purchase your pair of boots, make sure that the upper extends above your ankle. This will help to ensure optimal protection in snowy weather. Nothing is worse than walking down the streets with snow shoveling into your ankle and melting down your socks. To provide additional protection from moisture and the elements, many of the best winter boots for men offer a water repellent coating or waterproof breathable membrane, like Gore-Tex.
Another thing to consider before you order is the size of the boots. As we said, the Men's Kamik Greenbay 4 Cold-Weather Boot tends to run on the narrow side. Since this could be a problem for people with wider feet, we recommend that you go up a half size.
What Travelers Are Saying About the Men's Kamik Greenbay 4 Cold-Weather Boot
Overall, travelers love the Men's Kamik Greenbay 4 Cold-Weather Boot. From their style to warmth, complaints are far and few between. The best features that travelers point to are the style and warmth. These boots look much more like streetwear tennis shoes than winter wear but that's one of the things we love the most about them. It makes for easy pairing.
In addition, they have been tested out in the winter of places like North Dakota and Chicago during winter. They haven't let travelers down. These qualities have earned them a 4.3 out of 5-star rating on Amazon out of more than 1,300 reviews. You can make your purchase with confidence. The Men's Kamik Greenbay 4 Cold-Weather Boot will last for many adventures to come.
Tech Specs:
600-denier nylon

Made in the USA

Rubber sole great for ice and other slippery surfaces

check

Cold-weather boot

check

8mm thermal-guard liner and hook-and-loop strap

check

Drawstring at top

check

Affordable
Alternative Winter Boots for Men You May Like
Baffin Men's Wolf Snow Boot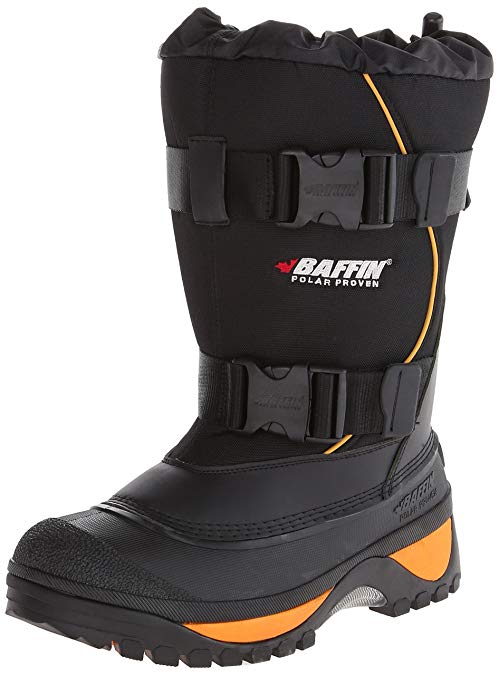 When it comes to durable winter boots, you can't get much better than the Wolf style from Baffin. Overall, it is much lighter and more technical than other styles. It works particularly well when you are walking in deep snow. Since these shoes are made from a lightweight, recycled rubber, they offer protection without weighing you down. Needless to say, they're some of the best winter boots for men. Stay safe and at ease with this shoe.
It's safe to say that Baffin broke the mold for footwear. This should go without saying but while traditional boots work sometimes, you can't wear just any type of shoe in cold temperatures. Baffin couples their molding technology with a unique inner boot system. The result is a hybrid of high-performance footwear.
So why should you purchase this style? Well, you are getting more insulation, a better fit, and maximum comfort. These boots are different than most types of winter boots since the sole and midsole are molded to the same base. This itself is a marvel of shoe engineering. An advanced set of polymers are combined to strike the right balance of protection and warmth, a lightweight body, and good grip. You've just found where fashion marries functionality.
Tech Specs:
Leather and textile materials

Imported

Synthetic sole

check

Dual buckle straps

check

EVA midsole

check

Removable insulated inner boot system

check

Good-gripping outsoles

check

Insulated -40F rating
SOREL Men's Conquest Boot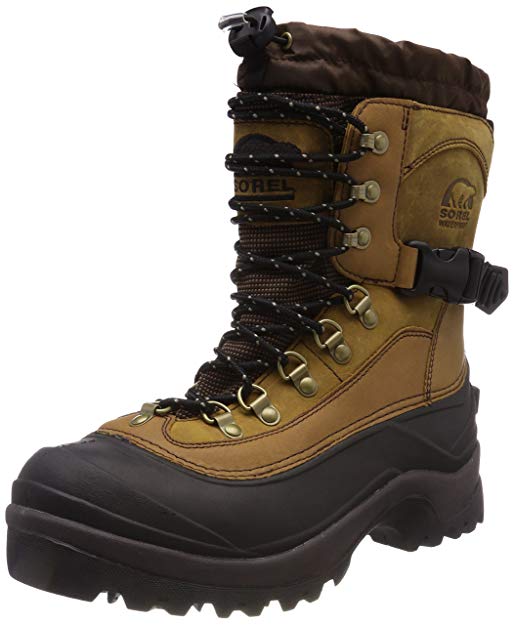 Go to any sporting goods store and ask for the top brands. You'll get pointed to SOREL every time. They are a company that has stood up to the test of time and every kind of challenge a traveler can put them through. The Men's Conquest Boot lives up to the hype. Rugged and durable, this waterproof style features a molded EVA footbed, multi-directional lug sole, and 400 grams of thinsulate insulation. Even when you are exposed to the elements, these shoes won't let you feel a thing.
You can walk in deep snow without your feet getting cold or wet. The Achilles adjustment strap can also be tightened to provide additional ankle support for uneven terrain. Last but certainly not least, the removable EVA footbed reduces the impact on your feet and provides thermal protection for long days in the cold.
Tech Specs:
Leather and synthetic materials

Rubber sole

Cold-weather boot rated to -40 degrees Fahrenheit

check

Waterproof leather

check

400g thinsulate insulation

check

Built-in gaiter bootie

check

Barrel lock snow collar
The Men's Kamik Greenbay 4 Cold-Weather Boot is a Great Style for Extreme Temperatures
If you have been searching for a men's winter shoe that can take you through the most extreme winter conditions and plenty of snow, you've found them in the Men's Kamik Greenbay 4 Cold-Weather Boot. From their minimal appearance to their great insulation and waterproof properties, they have you prepared for winter weather, even in -40 Fahrenheit. We highly recommend this style for anyone seeking to brave the elements this season.
Related Article: 9 Best Winter Boots For Men: Stylish, Functional Finds