Are you looking for lightweight, minimalist hiking shoes? You've found just what you need in the Xero Shoes Daylite Hiker.
Xero Shoes have expanded over into a closed toe collection and we're so glad that they did. If you've been on the lookout for some durable hiking boots that don't add a whole lot of bulk, we're sure you will love the Xero Shoes Daylite Hiker. Let's take a closer look at the features and see what this shoe has to offer.
Xero Shoes Daylite Hiker Features & Benefits
Fit and Materials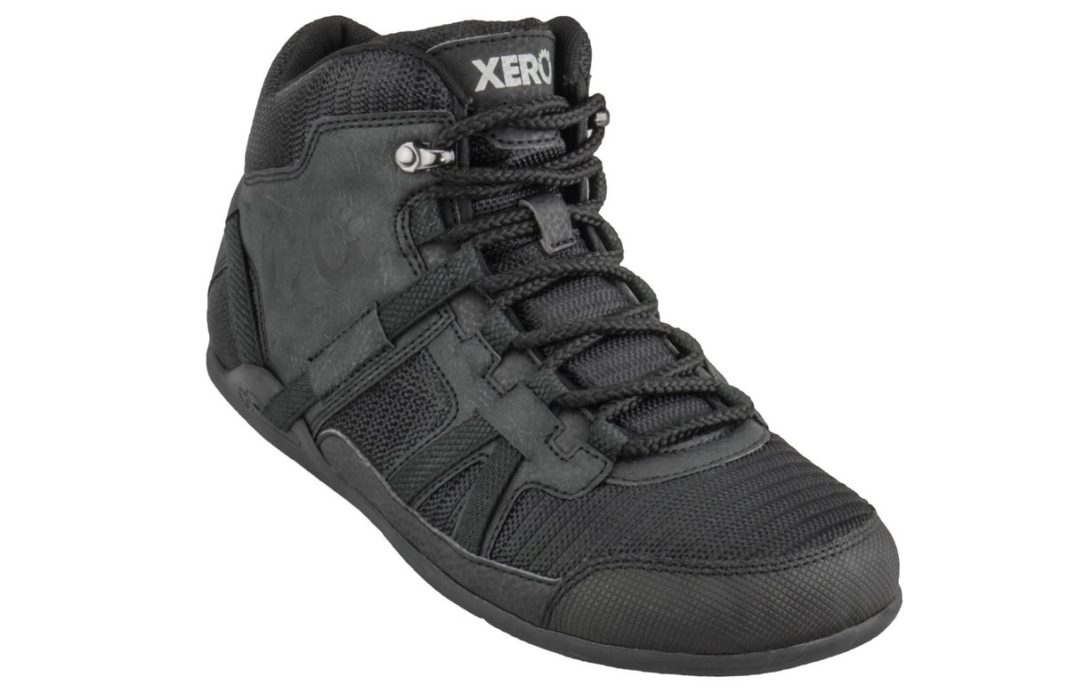 Credit: Amazon
For the most part, hikes don't need big heavy materials. Unless you're going on one of the longest, strenuous hikes of your life, you won't need heavy duty boots. Generally speaking, more bulk equals more weight. And more weight on the trail is never a good thing.
We love that the Xero Shoes Daylite Hiker bends, moves, and flexes with your foot. Since its slim and lightweight, so you can stay light on your feet. Perfect for day hikes and casual wear, these boots are built with a foot-first design for natural movement. Wide toe boxes let your feet spread out and relax. Zero drop non-elevated heels assist healthy habits for good posture.
Xero Shoes knows that the sole is the foundation of the shoe. Flexible soles allow your feet to move without restriction. A low to the ground design helps to maintain good balance and agility. This brand knows that true comfort comes from using your body naturally and with these shoes, you can do just that. More durable than their Prio shoe, the hiker is made from strong nylons and mesh fabrics with reinforcement points.
Being more durable than the Prio, it can handle much more rough terrain. On the sides of the shoe, you will find v-straps. These make it easy if you want to tighten the fit on either side. Moving on to the uppers, we found they are surprisingly breathable for a boot. High quality laces make for a snug, secure fit.
Sole
When it comes to the sole, the Xero Shoes Daylite Hiker uses a style present within many of their shoes. Measuring 6mm it offers a dense cushion and great shock absorption. For a boot, we were surprised at just how flexible the sole is. We love that the shoes come with a 5,000 mile warranty. So, if you ever wear down the sole to 1mm or wear it down at the heel or sole, they will replace the product at 60% MSRP. You will get free shipping too.
When it comes to traction, the grip is great. The first half of the bottom of the shoe is covered in upward-pointing chevron arrows. These help with your grip when you are ascending. The other half is composed of downward-pointing chevron arrows to help you maintain a good grip when you're going downhill. These grooves are just the right depth to help you gain traction and dig into the dirt, mud, and rocks.
We tested them out and found that the chevron claws work really well on all types of terrain. While we do prefer a Vibram sole for hiking, these soles help up unexpectedly well. The Xero Shoes Daylite Hiker also features three flexibility grooves. These help out with enhanced flexibility. While they were great with lateral movements, they were lacking a bit in longitudinal flexibility. If the manufacturers had made a cross groove, that would have been more helpful.
What Travelers Are Saying About the Xero Shoes Daylite Hiker
This is such a great shoe for light to moderate hiking. Travelers love the simple style, durable material, and thick soles. You get all the durability you want from them without the added weight. Whether you're going on a shorter hike or a day-long one, these shoes offer all the gear you need. A lot of people in the reviews went up a size, as the shoes tend to run quite a bit small.
In appearance, they look like basketball shoes. They're lower (slightly sloped) on the back and don't have the big clunky soles like most hiking boots do. You can't find many minimalist outdoor shoes so these are a great buy. With this said for those who are not accustomed to hiking in shoes without the extra girth, it could take some getting used to. The Xero Shoes Daylite Hiker offers a great deal of flexibility. While some people might love that, for others it will take some breaking in and getting used to.
Tech Specs:
Lightweight

6mm sole with chevron patterns for grip

Good treads

check

Shock absorption

check

Water resistant upper

check

5,000 mile warranty

check

Comfortable natural shape

check

Minimalist design

check

Runs about one size too small
Alternative Men's Hiking Shoes You May Like
Are you interested in checking out a few extra styles before you make your big purchase? Don't sweat it. We've got you covered.
Salomon Men's X ULTRA 3 GTX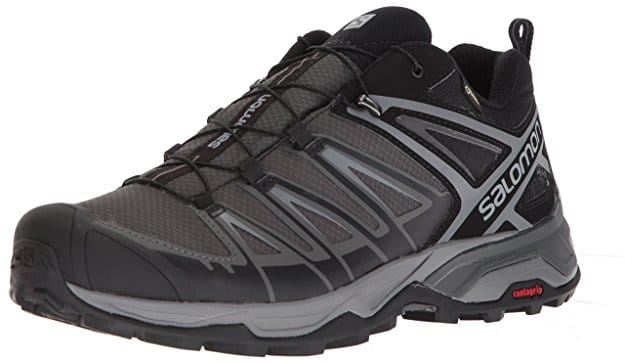 There's a reason these shoes from Salomon are best sellers. We mean, come on. Just look at all the useful features they have. Descent Control technology tackles technical hikes and really shines during tough descents. Wear this pair and head downhill with a spring in your step, even in wet conditions. You can enjoy a foothold with an excellent grip, stability, and cushioning.
We love the quicklace. It offers a minimalist style and strong lace for one-pull tightening. It's easy-on, easy-off. When it comes to comfort, sensifit technology cradles the foot from the midsole to the lacing system, providing a secure, snug, and virtually customized fit all around the foot. Last but certainly not least, the advanced chassis, surrounded by foam cushioning for comfort, connects directly to the sole to stabilize your heel. The Salomon X Ultra 3 GTX is one of the best hiking shoes for men.
Tech Specs:
Textile and synthetic material

Water resistant

Durable and lightweight

check

Rubber sole

check

Two year warranty
TFO Men Hiking Shoes California Breathable Low Trekking Shoes for Hiker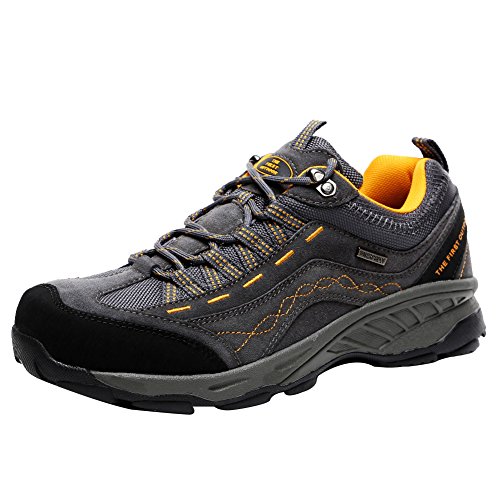 Made in Italy, these shoes offer great non-slip gripping properties. For safety on the trail and wherever you go in your outdoor journey, they have you covered. In addition, they have good breathability in the summer or humid climates. The first-comfort air circulation insoles provide breathable deodorization, dehumidification, and shock-absorption. Every step is a fresh step.
These multi-purpose athletic shoes good for hiking, walking, traveling and outdoor sports. You will be so impressed with these shoes. Plus, a unique design will let you stand out from the crowd – be ready to get many compliments out of them! The TFO California are among the best hiking shoes for men.
Tech Specs:
Rubber outsoles

Anti fur leather

Comfortable

check

Durable nylon mesh upper

check

Removable insole

check

EVA foam cushion
RAX Men's Quick Drying Slip-Resistant Aqua Water Hiking Shoes
Here's another one of our favorite styles. Stylish, slip resistant, and breathable, the RAX Aqua Water Hiking Shoes set themselves apart from the rest. First, it has double-slope drainage. the triangular hole on sole's side can drain away water, and enhance air convection, quick dry. A hollow insole also can dry the water quickly and provide good permeability.
Try them on and you'll see – the shoe is built for maximum comfort. The cushioning EVA midsole comes with high density EVA material and a triangular design. It can improve stability by up to 30%, elevate damping capacity by 20%. A quick lace-up system offers an easy fastener to keep your feet from sliding around when you're adventuring in the great outdoors.
Take them anywhere. A rubber slip-resistant outsole is wear-resistant, similar to a car's tire. The polygon lugs make it antiskid too – perfect for outdoor walking and exploring. These are some of the best hiking shoes for men.
Tech Specs:
Slip resistant rubber outsole

Toe protection

Breathable and durable mesh upper

check

Quick dry material
Invest in a Great Pair of Hiking Shoes for Your Next Adventure – aka the Xero Shoes Daylite Hiker
We hope you enjoyed reading our review of the Xero Shoes Dayliter Hiker and our favorite alternate styles. As you can see, these hiking boots offer a great simple solution to your need for lightweight shoes. Not only do they offer simple styling but also great traction and support when you're on the go. What are you looking for in a pair of hiking shoes? Let us know in the comment section below.
Common Questions
Are you interested in more hiking gear and tips? Check out these articles for more travel inspiration:
Questions and Comments
Do you have any questions or comments for us? If so, we would love to hear them. Feel free to leave a message for us below. We will be sure to get back with you soon.
Related Article: The Best Hiking Shoes For Men: Durable, Lightweight Picks